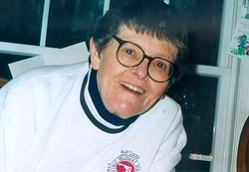 Virginia Janet Williams, "Ginger", 78 of Hollywood, MD passed away on Tuesday, March 29, 2011 at Chesapeake Shores Nursing Center, Lexington Park, MD. Born September 7, 1932 in Evanston, IL she was the daughter of the late Ulysses Grant Wolfram and Ruth Anna (Evertson) Wolfram.

Beloved friend of Nancy J. Bottorf and Jack L. Bottorf; loving surrogate mother of Mark Y. Bottorf (Teri McCleaf) and Anne Elizabeth Vallandingham (Tim); and sister of Stuart Allen Wolfram (Cyndi). She is survived by grandchildren Samantha Bottorf, Ashley Kastronis (Chris), Tanya Bottorf, Shane Bottorf, Caitlin Brown, Jack Brown, Hannah Vallandingham, and Blayre Vallandingham; nephews Stephen Wolfram (Donna) and Mark Wolfram, great niece's, Meaghan, and Kaylee Wolfram, great nephews, Trey, Eli, and Adam Wolfram, and great grandson Tristan Kastronis.

She was a graduate of Maine Township High School, Des Plaines, Ill. She furthered her education by attending Blackburn College, Carlinville, Ill. and received a B.S. in History and she obtained her Masters Degree in counseling from Indiana University, Bloomington, Indiana. She began her educational career as a Dean of Women at Bucknell University, PA and Towson University, MD. She began her teaching and counseling career at Greenbelt Junior High School and Nicholas Orem Junior High School and later became the student teacher coordinator for the University of Maryland in Prince George's County, MD. In 1971, relocated to St. Mary's County where she taught history at Chopticon High School, then became the guidance counselor at Esperanza Middle School, returning to Chopticon High School as head of the counseling department, and ended her career at Margaret Brent Middle School in 1997. She was a world traveler, an avid sports fan, most especially of her "Cubbies" and the Redskins. She was a loyal score keeper for the Chopticon Field Hockey Team and the team's number one fan. She was a true friend, loyal confidant, and great second mother.

A visitation will be held on Sunday, April 3, 2011 at St. Andrew's Episcopal Church Parish Hall, 44078 St. Andrew's Church Road, California, MD 20619 from 3:00 p.m. until 5:00 p.m. A memorial service will be held on Monday, April 4, 2011 at 11:00 a.m. at St. Andrew's Episcopal Church, 44078 St. Andrew's Church Road, California, MD 20619. Interment will be private.

The family requests that any memorial gifts be made to St. Andrew's Episcopal Church, P.O. Box 600, California, MD 20619, the Hollywood Rescue Squad, P.O. Box 79, Hollywood, MD 20636 or the Chopticon Field Hockey Scholarship Fund.

Arrangements by the Brinsfield Funeral Home, P.A., Leonardtown, MD.