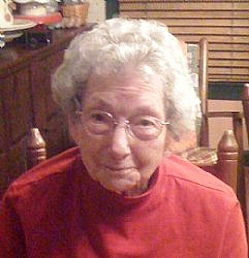 Mrs. Tasker was a Homemaker and of the Baptist faith. She provided day-care for many years. She enjoyed bowling, having played on many bowling leagues.

She was daughter of the late Frank King and the late Stella Maude Lantz

She was predeceased by her parents; her husband of 48 years, Donald C. Tasker, Sr.; one son, Donald C. Tasker, Jr.; one daughter, Doris Ann Tasker; one brother, Perry King; and two sisters, Bertha and Bernice.

She is survived by her three sons, John Dale (Sue) Tasker of Newnan, GA, Ronald Harrison (Kathy) Tasker of Jonesborough, TN, and Monte J. (Sharon) Tasker of La Plata, MD; and one daughter, Robin H. (Mike) Henley of La Plata, MD. Also survived by eleven grandchildren and seven great-grandchildren.

A Visitation will be held on Monday, December 13, 2010 from 9-11am at Raymond Funeral Chapel, La Plata, MD.

A Funeral Service will take place on December 13, 2010 at 11am at Raymond Funeral Chapel, La Plata, MD.

Clergy will be the Rev. Davis Huffman.

Interment will follow at Lakemont Memorial Gardens, Davidsonville, MD.

Pallbearers will be her grandchildren.

Arrangements provided by Raymond Funeral Service.