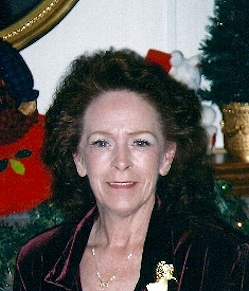 Tera Gaschler DeMent, 62, of St. Leonard, MD passed away peacefully September 22, 2010 at her residence in St. Leonard, MD. Tera was born November 15, 1947 in Washington, D.C. to James Francis Hampson and Theresa Fox Hampson.

She married Lawrence "Larry" Dement and they made their home in St. Leonard, MD. Tera was employed by the Calvert County Department of Social Services as a social worker. In her leisure time Tera loved spending time with her family. She also enjoyed knitting, woodcarving, painting and riding motorcycles.

Tera was preceded in death by her parents, and by a sister Claudia Isbelle. She is survived by her devoted husband Larry, and three sons Domonic Stanley and wife Cynthia of Lawrenceville, GA, Vance Gaschler and wife Virginia of Dover, DE, and Brett Gashler and wife Laura of Orlando FL., eight grandchildren and one great grandchild. She is also surrived by two sisters Nell Young, and Bernadette Basile of Conyers, GA, and one brother Clifford Stanley of Alexandria, VA.

A memorial service for family and friends was held Sunday September 26, 2010 at Christian Fellowship of Calvert with Pastor Don Bennett.

Arrangements were provided by the Rausch Funeral Home, P.A. 4405 Broomes Island Road, Port Republic, MD 20676.

Expressions of sympathy in Tera's name may be made to the Hospice of Calvert County, P.O. Box 838 Prince Frederick, MD 20678.