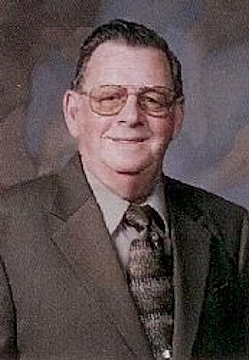 It is with great sadness that the family of Robert A. "Cheese" Jameson, age 79, of La Plata, Maryland, announces his passing on Wednesday, August 4, 2010 at the Civista Medical Center in La Plata. Cheese was born on May 31, 1931 in Bel Alton to the late Leon Francis and Madeline Bailey.

Cheese was raised on the Equality Farm in Faulkner where he raised tobacco and a variety of vegetables and livestock. He loved working on and studying antique cars, boating and being on the water, and fishing or gardening whenever he could. He was quite the wheel man and always had to be the driver whenever he went somewhere. He hated being the passenger and would wear out the "brakes" on that side. He loved to spend time with his family and was often eager to host family gatherings and weekly dinners at his house. Cheese and Millie would often take trips from Maine to Florida and Maryland to California, seeing all they could in between.

He graduated from Sacred Heart School in 1950 and after graduation drove the school bus for them while he worked on the family farm. Shortly after, he served a four year stint in the United States Army before returning home to join the Charles County Sheriff's Office in 1957. Proudly wearing the number 10, only the third number assigned in the department, Cheese was a Deputy Sheriff's Officer who did everything alongside his best friends and fellow officers. In the later part of his career he was in charge of Corrections and Civil Processing until his retirement as Sergeant in 1977. He then went on to work as a salesman for the Besche Oil Company and sold cars for Joe Monroe Automotive in La Plata. He finished his working career as a Lieutenant for the Indian Head Naval Ordinance Station Police Department in Indian Head. He retired in 1995 when he and Millie decided to take some time for themselves to travel and spend more time with their family and friends. He remained active in the Fraternal Order of Police, Francis C. Garner Lodge #24, the Charles County Sheriff's Office Retired Officers Association and the Charles County Republican Party.

He is preceded in death by his wife, Mildred Gene "Millie" Jameson, his parents, Leon Francis and Madeline Bailey and his sons, William Lee and Robert Charles Hicks. He is will lovingly remembered by his daughter Elizabeth J. Gardiner and son-in-law, Charles G. Gardiner of Port Tobacco, MD, and son Bradley A. Hicks of Salem, VA. He will be greatly missed by his grandchildren, Andrea L. and Christopher R. Owens of Bristow, VA; Brian A. Hicks of Lexington Park, MD, William Hicks of Roanoke, VA, Mary E. Gardiner of Alexandria, VA, Benjamin A. and Marie Hicks of Salem, VA, Jessica Hicks of Roanoke, VA and Charles G. Gardiner, Jr. of Port Tobacco, MD. He is survived by many family members and friends from La Plata, MD to Ontario, CA.

Viewing and prayers will be held at Sacred Heart Catholic Church in La Plata, MD, on Sunday, August 15, 2010, from 2:00-4:00 P.M. and 6:00-8:00 P.M. A Mass of Christian Burial will be held at Sacred Heart Catholic Church in La Plata, MD, on Monday, August 16, 2010, at 10 A.M. Private internment will take place at Cheltenham Veteran's Cemetery in Upper Marlboro, MD.

Donations can be made in memorial to The American Cancer Society at P.O. Box 22718, Oklahoma City, OK 73123-1718. Indicate "Robert A. Jameson" on the memo line of the check. Donor forms can be downloaded and/or donations made by credit card online at https://www.cancer.org/involved/donate/otherwaystogive/donate-by-mail-or-phone.

Arrangements provided by Raymond Funeral Service.