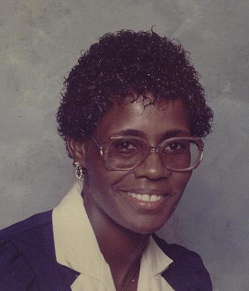 Susan Victoria Proctor, 43, of Lexington Park, MD died January 6, 2007 in St. Mary's Hospital, Leonardtown, MD.

Born December 31, 1963 in Leonardtown, MD, she was the daughter of George Thomas and Helen Rebecca Herbert.

Vicki Sue obtained her education through St. Mary's County Public Schools graduating from Chopticon High School, Morganza, MD in 1982. Throughout high school, she was heavily involved in sports especially cross country, track and field, and softball. After high school, she continued her involvement in sports as a key player of the Club Paradise Warriors. She enjoyed spending time with her family, playing Keno and numbers, and walking and dancing.

Vicki Sue began working at Hardees in Leonardtown, MD immediately after high school. In 1984, she began her career at St. Mary's Nursing Center, Leonardtown, MD as a dietary aide and worked there for over 14 years. She was currently employed at McDonald's in Charlotte Hall, MD.

Vicki Sue enjoyed a special relationship with her oldest brother, Joseph, who she was residing with at the time of her death.

In addition to her parents, Vicki leaves to mourn her husband, Michael W. Proctor, Sr., daughter, Geneva Susan Proctor and son, Michael W. Proctor, Jr. all of Lexington Park, MD, grandmother, Rose Dent of Forestville, MD, four sisters, Thelma (Tony) Daye of Leonardtown, MD, Barbara Herbert of Clements, MD, Helen Herbert of California, MD, and Agnes Herbert of Callaway, MD, three brothers, Joseph Dent of Great Mills, MD, George (Ricky) Herbert of Clements, MD, and Aloysius (Jackie) Herbert of Valley Lee, MD, special niece, Shanene Herbert of California, MD, special nephew, Andre Dent of Great Mills, MD, and a very special friend, June Young of Great Mills, MD, and a host of aunts, uncles, nieces, nephews, cousins and friends.

She was preceded in death by her grandparents, Francis Dent, Nellie Herbert, and Joseph Herbert and sisters-in-law, Mable Dent and Cynthia Herbert.

The family will receive friends on Friday, January 12, 2007 from 8:30 -10:00 a.m. in the Brinsfield Funeral Home Chapel, Leonardtown, MD with a Mass of Christian Burial celebrated at 11:00 a.m. in Sacred Heart Church, Bushwood, MD. Interment will follow in the church cemetery.

Serving as pallbearers will be Tyrone Bannister, Jerome Dent, Leo Dent, Louis Dent, Tony Dent, and Joe Lee Herbert. Serving as honorary pallbearers will be William Butler and Sonny Thompson.