DiNatale-Minni, Pauline Josephine
Birth: 1926-09-21 in Winsted, Connecticut
Residence: La Plata, Maryland
Death: Wednesday, May 08, 2013
Condolences: Click to View or Post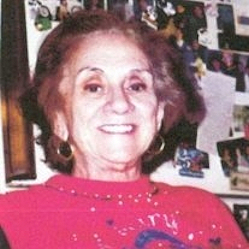 Pauline Josephine DiNatale-Minni of La Plata, MD died on Wednesday, May 8, 2013 at Genesis La Plata Center. She was 86 years old.

Pauline DiNatale-Minni was born September 21, 1926 in Winsted, Connecticut. She moved to Washington, DC in the 1940's. She later married and moved to La Plata in 1968 from College Park, MD.

Pauline was a wonderful mother and wife. She was married to the love of her life, Louis Minni for 35 years. Pauline cherished her many friends and they too became like family to her. She enjoyed spending time with her friends and family and if you were to ask her what her favorite thing was, she would say: "her love of people." She had many friends whom she met while working 32 years for Safeway stores in College Park, La Plata, and Waldorf, MD.

Pauline spent many hours at Mt. Carmel Monastery. She loved the Station of the Crosses long before the Monastery was ever renovated. She helped in the renovations and had become friends with all the nuns whom she had met. She decorated the Church for Christmas and Easter and felt very at home when she was there.

Pauline danced for all of her life. She tapped up until she was 75 years old. Pauline is probably in heaven enjoying her husband, dancing and laughing with family and friends. Special thanks are extended to Amelia Long "Molly" for the wonderful care she provided in the last nine years of Pauline's life.

She is preceded in death by her parents, Joseph DiNatale and Josephine Mazzarisi DiNatale; her husband of 35 years, Louis Minni; brothers, Patrick DiNatale, Charles DiNatale, Joseph DiNatale; sisters, Frances DiBenedetto-Bosco, Mary Talvin, Glendolfa Piccolo, and Rose Ciesco.

She is survived by her sister, Yolanda Barrett and sister-in-law, Verna DiNatale; daughters, Valerie Minni-Songer, and Victoria Minni; son-in-laws, John Songer and Steven Calobong; grandchildren, Brian Songer and his wife Jordan, Kristen Songer Cooper and her husband Harry "Butchee", John Michael Songer; and great-grandchildren, Reagan Baker, Peyton Louis Songer, and Landon Cooper. Also survived by many other nieces, nephews, and cousins.

Memorial Mass on Monday, May 13, 2013 at 11AM at Mt. Carmel Monastery. Interment will be private. Memorial contributions may be made to the Pauline Josephine Minni Memorial Fund, 12894 Broadview Run Drive, Waldorf, MD 20602.

Arrangements provided by Raymond Funeral Service.