Gritzmacher, Carla Ruth
Birth: 1946-07-11 in Oak Harbor, Ohio
Residence: La Plata, Maryland
Death: Monday, March 10, 2008
Laid to Rest: Saturday, March 15, 2008 in the Maryland Veterans Cemetery
Condolences: Click to View or Post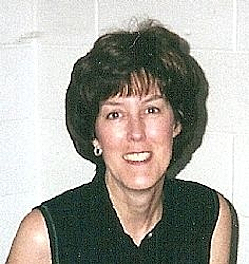 Mrs. Gritzmacher was a retired school teacher serving with the Charles County Board of Education for 38 years. She taught at T.C. Martin, Matula, Walter J. Mitchell, and J.C. Parks schools. She was member of Grace Lutheran Church in La Plata, Md., where she was choir director, pianist, and organist for 30 years. She enjoyed gardening, landscaping, cross word puzzles, and the outdoors. She volunteered with her music at the Charlotte Hall Veterans Home.

Daughter of the late Carl F. Wainwright and the late Dolores E. Bahnsen Wainwright.

Predeceased by her parents and step-mother, Lillian D. Wainwright.

Survived by her husband, Kenneth C. Gritzmacher, two sons, Michael J. (Jill) Battaghia of Annandale, Va, and Steven W. (Lisa) Battaghia of Springfield, NJ., one daughter, Amy Jo Gritzmacher,of La Plata, Md., one sister, Joann Smalley of California, one grandson, Ryan Michael Battaghia.

Visitation on Friday, March 14, 2008 from 5-8pm at Grace Lutheran Church, La Plata, Md.

Funeral Service on Saturday, March 15, 2008 at 11 AM at Grace Lutheran Church.

Interment at Maryland Veteran's Cemetery, Cheltenham, Md. On Tuesday, March 18, 2008 at 10am. Clergy will be Rev. Timothy Steele.

Pallbearers will be Bill Swartzwelder, Richard and Steven Coppola, Bill Rohme, Jerry Miller, Bill Evans, Bruce Jordan, and Bill Eckman.

Memorials to American Cancer Society, 11331 Amherst Ave, Silver Spring, MD 20902 or Hospice of Charles County, P.O. Box 1703, La Plata, Md.

Arrangements provided by Raymond Funeral Service.