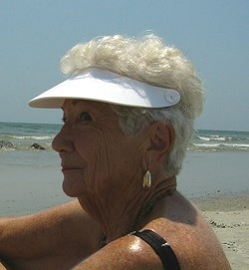 Ann M. Massie Breslauer, 88, of Piney, MD died January 26, 2011 at her residence. Born December 16, 1922 in Baltimore MD, she was the daughter of the late Nicholas and Anna D'Ambrosio Puchetti of Larino, Italy.

She was preceded in death by her husband of 24 years, Norman Breslauer, whom she married in 1975 in Lexington Park, MD; and her brother, Arthur Puchetti of Piney Point, MD.

She attended McKinley Tech High School in Washington, DC and following high school she attended the Corcoran School of Art in Washington, DC.

Before moving to Piney Point, she worked for a photography studio in Washington DC as a photo colorist. She then was employed at the Import Export Bank in Washington, DC. In 1958 she and her family purchased Oakwood Lodge. After selling Oakwood, she was employed by Maryland Bank and Trust Co. of Lexington Park, Patuxent River Naval Air Station, Melvin Construction Co., and she continued to work as a photo colorist as well.

She was well-known in St. Mary's County and was loved by all who knew her. She was an accomplished artist. Her favorite subjects were flowers, landscapes, and birds. She loved to garden and was an avid birdwatcher. She enjoyed crossword puzzles especially the Washington Post and New York Times puzzles. For many years she was involved with the St. Mary's County Department on Aging where she was recognized many times for her dedication and hard work. She won an award for her entry in the Color Maryland Beautiful art show for seniors. She was a member of NARFE, the Potomac River Association, and the Loffler Center Red Hatters. She was an outstanding tennis player winning numerous matches and tournaments. She loved to entertain; she was a fantastic cook. As a young woman she enjoyed boating and waterskiing. She liked to travel and visited many states in the US, along with Italy, Canada, Germany, Spain, and Northern Africa. Her favorite place of all was Piney Point which she fell in love with at the age of 12.

Mrs. Breslauer is survived by her children: Thomas C. Hammett (Bonnie Jean) Falls Church, VA; Susan Hammett Ross, Piney Point, MD; and Lynn Massie Skeen (Michael) Waynesboro, GA; her granddaughter, Victoria Piscitelli (Stephen) and great grand children Danielle and Vincent Piscitelli, Crofton, MD; her sister Rose O'Brien (Jack) Boynton Beach FL; her nieces: Leslie Good (Wayne) Annapolis, MD; Barbara Raley (Clarke) California, MD; Gay Brittain (Bob) Piney Point, MD; and nephew Nicholas Puchetti (Julie) of Charleston, SC; stepson Paul Breslauer (Mary) Colorado Springs, CO; and many great-nieces, nephews, and cousins.

Family will receive friends on Saturday, January 29, 2011 from 2:00 p.m. until 3:00 p.m. in the Brinsfield Funeral Home, 22955 Hollywood Road, Leonardtown, MD 20650. A memorial service will be conducted at 3:00 p.m. Interment will be private.

Memorial contributions may be made to Hospice of St. Mary's, PO Box 625, Leonardtown, MD or the Second District Valley Lee Fire Department and Rescue Squad, Valley Lee, MD.

Arrangements by the Brinsfield Funeral Home, P.A., Leonardtown, MD.