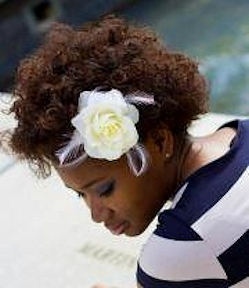 Katherine Sarah Morris, affectionately known as "Kat", 22, of California, MD, passed away on May 6, 2012. Born in Baltimore, Maryland on March 11, 1990 to Willie Morris and Marguerite Morris, she was the baby girl of six brothers and sisters.

Katherine received her education in the St. Mary's County Public Schools and St. Mary's Ryken from where she graduated. She attended the University of Maryland and earned a Bachelor's of Science Degree in Family Services. Just prior to her death, Katherine had applied for admission to the Air Force Officer's Training School. Katherine was an avid reader, enjoyed working with young children, and did an enormous amount of volunteer work. Other hobbies enjoyed by Katherine were cooking (which she did a superb job) and jewelry-making.

Katherine leaves to cherish her precious memories her parents Pastor Willie Morris and Reverend Marguerite Morris; her husband, Isaac Goodwin; three sisters, Jameka Morris, Charlotte Morris-Breeden and Aja Long; three brothers, Willie Morris, Jr., Christopher Morris, and Andre Morris and four very special friends, Shaudae, Sam, Michelle and Rose. Katherine was loved by many and will be greatly missed.

In lieu of flowers, you may make a contribution in "Katherine's Memory" to Leah's House at www.leahshousemd.org or mail your donation to Leah's House, P.O. Box 203, Callaway, MD 20620.

Family and friends will unite to celebrate Katherine's life on Saturday, May 12, 2012 for visitation from 9:30 am until time of service at 10:30 am at Gospel Tabernacle of Prayer Church, 24516 Budd's Creek Road, Clements, MD. Interment will follow at First Missionary Baptist Church Cemetery,47359 Lincoln Avenue, Lexington Park, MD. Reverend Roderick McClanahan will be officiating.

Arrangements provided by Briscoe-Tonic Funeral Home, P.A.