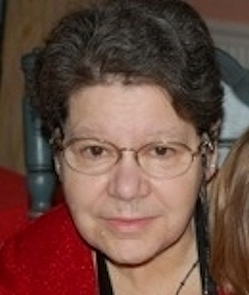 Sylvia Pastora Ojeda Laurie, age 69 of Owings, MD passed away at Calvert Memorial Hospital. December 1, 2011 She was born in the Bronx, March 6, 1942 to Bernard Pastore and Mildred (Battle) Ojeda.

Sylvia spent her early life in NY and Florida before settling in the Bronx and Brooklyn, NY for late elementary school and beyond. She commuted from Brooklyn to The City College in Manhattan, part of the City University of NY, where she received a BA in Sociology, met her future husband, Dennis, also a student there, and many of her long-time friends. After graduation, she worked for the City of New York as a Social Worker, and later a Social Work Supervisor out of the Bedford-Stuyvesant area of Brooklyn.

She and Dennis Laurie, a teacher in the NYC School System, were married in the spring of 1969. Both continued working until the birth of their first child, Alison, in February of 1970. Sylvia then left Social Work to become a full-time mother and home-maker, though she worked as a Craft Director at a YMCA camp along with her husband in the summers. Their second child, Kim, was born in June of 1972.

Never one to be idle, Sylvia was continuously involved in volunteer activities. As her children entered school, she took leadership in the Parents' Associations of her children's schools, and was a Sunday-School teacher at the Riverside Church. Always deeply religious, she, with some local friends, founded a Sunday-School in a local struggling Lutheran Church in northern Manhattan. She was instrumental in the revival of that church and its return to influence in the upper Manhattan neighborhood of Washington Heights/Inwood.

The family moved to Yonkers, NY, in 1977, and Sylvia immediately became involved with the 300 year old St. John's Episcopal Church,Getty Square, in the Home-School association of the children's new elementary school, and was instrumental in founding a new Girl Scout troop in north-west Yonkers. She also founded a 4-H Sewing Club in north Yonkers, and helped develop a Community Garden for youth along with Cornell University Cooperative Extension. In these areas Sylvia often took leadership roles – becoming Director of Girl Scout summer Day-Camps in Yonkers and nearby Eastchester, and, along with Dennis as business manager, Director of Camp Ludington, one of the resident camps of the Girl Scouts of Westchester*Putnam, for several years. She participated in a national panel of Girl Scout leaders which established the original criteria for the Girl Scout's Bronze, Silver and Gold Awards. At the same time, she also became President of the Home–School Association of Yonkers' Gorton High School (of "Grease" fame,) which both of her daughters attended.

As Alison graduated and headed off to college, Sylvia re-thought some of her own life goals, and decided to head to school herself. On the basis of her long-time love of sewing and related textile crafts, she decided to commute to the Fashion Institute of Technology in NYC. There she earned an Associates Degree in Textile Development and Marketing, along the way discovering a new interest: product market development. This interest culminated in her leadership of a group of advertising majors to a first-ever school victory in an annual national marketing competition!

To help with college expenses for both herself and the girls, Sylvia worked the next decade in New York's Fashion District. After the family moved into their first house in Peekskill, NY, and Dennis had retired from teaching to join the staff of The New York Times, she continued to apply her expertise in retail. Still deeply interested in volunteer activities, Sylvia was instrumental in developing the Hudson Valley Chapter of the American Sewing Guild for which she served as President and as Editor of its Newsletter.

Dennis retired from the NY Times in 2004, and Sylvia from Jo-Ann's in 2006. Daughter Alison, now with a career in DC, asked her mom and dad to join her, her husband Jason and their 4 girls in Calvert County. A move was planned for early 2007, but was interrupted when an infection in a sore in Sylvia's ankle proved intransigent, and Sylvia lost her right leg in a below the knee amputation. The move, which also included youngest daughter Kim, was made in June, 2007, but again interrupted because of the persistence of that same infection - luckily handled in Maryland at AAMC, but resulting in an above the knee amputation of that same leg.

The collapse of the housing market slowed sale of the Peekskill house, but in October of 2009, her family was able to move into their own home in Owings. Of course, in the interim, Sylvia had made certain to find a church in which she and the family could become involved – All Saints' Episcopal in Sunderland. There she volunteered with the Episcopal Church Women, for a while publishing a newsletter for the ECW. She also worked in the Vacation Bible School, sewed for the Relay for Life and for some needed Altar vestments and helped with the organization and running of the annual Christmas Market. She always volunteered for the annual Wine & Arts Fest, running activities for children attending, and participated with the Thursday knitting/sewing group. Outside of the church community, she joined and was active with the Calvert County Quilt Guild. In all things she was firmly committed to the importance of passing along hand skills to a younger generation and to honoring and valuing the work of all hand crafters.

Sylvia died on December 1, 2011 while a resident at the Rehabilitation Center of Calvert Memorial Hospital recovering from several related problems. She is survived by her husband, Dennis Laurie; daughters, Kim Laurie and Alison K (Laurie) Fields and Alison's family - husband Jason and four daughters, Hannah, Maya, Sara, and Teya – all of Owings; brothers, Bernard P. Ojeda, Jr. and Manuel Lee Ojeda of Brooklyn Park and Minneapolis, MN respectively.

At her request, she was cremated. There will be a celebration of her life at Rausch Funeral Home, 8325 Mt. Harmony Lane, Owings, on Tuesday evening, December 13, from 7:00 – 9:00 P.M. A Memorial Service of Thanksgiving will be held at All Saints' Episcopal Church, Sunderland– at the intersection of Rte. 2 and 4 on Wednesday, December 14, 11:00 am.

In lieu of flowers, contributions may be sent to any of Sylvia's favorite charities: Episcopal Church Women, c/o All Saints' Episcopal, PO Box 40, Sunderland, MD 20689 or United Thank Offering (at the same address above) or Turnabout, Inc., PO Box 40, Owings, MD 20736.

Arrangements provided by Rausch Funeral Home.