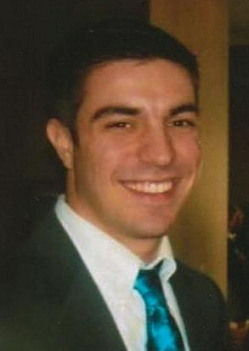 Nicholas Adam Grigsby, 27, of Lexington Park, MD, formerly of Port Republic, MD passed away on June 20, 2010 in Port Republic, MD. He was born June 20, 1983 in Clinton, MD to Martin and Deborah G. Grigsby.

Nick graduated from Calvert High in 2001 and from McDaniel College in 2005 with a Bachelors Degree in Communications. He raced Junior Dragsters when he was young and won MIR Track Championship in 1996 and 1997, NHRA Junior Dragster Champion in 1997 and IHRA World Champion Junior Dragster in 1999. He was a competitive swimmer and swim coach. Nicholas swam for Calvert High School Swim Team, and McDaniel College Swim Team, he also swam for the Bowie Aquatics, and the CBAC Swim Team. He loved all sports, including soft ball, hockey, and golf which he just started to enjoy. He loved watching the Redskins and the Capitals. He also enjoyed boating, jet skiing and just being with his friends. He excelled at everything that he set out to do, was a good mentor and had a way of communicating with people.

Devoted son of Marty and Debbie Grigsby, Grandson of Orban and Lena Grigsby and the late Thomas and Maryann DeMarr. Beloved boyfriend of Sarah Elizabeth Grys, nephew of Glenn DeMarr (Dianna), Darrell DeMarr, Melanie Samakow (Terry), Orban Ralph Grigsby, Jr. ( Cathy), Connie Turner (Brad), Anna Lyons ( Rodney), Cheri Brady ( Jerry), Janell Grigsby, Alicia Novak (Jim), Lena Jo Spitzer (David), Russell Grigsby (Martha Battagila) and many other family members.

The family will receive friends at the Rausch Funeral Home, P.A., 20 American Lane, Lusby, MD on Wednesday June 23, 2010 from 4-8 P.M. where services will be held on Thursday June 24, 2010, 11 A.M. For both days, the family has requested that all family and friends be dressed in casual attire. Interment will be private. Memorial contributions may be made to: The Living Legacy Foundation 1730 Twin Springs Road, Suite 200 Baltimore, Maryland 21227 410.242.7000 or 800.641.HERO. www.thellf.org/default.asp?id=152

Arrangements by RAUSCH FUNERAL HOME P.A. LUSBY MD.