Courtney, Mark Darnell
Birth: 1973-03-09 in Leonardtown, Maryland
Residence: Charlotte Hall, Maryland
Death: Saturday, February 16, 2008
Laid to Rest: Friday, February 22, 2008 in the Charles Memorial Gardens, Leonardtown, Maryland
Condolences: Click to View or Post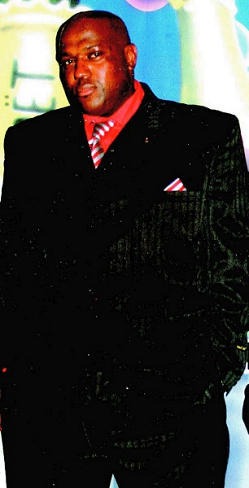 Mark Darnell Courtney, 34, of Charlotte Hall, MD died February 16, 2008 in Accokeek, MD.

Born March 9, 1973 in Leonardtown, MD, he was the son of Herbert Lee and Agnes Cecilia Courtney.

Mark was a big teddy bear and very loving to his children. He was always there cheering his eldest son Marcus on at sports events, especially the Leonardtown High School basketball games. He enjoyed good food, the latest fashions, working on old cars, and watching the car races. He enjoyed the companionship of his girlfriend Patricia Ann Reeves.

He is survived by his parents, his children, Marcus Darnell Courtney, Markiah Daniel Courtney, and Savannah Elizabeth Rand, five brothers, Anthony Francis Holt of Leonardtown, MD, Herbert Wayne Courtney of Hollywood, MD, James Matthew Courtney (Bernice) of Mechanicsville, MD, Joseph Alexander Courtney of Leonardtown, MD, and John Columbus Courtney of Hollywood, MD, one sister, Sherlene Marie Courtney of Hollywood, MD, fourteen nieces and nephews, and a host of aunts, uncles, cousins, and friends, as well as his very close friends Robert Henry Short and Linda Short.

Mark is predeceased by his grandparents, Carry Elizabeth and John Columbus Holt, and Elsie Frances and Joseph Edward Berry.

The family will receive relatives and friends on Friday, February 22, 2008, from 9:00 a.m. to 11:00 a.m. in St. Joseph's Catholic Church, Morganza, MD. A Mass of Christian Burial will be celebrated at 11:00 a.m. Reverend Keith Woods will be the celebrant. Interment will follow in Charles Memorial Gardens, Leonardtown, MD.

Serving as pallbearers will be Rodney Estep, Francis Medley, Jasper Rosier, Marcell Shorter, Francis Holt, and Lamont Briscoe.

Arrangements by the Brinsfield Funeral Home, P.A., Leonardtown, MD.