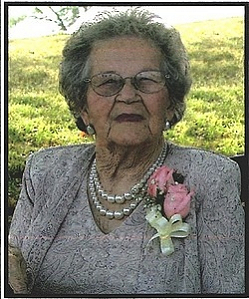 Dorothy Fowler Morgan, 94, of Mechanicsville died peacefully on March 16, 2012, attended by her loving family. Born February 2, 1918 in Calvert County, MD, she was the daughter of the late Fayette and Lydia (Lottie) Fowler.

She graduated from Prince Frederick High School in 1934. She lived her life dedicated to God and her family.

She was preceded in death by her husband Alfred Morgan, whom she married on November 2, 1935.

She is survived by seven children; Bernard Morgan (Eleanor), Gloria Westfall, Osborne Morgan, Sue Wood (Michael), Ida Kaminetz (Marvin), Teressa Quade (Joe), Jeannie Carey (Bill), 25 grandchildren, 43 Great-grandchildren, 13 great-great grandchildren, and two siblings, Joe and Raymond Fowler. Preceded in death by 12 siblings; Kathleen Taylor, Wilfred Fowler, Wilson Fowler, Virgie Parman, Virginia Fowler, Marie Suite, Thelma Dresser, Mildred Lyon, Bertha Fowler, Fayetter Fowler, Frances Swartze, and Sadie Blake.

Dorothy enjoyed reading, sewing, swimming, crabbing, playing cards, but most of all she enjoyed her vegetable garden. Always offering whatever she had to whoever came to visit her.

The family will receive friends on Monday, March 19, 2012 from 5:00 PM – 8:00 PM with prayers at 7:00 PM in the Mattingley-Gardiner Funeral Home, Leonardtown, MD. A Funeral Service will be held on March 20, 2012 at 10:00 AM in All Faith Episcopal Church in Mechanicsville, MD., with Fr. Jeff Price officiating, which Dorothy attended for over 76 years.

Memorial contributions may be made to the Mechanicsville Vol. Rescue Squad Auxiliary, P.O. Box 552 Mechanicsville, MD 20659, Mechanicsville Vol. Fire Departement, P.O. Box 37, Mechanicsville, MD 20659, and/or Calvert Hospice, P.O. Box 838, Prince Frederick, MD 20678.

Arrangements provided by the Mattingley-Gardiner Funeral Home, P.A, Leonardtown, MD.