Forrest, Dr. James Alexander, Sr.
Birth: 1911-04-15 in Ridge, Maryland
Residence: St. Mary's County, Maryland
Death: Monday, March 23, 2009
Laid to Rest: Monday, March 30, 2009 in the St. Peter Claver Catholic Church Cemetery, St. Inigoes, Maryland
Condolences: Click to View or Post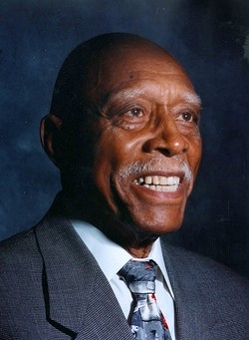 Dr. James A. Forrest was born in Ridge, Maryland, April 15, 1911, and lived all but four years of his life in St. Mary's County. He attended St. Peter Claver Church and graduated from Cardinal Gibbons Institute on June 7, 1931. He attended Hampton Institute (now University) in Hampton, Virginia. His college education was quickly interrupted because of the impact of the depression and the need to work and care for his ailing grandmother. He received a Doctorate of Humane Letters from St. Mary's College of Maryland on May 13, 2000, in honor of his community service.

In 1935, he married Harriett Swales of Leonardtown, Maryland at St. Aloysius Gonzaga Catholic Church. That same year, he began working for Chesapeake and Potomac Telephone Company (a subsidiary of AT&T). He went from a line crew foreman to a senior level manager. He retired in 1976. He and his wife of 74 years raised and educated five children. All five of the children went on to post-secondary education.

It was through his children that his involvement with schools and education became a passion in his life. He was a member of the Cardinal Gibbons Institute Foundation Board. He played a key role in the desegregation of St. Mary's County public schools in the mid-60s. Because of his role in the constitutional action, he was appointed by then-governor, Marvin Mandel, to the St. Mary's County Board of Education and later became the first African-American to serve as its president. Under his leadership, several new high schools, middle and elementary schools were constructed including the Career and Technology Center which now bears his name (Dr. James A. Forrest Career and Technology Center). For many years, he anonymously gave scholarships to African-American youth in St. Mary's County.

Dr. Forrest's service to his community was not limited to the educational arena. He was active in his home parish, St. Aloysius Gonzaga Catholic Church, Leonardtown, Maryland, as a Eucharistic Minister, Parish Council Education Committee and a member of the St. Vincent DePaul Society. He was a charter member of the St. Mary's County Branch of the National Association for the Advancement of Colored People (NAACP), and the Knights of St. Jerome. A widely respected figure in Southern Maryland for the better part of a century, Dr. Forrest not only worked for the good of the African-American community but for peaceful relations and better understanding between the black and white communities. His leadership has been expressed on the executive boards of St. Mary's Hospital, St. Mary's Home for the Elderly, Office on Aging, Cedar Lane Apartments, St. Mary's County Fair and in 1993 he was appointed to the St. Mary's County Historic District Commission and served as a bailiff in the Juvenile Court of St. Mary's County.

He was preceded in death by his beloved grandmother, Susan Bennett; his mother, Helen Burrell; his father, Charles Forrest; and his son, James, Jr. He leaves behind his loving and devoted wife, Harriett and four children, George (Chiquita); Lewis I (Eudora); Barbara (Nace); and Francis (Margaret). Nine grandchildren, twelve great grandchildren, a host of nieces, nephews, extended family members and very close friends.

Family will receive friends for Dr. Forrest's Life Celebration on Sunday, March 29, 2009 from 2 to 7pm in St. Peter Claver Catholic Church, 16922 St. Peter Claver Road, St. Inigoes, MD 20684 where prayers will be recited at 5pm. A Mass of Christian burial will be celebrated on Monday, March 30, 2009 at 10:30am with Father Scott Wood officiating. Interment will follow in the church cemetery.

Pallbearers will be; Francis Forrest, Jr., Lewis Forrest, II, Christopher Forrest, Quincy Williams, Vernon Forrest, Patrick Forrest, Timothy Forrest and Kenneth Smith. Honorary Pallbearers; St. Mary's NAACP, Steve Nolan, Wayne Scriber, Knight's of St. Jerome, Phillip Scriber, Wayne Barnes, LaRue Gibson, William (Nace) Bowman and Larry Lorton.

In lieu of flowers, memorial contributions in Dr. Forrest's name can be made to the Cardinal Gibbons Institute Scholarship Fund. Attn: Marvell Thornton, 8400 Autumn Way, Clinton MD 20735.

Arrangements provided by the Brinsfield Funeral Home, P.A., Leonardtown, MD.