Cusic, Steven Alan, Jr.
Birth: 2000-08-24
Residence: Mechanicsville, Maryland
Death: Wednesday, February 18, 2009
Laid to Rest: Saturday, February 21, 2009 in the Charles Memorial Gardens, Leonardtown, Maryland
Condolences: Click to View or Post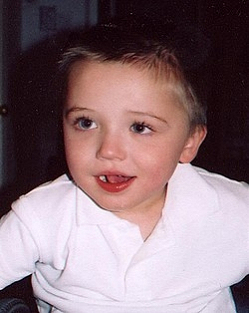 Steven Alan Cusic, Jr., 8, of Mechanicsville, MD died February 18, 2009 at his residence. Born August 24, 2000, he was the son of Leslie Morgan of Mechanicsville, MD and Steven Alan Cusic, Sr. of Marblehead, OH.

He is also survived by his siblings Rachel Jones of Mechanicsville, MD and Cody Cusic of Marblehead, OH, his maternal grandparents; Dennis and Sandy Morgan of Mechanicsville, MD; his paternal grandparents Wendy and Frank Wright of Marblehead, OH; aunts and uncles, Philip and Tina Burroughs of Mechanicsville, MD, Ronnie and Tessa Cusic of Lusby, MD, Tracy Cusic of Hollywood, MD and Eric and Crystal Youngless of OH; cousins, Philip and Alexis Burroughs, Kayla Buckler, Heather Cusic and Tavaris, Teron and Jatori Cusic.

Steven was gently carried to heaven by his guardian angel to join his paternal grandfather Gene A. Cusic, Sr. and his uncle Gene A. Cusic, Jr.

Steven attended Banneker and White Marsh elementary schools. He looked forward to snack time. In the summer, you could find him hanging out at Camp Horizons. Steven enjoyed walks in his wheelchair with the wind in his face, bubbles at bath time, swinging outdoors, bouncing on the trampoline with his cousins Philip and Alexis and swimming. He loved listening to his sister Rachel and her puppy Paris romp and play throughout the house. Steven and his mom spent hours together on Sunday watching the Redskins and NASCAR racing, rooting for who else, but Kyle Bush in the M&M car #18. He developed a taste for the finer things in life; Haagen Daz ice-cream, sweet potatoes from Outback, dining in at the Golden Corral, chocolate delight lovingly made by his Aunt Tina, and a full bag of M&Ms. His greatest accomplishment in his short life was to love and be loved….it was a good life.

The family will receive friends on Friday, February 20, 2009 from 5:00 – 8:00 PM in the Mattingley-Gardiner Funeral Home, Leonardtown, MD where prayers will be said at 7:00 PM with Deacon William Kyte officiating. A Mass of Christian Burial will be celebrated on Saturday, February 21, 2009 at 10:30 AM in Immaculate Conception Catholic Church, Mechanicsville, MD with Fr. Peter Alliata officiating. Interment will follow in Charles Memorial Gardens, Leonardtown, MD. Pallbearers will be his grandfather Dennis Morgan, cousin Philip Burroughs III, Uncle Ronnie Cusic and family friend Doug King.

Contributions may be made to Hospice of St. Mary's, P.O. Box 625, Leonardtown, MD 20650 (website www.hospiceofstmarys.org) and/or Hope's Hope, 1053 Sunset Meadow Drive Apex, NC, 27523 and/or to the study of INAD c/o Allison Gregory, MS. Molecular & Medical Genetics, 3181 SW Sam Jackson Park Road, Mailcode L103A, Portland, OR 97239-3098.

Arrangements provided by Mattingley-Gardiner Funeral Home.