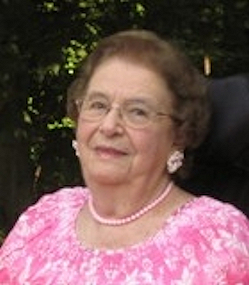 Eleanor Sauter Dowell, 90, of Prince Frederick, died September 8, 2010 at home. She was born August 21, 1920, the daughter of George and Emma Hummel Sauter.

Raised in Baltimore, she was a graduate of Girls Latin School and attended business school. Girl Scouts and scout camp were an important part of her youth. During her senior year in high school, she was honored to be selected as May Queen. Always interested in sports, she enjoyed playing hockey and basketball in high school. Swimming was a special love and she was proud of teaching her eight grandchildren to swim.

She married Arthur W. Dowell, Jr. on June 6, 1942. They met on a blind date when she was visiting Calvert County. The two young men on the blind date agreed, in advance, that Arthur would date the tall girl, as he was tall. That was the beginning of many happy years together and fifty-seven years of marriage.

She held several office jobs prior to the birth of their first daughter when she then stayed home to raise their family. Always active in their daughters' activities, she started a Girl Scout troop in Loch Raven Village, Baltimore County. In 1961, the family moved to Calvert County where she became very involved in community activities. For almost twenty-five years, she was active in the Calvert Memorial Hospital Auxiliary, volunteering in the hospital gift shop, and serving one term as president of the Auxiliary. She was a long time volunteer for the Red Cross Bloodmobile, served as an Election Judge and was a member of Trinity United Methodist Church.

Throughout all of her married life, her first and most important love was her family; she was a devoted wife, mother, grandmother, and great-grandmother. Friends played a major part in her life and she still kept in touch with some friends from childhood. A bridge player from high school days, she played bridge until just a few weeks prior to her death.

Becoming an above the knee amputee in 2000 and a bilateral amputee in 2009, she learned to live with and adapt to her physical limitations, assuming the attitude that "I can do it myself". When the local amputee support group began in 2001, she was one of the first members and created the group name "Amputees Helping Amputees". Throughout the years, she has been an inspiration and support for new amputees. She made regular phone calls offering encouragement and knowledge to amputees and supporting the friends she met through this group.

Eleanor was predeceased by her husband, Arthur Wilson Dowell, Jr.; her sister, Jane Stinebert; and one great-grandchild, Hudson Arthur Showalter Medrano.

Survivors include her three daughters: Carolyn Mohler and husband Philip, Joan Winship and husband James, Sally Showalter and husband David; eight grandchildren: Deborah Pitonyak and husband Christopher, Gayle Bylan and husband Joseph, Kay Mohler and fiancé Noah Wood, Christopher Winship and wife Tandy Matsuda, Courtney Winship and husband Isaac Kuznits, Ryan Showalter and wife Adele, Tracy Medrano and husband Warren, and Michael Travis Showalter; and seven great-grandchildren: Lauren and Carter Pitonyak, Ella and Luke Bylan, Kai Winship, and Jackson and Lilly Showalter.

The family received friends on Friday September 10, 2010 from 2-4 and 6-8 PM at Trinity United Methodist Church, Prince Frederick, MD, where services were held on Saturday September 11, 2010, 11 A.M. Interment followed in Wesley Cemetery.

Memorial contributions in her name may be made to Trinity United Methodist Church, P. O. Box 2142, Prince Frederick, MD 20678 or to the Calvert Memorial Hospital Foundation, with the memo line indicating Amputees Helping Amputees, P. O. Box 2127, Prince Frederick, MD 20678.

Arrangements provided by Rausch Funeral Home.