Simmons, Clare Marguerite
Birth: 1920-11-11 in Lusby, Maryland
Residence: Solomons, Maryland
Death: Monday, March 17, 2008
Laid to Rest: Friday, March 21, 2008 in the Christ Church Episcopal Chruch Cemetery, Port Republic, Maryland
Condolences: Click to View or Post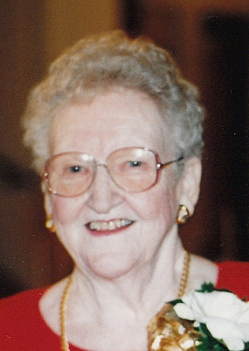 Clare Marguerite Simmons went to be with her Lord at the age of 87 on Monday, March 17th 2008 at the Solomons Nursing Center in Solomons, Maryland. Though she was most fondly known as Marguerite or "Sis" by her siblings, she was born Clare Marguerite Wilson to Clare Marguerite Breeden Wilson and William James Wilson II on November 11, 1920 in their home in Lusby, Maryland. She graduated from the former Solomons School in 1938. She lived almost all of her life in Calvert County, Maryland, with the exception of a short time in the state of Washington. She graduated from the Eaton-Burnett Business School in Baltimore and also worked in the city in the early 1940's.

Marguerite married John Elbert Simmons of Port Republic, MD. on November 16, 1946 at St. Paul's United Methodist Church in Lusby. She and John resided in Port Republic, and had three children, John Wilson, Ruth Ann, and Daniel Edwin. Though Marguerite primarily focused on creating a loving home for her family she found time to work outside the home as a secretary for the Calvert County School system. Marguerite's passion was doing good for others, especially cooking meals for them. Many a person has been blessed by a special dinner around her table and her favorite meal to prepare was her recipe for Maryland crab cakes. She was well loved by her church family at First Baptist Church of Calvert County, where she served many years teaching Sunday school, leading ladies' Bible studies, and serving many meals to pastors and visiting missionaries. Her generous nature led her to help many mission organizations and she had a special place in her heart for the needs of troubled children.

She is survived by her beloved husband John, and two of her three children, Ruth Ann Grigg of Lynchburg, VA., and Daniel Edwin Simmons of Lusby. She is also survived by her sister Vernelle Jenkins of Prince Frederick, and Robert Owen Wilson of Owings. She has found great joy in her grand children Aaron Padgett of Alexandria, VA., John Grigg and Emily Grigg of Lynchburg VA., and Rachel Simmons and Abigail Simmons of Lusby, MD. She was preceded in death by her eldest son John Wilson Simmons, and brothers William James Wilson III, of Glen Burnie, MD., and Donald Edwin Wilson of Oxford, MD.

Services were held on Friday, March 21 at the First Baptist Church of Calvert County with Pastor Ralph Nevin officiating. Interment was at Christ Church Episcopal in Port Republic, Maryland. Pallbearers were Jeffery Jenkins, Robert Wilson, Jr., Donald Wilson, David Wilson, Aaron Padgett, and John Grigg. Memorial contributions for Marguerite may be made to Freedom Village USA, at PO Box 24, Lakemont, N.Y., 14857.

Arrangements were made by Rausch Funeral Home, Port Republic, MD.