Carter, Mary Catherine
Birth: 1915-07-24 in Clements, Maryland
Residence: Leonardtown, Maryland
Death: Wednesday, January 09, 2008
Laid to Rest: Wednesday, January 16, 2008 in the Sacred Heart Church Cemetery, Bushwood, Maryland
Condolences: Click to View or Post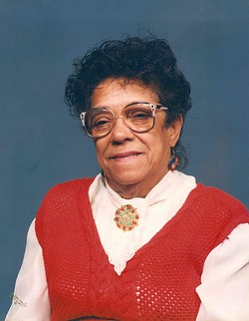 Mary Catherine Carter, 92, of Leonardtown, MD died January 9, 2008 in St. Mary's Nursing Center, Leonardtown, MD.

Born July 24, 1915 in Clements, MD, she was the daughter of the late Louis Alfred Thomas and Mary Louise Marshall Thomas. She was a faithful member of St. Francis Xavier and St. Aloysius Catholic Churches and attended regularly until her health began to fail in 2007. Catherine was a kindhearted and caring wife, mother, grandmother, sister, aunt, cousin and friend. The love she had for family and friends was evident by the warmth and the time spent preparing meals when all gathered at her home. Catherine liked to sew and made clothes for her children when they were young. She took much pride in working in her flower garden and beautiful flowers blossomed from the attention given. In addition, she loved music, playing bingo and cards and watching "The Price Is Right".

Catherine was preceded in death by her husband, Joseph Ignatius Carter, whom she married on January 12, 1936 in Leonardtown, MD. She is survived by five daughters, Mary Virginia Brown of Leonardtown, MD, Elsie C. Lawrence (Nathaniel) of Callaway, MD, Ann Berry of Mechanicsville, MD, Grace Carter Tyer (Aloysius) of Hollywood, MD, and Joan D. Thomas of Forestville, MD, five sons, Ernest S. Carter (Martha) of Abell, MD, James Leroy Carter (Sylvia) of Hollywood, MD, John Daniel Carter (Debbie) of Abell, MD, William Rowland Carter (Carolyn) of Brandywine, MD and Joseph (Bo) Thomas of Bushwood, MD, three sisters, Elsie Catherine Butler of Chaptico, MD, Florine Plater of Washington, DC, and Lillian Young (John) of Loveville, MD, and one brother, Phillip Thomas (Rose) of Chaptico, MD, sisters-in-law, Bernice Barbour, Agnes Thomas and Ethel Thomas, two daughters-in-law, Bernice Carter and Barbara Carter, 44 grandchildren, 65 great grandchildren, 15 great-great grandchildren, and a host of nieces, nephews and friends. In addition to her parents and husband, Catherine was preceded in death by two sons, Joseph F. and Thomas X Carter, five brothers, George F., James L., Joseph A., Walter A. and Lawrence I. Thomas, sister, Annie E. Thomas, son-in-law, James E. Brown, two grandchildren, Cynthia G. Lawrence and Marc A. "Tony" Carter and a great granddaughter, Savannah R. Taylor.

The family will receive friends on Wednesday, January 16, 2008 from 9:30 a.m. to 11:00 a.m. in Holy Angels Catholic Church, Avenue, MD. A Mass of Christian Burial will be celebrated at 11:00 a.m. The Reverend William Gurnee will be the celebrant. Interment will follow in Sacred Heart Church Cemetery, Bushwood, MD.

Serving as pallbearers will be, Joseph Berry, Jr., James E. Brown, Nathaniel Lawrence, Jr., William Brown, Daryl Carter and David Young.