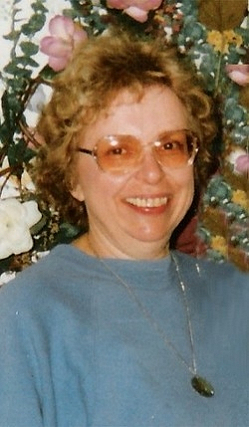 Audrey Marie Johnson, 69, of Hollywood peacefully fell asleep in death on July 30, 2010 at Taylor Farm in Bushwood. Born in Teutapolis, Illinois on September 4, 1940, she was the daughter of the late Joseph C. Schimpf and Frances C. Van de Riet Schimpf.

Audrey is survived by her husband of 43 years, John Arnold Johnson of Hollywood, her two daughters, Kiri Inger Johnson of Stafford, Virginia and Viki Esther Johnson of Lake Anna, Virginia. She has three granddaughters, Megan Valerie, Madeline Palmer and Meredith Audrey Hook.

She is preceded in death by her parents, and six of her 13 siblings, James Schimpf, Dolores Rutter, Virginia Lopez, Loretta Brookins, Kenneth Schimpf, and Carmelyn Dautzenberg. She is survived by her eldest sister Rosemary (late Richard) Lapinski of Glenview, IL, her brother Jerome (Beverly) Schimpf of Hanover Park, IL, her brother Charles (late Mary) Schimpf of Streamwood, IL, her sister Madonna Schimpf of Lockport, IL, her sister Kathleen (Richard) Rose, of Norman, OK, her sister Jane (Dennis) Crosse of Hickory Hills, IL, and her youngest brother Mark Schimpf of Calumet, MI. She is survived by many nieces and nephews. She is also survived by her dear aunt, Ann Byers of St. Louis, MO.

Audrey graduated from McKinley High School in St. Louis, MO in 1958. After graduating from St. Louis City Hospital School of Nursing as an R.N., she flew out to Monterrey, CA, where she married her husband John on December 17, 1966. Audrey and John lived in various places including Hampton, VA, Key West, Florida and Daytona, FL before moving to St. Mary's County, MD in June of 1974. In recent years, John and Audrey became "Snowbirds", and would spend the cold months down in warm, sunny Lakewood Park, FL.

Audrey was baptized as one of Jehovah's Witnesses on July 17, 1971 in Milwaukee, WI and spent many happy years sharing her Bible-based faith and teaching others about her God, Jehovah. She was an active member of the Callaway Congregation of Jehovah's Witnesses. She firmly believed in the Bible's hope of the resurrection and always talked about seeing her friends and family again on a paradise Earth.

In addition to her volunteering in the ministry, Audrey enjoyed cooking, sewing and homemaking, caring for the family's varied pets and the yard and garden.

Family and friends are invited to Audrey's Life Celebration on Monday, August 2, 2010 from 2 to 4 p.m. and 6 to 8 p.m. at the Brinsfield Funeral Home, 22955 Hollywood Road, Leonardtown, MD. Funeral Service will be held on Tuesday, August 3, 2010 at the Kingdom Hall of Jehovah's Witnesses, 20770 Seth Court, Callaway, MD.

Family request contributions be made to Hospice of St. Mary's, P.O. Box 625, Leonardtown, MD 20650.

Arrangements provided by Brinsfield Funeral Home.