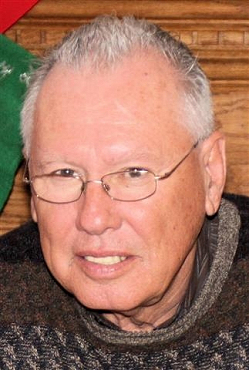 Dennis Lake Smith, of Solomons, MD passed away peacefully at his residence on May 1, 2011 surrounded by his family and friends. He was born on May 31, 1941 in Frederick, MD to the late Reno Kenneth Smith and Margaret Albaugh Smith.

He was formerly married to Sandy Smith and Donna Stewart.

Dennis graduated from Emery-Riddle Aeronautical University, getting a bachelor's college degree later in life while working full time. He was a valued employee of Wyle Labs in California, MD where he was a software applications engineer who traveled the world. Dennis was an honorably discharged veteran of the United States Air Force from 1962 – 1966 and received the following decorations, small arms expert marksmanship ribbon, Air Force good conduct medal and the Air Force outstanding unit award. He was a talented artist, skilled pilot and avid sport aviator, boater and saxophone player extraordinaire who most recently played with the band "Round Midnite" and at various venues around Solomons, MD. He loved art, music, flying, beaches and sunsets.

He will be forever remembered for his kindness, generosity, sense of humor and passion for adventure. Dennis is a past member of the Boy Scouts of America having earned the rank of Eagle Scout, a member of Trinity United Methodist Church, Prince Frederick, MD; American Legion Post #274, Lusby, MD; Solomons Yacht Club, Solomons, MD; EAA (Experimental Aircraft Association); Young Eagles; QB's member and band member of "Round Midnite".

Dennis Lake Smith is survived by his children, Darren Smith of Lexington Park, MD; Shelley Sears of California, MD; Belynda Mogge of Lexington Park, MD; Richard Miller of Great Mills, MD and Crystal Lester of California, MD; grandchildren, Shane Weasenforth; Rob, Trae and Grant Miller; Joe Varela, Cody Keister and Emma Lester; a great granddaughter; siblings, Joanne Gardner of Huntingtown, MD; Michael Smith of Myersville, MD; Ronald Smith of Prince Frederick, MD; Susan McDonnell of San Antonio, TX; Melinda Kay of Baltimore, MD; Patricia Gay of St. Leonard, MD and Kathy Penny of St. Leonard, MD. Dennis was a devoted and loyal brother, father, grandfather and friend.

Pallbearers will be Dr. Wayne Rozran, MD; Richard Miller; Tim Gatton; Keith Black; Joe Dodson and Traevon Miller. Honorary pallbearers will be Dan Dawson; Joseph Varela, Kirk Swain; Carl Reichelt and Grant Miller.

The family will receive friends on Wednesday, May 4th, 2011 from 2 ~4 and 6~8 PM at the Rausch Funeral Home, P.A., 20 American Lane, Lusby, MD. Funeral Services will be held on Thursday, May 5th, 2011 at 11 AM at Trinity United Methodist Church, 90 Church Street, Prince Frederick, MD. with the Reverend Charles Harrell officiating. Interment will follow in Wesley Cemetery, Prince Frederick, MD.

Should friends desire memorial contributions may be made in his memory to Calvert Hospice, donations are encouraged on-line at www.calverthospice.org, P. O. Box 838, Prince Frederick, MD 20678 or to The Fender Music Foundation, 28118 Agoura Road, Suite 105, Agoura Hills, CA 91301, www.fendermusicfoundation.org.

Arrangements by the Rausch Funeral Home, P. A., Lusby, MD.