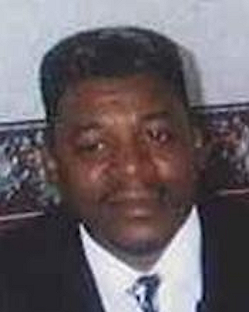 Lionel Carroll was born December 23, 1956 in Nanjemoy, Maryland. He finished his life course on January 8, 2012 at the Civista Medical Center in La Plata, MD.

Lionel was the son of the late Hazel R. Carroll and Colbert Dent. In addition to his mother, he was also preceded in death by his sister, Marilee E. Carroll Hart.

He was educated in the Charles County Public School System and after many years of dedicated service retired from the Charles County Board of Education as a Building Service Manager. Lionel loved Lord and served as a Deacon at the Free Gospel Church in Bryans Road, under the leadership of Bishop James M. Briscoe.

Lionel married his lifelong friend, Sheila Doretha Price on December 20, 1991. From their union, one daughter, Lineka Tiffany (Montgomery) was born.

Lionel was an outgoing person. He loved his family, friends, and relatives. He was an avid Bible reader, excellent basketball player, and the best Dad there was. He had a big heart and a caring spirit. Lionel not only opened his mind but also his heart and home in order to help others. Psalms 34:1 was continually on his mind, "I will bless the Lord at all times, His praise shall continually be in my mouth." It was those words that allowed Lionel to accept and adopt three wonderful children, whom he raised, comforted, and loved until his death. Lionel truly did not see people for what they were, but for what he thought they could become.

In addition to his father, Lionel leaves to cherish his memories, a loving wife Shelia; three daughters, Lineka (Charles) Montgomery, Monsiha and Sheylia Harvey; son, Leonte Harvey; granddaughter, Lakya Montgomery; father in-law, Norman Swann; sister, Doris "Tudy" (Robert) Barber; five brothers Preston "Skip" (Feebee) Swann, Lucian (Shelia), Stevie (Trudy), Mark and Bert Carroll; five sisters-in-law, Theresa Johnson (Alvin), Terri Robertson (David), Glenda Gray (James), Fern Price, and Lenora Nathan; three brothers-in-law, Timothy Swann and Tyrone and Corey Price; God children Terrica Johnson, Sharnette Dent, Samuel Cobey Jr,, Jermel Matthews and Keyon Nathan; along with a host of aunts, uncles, nieces, nephews, other relatives and friends.

His viewing will be held on Friday, January 13, 2012, 9:00am until Home Going services 11:00am at the Free Gospel Church, 3180 Livingston Road, Indian Head, Maryland. Interment Oak Grove Missionary Baptist Church, Grayton, Maryland.

Services entrusted to Thornton Funeral Home, P.A., Indian Head, Maryland.