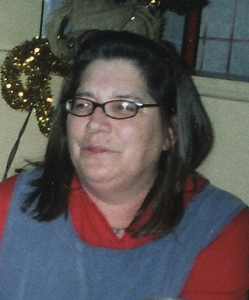 Theresa Agnes (Terry) Potts, 55, of Leonardtown, MD died July 10, 2011 in Cheverly, MD. She was born March 12, 1956 in La Plata, MD, she was the daughter of late Francis Marion Potts.

Theresa is survived by her mother Margaret Elizabeth Potts of Leonardtown, MD as well as siblings; Jerry Potts (Maria) of Rockville, MD, JoAnn Potts of Leonardtown, MD, Richard Potts (Barbara) of Charleston, S.C., Gene Potts of McKay's Beach, MD., and Fran Conway (Patrick) of Silver Spring, MD.

Terry and her family moved from Prince George's County to St. Mary's County in 1972. She graduated from Chopticon High School, Morganza, MD in 1974 and went on to St. Mary's College of Maryland graduating in 1978 with a B.S. in Social Sciences, afterwards she worked with disadvantaged youths, until moving to La Plata, MD. Theresa lived and worked for the Charles County Mental Health Department from 1982-2009. Terry returned to St. Mary's in 2006 to live with her family.

Terry had a love of nature, wildlife, and the water, one of her favorite past times was walking and hiking, she was a passionate reader and the library could have been her second home. She loved traditional Christmases and for Terry there could never be too many holiday lights or decorations. She never failed to watch "It's A Wonderful Life" a multitude of times during the season and probably would have all year long if we let her. Having her family for the holidays, cooking a traditional dinner meant so much to her. She was always willing to help and was a friend to all in need.

Pallbearers will be: Nathan Conway, Wally Yowaiski, Mike Russ, Pat Conway, and Bryan Potts. Honorary Pallbearers will be: Jessica Potts, Rachel Potts, Erica Potts, Elizabeth Potts, and Sarah Potts.

Contributions may be made to Leah's House Inc, P.O. Box 203, Callaway, MD 20620. The family will receive friends on Thursday, July 14, 2011 from 5:00 PM – 8:00 PM in the Mattingley-Gardiner Funeral Home, Leonardtown, MD, where prayers will be recited at 6:30 PM. A Mass of Christian burial will be celebrated on Friday, July 15, 2011 at 10:00 AM in St. Aloysius Catholic Church, Leonardtown, MD with Fr. John Dakes officiating. Interment will follow in Trinity Memorial Gardens, Waldorf, MD.

Contributions may be made in memory of Theresa to Leah's House Inc., P.O. Box 203, Callaway, MD 20620.

Arrangements provided by the Mattingley-Gardiner Funeral Home, P.A.