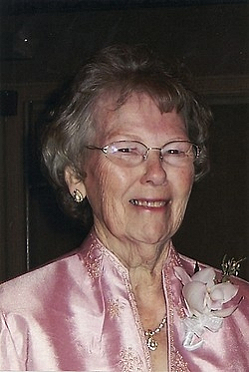 Eleanor Estelle Quade, age 90, of Clements, MD, died on August 19, 2012 at her home surrounded by her loving family. Born September 27, 1921, in Clements, MD., she was the daughter of the late William Francis and Esther Odie Gatton Pilkerton.

She was predeceased in 2007 by her loving husband of 64 years, Joseph Leonard Quade, Sr., whom she married at Sacred Heart Church in Bushwood, MD on April 27, 1944.

Her five children and their spouses survive her: Joseph Leonard Quade, Jr., (Teressa), William Carroll Quade, Sr. (Trudy), Karen Lynn Boszko (Dave, Sr.,). Fraternal twins John Kevin Quade )(Sherry), and Sharon Annette Lacey (Tony, Sr.). Fourteen grandchildren: Lenny Quade, III, Leann Quade, Erin Herche (Doug), Kim Quade, Kristina Vanessa (Conrad), Kimberly Chandler (Randy, Sr.), Willie Quade, Jr., David Boszko, Jr., (Mary), Justin Boszko, Sr. (Heather), Jessica Anderson (Tim), Tony Lacey Jr. (Rishawn), Cassandra Lea (Derek), Chris Lacey (Tammy) and Jesse Lacey, Sr. (Savannah). Twenty-seven great grandchildren; Brandon, Leah, and J.L., IV., Quade; Max, Aidan, and Emma Herche, Cossette and Aurora Browning, Randy, Jr., and Wally Chandler, Caleb Miller, Kaylee, Khloe, Kenzie, JJ, Jr., and Cheyane Boszko, Kody, Lexi, and Kris Anderson, Daylon, Darian, Brooklyn Jo, and Katlyn Lea, Presley, Jesse, Jr., Erica, and Sophie Lacey.

Eleanor, the youngest of 13 children was predeceased by her 12 brothers and sisters: Edwin Pilkerton, Effie Stewart, John Pilkerton, Eugene Pilkerton, Frances Buckler, and Joseph (Turner) Pilkerton, Elizabeth (Bet Quade, Mary Alvey, Pearl Jenkins, Theresa Floyd, William Pilkerton, and Richard Pilkerton.

She is survived by many relatives and friends.

Eleanor was a lifelong St. Mary's County resident and was a homemaker. She graduated from Margaret Brent High School in 1938. She was an active member of Sacred Heart Church in Bushwood, MD where she took great pride in working the cake stand at the church's annual summer festival and fall dinner. She was also an active member of the Margaret Brent Alumni Association, and the National Active and Retired Federal Employees Association. She cherished spending time with and cooking for her children, grandchildren and great grandchildren; enjoyed country music and dancing. She was called upon by many relatives and friends over the years to prepare her infamous coleslaw, pound cakes, and jello salads for wedding and special events.

The family will receive friends on Thursday, August 23, 2012 from 5:00 PM – 8:00 PM with prayers recited at 7:00 PM in the Mattingley-Gardiner Funeral Home, Leonardtown, MD. A Mass of Christian Burial will be celebrated on Friday, August 24, 2012 at 10:00 Am in Sacred Heart Catholic Church, Bushwood, MD with Father Francis Early officiating. Interment will follow in the church cemetery. Pall bearers will be Lenny Quade, David Boszko, Justin Boszko, Doug Herche, Willie Quade, and Chris Lacey.

Contributions may be made to the 7th District Vol. Rescue Squad, P.O. Box 7 Avenue, MD 20609 and or Hospice of St. Mary's P.O. Box 625 Leonardtown, MD 20650.

Arrangements provided by Mattingley-Gardiner Funeral Home.