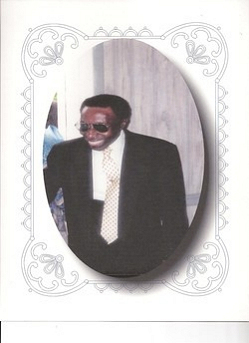 Francis Carroll Fenwick, Sr., 91 of Lexington Park, MD, peacefully departed this life on November 1, 2010 at Calvert Memorial Hospital, Prince Frederick, MD.

Born on May 10, 1919 in Pearson, MD, he was the son of the late Louis Ambrose and Veronica Louvina Gough Fenwick. He was the 8th child of 9 siblings. He attended Jarboeville Public School of St. Mary's County, MD.

Carroll decided early in life that he would be his own boss. He borrowed money from his mother, purchased a truck and started his own trucking business. This was the beginning of a self made entrepreneur, owner/operator of his own trucking business, "FC Fenwick Trucking". During his 60+ years in the trucking business, Carroll held contracts to haul thousands of loads of materials to build roads, churches, and schools in St. Mary's County and throughout, Maryland, Virginia and the District of Columbia.

His favorite pastime included watching TV - his shoot-em up western movies and baseball games, especially the Orioles. He also enjoyed fishing with his nephews and buddies and attending sandlot baseball games. Carroll loved to dance and was known for his smooth moves on the dance floor. Farming was his second love, the yearly planting of his crops of corn; tobacco, barley, wheat and his "Truck Garden". His Truck Garden was a very large vegetable garden from which his mother and sisters canned and sold produce for the fall and winter.

At an early age he met and married Margery C. Thompson and from that union they had three children - Francis Fenwick, Jr., Mechanicsville, MD, Agnes Harrison, Hyattsville, MD, and Viola Thompson, Suitland, MD. Some years later, he met Pauline Briscoe and from that union had three more children - Loretta Briscoe-Somerville, Lexington Park, MD, Darnell Briscoe, Upper Marlboro, MD, and Michael Briscoe, Clinton, MD.

Carroll was a devoted church-goer. He lived a long and abundant life. Carroll was a devoted member of the St Peter Claver Church community since childhood. He was a member of the St Peter Claver's Senior Choir, and Men's Choir. He was also a dedicated member of The Knights of St. Jerome's Society.

In his later years, his physical health made it challenging for him to get around, but he was a trooper, never complaining and insisted on his independence! One of Carroll's most endearing characteristics was his WILL POWER. He did not believe in the words "QUIT" or "I CAN'T".

Carroll was preceded in death by his son Morgan Beal, siblings, Hattie Fenwick Green-Torney, Ambrose Fenwick, Sr., James Fenwick, Allen Fenwick, Sylvester Barber, Bernice Fenwick Dyson-Giles, Elizabeth Fenwick Price-Jenkins.

Carroll leaves to mourn his death 6 children; 2 sisters, Mary Fenwick Price, and Christine Fenwick Price; 17 grandchildren; 19 great grandchildren; 2 great-great grandchildren; daughter-in-law, Tina Butler Briscoe and; son-in-law, Charles Somerville. Special recognition is given to Kendall Briscoe, Samuel Eggleston, Renee Farmer, Francis "Sign" Fenwick, Ambrose Fenwick, Jr., Russell Fenwick, Aloysius Jordan and Emma Kane Callum.

The family will receive friends and relatives on Tuesday, November 9, 2010 from 9-11AM at St. Peter Claver Catholic Church, Ridge, MD where a Mass of Christian Burial will be celebrated by the Rev. Scott Woods at 11:00 AM. Interment will follow in the church cemetery.

Funeral Arrangements By: Brinsfield-Echols Funeral Home, P.A., Charlotte Hall, MD.