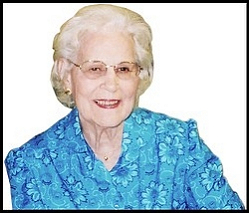 Mildred Bean Jurovaty, 90, of St. Mary's City, died April 12, 2011 at her residence surrounded by her family.

Born February 1, 1921 in Great Mills, MD, she was the daughter of the late James Alphonsus and Daisy Hebb Bean.

She was married for 66 years to Frank J. Jurovaty, who preceded her in death on February 12, 2008.

In addition to her parents and late husband, she was preceded in death by her brothers and sisters Ann Marie Bean, Inez E. McConnell, James Franklin Bean, Sr., Beatrice A. Newbold, Joseph Luke Bean, Henrietta M. Moffatt, William B. Bean, Sr., and L. Hebb Bean.

She is survived by her sisters, Sr. Mary Grace Bean, West Hartford, CT; Evelyn Norris of California, MD; and Dolores Pinno of Great Mills, MD as well as many nieces and nephews.

Mrs. Jurovaty graduated from Great Mills High School in 1938 and began her working career in Washington, DC, later was employed as a civil servant at the Patuxent River Naval Air Station, and retired in 1973 as the Postmaster of the St. Mary's City Post Office. She enjoyed her family and friends, gardening, dancing, the river, traveling, and flower decorating at St. Cecilia Catholic Church.

The family will receive friends on Sunday, April 17, 2011 from 2:00 PM- 5:00 PM in St. Cecilia's Catholic Church, St. Mary's City, MD where prayers will be recited at 3:00PM. A Mass of Christian Burial will be celebrated on Monday, April 18, 2011 at 11:00 AM in St. Cecilia's Catholic Church with Fr. Scott Woods officiating and Deacon Anthony Sweeney assisting. Interment will take place in St. James Cemetery, Lexington Park, MD.

Pallbearers will be her nephews Jimmy Bean, Bobby Bean, Kevin Newbold, Billy Bean, Donald Bean, Kenny Bean, Carl Bean, Michael Norris, Raymond Norris, Roy Norris, and Paul Norris.

Memorial contributions may be made to St. Cecilia Church Food Pantry, St. Cecilia Church Charitable Programs and/or First District Catholic Aid Society, St. Cecilia Church at 47950 Mattapany Road, P.O. Box 429, St. Mary's City, MD 20686.

Arrangements provided by the Mattingley-Gardiner Funeral Home.