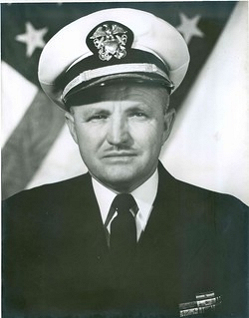 John "D" LeRoy, Jr. of St. Mary's City, age 94, passed away on January 23, 2012 in St. Mary's City. John D. was born on May 10, 1917 in Bridgeport, Alabama and moved to Jasper, TN as a teenager. He was the oldest of eleven children born to John Daly LeRoy and Emily Cookston LeRoy.

He was preceded in death by his beloved wife of 63 years, Sue.

He is survived by his two children Susan LeRoy Long (Peter) of Lusby, Maryland, and John W. LeRoy, Sr. (Nancy) of St. Mary's City, three grandchildren, Heather Glockner (Scott) of California, MD, Elizabeth Deloach (Tom) of Mooresville, NC, and MSGT John W. LeRoy, Jr. USMC (Kellee) of Camp Lejeune, NC and five great grandchildren, Brooke Glockner, Thomas, Adam, and Andrew Deloach, and Logan LeRoy. He is also survived by his siblings, Rachel Crabtree of Jasper, TN, Ruby Whitlock of Nashville, TN, Florence Frizzel of Crossville, TN, Paul LeRoy of Jasper, TN, Faye Anderson of Nahunta, GA, Wayne LeRoy of Nashville, TN and Jo Harris of Whitwell, TN.

In addition to his parents and wife, John D was preceded in death by his siblings, Charles LeRoy, Richard LeRoy and Jean Milligan.

Big John, the Boatswain, joined the U.S. Navy in November of 1937 and retired as a CWO (W4) in February, 1969. He was a plank owner of USS Enterprise (CV6) and was a Battle of Midway survivor. He was also a survivor of the sinking of USS Hornet (CV-8) in the Fall of 1942. He served at duty stations in California, Pennsylvania, Washington state, the Philippines, and finally at Patuxent River. In addition to Enterprise and Hornet, he also served aboard USS Yorktown (CV-10), USS Franklin D Roosevelt (CV 42), and USS Currituck (AV-7).

John was a member of the Elks for over 70 years. He was a Member of Thomas J. Shryock Masonic Lodge for over 50 years, serving as Worshipful Master in 1972. He was a member of the Scottish Rite of Freemasonry, obtaining the 33rd degree. He was a member of Boumi Shrine and the Pa-Po-Peake Shrine club. He was also a member of Patuxent Chapter #522 National Sojourners, Inc., and the Otho Holland Williams Camp, Heroes of 76.

John was active in his church. He served as Verger of St. Mary's Episcopal Church for over thirty years. He served on the Vestry for many terms and was Senior Warden many times as well as Acolyte Master for dozens of children and teens over the years. He served on several committees for the Episcopal Diocese of Washington. He was the Chaplain of his Masonic lodge for over 30 years. At one point he was Chaplain for six different organizations at the same time.

Family will receive friends on Friday, January 27, 2012 from 5:00 p.m. until 9:00 p.m. in Trinity Episcopal Church, St. Mary's City, MD. A Masonic Memorial Service will be held at 7:00 p.m. followed by a church prayer service. A Funeral Service will be held on Saturday, January 28, 2012 at 2:00 PM. Interment will follow in the church cemetery.

The family asks that in lieu of flowers, memorial contributions be made to Trinity Episcopal Church, 47477 Trinity Church Road, St. Mary's City, MD 20686 or Hospice of St. Mary's County, P.O. Box 625, Leonardtown, MD 20650.

Arrangements by the Brinsfield Funeral Home, P.A., Leonardtown, MD.