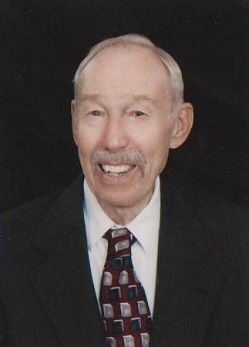 Faran Eugene Stoetzel, 83, of Saint Leonard, Md., and Summerfield, Fla., died June 4, 2010, at Calvert Hospice House, Prince Frederick, Md., with his son Kevin at his side. He was born May 30, 1927, in Trimbell, Wisconsin, to Frank Louis and Lillian Irene Stoetzel.

He grew up on a diary farm. After graduation from Ellsworth High School, he joined the Navy and served for two years. He worked in California for a few years. He also worked for Dowell in the oil fields of Texas and Oklahoma before returning to Wisconsin State University, River Falls, where he graduated with a BS in 1961. Upon graduation, he went back to work for Dowell in Oklahoma, he took the opportunity to accept a job with Dowell Schlumberger Corp., in Venezuela. Among the items he took to Venezuela was his new bride, Manya Brooke Stoetzel.

In 1976, the family bought a "beach house," more a handyman's nightmare, in the Long Beach section of Saint Leonard, Maryland. Faran loved his beach house!! A perfect day would find him taking the Chris Craft out onto the Bay to watch the sunset and to enjoy a couple of rum and cokes. Ultimately, he worked 31 years for the Bureau of the Census, Commerce Department, Jeffersonville, In., and Suitland, Md. He retired in 1987 from the U.S. Government.

He was preceded in death by his parents, Frank Louis and Lillian Irene Stoetzel. Sisters Barbara Jean Stoetzel and DeAnne Stoetzel Schuld, and son Frank Eiker Stoetzel.
He is survived by his wife of 48 years Manya Brooke, their son Kevin Lynn, daughter-in-law Felicia Marie and grandsons Jack Thomas and Nick Joseph (all of Huntington). He is also survived by a sister Linda Marie Louris, Carmel, Indiana, and several nieces and nephews and their families. He is survived by a cousin (more like a brother) Marland E. Nugent and wife Betty. What fun to watch Faran playing euchre with the Nugents.

A memorial mass will be held on Wednesday, June 9, 2010, at 11:00 am, at Saint John Vianney Catholic Church, 470 Main Street, Prince Frederick, MD 20678.

Interment will take place on Friday, June 11, 2010, at Maryland Veterans Cemetery Cheltenham, Maryland and will be private.

In lieu of flowers, contributions can be made in Faran's name to Calvert Hospice House, P.O. Box 838, 238 Merrimac Court, Prince Frederick, MD 20678, or Saint John Vianney Catholic Church 470 Main Street, Prince Frederick, MD. 20678.

Arrangements by the Rausch Funeral Home, P.A. 4405 Broomes Island Road, Port Republic, Maryland 20676.