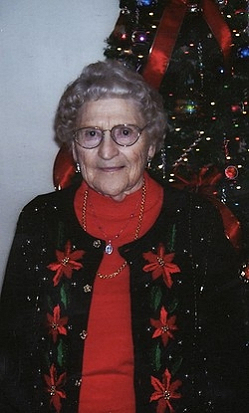 Mary Esther "Maw "Maw" Thomas, 89, of Hollywood, MD passed away in St. Mary's Hospital, Leonardtown, MD on February 18, 2011. Born March 31, 1921 in Hollywood, MD, she was the daughter of the late George Washington Lafayette and Mary Luceria (Mattingley) Hill.

She was the loving wife of the late Carl George Thomas, whom she married in the Episcopal Church, Ellicott City, MD on September 5, 1944, Carl preceded her in death on September 15, 1973.

Mrs. Thomas is survived by her children Carl "George" Thomas, Jr. (Betty) of Loveville, MD, William "Larry" Thomas (Sandy), Barbara "Bobbie" Emory (Mickey), and Daniel "Danny" Thomas (Gwen) all of Hollywood, MD. She also had 8 grandchildren, and 7 great grandchildren.

In addition to her parents and husband, Mrs. Thomas was preceded in death by her siblings Agnes Marie McGee, Elsie Marie Newton, Woodrow Thomas Hill, Mary Louise Newton, Pearl Agnes Dunn, and Emma Elizabeth Brown.

She attended St. John's Catholic School, Hollywood, MD. Mrs. Thomas was a lifelong resident of St. Mary's County . She was a housewife, and after her husband died she entered the workforce, working at the Commissary Region, Comptroller Office and Public Works. She retired in 1990. After retirement Mrs. Thomas volunteered for the Garvy Center and Hollywood, Volunteer Fire Department. She enjoyed watching Lawrence Welk, sewing, gardening, playing cards, and visiting with family and friends.

The family will receive friends on Monday, February 21, 2011 from 5:00 PM ¬Ė 8:00 PM in the Mattingley-Gardiner Funeral Home, Leonardtown, MD where prayers will be recited at 7:00 PM. A Mass of Christian burial will be celebrated on Tuesday, February 22, 2011 at 10:00 AM in St. John's Catholic Church, Hollywood, MD with Fr. Raymond Schmidt officiating. Interment will follow in the church cemetery. Pallbearers will be grandsons Bryan L. Thomas, Bruce A. Thomas, Benjamin H. Emory, Michael G. Emory, Brandon M. Thomas, and Jason W. Thomas. Honorary Pallbearers will be Carla Emory and Kimberly Adams.

Contributions in memory of Mary Thomas can be made to St. John's Francis Regis Catholic Church, Capital Campaign, 43950 St. John's Road, Hollywood, MD, Hollywood Volunteer Fire Department, P.O. Box 7, Hollywood, MD and/or Hollywood Volunteer Rescue Squad, P.O. Box 79, Hollywood, MD 20636.

Arrangements provided by Mattingley-Gardiner Funeral Home.