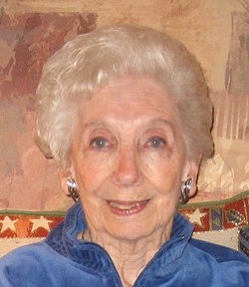 Florence M. Meiser, 87 of California, MD died Sunday, January 9, 2011 at Hospice House in Callaway, MD.

She was the wife of the late Thomas W. Meiser.

Mrs. Meiser was born in York, PA on March 15, 1923, a daughter of the late Percy N. Shepp and Florence Renaut May. Mrs. Meiser was a 1941 graduate of York High School.

She married the late Thomas W. Meiser on December 25, 1941 at the Episcopal Church of St. John the Baptist, York, PA, where she had been baptized and confirmed. They celebrated 66 wonderful years of marriage prior to Mr. Meiser's death in March of 2008.

She was active in many church activities, was a Cub Scout Den Mother, PTA President and was a past member of the Order of the Eastern Star.

Mrs. Meiser accompanied her husband Tom while he was stationed on the Presidio, San Francisco, CA and Ft. Lewis, Washington during WWII. When Staff Sgt. Meiser was deployed to Alaska, Mrs. Meiser returned to York and worked in a facility which produced large weapons for the war effort. Mrs. Meiser was an outstanding homemaker and was later employed as a secretary by York International Corporation where she retired after 24 years.

In 2004, after moving to the Wildewood Retirement Village in California, MD to be closer to other family members, Mrs. Meiser continued to enjoy bingo and many family events.

Mrs. Meiser is survived by her son, Thomas A. Meiser of Lexington Park, and his wife Shonna M. Meiser; two grandchildren David H. Meiser and his wife Jacqueline V. Meiser of Solomons, Maryland, and John T. Meiser and his wife Lara J. Meiser of Annapolis, Maryland; Six great-grandchildren, Mallory, Elizabeth, and Henry James Meiser of Solomons, and Bayard, Tilghman, and Skylar Meiser of Annapolis. Additionally, she is survived by her sister-in-law Marjorie Meiser of Sarasota, FL.

In addition to her husband, she was preceded in death by her sister, Lillian Shepp Haldeman.

There will be a visitation at the Heffner Funeral Chapel & Crematory, 1551 Kenneth Rd., York, PA, on Thursday, January 13, 2011 from 6:00 - 8:00 p.m. A funeral service will be held at 2:00 P.M. on Friday, January 14, 2011 at the Episcopal Church of St. John the Baptist, 140 N. Beaver St., York, PA. This service will be preceded by a gathering of friends and family at 1 P.M. in the church social hall for light refreshments and fellowship. The Reverend David Lovelace will be officiating at the service. Burial will follow at the Mount Rose Cemetery.

Memorial contributions may be made to The Church of the Ascension, 21641 Great Mills Road, Lexington Park, MD 20653 or Hospice of St. Mary's, P.O. Box 625, Leonardtown, Maryland 20650 (or online at hospiceofstmarys.org).

Arrangements provided by Heffner Funeral Chapel & Crematory.