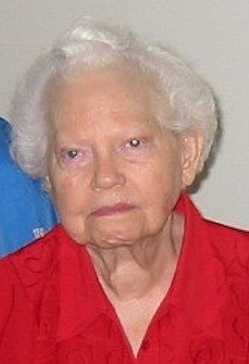 Hannah Elizabeth Miedzinski, 89 of Hollywood, MD and Cedar Lane Apartments, died November 23, 2010 at St. Mary's Nursing Center.

Born March 14, 1921 in Leonardtown, MD, she was the daughter of the late John and Lucille Goldsborough Stone.

Mrs. Miedzinski was a homemaker.

In addition to her parents Hannah was preceded in death by her first husband John F. Wheatley, and second husband Thomas Miedzinski, siblings; Nellie Norton, John "Buck" Stone, Lelia Thompson, Peter Stone, Cecilia Ferrell, Joseph Stone, and Robert Stone.

Hannah is survived by her son, Harry (Donna) Wheatley of Lexington Park, MD, siblings; Madge Hutchinson of Lexington, KY, William Stone of Hollywood, MD, and Agnes Guy of Mechanicsville, MD, grandchildren; Tony (Margaret) Wheatley of Hollywood, MD and Joyce Wheatley-Ridgell of California, MD, also survived by 5 great-grandchildren, and many loved nieces and nephews.

Family will receive friends Friday, November 26, 2010 from 5 p.m. to 8 p.m. in the Brinsfield Funeral Home, P.A., Leonardtown, MD with prayers recited at 7 p.m.
A Mass of Christian burial will be celebrated on Saturday, November 27, 2010 at 10 a.m. at St. John Francis Regis Catholic Church with Father Ray Schmidt officiating.

Interment will follow in the church cemetery. Pallbearers will be; Charles Thompson, Bobbie Thompson, Wayne Thompson, Ray Thompson, and Robbie Thompson.

Memorial contributions may be made to the Hollywood Fire Volunteer Fire Dept., P.O. Box 7, Hollywood, MD 20636 and/or Hollywood Volunteer Rescue Squad, P.O. Box 79, Hollywood, MD 20636.

Arrangements provided by the Brinsfield Funeral Home, P.A., Leonardtown, MD.