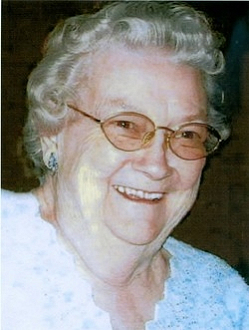 Sarah Ann Swann, 85, of Cobb Island, MD passed away on May 6, 2010. Born on April 13, 1925. She was the daughter of the Earl Malloy Fishback and the late Mary Wine Fishback Foster.

In additon to her parents, she is preceded in death by her husband of 47 years, Charles E. Swann and brothers Earl Fishback, Jr., and Alvin Fishback.

She is survived by her daughter, JoAnn Chapman and her husband, Charles R. Chapman, Jr. Grandson; Charles (Chappie) Chapman, III and his wife, Julie Ann Chapman; great-grandchildren, Joseph Chapman, Luke Chapman, Mackenzie Chapman and Nicholas Davila; nephews James Farr, George Farr, Thomas Farr and Richard Farr, Joseph Swann, Thomas Swann; nieces Margaret Ann Farrell, Carol Woods Carter adn Suzanne Schrider.

She was a member of Holy Ghost Catholic Chuch, VFW Ladies Auxillar, 4th and 5th District Deomcratic Club, Past President and Charter Member of the Delmarva Depression Club and Charter Member of the Charles County Antique Arts Association. She loved traveling with her late husband, Charles, visting all fifty states and abroad.

Visitation will be held at Arehart-Echols Funeral Home, P.A. on Wednesday, May 12, 2010 from 6-8 pm with prayers at 7 pm. Mass will be held on Thursday, May 13, 2010 at 9 am at Holy Ghost Catholic Church, Newburg. Interment will follow at Maryland Veterans Cemetery in Cheltenham, MD. Donations may be made to the Cobb Island VFD and EMS, P.O. Box 156, Cobb Island, MD 20625, or the Newburg VFD, P.O. Box 9, Newburg, MD 20664.

Arrangements provided by Arehart-Echols Funeral Home, P.A.