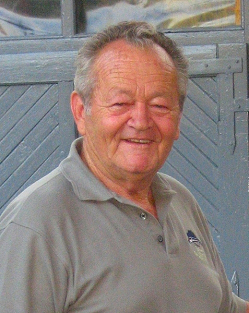 Charles Gavai, 76, of Dunkirk, Maryland, died peacefully at home on June 26, 2010, following a brief but brave battle with lung cancer. He was born Karyoli Gavai, April 28, 1934 to Maria and Miklos Gavai in Rakamaz, Hungary. The only son of 5 children, he grew up in a small farming village against the backdrop of World War II.

He completed primary school and then attended trade school where he trained as a steam fitter. He was drafted into the Hungarian Army, where he trained dogs for use in border patrol. In the aftermath of the 1956 Hungarian revolt against Soviet control, a 22-year old Charlie joined thousands of other Hungarian refugees in fleeing to neighboring Austria.

He immigrated to the United States with little other than the clothes he was wearing. He eventually came to Maryland when he was sponsored by a Hungarian businessman from Oxon Hill. He worked hard doing whatever work he could get and taught himself to speak English. Eventually he saved enough money to buy Capitol Heights Welding and Ornamental Iron Works in 1961, which he successfully owned and operated until his retirement in 1999. His son continues the business today. Charlie's artistry can be seen all over the city of Washington DC, including work at the Pentagon and Treasury Building.

In 1964 Charlie married Janis M. Jacobs. They lived together in Capitol Heights until purchasing a piece of cornfield on Ferry Landing Road, building their home and relocating to Dunkirk in 1968. Together they raised 4 children and transformed the cornfield into a beautiful garden filled with vegetables, flowering trees and shrubs and perennials of every color. Charlie was happiest in his garden. He built himself a greenhouse. He planted seeds before the snows melted, and learned to grow and propagate every type of plant imaginable. He provided tomatoes and peppers, and lots of other vegetables to friends and family around the area. In addition to being an avid gardener, Charlie liked fishing, hunting, soccer and tinkering with old cars and tractors. He loved his family, and especially reveled in being a grandfather.

Charlie is survived by his wife Janis M. Gavai, and his children: son Charles Gavai (and wife Susan) of Port Republic, MD, daughters Jessie L. Gratch (and husband Charles) of Dunkirk, MD, Anne Marie Hale (and husband David) of Owings, MD, and Janis K. Gavai (and fiancé Glenn Hillis) of Riva, MD. He is also survived by 6 grandchildren, Charles M. and Lisa Gratch, Sean and Lauren Hale, Charles R. and Curtis Gavai; and 4 sisters, Maria Virag, Elizabeth Vad, Anna Brego and Katalin Csordas, all of whom reside in his native Hungary.

Friends were received at Rausch Funeral Home, P.A., 8325 Mt. Harmony Lane, Owings, MD, where funeral services and a celebration of Charlie's life were held at 11:00 AM on June 29, 2010. Interment followed at Chesapeake Highlands Memorial Gardens in Port Republic, MD.

Arrangements provided by Rausch Funeral Home.