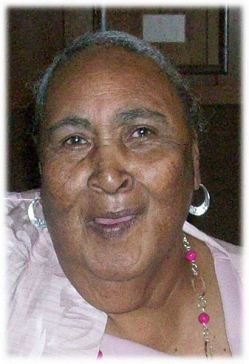 On May 26, 2013, Ann Rebecca Jones, 78 of Avenue, MD, was peacefully called home, after a full life, at Hospice of St.Mary's, Callaway, Maryland. She departed this life as she lived it, surrounded by the love and support of her family and friends. "Sista", as she was affectionately known, was born on June 17, 1934, in Bushwood, Maryland to Mary Elizabeth Lee Countiss Thomas and John Albert Thomas. Ann was educated in the St. Mary's County Public School system and graduated from Banneker High School in 1952.

She was married to the late John B. Jones for fifty-nine years.

Ann was a domesticated engineer for many years for the Fletcher Family.

She loved to spend countless hours on the phone with her very dear friends, Shirley Jones, Mary Kane and her niece, Mary Martin. Ann always enjoyed going to Gospel shows; especially to see Jay Caldwell; making homemade rolls and stuffed ham, and playing poker with Jay and beating him. All she wanted in life was to talk and spend time with her family. Ann always looked forward to her every two weeks lunch outing, at a restaurant of her choice, with her niece Wanda, until she was unable to do so. She will always be remembered for her unselfishness and willingness to give anyone a helping hand.

Ann was preceded in death by her parents, John and Mary Thomas; husband, John B. Jones; stepson, Benjamin (Tip) Jones; sisters, Elizabeth Countiss, Alberta Countiss, Mary Levia Countiss and Rosanna Young; brothers, Ignatius Countiss, Philip Countiss, William Countiss, Edward Countiss, Truman Thomas, Dennis Thomas and James Weathers.

She leaves to cherish her memories her loving family; with whom she lived; her devoted and caring niece, Wanda West, Jerry West, Sr., Jerry West, Jr., Katrina Thomas, Anissa Thomas-Tyer and Whitney Brooks; stepdaughter, Harriet Huff, nieces, nephews, step-grandchildren, step-step grandchildren, Godchildren and a host of other relatives and friends.

Family will unite with friends on Thursday, May 30, 2013 for visitation from 6:00 p.m.- 8:00 p.m., with prayers recited at 7:00 p.m. at Briscoe-Tonic Funeral Home, 38576 Brett Way, Mechanicsville, MD. Inurnment will be private.

Arrangements provided by Briscoe-Tonic Funeral Home.