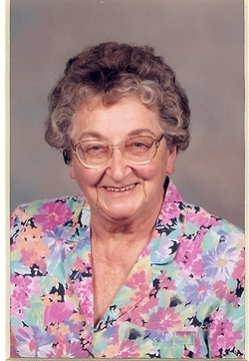 Mary Anne McPherson, formerly of Aquasco, Maryland, died on Monday, September 28, 2015, following a long illness. Born Mary Anne Gruss on May 29, 1924 in Bryantown, Maryland she was the daughter of the late Joseph Mary Leo Gruss and the late Hedwig Foehr.

She married Charles Henry Adams McPherson, Jr., of Aquasco, MD, on October 22, 1947. Mr. McPherson predeceased her on May 29, 2002.

She is survived by three daughters, Margaret Anne DeVore of Huntingtown, MD, Catherine Lee Tornabene of Harwood, MD, and Rebecca Louise Long of Hughesville, MD. One daughter, Ruth Elaine Chaney, predeceased Mrs. McPherson on October 11, 1980.

She is survived by two sons, Charles Henry Adams McPherson, III, of Hughesville, MD, and James Matthew McPherson, of Bristol, TN. One son, William K. McPherson, pre-deceased Mrs. McPherson on September 26, 2010.

She is survived by thirteen grandchildren, Christine M. Garner, Laurence M. Tornabene, Valerie R. Needham, David C. J. Tornabene, Michael W. Tornabene, Margaret R. Price, Elizabeth A. McPherson, James A. Long, Jr., Mark A. Long, Richard A. Chaney, Theresa A. Jeffery, Jennifer E. Gray and Kyle A. McPherson.

She is survived by eight great-grand children: Natalie M. Grant, Katrina M. Grant, Emily A. Grant, John H. Long, Elaine H. Jeffery, Emmett J. Jeffery, Shawna C. McPherson, and Cheyenne L. Gray. She is survived by one great-great-grandson, Oliver S. Pendleton.

Mrs. McPherson had ten siblings, all of whom predeceased her. Her sisters were Elizabeth McGinn, Madelene Windsor, Veronique Chevalier, Leona Hartman, Margaret Renner and Odelia Thomas. Her brothers were Aloysious Gruss, Anthony Gruss, Joseph Gruss and Charles Gruss.

A devout Catholic, Mrs. McPherson was a Charter Member of the Catholic Daughters, Court St. Peter's, where she attended church while growing up in Waldorf, MD. She also belonged to St. Dominic's Parish in Aquasco, MD, and St. Matthew's Parish in Baltimore, MD, during her lifetime.

Mrs. McPherson worked 35 years for Farm Credit Banks of Baltimore, including the Upper Marlboro, Hughesville, and Baltimore, MD, branches and in the Puerto Rico branch for a year. She made many lifelong friends at Farm Credit and retired on December 1,1987.

Mrs. McPherson donated much of her time and talent to others. Early on she started a 4-H Club in Aquasco, was group leader, and also a PTA president. She taught CCD classes and helped with children's vacation bible schools. She volunteered at the Rainbow Club in Baltimore which aided the disabled. For many years she was the St. Matthews Catholic Church coordinator for "Our Daily Bread," which fed the needy. She made and donated food, transported food from the church to "Our Daily Bread" and also worked in the kitchen there.

Mrs. McPherson lived her first 52 years on tobacco farms in southern Maryland, where she learned to appreciate the beauty and value of all plants at an early age. Once retired, she volunteered many years at the Cylburn Arboretum in Baltimore. She also entered the "Master Gardener" program, where she became a certified instructor and taught others about gardening. She always had the most amazing flowers, most productive garden, blueberry bushes, walnut trees, and of course her favorite Paw Paw trees, for which she won many awards.

Most of all, she loved her family. Her children, grandchildren and great grandchildren loved to visit "Ms. Mom" in Aquasco and later Baltimore. She was a hard worker all her life, always there to help when needed, and also very fun-loving, kind and generous. Our visits were filled with love, laughter and camaraderie. We will all miss her and never forget her and all our good times together.

The family will receive friends on Tuesday, October 6, 2015, from 2-4 p.m. and 6-8 p.m. at Brinsfield-Echols Funeral Home, 30195 Three Notch road, Charlotte Hall, MD. A Mass of Christian Burial will be celebrated by Rev. Thomas A. Gude, on Wednesday, October 7, 2015, at St. Dominic's Church, 22300, Aquasco Road, Aquasco, MD. Interment follows at St. Mary's Church Cemetery, Bryantown, MD. Arrangements provided by Brinsfield-Echols Funeral Home.

In lieu of flowers, a donation to Alzheimer's research may be made. Envelopes will be available at the funeral home.