Seeman Booker, Ellen Jane
Birth: 1958-10-06 in Riverhead, New York
Residence: St. Leonard, MD
Death: Friday, October 06, 2006
Laid to Rest: Saturday, October 14, 2006
Condolences: Click to View or Post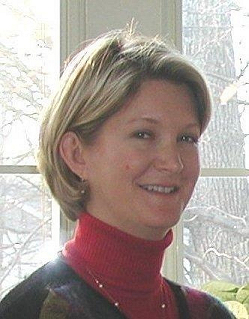 Ellen Jane Seeman Booker, 48, of St. Leonard, Maryland died on October 6, 2006 at her residence. Born October 6, 1958 in Riverhead, Long Island, NY, the daughter of David Bruce Seeman and Barbara Smith Seeman. She was the wife of Frank Courtney Booker, III, and the mother of Frank Courtney Booker, IV.

Ellen attended Chopticon High School for three years, graduating from Cold Spring Harbor High School in NY. She received her bachelor's degree in Communications and Theatre Arts from Susquehanna University. For many years before and for a short time after her marriage on December 29, 2001, Ellen was a successful sales representative for Alling and Corey, Simpson and Mohawk paper companies.

Loving the theatre, she appeared in numerous stage productions while in college and afterwards in the community theatre in Mechanicsburg, PA. A member of Gloria Dei Lutheran Church in Arnold, MD, Ellen sang both with the folk choir and with a very special group of friends who mastered a close harmony of voices similar to the "Andrew Sisters". Ellen and her husband were active members of the Cornerstone Presbyterian Church in Lexington Park, Maryland. Ellen was a member of the Major William Thomas Chapter, Daughters of the American Revolution.

She is survived by her parents, her husband, her son and her sister, Betsy Seeman Rhodes of Midlothian, VA; her brother, David Bruce Seeman, Jr. of Hockessin, DE; and nieces Katherine Ann and Susanne Elizabeth Rhodes, and nephews, Bradford George Rhodes, David Christopher Seeman and Samuel Augusta Seeman.

The family will receive friends on Friday, October 13, 2006 from 4:00 p.m. to 8:00 p.m. in the Brinsfield Funeral Home, P.A., 22955 Hollywood Road, Leonardtown, Maryland 20650. A Funeral Service will be held on Saturday, October 14, 2006 at 11:00 a.m. at Cornerstone Presbyterian Church, 23075 Town Creek Drive, Lexington Park, Maryland 20653. Pastor Terry Baxley will officiate. Inurnment will be private.

Memorial contributions can be made to Calvert Hospice, P.O. Box 838, Prince Frederick, MD 20678, Cornerstone Presbyterian Church, P.O. Box 783, Lexington Park, Maryland 20653, or John Hopkins Cancer Center, 1650 Orleans Street, Room G-90, Baltimore, MD 21231-1000.