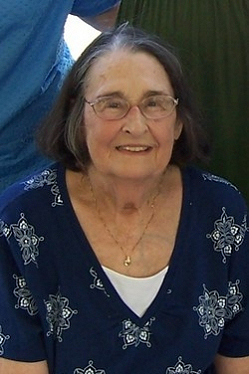 Grace Mary Ellis Stabler, 75, of Abell, Maryland, died February 26, 2011, at Washington Hospital Center in Washington, D.C.

Born April 11, 1935, in Leonardtown, she was the daughter of the late Frank and Alma Ellis and the wife of Allen Wayne Stabler.

Mrs. Stabler grew up in Oakley. She attended Holy Angels Elementary School and graduated from St. Mary's Academy in 1952. After graduating from St. Mary's Academy, she attended St. Mary's Seminary Junior College and graduated with an Associate of Arts degree. She then completed her studies at the University of Maryland in College Park, receiving a Bachelor of Arts in English.

After graduation, Mrs. Stabler worked at Service Test at Patuxent River NATC as a Technical Librarian. She was also employed by the St. Mary's County Board of Education as a Media Specialist at Bethune and Dynard Elementary Schools, retiring after 30 years.

She faithfully attended Holy Angels Catholic Church in Avenue and was the organist there for over 50 years, beginning in the seventh grade. She was also the second grade CCD teacher for many years, preparing numerous children to receive the Sacraments of First Penance and Holy Communion. She participated in every aspect of her church, working at church dinners, as a member of the Pastoral Council and as president of the church's Sodality. Mrs. Stabler was awarded the Order of Merit by Cardinal Theodore McCarrick in 2003 for her service to her parish. She volunteered at Mary's Song Soup Kitchen (now St. Mary's Caring) every Tuesday for eight years.

Mrs. Stabler was active at both Holy Angels Sacred Heart School and St. Mary's Ryken High School over the 25 years her five children attended these schools, watching hundreds of sporting events, working for the Athletic Boosters and playing the organ at the children's weekly Mass.

Grace loved her home on St. Clements Bay and the beautiful sunrises every morning. She enjoyed working crossword puzzles, reading to her four grandchildren, cooking and playing the piano and organ.

Mrs. Stabler is survived by her husband of over 50 years, Allen Wayne Stabler, whom she married on June 25, 1960. She is also survived by her five children, Susan A. Stabler of Elkton, Gregory D. Stabler of Columbia, Jennifer A. Stabler of Greenbelt, Elizabeth M. Farrell (Robert) of Helen, and Ruth C. Franklin (Chris) of Mullica Hill, New Jersey; her four grandchildren, Drew Farrell, Emily Farrell, Samuel Franklin and Isaac Franklin; her aunt, Grace Gibson; and numerous cousins.

The family will receive friends for Mrs. Stabler's Life Celebration on Thursday, March 3, from 5 to 8 p.m. at Holy Angels Church in Avenue, where prayers will be recited at 7 p.m. A Mass of Christian Burial will be celebrated at the church Friday, March 4, at 11 a.m. with the Rev. William Gurnee officiating. Interment will follow at Sacred Heart Cemetery in Bushwood, with Emory Ellis, III, Andrew Ellis, Jr., John Ellis, Greg Brown, Steve Long and Harry Horn serving as pallbearers.

Memorial contributions may be made to Mother Catherine Spalding School, 38833 Chaptico Road, Helen, MD 20635; Seventh District Volunteer Rescue Squad, P.O. Box 7, Avenue, MD 20609 and/or St. Mary's Caring, 20850 Langley Road, Building A, P.O. Box 144, Lexington Park, MD 20653.

Arrangements by the Brinsfield Funeral Home in Leonardtown.