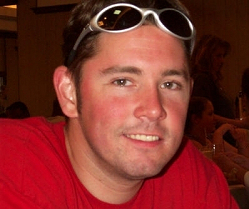 Brian Lee Testerman, 35 of St. Leonard, MD passed away peacefully at his home on October 13, 2010, after a long courageous battle with cancer. Brian was born July 19, 1975 in Washington, D.C. to Paul M Sr. and Betsy Bucher Testerman. Brian moved with his family to Calvert County in 1990.

Brian is survived by his parents, his brother Paul M Testerman, II from Charlotte Hall, MD., and his two nephews, Christopher Henry and Paul Douglas Testerman and numerous aunts, uncles & cousins.

After graduating from Calvert High School in 1994, he went on to be a successful elevator mechanic with The IUEC Local #10 as a Union Elevator Constructor. Among his many construction site jobs, he worked on the elevators @ the Washington Monument, The National Arboretum & numerous other prestigious buildings. Brian loved his career & the camaraderie with his fellow associates.

Brian is known for his bright smile and outgoing personality. He enjoyed a wide variety of hobbies in his life such as: Wakeboarding, racing his R C cars, participating in jeep jamboree's, riding his motorcycle, hanging with his friends, kiteboarding, great break dancer and he was a avid snowboarder. He loved his American Bull dog, Nyx.

Visitation will be held Friday Oct 15, 2010 from 6pm to 8pm at the Rausch Funeral Home 4405 Broomes Island Road, Port Republic, MD.and on Saturday, Oct 16, 2010 from 1pm-2pm with a funeral service being held at 2pm at the funeral home.

Interment will be follow in Chesapeake Highlands Memorial Gardens Port Republic, MD.

Pallbearers are: Paul M Testerman, II, Doug Herche, Shawn Elliott, Jeff Tenner, Richard "Bunk" Elliott and Chris Walker.

Memorial contributions can be made in lieu of flowers to either: Calvert Hospice P. O. Box 838 Prince Frederick, MD 20678 or St. Leonard Volunteer Fire Dept., P. O. 101, St. Leonard, MD 20685.

Arrangements provided by Rausch Funeral Home.