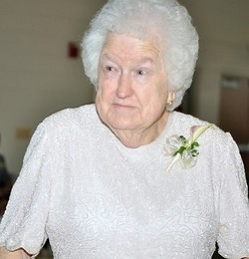 Marjorie "Jean" Gates Beverage , 79, of Charlotte Hall died February 10, 2012 at home surrounded by her loving family . Born December 28, 1932 in Silesia Maryland, she was the daughter of the late Theodore P. and Annie L. Raum Gates.

She was the wife of Ellsworth "Jack" Beverage, whom she married on November 24, 1951.

She is survived by her children, Anita Marshall (Glenn) of Leland, North Carolina, Dennis Beverage of Charlotte Hall, Maryland, Robert Beverage (Lois) of Chaptico, Maryland, Marianne Force (Ricardo) of White Plains, Maryland, and Janet Vance (Jim) of King George, Virginia. She is also survived by her son-in-law Ron Hill, five grandchildren Joseph Marshall (Sandra), Melissa Beale (Shane), Lisa Reithmeyer (Jason), Matthew Vance, and Kathryn Hill, and two great-grandchildren Shelby and Shane Beale.

Additional blessings to the family through marriage are step-grandchildren, James Vance (B), Tara Metcalf (Mike), Meredith Johnson (Brent), and Megan Green (Chris) and great grandchildren Natasha Marshall, Ethan Johnson, Fia, Gracie, and Jasmine Vance and Kayla and Katherine Metcalf. She is also survived by her brother James H Gates and many beloved nieces and nephews.

In addition to her parents she was preceded in death by her daughter Kathryn J. Hill , son-in-law Rick Force, grandson Ricky Force and siblings, Dorothy Hughes, Mabel Welch, Lawrence Gates, Eleanor Welch, Donald Gates, Rudolph Gates, Melva Sanford, William Gates, Alice McNamara, Edna King, Theodore Gates, Florence Dennison, and David Gates.

A graduate of Oxon Hill High School, Mrs Beverage worked as a school bus driver. She was known by family and friends for her loving and generous heart and giving nature. Her love and caring was also extended to all of the birds, deer, squirrels and even skunks that wandered into her yard. Her hobbies included rooting for the Orioles, winning at Bingo and most of all treasuring joyous times spent with her family and many friends.

Arrangements provided by Brinsfield-Echols Funeral Home, P.A.