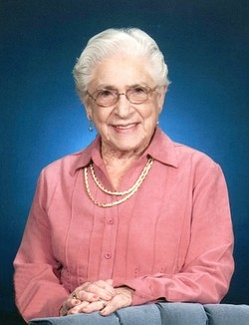 Mary Stokes Grambo, 93, of California, MD died Monday, May 28, 2012, at her residence. Born January 26, 1919 in Gordon, GA she was the second of three daughters of the late Emory Joseph Stokes and Ethel Irene Wood.

Mary graduated college in Millidegeville, GA as a registered dietician. She moved on her own to Washington, DC in 1939 and worked as a dietician at the Government Printing Office where she met her future husband, Jack Grambo. They were married in 1942. They started their family of five children, Jack, Joe, Kathy, Tommy and Sue. Mary taught school for over 20 years.

Mary and Jack moved from their Hyattsville, MD home to Wicomico Shores in 1979. They lived there until Jack's death in 2003. That same year, Mary moved to Wildewood Village where she made many wonderful new friends.

Mary is survived by her children, Joseph Grambo of Riva, MD, Mary Kathryn Rupard (Jim)of Cheverly, MD and Susan Julian (Bruce) of Leonardtown, MD; one sister, Virginia Younger of Cincinatti, OH; 10 grandchildren and 18 great-grandchildren.

In addition to her parents, Mary was preceded in death by her husband, John Edward Grambo; her sons, John E. Grambo, Jr. and Thomas Mark Grambo and sister, Nell Reeves.

Family will receive friends for Mary's life celebration on Friday, June 1, 2012, from 2:00 PM to 4:00 PM and from 6:00 PM to 8:00 PM at the Brinsfield Funeral Home, P.A., 22955 Hollywood Road, Leonardtown, MD 20650. A funeral service will be held on Saturday, June 2, 2012 at 11:00 a.m. at Hollywood United Methodist Church, 24422 Mervell Dean Road, Hollywood, MD 20636 with Reverend Reese presiding. Interment will follow in Christ Episcopal Church Cemetery, 25390 Maddox Road, Chaptico, MD 20621.

Memorial contributions may be made to Hospice of St. Mary's, P.O. Box 625, Leonardtown, MD 20650.

Arrangements by the Brinsfield Funeral Home, P.A., Leonardtown, MD.