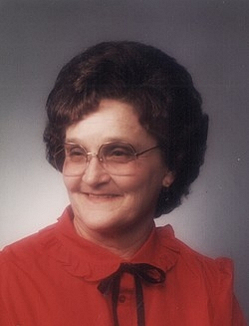 Agnes Lorraine Farrell, 77, of Avenue, MD died June 1, 2011 at St. Mary's Hospital. Born January 29, 1934, she was the daughter of the late Myrtle Virginia Knott and Leonard Hall.

She was the loving and devoted wife of Charles Henry Farrell, and mother of four; Rose Ann Friess (Henry) of Bushwood, MD, Charles William Farrell (deceased), Lois Marie Guy of Avenue, MD and Leonard Edward Farrell (Terree) of Waldorf, MD. She had one grandchild, Melissa Lynn Friess-Bailey (T Bailey, III) of Avenue.

Lorraine is survived by her siblings; Harold Rodney Hall (Judy) of Avenue, MD, Florence Gwyndola Hall Hill (Bill, deceased) and Delores Hall Guyer (Jerry, deceased) both of Waldorf, MD and Theresa Ann Hall Lacey of Brandywine, MD.

She was preceded in death by her sisters; Virginia Attaway Hall Nelson (Albert, deceased), Mary Margaret Hall Cross (Tom), Doris Jean Hall Lawrence (Bernard, deceased), Harriet Elizabeth Hall Bailey (Mack, deceased). She was also preceded in death by her brothers; Charles Henry Hall (Mary Ann, deceased), James Leonard Hall (Louise, deceased), and Delbert Raymond Hall.

Lorraine worked for the St. Mary's County Board of Education where she retired after 32 years of devoted service in 1999. She valued her extensive family and network of friends in the community with whom she enjoyed spending time. She was always up for a game of pitch, going for a boat ride, or just time to enjoy the simple things in life such as attending her church or sitting on her porch talking. But, it is how she lived her life that was an example for many. She leaves behind a legacy of compassion, faith, courage, grace, wisdom, and some of the greatest demonstrations of love that a family could ask for.

The family will receive friends on Sunday, June 5, 2011 from 2:00- 5:00 PM in the Mattingley-Gardiner Funeral Home, Leonardtown, MD where prayers will be recited at 3:00 PM. A Mass of Christian Burial will be celebrated on Monday, June 6, 2011 at 10:00 AM in Holy Angels Catholic Church, Avenue, MD with Rev. William H. Gurnee officiating. Interment will follow in Sacred Heart Catholic Church cemetery, Bushwood, MD. Pallbearers will be T Bailey, III, Rodney Hall, Jamie Lawrence, Ralph Lawrence, Tommy Tippett and David Farrell. Memorial

Contributions can be made to the Seventh District Volunteer Rescue Squad, P.O. Box 7, Avenue, MD 20609 and/or Holy Angels Catholic Church, 21340 Colton Point Road, Avenue, MD 20609.

Arrangements provided by Mattingley-Gardiner Funeral Home.