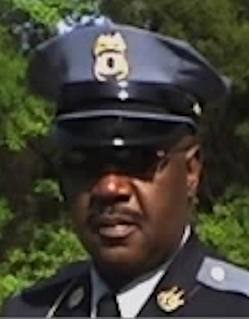 Walker, Joe Bruce (Sgt.) (Age 51) of Bryans Road, Maryland. Prince Georges County Police Officer.

Joe Bruce Walker, the son of Willie Joe Pyle's (Walker) and the late William A.G. Walker Sr., departed this life on Wednesday, September 8, 2010 at Washington Hospital Center in Washington, D.C.

Joe was born on October 22, 1958 in Greenville, S.C... He graduated from Carolina High in 1978 after which he immediately joined the United States Army branch of the military under the buddy system. This camaraderie of buddies between Alton Walton and Michael Smith remains today.

After completing his tour of duty, he joined the Alexandria, VA Sheriff Department until 1985, at which time he joined the Princes Georges County Police Department.

Prior to his illness, Joe's ambition, fearless attitude, quick wit and leadership attitude presented him with opportunities that led him to the areas of robbery, homicide and vice while concluding with the Community Oriented Policing (COPS).

While he was not a member of a specific church, he continued to visit various churches to gain the knowledge and exposure and was open to all faiths.

Joe is survived by his longtime best friend and wife Mrs. Maxine Green-Walker and three biological children, Columbus Wesley-Walker, Joe B. Walker II of Waco, Texas, Ashley Walker; three stepsons, Javon and Darnell Green and Evan Heyward of Greenville, South Carolina; eight grandchildren, Amare, Kaison, Nakayla, Nakya, Mykele, Anejah, Imani, and Amil; four siblings, Paul Owens (Tammie), William Walker Jr., Ada Denise Walker, and Frances Delores Walker (Deceased); In-laws, Carolyn and Donnell Green; four sisters-in-laws, Angie Green, Renee Green, Laura Green, and Tammie Owens; one brother-in-law, Don Green; a host of aunts, uncles, nieces, nephews, other relatives, and many loyal friends.

His Career led him to Protect and Serve Others… Thank You.

His Family Ties led him to Love Much and Unconditionally…We Love You Too.

His Life led him to Enjoy all that it Possessed to the Fullest, Carefree and Uninhibited… We Will Always Remember.

Rest In Peace Joe Bruce Walker…

Sorrowfully submitted, The Family

Viewing 9:30am until time of Service, 11am on Tuesday, September 14, 2010 at the Spirit of Faith Christian Center, 14107 Gibbons Church Road, Brandywine, Maryland. Interment, Saturday, September 18th Union Baptist Church Cemetery, Greenville, South Carolina.

For South Carolina Information, please contact: The Brown Funeral Home @ (864) 877-1770.