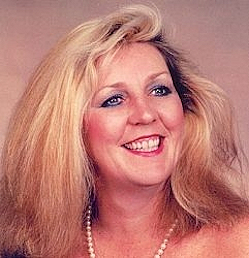 Mary Lizabeth Hogan, 61, of Waldorf, MD, died September 30, 2010, at her residence with Hospice.

Mary was a Master Sergeant in the U.S. Air Force and retired from the military after a long dedicated career. The military took her to many places such as Japan, Hawaii, New Mexico, Southern California, Biloxi, Mississippi, and finally retiring from Bolling Air Force Base. She was the first female Master Sergeant at Bolling.

Hogan, as she was known to most of her friends and family was a gifted artist. She liked to spend her time painting, writing, gardening, cooking, baking, socializing with many special friends and extended family. She was a member of PETA and a true animal lover.

Born September 28, 1949, in Auburn, NY, she was the daughter of the late Wilbur Reginald Davis and the late Mary Jane Hearn.

Predeceased by her parents; brother, William Reginald Davis.

Survived by her Aunt Frances Picciano of Weedsport, NY; Aunt Jean Masson of Jacksonville, FL; many cousins and extended family, Susan and Vincent Hyman, Kristi and Kevin Yuncker of MI; Larry and Lori Goldsmith, Steve and Patty Paul, Doreen Sciarratta, Douglas Mortimer of IA; Michael Hogan of MN; Carol Courtney of VA; her childhood friends, Mary Jo Smith, Cathy Cain, Becky "Big Red", Leslie Albers, Mert Moyses, and Artie Meyer.

Services and interment will be private.

Memorial contributions may be made to the Humane Society of Charles County, P.O. Box 1015, Waldorf, MD 20604.

Arrangements provided by Raymond Funeral Service.