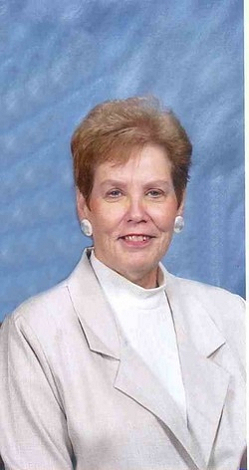 Elizabeth "Betsey" Bennett Campaigne died September 1, 2011 at 3:10 AM at the Mandrin House Hospice Center in Anne Arundel County, MD with her loving husband (Curtis) of 41 years by her side. Betsey was born on February 14, 1941 in Washington, DC to Clarence O. and Louise M. Bennett, their third child.

She attended elementary and junior high school in Washington, DC and graduated from Wheaton High School in 1958. From there she attended American University earning a BA degree in Psychology in 1962. She furthered her education by earning a Master's degree in General Administration from the University of Maryland University College (UMUC) in 1995.

Immediately following college, Betsey went to work for defense contractors that included Dunlap & Associates, Inc., IBM Federal Systems Division, TRACOR (BAE Systems), C-CUBED (CACI, Inc.) and PRB Associates (Northrop Grumman). After a total of 34 years' experience, she retired on March 1, 2008. For a 10-year time period while her children were young, she became the Director/Teacher at the St. Paul Nursery School in Chevy Chase, MD and then Hollywood United Methodist Church (UMC) Preschool in Hollywood, MD.

Betsey married the Reverend Curtis F. Campaigne on July 18, 1970 at Wesley Seminary in Washington, DC. She was an active minister's wife as editor of newsletters, choir member and Sunday school teacher at the four churches her husband served in addition to helping with retreats, suppers and bazaars.

As a young person, Betsey was a member of the National Society Children of the American Revolution (C.A.R.) and rose to the rank of National President her senior year of college. She joined the Daughters of the American Revolution in 1962 and served as National Chairman of Junior Membership for three years, was a Chapter Regent and had maintained her membership in the Constitution Chapter in DC. Her interest in C.A.R. continued as a senior leader and she held five Senior National Officer positions.

Living in Calvert County since 1988, Betsey was very active in the community as a Chief Election Judge and as a 6-year member on the Board of Social Services. She was a director from St. Paul UMC in Lusby to the Board of SMILE Ecumenical Ministries, Inc. and served as President, Vice President and Secretary. She was also Secretary of the Board of Directors for the Southern Maryland Tri-County Community Action Committee, Inc.

In all her work, church, community and family activities, Betsey was well known for her "can do" attitude, her enthusiasm, her team work and a willingness to give the job 100% of her time and talent. She will especially be missed for her laughter. Betsey loved to read, travel, and organize (Campaigne Clutter Control was her side business) in addition to visiting with her family and grandchildren.

She was preceded in death by her parents. She is survived by her beloved husband, Curt; her son, David (Kristin) of Baltimore, MD; and Christina (Dale) Watson of Virginia Beach, VA; and by her grandchildren, Claire Watson, Jonathan Campaigne, Maya Campaigne, and Nate Watson. She is also survived by her sister, Louise B. Bennett and her brother, Timothy R. Bennett.

Family and friends are invited to Betsey's Life Celebration on Tuesday, September 6, 2011 from 5 to 8:00 p.m. at the Brinsfield Funeral Home, 22955 Hollywood Road, Leonardtown, MD. Memorial service will be held on Wednesday, September 7, 2011 at 10:00 a.m. at Hollywood United Methodist Church, 24422 Mervell Dean Road, Hollywood, MD. Interment will follow in Joy Chapel Cemetery.

In lieu of flowers, memorial contributions may be made to your favorite charity or to St. Paul United Methodist Church, 11000 H.G. Truman Road, Lusby, MD 20657.

Arrangements by the Brinsfield Funeral Home, P.A., Leonardtown, MD.