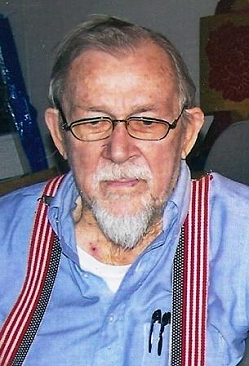 Edward Hoover Hagelin, Sr., 81, passed away peacefully on February 27, 2011 at the Burnett-Calvert Hospice House, Prince Frederick, MD. Edward was born on March 20, 1929 in Prince Frederick, MD to the late Sarah Mae McClain and George Washington Hagelin, Sr.

He was preceded in death by his seven sisters Almira, Ernestina, Florence, Helen, Hazel, Beatrice and Annie and his five brothers Theodore, Herbert, Clarence, Ralph and Dennard.

He is survived by his children Ronald E. "Ronnie" Hagelin and his wife Sally of Lafayette, LA; Edward H. Hagelin, Jr. and his wife Doris of Lusby, MD; Deborah L. Doyle and her husband Bobby of Gaithersburg, MD; Danny I. Hagelin of Lusby, MD; Dorothy L. Stonestreet of Prince Frederick, MD; Sharon K. Wilson and her husband John of Lusby, MD and Randy Dean Hagelin and his wife Regina of Mill Bridge, MD, eleven grandchildren Brittani, Mara Ann, Tyler, Zach, Robert, Jonathan, Jocelyn, Jesse, Leanne, Bethany and Rebecca, nine great grandchildren Justice, Jayden, Eli, Zoe, Collin, Kaylee, Evan, Haley and Morgan, two sisters Rhea Brown of Riva, MD and Catherine Campbell of Virginia Beach, VA. He is also survived by numerous nieces, nephews other relatives and friends.

One of Edward's favorite hobbies was going to flea markets and thrift stores to find that hidden treasure. Edward loved working with his hands, he was a true craftsman. He enjoyed building, creating and repairing anything that was made of wood, metal or anything that had to do with electronics. Edward would not attempt to do anything unless he could give his very best effort.

The family will receive friends on Wednesday, March 2, from 2-4 and 6-8 PM at the Rausch Funeral Home, P. A. 20 American Lane, Lusby, MD. A service celebrating his life will be held on Thursday, March 3, at 11:00 AM with Pastor Ann Edwards officiating. Interment will follow in the Middleham Chapel Episcopal Church Cemetery, Lusby, MD.

Memorial contributions may be made in Edward's memory to the Disabled American Veterans, Memorial Program P.O. Box 14301, Cincinnati, OH 45250-0301 or call 1-877-426-2838 Ext. 3302, www.dav.org or to: Calvert Hospice, P. O. Box 838, Prince Frederick, MD 20678, "Donations are encouraged on-line at www.calverthospice.org".

Arrangements were by Rausch Funeral Home, P. A., Lusby, MD.