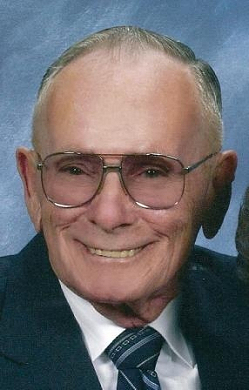 C. D. "Dudley" McCready, 88, of Dowell, MD, passed away on December 7, 2010 at his residence in Dowell, MD. Dudley was born on April 17, 1930 in Calvert County, MD to the late Grace Humphreys McCready and John E. McCready.

Dudley worked for and retired from People's Life Insurance Company. He was an active member of First Baptist Church of Calvert County. Dudley was an avid Redskins fan and enjoyed buying and selling used Ford trucks, often driving great distances in search of one.

Dudley was preceded in death by his parents, John and Grace Humphreys McCready, his first wife, Shirley R. McCready and his brother J. Edward McCready.

Dudley is survived by his wife Joyce M. McCready, Children Dudley R. McCready, J. Christian McCready, Cheryl L. Jetmore, step-children Kimberly Gott, Carl Pitcher, Cynthia Turner, Robin Cox, Jamie Pitcher, Jr. and Gerald "Jerry" Pitcher, Grandchildren Ronald C. Jetmore, Jenny L. Copsey, Anna Ruth McCready, Grace E. McCready, Jenna M. McCready, Galen Gott, Jamie and Emma Pitcher, Crystal Vallingdinham, Mark Turner, Kayla Turner, Carly Turner, Ashley and Kenny Cox, Jesse, Jenna and Shannon Pitcher, Stephanie and Joey Candido, Great-grandchildren Molly Copsey, Bess Copsey, Emerson Jetmore, step-grandchildren: Lexy and Mya Vallingdinham and Madison Dare, Siblings Marie M. Hardesty, Ethel M. Grover, Erma M. Breeden, Annie M. Batchelor, Lynette M. Ward, Eunice M. Habig, Donas H. McCready, J. Berkley McCready and Harold L. McCready.

The family will receive friends on Sunday, December 12, 2010 from 2 ~ 5 PM at the Rausch Funeral Home, P. A., 20 American Lane, Lusby, MD and on Monday, December 13, from 10:00 ~ 11:00 AM at the First Baptist Church of Calvert County, 155 German Chapel Rd., Prince Frederick, MD. where a service celebrating his life will be held at 11AM with Pastor Ralph Nevin officiating. Interment will follow at Calvary Bible Church Cemetery, Lusby, MD. Pallbearers are Harold Denton, Bill Gray, Jamie Pitcher, Donnie McCready, Martin Rodey and Scott Cox, Honorary Pallbearers Ronnie Cibulay, Dickie Pitcher, Rodell Mackall, James Jones, Harold Ward, Dean Batchelor.

Memorial contributions may be made in his memory to First Baptist Church of Calvert County, P. O. Box 778, Prince Frederick, MD 20678.

Arrangements provided by Rausch Funeral Home.