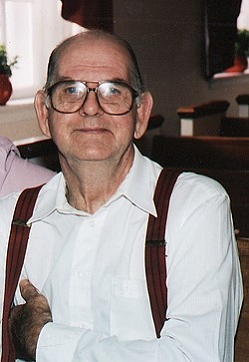 George Sparks, 88, of Great Mills, MD died at his residence surrounded by his family on November 21, 2011. Born June 20, 1923 in Tacoma, Virgina he was the son of the late Martin Wiremen and Josephine (Carter) Sparks.

He was the husband of the late Ethel Cleo (Sellers) Sparks whom he married on June 17, 1946 at Episcopal Church in Leonardtown, MD. Theirs was a lasting love of 62 years that endured many ups and downs. She preceded him in death on July 20, 2008. Out of their holy union was born; Wallace, Tommy, George, Janice (Cissy), Steve, Denna (DeeDee), Chris, Debbie, Don Allen, Bobby, 28 Grandchildren, and 29 Great Grandchildren as well as his many daughter and son in-laws.

George is also survived by his siblings; Mary, Jack, Bob, Teddy, Rita, Wauneta, Faye, Donnie, Ronnie, nieces and nephews; Betty Jo, Ralph, Ed, Hope, Larry, Wally, Pauline, Claire, John, and Linda. As promised we must add his faithful and loving companion Smokey who never left his side.

George is preceded in death by sons; James D., Ernie Ray, Barry Sparks, siblings; Mandy, Lena, Kate, Bill, Alfred, James David, Nina and Nora.

George grew up in the mountains of southwest Virginia which he loved and returned to often. He moved to St. Mary's County in the 1940's, and worked as a logger and woodsman. He always talked about his love of working with wood. He and his father in-law cut a lot of the timber for Pax River and throughout the county. He worked with Pal Kirkpatrick at a saw mill and paining mill in St. Inigoes, MD. While working at the mill he ran the biggest diesel engine of that time. There is a picture of him working the engine that hung in the GM Museum in Baltimore until 2005 when the museum closed. He was very proud of this part of his life. George also worked for Charles McConnell cutting, and hauling pulp wood, The Tropics in Lexington Park and The Friendly Tavern in Great Mills, MD. He retired from the Board of Education as Head Custodian of Frank Knox School after 27 years. He was a hard worker and great provider. We have many cherished memories of Dad showing and telling us about his work.

George's greatest joy in life was his family. Besides his own children, grandchildren, and great grandchildren, he was "Pap Paw", uncle and friend to many, many more. His door was always open to anyone that needed a helping hand or a good friend. There was always a hot cup of coffee, he was a good cook and he and mom shared the kitchen. After your first visit you were counted as a friend. George and Cleo loved to travel around the United States and visited family and friends.

Many hours were spent together working in the garden. They canned and preserved a lot of their own vegetables. Dad also raised; Chickens, Ducks, Geese, and Turkeys, and won many Grand Champion ribbons at the County fairs. Dad and Mom loved just being together. Usually when they were sitting together one or the other had their hand on the others leg. They always held hands which showed their love throughout their life together. They left a lasting impression of love and friendship that will remain with us forever. Dad would want us to be sure and tell Barbara and Diane "Thank You" for your many visits and talks. He would want us to be sure and tell all his friends and family thanks for all the love and support. Dad went to take his loves hand once more and they are walking through the mountains they loved as he often dreamed.

The family will receive friends in the Mattingley-Gardiner Funeral Home, Leonardtown, MD on Friday, November 25, 2011 from 5:00 PM – 8:00 PM with prayers being recited at 6:00 PM. A Funeral Service will be celebrated on Saturday, November 26, 2011 at 10:00 AM in Mattingley-Gardiner Funeral Home with Fr. Raymond Schmidt officiating. Pallbearers will be; Wallace K. Sparks, Sr., Thomas T. Sparks, George L. Sparks, Steve C. Sparks, Chris Sparks, Dan A. Sparks, Bobby L. Sparks, Mike E. Sparks, and Wallace K. Sparks, Jr. Honorary Pallbearers will be the grandsons. Interment will follow in Charles Memorial Gardens, Leonardtown, MD.

Contributions may be made to Lexington Park Vol. Rescue Squad, P.O. Box 339, Lexington Park, MD 20653.

Arrangements provided by the Mattingley-Gardiner Funeral Home, P.A.