Hayes, Richard Albert, Jr
Birth: 1930-04-30 in Washington D.C.
Residence: Mechanicsville, Maryland
Death: Saturday, November 04, 2006
Laid to Rest: Thursday, November 09, 2006 in the Charles Memorial Gardens, Leonardtown, Maryland
Condolences: Click to View or Post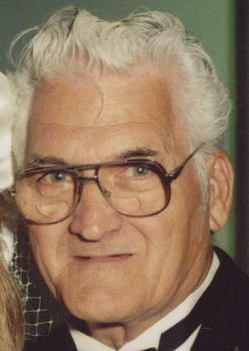 Richard Albert Hayes, Jr., 76, of Sandgates, MD, formerly of Oxon Hill and Forestville, MD, died November 4, 2006 in St. Mary's Hospital, Leonardtown, MD.

Born April 30, 1930 in Washington, DC, he was the son of the late Richard A. Hayes, Sr. and Della Biggs Hayes. Richard graduated from St. Theresa's School and Oxon Hill High School. He served in the U.S. Navy from 1951 to 1955 and the Navy Reserves from 1955 to 1959 achieving the rank of Gunners Mate. Richard received the Navy Occupational Service Medal (European Clasp) and the National Defense Service Medal. Richard was a diesel mechanic for Griffith Consumers in Washington, DC for over 43 years. He loved his work. There was never a job he couldn't tackle. He would always get motors, etc. to work. Everyone came to him for mechanical advice. He was very well respected for his innate ability. After his retirement in 1998 he still tinkered with motors. Richard enjoyed the river, fishing and crabbing, boats, watching baseball games, car races, fixing cars and things and riding the grandkids on his tractor. He liked Hank Williams, the old days and eating crab cakes and fish sandwiches. He was willing to help people in need. A great all around man who will be sadly missed by all who knew and loved him. We will cherish him in our hearts and always.

He is survived by his loving wife of 51 years, Marian K. Hayes, whom he married on April 23, 1955 in Elkton, MD. Also left to mourn his passing are devoted children, son- Richard A. "Rick" Hayes, III and his wife Toni Tippett-Hayes, son- Russell A. Hayes, all of Sandgates and a daughter – Rita A. Markel-Peeling of Solomons, MD. "Gran Dad" to his loving grandchildren, Katie L. Markel-Madison, Kayla L. Markel, Stephanie K. Tippett, Natalie T. Tippett-Hayes, Kobe R. Tippett-Hayes, Raymond A. Dufour and Step-grandsons, Adam F. Peeling, Tanner L. Peeling and "Mom"-in-law, Mary Ramsden. He is also survived by many, many nieces and nephews in Philadelphia, PA, Washington, DC, Maryland, North Carolina and Florida, very close and loving nieces, Robin M. Knodle, April L. Spence and Sharon Till-Webster all of Waldorf, MD, sisters-in-law, Carolyn Hayes of Clinton, MD and Reba Hayes of Cocoa, FL, special brother-in-law, Dave L. Spence of Waldorf, MD and long-time friend and buddy, Charles "Morris" Buckler of Oraville, MD. In addition to his parents, Richard A. Hayes, Sr. and Della Biggs Hayes, Richard was preceded in death by his twin, William E. Hayes, Sr. and brothers, Edward M. Hayes, Sr., Joseph E. Till and Paul H. Till, Sr.

The family will receive friends on Wednesday, November 8, 2006 from 5:00 p.m. until 8:00 p.m. in the Brinsfield Funeral Home, P.A. in Leonardtown, MD. Prayers will be recited at 6:30 p.m. A Funeral Service was conducted on Thursday, November 9, 2006 at 10:00 a.m. in the funeral home chapel. The Reverend Keith Woods will conduct the service. Interment will follow in Charles Memorial Gardens, Leonardtown, MD.