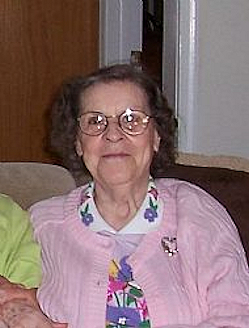 At the age of 20 years old and with the required permission of her mother and father, she joined the United States Navy as a member of the Women Accepted For Voluntary Service (WAVES) where she rose to the rank of Petty Officer 2nd Class. She was honorably discharged March 20, 1947. She was later employed at the U.S. Bureau of Engraving and Printing where she performed accuracy checks and quality control for sheets of $100.00 bills and where she met George McDonald. They were married January 4, 1947, celebrating their final anniversary of 63 years on January 4, 2010.

She left the Bureau of Engraving and Printing and dedicated the rest of her life to her family. She followed her husband, living in Washington, DC and later moving to District Heights, MD and then to Berkeley Springs, WV. She later moved to Waldorf, MD and finally moved to Charlotte Hall Veterans' Home where she spent the remaining days of her life. She had a rare talent of always making new friends wherever she went. Violet McDonald was a very special, caring, and loving individual. She touched so many lives and will be greatly missed by her friends and family.

Daughter of the late F. Jay Delaney and the late Marion Delaney.

Predeceased by her parents; husband, George McDonald; brother, Gale Delaney; daughter, Donna McDonald (who died at birth); and grandson, Sean McDonald.

She was a loving mother, grandmother, and great-grandmother and is survived by her children, Michael McDonald and his wife Louise, Patrick McDonald and his wife Bonnie, Timothy McDonald and his partner Alan, Melanie Roderick and her husband Kevin, and Maureen Phillips; brother, Dixie Delaney; grandchildren, Michael, Jason, Tracy, Alicia, and Megan; and great-grandchildren, Anthony, Connor, Sean, and Mackenzie.

Visitation: Monday, September 5, 2011 from 5-8PM at Raymond Funeral Chapel, 5635 Washington Avenue, La Plata, MD 20646. Funeral Service: Tuesday, September 6, 2011 at 9:45 AM at Raymond Funeral Chapel. Clergy: Fr. Frank McMullen. Interment: Tuesday, September 6, 2011 at 11AM at MD Veterans' Cemetery, Cheltenham, MD. Pallbearers: Tim McDonald, Alan Rueckgauer, Michael McDonald, Jr., Jason McDonald, Anthony McDonald, and Patrick McDonald. Honorary Pallbearers: United States Navy Honor Guard.

Memorial contributions may be made to the Salvation Army, PO Box 2708, La Plata, MD 20646.

Arrangements provided by Raymond Funeral Service.