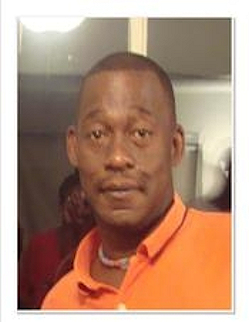 Duckett, Jaylou Emanuel (Age 43) of Indian Head, Maryland.

Jaylou Emanuel Duckett, affectionately known to his family and friends, as "Jay" and "Bo" was born February 10, 1968 in Columbia, South Carolina to Tena Green Duckett and the late Samuel W. Duckett, Jr. He was raised in Eastover, South Carolina, the youngest of seven children.

On Wednesday, March 9, 2011, Jay departed this life, beginning his journey to live in the heavens above; a new life, eternal life, and the newness of God. He was given an extended time on this earth to make his peace and enjoy the simplicity of life.

Jay was educated in the public schools of Richland County, South Carolina and was a 1986 graduate of Lower Richland High School. During his tenure at Lower Richland, Jay was the Captain of the Lower Richland Diamond Football Team (#27); Student Council Vice President, a member of the LR Diamond Track Team, the LR Diamond Basketball Team and the 4H Club.

Jay attended Johnson C. Smith University in Charlotte, North Carolina where he was an active member of the Golden Bulls Football Team and where he met his wife Laura T. Moten. They were married November 10, 1993 and were blessed with one beautiful daughter, Lauren Jaylese Duckett.

In October 2010, Jay graduated from the College of Southern Maryland's Commercial Truck Driving Program in La Plata, Maryland and received his Class A Professional Driver's License.

Jay was employed full-time by the Wal-Mart Corporation in Waldorf, Maryland where he enjoyed providing excellent customer service and was a supportive team member to his co-workers. He was a hard worker and could be depended upon whenever needed. Jay was kind and would help his fellow man when it was within his power.

Jay joined St. Phillip AME Church in Eastover, South Carolina at an early age where he later joined the JA Darby Male Chorus. He relocated to Maryland where he was an active member of Victory Christian Ministries International. Jay completed the New Covenant Partners Ministry in June 2009 and became a part of the Mighty Men of Valor Ministry.

Jay was a very devoted Christian, husband, father, son, brother, uncle, cousin and friend. He committed his life to Christ and never looked back. He was a devoted and faithful servant of God and attended church regularly until his health began to decline. He loved the Lord with all of his heart and it was displayed throughout his life. Jay loved his family dearly and love was displayed in his caring spirit.

Jay was preceded in death by his father, Samuel W. Duckett, Jr.; maternal grandparents, John and Patience Green and his paternal grandparents, Samuel and Janie Duckett.

Jay leaves to cherish his precious memories, his loving wife of 17 years, Laura T. Duckett of Indian Head, MD, his precious daughter, Lauren Jaylese Duckett of Indian Head, MD; his beloved mother, Tena G. Duckett of Eastover, SC; his brothers, Charles (Viola) Duckett, Sr., John (Barbara) Duckett, Sr., both of Eastover, SC; Samuel (Debbie) Duckett of Columbia, SC; sisters, Ivy (Robert) Davis of Gadsden, SC; J. Marie Green of Eastover, SC; Lillian Gilmore of Columbia, SC; uncle, David Duckett of Columbia, SC; aunts, Eunice Woodard, Dorothy Duckett and Carolyn Duckett, all of Brooklyn, New York; Margaret Duckett of Florence, SC and Helen Duckett of Columbia, SC; sisters-in-law, Vicki Cummings of Temple Hills, MD; Donna (Steve) Joyner of Indian Head, MD; brother-in-law, Brian (Sandra) Cummings, of Columbia, S.C.; uncle-in-law, Paul (Shirley) Frazier of Upper Marlboro, MD; Godmother, Lillian Dove of Eastover, SC; special cousin, Kiziah Goodwin of Eastover, SC and a host of nieces, nephews, cousins and friends.

"To Be Absent From The Body Is To Be Present With The Lord"

Viewing, 9:00am until time of Service, 10:00am on Saturday, March 12, 2011 at Victory Christian Ministries International Waldorf, 2574 Business Park Court, Waldorf, Maryland 20602. Interment, Heritage Memorial Cemetery, 13472 Poplar Hill Road, Waldorf, Maryland 20601.

Arrangements entrusted to THORNTON Funeral Home, P.A., 3439 Livingston Road, Indian Head, Maryland.