Kalnasy, Patricia Ann
Birth: 1934-04-15 in Washington, DC
Residence: Leonardtown, Maryland
Death: Thursday, October 16, 2008
Laid to Rest: Monday, October 20, 2008 in the Charles Memorial Gardens, Leonardtown, Maryland
Condolences: Click to View or Post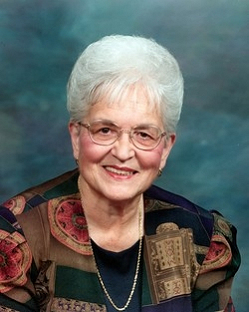 Patricia Ann (Reithmeyer) Kalnasy, 74, of Leonardtown, MD died October 16, 2008 in St. Mary's Hospital.

Born April 15, 1934 in Washington, DC, she was the daughter of the late Paul H. Reithmeyer and Martha E. (Schilke) Reithmeyer.

Patricia was a 1952 graduate of St. Mary's Academy. She was an operator for the C&P Telephone Company for six years and an Accounts Payable Manager at St. Mary's Hospital for forty years. Patricia was the full time organist at St. Aloysius Gonzaga Catholic Church in Leonardtown, MD for fifty four years. She was a member of the Catholic Daughters of America as well as the recipient of the Archdiocese of Washington Order of Merit Award in 2003 presented by His Imminence Theodore Cardinal McCarrick.

Patricia is survived by her children, George Kalnasy, Jr. (Dolores), Mary K. Rhodes (John), Paul A. Kalnasy (Debra), Marta P. Bullis (Ritch), all of Leonardtown, MD, Khristine A. Howard (James) of Hughesville, MD and Patricia A. Dabbs (James) of St. Mary's City, MD, eighteen grandchildren, Matthew, Michelle, Kelley, Emily, Megan, Anna, Michael, Justin, Christopher, Katelyn, Connor, Haley, Preston, Chandler, Rusty, Randy, Lindsay and JP. She was preceded in death by her husband of forty nine years, George Kalnasy, Sr. whom she married on September 11, 1954 in Washington, DC.

Serving as pallbearers will be Matthew Kalnasy, Michael Kalnasy, Justin Kalnasy, Christopher Kalnasy, Paul Barber and Jim Howard. Honorary pallbearers will be Dr. John Roache, Kelley Rhodes, Megan Howard, Michelle Kalnasy, Katelyn Kalnasy, Connor Bullis, Haley Bullis, Preston Dabbs, and Chandler Dabbs.

Family will receive friends for Patricia's Life Celebration on Sunday, October 19, 2008 from 2:00 p.m. until 5:00 p.m. in the Brinsfield Funeral Home, 22955 Hollywood Road, Leonardtown, MD 20650. Prayers will be recited at 4:00 p.m. A Mass of Christian Burial will be celebrated on Monday, October 20, 2008 at 11:00 a.m. in St. Aloysius Catholic Church, 22800 Washington Street, Leonardtown, MD 20650. Reverend John Dakes will be the celebrant. Interment will follow in Charles Memorial Gardens, Leonardtown, MD.

In lieu of flowers, donations may be made to the Leonardtown Volunteer Fire Department, P.O. Box 50, Leonardtown, MD 20650 or the Leonardtown Volunteer Rescue Squad, P.O. Box 299, Leonardtown, MD 20650.

Arrangements by the Brinsfield Funeral Home, P.A., Leonardtown, MD.