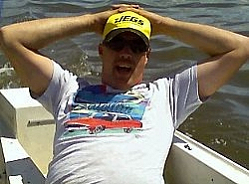 Jeffrey "Jeff" P. Osborn, 42, of La Plata, MD, died November 8, 2010, at his residence.

Jeff was a Steamfitter for 8 years with Steamfitters Local 602 in Brentwood, MD. He loved fishing, crabbing, racing cars, and demolition derbies. He enjoyed being with his buddies and teasing them constantly. He most of all enjoyed being with his family.

Born August 13, 1968, in La Plata, MD, he is survived by his parents, Charles P. Osborn of Bryans Road, MD and his mother, Marcia Miller of Alexandria, VA; beloved husband of Sherri J. Osborne; sons, Derrekk Brown of Welcome, MD; Hunter Windsor of La Plata, MD; daughters, Darlyn Osborn and Krystal Windsor, both of La Plata; sister, Chris and her husband Tommy Haynie of Abell, MD; nephew, Danny Haynie; and many friends.

Visitation will be Thursday, November 11, 2010, from 5-8 PM at Raymond Funeral Chapel, 5635 Washington Avenue, La Plata, MD 20646.

Funeral Service will be Friday, November 12, 2010, at 11 AM at Raymond Funeral Chapel.

Interment will be at Osborn Family Cemetery, Mill Hill Road, Waldorf, MD.

Pallbearers will be Eddie Nolan, Michael Meaham, Mike Ray, John Pearson, Danny Haynie, and Kurt Hamilton.

Memorial contributions may be made to the Education Fund for his kids, %Chris Haynie, 38810 Collinwood Drive, Abell, MD 20606.

Arrangements provided by Raymond Funeral Service.