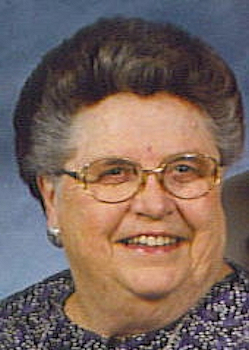 Gloria (Glo) Mae Hall of Prince Frederick passed away on July 2, 2012 of natural causes at the Washington Hospital Center. Mrs. Hall was born on May 3, 1931 in Baltimore, MD and is survived by her husband of 59 years, Guy H. Hall, son, Jeff Hall of Virginia Beach, VA, daughter, Kim Roof of Prince Frederick, sisters, Carole Bowen of Prince Frederick, and Dorothy Walker of Abington, MD. She leaves two grandchildren Hunter Roof of Raleigh, NC and Josh Slocumb of Virginia Beach, VA, and four great-grandchildren (Ashley, Courtney, Joshua and Amhara).


She was preceded in death by her daughter-in-law, Angela O. Hall of Virginia Beach.

Mrs. Hall began her career at the Mercantile Safe Deposit and Trust Company of Baltimore. After marriage and moving to Calvert County in 1952, she worked with the Gerard Motor Company before working with the Calvert County Board of Education. In 1969, she began her 22 year career in the banking industry and became the Vice President of Branch Operations at First Federal Savings and Loan of Annapolis and Maryland National Bank. Mrs. Hall served on the Board of Directors of the Calvert Nursing Center and was a member of the Calvert County Chamber of Commerce, Trinity United Methodist Church and numerous other organizations.

Through her community involvement, Mrs. Hall actively participated in the democratic process. She enjoyed politics, the arts and continued to follow the financial industry after her retirement. Additionally, Mrs. Hall was an avid sports fan. She enjoyed playing golf and watching her grandsons participate in numerous athletic events. In her later years, she enjoyed watching collegiate athletics, professional golf, the Ravens, and the Orioles. Above all things, Mrs. Hall loved her family, friends, and most of all, being a grandmother.

The family will receive friends at Trinity United Methodist Church in Prince Frederick on Friday, July 6th, 5:00 - 8:00 pm. Services will be held at Trinity United Methodist Church on Saturday, July 7th at 10:00AM. Interment will follow in Asbury Cemetery.

In lieu of flowers, memorial contributions may be made in her honor to The Calverton School, 300 Calverton School Road, Huntingtown, MD 20639, Calvert Memorial Hospital, 100 Hospital Road, Prince Frederick, MD 20678 or the Washington Hospital Center, 110 Irving Avenue, Washington, DC 20010.

Arrangements by the Rausch Funeral Home, Port Republic, MD.