Russell, Elizabeth Lee
Birth: 1934-11-21 in Leonardtown, Maryland
Residence: Medley's Neck, Maryland
Death: Wednesday, September 03, 2008
Laid to Rest: Saturday, September 06, 2008 in the Our Lady's Catholic Church Cemetery, Leonardtown, Maryland
Condolences: Click to View or Post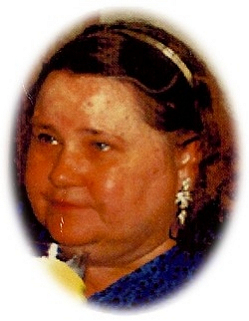 Elizabeth "Betty" Lee Abell Russell, 73 of Medley's Neck, MD died September 3, 2008 at her residence. Born November 21, 1934 in Leonardtown, MD she was the daughter of Mary Eva Abell of Medley's Neck, MD and the late Thomas B. Abell Jr.

She was the loving wife of John Robert Russell Jr. whom she married on August 23, 1952 in Our Lady's Church, Medley's Neck, MD.

She is also survived by her son Bobby Russell and his wife Cathy of Chaptico, MD and her daughter Betty Carter and her husband Ray of Valley Lee, MD; Grandchildren, Barbara Lynn Henderson and her husband Wayne, Jennifer Ann Henderson and her husband Eddie, Jessica Irene VanRyswick and her friend James Sotelo, Kimberly Russell, Ashley Russell and Sam Carter and his wife Heather; Great-children, Wayne Henderson, Jr., Jasmine, Darrick and Devin Henderson and Kayla, Jordan and Kevin Carter, as well as her siblings, Margaret Alvey of Budds Creek, MD, Robert Abell of Ridge, MD, Mary Vannah Bassler of Winchester, VA, Joseph Abell of Kensington, MD, JoAnn Staniszewski of Baltimore, MD, Edward Abell of Medley's Neck, MD and Patricia Tennyson of Clements, MD.

She was also preceded in death by her brothers, James Edward and Thomas Michael Abell.

A lifelong resident of St. Mary's County, Betty was a homemaker who graduated from Great-Mills High School "Class of 1952". She enjoyed family and time spent with grandchildren and great-grandchildren.

The family will receive friends on Friday, September 5, 2008 from 5:00 – 8:00 PM in the Mattingley-Gardiner Funeral Home, Leonardtown, MD with prayers being said at 7:00 PM by Deacon Tom Spalding. A Mass of Christian Burial will be celebrated on Saturday, September 6, 2008 at 10:00 AM in Our Lady's Catholic Church with Fr. Thomas LaHood officiating. Interment will follow in the church cemetery. Pallbearers will be Ray Carter, Keith Abell, Eddie Henderson, David Higgs, Wayne Henderson and James Sotelo. Honorary Pallbearers will be her grandchildren and great-grandchildren.

Contributions may be made to Leonardtown Rescue Squad, P.O. Box 299, Leonardtown, MD 20650.

Arrangements provided by the Mattingley-Gardiner Funeral Home, P.A.