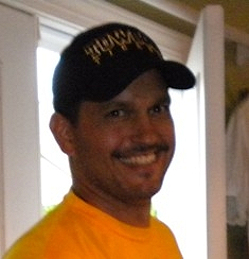 Brandon Glen Greening, Sr., 38, of Saint Leonard, MD passed away at home with his wife and 3 boys by his side. He joined the Lord, May 29, 2011, after a long battle with Breast Cancer. Brandon was born in Richmond, VA on November 10, 1972.

He was raised in Bowie, MD and attended DeMatha Catholic High School. He worked for UPS for 20 years. After living in PG County and Anne Arundel County for most of his life, he moved his family to Calvert County in 2003, where he continued coaching his children in their sports. He was involved with the Huntingtown Hornets, before settling in with the Prince Frederick Eagles, where he finished out his "career" coaching "boys club" ball. His 120lb football team went undefeated this past season and won the county championship. He was planning on helping out with the Calvert High School Football program this summer and fall. Prior to moving to Calvert County, he was a coach for the Crofton Cardinals where he began to make his impact on the youth.

His passion… God, family and football. He loved his wife and 3 boys dearly. Spending time with them, especially on the field is what he desired more than anything. The rare occasions he wasn't coaching his boys, he was on the sidelines or in the bleachers cheering them on. He had a passion for coaching the youth. When he wasn't consumed by his coaching duties, he was an avid outdoors man; enjoyed fishing, hunting, going to the beach, hanging out with friends. Other than the football field and church, his 2 favorites places he loved to spend time with his family was Idaho and Virginia Beach. Loves his Mach 1 Mustang, always keeping it in mint condition. He loved spending time at church, whether it be worship, fellowship or cutting the lawn. His church family played a huge role in his life.

In 2007, after being diagnosed with Stage IV Breast Cancer, he added another passion to his list; educating men, women and children about early detection. He started a foundation: The Brandon Greening Foundation for Breast Cancer Awareness (which he just received non-profit status) and started a website: www.breastcancerinmen.org He spoke at events, luncheons, dinners etc. Participated in the Relay for Life and Calvert Memorial Hospital Breast Cancer 5k Challenge just to name a couple. He would participate or speak whenever he was asked. To get his message out was so important to him. "Our sacrifice will one day save lives" is what he would always say.

He is preceded in death by 2 grandfathers and a niece, Eugene Edward Greening, Glenn James Van Sickle Sr. and Madison Haskett.

He is survived by his wife of 21 years, Connie Greening, Saint Leonard, MD, 3 sons, Matthew and Dakota both of Saint Leonard, MD and Brandon Jr. (BJ) of Towson, MD. His father Glen Greening (Saint Leonard, MD), mother Eloisa Riojas Greening (Pearsall, TX), 4 brothers, Rex Greening (North Carolina), Ryan Greening , Elliot Greening , Wesley Greening (all residing in Texas) and 1 sister Sarah Greening (Columbia, MD). And many, many friends and young men that he coached.

The family received friends on Thursday June 2, 2011, from 2-4 and 6-8 PM at the Church by the Chesapeake, 3255 Broomes Island Road, Port Republic, MD where services were held on Friday June 3, 2011, 11 A.M. Interment was private.

In lieu of flowers, donations will be received by Church by the Chesapeake on behalf of the Greening Family. These funds will be used to offset funeral and medical expenses.

Arrangements by Rausch Funeral Home, P.A., Port Republic, MD.