Baumann, Ryan Patrick
Birth: 1983-09-17 in Loveland, Ohio
Residence: Jeffersonville, Indiana
Death: Friday, August 01, 2008
Laid to Rest: Monday, August 11, 2008 in the Arlington National Cemetery, Arlington, Virginia
Condolences: Click to View or Post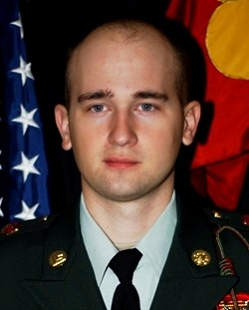 SGT Ryan Patrick Baumann (USA) of Fort Campbell, Kentucky was killed in action on August 1, 2008 while serving his country in Afghanistan. Ryan was assigned to the 4th Battalion, 320th Field Artillery Regiment, 4th Brigade Combat Team, 101st Airborne Division (Air Assault), Fort Campbell, KY. Ryan was killed in action while leading the convoy on Route Alaska in Afghanistan by an improvised explosive device.

Ryan was born in Loveland Ohio on September 17, 1983. He moved to Germany when he was five where he attended American, German and International schools and excelled in both baseball and soccer. He moved to Maryland in 1996 and attended Esperanza Middle School and graduated from Great Mills High School in 2003. While in high school, Ryan continued to play and referee soccer and enjoyed cars and racing. Ryan also developed his interest in photography while in High School and even won awards from the School Board and did the photos for a walking guide to St. Mary's County. After graduation, Ryan met his fiancée, Lauren Smith, who is also a graduate of Great Mills High School. Ryan enlisted in the Army in 2004 and served a 12-month tour in Iraq prior to this year's deployment to Afghanistan. Ryan and Lauren were planning on getting married on January 10, 2009.

Ryan's awards and decorations include: Meritorious Service Medal; Army Commendation Medal; Army Achievement Medal (2 awards); National Defense Service Medal; Iraq Campaign Medal; Global War on Terrorism Service Medal; Army Service Ribbon; Overseas Ribbon; Air Assault Badge; Driver and Mechanic Badge with Driver-Wheeled Vehicles and Weapons Qualification, M4, expert During funeral services on Monday August 11, 2008 he will be receiving the Purple Heart and Bronze Star.

Ryan is survived by his mother, Cindy and step father Gary Lohman of Great Mills, MD, his father, Robert Baumann of Jeffersonville, IN, his sister, Christina Baumann of Mesa, AZ and his fiancée Lauren Smith of St. Mary's City, MD. He is also survived by his grandfathers, John Boggs of Dayton, OH and Edward Baumann of Loveland, OH.

Ryan was proud of the work he was doing and believed in the mission and knew they were making a difference both in Iraq and Afghanistan. Ryan paid the ultimate sacrifice and died a true hero.

Family will receive friends for Sgt. Ryan's Life Celebration on Sunday, August 10, 2008 from 2:00 p.m. until 5:00 p.m. in the Brinsfield Funeral Home, 22955 Hollywood Road, Leonardtown, MD 20650. Prayers will be recited at 4:00 p.m. A funeral service will be conducted by the Rev. Msgr. Maurice O'Connell on Monday, August 11, 2008 at 10:00 a.m. in the funeral home chapel. Interment will follow in Arlington National Cemetery, Arlington, VA at 2:00 p.m. with full military honors.

Memorial contributions can be sent to the 506th Airborne Infantry Regiment Association Widows, Orphans, and wounded soldiers fund, Hoyt Bruce, Treasurer 4126 Cole Way San Diego, CA 92117.