Jameson, Mary Patricia
Birth: 1936-03-10
Residence: Waldorf, Maryland
Death: Friday, July 10, 2009
Laid to Rest: Wednesday, July 15, 2009 in the St. Mary's Catholic Church Cemetery, Bryantown, Maryland
Condolences: Click to View or Post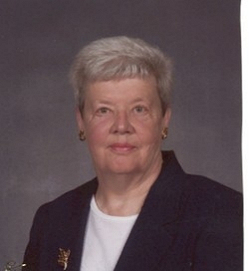 Mary Patricia Jameson, age 73,of Waldorf, Maryland was called to her heavenly home on July 10, 2009. "Mary Pat", born March 10, 1936, was the daughter of James Carlyle and Mary Cecelia Jameson. In addition to her parents, she is preceded in death by her sister, Theresa Helene Boone, and her husband for over fifty years, Aubrey Bernard Jameson, Jr.

She is survived by her beloved niece, Bonnie Johnston and her husband, Bruce Johnston; her nephew, Richard Boone, Jr. and great-nephew Nathaniel Boone. For them and their families, she was a mother figure for many, many years and their family's foundation. She is also survived by her in-laws - Carl and Wanda Jameson of Waldorf, MD; Allan and Debra Jameson of Los Lunas, NM; Gene and Sally Jameson of Waldorf, MD; and, their children and spouses - Tracey and Mark O'Leary; Todd and Maria Jameson; Donald, Jr. and Dana Jameson; Roger Jameson; Michelle and Matt Buscher; Sheila and Roy McDonald; and Tina and Jackie Fisher as well as many great and great-great nieces and nephews.

Mrs. Jameson enjoyed participating in church activities, gardening, eating crabs and other seafood, listening to country music, and joining her girlfriends for celebratory lunches. She truly cherished the fellowship of friends and family. She was, also, an avid dog lover and "all" the dogs in the neighborhood knew she was a soft touch for a treat.

She graduated from Notre Dame High School, Bryantown, MD, and at the age of 19, after one year of college, she started working for Southern Maryland Electric Corporation (formerly REA) Hughesville,MD and remained there until her retirement in June, 2001. She was also a member of the Catholic Daughters Court, Bryantown, MD.

The family will receive friends and relatives for "Mary Pat's" Life Celebration on Tuesday, July 14, 2009 from 2-4p.m. and 6-8p.m. at the Brinsfield-Echols Funeral Home, P.A., 30195 Three Notch Rd., Charlotte Hall, MD. A Prayer Service will be held at 7:00p.m. A Mass of Christian Burial will be celebrated at 11:00 a.m. Wednesday, July 15, 2009 at St. Mary's Catholic Church, 13715 Notre Dame Place, Bryantown, MD. The Reverend Lawrence Young will officiate. Burial will take place at St. Mary's Catholic Church Cemetery, Bryantown, MD.

Pallbearers will be Richard Boone, Jr., Matt Buscher, Donald Jameson, Jr., Todd Jameson, Bruce Johnston and Timothy Kendrick. Honorary pallbearers will be Christopher Boone, Christopher Bruce, Michael Bruce, Mark O'Leary, Mark O'Leary, Jr., Richard Todd and Steve Walters.

Memorial donations may be made to Hospice of Charles County, 105 LaGrange Avenue, P.O. Box 1703, LaPlata, MD or St. Mary's Church Restoration Fund, 13715 Notre Dame Place, Bryantown, MD 20617.

Arrangements provided by Brinsfield-Echols Funeral Home.