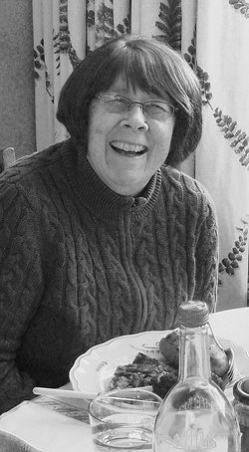 Carol Rocheteau, 60, of Leonardtown, MD, formerly of Cheltenham, Gloucestershire, United Kingdom, died in the early hours of March 19, 2011 amongst family at her home on Fairgrounds Road, Leonardtown, MD. Born 17, April, 1950 in Harrogate, Yorkshire, UK, she was the daughter of Lt. Col Peter H. Flear, OBE (deceased) and Betty May Hills.

Carol lived 19 years with her husband, Jeff, and resided together with their children in Jacksonville, Florida, in Misterbianco, Sicily, and finally in St. Mary's County, Maryland, which they were happy to call "home".

Carol was the eldest of four children and grew up in different countries as her father moved his family from one post to another during his service as an officer in the British Royal Signals. Moving from England to Seremban, Malaya, to Singapore, to Dover, to Germany, she was eventually sent back to the UK, along with her two sisters, to complete her secondary education at St. Mary's Holmhurst boarding school in Hastings. Upon completing her O-levels, she applied for and was accepted for early admission to St. Bartholomew's Hospital, London to train as a nurse, becoming a certified State Registered Nurse (SRN), before continuing training in midwifery at Hammersmith Hospital London, and then completing additional post-graduate training at Oxford Polytechnic, becoming a qualified Health Visitor.

Carol joined the Save the Children Fund (UK), and worked for several years, first in Surkhet, Nepal and then Ubon Ratchathani, Thailand, as a nurse and health visitor. In both countries, she earned respect for her technical and managerial expertise, as she did in Thailand. Sent to manage under the under 5's pediatric health program in a well-established, 40,000 strong Lao refugee center in Ubon, Carol found two clinics - one for medical care and the other for nutrition, with duplicated processes and no communication between the two. Mothers had to stand in line, first for one clinic, and then for the other. Additionally, food given to the mothers was somehow finding its way to the local market instead of to the children. Carol consulted with two fellow aid workers and they decided to shake things up, resulting in a new, single center being constructed under their direction - all of bamboo. Carol was in her element as she oversaw the children being fed, while their mothers were provided health advice, clothes, and medical care.

After her SCF stints overseas, Carol returned to the UK to work as a health visitor with the National Health Service near her parents' home in Cheltenham, Gloucestershire. Her last assignment there involved training health visitors in the new field of computerized records keeping.

In 1991, she and Jeff married, and Carol left England for the States where she was happy to live the life of wife and homemaker. She enjoyed helping people, was an enthusiastic walker, loved good food, good books, and good conversation, and was passionate about cooking (and collecting cookery books). Her baking repertoire ranged from quick-and-easy scones to elaborately decorated cakes, and she could produce a gluten-free pancake or bread loaf as good as any wheaten version. She was addicted to murder mysteries in any form - books, movies, or productions made for television. Her greatest pleasures were always the simple ones that came just from being at home with family or visiting with friends.

Carol had a knack for organization, money management, and loved getting a bargain when making a purchase. When their children entered middle school, she once again put her skills to work helping people, working part time work with H.O.P.E. of Southern Maryland, first as a volunteer and then as co-director of volunteers. Her greatest organizational accomplishments still came from the daily running of a home, nurturing her family, and raising her two children, in whom she instilled strong values, including a love for people, enthusiasm for travel, and a deep appreciation for experiencing different cultures in our world.

Known for her sense of humor and optimism, Carol managed to lead a happy life, in spite of the fact that she suffered from multiple myeloma. Never one to complain, many never knew that she was undergoing treatment. Though sadly her life was cut short by this incurable and unrelenting disease, happily she lived eleven years longer than her original prognosis in 2000.

Carol is survived by her husband Jeff, and their two children; Kate and Robert of Leonardtown, MD, as well as her mother, Betty Flear residing near Rushwick, Worcestershire, sister Susie Smith of Norwich, Norfolk, sister Diana Scott of Lower Binton, Warwickshire, and brother James H. H. Flear of Birmingham, all of the UK. She was preceded in death by her father, who died in September 2010.

A private cremation was held 21 March 2011 care of Brinsfield - Echols Funeral Home in Charlotte Hall, MD.

The family will receive friends on Sunday, April 17th, 2011 from 2:30 p.m. until 4:30 p.m. for a celebration of Carol's life in the Reconstructed State House of 1676 at Historic St Mary's City. Driving directions are available online at http://www.stmaryscity.org/Location.html . Refreshments will be served.

In lieu of flowers, the family requests that contributions be made to the Carol Flear Rocheteau Memorial Fund. To make your tax deductible donation, please go to http://www.friendsofnepal.com/ and use the link provided or send a check (make payable to: Friends of Nepal/ Carol R Fund) and mail to:

Friends of Nepal
c/o Suzie Schneider
181 Mary Jo Lane
Sequim, WA 98382

Mail in forms will be provided at the reception.