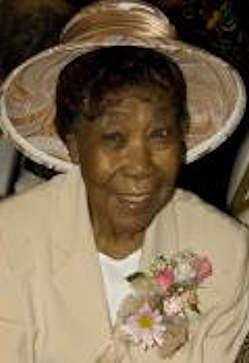 Josephine Ann Ennis Burley affectionately known as Mumma was born to the late William and Hettie Ennis in Bristol, Maryland on February 18, 1913. She departed this life on August 13, 2012 after a brief illness.

Josephine received her education in the Anne Arundel County Public School System.

Josephine served as Home Technician to families in the Bristol and Lothian areas. She was employed by the Crosby, Hyatt, Talbott and Spicknal families, providing them with basic home care needs, and assisting with the rearing of their children.

Josephine was united in marriage to Calvert Wesley Burley, whom she was dearly in love with for over 50 years. From this union, seven children were born.

Josephine was a faithful member of Union United Methodist Church. Affectionately, known as Mother Burley, she was an active member of Union for over 50 years. She lived a life that exemplified a True Christian Woman! You would find her sitting in the third pew each and every Sunday until her health began to fail. Josephine loved ministering to the other members about how good God has been to her and her family despite the times. She loved her Pastor and her Church Family.

Mumma loved to spend quality time with her family; visiting and playing (well cheating) dominoes with her only surviving sibling William; conversing daily with loved ones, traveling to Baltimore for family gatherings at her niece Edith's home and in the Fall viewing the leaves changing throughout the roads of Pennsylvania with her grandson, Starnard. She enjoyed planting flowers in the garden and could tell you which relative gave her which tree, plant and/or flower in her gardens. She truly enjoyed visiting the homes of her granddaughters, Mary, Rose, Amanda, Agnes, Carrie, JoAnn and Shanna. She would spoil the great grandchildren and allowed them to have their way. Mumma looked forward to her annual Birthday and Mother's Day celebrations.

Mumma was a kind, loving, and caring person. She was humble and quiet but her warmth and passion for life was like a beacon of light seen for miles ahead. She treasured each day that God allowed her to see and thanked Him for allowing her to see another day.

She credited God for every blessing she and her family received in life. God was the head of her life and she was not ashamed to tell about her walk with the Lord.

Mumma was a devoted Mother, Grandmother, Sister, Aunt, Niece and Friend. She had the ability to bring joy to those around her with her beautiful smile, vibrant laughter, and personality. Josephine had a special bond with each member of the family especially her children. There was often the debate of who was her favorite grandchild but in actuality, she had enough love, guidance and wisdom for each one. She was the matriarch of the family, and raised her family under the great biblical scripture "As for me and my house… we shall serve the Lord."

Mumma was a warrior for the Lord, filled with a sweet, sweet spirit. A phenomenal woman and although we will miss her, the family rejoices in the fact she is now resting in the bosom of the Lord she spoke of daily. Mumma will be missed by those who loved and knew her but her legacy lives on through many loved ones.

Mumma leaves to cherish her precious memories, children, Calvert and Sarah Ann Burley; brother, William Ennis; 6 grandchildren whom she raised as her own, Donald Dandridge, James Burley, Sharon Moore, Starnard Dandridge, Roy Contee and Mary Burley; 15 grandchildren, 59 great- grand children, 34 great-great grandchildren, son-in-law, Melvin Spriggs; adopted son, Richard Sharps; the Union United Methodist church family and a host of nieces, nephews, cousins and friends.

Josephine was preceded in death by her husband, Calvert; son, George Burley; daughters, Agnes Pindell, Mary Dandridge, Hettie Bell, and Carrie Spriggs; sisters, Nannie, Leitha, Lavenia, Sarah, Agnes, Hettie & Carrie Ennis; brothers, George, Charles, Clarence & Moses Ennis; grandchildren, Roland Spriggs, Allen Bell, Carlester Dandridge, Regina Mae Dorsey, Margaret Brown & Marvin Dandridge; great-grandchildren, Stinard Moore, Andrew Dorsey, Valerie Bell; great-great grandchildren, Kayden Dandridge & London Bell; sons-in-law, Thomas Bell, Sr., Edward Pindell, Donald R. Dandridge, and daughter-in-law Helen Burley.

Arrangements provided by Sewell Funeral Home.

Visitation:
10:00 am to 11:00 am on Tuesday, August 21, 2012 at Dunkirk Baptist Church, 11275 Southern Maryland Boulevard, Dunkirk, MD 20754.

Service:
11:00 am on Tuesday, August 21, 2012 at Dunkirk Baptist Church, 11275 Southern Maryland Boulevard, Dunkirk, MD 20754.

Cemetery:
Moses Cemetery, 5445 Sands Road, Lothian, MD 20711.