Watts, Ida Lucille
Birth: 1947-02-28 in La Plata, Maryland
Residence: La Plata, Maryland
Death: Sunday, February 01, 2009
Laid to Rest: Saturday, February 07, 2009 in the Sacred Heart Catholic Cemetery, La Plata, Maryland
Condolences: Click to View or Post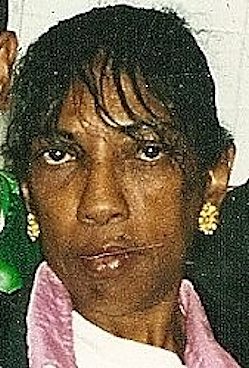 Ida Lucille Watts, 61, of La Plata, MD, died February 1, 2009, at Civista Medical Center, La Plata.

Ms. Watts was a self-employed domestic worker and a member of Sacred Heart Catholic Church in La Plata, MD. She enjoyed life to the fullest. Loved music and cooking good food and being with company. Known by her famous saying, "I don't think so."

Born February 28, 1947, she was the daughter of the late George Sherman Watts and the late Roslie Elizabeth Young Watts.

Predeceased by her parents; and daughter, Gloria Marie Watts.

Survived by brothers, William and his wife Carolyn Watts of Waldorf, MD; John Watts of La Plata, MD; sisters, Alice Watts Briscoe of La Plata, MD; Ella and her husband Joseph Winters of La Plata, MD; grandson, Little Earl Burns; also survived by a number of nieces, nephews, and friends.

Visitation will be Saturday, February 7, 2009, from 11 AM to 12 Noon at Raymond Funeral Service Chapel, La Plata, MD, where a service will begin at 12 Noon. Father Fred MacIntrye will officiate.

Pallbearers will be Thomas Cole, Eric Cole, Terry Cole, Michael Hawkins, David Farmer, and John Farmer.

Interment will take place at Sacred Heart Cemetery, La Plata, MD.

Arrangements provided by Raymond Funeral Service.