Albertsen, Edna Geraldine
Birth: 1932-02-12 in Salmon River, Nova Scotia
Residence: Ridge, Maryland
Death: Wednesday, November 26, 2008
Laid to Rest: Tuesday, February 12, 2008 in the Arlington National Cemetery, Arlington, Virginia
Condolences: Click to View or Post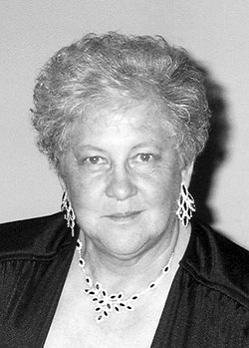 Edna Geraldine (Gerry) Cox Albertsen, 76, of Ridge, MD, passed away on November 26, 2008 at Prince George's Hospital Center in Cheverly, MD.

Born February 12, 1932 in Salmon River, Nova Scotia and married Peter on December 20, 1954 in Bermuda. She was the daughter of the late Sidney Burnthorn Cox and Ethel Blanche (Johnstone) Cox and sister of David (Dave) Robert Cox. She was preceded in death by two brothers, James (Jim) Burton Cox, Alister Creelman (Pat) Cox, and a sister Dorothy (Dot) Burnthorn Cox, all of Truro, Nova Scotia.

Gerry is survived by her husband Peter and five children; Debra Ann (Rob); Roy Jacob (Patti) and sons, Blaine and Duane; Michael Allen (Cindy) and sons, Robert and Ryan; John David (Missy) and daughter, Ashleigh and son, Daniel, all of St. Mary's County MD; William James (Randi) and son, Noah and daughters, Kylie and Lily of Woodstock, MD. Six great grand children complete her immediate family group. Her extended family includes seven more grand children and eight more great grand children.

Gerry first graduated from Colchester Academy and then graduated as a Canadian Registered Nurse from the Aberdeen School of Nursing. Gerry was employed by the Bermuda Hospital as an assistant to the Emergency and Operating Rooms until August 1955 when she quit to begin raising her family. While raising their children during her husband's Naval career, they lived in Bermuda, Florida, Virginia Beach, VA, Imperial Beach, CA, and Patuxent River, MD.

She owned and operated Albertsen's Foodway, Hideaway Bar, and the Ridge Gulf Service Center in Ridge, MD from May 1971 until the early 1980s. She then enjoyed traveling with her husband during his employment with Sikorsky Helicopters, living in Malaysia, Jordan, Holland, and the Philippines. After his retirement from Sikorsky in July 1997, they returned to Ridge, MD where she was a homemaker who loved to be around her family. Her favorite hobbies were playing pinochle and canasta with family and friends. Gerry also enjoyed weekends spent eating crabs with the family and overlooking the Chesapeake Bay from her home and garden.

Relatives and friends are invited to Gerry's Life Celebration in the Brinsfield Funeral Home, 22955 Hollywood Road, Leonardtown, MD on Monday, December 8, 2008 from 5 to 7 p.m. with Funeral Service at 6:00 p.m.

Interment will be held on Thursday, February 12, 2009 at 11:00 a.m. in Arlington National Cemetery.

In lieu of flowers, donations may be made to the Hollywood Rescue Squad P. O. Box 79, Hollywood, MD 20636 or American Diabetes Association, P.O. Box 11454 Alexandria, VA 22312.

Arrangements provided by Brinsfield Funeral Home.