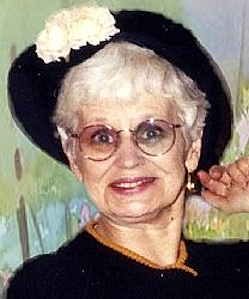 Daisy Delores Trader, 82, longtime resident of Waldorf, died February 7, 2009, at Calvert County Nursing Center in Prince Frederick, MD.

Born May 26, 1926, in Devils Hole, WV, she was the daughter of the late John Lee Davis and Gladys Mae Gooden Davis of Cairo, WV. In addition to her parents, she was preceded in death by her siblings Bill Davis, Pat Davis, Peg Atkinson, Eva Lawless and granddaughter, Kathy Doak.

Delores is survived by her husband, John Trader of Charlotte Hall; sister, Helen Rymer; brothers, Mark Wayne Davis and Mike Davis; and her children, Mona and Fred Doak, Jerry Cantwell, Tommy Cantwell, Debbie and DJ Jordan, Donna Cantwell, Vicky and Joe Bowie, and Paul and Kelly Quickle. She is also survived by her grandchildren, Patty, Sheila, Jerry, Alexander, Gabrielle, David, Cindy, Kristina, Marcy, Chris, Bobby, Derek, Jason, Jennifer, Joe, and Jeremy; and 29 great-grandchildren.

Delores retired from the Department of Interior's Office of the Secretary as a telecommunications specialist. In 1992, she received the Department of Interior Meritorious Service Award for providing superior information services to the Department of Interior and the public. At home, she was an avid gardener, and loved to plant flower beds and tend her roses. It is said that on a warm, humid day you could smell her roses for blocks. In later years, it was not uncommon for her to show up at her children's homes on a Saturday morning with flowers and trowel - ready to plant.

The family will receive friends for visitation on Friday, February 13, 2009, from 2-4 and 6-8pm at Bethel Baptist Church, 6705 Boots Lane,La Plata, MD. A Funeral Service will be held on Saturday, February 14, 2009, at 11:00 am at Bethel Baptist Church. Interment will private.

Memorial contributions may be made to Calvert Hospice, P. O. Box 838, Prince Frederick, MD 20678 or Alzheimer's Association P. O. Box 1889, La Plata, MD 20646 or Parkinson's Disease Foundation, 1359 Broadway, Suite 1509, New York, NY 10018 or Calvert County Nursing Center, 85 Hospital Road, Prince Frederick, MD 20678.

Arrangements provided by Raymond Funeral Service.