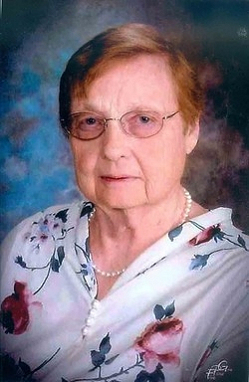 Thea Virginia Crowe, 89 of Lexington Park, MD, went to be with her Lord and Savior on May 24, 2011, at home surrounded by her family after a very courageous battle against cancer.

Born December 23, 1921 in Oakland, MD, she was the daughter of the late William H. Thomas and the late Evelyn Lewis Thomas Love.

She was preceded in death by her husband of 48 years, Kenneth O. Crowe. Also preceded in death by two brothers, William (Billy) Thomas, Jack Thomas Teets, one sister, Cleo Thomas, and an infant granddaughter, Ann Charlene Jeter. She was the last surviving member of her immediate family.

Mrs. Crowe graduated in 1938 from Oakland High School and kept in touch with the surviving graduating class, as recently as December 2010. She also coordinated class reunions.

Mrs. Crowe's father, Bill Thomas, was a blacksmith and worked on the construction of Deep Creek Lake in Garrett County, MD.

Mrs. Crowe was very active in the churches she attended. Potomac Park E.U.B. in Cumberland, MD, and later in the United Methodist Church in Indian Head, MD where she sang in the choirs and was active in the ladies groups. For the past 18 years she was an active member of the Lexington Park United Methodist Church. She enjoyed being a "Martha" for the church and volunteered in several outreach programs including the blood drives for the Red Cross.

She worked as a secretary for 15 years at the Naval Ordnance Station in Indian Head, MD.

Thea was also a member of the Eastern Star of the Charles County Chapter. She volunteered many years at the Office of Aging in St. Mary's County. She was an active participant with the American Cancer Society, often driving patients for their treatments. Also she volunteered at her grandson's Ridge Elementary School, Lexington Park, MD.

Thea loved her family deeply. She worked on the Orvel Crowe family genealogy for years. She enjoyed crocheting afghans and delighted in giving them as gifts to all she loved.

Surviving are her four children; two daughters, Rita Lancaster and husband Bob, Oakland, MD; Janet Jeter, Raleigh, NC; two sons, Carl Crowe and wife Micki, Whiting, NJ; Paul Crowe and wife Lisa, Lexington Park, MD. Six grandchildren; Debbie Dowlatabadi, Sherry Frick, Lisa Paddock, Douglas Jeter, Nathan and Colin Crowe, nine great grandchildren and many nieces and nephews.

The family would like to express their appreciation for all the friends who assisted in Thea's care, flowers, cards, meals and visits.

The Memorial Service will be held at the Lexington Park United Methodist Church at 21760 Great Mills Road, Lexington Park, MD 20653, on Sunday, May 29, 2011 at 12:30 p.m. Pastors Doug and Lori Hays will be officiating.

At Thea's request she was cremated.

Brinsfield Funeral Home of Leonardtown, MD is handling the arrangements.