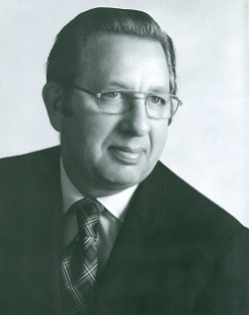 Elliott Campbell "Skeets" Finley, 84, of Huntingtown, MD died January 1, 2012 at his home. He was born October 3, 1927 in Washington, D.C. to Elmer George and Hulda J. (Pletzer) Finley.

Skeets served in the U.S. Army and upon being honorably discharged as a Sergeant attended Randolph Macon College, later working for P.D. Gawltney, Jr. Co. in Smithfield, VA. In May 1955 he accepted employment with the Library of Congress and retired in September 1984 as Chief of the Central Services Division. Subsequently he worked part time in real estate, and for the past ten years shared his artistic talents with the St. Mary's County Art Association. One of his greatest satisfactions was derived from his associations with the International Association of Lions Clubs which he joined in 1970 and served over 40 years, and was District Governor of District 22C from 1984 until 1985. Always eager to help, Skeets devoted his entire life trying to make life better for others.

He is survived by his wife of 55 plus years, Virgie Lorrain Dustin Finley; two brothers, Shirley H. "Jack" Finley and wife Helen of Smithfield, VA and Elmer E. Finley and wife Barbara of Lakeland, FL, and one sister Dorothy V. Ferruzza and husband Anthony of Frederick, MD. Also surviving are seven cherished nieces and one nephew; seven great-nieces and seven great-nephews and their children, many special friends and caregivers.

A memorial visitation will be held Friday, January 6 from 2-4 P.M. and 6-6:30 P.M. at Rausch Funeral Home, P.A., 8325 Mt. Harmony Lane, Owings, MD, where a Memorial Service will follow at 6:30 P.M. and a Lions Service at 7:30 P.M.

Expressions of sympathy in Mr. Finley's name may be made to Calvert Hospice, P.O. Box 838, Prince Frederick, MD 20678, online at www.calverthospice.org or to Randolph-Macon College, P.O. Box 5005 Ashland, VA 23005.

Arrangements provided by Rausch Funeral Home.