Schatzman, Surluta Diane
Birth: 1947-07-31 in Smithfield, North Carolina
Residence: Indian Head, Maryland
Death: Saturday, November 29, 2008
Laid to Rest: Thursday, December 04, 2008 in the Heritage Memorial Cemetery, Waldorf, Maryland
Condolences: Click to View or Post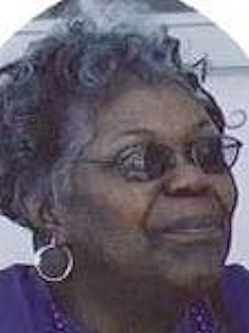 "I have fought a good fight, I have finished the race, I have kept the faith; Henceforth there is laid up for me a crown of righteousness, which the Lord, the righteous Judge will give me on that day." 2 Timothy 4:7

Surluta Dianne Schatzman, affectionately called "Dianne," daughter of Edward L. Hinton and the late Frances Bell Hinton, was born on July 31, 1947 in Smithfield, North Carolina. She was a member of First Missionary Baptist Church in Smithfield. In 1965, she graduated from Johnston County Training School (JCTS) and in 1967 she graduated from Raleigh Business School. Prompted by her business training and her desire to apply what she had learned, Surluta moved to the Washington, D.C. area to seek employment.

Eventually she found her way to the Department of Justice where she remained for 30 dedicated years and retired as a Contracting Officer.

Surluta found pleasure in the "simple" things in life. She enjoyed cross stitching, gardening, and reading, but most of all, she loved spending time with her grandchildren. Although she transitioned to the DC area, she was an active member of her alumni association in North Carolina.

Surluta was previously married to Steven Schatzman; and although the marriage dissolved, their friendship did not. They also shared fond memories of their children, Natasha and Kortai.

After battling lung disease over the past few years, this courageous and strong-willed soul was allowed to rest on November 29, 2008.

In addition to her two children, Natasha L. Schatzman and Kortai D.Schatzman of Waldorf, MD she is also survived by two grandchildren, Brittany Rohr and Jahlani Schatzman; her father, Edward L. Hinton of Smithfiled, N.C.; two sisters, Janice Judkins, Selma, N.C. and Berneitha Morrison; Smithfield, N.C.; two brothers, Edward W. Hinton Raleigh, N. C. and Francis Hinton, Bowie, MD. She is also survived by one uncle, Irving G. Bell, St. Albany, N.Y.; three aunts, Dorothy Frazier, Smithfield, N.C., Vivian Jones, Selma, N.C. and Ruth Bell, Greensboro, N.C.

Her special friends include Frances Woodland, Waldorf, MD.; Denise Bivens, Temple Hills, MD and Sandy Wood, Fairfax, VA.; Miriam Peace, Temple Hills, MD, George Currie, Oxon Hill, MD and a host of aunts, nieces, nephews, cousins and friends.

Her viewing will take place on Thursday, December 4th, 10:00am until time of service 11:00am at Thornton Funeral Home, P. A. Chapel, 3439 Livingston Road, Indian Head, MD 20640. Interment Heritage Memorial Cemetery, Waldorf, MD.

Arrangements provided by Thornton Funeral Home.