Young, Neola Otto
Birth: 1908-10-23 in Portland, Oregon
Residence: Cobb Island, Maryland
Death: Friday, March 06, 2009
Condolences: Click to View or Post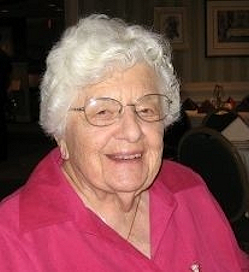 Mrs. Neola Otto Young, of Cobb Island, MD, passed away peacefully on Friday, March 6, 2009 at age 100 at Civista Hospital in La Plata, MD.

Mrs. Young was born in Portland, Oregon, the only child of Frederick and Minerva Otto. She graduated from Grant High School in Portland and attended Oregon State University (then College) where she was a member of Alpha Chi Omega sorority. She lived in Oregon most of her life until moving to southern Maryland 6 years ago.

Totally deaf from scarlet fever at age eight, she was mainstreamed in public schools and learned to read lips and speak normally. She was the first person in Oregon to have a "hearing ear" dog. In her early years she was very athletic and excelled in swimming, diving, bicycling, skating, skiing, and ski jumping. She was the first woman to jump at Mt. Hood. She continued roller skating into her seventies and bicycling into her nineties.

Following her artistic interests, she made jewelry from agates she collected on the beach, crocheted, knitted and was an accomplished seamstress. She grew prize roses and was energetic member of the Portland Rosarians. While raising two daughters in Oswego, Oregon, she was active with the Campfire Girls. She shared her endless enthusiasm with her daughters and taught them her love for cooking, baking and trying new recipes, gardening, and love for children and animals. Throughout her life she was a active member of the American Contract Bridge League (ACBL), a life long Democrat, and a member of the Episcopal Church.

Mrs. Young moved to Cobb Island to live with her eldest daughter and son-in-law, Beverly and Ned Chalker, in 2003 and has been active in local bridge clubs, seniors' organizations, and gardening. She was recently recognized as a Maryland Centenarian. Those who knew Neola know that she was warm, generous and full of life. She had a wonderful gift for making other people feel special. She lived a full life and enjoyed her extended family.

Her husband Arthur M. Young, predeceased her in 1982. She leaves two daughters, Beverly Chalker of Cobb Island, Maryland and Sue Earnest of Newport, Oregon; 2 nieces, Caroline Truex of West Lynn, Oregon and Jennifer Sefcik of Portland, Oregon; six grand children including Lisa Talbott (Mrs. William) of Ellicott City, MD; 14 great grand children; and 2 great-great grand children.

A memorial service celebrating Mrs. Young's life will be held at 3:00 PM, Saturday, March 21, 2009, at the home of Ned and Beverly Chalker, Cobb Island, Maryland.

In lieu of flowers, contributions may be sent to the Wayside Food Bank, 11305 Ingels Court, Swan Point, MD 20645.

Arrangements provided by Brinsfield Funeral Home.