McCoy, Elizabeth C.
Birth: 1918-07-19 in Washington, DC
Residence: Scotland, Maryland
Death: Saturday, February 27, 2010
Laid to Rest: Thursday, March 04, 2010 in the St. Michael's Catholic Church Cemetery, Ridge, Maryland
Condolences: Click to View or Post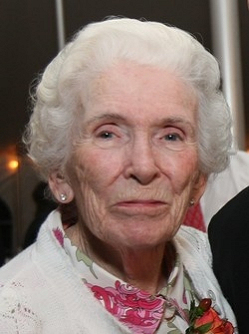 Elizabeth (Beth) C. McCoy, 91, of Scotland, MD, died after a long illness on February 27, 2010 in Annapolis, MD.

Born to the late John J. and Kathleen C. Crowley at Georgetown Hospital on July 19, 1918 in Washington, DC, Mrs. McCoy attended Sacred Heart Academy, Immaculata Junior College, and later Saint Mary's of the Woods College in Terre Haute, Indiana.

Following her graduation from college, she married the late Frederick L. McCoy, a Maryland native and graduate of Gonzaga High School and Georgetown University. Mr. McCoy gained an interest in Southern Maryland and a love of her people from time spent as an altar boy accompanying Jesuit priests doing mission work in St. Mary's County. He and his new bride moved to Scotland, MD in 1941. It was not long before his wife, "Beth", a city girl, came to share his love of the county and its people.

Making their home at St. Gabriel's Manor, a 165-acre farm on the Potomac River in Southern Maryland, Mrs. McCoy and her husband believed it was their duty to protect, preserve, and publicize the unique cultural and religious history of the area. Mrs. McCoy with her husband, played key roles in campaigns to protect the Potomac River and shoreline and also to stop the building of a proposed oil refinery at Piney Point, MD. Mrs. McCoy also helped bring together key leaders from the religious and political community, Historic St. Mary's City, St. Mary's College, and local landowners to establish a plan to preserve the land and reconstruct the first Catholic Church in the English Colonies at Chapel Field in St. Mary's City. Her efforts were rewarded with the honors of being one of the first persons to view the lead coffins recovered from the Chapel Field site and to lay a corner brick for the reconstructed Chapel. Mrs. McCoy also spearheaded efforts to preserve the Cedar Point Lighthouse Cupola at the Patuxent River Naval Air Station. Beth often said that someone who has done great things in their life becomes "living history." She made every effort to pass on her knowledge of the history and culture of Southern Maryland through presentations at local schools, reenactments at St. Mary's City, through countless articles and letters to newspapers and periodicals and by hosting academics and historians in her home. All 12 of Mrs. McCoy's children attended St. Michael's Elementary School and then her three daughters attended St. Mary's Academy and her nine sons Ryken High School. She was proud of her 34 grandchildren and seven great-grandchildren.

In addition to her work with the Chapel Field Project and the Cedar Point Lighthouse, Mrs. McCoy's historical preservation activities included service as a member of the Society for the Preservation of St. Ignatius Church in St. Inigoes and the St. Mary's County Historical Society. She also served as one of the first women on the St. Mary's County Election Board of Supervisors. She co-founded the Mistress Brent Garden Club. She served as the President of the Catholic Daughters of America. Her charitable activities included service as President of the Ladies of Charity of St. Michael's Church in Ridge as well as many years working with the Inter Faith Volunteers to provide meals and entertainment for the elderly of St. Mary's County.

Mrs. McCoy along with her husband, Fred, received the Father Andrew White S.J. Award in 1985. She has been honored as the Woman of the Year by her alma mater, St. Mary of the Woods. Her historical preservation activities earned her the Cross Botany Award and her services to the Catholic Church earned her the Papal Medal Pro Ecclesia et Pro-Pontifice. In 2005, she was recognized as a Pillar of the Community by St. Mary's Ryken High School.

In 1990 Beth was preceded in death by her beloved husband, Frederick L. McCoy, in 2004 by her third son Daniel William McCoy, and in 2006 by her oldest son Frederick L. McCoy, Jr. She is survived by ten children and their families, John C. McCoy of Baltimore, MD, Joseph S. McCoy of Philadelphia, PA, Mary Blohm of Boston, MA, Thomas A. McCoy of Geneva, Switzerland, Anne Hayes of Tracy's Landing, MD, Christopher P. McCoy of Fairfax Station, VA, Muffin Padukiewicz of St. Gabriel's Manor, Scotland, MD, Nicholas McCoy and Mark McCoy both of Timonium, MD and Matthew McCoy of Metuchen, N.J., and the families of her deceased sons, Dan and Fred. She is also survived by numerous nieces and nephews.

The family will receive friends on Wednesday March 3, 2010 from 5 p.m. until 8 p.m. at the St. Michael's Catholic Church, Ridge, MD. Prayers will be recited at 7 p.m. A Mass of Christian Burial will be celebrated on Thursday March 4, 2010 at 11 am. The Rev. Msgr. Maurice O'Connell will be the celebrant. Interment will follow in the church cemetery.

Memorial contributions may be made to St. Michael's School, P.O. Box 259, Ridge, MD 20680 or Historic St. Mary's City Chapel Fund, P.O. Box 24, St. Mary's City, MD 20686.

Arrangements by the Brinsfield Funeral Home, P.A., Leonardtown, MD.