DeMartini, Mark Joseph
Birth: 1931-11-14 in Brooklyn, New York
Residence: Brandywine, Maryland
Death: Thursday, September 17, 2009
Laid to Rest: Tuesday, November 17, 2009 in the Arlington National Cemetery, Arlington, Virginia
Condolences: Click to View or Post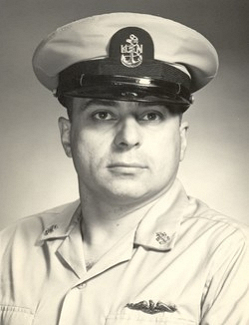 Mark Joseph DeMartini, age 77, of Brandywine, MD died September 17, 2009 at Southern Maryland Hospital Center, Clinton, MD. He was born November 14, 1931 in Brooklyn, New York. He was preceded in death by his parents Mark DeMartini and Mary Rose Sarra DeMartini and his sister Jean Meola.

Mark graduated from Manual Training High School in Brooklyn, New York and attended Creighton University in Omaha, Nebraska. He served in the U.S. Navy from 1949 until his retirement in 1982 and retired as STSCS (SS) [Sonar Technician Senior Chief Submarine (qualified submarine)] Forty-four years ago Mark married Patricia Anne Privette on June 5, 1965 at the Church of St. Thomas Apostle in Washington, D.C. He was a loving and devoted husband to Patricia. He and Patricia moved to Southern Maryland in 1970.

Mark filled many positions during his life. He was a charter member of the DAV PFC John DeMarr, Jr. Memorial Chapter 36 in White Plains, where he was the second member of the chapter to serve as Commander and was their treasurer for many years. As chapter Service Officer, he volunteered many hours with the DAV helping veterans with filing their claims involving their benefits and answering other questions until 2006. He was also a member of the American Legion Harry White Wilmer Post 82 and the Fleet Reserve Association.

As a member of St. Mary's Catholic Church, Bryantown, MD, Mark taught CCD classes for more than 25 years and Bible study. He enjoyed woodworking in his workshop, designing and building track for his "G" scale trains. He was an avid community advocate who was involved in the "Save the Osprey" and the "Osprey Awareness" programs.

In addition to his wife he is survived by his sisters: Marion DeMartini of Brandywine and Ella Judge of Westminster, MD; sisters-in-law, Louise Spann of Brentwood, TN and Dianne Privette of Spring Hill, TN; nephews, Mark Judge, Paul Judge and Adam Judge; and niece, Ella Hayes. He also has 13 great nieces and nephews and 2 great-great nieces.

Family will receive friends for Mark's Life Celebration on Wednesday, September 23, 2009 from 2-4 and 6-8p.m. at St. Mary's Catholic Church, 13715 Notre Dame Place, Bryantown, MD. DAV services and Prayers will be held at 7:00p.m. A visitation will be held on Thursday, September 24, 2009 from 9-10 a.m. followed by a Mass of Christian Burial at 10:00a.m. to be celebrated by Reverend Rory Conley. Burial will take place at Arlington National Cemetery on November 17, 2009.

In lieu of flowers Memorial contributions may be made to the Disabled American Veterans, Memorial Chapter 36, PO Box 147 White Plains, MD 20695 or St. Mary's Catholic Church, CCD Program, 13715 Notre Dame Place, Bryantown, MD 20617.

Arrangements provided by Brinsfield Funeral Home.