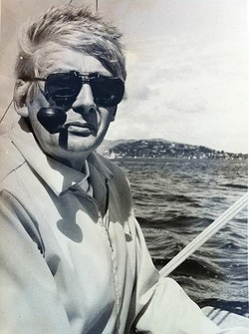 Richard Weymouth Loheed, Senior, 97 of Valley Lee, MD died April 28, 2012 at Saint Mary's Hospital. Born March 4, 1915 in Buenos Aires, Argentina, he was the son of the late Arthur Irwin Loheed and Myrtle Gladys (Jones) Loheed.

A graduate of Brockton High School in Massachusetts, Mr. Loheed received a B.S. in civil engineering in 1937 from Norwich University, Northfield, VT. Graduating fifth in his class, he was a member of the U.S. Army Reserves, attaining the rank of Captain. In August 1938, he married Phyllis E. Norton of Springfield, VT, mother of his four children.

During WWII, Mr. Loheed was a process engineer at Bethlehem Steel in Baltimore, MD, producing war materiel using techniques he would later adapt to paper and packaging design. After the war, he became a development engineer and Division Manager for the Sealright Corporation in Phoenix, NY. During this time, he carried the world's first plastic coated paper milk carton from research to production of 750 million units annually.

In the early 1950's, he moved with his family to Cleveland, OH, becoming a process engineer for Pure-Pak Corporation. Here he helped to develop the ubiquitous "pitcher-pour" milk carton, the first of its kind, and still in worldwide use today. In the late 50's, he created the Paper and Plastics Division of Charles T. Main Engineering in Boston, MA; and served as the President of TAPPI (Technical Association of the Pulp and Paper Industries). This led to his appointment as Director of Research for Inland Container Corporation of Indianapolis, IN. In that capacity, he moved to West Lafayette, IN, to design, construct and operate the Inland Container Research Laboratory at Purdue University.

In the 1970's, Mr. Loheed founded PakCo Inc., a producer of vacuum formed plastic packaging components. He retired from active business in 1990, becoming involved in other pursuits including assistance in construction supervision of the Oak Run residential project in Westport, ME; summer management work at Boothbay Harbor Inn; sailing and travel across america—and to Costa Rica and his birthplace in Argentina.

Mr. Loheed is survived by his children: Candace Loheed of San Francisco, CA; Shelley Loheed of Manchester, NH and Cambridge, MA; Richard W. Loheed II of Valley Lee, MD; and Philip N. Loheed of Lincoln, MA; four grandchildren; four great-grandchildren and his sister Bettina L. Moore of Lake Wales, FL.

In addition to his parents, Richard was preceded in death by his siblings, Katherine L. Packard; Hubert B. Loheed and Robert S. Loheed.

Family will receive friends on Wednesday, May 9, 2012 from 6:00 p.m. until 7:00 p.m. at Trinity Episcopal Church, 47477 Trinity Church Road, St. Mary's City, MD 20686. A Memorial Service will be held at 7:00 p.m.

Arrangements by the Brinsfield Funeral Home, P.A., Leonardtown, MD.