Wallace, Raymond Horace, Sr.
Birth: 1927-11-26 in La Plata, Maryland
Residence: Indian Head, Maryland
Death: Sunday, February 15, 2009
Laid to Rest: Saturday, February 21, 2009 in the St. Charles Cemetery, Glymont, Maryland
Condolences: Click to View or Post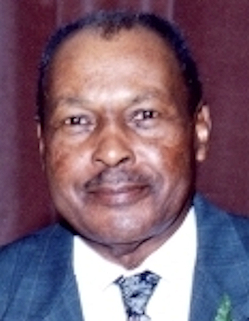 Wallace, Raymond Horace, Sr. (Age 81) of Indian Head, Maryland.

Raymond Horace Wallace Sr., was born on November 26, 1927 in La Plata, MD. He was the oldest son of the late Horace and the late Margaret Wallace. On Sunday, February 15, 2009, Raymond departed this life and entered into eternal rest with Jesus Christ while hospitalized at Civista Medical Center in La Plata, MD.

Raymond attended the Charles County Public School system and received his diploma from Bel Alton High School. He was inducted in the United States Armed Forces and served from November 21, 1950 to November 21, 1952. Raymond was employed with the Naval Ordnance Station in Indian Head, MD. He held the positions of a Power and Explosive Worker and an Ordnance Equipment Repairer. He received countless awards for outstanding performance and retired with 34 years of government service on August 14, 1985.

Raymond enjoyed spending time with family members and friends. His past time favorite was to prepare fabulous meals with all the trimmings. Raymond was a humble and quiet natured person with a willing heart to lend a helping hand. He had a special way of talking to others and sharing words of wisdom. He was a devoted husband, father, grandfather, brother and friend.

Raymond was very active in his community and belonged to many organizations. He was a member on the Council program sponsored by the Knights of Columbus. He received honors and certificates of appreciation from the County Commissioner of Charles County for his support to the rehabilitation of the Woodland Village water system project in 1985. Raymond also held the position of Treasurer for the Woodland Village Civic Association. He was also honored for exceptional contributions to the community by citizens of Charles County in 1988. Additionally, he was an active member of the Bel Alton Alumni Association and his efforts are a result of the on-going success of that organization.

Raymond was united in marriage to the late Frances "Cecelia" Smoot on December 27, 1957. His memories will be cherished by his devoted and loving children: Raymond Jr., (wife Joan) Michael (wife Cherie), Janette Yates (husband Cyril), Andre (wife Rita), Kelvin (wife Tornnette), Annette West (husband Eugene), Patrick and Patricia Smoot, two sisters: Irene Bond (husband John) and Theresa Johnson (husband Garfield); brothers-in-law: John, James (wife Alice), Thomas (wife Stephanie) and Robert Smoot; sisters-in-law: Mary Yates, Elizabeth Smoot and Rosalee Reeves. Raymond also has a host of grandchildren, great grandchildren, nieces, nephews, other relatives and friends.

In addition to his parents, Raymond was preceded in death by his three brothers: Melvin, Johnson, and Leon; and four sisters: Blanche, Dorothy, Jane and Evelyn; granddaughter: Shaneka Wallace-Cobey.

His Viewing will be held on Saturday, February 21, 2009, 9:00 am until time of Service, 10:30 am at Thornton Funeral Home Chapel, 3439 Livingston Road, (State Route #227 Pomonkey) Indian Head, Maryland. His Interment will be in St. Charles Cemetery, Glymont, Maryland.

Arrangements provided by Thornton Funeral Home.