Smith, Guffrie Matthew, Jr.
Birth: 1921-06-01 in Scotland, Maryland
Death: Sunday, October 25, 2009
Laid to Rest: Thursday, October 29, 2009 in the Evergreen Memorial Gardens, California, Maryland
Condolences: Click to View or Post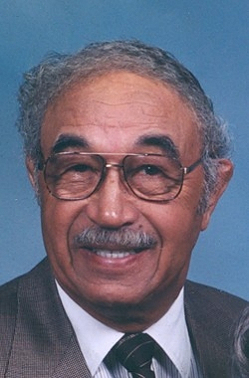 Guffrie M. Smith, Sr. was called home by his Lord and Savoir on October 25, 2009. He was born on June 1, 1921, in Scotland, Maryland to Bertha Holley Smith and Dozie Wood, both of whom predeceased him. Guffrie was the youngest of seven children.

Guffrie attended both Scotland and Jarboesville School. He later left school to help support his family. He worked on his Uncle's farm and later as a bus boy at the Scotland Hotel. Guffrie joined the United States Army in November 25, 1942 and received an honorable discharge in October 30, 1945. He was a Staff Sergeant in the 92nd Infantry were he received the distinct honor as a Buffalo Soldier. He also received the World War II Victory Ribbon, Purple Heart Medal, Exemplary Service Medal, Efficiency Honor Fidelity Medal and . During World War II, his Infantry was ambushed in the Alpine Mountains in Italy were eighty percent of his soldiers were killed. Guffrie promised God and himself if he made it back home from Italy, he would be a servant for God for the rest of his life. He kept his promise to God and was blessed abundantly throughout his life. After his discharge from the Army he went to work at the Naval Air Station at Patuxent River in the fire department.

Guffrie married Parthenia W. Barnes on November 23, 1942. From their union they had seventeen children, twelve (12) girls and five (5) boys.

Guffrie was an entrepreneur. He was one of the first black owners of a Trailer Park, Laundromat and Barbershop in St. Mary's County. He attended night school at St. Mary's County Vocational Technical Center Adult Education program to improve him and mastered skills in the following areas Carpentry, Electrical, and Auto Mechanic. He used these skills and talents to help others in the community.

He became a Bus Contractor for the St. Mary's County Public Schools. He drove the school bus for 48 years. He took many bus trips for the school system. He always had an entrepreneurship spirit. He later began the Smith Charter Bus Service, taking trips for other people and various organizations in St. Mary's, Calvert and Charles County. Guffrie was a mild mannered, considerate and kind man that brought out the best in all people. He enjoyed trips being a bus driver, getting to know people and was known for volunteering his bus service to different groups and organizations.

Guffrie was very involved in the community. He is a lifetime member of the St. Mary's County NAACP Chapter, Maryland Council of PTA's, 4-H Club Member, Disable Veterans Association (DAV), Purple Heart Association and Joseph Egan Masonic Lodge #104, and Bus Contractors Association.

During election time he was an Election Official. He was a die hard Republican and enjoyed debating politics. He was a member of St. Luke United Methodist Church and held several positions such as, Administrative Board Chairman, Trustee; Choir Member. He was also an Advisor to the County Commissioners in the first district. He was very active in many other organizations throughout the community.

Guffrie's motto was "treat people the way you want to be treated", and "if you gave your word to someone you should keep it because your word is your bond". He was a man of his word because if he promised to do something for you, he would do it. He believed in giving back to the community. He really loved St. Luke United Methodist Church which became an integral part of his life and family. He had a beautiful tenor voice and enjoyed singing his favorite hymn "What A Friend We Have In Jesus". He was a true man of God and devoted his life to the Lord.

Guffrie M. Smith, Sr.'s legacy continues to live through his children, grandchildren, and great grandchildren.

He leaves to cherish his memory to his loving wife Pathenia Smith, and children Guffrie Smith, Jr. (Casey) of St. Leonard, Maryland; Marva Johnson (Reno) of Upper Marlboro, Maryland; Zerita Shade of St. Inigoes, Maryland; Alberta Smith of Forestville, Maryland; Orlando Smith (Donna) of Minneapolis, Minnesota; Beulah Barnes of Scotland, Maryland; Eugene Smith (Joyce) of Dale City, Virginia; Desiree Berry (Paul) and Ramona Smith both of Scotland, Maryland; Holly Powell (Larry) of Lanham, Maryland; Aaron Smith (Gloria) of Scotland, Maryland; Wendy Morton (Terry) and Vivian Smith of Lexington Park, Maryland; Shayne Smith, William Smith (Jeanne) and Cindy Smith all of Scotland, Maryland; Thirty-four (34) grandchildren, thirty-one (31) great-grandchildren a host of nieces, nephews, cousins and friends.

In addition to his parents and brothers and sisters, Guffrie was predeceased by His daughter Mae Helen Bennett, grandsons Paul "June" Johnson and William Lucas Smith, Jr., and son-in-law William Shade, Jr.

Predeceased by Louiellen Smith, James Smith, William Smith, Blanche Smith, Mary Bryan, Richard Holley.

Family will receive friends on Thursday, October 29, 2009 from 9:00 a.m. until 11:00 a.m. in St. Luke's United Methodist Church, 12880 Point Lookout Road, Scotland, MD 20687. A Funeral Service will be conducted at 11:00 a.m. with Reverend Leroy Boldley officiating. Interment will follow in Evergreen Memorial Gardens.

Memorial contributions may be made to the Alzheimer's Association, Southern Maryland Regional Office, 513 East Charles Street, LaPlata, MD 20646.

Arrangements by the Brinsfield Funeral Home, P.A.