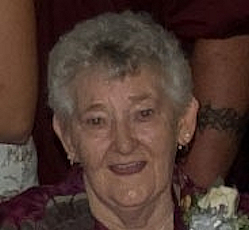 Gertrude "Loraine" Hall, 77, of Bushwood, MD died October 1, 2009 at St. Mary's Nursing Center. Born January 31, 1932 she was the daughter of the late George Albert and Anne Gertrude Lacey.

She was the loving wife of the late John William Hall, Jr. whom she married on December 28, 1950 at Sacred Heart Catholic Church, Bushwood, MD and who preceded her in death on February 1, 2002.

She is survived by her children; John W. Hall III and his wife Debbie of Bushwood, MD, Charles H. Hall of Reston, VA, Dale A. Hall and his wife Patty of Hollywood, MD, Sandra M. Beall and her husband George E. Beall, Jr. of Avenue, MD, Beverly A. Gardiner and her husband Eddie of Chaptico, MD and Glady M. Hall of Bushwood, MD, her daughter-in-law Brenda Hall of Colton's Point, MD, her 22 grandchildren; Jane Alvey, Josh Hall, Justin Hall, Jesse Hall, Charles Hall, Jr., Nathen Hall, Jonathan Hall, DJ Hall, Jessica Hall, Heather Hall, David Brooks, Sherrie M. Hall, Laura J. Wright, Robert Hall, Frankie Hall, Ryan Barbara, Sara Barker, Margaret Oliver, George E. Beall III, Dawn R. Delligatti, Paul Gardiner and Josh Fleming as well as 11 great-grandchildren; Jennifer Alvey, Jessica Alvey, Lilian Hall, Jonathan Hall, Hunter Wright, Evan Hall, Ava Hall, Reagan Barker, Skylar Barker, Ashby Oliver, Erica Oliver, David Brooks and Dillon Brooks. She is also survived by her siblings; Mary Helen Seymore, J. Steven Lacey and his wife Louise, Jim Ed Lacey and Frankie Lacey and his wife Barbara J.

She was preceded in death by her son R. Kenny "Boots" Hall and her siblings; Joe Lacey (Mildred), Elizabeth "Puddin" Huseman (Ross), George Elbert "Dink" Lacey (Phillis), Eleanor "Nootsie" Russell and the late James L. Russell, Thomas L. Lacey (Lorraine), William Lacey (Barbara) and Robert V. "Bobby" Lacey.

Loraine was a graduate of Margaret Brent High School "Class of 1951" and was employed as a Nursing-Transport Technician for St. Mary's Hospital for 35 years, retiring in December 1993. She belonged to the American Legion Auxiliary #221, Avenue, MD and was a member of Sacred Heart Catholic Church. Her hobbies were saying the rosary, playing cards and spending time with her family.

The family will receive friends on Sunday, October 4, 2009 from 2:00 – 5:00 PM in the Mattingley-Gardiner Funeral Home, Leonardtown, MD where prayers will be said at 3:00 PM with ALA prayers to follow. A Mass of Christian Burial will be celebrated on Monday, October 5, 2009 in Sacred Heart Catholic Church, Bushwood, MD at 10:30 AM with Fr. Francis Early officiating. Interment will follow in the church cemetery. Pallbearers will be her grandsons Josh Hall, Justin Hall, Nathen Hall, DJ Hall, Robert Hall and George Earl Beall III. Honorary pallbearers will be her grandsons Jesse Hall, Jonathan Hall, Josh Fleming and David Brooks. Contributions may be left to the 7th District Volunteer Rescue Squad, P.O. Box 7, Avenue, MD 20609.

Arrangements provided by the Mattingley-Gardiner Funeral Home, P.A.