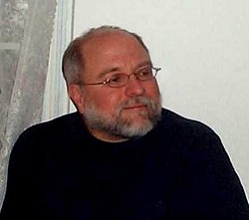 Robert Charles Larrabee, LCDR, USN Retired 61, of Lusby, MD, died suddenly on January 12, 2013 at Arundel Medical Center, Annapolis, MD. Born March 13, 1951, Robert was the son of the late Robert N. Larrabee and Frances (Train) Larrabee.

Affectionately known as 'Buzzy' by family, he leaves sons Robert C. Larrabee, Jr., of Lusby and James D. Larrabee, of Oceanside, CA. Robert is also survived by Sarah and Jon VanDeventer and Meghan Duncan Toffey, all of Lusby; his loving sisters, Gail Ingle (Ron) of Durham, NC, Nancy Barry (Dave) of Lexington Park, and Joyce Raum (Wendell) of Leonardtown; one niece, eight nephews and thousands of friends.

Robert graduated from Chopticon High School in 1969 and soon after enlisted in the Navy. In 1973 he was accepted into the Naval Enlisted Scientific Education Program (NESEP). Through NESEP he graduated from the University of Texas in Austin in 1977 and received his commission as a US Naval officer. He served as a naval flight officer in A-3 Skywarrior (whale) aircraft. He graduated from the Naval Postgraduate School in Monterey, CA. Other Navy assignments took him to Lakehurst, NJ; Jacksonville, FL; Pensacola, FL; Guam; and Norfolk, Va. He retired proudly after serving 21 years.

After his Navy retirement, he supported various weapons systems and their host platforms for Department of Defense contractors. His expertise included engineering and training other engineers in various technical disciplines and software process improvement.

He was a caring son, brother, husband, uncle and father. Robert loved good food and was a self-taught chef, preparing meals that tasted as good as they looked. He was the 'fun uncle' for his niece and eight nephews, teaching them all sorts of things their parents preferred they not learn. He enjoyed the outdoors, spending countless hours kayaking and hiking. A huge Bob Dylan fan, Robert owned every song Dylan recorded, as well as a huge collection of books and memorabilia. He proudly administered the oath of enlistment into the Navy for both of his sons.

The family will receive friends on Friday, January 18, 2013 from 5:00 p.m. until 8:00 p.m. with services at 7:30 p.m. at the Brinsfield Funeral Home, 22955 Hollywood Road, Leonardtown, MD 20650. A Funeral Service will be conducted by Rev. Sheldon Reese on Saturday, January 19, 2013 at 10:00 a.m. at the Hollywood United Methodist Church, 24422 Mervell Dean Road, Hollywood, MD 20636. Interment will follow in Joy Chapel Cemetery. All are invited to a reception at the Loffler Senior Activity Center at Chancellor's Run Regional Park following the interment.

Serving as pallbearers will be Robert Barry, Jesse Barry, David Raum, Leland Raum, Scott Barry and Abraham "Abo" Raum. Also participating in the funeral service will be Rev. Ronnie Ingle, Jr., Roy Ingle and Robin Wilmoth.

Memorial contributions may be made to the Alzheimer's Association, Southern Maryland Office, P.O. Box 1889, La Plata, MD 20646.

Arrangements by the Brinsfield Funeral Home, P.A., Leonardtown, MD.