Breslin, Fred W.
Birth: 1928-01-12 in Philadelphia, Pennsylvania
Residence: Leonardtown, Maryland
Death: Sunday, November 01, 2009
Laid to Rest: Thursday, November 05, 2009 in the Queen of Peace Cemetery, Helen, Maryland
Condolences: Click to View or Post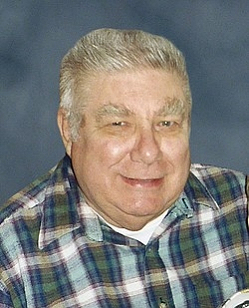 Fred W. Breslin, 81 of Leonardtown, MD and formerly of Philadelphia, PA, died November 1, 2009 at St. Mary's Hospital. Born January 12, 1928, in Philadelphia, PA he was the son of the late William Joseph and Violet Christiana Breslin.

He was the loving husband of Anne M. Breslin whom he married on October 10, 1953 in Philadelphia, PA.

He is also survived by his children; Patrick Breslin of Pennington, NJ, Michael Breslin of Woodbine, MD, Tom Breslin of Leonardtown, MD, Margaret Dunn of Troy, NY, Bill Breslin of California, MD, Nancy Powdrill of Leonardtown, MD and Joanne Jones of Leonardtown, MD, thirteen grandchildren as well as his sisters Eileen Babel of Ocean City, NJ and Alice McCaffery of Berlin, NJ.

He was preceded in death by his daughter Kathy Easom and his sister Anna Marie "Billie" Kogut.

A graduate of North Catholic High School of Philadelphia "Class of 1945", Fred attended Philadelphia College of Pharmacy and Science and graduated in May of 1952 with a Bachelor of Science Degree in Pharmacology. He moved to St. Mary's County in 1958 and was a Pharmacist for St. Mary's Pharmacy in Leonardtown for 37 years, retiring in August of 1989. He served in the U.S. Army from January 21, 1946 to July 20, 1947. Fred belonged to the Birthright of Southern Maryland organization and the Boy Scouts of America. He enjoyed fishing, playing poker with his sons and watching football.

The family will receive friends on Wednesday, November 4, 2009 from 5:00 – 8:00 PM in the Mattingley-Gardiner Funeral Home Chapel, Leonardtown, MD where prayers will be said at 7:00 PM by Fr. John Mattingly. A Mass of Christian Burial will be celebrated on Thursday, November 5, 2009 at 10:00 AM in St. Aloysius Catholic Church, Leonardtown, MD with Fr. John Barry officiating. Interment will follow in Queen of Peace Cemetery, Helen, MD.

Pallbearers will be Pat Breslin, Michael Breslin, Tom Breslin, Bill Breslin, Tom Jones and Jim Easom.

Contributions may be made to Birthright of Southern Maryland, Inc. P.O. Box 633, Leonardtown, MD 20650, and/or Hospice of St. Mary's, P.O. Box 625, Leonardtown, MD 20650.

Arrangements provided by Mattingley-Gardiner Funeral Home.