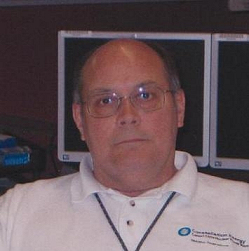 Bruce Barton Shick, 59, passed away on June 11, 2013, at John Hopkins Hospital in Baltimore, Maryland, after a hard fought battle with Leukemia.

Bruce was born September 27, 1953, in Bradford, PA, the son of Donald R. Shick (deceased) and Miriam Slocum Alexis. His family moved to Canton, New York, in 1967, where he graduated from Canton Central High School in 1971.

In 1972, he enlisted in the U.S. Navy's Submarine Service and earned a Nuclear Propulsion Plant Operator rating after arduous study and drill. He was stationed aboard USS GEORGE C. MARSHALL (SSBN 654), Gold Crew, 1974-1978. Advancing to the rank of Machinists Mate First Class (Submarine Specialist), he completed nine war time patrols in the North Atlantic in support of national mission tasking and North Atlantic Treaty Organization initiatives. Bruce resigned from active service in 1978.

After the service, he was employed at Calvert Cliffs Nuclear Power Plant in Lusby, MD, where he retired as an Operations Shift Supervisor after 33 years. His exacting work ethic not only enhanced the performance and dependability of his Sections at Calvert Cliffs, but was an example of professionalism and dedication to duty for all those he's worked with throughout the years.

He loved his NY Giants and Yankees, NASCAR and VT football, but was a Maryland sports fan as well, so long as they weren't playing his favorites. He enjoyed 4-wheeling and snowmobiling throughout Northern New York with his father-in-law. He was a member of the American Legion Lusby Post, and volunteered his time to various activities including coaching Parks and Recreation Little League and Soccer. He made the best chocolate chips cookies, Dad's Special Spaghetti Sauce, and hand crafted the tenderest hamburger patties. He loved days on the beach and playing in the surf with his kids.

He is survived by his wife, Joanne Elizabeth Whalen, whom he married at St. Mary's Catholic Church in Canton, New York, October 01, 1976; son - Nathaniel Robert and wife Anne Doss (Pearl Harbor, Hawaii); daughter - Amanda Elizabeth (Berlin, Maryland); siblings, Kathryn Shick Brewer (Friendship, NY) and Lynn Alexis Knieriem (Bethesda, Maryland); and his beloved grandchildren: Ryder Alexander, Maewyn Elizabeth, and Arleigh Marion.

The family will receive friends on Saturday, June 15th, between the hours of 4 and 8 p.m., at Rausch Funeral Home, 4405 Broomes Island Road, Port Republic, Maryland. Interment will follow on July 9th, at St. Mary's Catholic Cemetery, Riverside Drive, Canton, New York.

Due to family allergies, the family requests that gifts in lieu of flowers to honor the memory of Bruce Shick may be directed to support the research efforts for Acute Myeloid Leukemia at the Johns Hopkins Kimmel Cancer Center, http://www.hopkinsmedicine.org/kimmel_cancer_center, the American Cancer Society http://www.cancer.org/donate, or the Saint Leonard Volunteer Fire and Rescue http://www.slvfd.org.

Arrangements provided by Rausch Funeral Home.