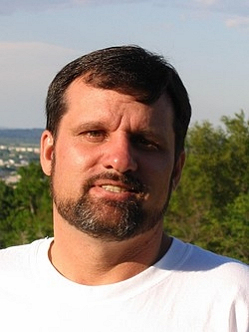 John Leo Moyer, 48, of Mechanicsville, MD, formerly of La Plata, MD, passed away at home on June 28, 2012 at 11:11am.

Throughout his valiant six year battle with two primary cancers, he never wavered from the uncompromising optimism, courage, and faith that defined his character, and the quick wit and enduring smile that reflected his personality.

He is survived by his beloved wife, Louise Bianco Moyer, precious children, Amanda Moyer, and Andrew Moyer, dearly loved step-daughters, Angela Cisneros and Cassandra Carr (Stephen), loving mother-in-law Angela Bianco, cherished "Big Brother" Brigadier General Stephen L. Huxtable (Vera), Ret. Virginia Army National Guard, and his many, many wonderful true friends.

Born in Newport News, VA on March 2, 1964 to the late Mary Ann Dinova Moyer (Edwin) and the late Michael Yhelka, he is also survived by his real big brother Mickey Moyer (Georgia), twin sister Mary Fleming, niece Sara Moyer, and nephews Mike Moyer, David Heiderscheibt, Rodney Blair, Mark Blair, Matt Blair, and Danny Fleming, all of Richmond, VA.

He was preceded in death by his parents, sister Anna Wood, and father-in-law Anthony Bianco.

John possessed an infectious joy for life and a love for people that became even more magnified in the last six years. Extremely intelligent with a wonderful sense of humor, John was an inspiration to many. He carried a powerful Message of Hope in the way he lived his life and will always be remembered for his spirit, integrity, honesty, and wisdom.

John was an avid ice hockey fan and he greatly enjoyed his years as a season ticket holder for the Washington Capitals and his Section 419 family. A skilled bass fisherman, other favorite passions included golfing, camping, traveling, and riding his Harley – many of the things that his "Big Brother" Steve did with him when he was young.

His wife and family are profoundly grateful for the immeasurable outpouring of support received during his illness. A celebration of John's life will be held on Sunday, September 2, 2012, arrangements are pending. If so inclined, please consider making a donation in John's memory to Big Brothers Big Sisters of America.

Arrangements provided by Mattingley-Gardiner Funeral Home.