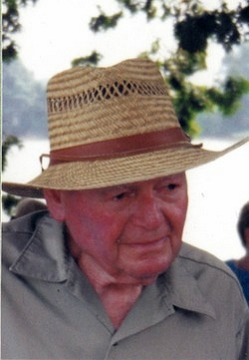 John Bevins Morris, Sr., 96, of St. Inigoes, MD, passed away peacefully on November 26, 2012, surrounded by his family at Jutland Farm, St. Inigoes, MD, in the house where he was born. Bevins was born March 4, 1916 to the late Bevins Morris and Linda Abell Morris.

When Bevins was five years old, his mother passed away in child birth and he was subsequently raised by his late step-mother, Ann Rebecca "Re" Abell Morris. In 1933, Bevins became the first graduating class to complete four years at Great Mills High School.

On November 25, 1948, Bevins married his late wife, Jean Louise Harden Morris. They were married for 51 years. He was her primary caregiver for the last twenty years of her life while she was confined to a wheel chair as a result of Multiple Sclerosis.

He worked his family farm all his life and was also a school bus contractor in the 1960's and 1970's. He loved to crab and fish in his spare time. He was a member of the St. Mary's County Farm Bureau for many years and had been on the Board of Directors. During World War II he was a member of Home Guard, keeping watch for any invasions in the southern end of the county.

Bevins was a lifelong member of Trinity Episcopal Church, St. Mary's City, MD. He was very involved in the church's organizations and management, beginning as a member of the Boys choir. He participated in projects related to the maintenance and preservation of Trinity's buildings and grounds. Every year, as long as he was physically able, he helped prepare the summer and fall church dinners. In earlier years he helped by catching, shucking and patting oysters; catching and cleaning soft crabs, stuff and slice hams, make crab cakes and peel potatoes.

Bevins is survived by his five children, Beale Tilton (Donna) of Coconut Creek, FL, Kay Fenhagen (Ernie), John B. Morris Jr. (Patty), Randolph Morris (Patty) all of St. Inigoes, MD and Rebecca Carroll of Lexington Park, MD; 13 grandchildren, 26 great grandchildren and 1 great-great grandchild; his brother, Robert Morris (Helen) of St. Inigoes, MD; his sister, Linda Hamilton of Jacksonville, FL, and many nieces and nephews.

In addition to his parents, step-mother, and wife, he is preceded in death by his sister, Temple Madjeski and son-in-law, Johnny Carroll.

Bevins' Life Celebration will be held on Thursday, November 29, 2012 from 5 to 8 PM at Trinity Episcopal Church, 47477 Trinity Church Road, St. Mary's City, MD 20686. Prayers will be recited at 7 PM by the Reverend John Ball. On Friday, November 30, 2012, a visitation will be held from 10-11 AM, with a Funeral Service held at 11 AM at Trinity Episcopal Church. Interment will follow in the church cemetery.

Pallbearers will be his grandsons, Nicholas Carroll, Patrick Morris, John B. "Chris" Morris, III, Jason Morris, Michael Fenhagen, and Howard Fenhagen. Honorary pallbearers will be Bradley Tilton and Nick Parker.

Memorial contributions may be made to Hospice House of St. Mary's, P.O. Box 625, Leonardtown, MD 20650, Ridge Volunteer Rescue Squad, P.O. Box 456, Ridge, MD 20680, or Trinity Sacristy Renovation and Handicapped Accessibility Project, St. Mary's Parish, P.O. Box 207, St. Mary's City, MD 20686.

Arrangements by the Brinsfield Funeral Home, P.A., Leonardtown, MD.