Snyder, Cedric Boss
Birth: 1921-05-27 in Sterling, Illinois
Residence: Clarksville, Virginia
Death: Tuesday, August 26, 2008
Laid to Rest: Monday, November 10, 2008 in the Arlington National Cemetery, Arlington, Virginia
Condolences: Click to View or Post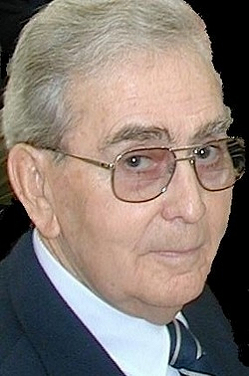 "Let us therefore come boldly unto the throne of grace, that we may obtain mercy, and find grace in time of need." Hebrews 4:16

Cedric Boss "Bud" Snyder, Major USAF (Ret), 87, went home to our Lord on Tuesday, August 26th, 2008 after a brief illness. He was a loving and devoted husband of the late Lorraine and Mildred "Mickey" Snyder and a loving and devoted companion to Renie Gott, currently residing in Clarksville, VA.

His two sons survive him: Terry (Jan) Snyder of Moneta, VA; and Rick (Nancy) Snyder of Clifton, VA. He was blessed to have 4 grandchildren: Brennan, Jason "Jake", Rick Jr., and Christopher "CJ".

He was born on May 27th, 1921 in Mt. Sterling, Illinois and was the son of Oliver Lenville and Fawnie Boss Snyder. He was the eldest of 7 children; Norma Wagner of Trivoli, Ill; Betty Donath (deceased) of Farmington Ill; Oliver Lenville Gilson Snyder of Crystal Lake, Ill; Harriet Koeppel of Trivoli, Ill; Linda Nickeson of Hopkins, MN; and, Sandy Prisby of Trivoli Ill.

He graduated from Farmington High School, Farmington, Illinois. He enlisted in Army Air Corp 1939 at Chanute, Illinois with assignments at Moody Field, Valdosta, Georgia; and Mather Field, Sacramento, California. He received his Officer Commission with assignments within the Strategic Air Command (SAC) at Fairchild AFB, Spokane Washington; Ladd AFB, Fairbanks Alaska; Sandia AFB, Albuquerque. New Mexico; Loring AFB, Caribou Maine; and Andrews AFB, Camp Springs Maryland. He retired as Major in June 1964 and relocated to Southern Maryland.

Following retirement from the Air Force, he spent a few years enjoying the life of a commercial waterman working on the Patuxent River. His winters were spent on a Patent Tong oyster boat and summers were spent running crab trotlines. After a few seasons he was offered an opportunity to manage the Cape St. Mary's Marina in the Sandgates area on the Patuxent River.

He joined the Enterprise Newspaper in Lexington Park, MD in 1967, as the Circulation Manager. Under his guidance and supervision the circulation tripled in a few short years. In 1970 he was promoted to Business Manager. In 1971 he masterminded and orchestrated the founding of the Prince Frederick Recorder. He negotiated and organized the sale of the Enterprise and Prince Frederick Recorder to the Chesapeake Publishing Company 1983.

In 2003, after living in St. Mary's County for 42 years, he relocated to Clarksville, Virginia where he remained until his passing.

He was very active in the BPO Elks organization in California, Maryland serving in many leadership roles and fundraising activities. He was a lifetime Elk member.

He was an avid golfer all of his life. He played 9 holes on his 87th birthday and hit a bucket of balls just 7 days before his passing.

Relatives and friends are invited to Bud Snyder's Life Celebration at the Brinsfield Funeral Home, 22955 Hollywood Road, Leonardtown, MD on Saturday, September 6, 2008 from 2 to 4 p.m.

Interment with full military honors will be held on Monday, November 10, 2008 in Arlington National Cemetery.

In lieu of flowers, memorial contributions can be made to: Halifax Regional Hospice, 2204 Wilborn Avenue, South Boston, VA 24592, Attn: Priscilla Blake or Mecklenburg County Life Saving and Rescue Squad, Inc., P.O. Box 1539, Clarksville, VA 23927.

Arrangements provided by Brinsfield Funeral Home.