Coby, Delores Bernadette
Birth: 1950-01-16 in Marbury, Maryland
Residence: Waldorf, Maryland
Death: Sunday, May 31, 2009
Condolences: Click to View or Post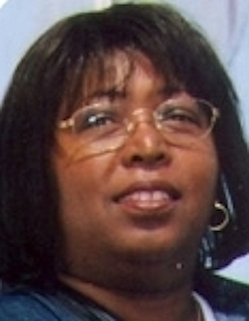 Delores Bernadette Coby was born January 16, 1950 in Marbury, Maryland to Edward and Madeline Coby. On Sunday, May 31, 2009, Delores departed this life and entered into eternal rest with Jesus Christ while hospitalized at Civista Medical Center in LaPlata, Maryland.

Delores attended the Charles County Public School system and received her diploma from Lackey High School in 1968. After graduating, she began her government career in 1969 at the Department of Transportation. Several years later, she began working at the Department of Housing and Urban Development (HUD). She currently held the position of Computer Specialist in the Office of Computer Information Systems. She had a total of over 38 years of Federal Government services.

On May 24, 1974, Delores was united in marriage to the love of her life, William Marvin Braxton. Out of this union, their children, Kia and Damon were born.

Delores loved shopping (seven days a week) with the girls. She especially enjoyed spoiling her granddaughter by showering her with gifts and love, like only a grandmother could. She also liked to play slots at casinos all over the U.S., spending time with her family and friends, going out to eat, walking and hand dancing. Delores especially looked forward to traveling with her husband.

Delores was very active in the community. She was a member of Pleasant Grove Missionary Baptist Church, where she taught Sunday school to the children. She also rode the Sunday school bus to pick up and drop off the children before and after church. She found time to volunteer her services to the Char1es County branch of the NAACP along with her husband. She also served in numerous positions such Branch Secretary and Chairperson for various committees and had been a member of the Executive committee for many years. Delores was also very instrumental in organizing various Branch events such as the annual Hall of Fame Banquet, fundraising travel trips and local events.

She was preceded in death by her niece Tammy Coby Johnson.

Her memories will be forever cherished by her devoted husband, William and loving children Kia and Damon; her precious granddaughter, MiKiah Chavis; parents, Edward and Madeline Coby; five brothers, Edward Jr. (Rebecca), Larry (Myong), Michael, Ronald (Janice) and Dale (Priscilla); two sister-Diane (Joseph) and Carolyn (Larry); three brothers-in-law, Milton, Bernard (Audrey), and Frances (Mona Lisa); four sisters-in-law, Edith, Barbara, Shirley (Joseph) Mary Ellen; two aunts, Ella Hart and Mary Sattlewhite; and uncle Gilbert Hart. Delores also has a host of nieces, nephews, other relatives, friends and special friends; Collette, Denise, Clarissa, Sharon, Patricia, and Earlene.

Her viewing will be held on Friday, June 5th, 9:00a.m. until time of service, 11:00a.m. at Pleasant Grove Missionary Baptist Church, 5560 Pleasant Grove Road, Marbury, MD. Arrangements entrusted to Thornton Funeral Home, P.A.