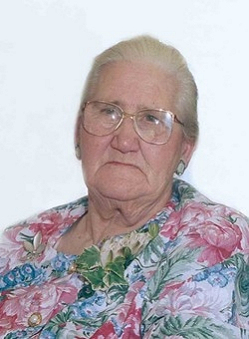 Mary Eva Abell, 95 of Leonardtown, MD peacefully died on October 27, 2011, at The Hospice House of St. Mary's in Callaway, MD, surrounded by her loving family. Born October 11, 1916 in Leonardtown, MD, she was the daughter of the late Thomas Emanuel Higgs and Florine Lucretia (Bowles) Higgs.

Eva was united in marriage to Thomas Benedict Abell, Jr. on January 6, 1933 at Our Lady's Church in Medley's Neck. In 1949 she and her husband moved to Rosedale Farm in Medley's Neck. They spent 62 lovely years together raising ten children, planting many acres of tobacco, corn and soybeans. From their joint efforts of farming, she canned countless jars of fresh vegetables, and delicious jellies and jams. She was known throughout the area as not only being a great cook but upon entering her home, no one ever left hungry. She was also described as a very devoted mother, loving wife, sister and grandmother.

In all of her long hours of caring for her children and doing chores, she never complained. Through good times and hard times, she remained kind and giving. She was a wonderful seamstress and often mended and sewed for family and friends. Eva's children all agree that she taught them three important rules of life. She told them they were to be honest, work hard, and practice their religion faithfully. Often when asked by her children about current events and the world's situation, she would look up in the sky and say "There's something going on."

Eva is survived by seven of her ten children, Margaret Ann Alvey of Charlotte Hall, MD, Robert "Bobby" Abell "Liz" of Ridge, MD, Mary Vannah Bassler of Winchester, VA, Joseph Walter Abell of Kensington, MD, Joanne Staniszewski (Walt) of Baltimore, MD, Edward Allan Abell of Leonardtown, MD, and Patricia Katherine Tennyson (Bo) of Clements, MD. She is also survived by one sister, Rebecca Shaulis of Frederick, MD, 19 Grandchildren, 28 Great Grandchildren, and 13 Great-Great Grandchildren.

In addition to her husband, Thomas Benedict Abell, Jr., she was preceded in death by three children, Elizabeth Lee Russell, James Edward Abell, and Thomas Michael Abell. Also preceding her were seven siblings, Elsie Woodburn, Theresa Ford, Helena Armstrong, Frances Wiltrout, Bernice Ferguson, Thomas Higgs and Charlotte Metzger.

Family will receive friends for Eva's Life Celebration on Sunday, October 30, 2011 from 2:00 until 5:00 p.m. at The Brinsfield Funeral Home, 22955 Hollywood Road, Leonardtown, MD 20650. Prayers will be recited at 4:00 p.m. A Mass of Christian Burial will be celebrated on Monday, October 31, 2011 at 11:00 a.m. at Our Lady's Church in Medleys Neck, MD. The Reverend Lawrence A.Young will be the celebrant. Interment will follow in Our Lady's Church Cemetery.

Serving as pallbearers will be Kee Abell, Michael Alvey, Beau Bassler, David Higgs, Bobby Russell, Timmy Tennyson and David Abell.

Memorial contributions may be made to the Leonardtown Volunteer Rescue Squad, P.O. Box 299, Leonardtown, MD 20650 or Our Lady's Cemetery Society, P.O. Box 1226, Leonardtown, MD 20650.

Arrangements by the Brinsfield Funeral Home, P.A. Leonardtown, MD.