Pope, Mary Cecelia
Birth: 1922-07-12 in Leonardtown, Maryland
Residence: Leonardtown, Maryland
Death: Monday, July 12, 2010
Laid to Rest: Saturday, July 17, 2010 in the Our Lady's Catholic Church Cemetery, Leonardtown, Maryland
Condolences: Click to View or Post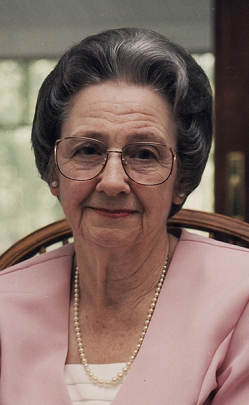 Mary Cecilia (Abell) Pope, 88, of Redgate (Leonardtown), Maryland passed away on July 12, 2010 with her family by her side at St. Mary's Nursing Center after a long battle with Dementia and Alzheimer's. Born on July 12, 1922 in Redgate (Leonardtown), Maryland she was the daughter of the late Robert McGuire Abell and Laura Alice (Owens) Abell.

Mary Cecilia was preceded in death by her husband James Jerry Pope, Sr. in 1980 and her daughter Lois Marie Pope in 1962.

She is survived by her children Mary Germaine (Pope), Geary and fiancé Jimmy Burroughs, Phyllis Ann (Pope), Burroughs (Bobby) of Mechanicsville, James Jerry Pope, Jr., (Rhonda) John McGuire, (Jackie) Pope (Mary Pat) of Leonardtown and Charles Donald (Donnie) Pope, (Kim) of St. Mary's, Ga. She is also survived by eight grandchildren, Dennis Michael Pope of Pontchatoula, LA, Jeffrey Scott Burroughs (Robyn) of Huntingtown, MD, Jason Ray Burroughs, (Amanda) of Hollywood, MD, Jennifer Ann (Burroughs) Murphy, (Matt) of Lusby, MD, Heidi Marie Pope (Scott) of Port Charlotte, FL, Eric McGuire Pope, Shannon Leigh Pope of Leonardtown, MD, Taylor Autumn Pope of St. Mary's, Ga. And seven great-grandchildren Nicholas Horton, Tyler Burroughs, Jacqueline Horton, Alyssa Horton, Peyton Murphy, Lydia Murphy and Carson Burroughs.

Mary Cecilia graduated from Great Mills high School Class of 1941. After graduation from high school she worked at Duke's Restaurant in Leonardtown. When contractors arrived at Cedar Point ( Patuxent Naval Air Station) she applied for and got a job as a clerk on the base and worked there for a period of time. In later years she worked at the Ben Franklin Store in Leonardtown, she was devoted mother, grandmother and great-grandmother. She was talented, caring and giving person. She enjoyed her family and sharing her time and many talents with her family and friends.

Her talents were many, she was an excellent seamstress and made everything from clothing for her children to a large array of crafts after her family was grown. Among the many gifts she gave her family were the wonderful handmade gifts which are now priceless. Although sewing, crocheting, embroidery and various other needle works were one of her great joys, she also had a special way with plants and could take the smallest leaf or weakest plant and in a few weeks very proudly show you her beautiful plant.

The family will receive friends on Friday, July 16, 2010 from 5:00 to 8:00 P.M. with prayers at 7:00 P.M. at Mattingley-Gardiner Funeral Home, Leonardtown, MD. Prayers will be recited by Father Young. Pallbearer will be: Dennis M. Pope, Jeffery S. Burroughs, Jason R. Burroughs, Eric M. Pope, Robert (Bobby) Johnson and Melvin Pilkerton . Honorary Pallbearers will be Grandchildren. A Mass of Christian Burial will be celebrated on Saturday, July 17, 2010 at Our Lady's Catholic Church in medley's Neck, MD 41348 Medley's Neck Road, Leonardtown, MD. Interment will follow in the church cemetery.

In Lieu of flowers Memorial Contributions may be made to Alzheimer's Association, Greater Washington Chapter Southern Maryland Office, P.O. Box 1936, LaPlata, MD 20646, Leonardtown Rescue Squad, P.O. Box 299, Leonardtown, MD 20650, and Our Lady's Catholic Church, 41348 Medley's neck Road, Leonardtown, MD 20650.

Arrangements provided by the Mattingley-Gardiner Funeral Home, P.A.