Payne, Joseph J., Jr.
Birth: 1928-01-18 in Leonardtown, Maryland
Residence: Leonardtown, Maryland
Death: Thursday, January 23, 2014
Laid to Rest: Wednesday, January 29, 2014 in the St. Francis Xavier Catholic Church Cemetery, Compton, Maryland
Condolences: Click to View or Post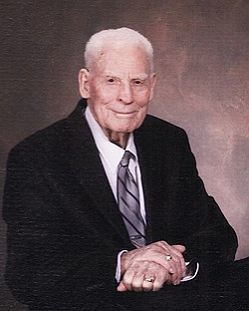 Joseph "Junior" Johnson Payne, Jr., 86 of Leonardtown, MD, passed away on January 23, 2014 at MedStar St. Mary's Hospital, Leonardtown, MD. Born January 18, 1928 in Leonardtown, MD, he was the son of the late Estelle C.V. Guy Payne, and Joseph Johnson Payne, Sr.

Junior is survived by his wife Louise Edith Farrell Payne, whom he married on May 2, 1948 in St. Francis Xavier Catholic Church, Compton, MD, siblings; Mary Rose Payne Burch (Norman) of Mechanicsville, MD, George "Buster" Payne of Mathias, WV, Estelle Payne Morgan of Mechanicsville, MD, Elizabeth J. Payne Lacey of Hollywood, MD, and J. Leroy Payne of Mechanicsville, MD.

In addition to his parents, Junior was preceded in death by his step-mother Genevieve B. Raley Payne, and a brother D. Alan Payne.

Junior attended Margaret Brent High school; he served in the U.S. Army form March 27, 1946 to April 4, 1947, he was co-owner of J.J. Payne & Son Well Drilling. He enjoyed chocolate candy, ice cream, reading, and playing cards.

The family will receive friends on Tuesday, January 28, 2014 from 5:00PM to 8:00PM with prayers recited at 7:00PM in the Mattingley-Gardiner Funeral Home, Leonardtown, MD. A Mass of Christian burial will be celebrated on Wednesday, January 29, 2014 at 10:00AM in St. Francis Xavier Catholic Church, with Father Tom Crowley officiating. Interment will follow in the church cemetery. Pallbearers will be Ronald Farrell, Gary Farrell, Dale Farrell, Steve Raley, David Farrell, and Jay Farrell. Honorary pallbearers will be Jim Gibson, Wade Mattingly, Jimmy Ryan, Francis Tippett, Norman Wathen, Arthur Farrell, John Henry Bond, and Robert Burch.

Contributions may be made to St. Francis Xavier Manor House Fund, 21370 Newtowne Neck Rd., Compton, MD 20627.

Arrangements provided by Mattingley-Gardiner Funeral Home Leonardtown, MD.