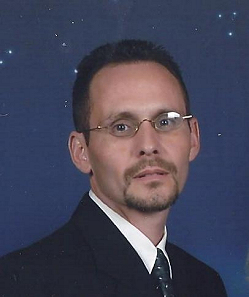 Leslie William Davis, Jr., 45, of Port Republic, Maryland passed away at his residence the week of March 26, 2012. Known as Billy, he was born April 10, 1966 in McConnellsburg, Pennsylvania to Rev. William E. and Nita Lee (McKee) Davis.

Billy graduated from Calvert High School in 1984. He later graduated from Lincoln Tech Institute to further his vocation as an auto mechanic. He later furthered his career by earning the title of Senior Master Ford Technician earning a cruise and multiple prizes and awards. He worked at various Ford dealerships before his last and final position as a mechanic for the Metropolitan Police of Washington, D.C., being humbled by them driving Impalas.

Billy enjoyed fast cars, boating, camping, skiing, cruising and selling items on Ebay. Most of all, Billy loved spending time with his family and his dogs, especially his soul mate English bulldog he called Meathead. His family and dogs were always the highlight of his life making sure he was always there for them, as he knew that time was precious to him. He would respond to his very worst day as being "on top of the world."

Billy is survived by his parents and two sisters Kimberly Dove of Manassas, Virginia, Lanita Hance of Prince Frederick, Maryland and five nephews.

He was a loving son, brother and uncle whom one could always depend on. He expressed his faith in God, looked up to his parents, looked after his sisters and mentored his nephews expressing the importance of respect, gratitude and appreciation to everyone. Billy will be greatly missed.

Family and friends will be received on Thursday, March 29, 2012 from 5:00 — 8:00pm at Rausch Funeral Home, 4405 Brooms Island Road, Port Republic, Maryland, Funeral services will be held at the Full Gospel Assembly of God Church in Prince Frederick, Maryland on Friday, March 30th at 11:00am (a viewing from 10:00 to 11:00am) with Pastor Todd Marple officiating. There will be an additional service held at the Jerusalem Christian Church at 11:00am in Warfordsburg, Pennsylvania on Saturday, March 31 with Pastor Delmas Bard officiating. Interment will be in the Church Cemetery following the service.

Arrangements provided by Rausch Funeral Home.