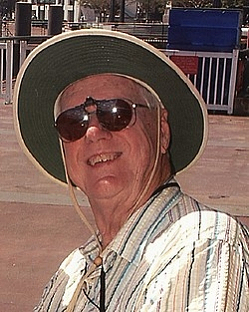 Francis Lee Moreland, Jr. "Lee", 81, of Drayden, MD formerly of Fairfax, VA passed away surrounded by his loving family on November 5, 2012 in Falls Church, VA. He was the son of the late Gladys Mercedes and Francis Lee Moreland.

He was preceded in death by his loving wife Mary Elizabeth Moreland whom he married on June 27, 1955 in Washington, DC, and whom passed away on October 9, 2002.

Francis is survived by his daughters Mary Ann Bendinelli of Gainesville, VA of Manassas, VA, and Lisa Lee Moreland of Manassas, VA, sister Jane E. Moreland of Ashburn, VA, special friend Patricia Norris of Hollywood, MD., nephew James Moreland, 4 grandchildren Robert and Elizabeth Bendinelli, Walter and Emily Bouchard and 6 great-grandchildren.

Francis is predeceased by his brother Stephen Moreland, and great-grandson Brandon Lee Bendinelli.

Francis graduated from Washington-Lee High School in 1951. Francis served in the United States Navy on the USS Bennington. He was an airplane mechanic for Capital/United Airlines for 36 years retiring in 1992.

Lee moved to St. Mary's County in 1992 full time, however spent his summers at McKays Beach cottage all of his life. "Lee" enjoyed; sailing, traveling, golf, and shooting.

The family will receive friends on Sunday, November 11, 2012 from 1:30-4:00 PM and Monday, November 12, 2012 from 5:00 PM – 8:00 PM in the Mattingley-Gardiner Funeral Home, Leonardtown, MD. A Funeral Service will be held on Tuesday, November 13, 2012 at 11:30 AM in St. George's Episcopal Church, Valley Lee, MD., with Rev. Gregory Syler officiating. Interment will follow in the church graveyard. Pallbearers will be Dee Rathone, Robert Bendinelli, Walter Bouchard, James Moreland, Clay Outlaw, and Joshua Cameron. Honorary Pallbearer will be Frank Steckline.

Contributions may be made to St. George's Episcopal Church, P.O. Box 30 Valley Lee, MD 20692.

Arrangements provided by Mattingley-Gardiner Funeral Home.