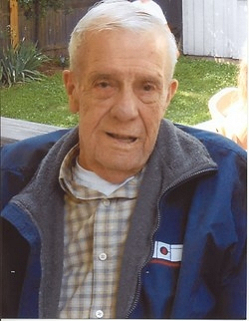 Frank Nelson Terrell, 88, of Mechanicsville, MD, passed away at home on July 29, 2012 surrounded by his loved ones. Frank was formerly from Edgewater, MD and moved to Mechanicsville 9 years ago. He was born on April 28, 1924 in Tylertown, Mississippi, the son of the late Luther Esco and Connie Lee (Duncan) Terrell.

Frank served in the U.S. Navy during WWII as Seaman First Class. He loved to go fishing and crabbing. He loved his family. He was a true southern gentleman. He loved his vegetables and dessert. He loved telling the story of his birth certificate, how he was born on April 28th at home, but the midwife didn't have the birth recorded until May 5th, so his birth certificate not only had the wrong date, but the wrong name too. He loved to tell his grandson's stories about working on the farm, going to the fair and living during the depression era.

In addition to his parents, Frank is preceded in death by his beloved wife, of 65 years, Anne Virginia Terrell; his brothers, Henry Terrell, John Terrell, and Plummer Terrell; and his sister Edith Terrell Vining.

He is survived by his sons, Raymond N. Terrell (Cheryl) of Mechanicsville, MD and Lynwood T. Terrell (Mary) of Deale, MD; his sister, Nellie Mae Phillips of McComb, MS; his grandchildren, Raymond M. Terrell (Betsy), Christina Mae Terrell Woodall (Jamie), Steven Terrell, and Shelly Holmes (Steven); his great -grandchildren, Anthony Terrell, Troy Terrell, Ryan Terrell, Mason Woodall, Logan Woodall, Aja Holmes, Alec Holmes, and Seth Holmes. He is also survived by many nieces and nephews.

Family and friends will be received on Thursday, August 2, 2012 from 11:30AM-1:00PM at Brinsfield-Echols Funeral Home, P.A., 30195 Three Notch Road, Charlotte Hall, MD 20622. The Funeral Service will start at 1:00PM, here at Brinsfield-Echols. Pastor Floyd "Smokey" Grissom will officiate. Interment, with Navy Honors, will immediately follow at Maryland Veterans Cemetery, 11301 Crain Highway, Cheltenham, MD 20623.

Pallbearers will be Raymond, Betsy, Steven, Anthony, Troy and Ryan Terrell. Jamie and Christina Woodall.

Memorial Contributions may be made to: Hospice of St. Mary's, P.O. BOX 625, Leonardtown, MD 20650.

Arrangements provided by Brinsfield-Echols Funeral Home.