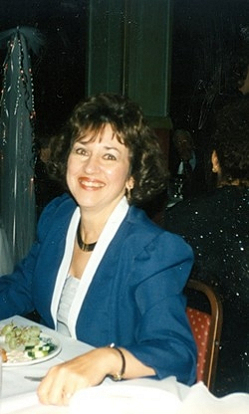 Donna Lee Kidd, 63, of Mechanicsville, MD, died on October 1, 2011, at St. Mary's Hospital, surrounded by her family. Donna was the daughter of the late William Orville Rockwell, Sr., and the late Mary Jane Pollizi Rockwell. She was born in Fort Monroe, VA, and moved to Mechanicsville, MD, 15 years ago from Camp Springs, MD.

Donna worked at the U.S. Census Bureau as a Computer Specialist, and held a Bachelor of Science degree from Strayer University. She enjoyed knitting, spending time with family, and playing with her grandchildren. Donna collected M&M memorabilia, and her favorite NASCAR driver was Mark Martin, # 5. She was a lifelong Washington Redskins fan, and her favorite player was Darrell Green. Donna also enjoyed watching Dancing with the Stars, collecting and reading books, especially murder/mystery fiction.

She is survived by her companion, Ronald J. Branan, of Mechanicsville; her sons, Larry Wayne Kidd, Jr., of Woodbridge, VA, and Buren William "Chip" Kidd, of Mechanicsville; her brother, William O. Rockwell, Jr. (Joyce A.), of Sterling, VA; and her grandchildren, Jesse Wayne Kidd and John Buren Kidd, of Mechanicsville.

The family will receive friends on Wednesday, October 5, 2011, from 5:00 PM to 8:00 PM at the Brinsfield-Echols Funeral Home, 30195 Three Notch Road, Charlotte Hall, MD 20622. Funeral Services will be held at 11:00 AM on Thursday, October 6, 2011, at the funeral home. Interment will follow at Resurrection Cemetery, 8000 Woodyard Road, Clinton, MD 20735.

Donations in her name may be made to The Humane Society of Charles County, P.O. Box 1015, 71 Industrial Drive, Waldorf, MD 20602, or to the Mechanicsville Volunteer Rescue Squad, P.O. Box 15, Mechanicsville, MD 20659.

Arrangements provided by Brinsfield-Echols Funeral Home.