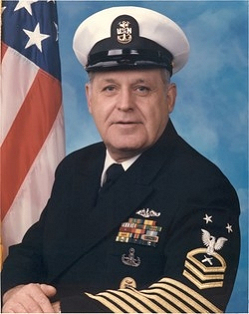 Joel Junior Johnson, GMCM U.S.N. (Ret.), 74, died of Congestive Obstructive Pulmonary Disease (COPD) at his home in Avenue, MD on Friday, May 4, 2012. Born in Lake Orion, MI, Oct 22, 1937, he was the son of Joel and Rubye Carnahan Johnson of Lansing, MI.

Joel is predeceased by his parents, and sisters Peggy Ellis of Williamston, MI; Connie Cole of Virginia Beach, VA; and Deanna Fent of Milpitas, CA.

He is survived by Helene Farrall, his companion of twenty-eight years; his sister Penny Davis (Harry) of St.Petersburg, FL, friend Russell Corner U.S.A.F. (Ret.) of Elizabeth, IN, nieces Kim LaHaie Richards (Tim), Julie Ellis, Karen Ellis Hardy, nephews Tony Ellis, Jeff LaHaie, and other nieces and nephews.

Joel began his military career in Dec 1954 when he joined the U.S. Army. He completed basic training at Fort Leonard Wood, MO, and advanced training at Camp Chapman, AR, transferring to the 82nd Airborne Division 80thAAA at Ft Bragg, NC where he trained as a parachutist. Joel remained in the Army until his discharge in 1957.

In Nov 1958 Joel enlisted in the U.S. Navy, transferring from the Philadelphia Navy Yard to the USS Antietam, a CVS Carrier at Pensacola, FL. Later, Joel transferred to the Navy Submarine School at New London, CT where he trained as a submariner and served on the submarine USS Barbaro until 1963 when he transferred to the Naval Explosive Ordnance Disposal (NAVEOD) School in Indian Head, MD where he trained to become an Explosive Ordnance Disposal (EOD) Technician.

Joel was first assigned as an EOD Tech to the USS Proteus in Charleston, SC. Rotations to other EOD units followed: Dec 1964 - Guam; Dec 1966 - EOD Group II, Pearl Harbor, HI (detailed to Viet Nam); Dec 1968 - NAS Moffett Field, CA; 1970 - EOD Group I Ft. Story, Virginia Beach, VA; 1971 - EOD Det Keflavik, Iceland; 1973 - Naval Explosive Ordnance Technology Center (NAVEODTECHCEN), Indian Head, MD; 1977 - Yokosuka, JA; 1979 - NAVEODTECHCEN, Indian Head, MD. In Aug 1990 at the end of Joel's last position as the Command Master Chief of NAVEODTECHCEN he retired after thirty-five years military service.

Joel received numerous medals and awards during his years of service, most notably, for his participation in Vietnam, the 1974 clearance of the Suez Canal and his work at the test ranges at White Sands, NM.

Following his military retirement Joel worked as an EOD Technician/Consultant for Human Factors Applications (HFA) assigned primarily to Aberdeen Proving Grounds, Edgewood, MD.

In the past, Joel raised money in support of the EOD scholarship fund and various charities. He was an avid bass fisherman and member of the MBA, and was a lifetime member of the VFW. He loved to smoke, drink, and play poker and acey/ducey.

Joel enjoyed being a character and his years spent in retirement in the Seventh District. Many thanks are extended to the poker playing "guys" at Quades, and the wonderful people of the 7th who made the Navy 'Chief' from Michigan feel at home in St. Mary's County.

Family will receive friends on Thursday, May 10, from 2-4 and 5-8 PM at Brinsfield-Echols Funeral Home, P.A., 30195 Three Notch Road, Charlotte Hall, MD 20622. Private interment will be at the Maryland Veterans Memorial Cemetery, Cheltenham, MD at a later date.

Memorial contributions may be made to the Seventh District Volunteer Rescue Squad, PO Box 7, Avenue, MD 20609.

Arrangements provided by Brinsfield-Echols Funeral Home, P.A.