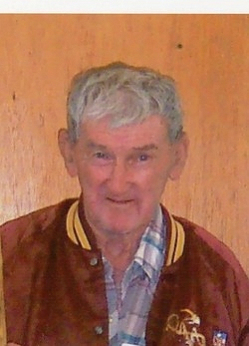 James Paul Roland, Sr. (Paul), 88 recently of Lusby, MD, died on June 15, 2012 at Chesapeake Shores Nursing Center, from complications of heart failure.

He is survived by his two children, Mary and Jim (Jr.), as well as his siblings Roberta Powell, and Leslie "Butch" Roland. Mr. Roland was preceded in death by his parents, Norman and Lola Roland, as well as two brothers, Walter and George Roland, a sister, Norma, and an infant sister, Rosalie. In addition, his wife of almost 58 years, Catherine (Lynch) preceded him in death in November 2009.

Mr. Roland was born November 16, 1923. He was raised in Silesia of Prince George's County, MD, near Oxon Hill, where his father owned and operated a vegetable farm. At 13,he left school to work with his father, partnering with him for almost 20 years. Then, in 1960, Mr. Roland moved with his wife and family to Abell in St. Mary's County, MD, where he began what would become his career in tobacco farming. He was a tenant farmer for many of the following years, including at farms in Abell, Maddox, Chaptico, and Mechanicsville. He realized his dream of owning his own farm when he bought a small farm in Drayden, near Valley Lee, MD. As his father had before him, he continued farming—or dabbling at it—until 2008, when his failing health no longer permitted it.

Mr. Roland was proud of his career as a farmer, holding a deep love of the land. He found it more relaxing to be outside doing anything, than just sitting in the house "relaxing" or watching television. That didn't keep him from being interested in politics or current events in the world, but he found it depressing to dwell on those things and preferred to be out and about doing something, including visiting folks he knew from his church and former neighbors. He would often arrive as a visitor without notice, but not an unwelcome one. And, he was usually carrying along some vegetables he had grown and knew that the person really liked.

Mr. Roland loved St. George's Episcopal Church and attended on a regular basis. He was the bell ringer for the church services for over fifteen years. He also supported other church functions, including the Spring dinner and clean up days.

Listening to Mr. Roland speak of his youth and life as a farmer, you got the (correct) impression that it was a hard life. He lived through the Great Depression and World War II (he didn't serve due to a medical condition) and would tell you of those times. His family didn't have much of anything except plenty of hard work to go around. His own career as a tenant farmer, and later as a landowner, was more of the same. Yet, he said on many occasions that he wouldn't have changed a thing, even if he could. Some would think that foolish, knowing many things that they would change in their lives, if they could. But, Mr. Roland knew that our experiences in life are what make us who we are, and he was proud that he was known as a good, honest, hard working man. That was important to him, and that was enough for him.

Family will receive friends on Monday, June 18, 2012 from 9:00 a.m. until 10:15 a.m. at the Brinsfield Funeral Home, 22955 Hollywood Road, Leonardtown, MD 20650. A funeral service will be held at 11:00 a.m. at St. George's Episcopal Church in Valley Lee, MD with Reverend Greg Syler officiating. Interment will follow in St. George's Episcopal Cemetery.

In lieu of flowers, memorial donations may be made to St. George's Episcopal Church, P.O. Box 30,Valley Lee, MD 20692.

Arrangements by the Brinsfield Funeral Home, P.A., Leonardtown, MD.