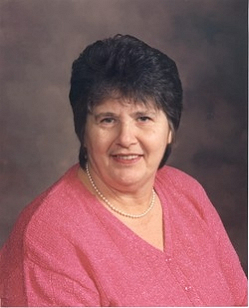 Carolyn "Sue" Rye, 67, of Brandywine, MD, passed away at her residence with her loving family at her side on December 10, 2011. She was born on March 14, 1944 in Washington, DC. Carolyn Sue was the daughter of the late Ralph Edwin Bond, Sr. and the late Athula Sue (Tubekis) Bond of Brandywine, MD.

Carolyn was on the Class Reunion Committee at Gwynn Park High School and a member of Brandywine Volunteer Fire Department. She started at Gwynn Park High School with a position of Registrar and then went to the Board of Education to work as a Secretary and Resource Clerk. Carolyn retired from the Board of Education in 2004.

She loved her family and traveling. Carolyn enjoyed taking cruises, traveling to Myrtle Beach and throughout the U.S.

Along with her parents, Carolyn Sue is preceded in death by her beloved husband, Donald Calvert Rye of Brandywine, MD and 1 of her brothers, Richard Lee Bond.

Carolyn Sue is survived by her 2 sons: Michael Steven Rye (Lori Rye) of Charlotte Hall, MD and Donald Karl Rye (Candi Lynn Rye) of Waldorf, MD; her daughter: Karon Sue Yeatman (Robert F. Yeatman, Jr.) of Deale, MD; her 3 brothers: Ralph Edwin Bond, Jr., Robert Anthony Bond, and Steven Dale Bond, all of Brandywine, MD; her sister: Charlotte Marie Bond of Brandywine, MD; her 9 grandchildren: Amber Leigh Seibert, Michael Steven Rye, Jr., Brittany Nicole Yeatman, Cortney Lynne Yeatman, Jordan William Rye, Donald Calvert Rye (Cal), Daniel Justin Rye, Conner Matthew Rye, and Lexi Michele Rye; and her 2 great grandchildren: Elizabeth Kaye Seibert and Lucas Daniel Seibert.

Family will receive friends for a Life Celebration on Wednesday, December 14, 2011 from 2:00PM to 4:00PM and from 6:00PM to 8:00PM (with Prayers at 7:00PM by Brandywine VFD) at Brinsfield-Echols Funeral Home, P.A., 30195 Three Notch Road, Charlotte Hall, MD. The Funeral Service will be at 11:00AM on Thursday, December 15, 2011 (with Pastor John Edwards) at Brinsfield-Echols Funeral Home, P.A. in Charlotte Hall, MD. Interment will follow to Trinity Memorial Gardens Cemetery, 3221 Mattawoman-Beantown Road, Waldorf, MD 20601. A reception will follow afterwards, from Trinity Memorial Gardens to Baden VFD.

The Pallbearers are: Tim Lawson; Joe Herbert; Randy Bond; Robbie Bond; Mike Rye, Jr.; and Jordan Rye.

Donations may be sent to: Capital Caring Hospice, 2900 Telestar Court, Falls Church, VA 22042 (OR) St. Jude's Children's Hospital, 501 St. Jude Place, Memphis, TN 38105.

Arrangements provided by Brinsfield-Echols Funeral Home, P.A.