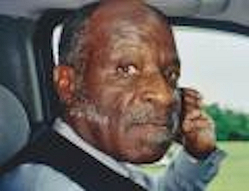 Everett Eugene Thomas was born Thursday January 27, 1939 in Calvert County, Maryland to the late Ruth Taylor Thomas and William Thomas, the sixth eldest of 17 sisters and brothers. He departed this life Tuesday September 11, 2012 after a lengthy illness.

Everett attended Calvert County Public Schools. He left Calvert County at age 16, but faithfully returned to visit his family's home on Skinners Turn Road.

Everett loved to sit in the kitchen and observe his mother prepare the family meals, during which time he would fall asleep, thus inheriting the nickname "RIP."

Everett worked for the Washington Suburban Sanitation Commission for approximately 28 years, eventually retiring as a master machinist. He held his supervisor, Milton Green, in great respect, and maintained long lasting friendships with his friends, Emery, Eli, Pete, Paul, "Cowboy," the late Jimmie and Madison, along with a host of other friends.

Rip possessed many gifts, but was particularly skilled in the kitchen and on the backyard grill. His specialties -- collards, kale, crab cakes, potato salad, Spanish corn, barbecue ribs, shrimp kebobs, sweet potatoes, chicken and dumplings - were loved by all who were fortunate to taste them. During his illness, Rip would frequently leave his church pew to join the kitchen ministry to serve after worship services.

Rip enjoyed the smooth sounds of his favorite musical artist, Lou Rawls, and adored Whitney Houston. Whenever Rip and Mary traveled, the music of "Sweet Lou" was sure to accompany them.

Though soft-spoken, Rip was respected and admired by all. His sense of flair was expressed through his extensive wardrobe, his stylish stride and his many caps.

In addition, his home reflected his love of gardening and building. He loved to watch football and could be found each Sunday afternoon rooting on his beloved Washington Redskins. During the weekdays it was Sanford and Son. After he purchased his boat "The Miss Mary," Rip could be found early in the morning on the Chesapeake Bay, returning home with a sizable catch of the best fish.

At his core, Rip was a family man, and he adored his wife, Mary, as well as their daughter, Lisa, and their grandchildren, Tamara, Tiara, John and Joshua. He especially cherished his sisters Cynthia and Beatrice, his brother-in-law Sidney and was called "favorite brother-in-law" by Pamelia. He was fondly called "Pop Rip", Daddy Rip, and Grand-daddy.

In all that he did and in all that he was, Everett Eugene Thomas gave 100 percent of himself. In the words of his favorite singer, Rip was a natural man who has left to mourn his lovely wife Mary, daughter Lisa, grandchildren, Tamara, Tiara, John, and Joshua; siblings Vernice Custard, Mary Green, Corrine, Reed, Beatrice (Author) Riggs, Valeria Mason, Cynthia (Sidney) Jones, William, Earldee, and Vincent; Mother-in-law Gladys Kent Evans, Brothers-in-law James (Carolyn) Kent, Milton (Glenda Kent), and Sisters-in-Iaw Gretchen Nutter, and Pamelia (Michael) Moore; and a host of nieces, nephews, and friends.

Arrangements provided by Sewell Funeral Home.

Visitation:
9:30 am to 10:45 am on Friday, September 14, 2012 at Mt. Hope UM Church, 145 Dalrymple Road, Sunderland, MD 20689.

Service:
11:00 am on Friday, September 14, 2012 at Mt. Hope UM Church, 145 Dalrymple Road, Sunderland, MD 20689.