Beitzell, Frances Martha
Birth: 1923-02-14 in Washington, DC
Residence: Bushwood, Maryland
Death: Sunday, December 13, 2009
Laid to Rest: Friday, December 18, 2009 in the Charles Memorial Gardens, Leonardtown, Maryland
Condolences: Click to View or Post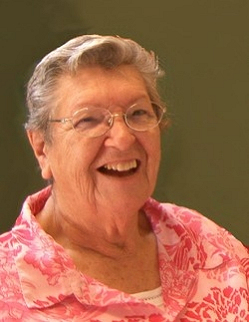 Frances Martha Beitzell (Miss Frannie), 86 died peacefully on December 13, 2009 at her home in Bushwood surrounded by her family. She was born in Washington, DC on February 14, 1923 to the late William and Mable Battenfield. She was the 7th of 10 children. She graduated from Eastern High School and began working at the Census Bureau as a key-punch operator. She married George Lee Beitzell, a farmer and waterman from St. Mary's County on September 20th, 1947.

Life as a farmer's wife was a big change from living in the city. She found herself in charge of cooking large dinners for his father and invalid sisters-in-laws and the multiple farm hands who worked the farm. She quickly learned to can vegetables and to kill, clean and prepare chickens, wild game, turtle and fish. Time after time she faced situations that were totally new to her. Her attitude was always "I can do this". And then she would.

Miss Frannie did everything on the farm from sewing dresses made of feed sacks to driving tractors to planting and harvesting tobacco. She even spent a season with her husband "Captain" George, on the Eastern Shore oystering off the Choptank River. She loved to look at home interior magazines and then recreate these designs using paint and upholstery. For her family, the smell of paint evokes many happy memories of Christmas, as she would always be completing a new project just in time for the holidays.

She raised children, chickens and kittens with steady good humor. She reveled in the company of her husband, children and extended family of brothers, sisters, In-Laws and nieces and nephews. There was usually a friend or relative spending the week or month down on the farm during the summer. On weekends, Miss Frannie and Captain George would pack up the family and everyone would go to the museums, art galleries or historical sites in DC, Maryland and Virginia. Often the family would go camping in the mountains, the seashore, and even New York City.

She loved to play cards and board games with friends and family. Many hours of storm-induced power outages were spent with everyone choking on Kerosene fumes while fiercely playing Monopoly around the kitchen table.

Like many in her family, she was an extremely gifted musician and would play her favorite medley of songs on either the piano or accordion whenever there was a spare moment of silence. She was active with the Holy Angels Church Sodality and was a member of the American Legion Auxiliary Post 221 for 56 years.

Miss Frannie often said that she was "just a housewife". Her family saw her as their anchor - always fearless, funny, unconditionally loving and optimistically upbeat. She always had a smile or a funny story for everyone. All who knew her loved her.

In addition to her parents, she was predeceased by her husband, George Lee Beitzell, her sisters and their husbands, Helen and Jim Ball, and Mable (Tuddi) and Robert Higgins and her sister Charlotte Jackson. She also was predeceased by her brothers William (Buck) Battenfield, John (Juggy) Battenfield, and Joseph (Hop) Battenfield and her son-in-law Gerard (Jerry) Rolape.

She is survived by her children Charles and Rose Beitzell, Eileen Beitzell, Mary Ida Rolape and Mable and Thomas Bailey; 9 grandchildren; 14 great grandchildren; her sisters and their husbands Eileen and James Moore, Cecilia (Ya) and Cecil Hayden and Teresa and David Lawrence and her sisters-in-law Lovisa (Lea) Battenfield, and Florence (Sis) Battenfield.

The Family will receive friends on Thursday, December 17, 2009 from 5 p.m. to 8 p.m. in the Brinsfield Funeral Home, P.A., Leonardtown MD with prayers recited at 7 p.m. A Mass of Christian Burial will be celebrated on Friday, December 18th at 10 a.m. at Holy Angels Catholic Church, Avenue, MD with Reverend William Gurnee officiating. Interment will follow in Charles Memorial Gardens, Leonardtown, MD.

Pallbearers will be; Steve Beitzell, Charles Beitzell, Caton Beitzell, Andrew McWilliams, Robert Battenfield, John Hayden, Mike Hayden, Brian Nelson and Leonard Nelson.

Memorial contributions may be made to 7th District Rescue Squad, Avenue, MD 20609, or to Hospice of St. Mary's, P.O. Box 625, Leonardtown, MD 20650.

Arrangements provided by Brinsfield Funeral Home, P.A.