Baxter, Richard Allen, Sr.
Birth: 1946-08-06 in Baltimore City, Maryland
Residence: Waldorf, Maryland
Death: Monday, February 15, 2010
Laid to Rest: Tuesday, February 23, 2010 in the Arlington National Cemetery, Arlington, Virginia
Condolences: Click to View or Post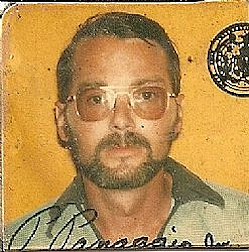 Richard Allen Baxter, Sr., 63, of Waldorf, MD, died February 15, 2010, at his residence.

Mr. Baxter was a self-employed construction consultant for 40 years and was a lifetime member of the American Legion Post 259 in Clinton, MD. He was a veteran of the United States Marine Corps, where he served as a Corporal from 1970-1972. He was also a member of the Clinton Men's Bowling League, the Moose Lodge and the VFW in Forestville, MD. He liked hunting, family reunions, playing poker, and being with his grandchildren and family.

Born September 6, 1946, in Baltimore City, MD, he was the son of the late Edward Carson Baxter and the living Rose Law of Mikado, MI.

Predeceased by his father; and two brothers, Paul Baxter and Steven Baxter.

Survived by his wife of 40 years, Virginia Baxter; sons, Richard A. and his wife Juliana Baxter, Jr., of Waldorf, MD; and Edward C. and his wife Laura Baxter of Waldorf, MD; brothers, John and Tommie Baxter of Baltimore, MD; sister, Bonnie Kennedy of Harrisville, MI; grandchildren, Tristen and John.

Visitation will be Friday, February 19, 2010, from 2-4PM and 6-8PM, at Raymond Funeral Chapel, 5635 Washington Avenue, La Plata, MD, with prayers at 7PM.

Funeral Service will be Friday, February 19, 2010, at 7PM, at Raymond Funeral Chapel.

Rev. Mark Roberson will officiate.

Interment will be February 23, 2010, 1PM at Arlington National Cemetery with Marine Corps Honors.

Memorial contributions may be made to the Disabled American Veterans Memorial Chapter 36, P.O. Box 147, White Plains, MD 20695 or Hospice of Charles County, P.O. Box 1703, La Plata, MD 20646.

Arrangements provided by Raymond Funeral Service.