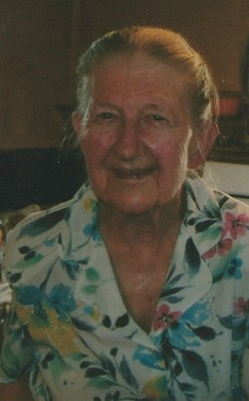 Anna Christine Gottlied, 94, of Charlotte Hall, MD, died peacefully on May 24, 2013.

She was born on July 7, 1918 in New Brunswick, NJ, daughter of the late Martha Margrit (Geppert) Boyette and the late John Hansen.

Anna graduated high school in Tarpon Springs, FL. She was a bookkeeper for her parents' boatyard. Later, Anna moved to Maryland in 1953 with her husband and two children. There, she and her family farmed tobacco and vegetables. The family also raised cattle and chickens.

She was an avid gardener and grew some beautiful flowers. Anna loved to crochet and make quilts, which were stitched by hand and made with love for each of her family members. She canned her food from the garden, including jelly pies, rolls, biscuits, and let's not forget her homemade cookies, and all that she did and was will be truly and dearly missed. Anna was an inspiration to all who knew her. Her smile, laughter, knowledge, and her kindness will live on in all who loved her. She had strong faith in God and was a member of the Lutheran Church.

In addition to her parents, Anna was predeceased by her beloved husband, John Christian Gottlied, Sr.; and her daughter, Anna Catherine Riffle.

Anna is survived by her son, John C. Gottlied, Jr., and his wife, Catherine of Sparta, TN; son-in-law, Philip A. Riffle of Charlotte Hall, MD; grandchildren, Patrick J. Riffle, Sr. (Betty), Darlene Sanborn, Cheryl Birdsong (Danny), Anita Tate (Billy), John C. Gottlied, III., Phillis Ludden (Brian), Julie Dodd (John), and Edward Gottlied (Carrie); 26 great grandchildren; 18 great-great grandchildren; and 1 great-great-great grandchild.

Family and friends will be received to celebrate Anna's life on Tuesday, May 28, 2013 from 10:00 AM to 11:00 AM at Brinsfield-Echols Funeral Home, P.A., 30195 Three Notch Road, Charlotte Hall, MD 20622. There will be a Service on Tuesday, May 28, 2013 at 11:30 AM at St. Paul's Lutheran Church, 37707 New Market Turner Road, Mechanicsville, MD 20659. Interment will follow to St. Paul's Lutheran Church Cemetery.

Pallbearers will be: Brent Tate, Stuart Elliott, John Riffle, Stephen Riffle, Tater Hewitt, and Paul Hewitt.

Honorary Pallbearers will be: Brian Ludden, Chris Gottlied, Edward Gottlied, Billy Tate, D.J. Kelly, Danny Birdsong, and John Dodd.

In Lieu of Flowers, donations may be made in memory of Anna C. Gottlied to: St. Jude's Cancer Research Dept., St. Jude Children's Research Hospital, 501 St. Jude Place, Memphis, TN 38105.

Arrangements provided by Brinsfield-Echols Funeral Home.