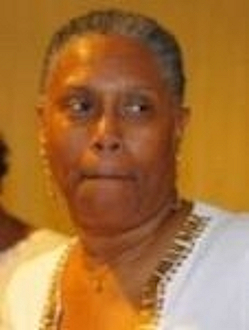 Jim Ella Mitchell was born April 3, 1944 in Helena, Arkansas. She departed this life on Sunday, November 8, 2009. The only child, to the late James A. Daniels, and Mrs. Marion Daniels, she was baptized at an early age at the Carter Chapel AME Church, also in Helena, Arkansas. She was a member of New Samaritan Baptist Church and recently joined Fort Foote Baptist Church.

Jim Ella was raised in Chicago, Illinois, where she had a cheerful childhood and helped her parents in their restaurant. Recognized at an early age as a bright, affable and caring child, she was well trusted by her parents to handle a variety of responsibilities in the restaurant, including handling some of the light finances. In her teens, she moved to Memphis, TN to live with her beloved grandmother, whom she cherished dearly.

Jim Ella graduated from Mitchell Road High School, where she was a scholar student, and during that time was blessed to meet her future husband, Clarence Mitchell, III. After high school, she went on to attend LeMoye College. From the wonderful friendship that Clarence and Jim Ella shared, the vows of Holy matrimony were taken on April 23, 1963, to solidify their everlasting relationship. It was from this union of 46+ years, that God, would bless them with a wonderful marriage, beautiful children, and a blessed relationship.

At a young age, Jim Ella discovered her fashion and beauty sense that would follow her for throughout her life. She was naturally beautiful and had a wonderful, playful, lithe & engaging smile. Her spirit endeared people to her. She captured people's attention with her attentive listening and giving encouragement when needed. She was dedicated and devoted to so many, whether as a mother-figure, friend, or adviser, they would automatically call her "Nana". During their marriage, Jim Ella and Clarence moved well over fourteen times. Never complaining, she was determined to make relocating easier than the last, and making each new house, "A Happy Home" for her family. Being an extraordinary woman, a loving mother, and a devoted wife, Jim Ella, strived to further her education, while still raising and training up her children. She was always there to support her husband, children, family and friends all while holding her Marketing position at IBM for 30 years. Beloved by many, it was her spirit, dedication, and hard work, which earned her respect, honors, and awards.

Loving to read, travel, shop and go on cruises, Jim Ella, a member of the Bid Wiz Ladies Card Club, was competitive and also loved sports. She was an avid, die-heart, Dallas Cowboys football fan. If they did not win that week we knew how to make her smile, a fresh bouquet of yellow roses. That would do the trick and onto the next week! She was loved and endeared by many. We will miss her smile, laughter and love, but we will see you again…

She leaves to cherish her memory: her husband, Mr. Clarence O. Mitchell, III, her Mother Marion Daniels; daughters, Yolande Doreen, Deborah Elizabeth; sons Kevin Anthony, Clarence Oliver IV, Michael; grand children: Shara, Asia,Tayler, Clarence IV, Gerred, Gregory, Michelle, Michael, Jr., Eddie; great grand-child, Zion and Mauricshao; close cousins Charles, Will Ella Freddy, Henrietta and a host of other relatives and friends.

"Servant of God, well done, rest from thy loved employ, The battle fought, the victory won, enter the master's joy."

Arrangements provided by Thornton Funeral Home.