Clinger, Keegan Scott
Birth: 1989-07-31 in Harvey, Louisiana
Residence: California, Maryland
Death: Thursday, May 12, 2011
Laid to Rest: Friday, May 20, 2011 in the St. Peter's Catholic Cemetery
Condolences: Click to View or Post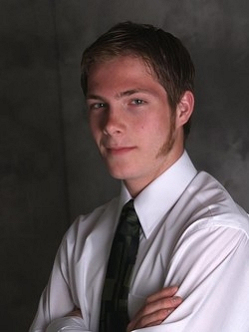 Keegan Scott Clinger, 21 of California, MD died May 12, 2011 at the Baltimore Shock Trauma Unit in Baltimore, MD.

Born July 31, 1989 in Harvey, LA, he was the son of MGySgt Daniel J. & Darlene R. (Tiell) Clinger of California, MD.

Keegan graduated from Mira Mesa High School in Mira Mesa, CA in 2007. He was employed at JC Penny & attended the College of Southern Maryland.

Keegan was a free spirit who loved nature and being active. He cherished his family and friends and had a big heart. He volunteered at the Birch Aquarium at Scripps in La Jolla, CA and dreamed of being a Marine Biologist. He loved art and could always be found sketching or painting. Though he loved anything that was active and kept him busy, such as snowboarding with his dad or wake boarding and being on the water, fishing, hiking, or playing the piano or hand drums - his true love in life was skateboarding and anyone who knew him knew that. He was one of the few who passed doing exactly what they loved doing in life, taking his last ride on his board. Keegan's last act in life was the giving of his organs so that others could live on through the Living Legacy Foundation of Maryland.

In addition to his parents, Keegan is survived by his sisters, Tianna L. Clinger, San Diego, CA, Kieren E. & Kiersten E. Clinger, California, MD; brother, PFC Tristan M. & Rachel Clinger, Louisville, KY; Maternal grandmother, Mary E. (Cook) Tiell, Upper Sandusky, OH; paternal grandparents Ronald & Joann (Johnston) Clinger, LaRue, Uncles & Aunts: David E. & Tami (Fadeley) Tiell, Great Mills, MD; Ron Jr. & Lynn (Anastasi) Clinger, Ashland City,TN.; Randy & Lynn (Clinger) Howerton, Noel, Missouri; Paul E. & Tamryn (Warner) Tiell, Upper Sandusky, OH; Andrew W. & Heidi (Golden) Tiell, Wharton, OH; Carl & Bonnie Clinger, Jacksonville, NC; Douglas C. & Tammie (Golden) Tiell, Mount Blanchard, OH; Lisa (Clinger) Stutz, Upper Sandusky, OH. Also survived by two nieces, Alice & Ellsie Clinger of Louisville, KY as well as being blessed with an extensive number of great aunts & uncles, and cousins all around the country.

He was preceded in death by paternal grandfather, Clarence E. Tiell, maternal grandparents, Bill & Doreen (Corcoran) Jeter, and an aunt, Patricia Clinger.

A visitation will begin at 9:30 a.m. with services at 10:00 a.m. on Friday, May 20, 2011 at Bringman-Clark Funeral Home in Upper Sanduky, OH with burial immediately following at St. Peter's Catholic Cemetery. A Memorial Service will be held at a later date in Maryland.

In lieu of flowers, the family suggests memorial contributions be sent in memory of Keegan Clinger to the following organizations: The Living Legacy Foundation of Maryland, 1730 Twin Springs Road, Suite 200, Baltimore, MD 21227,by contacting communications@TheLLF.org or 410-242-7000 / 800-641-HERO or the Birch Aquarium at Scripps, 9500 Gilman Drive #0207, La Jolla, CA 92093-0207 aquarium.ucsd.edu, using the "Give Now" button.

Local arrangements provided by Brinsfield Funeral Home.