Abell, Frances Indiana
Birth: 1914-01-19 in Leonardtown, Maryland
Residence: Hollywood, Maryland
Death: Thursday, July 29, 2010
Laid to Rest: Tuesday, August 03, 2010 in the Charles Memorial Gardens, Leonardtown, Maryland
Condolences: Click to View or Post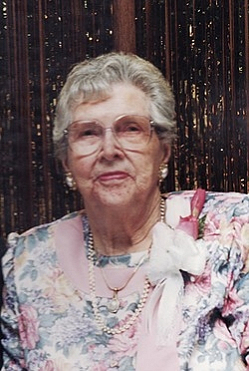 Frances Indiana "Polly" Abell, 96, of Hollywood, MD, died July 29, 2010 at her home in Sandy Bottom, MD surrounded by her family and friends. Born January 19, 1914 in Redgate (Leonardtown), MD, she was the daughter of the late John P. Wilkinson and Frances Indiana Yates.

She is preceded in death by her husband Francis Karl Abell, Sr. whom she married on April 2, 1934 in St. John's Catholic Church in Hollywood, MD.

Frances is preceded in death by sisters Mary Julia Nelson, Mary Francis Owens, Mary Linda Downs, Mary Ellen Downs, Louise Loretta Leib, Myrtle Anne Borgman, Estille P. Greenwell and Agnes Cecelia Insley, and one brother John Francis Wilkinson ans also her son-in-law Harry C. Jones, Sr.

Frances was a lifelong resident of St. Mary's County. She was a housewife and enjoyed family gathering, soap operas, flowers, cooking, trips to Dover, and annual trips to Ocean City with family.

Frances is survived by her children John V. Abell (Edna) of Leesburg, FL, Francis K. Abell, Jr. (Eleanor), Ramona Thomas (Jimmy), Marjorie Jones "Susie" all of Leonardtown, and J. Alfred Abell (Janice) of California, MD as well as 19 grandchildren, 52 great-grandchildren, and 16 great-great grandchildren.

The family will receive friends on Monday, August 2, 2010 from 5:00-8:00 P.M. in the Mattingley-Gardiner Funeral Home, Leonardtown, MD, where prayers will be said at 7:00P.M. A Mass of Christian burial will be celebrated on Tuesday, August 3, 2010, in St. John's Catholic Church, Hollywood, MD at 10:00 A.M. with Fr. Raymond Schmidt officiating. Interment will follow in Charles Memorial Gardens Cemetery in Leonardtown, MD. Pallbearers will be her grandsons Timothy W. Abell, Harry C. Jones, Jr., Mark Jones, Bryan Abell, David Abell, and Jeff Thomas. Honorary Pallbearer will be all of her grand- daughters.

Contributions in memory of Frances Indiana "Polly" Abell can be made to Hospice of St Mary's County, P.O. Box 625, Leonardtown, MD 20650, and St. John's School building fund, 43950 St. John's Road, Hollywood, MD 20650 and Hollywood Rescue Squad, P.O. Box 7, Hollywood, MD 20636.

Arrangements provided by Mattingley-Gardiner Funeral Home.