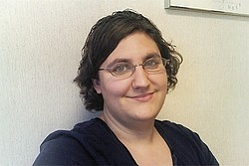 Linda May Clarke, 30, of Bushwood, MD passed away on October 18, 2013 at St. Mary's Hospital, Leonardtown, MD. Born September 21, 1983 in Leonardtown, MD she was the daughter of Susan Ann Clarke of Great Mills, MD.

Linda is survived by her children; Lynnzey Quade, Izabella Quade, and Suzie Quade all of Bushwood, MD. Lifelong partner Gary Quade of Bushwood, MD, grandmother; Catherine Clarke of California, MD. Linda also leaves behind many aunts, uncles and cousins that she loved so very much and Grannie CC whom she called her second Mom. Linda's second family, Kathy Bell, John Bell, Jr., Ashley Bell and Gary Quade, Sr., Linda's love was her Mom and Mommy and I will always love you baby girl. Her 3 wonderful girls whom she loved taking to different places and showing them how to all kinds of activities, just anything to be with them.

Gary and Linda met in 1997 and fell in love; they were made for each other and stood by each other through thick and thin. Linda fought a long hard fight against the rare disease Wengeners Granulomdtosis. This disease took a piece of Linda away every day. She fought this disease until it drained her away. Her greatest fear was leaving her beloved Mommy and not being able to see her girls grow up. Linda will always be protecting and watching over her beloved girls and Gary.

Linda loved her bingo, getting up on Saturday mornings and going to yard sales. She loved the water, going fishing, crabbing, and riding on Johnnie's boat. Linda loved having all the families come together on birthdays, and holidays because she loved to cook and just have the family together. Linda discovered searching for gems with her Mom and CC in North Carolina, she was very excited to go back home and get her girls and take them back to search with her.

She became an avid couponer and made many scrap books of her family. What made Linda the happiest was being with her 3 girls and Mommy just doing anything together. Linda's wish for her 3 girls was to always remember that Mommy loved them and will always love them, also for them to know that they have people that love them dearly, and will be there for them. You never knew when she might call and say "What you doing let's take a ride" you never knew where you would end up because she loved to travel.

Linda's last year and a half was spent in hospitals, and when she was in Georgetown she knew she would see her beloved Ashley, because she was a nurse there. She looked forward to Ashley's visits because she knew she would get her hair brushed, and nails cut, and Ashley would get in bed with her and rest after a long night shift. Ashley was Linda's sister and she loved her dearly. When Linda was able to come home she needed constant care. Gary was there to help her through all these terrible times. He had to pick her up and dress her, this was a 24 hour watch. Between Linda's Mom which was by her side no matter which hospital she was in Linda wasn't left alone for any length of time. Gary was her love and he stood by her through it all. Now he has their 3 girls to raise and grow in their Mom's footsteps. Anyone that knew Linda knew she would give you the shirt off her back if she knew you were in trouble. Linda loved life and she left a very big hole in all our lives. We love you Linda.

The family will receive friends on Wednesday, October 23, 2013 from 10:00AM – 11:00 AM in the Mattingley-Gardiner Funeral Home, Leonardtown, MD. A Funeral Service will be held on Wednesday, October 23, 2013 at 11:00 AM I the Matttingley-Gardiner Funeral Home Chapel with Deacon Bill Nickerson officiating. Interment will follow in Charles Memorial Gardens, Leonardtown, MD. Pallbearers will be: Gary Quade, Jr., John Bell, Jr., Matthew Clements, Robert Clements, Jr., William Quade, Jr., and Louis Fenwick. Honorary Pallbearers will be: Thomas Ryce, III. Steven Thorpe, Jr., and George Clarke, III.

Arrangements provided by Mattingley-Gardiner Funeral Home, Leonardtown, MD.