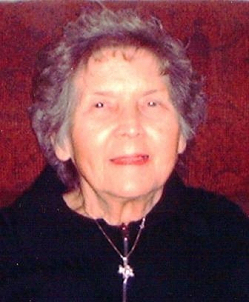 Annabelle M. Pulsinelli, 88, died peacefully at the Burnett Calvert Hospice House in Prince Frederick, MD, on May 8, 2010.

She was preceded in death by her husband, Adelco A. Pulsinelli, and by three siblings, John W. Neverline, Edna Catanzaro, and Olive Lazar.

Surviving are her sister, Katherine Pastors, Salem, VA, her five children, Dr. Phillip (Jean) Pulsinelli, Murrysville, PA, John (Sherry) Pulsinelli, Fernandina Beach, FLA, Alida (Ken) Ruffner, Lancaster, PA, Richard Pulsinelli, Lusby, MD, Alan (Chris) Pulsinelli, Paw Paw, MI, nine grandchildren and six great grandchildren.

Born on October 26, 1921, Annabelle was the daughter of the late Catherine E. and John W. Neverline of McKeesport, PA, the same town where she grew up and got married on November 20, 1941.

She became a licensed beautician, and mostly practiced this trade prior to raising her children. Besides living in McKeesport, PA, Annabelle also resided in Turtle Creek, Pa for thirteen years, in Indiana, PA for twenty-seven years, in Lancaster, PA for fifteen years, and in southern Maryland for the remaining nine years of her life.

Annabelleís memorial funeral mass will be performed at St. Bernardís Church in Indiana, PA, on Saturday, May 29, 2010 at 11:00 a.m., with Father William Kiel officiating after which she will be laid to rest next to her husband, Adelco, at St. Bernardís Cemetery. In addition, a memorial mass will be said for Annabelle at St. Colemanís Church in Turtle Creek, PA.

There will be no viewing, but friends can send condolences to family members, and contributions made to the Burnett Calvert Hospice House, P.O. Box 838, Prince Frederick, MD 20678, or to the Parkinsonís Disease Foundation would greatly be appreciated.

Arrangements by Rausch Funeral Home, P.A., Lusby, MD.