Smoot, Ruth Francine
Birth: 1950-09-21 in Washington, DC
Residence: La Plata, Maryland
Death: Thursday, August 27, 2009
Laid to Rest: Monday, August 31, 2009 in the Sacred Heart Catholic Church Cemetery, La Plata, Maryland
Condolences: Click to View or Post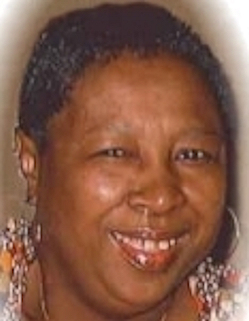 Ruth Francine Smoot 58, affectionately known to most as "Francine," entered into eternal rest on Thursday, August 27, 2009 at Georgetown University Hospital in Washington, DC. Born, September 21, 1950 in Washington, DC she was the daughter of the late Francis and the late Ruth Frederick.

Francine attended Charles County Public Schools. She was raised as a Catholic and was a member of Sacred Heart Catholic Church, La Plata, MD. However, in the past six months, she began to yearn for a deeper understanding of the things of God, and when her health allowed, attended the Cornerstone Baptist Church in Indian Head Maryland. The Cornerstone Church family honored her with a poem entitled "Sister Smoot, You." She was employed as a custodian at the GSA Administration Building in Washington, DC but during her later years was a part-time Bartender at Sartik's where she became the "right hand" to Mr. Thornton, often accompanying him to pick up supplies, place orders and on occasion, work the evening viewings at Thornton Funeral Home. Her family became a part of the Thornton Family. Francine could also be found in the kitchen selling dinners or helping others with the sale of their dinners. She was a vibrant woman always willing to give a helping hand to the very end.

Francine had a quick wit and could give you one of those looks that spoke volumes. She was never afraid to speak her mind. She enjoyed her family and the time they spent together, especially when making her annual visit to see her brother, Glenard in Ohio. Francine dearly loved her grandchildren, and appreciated the company of her friends. She listened to oldies but goodies and classified herself as a hand dancing queen. She especially enjoyed being with her loving and devoted sister-in-law, Carolyn Woodland.

In addition to her parents, she is also preceded in death by her sister-in-law, Margaret Smoot and brother-in-law, Joe Louis.

Left to cherish many fond memories are her husband, Thomas Smoot, Sr., five children, Elroy(Sherry), Shelley, Chrystal, and Damian Smoot and Nate' Barbour, thirteen grandchildren; Darius, Eric, Terrez, Tevin, Jameya, Tyron, Nakeisha, Jaqua'n, Deiontre, Aniyah, Jasmine, Kiara, and Diago two sisters, Lynette(James-Bunky) Smoot, Darlene(Mitchell) Cole, an adopted sister, Yvonne Johnson, two brothers, John and Glenard Frederick, one aunt, Pearl Jackson, mother-in-law, Hazel Smoot, five sisters-in-law, Harriett Roland, Jerline Smoot, Sarah(Sally) Whittaker, Shirley Chase, and Carolyn Woodland, two brothers-in-law, John and Robert Smoot, nieces, nephews, and a host of other relatives and friends.

Her viewing will be held on Monday, August 31, 2009 from 9:00am until time of service 11:00am at Thornton Funeral Home, P.A., 3439 Livingston Road, Indian Head, MD 20640. Interment Sacred Heart Catholic Church, LaPlata, MD.

Arrangements provided by Thornton Funeral Home.