Dean, Joan Mattingly
Birth: 1934-08-01 in Leonardtown, Maryland
Residence: Hollywood, Maryland
Death: Tuesday, May 04, 2010
Laid to Rest: Saturday, May 08, 2010 in the Charles Memorial Gardens, Leonardtown, Maryland
Condolences: Click to View or Post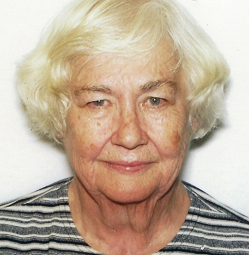 Joan Mattingly Dean, 75 of Hollywood, MD died Tuesday, May 4th, 2010 in a motor vehicle collision on MD Rt. 235. She was born in Leonardtown, MD on August 1, 1934, a daughter of the late Lester and Madeline Mattingly.

Joan was a 1952 graduate of St. Mary's Academy. Following graduation she attended secretarial school in Washington, DC, before beginning her more than 40-year career with the First National Bank of St. Mary's at its main branch in Leonardtown, MD, and then at branches in Lexington Park, MD and at the Patuxent River Naval Air Test Center.

She and C. Russell Dean were married on November 22, 1954 and made their home in Hollywood, MD. Throughout their lives, the Dean's enjoyed traveling, crossing the nation twice by automobile. During retirement they enjoyed cruise/tours to destinations from Prudhoe Bay, Alaska to the Panama Canal. Mr. Dean passed away March 8, 1998. Mrs. Dean was a member of St. John's Catholic Church in Hollywood, MD, where she had helped with office tasks and cleaning. She was an active member of the community as a past member of the Hollywood Volunteer Fire Dept Ladies Auxiliary, for which she continued to do volunteer work at dinners and bingo.

A lifelong gardener who enjoyed growing flowers; she was an active garden volunteer at St. Mary's City at the time of her death. In the past she had also volunteered as a gardener at Sotterly and assisted at Helping Hands. She remained active in retirement, pursuing interests including tap, dance and piano. Joan was known for her beautiful voice and had often been called upon to sing at wedding ceremonies in her earlier years. Many will also remember her for her baking skills, with many cookies, apple dumplings and lemon meringue pies shared with friends. Mrs. Dean was also devoted to her four cats.

Mrs. Dean is survived by her daughter Gail Dean and son-in-law Douglas Lewis of Cambridge, MD; sisters Carol Garner and husband Thomas of Hollywood, MD, Mary Adams of Park Hall, MD, and Angela Ryan and husband James of Santa Barbara, CA; her brother Aubrey Mattingly and wife Victoria of Leonardtown, MD; sisters-in-law Lola Brubacher of Leonardtown, MD, and Elva Mattingly Wood of Mechanicsville, MD; brother-in-law Francis Dean and wife Mary of Leonardtown; MD; sister-in-law Ann Petrisko of California, and and numerous nieces, nephews, cousins and friends.

She was preceded in death by her brothers Lester and James Mattingly as well as her brothers-in-law George Adams and William C. Brubacher.

The family will receive friends on Friday, May 7, 2010 at Mattingly-Gardiner Funeral Home from 5:00 PM until 8:00 PM where prayers will be said at 7:00 P.M. A Mass of Christian Burial will be celebrated on Saturday, May 8th, 2010 at 10:00AM in St. John's Catholic Church, Hollywood, MD, with Fr. Raymond Schmidt officiating. Interment will follow in Charles Memorial Gardens, Leonardtown, MD. Pallbearers will be Aaron Mattingly, Travis W. Mattingly, Bill Dean, Troy Garner, Dustin Horst and Wesley Brubacher. Memorial contributions may be made to the Hollywood Volunteer Rescue Squad, P.O. Box 79, Hollywood, MD and/or the Well Pet Clinic Spay/Newter Program, 21800 N. Shangri La Drive Unit 16, Lexington Park, MD 20653.

Arrangements provided by the Mattingley-Gardiner Funeral Home, P.A.