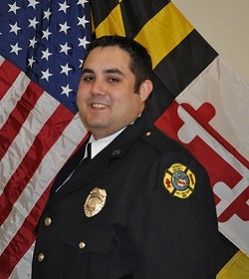 Kyle Andrew Hecker, 29, of Colton's Point, MD died suddenly August 31, 2012, at his home. Born August 22, 1983, in Clinton, MD, he was the son of Brenda L. and Bruce E. Hecker.

He is survived by his parents; his wife, Tracy Lynn Hecker whom he married May 8, 2010; his daughter, Kinsley Lynn Hecker born Dec. 2, 2011; his sister Lauren S. Hecker; his grandparents, Fred and Cathi Goode and Claire Dillard; and the brotherhood of the 7th District Volunteer Fire Department (Company 5).

He was preceded in death by his grandfather, Henry P. Moorehead.

Kyle was a member of the Jr. Civil Air Patrol while in middle school. He graduated from Leonardtown High School in 2001 and earned his B.S. degree from Colorado Technical Institute in 2006. He traveled extensively while employed with EDS before joining SAIC in 2008.

Kyle joined the 7th District Fire Department (Company 5) in 2007 and was awarded Firefighter of the Year and promoted to Sergeant in 2010. He was so proud to be a member of the fire department, not only for the contribution to his community but for the close friendships he developed there.

Kyle had a tremendously big heart and always put others needs before his own. His personality would fill a room and he had a way of livening up any activity. He would make the most mundane event a special occasion with his sense of humor.

He loved flying radio-control airplanes and helicopters. He enjoyed being on the water, either boating, fishing, or kayaking. He was a great photographer and loved to take pictures of his family and friends. But his greatest pleasures in life came from his beautiful wife and daughter, the true loves of his life. He was an amazing husband and father. He will be dearly missed.

Family will receive friends for Kyle's Life Celebration on Friday, September 7, 2012 from 5:00 p.m. until 8:00 p.m. at the Seventh District Volunteer Fire Department, 21660 Colton Point Road, Avenue, MD 20609. Firemen's prayers will be recited at 7:00 p.m. A Mass of Christian Burial will be celebrated by Reverend Michael Tietjen on Saturday, September 8, 2012 at 10:00 a.m. at Holy Angels Catholic Church, 21340 Colton Point Road, Avenue, MD 20609. Interment will follow in Charles Memorial Gardens, Leonardtown, MD.

Serving as pallbearers will be William Hopf, Billy Hopf, Richard Sandidge, Jr., Steven Sandidge, Kurt Sebacher and Bart Pulliam. Serving as honorary pallbearers will be the Seventh District Volunteer Fire Department.

Memorial contributions may be made to the Kinsley Hecker Trust Fund, c/o Cedar Point Credit Union, 22745 Maple Road, Lexington Park, MD 20653.

Arrangements by the Brinsfield Funeral Home, P.A., Leonardtown, MD.