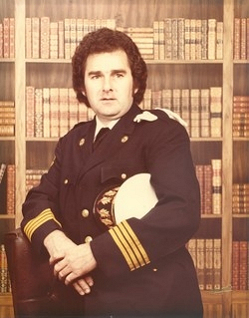 John Michel "Mike" Shymansky, Sr., 65 of Cobb Island, Md. Died on September 30, 2012 at his home. He was born on May 15, 1947 at the Physicians Memorial Hospital in La Plata, Md. He was the son of the late Joseph L. and the late Frances E. Shymansky.

Mike was a Master Electrician by trade and worked many side jobs with his father. He worked for Higdon Electric Company and C.H. Attick. He was past Chief and lifetime member of the Cobb Island Volunteer Fire Department.

In addition to his parents, he is preceded in death by his brother, Patrick B. Shymansky.

He is survived by his son, John Michael Shymansky, Jr., his daughter-in-law Heather Shymansky and granddaughter Jordyn Shymansky, stepmother Irene F. Shymansky, brothers JB, Bernie and Mickey Shymansky, stepbrother Michael C. Cox, sisters Joellen Lawman, Angel Hindle and Renea Shymansky, stepsister Barbara Cox Mebane, brothers-in-law Billy Lawman, Buddy Hindle and Bob Mebane, sisters-in-law Sandy Cox and Jennifer Shymansky, nephews BJ and MyKyle Shymansky, Will and Joey Lawman, Brant Godwin, Tyler and Tanner Cox, nieces Tiana Stine, Katie Godwin, Ashley Cox, Mychelle, Myranda and MyKenna Shymansky, great-nephews Michael St. Clair, Collin Lawman, great nieces Isabella Stine, Marleigh Amelia, and Lacie Lawman, former wife Mary Agnes Shymansky-Beatley and her husband Mike Beatly, and longtime friend Diane Bowling.

Visitation will be held at the Arehart-Echols Funeral Home in LaPlata, Md. On Sunday October 7, 2012 from 1 to 8pm, with fireman's prayers at 6pm. Mass of Christian burial will be celebrated at the Holy Ghost Catholic Church, Issue, Md. On Monday October 8, 2012 at 11am. Burial will follow at the church cemetery.
Pall Bearers will be Jimmy Jackson, Chris Mattingly, Gary Hess, Allen Shymansky, Dennis Bradshaw, and Graig Jackson.

It was Mike's wish to provide for his granddaughter so in lieu of flowers, you may donate to the Jordyn Abigail Shymansky Scholarship Fund in care on PNC Bank.

Arrangements provided by Arehart-Echols Funeral Home.