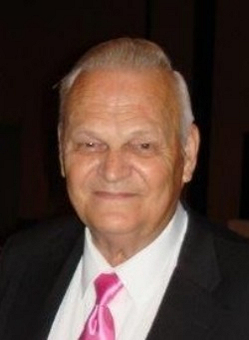 Edwin Louis "Ed" Pott, 84, of Prince Frederick passed away October 25, 2013 at the Mandrin Inpatient Care Center in Harwood, MD. He was born March 16, 1929 in Baltimore to William W. and Evelyn Carolyn (Fuherer) Pott. Ed was raised in Baltimore and attended public schools.

He enlisted in the United States Navy in 1946 serving until 1948, and completed his reserve obligation in 1955. He married Barbara Bader in 1950 and they lived in Baltimore County, Annapolis, and then settled in Harwood.

Ed was employed as a salesman, working for Sealtest Dairy in Severna Park and Culligan Water Treatment in Edgewater, retiring in 1992.

He was a member of Grace Brethren Church of Calvert County. In his leisure time, Ed enjoyed sailing, traveling to Florida in the winter and spending time with his family, especially his grandchildren.

Ed was preceded in death by his parents, his wife Barbara Irene Pott in 1991, a brother Kenneth W. Pott, and a sister Arlene E. McCarty.

He is survived by his beloved Nancy of Prince Frederick, MD; children Terry Pott and wife Shelia of Friendship, MD, Steve Pott and wife Margaret of Barclay, MD, Sharon Cook and husband John of Centreville, MD, and Cindy Pott and partner Darby Shaner of Mt. Airy, MD. Also surviving are eight grandchildren, Gina Kapiskosky and husband Scott of Chesapeake, MD, Jessica Mudd and husband Albert of Deale, MD, Kelsie, Mary, and Jami Pott of Barclay, MD, Jason Cook and wife Rebecca of Centreville, MD, Jennifer Herlihy and husband Tim of Chester, MD, and Elizabeth Wood and husband Nick of Centreville, MD; 16 great-grandchildren: Cameron, Kylee, Khloe, Emmie, Audrie, Ellie, Jolie, Alanna, Juliann, Evelyn, Nicholas, Madeline, Benjamin, Fiona, Louella and Gage; and sisters Shirley E. Maynard and husband Bob of Ohio, and Carolyn Popp and husband Porky of Baltimore.

Arrangements provided by Rausch Funeral Home.