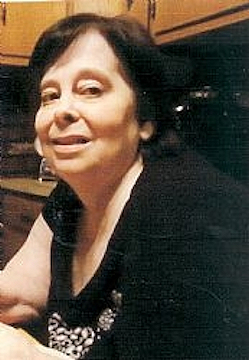 Joyce "Mam-Maw" Irene Roland, 67, of Waldorf, MD passed away on March 9, 2012 at Civista Medical Center with her family at her side. Born August 30, 1944 in Washington, DC, she was the daughter of the late Thomas A. Shipp and the late Annie F. Shipp of Accokeek, MD.

Mrs. Roland was a devoted wife to her husband of 48 years, loving mother, very special mother-in-law, Mam-Maw, sister, sister-in-law, aunt, great-aunt, and cousin.

She worked for a few years as a secretary to the bondsmen at the U.S. Post Office in Washington, DC, secretary at Stapleton Insurance in Clinton, MD, part-time telemarketer at The Maryland Independent.

She had a big love for country music and 98MZQ radio station, favorite singers Alan Jackson and Elvis Pressley, Bingo, bowling, vacationing with her husband and family at Daytona Beach, FL, cooking, baking, the Washington Redskins, NASCAR (favorite driver was Jeff Gordon), watching the Washington Capitals with her granddaughter, the Baltimore Orioles, and watching reruns of "Everybody Loves Raymond" with her husband. She also had a very special bond with 11-year-old family dog, Flower Plischke.

In addition to her parents, she was preceded in death by her brothers Thomas E. Shipp and Ronald E. Shipp.

She is survived by her husband of 48 years, Leslie F. Roland; three children, Laurie A. (Lance R.) Plischke of Waldorf, MD, Gregory K. Roland of Waldorf, MD, Jeffrey W. (Alina J.) Roland of Waldorf, MD; two grandchildren, Jacqueline "Jac" Irene Plischke of Waldorf, MD and Jeffrey W. Roland, II of Waldorf, MD; one brother, Robert E. Shipp of Charlotte Hall; three sisters, Edith M. Frazier and Elvis F. Harrell, both of Fort Washington, MD and Gladys A. Archer of Morningside/Suitland, MD; and family pet, Flower Plischke.

Her visitation will be held on Wednesday, March 14, 2012 from 5- 8PM at Raymond Funeral Chapel, 5635 Washington Avenue, La Plata, MD 20646. A service will be on Thursday, March 15 2012 at 11AM at Raymond Funeral Chapel, with clergy by Rev. Randy Randall. The pallbearers will be Jacqueline Irene Plischke, Gregory K. Roland, Larry Roland, Loren Roland, David Sparks, and Steve Zine. Internment following at Trinity Memorial Gardens.

Memorial contributions may be made to Charles County Humane Society (PO Box 1015, Waldorf, MD 20604).

Arrangements provided by Raymond Funeral Service.