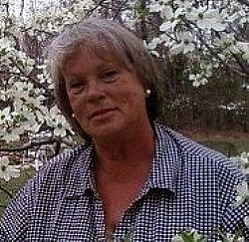 Mrs. Evelyn L. Miller, age 66, of Squires, MO, formerly of Wicomico Shores, died on the morning of February 5, 2013 while at Mercy Hospital in Springfield, MO.
Evelyn was born on October 24, 1946 in Springfield, MO, daughter of Frank T. and Lola E. (King) Gray.

Evelyn was an Intelligence Analyst for Navy Intelligence for 21 years from 1976 till 1997. She was a member of Ava United Methodist Church. She was preceded in death by her father, Frank Gray.

She is survived by her mother, Lola Gray, of Mansfield, MO. Evelyn is the mother of Pam Wormington, of Monett, MO and Kenneth Whittaker, Marshfield, MO, and the step-mom of Paul Miller III and his wife Michelle, and Kenny Miller and his wife Amy, both of Maryland. She is also survived by two sisters: Francis Dedmon of Mansfield and Priscilla Logan of Seymour, MO.

On September 30, 1995, on the Miller family homestead, Evelyn married Paul Eugene Miller Jr.

She is the proud grandmother of six granddaughters: Alex Whittaker, of Marshfield, MO, Nicole Wormington, of Monett, MO, Kimberly Wormington, of Marionville, MO, Sadie Miller, Kaitlynn and Victoria Zacher, all of Maryland and one grandson, Dalton Alexander, of Republic, MO.

Viewing and Service will be on Wednesday, February 13th, 2013 beginning at 12:00 Noon at New Life Church, 9690 Shepherds Creek Place, La Plata, MD, 20646. The Viewing and Service will be held in the Chapel Building, all the way to the right of the parking lot as you enter the Church Campus with the Reverend Chris Bryan officiating. Pallbearers are Paul Miller III, Brad Miller, Artie Miller, Wes Miller, Larry Dixon, and Kirk Wormington. Burial will immediately follow services at Trinity Memorial Gardens in Waldorf, Md.

Arrangements by Raymond Funeral Service, P.A.