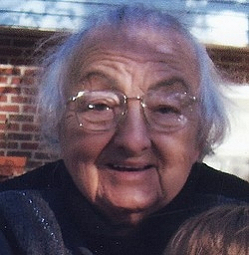 Gertrude Mary Samoyedna, 86, of Lexington Park, MD., formerly from Yonkers, NY and Pueblo, CO, died on April 29, 2012 in Washington, DC. Born on February 18, 1926 in Yonkers, NY, she was the daughter of the late Stephen and Barbara Gonda Bukousky.

Gertrude was the loving wife of the late Joseph Walter Samoyedna whom she married in Holy Trinity Church in Yonkers, NY on January 6, 1945. He preceded her in death on February 8, 1981.

Mrs. Samoyedna is survived by her children: Joseph Samoyedna, Jr., of Staten Island, NY, Louise Callahan of Bronx, NY, and Millie Guenther of California, MD. Gertrude is also survived by her 6 grandchildren, 9 great-great children and brother Vincent Bukousky of New York State.

She was preceded in death by her siblings; Mary Lynch, Joseph Bukousky, Anne Bukousky, and William Bukousky all of Yonkers, NY., Daniel Bukousky of New York State, Stephen Bukousky of New Jersey, John Bukousky of Pueblo, CO, Albert Bukousky of Long Island, NY, Richard Bukousky of New York, Martin Bukousky of CO.

Gertrude attended Gorton High School in Yonkers, NY and moved to St. Mary's County in April of 2005. Mrs. Samoyedna was a homemaker and enjoyed singing, reading, attending mass and prayer groups, she was a world traveler.

The family will receive friends on Friday, May 4, 2012 from 1:00 PM – 2:00 PM in Immaculate Heart of Mary Catholic Church, Lexington Park, MD. In Lieu of flowers, contributions may be made to Immaculate Heart of Mary, 22375 Three Notch Road, Lexington Park, MD 20653. A Mass of Christian Burial will be celebrated at 2:00 PM with Father Andrew Morkunas officiating.

Arrangements provided by the Mattingley-Gardiner Funeral Home, P.A.