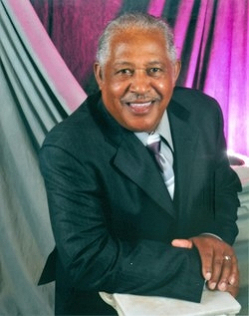 Joseph Aloysius "Joe Boy" Bankins of Mechanicsille, MD departed this life peacefully on Thursday, September 20, 2012 at the age of 69 at Washington Hospital Center. He battled coronary heart disease since 1998 and never once complained. Joseph, fondly known to family and friends as "Joe Boy", was born on June 15, 1943 in Oakville, Maryland to the late James Bernard Bankins and Annie Elizabeth Young Bankins.

He was educated at St. Joseph's Elementary School and Banneker High School. Throughout his life, Joseph was a dedicated lifelong Catholic having served as an altar boy at St. Joseph Catholic Church in Morganza, Maryland, from the age of six through the eighth grade along with his brother, Bernard.

Joseph was united in Marriage to the love of his life Alice Olaine Baker Bankins on August 20, 1966. He was a devoted and loving husband for 46 years. The couple was blessed with two wonderful children, Sonya and Joseph "Joey" II. He was the proud "PoP PoP" to five grandchildren, Nyla, Makhi, Jahzaria, Ryan and Zoie, all of whom meant the world to him.

For most of his career, Joseph worked in construction. He was especially known to contractors for his expertise and willingness to assist and explain construction work to beginners. He was a mentor to many. Joseph was also a member of the Laborers Union Local 832. Later in his career, he left the union and worked for non union contractors in various positions including that of General Foreman. He retired in 2003 after continuing complications associated with his heart.

Like his father, Joseph was an avid waterman. He enjoyed fishing, crabbing, and oystering. There are no waterways in St. Mary's County that were unfamiliar to him. When he caught the big rock fish that didn't get away, you definitely knew about it. He would go to the Medley's and exercise his bragging rights with the guys. He would catch so many fish that he held a "Joe's Backyard Annual Fish Fry for seven consecutive years open to family, friends and neighbors. This function became an event because it graduated from 100 to over 500 guests. He was also known for his famous oyster stew that everyone loved.

Throughout his life, Joseph was quite a jokester. He inherited his father's and his uncle Joe's talent for telling the "big one" that everyone would believe. He passed the talent down to his younger brother Tommy, his granddaughter Nyla and his grandson Ryan. His favorite hobbies were bowling, gardening, watching the Dallas Cowboys beat the Washington Redskins, hanging with the fellows and of course hand dancing. He even acquired the name "Twinkle Toes". In addition, we cannot leave out his million dollar smile inherited from his mother. He never failed to let those he truly loved know his feelings by frequently using his three simple words "I Love You".

Joseph leaves to cherish his memory, his beloved wife of 46 years Alice Olaine Bankins; children Sonya Antoinette Bankins and Joseph Aloysius (Zettica) Bankins, II ; grandchildren Nyla Divine Bankins, Makhi Nhiyir Best, Jahzaria Ayan Bankins, Ryan Sebastian Bankins and Zoie Danae Bankins; sisters and brothers: E. Marie (Edward) Kennedy; J. Bernard (Corrine) Bankins; Agnes T. Bankins; Cecilia J. Bankins; Veronica M. Bankins; A. Bernadette (William-deceased) Thomas; Gloria J. (Jerry) Fitzgerald; Thomas E. Bankins; J. Monique (Mark) Spencer and Joseph "Jody" (Linda) Bankins; five aunts: Mary E. Somerville, Nellie L. Wade, A. Marie Goldring , Victoria Bond and Susie Mae Mason. He was a devoted and caring uncle to many nieces and nephews, godchildren and a loving brother to his many brothers-in-law and sisters in-law. Joseph is also survived by a host of other relatives and friends whose lives he lovingly touched.

In addition to his parents, Joseph was preceded in death by his sisters, Mary Florine Bankins and Rose Elizabeth Bankins Holly.

Family will receive friends for Joseph's Life Celebration on Thursday, September 27, 2012 from 5:00 p.m. until 8:00 p.m. in the Brinsfield Funeral Home, 22955 Hollywood Road, Leonardtown, MD 20650. Prayers will be recited at 7:00 p.m. A Mass of Christian Burial will be celebrated by Reverend Keith Woods on Friday, September 28, 2012 at 10:00 a.m. at St. Joseph's Catholic Church, 29119 Point Lookout Road, Morganza, MD 20660. Interment will follow in Queen of Peace Cemetery, Helen, MD.

Arrangements by the Brinsfield Funeral Home, P.A., Leonardtown, MD.