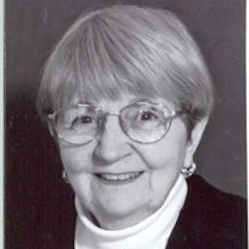 Barbara Jean Pohl of La Plata, MD died on August 5, 2013, of pulmonary fibrosis, in La Plata, MD with Hospice. She was 83 years old.

Born on August 24, 1929 in Washington, DC, she was the daughter of William H. Ronan Sr. and Gertrude Morrissey Ronan. She married Albert V. Pohl Jr. on July 12, 1947 at St. Mary of the Mills Catholic Church in Laurel, MD. They were married for over 60 years before he died in 2008.

She was a member of Holy Family Catholic Church in Hillcrest Heights, MD for 40 years where she taught religious education classes, was an officer of the Sodality, a lector, a Eucharistic minister, and served on the parish council. After moving to La Plata in 1996, she joined Sacred Heart Catholic Church where she continued to lector and be active in the Sodality. She and her husband hosted and taught bible study classes in their La Plata home for over 10 years and took communion to nursing home residents. They were Hospice volunteers in Prince George's and Charles counties.

After raising her seven children, Mrs. Pohl enrolled at the University of Maryland/University College to continue her college studies that she began at Dunbarton College before she married. She was employed as a claims examiner, a trainer, and finally as head of the training department at Blue Cross/Blue Shield's Federal Employee's Supplemental Benefits Division from 1974 to 1989.

She was a voracious reader her entire life. She particularly enjoyed reading newspapers, Catholic journals and memoirs, books about history and politics, plus award winning fiction. In her retirement, she belonged to two book clubs, enjoyed travel and playing duplicate bridge at the Richard Clark Senior Center in La Plata.

In addition to her parents, she was preceded in death by her beloved husband and great-granddaughter, Lillian Mallon.

She is survived by her daughters: Tina Hieb and her husband Larry of La Plata, MD, Claudia Berstene and her husband Tom of South Windsor, CT; her sons: Albert V. Pohl III and his wife Susan of Reading, PA, Stephen Pohl and his wife Jayne of Baltimore, MD, Christopher Pohl and his wife Judy of Laurel, MD, Eric Pohl of Alabaster, AL, and Mark Pohl and his wife Terri of Baltimore, MD; her sisters: Sister Mary Michael, S.A.C. of Huntington, WV, Ann McCandless of Seattle, WA, and Sandra Ryan of Mesa, AZ; and her brothers: Roy Ronan of Sedona, AZ, Hank Ronan of Annandale, VA, and Edmund Ronan of Fairfax Station, VA. She is also survived by 17 grandchildren: Anna, Kristen, Anthony, David, Jason, and Kathleen Pohl, Clare O'Keefe, Laurie, Valerie, and Kevin Bertsene, Nicholas, Johathan and Julianna Hieb, Jennifer Wolf, Catherine Mallon, Marie Hemelt, and Elise Bruner, seven great-grandchildren: Braden, Shenandoah, Jacob, Kamin, Connor, Rosalie, Tiernan, Juliet, and Gavril; and numerous nieces and nephews.

Visitation on Friday, August 9, 2013 from 4-8PM with a Wake Service at 7PM at Sacred Heart Catholic Church, 201 St. Mary's Avenue, La Plata, MD 20646 and where Mass of Christian Burial will be Saturday, August 10, 2013 at 10AM. Rev. Robert Buchmeier and Scott Holmer will officiate. Burial will follow at St. Mary of the Mills Catholic Church in Laurel, MD.

Memorial contributions in lieu of flowers are suggested to Mary's Food Pantry, PO Box 1390, La Plata, MD 20646 or St. Francis Catholic Worker, 9631 Peppertree Road, Spotsylvania, VA 22553.

Arrangements provided by Raymond Funeral service.