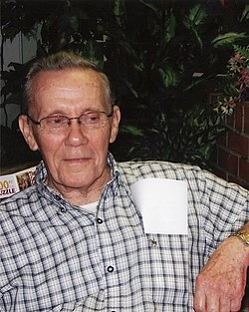 Richard Arthur Wathen, 78, of Leonardtown, MD died February 20, 2012 in Callaway, MD. Born on July 8, 1933, he was the son of the late Arthur M. Wathen and Mary Effie Lacey Wathen.

In addition to his parents, he was preceded in death by his wife, Elizabeth L. Abell Wathen whom he married on June 14, 1958 at St. John's Catholic Church in Hollywood, MD. He was also preceded in death by his brother, Lawrence Wathen, his sister, Marie Miller, and his second wife, Kathy Kepler Wathen.

He is survived by his children, Richard Wathen, Jr. (Marlene), Edie Woodburn (Pat), Kathy Wathen, Susie Regel (Jeff), Cheri Eckardt (Jon), Lisa Miedzinski (Jim), Janie Allshouse (Mark); his sisters, Edith Roehs, Bea Rippy, and Rachel Quade, his brother, Donald Wathen, nine grandchildren and two great-grandchildren.

Richard graduated from St. Mary's Academy in 1952 before enlisting in the U.S. Air Force where he received an honorable medical discharge. He then worked as a meat cutter and after retirement, he provided in-home care for the elderly. He enjoyed gardening, and, most of all, spending time with his family. His final residence was Cedar Lane Apartments where he enjoyed playing cards and the friendly company of neighbors and staff.

The family will receive friends on Wednesday, February 22, 2012 from 5:00 PM until 8:00 PM in the Mattingley-Gardiner Funeral Home chapel where prayers will be recited at 7:00 PM. A Mass of Christian burial will be celebrated on Thursday, February 23, 2012 at 10:00 AM in St. John's Catholic Church, Hollywood, MD. Interment will follow in the church cemetery. Pallbearers will be Michael Miedzinski, Patrick Woodburn, David Miedzinski, Brian Allshouse, Kevin Allshouse and Jon Eckardt.

Memorial contributions may be made to Hospice House of St. Mary's, P.O. Box 625, Leonardtown, MD 20650 and/or Hollywood Volunteer Fire Department, P.O. Box 7, Hollywood, MD 20636.

Arrangements provided by Mattingley-Gardiner Funeral Home.