Denney, Lena Marie
Birth: 1935-07-22 in St. George Island, Maryland
Residence: Piney Point, Maryland
Death: Wednesday, August 11, 2010
Condolences: Click to View or Post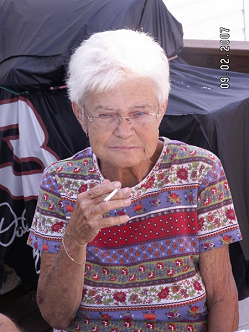 Lena Marie Denney, 75, of Piney Point died Aug. 11, 2010, at home.

Born July 22, 1935 on St. George Island, she was the daughter of the late Eva Estelle Poe and Albert "Potsy" Poe.

Also known as "Baby Lena," she completed the eighth grade. She married Jesse Austin Denney on July 5, 1968. She was a homemaker. She enjoyed crafts, camping and traveling and family cookouts. She loved having her family around her and enjoyed knick-knacks, flowers, hummingbirds and cardinals. She was most proud of her children. She will be remembered as gentle, sweet, loving, vibrant, family-oriented and beautiful "inside and out."

She was preceded in death by her siblings, Webster Poe, Myrtle Russell, Franklin "Toadie" Poe, Roland Poe and Mary Edna Poe; and her son, Dale Jerome Moore.

She is survived by her brother, Robert Poe; her stepbrothers, Lance Denney of New York and Jesse Denney III of Las Vegas; her daughters, Mary Edna Norris of Old Town, Fla., and Muriel Estelle Willis of Hollywood; her son, Glen Walter Denney of Mechanicsville; her daughters-in-law, Jane Moore of Mechanicsville and Gina Denney of Mechanicsville; her sons-in-law, Mark Norris of Old Town and Richard Willis of Hollywood; her grandchildren, Dwayne Norris, Jackie Norris, Dale Moore Jr., Joshua Moore, Tanya Bottorf, Mindy Sue Moore, Lucas Denney, Shane Austin-LeRoy Bottorf, Jessica N. Denney, Jessica G. Denney, Justin Moore, Tayler Denney and Kylee Denney; and three great-grandchildren.

A service will be held Aug. 19 at 11 a.m. at St. George Catholic Church in Valley Lee with a repast at St. George Island Improvement Association Building on St. George Island. Memorial contributions may be made to Hospice of St. Mary's.