Simpson, Mary Eleanor
Birth: 1919-09-24 in Oakley, Maryland
Residence: Avenue, Maryland
Death: Friday, November 11, 2011
Laid to Rest: Saturday, November 19, 2011 in the St. Mary's Newport Catholic Church Cemetery, Charlotte Hall, Maryland
Condolences: Click to View or Post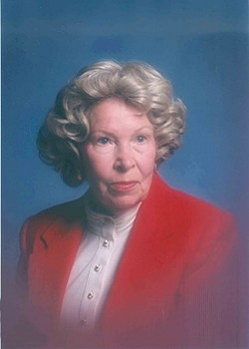 Mary "Eleanor" Hayden Simpson, 92, of Avenue, St. Mary's County, Maryland, died November 11, 2011, at Hillhaven Assisted Living Nursing and Rehabilitation Center in Adelphi, Maryland. Born September 24, 1919 in Oakley, Maryland, she was the eldest child of the late Frank Charles Hayden and Mary Martha "Mattie" (Simpson) Hayden.

Reared on her birthplace, a small tobacco farm situated between St. Clement's Bay and Canoe Neck Creek, Eleanor was a lifelong devout Catholic. She attended Oakley School for the first two grades followed by Holy Angels School. She began high school at Margaret Brent School in Morganza, before attending St. Mary's Academy in Leonardtown, graduating in 1937, followed by one year of business school training at the Academy. Eleanor, a talented musician, played piano and bass in the Academy's orchestra including their statewide championship performance at the Peabody Institute in Baltimore. As a choral group member, she sang at the 1934 dedication of the large cross on St. Clement's Island. Shortly after Academy studies, Eleanor moved to Washington, D.C. where she was a member of St. Peter's Church and worked in sales and as a model for The Hecht Company's flagship store.

Eleanor married William E. Simpson at St. Peter's on June 5, 1943, and they lived during the early years on Capitol Hill followed by Northwest Washington, D.C. where they were members of Sacred Heart Church. The family, now including two young children, moved in 1950 to Silver Spring, Maryland, where the final child was born. During the Silver Spring years, Eleanor was a member of St. Bernadette's Church where she donated time wood refinishing and landscaping for the Franciscan nuns. Eleanor also worked with her husband restoring antique furniture for Walter Reed Antiques.

Eleanor and William designed their retirement home built on her birthplace, where they moved September 1973 and spent many happy years entertaining and antique restoring together. Eleanor was a sought-after community fundraiser including for the local cancer society and her church. She was an avid gardener, and an excellent seamstress, upholsterer, and picture frame restorer. She was passionate about family and local history and took participating as a citizen seriously. Alongside her husband, she donated countless hours to her church and community, including as Patron of Sotterly Plantation. In 1994 Eleanor and her husband received a preservation award from the Maryland Historical Trust, St. Mary's County Chapter, for their antique restoration work at Sotterly, Historic St. Mary's City, and other historical sites.

Eleanor was also a charter member of the St. Clement's 100, and was active in the Friends of St. Mary's City, Friends of the St. Clement's Island Potomac River Museum, and the St. Mary's County Historical Society. Eleanor was humble in her tireless work for her beloved Holy Angels Parish including heading up the yard committee, working on church dinners, restoring religious statues, and helping the choir. She designed the church's hanging lights and along with her husband donated them and the school library addition named in her honor. In 2003 The Archdiocese of Washington awarded her at the National Shrine the "Medal of Merit for Faithful Service." Eleanor left her beloved birthplace in 2009 when she entered Hillhaven.

Survivors include her three children, Suzanne Marie Raper of Rockville, Jane Lancaster McLeod of Garrett Park, and Nancy Jean Simpson (Bridger) of Washington, D.C.; one sister Rachel F. Ryan of Kensington; six grandchildren; seven great grandchildren, and many nieces and nephews. In addition to her parents, she was preceded in death by her husband of 56 years, William E. Simpson.

Family will receive friends for Eleanor's Life Celebration on Friday, November 18, 2011, from 5:00 PM until 8:00 PM at Holy Angels Church, 21340 Colton Point Road, Avenue, Maryland, 20609. Prayers will be recited at 7:00 PM. A Mass of Christian Burial will be celebrated there on Saturday, November 19, 2011, 10:00 AM, with Reverend Michael Tietjen, Pastor, as the celebrant. Interment will take place in St. Mary's Church cemetery, Newport, 11555 St. Mary's Church Road, Charlotte Hall, Charles County, Maryland, 20622.

Memorial contributions may be made to Holy Angels Church, 21340 Colton Point Road, Avenue, Maryland 20609-2422; Seventh District Volunteer Rescue Squad, Post Office Box 7, Avenue, Maryland 20609; or Sotterly Plantation, P.O. Box 67, 44300 Sotterly Lane, Hollywood, Maryland 20636.

Arrangements by the Brinsfield Funeral Home, P.A., Leonardtown, MD.