Kauffman, Susan Marie
Birth: 1953-05-13 in Lancaster, Pennsylvania
Residence: Valley Lee, Maryland
Death: Tuesday, August 03, 2010
Laid to Rest: Thursday, September 02, 2010 in the Arlington National Cemetery, Arlington, Virginia
Condolences: Click to View or Post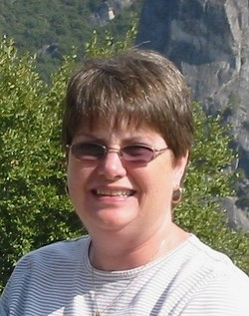 Susan Marie Kauffman, 57 of Valley Lee, MD passed away on August 3, 2010 at Hospice House, Callaway, MD.

Susan Marie Kauffman was born on May 13, 1953 at the Lancaster General Hospital in Lancaster, Pa. She was the daughter of Wilbur and Dolores Blumenshine of Columbia, PA.

Sue leaves behind her beloved, of 38 years, husband Earl H. Kauffman. They would have celebrated their 39th wedding anniversary will be on August 22nd. She and Earl have three sons: Michael S. Kauffman, married to Karen Klinger, and their two children, Jeffrey and Hannah, from Warwick, PA; Mark P. Kauffman, married to Joy Marriott, and their two children Alex and Audrey, from Sterling, VA; and Matthew D. Kauffman, married to Maia Judd, from Mt. Holly, NJ.

Working for her Great Aunt Erna (owner of a family flower shop), Sue was just a teenager when she began her career as a florist. By 1974 she was the floral designer, and helped expand the family business until her and her husband moved to Warminster, PA in 1985. Though "retired" from the floral business, Sue continued for years to use her talent and her large dining room table to create masterpieces for her friends. Sue never lost her love of receiving flowers, either.

Interesting tidbits about Sue: She was a volunteer Emergency Medical Technician for the Warminster Volunteer Ambulance Squadron for many years; She was a member of the Warminster Amateur Radio club and held a FCC license - call sign: N3EQB; She was a "Blue Star Mother" and her banner had 4 stars - one for each of her sons who has or is still serving in the military, and one star for her husband, a retired Captain in the Air Force.
Sue was a member of the Church of Christ and throughout her life attended Conestoga Valley Church of Christ in Lancaster, PA, Valley Road Church of Christ in Warminster, PA and the St. Mary's County Church of Christ in California, MD.

Over the years, Sue taught Sunday school to the children of her congregations. She also sewed baby blankets for the majority of infants and children and grandchildren of her church family. Some of those blankets have started high school and college in the last few years. Perhaps Sue's most appreciated contributions to her congregations and her community occurred in the kitchen. Sue planned, organized and cooked delicious dinners and lunches for weddings, funerals, anniversaries, Wednesday night suppers, the local"Click-it or ticket" campaigns, etc. She made putting together dinner for over 100 people seem nearly effortless.

Sue's greatest gift was teaching hospitality to the women of her congregations, both in a classroom setting and in her home. Mostly Sue taught by example; she was dedicated to helping others. No one's freezer was ever as full as Sue's, because she always wanted to be ready, at a moment's notice, to cook a full meal for anyone who needed one. She'd send a card and/or a casserole to anyone she thought could use a bit of cheering up. Until just a few weeks before her death, and though very ill herself, Sue was regularly sending out cards of encouragement to others.

Family will receive friends for Susan's Life Celebration on Friday, August 13, 2010 from
5 p.m. to 8 p.m. in the Brinsfield Funeral Home, P.A., 22955 Hollywood Road, Leonardtown, MD. A visitation will be held on Saturday, August 14, 2010 from 11 a.m. to 1 p.m. in the Church of Christ, 44850 St. Andrews Church Road, California, MD 20619 where a Funeral Service will be conducted at 1 p.m.

Interment will be held on September 2, 2010 in Arlington National Cemetery at 10 a.m.

Memorial contributions may be made to Camp Manatawny, 33 Camp Rd., Douglasville, PA 19518 , Hospice House of St. Mary's, P.O. Box 625, Leonardtown, MD 20650 or MS Maryland Chapter, 11403 Cronhill Dr., Suite E, Owings Mills, MD 21117.

Arrangements provided by Brinsfield Funeral Home, P.A.