Bonds, Alice Rebecca
Birth: 1941-04-14 in Leonardtown, Maryland
Residence: Valley Lee, Maryland
Death: Wednesday, November 18, 2009
Laid to Rest: Monday, November 23, 2009 in the St. Mark U.A.M.E. Church Cemetery, Valley Lee, Maryland
Condolences: Click to View or Post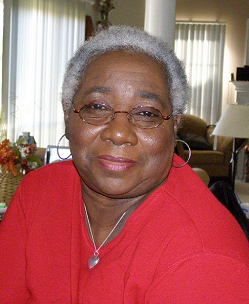 Alice Rebecca Biscoe, 68, was born April 14, 1941 in Leonardtown, MD. She was the oldest of four children born to George Washington Biscoe and Maggie Genieve Lawrence Biscoe. She was raised in Valley Lee, MD and graduated from George Washington Carver High School. She went on to attend Nursing School at St. Mary's Tech Center in Leonardtown, MD.

On October 19, 1961, Alice married Joseph David Bonds. She was a wonderful mother of five children, Kevin Wayne, Novella Marvette, Regina Carlette, David Ignatius, and Alicia Tyrene. Mrs. Bonds made her living as a switchboard operator at Harry Lundeberg Seamanship School in Piney Point, MD. Later she held various other positions. When her health would no longer allow her to work, she spent her time taking care of her husband, her mother, and grandchildren.

Alice accepted the Lord Jesus Christ as her personal Savior at an early age and was an active member of St. Marks UAME Church in Valley Lee, MD. She held various offices in the church such as Choir member, Assistant Church Secretary, Church Steward, and Sunday School Superintendent to name a few. Most recently, she was named as the Mother of the Church. She was also the Secretary of the Local Sisterhood of St. Marks. Sister Bonds loved the Lord with all of her heart and truly desired to be an example of God's love in all that she did and especially in how she treated others.

Alice, lovingly known as "Bootsie", loved and adored every one of her children, grandchildren, and great-grandchildren. She loved being around children and quickly became mom or grandma to any child who walked into her life. She enjoyed cooking and hosting get-togethers and looked forward to any opportunity to spend time with family. Alice loved spending time on the computer and forwarding emails that she found inspiring, uplifting, or helpful. She loved computer games, and especially Wheel of Fortune and her Connect Four hand held game. She collected figurines and any picture of her children or grandchildren was a welcomed gift and a household decoration.

Alice departed this life peacefully, surrounded by her family on Wednesday, November 18, 2009 at Georgetown University Hospital in Washington, DC.

In addition to Joseph Bonds, her husband of 48 years, she leaves to cherish her memory and carry on her legacy, five children, Kevin (& Charmissa) Biscoe of Stephens City, VA, Novella (& Mark) Anderson of Clinton, MD, Regina (& Bernard) Bonds, David Bonds, and Alicia (& Francis) Bonds all of Lexington Park, MD; 13 grandchildren, Robert, Tasha, Tyrell, Bernard, Jr. (Al-B), Ayesha, Idris, Javonté, Thaddeus, Tynichia, Shanté, Delanté, Nia, and Antonio; 2 great-grandchildren, Amani and Amaya; one sister, the Rev. Phyllis Biscoe and one brother, George (& Rose) Biscoe of Lexington Park, MD; and a host of nieces, nephews, God-children, relatives, and friends.

In addition to her parents, she was preceded in death by one sister, Anita Carlette Biscoe.

Alice will truly be missed by all who knew her. She showed the love of Christ by example and taught us how to put others before ourselves and how to love others unconditionally. Although life will not be the same without her, we know that God is faithful and we will continue to lift up our eyes unto the hills from whence cometh our help. Psalm 121:1.

The family will receive friends on Monday, November 23, 2009 from 11am - 12pm at St. Mark U.A.M.E. Church, 45685 Happyland Road, Valley Lee, MD. A funeral service will follow at 12pm at with the Rev. Dr. Rudy Brooks officiating. Interment will follow in the church cemetery.

Services provided by the Mattingley-Gardiner Funeral Home, P.A.