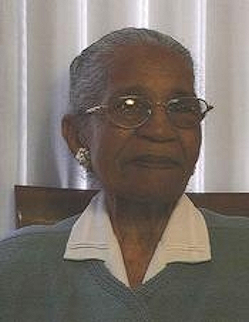 Evelyn Isadore Barbour departed this life for her eternal resting place on Thursday, December 27th, 2012 at Civista Medical Center in La Plata, Md.

Isadore, also fondly called by her family and friends as "Mama Issay" or "Issay" found strength in Psalm 23, which enabled her to endure her illness with strength and dignity. Her unwavering faith and firm belief that "The Lord is my shepherd, there is nothing I shall want," carried her through her sickness, realizing that God would not subject her to more than she could tolerate.

Isadore Barbour was born on September 23rd, 1919 to the late Katie J. Swann and the late Benjamin Lawson. She was married to the late Earl Barbour who preceded her in mortality and was the mother of two daughters Mildred (Millie) Hungerford and Cynthia Swann Marshall.

She attended public schools in Charles County and was employed at the Naval Ordnance Station in Indian Head, MD and retired after many years of dedicated service.

Isadore was a member of Smith Chapel United Methodist Church and served for many years as Treasurer. She was also a member of the United Women of Christian Service and gave untiringly of her time to help the church in many other capacities. She also was the leader of the Senior Stitch and Chat Club in La Plata, MD and enjoyed working with the seniors.

In addition to her work within the church and other organizations, she found time to charter bus trips with Keller Bus Company, often for the Mattawoman Gun Club, to various places, including a trip across country. When time allowed, Isadore often made ceramics, macrame' and painted. She will be fondly remembered as a kind and compassionate person, always ready to help whenever called upon.

Isadore is preceded in death by her mother, Katie J. Swann, father, Benjamin Lawson, husband, Earl Barbour, brother, Clarence Swann, nephews, Charles Swann and nieces, Alice Swann and Virgie Thomas.

Isadore is survived by two loving and devoted daughters, Mildred (Millie) Hungerford (James "Bobby") and Cynthia Swann Marshall (Carlton deceased); nephew, James C. Swann (Mary); four grandchildren, James Hungerford Jr. (Ivy), Rondrell (Delfina), Bryan Marshall (Aliyah) and Tracie Marshall; six great grandchildren, James (Troy) Hungerford, Rondrell, Jr., Bryan, Jr., Marcus and Omar Marshall, and Kyirrha (Anthony) Deep; along with great-great grandchildren, Brianna and Olivia Deep and three sisters-in law Clara Washington, Theresa Swann and Marion Barbour and a host of nephews and nieces and friends.

Her viewing will be held on Wednesday, January 2nd, 4pm until 6pm, prayers of comfort 5:45pm and on Thursday, January 3rd, 10am until time of Service 11am in the Chapel of Thornton Funeral Home, P.A., 3439 Livingston Road, Indian Head, MD. Interment, Smith Chapel United Methodist Church Cemetery, Clinton, MD.

Arrangements provided by Thornton Funeral Home.