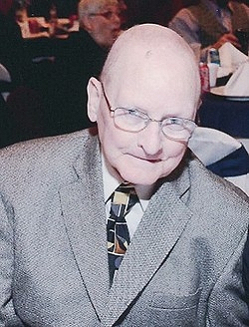 Stephen "Steve" Ignatius Abell, 68, of St. Leonard, MD, formerly from Hollywood, MD, passed away in Prince Frederick, MD on July 19, 2013. Born on September 22, 1944 in Hollywood, MD, he was the son of the late James Dawkins and Mary Violet Dean Abell.

He was the loving husband of Janet Elaine Arnold Abell whom he married on September 2, 1967 in Mt. Morris, MI, and who preceded him in death on May 4, 2008.

Stephen is survived by his son Robert W. Abell of the Eastern Shore, grandson Robby of St. Leonard, MD, 3 great grandsons, and numerous nieces and nephews. He is also survived by his siblings; Michael S. "Stanley" Abell of Hollywood, MD., David C. "PeeWee" Abell of Hollywood, MD., Mary Agnes "Binky" Taylor of Alabama, Catherine V. "Ginny" Arnold of Flint, MI. Steve was preceded in death by brothers; Joseph Bernard Abell, James Thomas Abell, Sr., James Dawkins Abell, Jr., and sister Frances P. "Patsy" Burnette.

Stephen served in the United State Army from July 9, 1965 to January 24, 1967, earning the National Defense Service Medal, Good Conduct Medal, Vietnam Campaign Medal, and Vietnam Service Medal. Stephen also worked at the United States Pentagon, Washington, DC.

He enjoyed walking the boardwalk in Solomon's Island and loved family gatherings.

The family will receive friends on Monday, July 22, 2013 from 5:00 PM- 8:00Pm with prayers recited at 7:00 PM in the Mattingley-Gardiner Funeral Home, Leonardtown, MD., with Father Eamon Dignan officiating. A Funeral Service will be held on Tuesday, July 23, 2013 at 10:00 AM in the Mattingley-Gardiner Funeral Home, Leonardtown, MD with Father Keith Woods officiating. Interment will follow in St. John's Catholic Cemetery, Hollywood, MD. Pallbearers will be; Michael Abell, Allan Abell, J.B. Abell, Don Arnold, Randy Abell, and Robert Abell.

Contributions may be made to Hospice of St. Mary's P.O. Box 625 Leonardtown, MD, and/or St. John's Catholic Church 43927 St. John's Road Hollywood, MD 20636.

Arrangements provided by Mattingley-Gardiner Funeral Home.