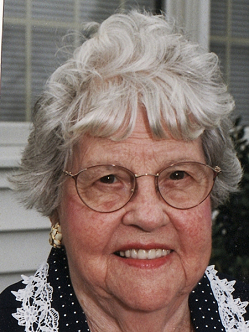 Ella Louise Hemming, 96, of Hollywood, MD died September 22, 2010 in St. Mary's Hospital, Leonardtown, MD surrounded by her family. She was born April 13, 1914 in Clements, Maryland, the daughter of the late Peter Henry Harris and Catherine Eleanora Goldsborough.

Her daughters; Mary Louise Farmer Meekins and Elaine Kelly Martin, both of Hollywood, survive her. She is also survived by her Grandchildren; James Francis Knott, Jr., Joseph Frederick Knott, Rose Dale Yannayon, Anthony Joseph Farmer, Cynthia Marie Norris, Charles Spencer Martin Jr., Jeffery Allen Martin, Robert Anthony Martin, Beverly Ann Dahlstrom all of Hollywood, MD Michael Wayne Farmer of Hughesville, Louis Guy Knott Jr. and David Wayne Knott of Leonardtown, MD. Her Great Grandchildren; Mallory Knott, Bryan Yannayon, John Glen Yannayon, Jeremy Knott, Donald Farmer, Sarah Cabrea, Joshua Holmes, Emily Holmes, Matthew Knott, Mackenzie Meade, Michael Pratt, Jenna Martin, Joseph Martin, Justin Martin, Britt Thorne, Kirk Thorne, Michael Dahlstrom, Matthew Dahlstrom, Skyler Martin and Luke Martin also survive her.

She was preceded in death by her husbands, Clarence Guy Knott, Thomas Edward Quade and Joseph Anthony Hemming, her sons James Francis Knott, Sr. and Louis Guy Knott, Sr., her grandchildren, Matthew David Farmer, Timothy Webster Farmer, Sharon Lee Knott, Valerie Ann Martin, her son-in-laws, Charles Everett Farmer and Charles Spencer Martin, Sr., her sisters, Mary Agnes Wheeler, Ann Grace Farrell, Catherine Eleanora Thompson, Margaret May Quade, Mary Lessie Pilkerton, Amy Lucille Hall Magruder and her brother, William Henry Harris.

Mrs. Hemming graduated from Bayside School in 1930, it was located on Big Chestnut Road in Clements. There were two students that graduated that year, Mrs. Hemming being one of them. The graduation ceremony was held upstairs of Dukes Restaurant in Leonardtown, now known as Café des' Artistes. She was a homemaker all of her life. In her earlier years Mrs. Hemming was a volunteer for the Office on Aging. Mrs. Hemming enjoyed playing bingo, dancing, traveling and playing cards. She had a "green thumb" when it came to growing African Violets. She enjoyed conversing on the telephone and being with her family and many friends. She especially enjoyed her Great-Grandchildren.

Pallbearers will be James Francis Knott, Jr., Joseph Frederick Knott, Michael Wayne Farmer, Anthony Joseph Farmer, Louis Guy Knott Jr., David Wayne Knott, Charles Spencer Martin, Jr., Jeffery Allen Martin, Robert Anthony Martin and Darren Dahlstrom. Honorary pallbearers will be her Great-Grandchildren.

The Family will receive friends on Sunday, September 26, 2010 from 2:00 PM-5:00 PM in St. John's Catholic Church, Hollywood, MD, with prayers being recited at 3:00 PM. A Mass of Christian burial will be celebrated on Monday, September 27, 2010 at 10:00 AM in St. John's Catholic Church, Hollywood, Maryland, with Fr. Raymond Schmidt officiating. Interment will follow in the church cemetery.

In lieu of flowers the family has requested donations be made to the St. John's School Capitol Campaign, 43950 St. John's Road, Hollywood, MD 20636 or the Hollywood Fire Department, P.O. Box 7, Hollywood, MD 20636.

Arrangements provided by the Mattingley-Gardiner Funeral Home, P.A.