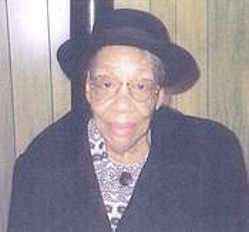 Margaret Luvenia Montgomery, 78, of Pisgah, Maryland departed this life on November 24, 2012 at the Mandrin Inpatient Care Center in Harwood, Maryland. Born on June 21, 1934 to the late George Phillip Spriggs and Margurite Matilda Spriggs.

In addition to her parents, she was preceded in death by her husband, Jerome David Montgomery, devoted friend, George Riley, sister, Alice Montgomery, brothers, George Francis and Henry Slyvester, great granddaughter, Amari Montgomery, brother-in-law, Reginald Montgomery, and sister-in-law, Verla Spriggs.

She was educated in the Charles County Public School System in Maryland. She was employed with Saint Elizabeth Hospital until her retirement.

Luvenia was a person who did not hold her tongue but was a humble and loving person, who was respected by her family and friends. She was definitely a Redskins Fan and loved playing the daily lottery and watching the judge shows.

Luvenia leaves to cherish her loving memory her son, Jerome Foster Montgomery, Sr., grandchildren, Carlton Brown, Jeronda Montgomery, Jerome (Tameka) Montgomery, Jr. and Jamal (Candace) Montgomery, ten great grandchildren; sisters; Roberta (Cecil) Jordan, Evelyn (Thomas) Dashiel, Elizabeth (Jerome) Riley, Eleanor (Darryl) Kitt and Mary Katherine Waugh; brothers; William, John (Faye), Charles Edward (Melon), Robert (Barbara), Harold (Rose) and James; aunt Helen Spriggs and a host of nieces, nephews, cousins, relatives and friends.

Visitation will be held Friday, November 30th from 8 to 10 a.m. at Thornton Funeral Home, P.A. Services will follow at 11 a.m. at St. Catherine's Catholic Church in Mc Conchie, Maryland. Interment, Church Cemetery.

Pallbearers will be Edward Spriggs, Harold Spriggs, John Spriggs and Robert Spriggs, Darryl Kitt, Sr. and Eric Riley.

Arrangements provided by Thornton Funeral Home.