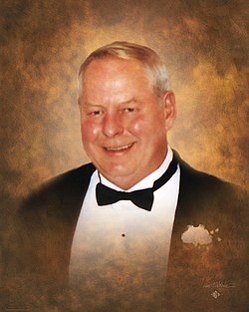 William Garland Wood, Sr., 76, of Oraville, MD, passed away surrounded by his loving family on March 30, 2013 in Oraville, Maryland. Born on March 7, 1937 in Oraville, MD, he was the son of the late George Dewey Wood, Sr., and Thelma Marie Wood.

Garland was the loving husband of Mary Jane Wood, whom he married in Immaculate Conception Catholic Church Mechanicsville, MD on October 5, 1958.

Garland is survived by his children; Bill Wood (Alicia), Wanda Worch (Pete), Mark Wood (Carol), Tim Wood, (Kim), Rita Wood (Danny), Patrick Wood (Lisa), and 11 grandchildren.

He is preceded in death by his siblings; Melvina Hilgers, Cecelia Adams, Dewey, Walter and Mark Wood.

Garland attended Margaret Brent High School. He worked as a butcher for Giant Food Corporation for 42 years retiring in 1997, and he was a lifelong resident of St. Mary's County.

Garland enjoyed playing cards and lotto, eating hard crabs, wood working, being Santa Claus at the Mechanicsville Vol. Fire House for 30 plus years, and most of all spending time with his grandchildren.

The family will receive friends on Wednesday, April 3, 2013 from 5:00 PM – 8:00 PM with prayers recited at 7:00 PM in the Mattingley-Gardiner Funeral Home Chapel, Leonardtown, MD. A Mass of Christian Burial will be celebrated on Thursday, April 4, 2013 at 10:00 AM in Immaculate Conception Catholic Church Mechanicsville, MD with Father Keith Woods officiating. Interment will follow in Queen of Peace Catholic Cemetery Helen, MD. Pallbearers will be; Bill Wood, Mark Wood, Tim Wood, Patrick Wood, Pete Worch, Danny Wood, Billy Wood, and Brian Wood.

Contributions may be made to the Mechanicsville Vol. Fire Department P.O. Box 37 Mechanicsville, MD, and/or Mechanicsville Vol. Rescue Squad P.O. Box 15 Mechanicsville, MD.

Arrangements provided by Mattingley-Gardiner Funeral Home.