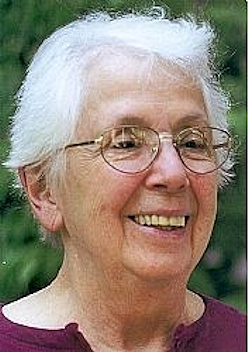 The Rev. Lin Ludy, 88, died April 9, 2011 at her home on Cobb Island, MD. She was preceded in death last November by her beloved husband of 68 years, Bert Ludy. She was born Lindsley Lorene Buck in Sandusky, OH on June 9, 1922.

She graduated from Sandusky High School. Following her graduation from the University of Michigan with a BA in Education in 1942, she married Albert K. Ludy, Jr. For the next 30 years, she accompanied her husband in the U.S. Foreign Service, serving in Tegucigalpa, Honduras, Bogota, Columbia, Turin, Italy, Mexico City, and Singapore, in addition to assignments in Washington, DC. In addition to complementing her husband's diplomatic career by organizing official representational activities in these posts, she was an active volunteer in the church and community. She provided leadership in numerous ecumenical and service organizations, including Church Women United, Cub Scouts, and the Red Cross. She was known for her ability to work with persons of many cultures, races, and social and economic backgrounds.

She attended seminary after her husband's retirement. She earned a Masters of Divinity degree from Howard University School of Divinity and was ordained as a minister in the United Church of Christ in 1980. She ministered for over 20 years as a spiritual director and pastoral counselor, addressing spiritual and psychological problems, both crisis and long-term, with adults of all ages. She was a teacher and leader of retreats and workshops in prayer, contemplation and spiritual formation, and was an associate staff member of the Shalem Institute for Spiritual Formation. She was a liturgical clown, creating and leading clown worship services, as well as bringing laughter and hope to residents of hospitals, nursing homes, orphanages, and schools. With her husband, she led marriage enrichment retreats and founded the United Church of Christ regional PFLAG (Parents and Friends of Lesbians and Gays). She has fought hunger, advocated women's rights, and worked for improved social services on four continents, creatively combining spirituality with social action.

She is survived by children Carl (Tamara Dahn) of Auburn, CA, Lorene (Jean Eden) of Lincoln, NE, Beverlie and David (Katie) and grandson Bryan of Cobb Island, MD, as well as numerous nieces and nephews.

Visitation will be held at Christ Church - Wayside, Newburg, ,MD beginning at 11AM on 6/9/2011. Services will be held at Christ Church - Wayside, Newburg, MD beginning at 11AM on 6/9/2011. A private burial has been requested.

Memorial contributions may be made to Hospice of Charles County, P.O. Box 1703, La Plata, MD 20646; Wayside Food Bank, c/o Bob Petrash, Treasurer, 11722 Wollaston Circle, Swan Point, MD 20645; Shalem Institute, 3025 4th Street, NE, Suite 22, Washington, DC 20017 or the organization of your choice promoting God's love on Earth.

Arrangements provided by Raymond Funeral Service.