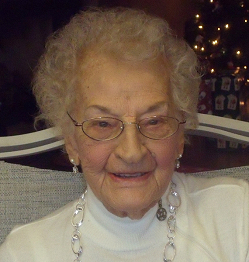 Shirley Margaret Stout, 88, of Solomons, MD passed away on September 15, 2012 in Washington DC. She was born on June 23, 1924 in Baltimore, MD to Henry G. and Marie V. Edgar Stueler.

Shirley or otherwise known as "GG" was an avid swimmer and she enjoyed to participate in water aerobics. She was also a huge Washington Redskins fan, but her biggest hobby and favorite pastime was spending time with her grandchildren and great grandchildren.

Shirley was predeceased by her husband Leon S. Stout.

She is survived by her children Richard Stout (Norma) of Huntingtown, MD, Glenn Stout (Linda) of Prince Frederick, MD, Robert Stout (Tammy) of White Sands, MD, and Mark Stout. She is also survived by her grandchildren Steve(Teresa) Stout of Cobb, GA, Shelly Stout of Kitty Hawk, NC, Marcie (Adam) Morrison of Floyd, VA, Michelle (Tommy) Sacks of Prince Frederick, MD, Douglas (Meghan) Stout of Huntingtown, MD, Lisa (Tom) Sickle of St. Leonard, MD, Kelly (Shawn) Murphy of Charles County, MD, Rebecca (James) Thompson of Lusby, MD, Steven Baltz of Lusby, MD, and Casey, Michael, Tracey, Tammy Stout. She is also survived by her great grandchildren Marina and Sebastian Stout, Madelyn and Joshua Peters, Johanna Morrison, Max and Nicholas Sacks, Emma, Ella, Eva Stout, Brayden and Scott Sickle, Ethan Murphy, Madison, Taylor, and McKinley Thompson.

The family will receive relatives and friends on Thursday September 20, 2012, from 10-11 AM with a funeral service to follow in the Rausch Funeral Home, 4405 Broomes Island Rd., Port Republic, MD 20676.

Arrangements provided by Rausch Funeral Home.