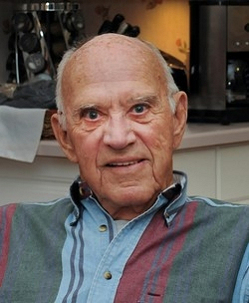 Donald Lee Albaugh, 85, of Port Orange, FL (formerly of St. Mary's) died on August 14, 2013, at his residence. Born April 18, 1928 in Meadville, PA he was the son of the late Valrea (McKay) and Calvin Lee Albaugh.

Donald served his country in the U.S. Marine Corps and the U.S. Army. Subsequent to the end of his military service in 1953, he and Audrey resided in St. Mary's County. It was there that Don and Audrey raised their daughters and Don began his 35 year career with G.M. Wilson Roofing Co. In 1999, after 46 years in St. Mary's, Don and Audrey moved permanently to central Florida.

Aside from the love of his family, Don was loved by many friends because of his terrific sense of humor and interest in the well-being of others. He loved to hike, read, play cards, antiquing and dining out. He couldn't do enough for his daughters…cherishing them and their families always.

He is survived by a large and loving family including his wife of 62 years, Audrey Wilson Albaugh; daughters, Linda Stebbins (Bill) of Enterprise, FL, Ellen Branoff (Rick) of Ormond Beach, FL, and Paige Theriot (Ed) of New Orleans, LA. "Grandpop" was adored by his eight grandchildren and four great grandchildren, Betsy Haley (Paul) and sons, Liam and Nigel of Baltimore, MD, Melissa Stebbins of Maitland, FL; Adam Branoff (Morgan) and daughter, Mae of Charleston, SC; Ben Branoff of San Juan Puerto Rico; Sarah Branoff of Charleston, SC; Dave Schindler (Lola) and son, Landon of San Diego, CA; Kelly Schindler of Washington, DC; and Nathan Schindler of New Orleans, LA. He is also survived by his sister, Phyllis Broms (Will) of Leonardtown, MD and several nieces and nephews.

He was preceded in death by his brother, Daniel C. Albaugh.

Family will receive friends on Tuesday, August 20, 2013 from 5:00 p.m. to 8:00 p.m., with prayers recited at 7 p.m., at the Brinsfield Funeral Home, 22955 Hollywood Road, Leonardtown, MD 20650. A Mass of Christian Burial will be celebrated by Reverend Joseph Calis on Wednesday, August 21, 2013, at 10:00 a.m. in Holy Face Catholic Church, 20408 Point Lookout Road, Great Mills, MD. Interment will follow in the church cemetery.

Memorial contributions may be made to Church of the Epiphany, 201 Lafeyette St., Port Orange, FL 32128.

Arrangements by the Brinsfield Funeral Home, P.A., Leonardtown, MD.