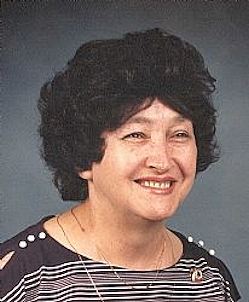 Nellie Ann Witter of Waldorf, MD, died on Wednesday, September 19, 2012 at Johns Hopkins Hospital in Baltimore, MD. She was 84 years old. Born on February 2, 1928 in Litwar, WV, she was the daughter of the late Laura May and Posey Gentry.

She attended and graduated from high school in Norfolk, VA, Class of 1947. She worked for 30 years in the retail industry with the last eight years at the Walmart in La Plata.

A mother and wife, Nellie had an unwavering faith in God. Known for her ease in frequent conversation with even total strangers, some may be surprised to learn of the extreme shyness of her youth. Yet even as a child, she possessed a contagious smile and an entertaining sense of humor. Throughout her life, she maintained a sweet and simple demeanor that won the trust and hearts of many, who even now are being changed by her witness of constant nurturing love and faith. Her signature gift of joy, shown through her constant smiling, laughter, will never be forgotten.

The family is deeply grateful for the outpouring of love, prayers, and support of our angel that lived, laughed, and loved.

In addition to her parents, she was preceded in death by her siblings Roy Gentry, Posey Gentry Jr., Everett Gentry, Walter Gentry, and Emma Wyrick. She is survived by her husband of 62 years, Vernon Everett Witter; her children David Witter, Vernon E. Witter Jr. and his wife Lisa, James L. Witter and his wife Christine; her grandchildren Courtney, Megan, Jeffrey and Abigail; her brother Ray Gentry.

Visitation will be held on Monday, September 24, 2012 from 2PM to 4PM and from 6PM to 8PM at the Raymond Funeral Chapel, 5635 Washington Avenue, La Plata, MD 20646. A funeral service will held on Tuesday, September 25, 2012 beginning at 10AM at the Raymond Funeral Service with Rev. Mark Roberson officiating. Interment will be held at Fort Lincoln Cemetery in Brentwood, MD.

Memorial contributions may be made to the RBC Ministries (formerly Radio Bible Class) C/O Mart De Haan, PO Box 2222, Grand Rapids, MI 49501.

Arrangements provided by Raymond Funeral Service.