Vaughn, William Richey
Birth: 1931-04-23 in Oil City, Pennsylvania
Residence: Port Republic, Maryland
Death: Monday, July 05, 2010
Laid to Rest: Tuesday, July 13, 2010 in the Maryland Veterans Cemetery, Cheltenham, Maryland
Condolences: Click to View or Post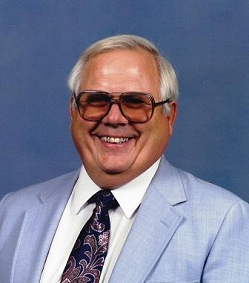 William Richey Vaughn, 79 of Port Republic, died July 5, 2010, at Washington Hospital Center.

He was born on April 23, 1931, in Oil City, PA to Von Verle and Belle Jane Ebersole Vaughn.

The Vaughn family resided in Dunkirk, NY where Billy graduated from Dunkirk High School in June, 1948. He began his college years at Slippery Rock University of Pennsylvania. His higher education was interrupted by his military service in the U.S. Army. He entered the Army in January 1953 and was honorably discharged in January 1955 with a rank of Corporal. Returning to Slippery Rock University, he received his Bachelor of Science in Education in 1955 and later attained his Masters in Education from Indiana University of Pennsylvania in 1963 and his Doctor of Education from West Virginia University in 1975.

He spent his professional life in various field of education and administration serving as Director of the YMCA in New Kensington, PA (1955 -1957), taught in the Kiski Area School System in Vandergrift, PA (1958 - 1964), was the College-Union Director at Shepherd College in Shepherdstown, WV (1964-1972) and was Coordinator of West Virginia University's Graduate Center at West Liberty College, West Liberty, WV (1975-1988). Upon retirement from WVU, Billy worked for Piedmont/U.S. Airways as a customer service agent and briefly substituted for Calvert County Public Schools .

Preceding him in death were his mother Belle, father Von Verle and older brother Verle (Buck) Vaughn of Indianapolis, IN.

He was a member of Patuxent Presbyterian Church in California, MD and enjoyed the fellowship of his Tuesday Morning Bible Study group. He was also a volunteer driver for Meals on Wheels in Calvert County. Billy was an avid supporter of West Virginia University and their athletic teams. He was a member of the West Virginia University Alumni Association and enjoyed building model airplanes.

Billy is survived by his wife, Edna (Jody) Gillis Vaughn and seven daughters: Lynda, wife of Bill Hart, Nashville, TN, Leslie, wife of Mike Byers, Nashville, TN, Pam, wife of Nick Johnson, Fairfield, PA, Paula Kit Vaughn of Huntingdon, WV., Dawn, wife of Ed Campbell, North East, MD, Kelly, wife of Roberto Soave, Kent, England and Tracy, wife of Randy Cononge, McDonough, GA. He also leaves behind six grandchildren, Adam and Aaron Loovis, A.J. Boarman, Sharon Peterson, and Perry and Donovan Cononge. His five great-grandchildren are Seth and Alivia Loovis, Brittani and Brandon Peterson, and Abigail Boarman. Also remaining are several in-laws and nephews and nieces.

Billy will be sadly missed by his wife, Jody, his family and friends and the multitude of individuals whose lives he touched.

Funeral services will be held at the Rausch Funeral Home, P.A. 4405 Broomes Island Road, Port Republic, MD on Tuesday, July 13, 2010. Visitation will be from 11:00 to 12:30 with services to begin at 12:30 PM. Interment will be at Cheltenham Veterans Cemetery in Prince George's County. Family and friends are invited to attend a reception to be held at the Vaughn home at 1713 Ball Road, Port Republic at 5:00 p.m.

Should friends desire, memorial contributions may be made in Billy's memory to Patuxent Presbyterian Church, 23421 Kingston Creek Road, California, MD 20619 to help the food pantries, (SMILE and HOPE) and the Three Oaks Men Shelter.

Arrangements provided by Rausch Funeral Home.