Sanfilippo, Emma Carmela
Birth: 1922-01-12 in Yonkers, New York
Residence: Leonardtown, Maryland
Death: Tuesday, October 26, 2010
Laid to Rest: Friday, November 05, 2010 in the Maryland Veterans Cemetery, Cheltenham, Maryland
Condolences: Click to View or Post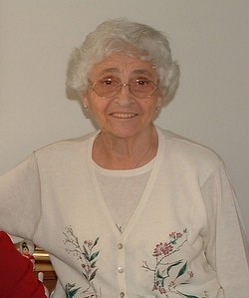 Emma Carmela (D'Ugo) Sanfilippo, 88 of Leonardtown, MD passed away after a long illness on Tuesday, October 26, 2010 at Taylor Farm Assisted Living in Bushwood, MD.

Born in Yonkers, NY on January 12, 1922, she was the daughter of the late Ernesto D'Ugo and Concetta Solitario D'Ugo. Prior to moving to Leonardtown in 2001, Emma had resided in Mt. Vernon, NY, Leominster, MA, Oak Park, MI, and Tuscaloosa, AL.

Emma had attended A. B. Davis High School in Mt. Vernon, NY, where she was a straight "A" Student and also attended Shelton State College in Tuscaloosa, AL. During her years of employment she was a claims investigator for The Travelers Insurance Company.

Emma liked to travel and, with her family, visited many other places in the United States. She also enjoyed foreign travel and through her extensive journeys experienced the sights and cultures of many countries in Europe, North Africa, and Asia. Some of Emma's more notable travel destinations included the Caribbean islands, Hawaii, Mexico, Iceland, Israel, Egypt, and China.

Emma was a devoted wife, mother and homemaker. She was a proficient seamstress and, throughout her lifetime, made outfits, dresses, and coats for her two daughters, shirts for her husband, and evening attire for herself. Her final sewing projects were Holy Communion dresses for her granddaughters, Jessica and Christina, and clothing outfits for her grandsons Danny and Robby.

She had a special relationship with her daughter, Roberta. While the challenges were many, her dedication to Roberta was unparalleled as she made every sacrifice to ensure Roberta was given every opportunity in life. With every achievement that Roberta made, no matter how small or big, Emma was her biggest fan supporting and encouraging her every step of the way.

Another of her pleasures in life was listening to music, particularly instrumental pieces. In that regard, she took great pride in the talents of her daughter, Linda, as she progressed through a myriad of piano lessons and recitals and the musical talents of her grandchildren. She was particularly fond of the time spent with her grandchildren as they often serenaded her with both classical and contemporary pieces. Emma beamed with joy whenever she heard them play music.

She is survived by her loving husband of 58 years, Salvatore G. Sanfilippo, whom she married on October 26, 1952 at St. Francis of Rome Catholic Church, in Bronx, NY, having only met the year before as a member of the Newman Club (Catholic Campus Ministry) at Columbia University.

She is also survived by two daughters, Roberta Emma Sanfilippo of Leonardtown, MD, Linda Maria Miedzinski and her husband Robert, also of Leonardtown, MD, and four grandchildren: Jessica Maria Miedzinski, Christina Lynn Miedzinski, Daniel Francis Miedzinski, and Robert Michael Miedzinski. She was preceded in death by her sister, Amelia "Pearl" D'Ugo.

Family will receive friends for Emma's Life Celebration on Thursday, November 4, 2010 from 5 p.m. to 8 p.m. with prayers recited at 7 p.m. in the Brinsfield Funeral Home, P.A., Leonardtown, MD. A Mass of Christian Burial will be celebrated on Friday, November 5, 2010 at 9 a.m. at St. John Francis Regis Catholic Church, Hollywood, MD with Father Raymond Schmidt officiating. Interment will follow at the Maryland Veterans Cemetery, Cheltenham, MD

Pallbearers will be Daniel Miedzinski (grandson), Robert M. Miedzinski (grandson), Larry Miedzinski, David Miedzinski, Michael Pilkerton, and Daniel Burris.

Contributions may be made to the Hospice House of St. Mary's, P.O. Box 625, Leonardtown, MD 20650 or The Arc of Southern Maryland, P.O. Box 1860, Prince Frederick, MD 20678.

Arrangements provided by Brinsfield Funeral Home.