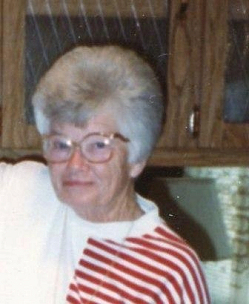 Mrs. Erma Lee McCready Breeden "Rootie", age 89 of Lusby Maryland passed away peacefully on Friday July 6, 2012 at her residence with her family by her side. She was born on January 23, 1923 in Cove Point, MD to Grace Violet Humphreys McCready and John Edward McCready.

She was the loving wife of Jacob Edwin Breeden, Jr. whom she married on January 14, 1941 in Baltimore, MD. Erma was a life long resident of Calvert County, MD. She was always a loving person who was devoted to her family and many friends. All who knew her will miss her deeply.

She was employed by J. C. Lore and Sons Oyster House, Solomons, MD as a Payroll Clerk and also as a Postal Clerk with the U. S. Postal Service, Solomons, MD.

She was preceded in death by her parents; her husband Jacob Edwin Breeden, Jr. who passed away on May 13, 1980; her twin sister Ethel M. Grover and her brothers Edward, Dudley and Berkley McCready.

Erma leaves behind her son, Dale and his wife Mary Breeden of Byram, MS; daughter Patti and her husband Michael Smith of Lusby, MD; three grandchildren, Tracy, Greg and Michaela; five great grandchildren, Zoe, Jacob, Annabeth, Maggie and Bella; sisters, Marie Hardesty, Annie Batchelor, Lynette Ward and Eunice M. Habig; brothers, Donas and Harold Lee McCready.

The family will receive friends on Wednesday, July 11, 2012 from 2:00 – 4:00 PM at the Rausch Funeral Home, P. A., 20 American Lane, Lusby, MD. A service celebrating her life will be held on Thursday, July 12, 2012 at 10 AM in the funeral home chapel with Pastor David Graves officiating. Pallbearers are Greg Breeden, David Hall, Frankie Bowen, Tommy Suit, Michael Shaw and Tommy Zinn. Honorary Pallbearer's are Tommy Bowen and Joe Mister. Interment will follow in the St. Paul United Methodist Cemetery, Lusby, MD.

Due to extreme hot temperatures the family requests in lieu of flowers a memorial donation in Erma's memory to the following: Solomons Volunteer Rescue Squad and Fire Department, 13150 H. G. Trueman Road, P. O. Box 189, Solomons, MD 20688 http://www.svrsfd.org or to St. Leonard Volunteer Fire Department and Rescue Squad, 200 Calvert Beach Road, St. Leonard, Maryland 20685 http://www.slvfd.com.

Arrangements provided by Rausch Funeral Home.