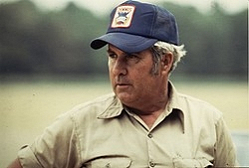 Robert Tyler "Bob" Jarboe, 79, of Leonardtown, MD passed away on his farm outside of Leonardtown Maryland on Sunday March 10, 2013. Born February 27, 1934, he was the son of the late John Claude and Elizabeth Kathryn Tyler Jarboe.

Robert is survived by his wife Liliane Louise Lambrechts Jarboe whom he married on April 12, 1958 in Herentals, Belgium.

He is also survived by his 2 sons, Steven Claude Jarboe and his wife Carol Louise Uttermann Jarboe of Silver Springs, MD and Christopher Andrew Jarboe and his wife Kelly Colleen Smith Jarboe of Leonardtown, MD, 6 Grandchildren Aaron Claude Jarboe, Austin Andrew Jarboe, Andrea Kerr Courtois, Alexis Henri Courtois, Brigid Elizabeth Jarboe, William Matthew Jarboe and 1 Great-Grandchild Spencer Miller.

Robert was a lifelong resident of St. Mary's County and a graduate of Great Mills High School. He served in the United States Air Force in Germany from 1954 - 1958 where he met his wife Liliane. Upon his return to the United States, Robert began his career as a farmer. Robert was active in the Farm Bureau serving as St. Mary's County President for 10 years and serving as President of the Maryland Agricultural Fair Board. Robert also served as a St. Mary's County Commissioner from 1986 - 1994. He then worked for the Maryland Department of Agriculture until his retirement. Robert remained active in the farm community serving as a Supervisor in the St. Mary's County Soil Conservation District. He was a member of the American Legion in Ridge, and enjoyed spending time with friends, working around the farm and working in his garden.

The family will receive friends on Thursday, March 14, 2013 from 5:00PM - 8:00PM in Holy Face Catholic Church Great Mills, MD with prayers recited at 7:00PM. A Mass of Christian Burial will be celebrated on Friday March 15, 2013 at 10:00 AM in Holy Face Catholic Church with Fr. Joseph Calis officiating. Interment will follow in the church cemetery.

Memorial Contributions may be made to little Flower School, 20410 Point Lookout Road, Great Mills, MD 20634 and/or Second District Volunteer Fire Dept. and Rescue Squad P.O. Box 1, Valley Lee, MD 20692.

Arrangements provided by Mattingley-Gardiner Funeral Home.