Spears, Joseph Alexander, Jr.
Birth: 1926-01-28 in Hollywood, Maryland
Residence: Charlotte Hall, Maryland
Death: Thursday, May 06, 2010
Laid to Rest: Friday, May 14, 2010 in the St. John's Catholic Church Cemetery, Hollywood, Maryland
Condolences: Click to View or Post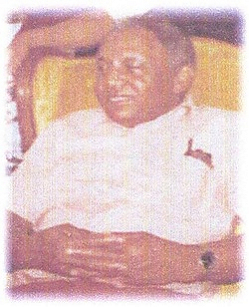 Joseph Alexander Spears, Jr., 84 of Charlotte Hall, MD, known to family and friends as "Joe", peacefully departed this life on May 6, 2010.

Joe was born on January 28, 1926 in Hollywood, MD to the late Idola Marie and Joseph Alexander Spears, Sr.

Joe accepted Christ at an early age and was baptized and became a member of St. John's Catholic Church, Hollywood, MD in 1937.

He was educated in the St. Mary's County school system where he graduated from Banneker High School in Loveville, MD.

Following graduation, Joe began to service his country by joining the United States Navy in 1944. He received an honorable discharge in 1946 and returned home to begin his civilian career by being employed at the local laundry in Leonardtown, MD. While working at the laundry, he met and married his loving and devoted wife of 55 years, Clarice Estelle Whalen, in 1955 and from that union were born two children.

Several years later, he entered into the federal government gaining employment at St. Elizabeth's Hospital in Washington, DC where he retired in1984.

Joe enjoyed playing cards, listening to music, and playing the guitar. His siblings said he even wrote a song which is still being sung today by various artists. He loved baseball, cooking out and telling family stories. He also loved being with his grandchildren. They affectionately called him "Daddy Joe" and he responded back by calling them all "Boy" even if they were a girl.

He is preceded in death by two sisters, Delores Somerville and Margaret Nurse.

He leaves to cherish his loving memory, his wife, Clarice Spears; son, Carlton "Jerry" (Kathy) of Charlotte Hall, MD; daughter, Diane Harris of Waldorf, MD; grandchildren; Monique Ireland of Rhode Island, NY; Delvon Spears of Bryans Road, MD; Tamara Spears of King George, VA; JaVita Spears of Hyattsville, MD; Jamaze Spears of Charlotte Hall, MD; Anastashia and Demetrius Harris of Waldorf, MD; two step-grandchildren: Shaunte Barber of Charlotte Hall, MD and Enga Proctor of Waldorf, MD; great-grandchildren: Ariel Ireland of Rhode Island, NY; Ariyan and Delvon Jr. Spears of Bryans Road, MD; Mikala Barber of Charlotte Hall, MD; and Sheldon Proctor, Jr. of Waldorf, MD.

He also leaves behind three sisters: Blanche Spears, Helena Spears and Marie Thomas, all of Lexington Park, MD; four brothers: Francis "Adolf" of Hollywood, MD; Eugene of Huntingtown, MD; Leroy of Lexington, Park, MD; and Aloyisous Spears, of Prince Frederick, MD; and a host of nieces, nephews, other family and friends.

Family will receive friends on Friday, May 14, 2010 from 10:00 a.m. until 11:00 a.m. in St. John's Catholic Church, 43927 St. John's Road, Hollywood, MD 20636. A Mass of Christian Burial will be celebrated at 11:00 a.m. Interment will follow in the church cemetery.

Arrangements by the Brinsfield Funeral Home, P.A., Leonardtown, MD.