Smoot, Mary Nettie
Birth: 1941-12-25 in Newport, Maryland
Residence: Waldorf, Maryland
Death: Tuesday, November 15, 2011
Laid to Rest: Saturday, November 19, 2011 in the Sacred Heart Catholic Church Cemetery, La Plata, Maryland
Condolences: Click to View or Post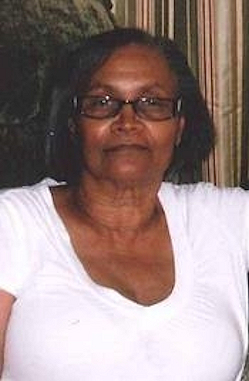 On Tuesday, November 15, 2011, Mary Nettie Smoot, surrounded by her loving and devoted family, quietly entered eternal rest at her residence in Waldorf, MD.

Mary was born on Christmas day, December 25, 1941 in Newport, Maryland to the late James Leo and the late Mary Nettie Dade Knott. She was educated in the school system of Charles County, Maryland and attended Bel Alton High School.

Mary, affectionately known to family and friends as "Barbara," met the love of her life, the late Joseph Louis Smoot while working for the Miles Hotel. They were married and out of this union nine children were born.

She was a loving mother and homemaker who felt her greatest accomplishment in life was raising her children. She was also a fun loving person who enjoyed playing cards, the Maryland lottery, watching horror movies, the Lifetime channel soap operas, gardening and fishing.

Her family will remember her most for the love that she generously gave to them and also for her loyalty, honesty, caring and understanding heart. Her words of wisdom, "treat people the way you want to be treated," will always be remembered as will her faith and trust in God. The time she treasured and spent with her grandchildren will be deeply missed and holiday dinners will never be the same without her.

In addition to her parents and husband, she is also preceded in death by her daughter, Leslie Smoot, and brothers James and John Knott.

Left to cherish many memories are her children Joseph Smoot, Keith Smoot Deborah Dorsey, Janice Scroggins, Kathy Smoot, Andrea Smoot, LaKeych Thompson, and Canice Jackson; grandchildren: Jacqueline Dorsey, Wendell Riley, Wendy Riley, Troy Ford, Roneika Smoot, Brandon Winters, Ashley Farmer, Thomas Farmer Jr., Samantha Smoot, Jordan Smoot, Madison Smoot, Cameron Smoot, Danielle Smoot, Destiny Smoot, Devonte Burruss, Kayla Thompson, Asia Thompson, Da'Mya McNair, Desiree McNair, Rhian Jackson Jr., Nakaya Jackson, Aiyanna Jackson, Kyle Scroggins, Joshua Scroggins, and Nadia Smoot; great grandchildren: Keyonni Riley, Katrell Riley, Isaiah Ingram, Khyriee Riley, Brooklyn Curtis, Erica Bonds, and Eric Bonds, Jr.; sons-in-law: Stanley Scroggins; daughters-in-law: Julie and Leigh Smoot; sisters: Audrey Proctor, Dorothy Ford, Frances Grant, Eva Dorsey, Helen Rosier; brothers: Clayton Knott, Joseph Knott, Daniel Knott; sisters-in-law: Marie Knott and Theresa Lee; brother-in-law: Harrison Grant; aunt: Dorothy Dade and a host of nieces and nephews other relatives and friends.

Her viewing will be held on Saturday, November 19th, 9:30am until Mass of Christian Burial, 10:30am at Sacred Heart Catholic Church, 201 St. Mary's Avenue, La Plata, MD. Interment will be held in the Church Cemetery.

Arrangements entrusted to Thornton Funeral Home, P.A., 3439 Livingston Road, Indian Head, MD.