Foran, Genevieve M.
Birth: 1918-01-14 in Hoisington, Kansas
Residence: Solomons, Maryland
Death: Thursday, April 24, 2014
Laid to Rest: Wednesday, April 30, 2014 in the Immaculate Heart of Mary Catholic Church Cemetery, Lexington Park, Maryland
Condolences: Click to View or Post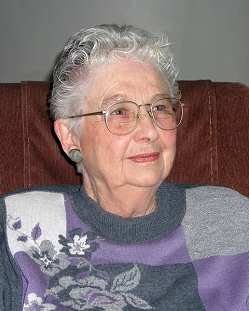 Genevieve M. Foran, 96 of Solomons, MD passed away peacefully at her residence on Thursday, April 24, 2014. She was born January 14, 1918 in Hoisington, Kansas to the late James Russell Murphy and Eleanor Lewis Murphy.  

She was preceded in death by her husband Michael Joseph Foran, Sr. who passed away on November 23, 2003.  She attended Hoisington HS, Hoisington, KS and graduated in 1936. 

She attended Marymount College in Salina Kansas, and received her degree in English and Literature.
 
She moved to Washington DC during WW2 and worked as an administrative assistant for the Department of the Navy. There she met Michael Foran and they were married on May 25, 1944. They had four children: Michael Joseph, Margaret Ann, John Patrick and Kathleen. After the kids were in school, she became a bank teller at Clarendon Bank and Trust in Arlington, VA. She then trained, and obtained her license as a stock broker on the New York Stock Exchange, working for the firm of Auchinclaus, Parker and Redpath. Upon achieving her license the firm sent the graduates to New York City for a tour of the Exchange. Genevieve was one of the first dozen women to ever be allowed on the floor of the Exchange.
 
During her life Genevieve was active in the Catholic Church, Boy Scouts, Girl Scouts, community events and Hospice. She avidly followed the stock market and tracked her investments on her financial webpage right up until her passing. But her primary focus was on her family whom she loved and "mothered" throughout her long life.

She is survived by her four loving children, Michael J. Foran, Jr. of Poconos, PA; John Foran of San Diego, CA; Margaret Ann Chipman of Lawrence, KS and Kathleen Byroads of Mechanicsville, MD; brother, James Murphy of AZ; seven grandchildren and seven great-grandchildren.   

The family will receive friends on Tuesday, April 29, 6-8 PM at the Rausch Funeral Home, P.A., 20 American Lane, Lusby, MD. Mass of Christian burial will be celebrated on Wednesday, April 30, 11:00 AM at Our Lady Star of the Sea Catholic (New) Church, 90 Alexander Lane, Solomons, MD with Monsignor Micheal Wilson officiating. Those surviving as pallbearers are, James Byroads, Jr., Andrew Chipman, Chris Chipman, Bradley Watkins, Michael Foran, Jr. and Michael Cobb. Interment to follow at Immaculate Heart of Mary Catholic Church Cemetery, Lexington Park, MD.

Should friends desire contributions may be made in her memory to Our Lady Star of the Sea Catholic Church, P. O. Box 560, Solomons, MD 20688.

Arrangements provided by Rausch Funeral Home.