Levering, Sarah Elizabeth
Birth: 1929-06-25 in Kinston, North Carolina
Death: Wednesday, December 31, 2014
Laid to Rest: Monday, January 05, 2015 in the Mt. Rest Cemetery, La Plata, Maryland
Condolences: Click to View or Post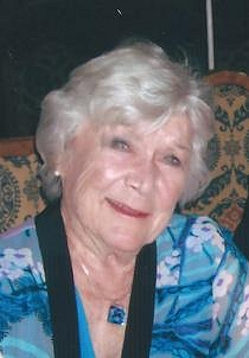 Sarah Elizabeth "Betty" Grainger Levering, passed peacefully on December 31, 2014, surrounded by the love of family and friends and her faith in God. She died at the University of Virginia Transitional Care Hospital, following a stay at Inova Fairfax Hospital since late November for multiple bouts of pneumonia complicated by Pulmonary Arterial Hypertension. Betty was born in Kinston, NC on June 25, 1929, the daughter of James Marion Grainger, Sr. and Elizabeth Wilson Morton Grainger. Her mother later married Dr. Robert R. King following the death of Mr. Grainger.

Betty is preceded in death by her beloved husband of 46 years, Charles Russell Levering (1994), and her brother James Marion Grainger, Jr. and her parents. She is survived by her devoted daughters, Bonnie Rafer (Bruce) and Nancy Hicks (Jody Lucas); grandchildren, Brandy Rafer (David Spaulding), Carrie Rafer Libell (Mark), Christopher Hennen; and great grandchildren, George, Scott and Erik Hennen. Also, she is survived by her loving brother-in-law Richard Levering and his wife Lynn, and nieces Sherrie and Jennie Grainger and nephew Robert Levering and his wife Celeste. In addition, she leaves behind a host of friends from every facet of life, and particularly her special caretakers, Mary Coates and Frank Thomas.

Betty grew up in Louisburg, NC, and recalled a fun life, including playing trumpet in band and playing reveille at Girl Scout Camp. She remained in contact with childhood friends until her death. Betty attended Louisburg College and later classes at the Charles County Community College/CSM.

Betty was an active realtor (Graduate Realtor designation) with Baldus Real Estate from 1986 until the time of her death and a member of the Southern Maryland Board of Realtors. She loved helping people with their housing needs and caring for her clients. Previously, Betty had careers with the Charles County Board of Education as a secretary and media specialist where she thoroughly enjoyed daily interactions with the students and video recording sporting and other events. In the mid 1970's she joined the U.S. Department of Agriculture working in the Information Office directly for the Administrator of the Agricultural Stabilization and Conservation Service.

Betty has been an active member of the Episcopal faith at Christ Church, Port Tobacco Parish, and Christ Church, Old Durham Parish since moving to Maryland from North Carolina 66 years ago following her marriage to Russell. Throughout the years she was involved in Altar Guild, Sunday School, Youth Group, Vacation Bible School, Nursery, Worship and Music Committee, Church Bazaars, Dinners, ECW, and discussion groups such as Loaves and Fishes and Alpha. A highlight of her church activity involved the creation of parish directories during time with both of her church affiliations. She truly appreciated the gifts of God, and her fellow parishioners and especially her recent priests, The Reverend Timothy Johnson of Port Tobacco Parish and The Reverend Molly McCarty, Old Durham Parish.

Betty was a 60-year member of the Charles County Garden Club, known for her long leadership as Bird Chairman, and her chairmanship of the Charles County Bus Tour for the Maryland House and Garden Pilgrimage every three years. She was an early member of the Port Tobacco Players, and enjoyed performing in many theatrical shows and later attending and supporting the group. She was a member of the Society for the Restoration of Port Tobacco, the Historical Society of Charles County and the Daughters of the American Revolution, Halifax Convention, Charlotte, NC.

Betty had a zest for life, greeting each day with renewed joy and delight. She passionately adored her family and enjoyed people, her cozy home, her yard with a huge variety of plants, gardening, floral design, cooking, bridge, tennis, theater, sports, needlework and her beloved wild birds and animals and the array of pets throughout her life, and her dear hunter cat, Clyde. She loved traveling, especially to the beach, and being with friends and family, and staying involved in community activities. She was a staunch advocate for justice and patriotism, and was adamant about staying abreast of the local political issues. Throughout her life, Betty was a true supporter of her family, and delighted in attending events in which her children, grandchildren, and great grandchildren participated. As a spectator, she cheered not only her own family, but their teammates and friends whom she considered her own as well.

Visitation will be at Christ Episcopal Church, Port Tobacco Parish, La Plata, on Sunday, January 4, with prayer opening at 4, followed by visiting until 6. Funeral Services will be at Christ Church, La Plata on Monday, January 5, at 11 a.m., with burial at Mount Rest Cemetery, La Plata.

Memorial donations in Betty's memory are requested to Christ Church, Port Tobacco Parish; Christ Church, Old Durham Parish, or the Charles County Humane Society. Arrangements are by Arehart-Echols Funeral Home, La Plata, Maryland.