Smith, Maxine Delores
Birth: 1913-08-27 in London, Indiana
Residence: Greensboro, North Carolina
Death: Thursday, March 06, 2014
Laid to Rest: Saturday, March 15, 2014 in the Ebenezer Cemetery, Great Mills, Maryland
Condolences: Click to View or Post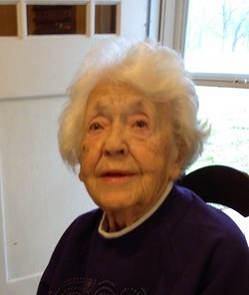 Maxine Delores Smith, 100, of Greensboro, NC died peacefully March 6, 2014. Born August 27, 1913 in London, IN, she is the daughter of the late Earl Hibler and Bertha Johnson Hibler.

On July 6, 1931, Maxine married her late husband, Elmer Daniel Smith. They spent over 65 wonderful years together before his passing.

She spent her childhood years in Zarephath, NJ. Her first years of marriage were spent in Washington, D.C. She and her husband moved to St. Mary's County in the 1940's when the Patuxent River Naval Air Station was opened. She lived in Great Mills, MD, until 2002 when she moved to Missouri to be near her son and daughter. In 2012 she moved to North Carolina so that her Grandchildren could help care for her. She enjoyed gardening, sewing, painting, traveling, and always had plenty of food waiting for guests in her home.

Mrs. Smith taught at the Childcare Center on the base and was very active at the Lexington Park United Methodist Church. She and her husband also enjoyed taking their Grandchildren camping as they grew up and later in life traveling across the U.S. to its many National Parks with the Holiday Ramblers.

Maxine is survived by her daughter, Sandra Black and her husband Ron of Washburn, MO; her grandchildren, Wendy Godwin, Mark Teears, Colleen Coombs, Valerie Reiser, Cindy Teears, Stephen Smith, and David Smith; her great-grandchildren, Adam Winters, Benjamin Tugwell, Amberlyn Bailey, Jeremy and Jessica Reiser, Sarah and Zachariah Cohen, Christy and Jamey Coombs, and Julia Smith; her great great-grandchildren, Ashlyn Ritch, Logan and Adalyn Bailey, Kathryn and Andrew Winters; and her daughter-in-law, Becky Smith.

In addition to her parents and husband, she is preceded in death by her son, Daniel Smith; and her sisters, Opal Conley and Roberta Crowley.

Family will receive friends on Friday, March 14, 2014 from 5 to 8 p.m. at Brinsfield Funeral Home, P.A., 22955 Hollywood Road, Leonardtown, MD 20650. A Funeral Service will be celebrated by Reverend Doug Hays on Saturday, March 15, 2014 at 10:00 a.m. at Lexington Park United Methodist Church, 21760 Great Mills Road, Lexington Park, MD 20653. Interment will follow at Ebenezer Cemetery in Lexington Park, MD.

Serving as pallbearers will be Dale Hoffert, Mark Teears, Marty Godwin, Stephen Smith, Billy Harman, David Smith, Jamey Coombs and Zachariah Cohen.

Memorial contributions may be made to Lexington Park United Methodist Church.

Arrangements provided by the Brinsfield Funeral Home, P.A.