Fenwick, Queenie Elizabeth
Birth: 1948-12-23 in Leonardtown, Maryland
Residence: Lexington Park, Maryland
Death: Tuesday, November 11, 2014
Laid to Rest: Tuesday, November 18, 2014 in the St. James Catholic Cemetery, St. Mary's City, Maryland
Condolences: Click to View or Post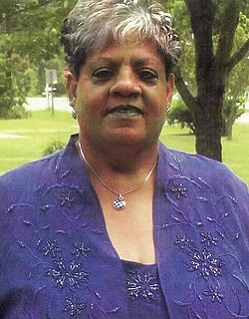 Queenie Elizabeth (Carter) Fenwick, 65, of Lexington Park, MD passed away at her residence on November 11, 2014. Born on December 23, 1948 in Leonardtown, MD, she was the daughter of the late Tresia Elizabeth Biscoe and Henry Eugene Carter.

Queenie was the loving wife of George Emerick Fenwick whom she married on September 15, 1979 in Lexington Park, MD.

Queenie is survived by her children; Marvin A. Fenwick and Karin M. Walcott (Charlie) both of Lexington Park, MD, James A. Smith of Grand Prairie, TX; 11 grandchildren, and 8 great grandchildren. Siblings; Robert E. Carter, Samuel McClane, Larry Brown, and Noda Carroll, sister-in-laws; Agnes Fenwick, Mary Miles, Arlene Carter, Brenda Butler, Alma Sumerville, Phyllis Stevens, Cathy Bush, Audrey Brown, and Linda McClaine; Brother-in-laws; Robert Fenwick, Joseph Fenwick, Philip Fenwick, Charles Fenwick, and special friends John Francis and his wife Annie Carroll.

She was preceded in death by her son Charles E. Carter, and. Ramona Smith, siblings; Mary Margaret Woods, William H. Carter, Horace McClane, daughters in law; Margaret "Peggy" Carroll and Mildren Fenwick, brothers in law; Robert Woods, and Carl Carroll, Sr.

Queenie graduated from S. Mary's County Public School System and attended the College of Southern Maryland. She was a lifelong resident of St. Mary's County, MD.

She worked as a Contract Surveillance Representative for the Navel Facilities Engineering Command Washington Public Works Department Patuxent River, MD for 34 years, retiring on April 11, 2008.

Queenie was a Eucharistic Minister and Lector of St. Cecilia's Catholic Parish, she enjoyed; bingo, yard sales, casino trips, shopping, spending times with family, friends, and special cousin Corrine Mercer.

The family will receive friends on Monday, November 17, 2014 from 5:00 PM – 8:00 PM with prayers recited at 7:00 PM . A visitation will also be held on Tuesday, November 18, 2014 from 10:00 AM- 11:00 AM in St. Cecelia's Catholic Church, St. Mary's City, MD where a Mass of Christian Burial will be celebrated at 11:00 AM with Father Scott Woods officiating. Interment will be follow in St. James Catholic Cemetery, St. Mary's City, MD. Contributions may be made to the Ridge Volunteer Rescue Squad, P.O. Box 456, Ridge, MD 20680.

Arrangements provided by Mattingley-Gardiner Funeral Home.