Porter, June O'Day
Birth: 1939-07-31 in Baltimore, Maryland
Death: Wednesday, April 09, 2014
Laid to Rest: Thursday, April 17, 2014 in the Charles Memorial Gardens, Leonardtown, Maryland
Condolences: Click to View or Post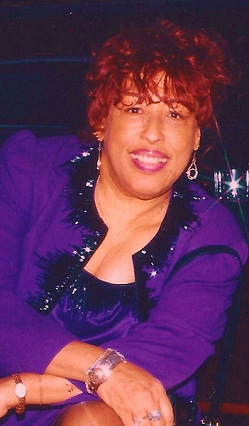 June O'Day Porter was born in Baltimore, Maryland on July 31, 1939. God called June home on Wednesday, April 9, 2014. She was the daughter of the late James and Alberta Bowman.

June received her education from the Baltimore public school system, Dunbar High, and went on to work at Stella Maris Nursing Home and the Kursus Manor House. But her most accomplished job was her loving affection and nurturing nature as a homemaker. She always encouraged her children to do their very best and to be all they wanted to be, for nothing is impossible. She was a very proud mother, a lifetime supporter and cheerleader for her children. She often talked very passionately about the accomplishments of her sons and grandchildren.

June was a very loving and a caring person. June's motherly nurturing spirit was also demonstrated with her siblings. She took them on many outings and assisted them in gaining employment. She cared daily for her paralyzed brother, Alexander Bowman, who she treated as her own child.

During her younger years she had a love for entering contests. She wrote a letter to a T.V. program and won a 3 speed bike, which of course, she and all her siblings enjoyed. She entered her drawing in a contest and won art lessons & art supplies. June was very creative and artistically talented. She passed her talents to many of her children.

She loved to sew and create professionally decorated cakes and cookies. She spent hours creating wedding & birthday cakes for special occasions, free of charge, for family and friends. Her last known desire was to patent and offer for sale a female specialty undergarment, which she created from a need of her own.

June was introduced to Christ at a young age and then on several other occasions she reaffirmed her salvation with her family. She attended church from time to time, but really enjoyed spending time reading the Word of God for herself. She spent many hours on the phone with her sister, sharing scriptures and conversing about Word of God through the Kenneth & Gloria Copeland Ministry. June so enjoyed talking with Gwen, morning, noon, and night; two, three, four times a week. They were inseparable.

June affectionately loved her card ministry that developed from her family, "The Christ Centered" Ministry. June was very faithful in sending out cards for birthdays, graduations, anniversaries, whatever the occasion. If a card was needed, June was faithful to send it out.

She was passionate about dressing in the finest. She loved jewelry, shoes, and having her nails done (mostly by her daughter Dawn), and she loved exquisite hats. She wore them very well, such a beautiful woman inside and out.

She leaves to cherish her precious memory: her loving children, Alvin, William & Phyllis, James & Judy, Paul & Katina, Virgie & Mac, Connie & Kenneth, and Dawn & Michelle; Father of her children: William Al Porter; and a host of other relatives and friends.

She was predeceased in death by her three sons: Rudy, Wayne, and Garry; her sister Mary and her brother Alexander.

Family will unite with friends on Thursday, April 17, 2014 for visitation at 10 am until time of service at 11 am at Mt. Zion United Methodist Church, 27108 Mount Zion Church Road, Mechanicsville, MD. Interment to follow at Charles Memorial Gardens, Leonardtown, MD.

Arrangements by Briscoe-Tonic Funeral Home, Mechanicsville, MD.