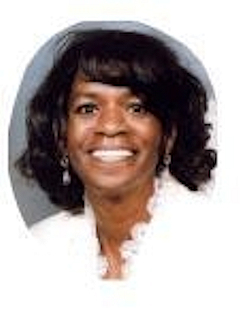 On June 25, 2014 Millicent Frances Thurmon passed away after a very long battle with chronic lung disease. Though Millicent was small in stature, her faith was very strong and her belief in Jehovah helped her carry on. She dedicated herself to Jehovah and was baptized as one of Jehovah's witnesses on August 1, 2009. She was a faithful Witness until her passing and her love for Jehovah was strong.

Millicent was born on September 15, 1946 in St. Mary's County, Maryland, an only child to John Ernest Berry and Elizabeth Berry Harris. Her cousins who she grew up with were Kenneth Price of California, Rose Pope of Washington, D.C., Bernadette Trowell of Washington D.C., Sandra Harris of Washington D.C., Agnes Butler of Oakville, Ann Reid, deceased, Michael King of Oakville MD., Deborah Baker of Oakville (who she called her little sister).

Millicent was educated for 12 years in the Parochial School System and graduated from Cardinal Gibbons Institute. She continued to further her education by attending the Margaret Murray Washington School of Nursing in Washington, D.C. where she was elected class president and graduated with honors.

After classroom education Millicent then became affiliated with Washington Hospital Center, Freedmans Hospital, St. Elizabeth Hospital, Children's Hospital and National Lutheran Home of the Aging for her internships. After completion of internship training, Millicent graduated as a Licensed Practical Nurse. Her first job was at Washington Hospital Center in Washington, D.C. After working for shortly over a year at Washington Hospital Center, Millicent moved back to Maryland and was hired to work at Patuxent Naval Air Station Hospital.

She also performed with the singing group, the Shantells, which included Agnes Butler, Signe Fenwick and Charlotte Fenwick and was invited to perform with recording artist Maxine Brown. Millicent declined to follow her entertainment aspirations to pursue family life upon reuniting with her old friend, Steven Thurmon, of Washington, D.C., who had just finished a tour of duty in Vietnam as a soldier in the United States Army.

Millicent and Steven married in 1968. Of their union, Millicent and Steven and have two daughters, Kimberly and Cynthia.

Millicent continued to work at the Hospital at the Patuxent River Naval Air Station as a Licensed Practical Nurse and a Consultation Coordinator. She retired from the Patuxent River Naval Air Station Hospital in 1997 after 16 years of service.

Over the years, Millicent was a member of various organizations, including the St. Mary's County Hospital Association of the Board of Directors, a member of NAPNES (National Association for Practical Nurse Education Services, Inc.), American Federation of Government Employees, Lexington Park Bowling League National Women's singles and Mixed Doubles, P.T.A. (Parent Teachers Association), Band Boosters Association, Lifetime and the V.F.W. (Veterans of Foreign Wars) Ladies Auxiliary. Her hobbies included reading, singing and crocheting.

Millicent is survived by her husband, Steven Thurmon; two children, Kimberly Stevette Ali of Sicklerville, New Jersey and Cynthia Nichole Thurmon of Washington, D.C. Millicent is also survived by her mother, Elizabeth Harris of Lexington Park, Maryland; her father, John Ernest Berry of Oakville, MD; three aunts, Mary Lee Greenfield, of Landover, MD, Anna King of Oakville, MD and Agnes Price of Hagerstown, MD; two grandchildren, Jameel Steven Ali and Amirah Iman Ali; one son-in-law, Jameel Khataab Ali of Sicklerville, New Jersey and a host of sisters-in-law, brothers-in-law, cousins, family and friends.

Millicent was a very kind and friendly person, who would always greet you with a smile and a "How are you Darling?" Millicent will be remembered for her warm and friendly personality and mesmerizing singing voice.

Family will unite with relatives and friends on Saturday, July 5, 2014 for visitation at 9 am until time of service at 10 am at Kingdom Hall of Jehovah's Witnesses, 20770 Seth Ct., Callaway, MD. Interment will be at Charles Memorial Gardens, Leonardtown, MD.

Arrangements provided by Briscoe-Tonic Funeral Home.