Bennett, Joanne Camilla
Birth: 1933-03-19 in Chicago, Illinois
Residence: Waldorf, Maryland
Death: Friday, July 25, 2014
Laid to Rest: Monday, August 04, 2014 in the Maryland Veterans Cemetery, Cheltenham, Maryland
Condolences: Click to View or Post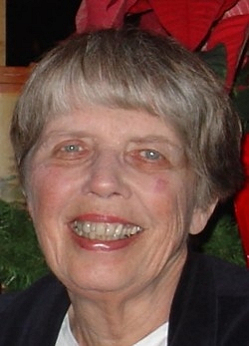 Joanne Camilla Bennett, 81, of Waldorf, MD died July 25, 2014 at the Solomons Nursing Center in Solomons, MD. Born March 19, 1933 in Chicago, Illinois she was the daughter of the late John Reiter and Caroline Klainoski.

Joanne was much loved by her husband, children and grandchildren and will be dearly missed. After raising her five children, she went on to a career as an Administrative Assistant for Robert Price and Associates for another 18 years.

Beyond being a wonderful mother, grandmother and wife, she also was a prolific artist, tatted lace, quilted, crocheted, travelled with Clarke and read extensively. Her many painting and projects adorn all her children's homes

Joanne is survived by her children, Sheryl Pearson (Roger) of Waldorf, MD, Kathy Bennett (Michael Bean) of Callaway, MD, Markus Bennett of Lorane, OR, Matthew Bennett of Austin, TX, and Terry Pearson (Mark) of St. Leonard, MD, and her grandchildren, Kaitlin and Christopher Bean, David and Shannon Pearson and George Workman. In addition to her parents, she was predeceased by her husband, Richard Clarke Bennett.

A Memorial Mass will be held on Monday, August 4, 2014 at 10:00 a.m. at St. John Francis Regis Catholic Church, 43927 St. John's Road, Hollywood, MD 20636. Burial will follow at 2:00 p.m. at the Maryland Veterans Cemetery in Cheltenham, MD.

Arrangements provided by the Brinsfield Funeral Home, P.A., Leonardtown, MD.