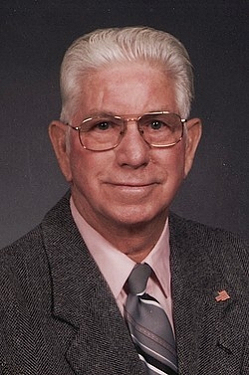 Robert Ignatius "Tootie" Readmond, 79 of Hollywood, MD passed away on July 10, 2014 at his residence surrounding by his loving family. Born September 21, 1934 in Hollywood, MD, he was the son of the late James Leonard and Emma Estelle Wallace Readmond.

Mr. Readmond is survived by his loving wife Margaret Ann Readmond, whom he married on October 18, 1958 in Hollywood, MD, son, David Wayne Readmond of Hollywood, MD, grandsons, Justin Thomas Readmond of Colton's Point, MD and Cory Michael Readmond of Chaptico, MD and great-grandson Shane Anthony Readmond, siblings, Catherine Leona Jones of Bryans Road, MD, Joseph Lee Readmond and William Clyde Readmond both of Hollywood, MD, and Jean Elizabeth Davis, Fort Worth, TX.

In addition to his parents he was preceded in death by his sister Agnes Gynette Ferguson and brothers, James Philip Readmond and John Franklin Readmond.

"Tootie" was a lifelong resident of St. Mary's County, he served in the U.S. Air Force for 8 months before being medically discharged, he worked for SMECO as a Lineman for 36 years retiring in 1994. "Tootie" was a member of the Hollywood Volunteer Fire Department; he enjoyed wood crafting, he was Mr. Fix It, if you needed a helping hand you just needed to call him.

The family will receive friends on Monday, July 14, 2014 from 5:00PM to 8:00PM with prayers at 7:00PM and Firemen prayers at 7:15PM in the Mattingley-Gardiner Funeral Home, Leonardtown, MD. A Mass of Christian burial will be celebrated on Tuesday, July 15, 2014 at 10:00AM in St. Johns Catholic Church with Father Raymond Schmidt officiating. Interment will follow in the church cemetery. Pallbearers will be "Tooties" nephews, Michael Readmond, Timmy Readmond, Jason Readmond, Robert Tippett, Steve Tippett and Russell Greenwell. Honorary pallbearers will be, Hollywood Volunteer Fire Department Members.

Contributions may be made to Hospice of St. Mary's, P.O. Box 625, Leonardtown, MD 20650 and/or Hollywood Volunteer Fire Department, P.O. Box 7, Hollywood, MD 20636.

Arrangements provided by Mattingley-Gardiner Funeral Home.