Bright, Charlotte Eliza
Birth: 1929-03-13 in Island Creek, Maryland
Death: Thursday, May 24, 2012
Laid to Rest: Friday, June 01, 2012 in the Brooks UM Church Cemetery, St. Leonard, Maryland
Condolences: Click to View or Post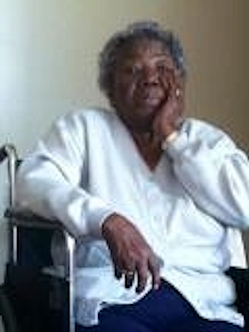 Charlotte Eliza Bright, known to many as "Nanny", was born on March 13, 1929 in Island Creek, MD to the late John Gourley and Carrie Naomi Johnson. She was the second eldest of 11 children. Charlotte departed this life in the early hours of May 24, 2012.

Charlotte was educated in the Calvert County Public School system. As a child, she joined Brooks and continued to serve and fellowship throughout her life. She worked various jobs such as clam shucker, domestic care provider, baker, and a community worker for the public schools.

On April 3, 1948, Charlotte was united in holy matrimony to John W. Bright, Sr. From this union, 12 children were born.

Charlotte was a woman of strong faith and very active in the church. She was a member of various committees, such as Willing Workers, Busy Bees, Floral Club, Helping Hands, United Methodist Women and Communion Stewardess. Charlotte was very passionate about singing, which was evident in her commitment to The Brooks Chorus and The Gospelettes.

Charlotte loved to spend time with her family and especially enjoyed her visits with her sister-in-laws Jean and Mazie. She looked forward to "Bright Nights" which were special times shared on Fridays with her children, grandchildren, great grandchildren, and other neighborhood family and friends. Charlotte would often stay up until 2-3am until everyone went home. She was a mother to many in the community and shared all that she had with those in need.

Charlotte was preceded in death by her parents Gourley and Carrie Johnson, her husband John W. Bright, Sr.; her children John W. Bright, Jr., Alice Barnes, and Johnson "JayBee" Bright; and her siblings Herbert, Edward, Joseph, and John Gourley Johnson, and Aleise Brooks.

She leaves to cherish her memories: two daughters, Sarah Brown and Cynthia Coates (Edward); seven sons, Melvin, James (Katrina), Franklin, Dean (Susan), Don, Howard Sr., and Mark (Renee) Bright; 28 grandchildren, 25 great grandchildren and one great great-grandson; a son-in-law, Donald Lee Barnes; three sisters, Mabel Johnson, Roberta Andrews (Sidney), and Iris Harris (Ford); two brothers, Enoch and Wilson (Marie) Johnson; eight sister-in-laws, Hattie Davis, Mary Buck, Myrtle Bryant, Lucille Thomas, Ellen, Josephine, Sylvia Jean, and Mazie Johnson; two brother-in-laws, Charles Bright and John Brooks; three special friends, Madeline Chase, Edith Mason, and Marian Johnson; and a host of nieces, nephews, cousins, and friends. Special thanks are given to her grandson, Shavenson Jeffrey Johnson, for being her daytime primary caretaker.

Arrangements provided by Sewell Funeral Home.

Visitation:
2:00 pm to 3:00 pm on Friday, June 1, 2012 at Brooks UM Church, 5550 Mackall Road, St. Leonard, MD 20685.

Service:
3:00 pm on Friday, June 1, 2012
Brooks UM Church Cemetery, 5550 Mackall Road, St. Leonard, MD 20685.