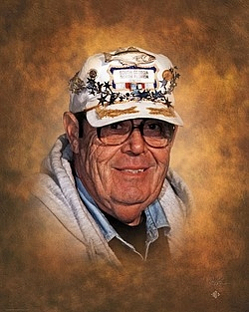 William Bernard (Capt. Bill) Sonntag, quietly passed away at his home on Bayview Drive in Colton's Point, Maryland, on Thursday, December 20, 2012. Capt. Bill passed at his home with his wife Emily Sonntag by his side at the age of 85. Capt. Bill was born to bill and Ruth Crooke Sonntag on September 3, 1927 in Washington, DC. The family resided in Silver Hill, Maryland.

Capt. Bill's younger brother, Arthur and his Mother and Father predeceased him.

Capt. Bill enlisted in the armed Forces during the Second World War, serving as a Mess Cook on Troop ships in the North Atlantic. After the War Capt. Bill, worked briefly at the Washington Navel Yard as a machinist, and went to work for the Smithsonian Institute, eventually working his way up to Chief machinist of the museum.

Capt. Bill met and married Emily Elizabeth Hobday of Berkeley Springs, WV. Capt. Bill and Emily were married on September 15, 1955 in Allentown, MD. Their first home was in Camp strings, Maryland where they raised their four children: Sherry Ann Sonntag-Whorl, Judith Marie Sonntag, William Arthur Sonntag, and Ruth Ann Hayden. The family spent weekends and summers at their home in Colton's Point, MD where Capt. Bill resided full time following his retirement from the Smithsonian.

Capt. Bill loved to duck hunt with his dogs, and fish the waters of the Potomac River. His spare Time was spent crabbing and sport fishing the lakes and farm ponds of St. Mary's County. He and Emily wintered in Sebastian, Florida where they would fish the Indian River lagoon for Trout, and pan fish.

When in Maryland, Capt. Bill would volunteer at the American Legion Hall and the Colton's Point Museum. Later in life, Capt Bill became an avid wood carver of fish, birds, animals, and caricatures, taking many awards at art festivals and state competitions, he took 1st place in state for his carving of a life sized Silver Carp. Capt.

Bill is survived by his wife Emily, their four children, Sherry, Judy, Billy, and Ruth, 14 grand children, and 6 great grandchildren.

The family will receive friends on Sunday, December 23, 20120 from 2:00 Pm – 5:00 Pm with prayers recited at 3:00 Pm in the Mattingley-Gardiner Funeral Home Leonardtown, MD. A Funeral Service will be held on Monday, December 24, 2012 at 10:00 AM in the Mattingley-Gardiner Funeral Home Chapel with Father Michael Tietjen officiating. Interment will follow in Charles Memorial Gardens, Leonardtown, MD. Pallbearers will be: Billy Hayden, III, Daniel Hayden, Stephen Sonntag, Joshua Sonntag, John Raley, and Dean Jones.

Contributions may be made to Chesapeake Bay Foundation Att: Membership Department 6 Herndon Ave Annapolis, MD 21403, and/or St. John Catholic Parish 43950 St. John 's road Hollywood, MD 20636.

Arrangements provided by Mattingley-Gardiner Funeral Home.