Moulton, Mary Pashkevich
Birth: 1923-12-25 in Johnstown, Pennsylvania
Residence: Waldorf, Maryland
Death: Friday, May 27, 2011
Laid to Rest: Monday, June 06, 2011 in the St. Paulís Episcopal Piney Church Cemetery, Waldorf, Maryland
Condolences: Click to View or Post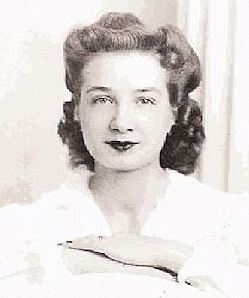 Mary Pashkevich Moulton, 87, of Waldorf, MD, died May 27, 2011, at her residence.

Mrs. Moulton was a Budget Officer with the Department of Health, Education and Welfare. She was a member of Camp Springs Polka Dancers, Spice of Life Dance Club and the Gray Panthers. She enjoyed doing needlework, including sewing, knitting, crocheting, and playing music including the mandolin, viola and stand-up base. She was of the Episcopal faith and a member of St. Paulís Episcopal Church Piney Parish in Waldorf, MD.

Born December 25, 1923, in Johnstown, PA, she was the daughter of the late Anna Petraniuk and the late Constantine Pashkevich.

Predeceased by her parents; her husband of 46 years, Clarence Moulton; brother, Michael Pashkevich.

Survived by her son Henry ďHankĒ T. Moulton and his wife Linda Mattingly Moulton; daughter, Peggy Moulton-Abbott and her husband Tom Abbott; brothers, Paul Pashkevich and his wife Olga, Tony Pashkevich and his wife Betty; sister-in-law, Mary Pashkevich; four grandchildren, Cheryl Moulton, Julie Moulton Scott, Tommy Abbott and Steven Abbott; great-grandchild, Kaelyn Abbott.

Visitation will be Sunday, June 5, 2011, from 5PM to 8PM at Raymond Funeral Chapel La Plata, MD. Funeral Service will be Monday, June 6, 2011, beginning at 10:30AM at St. Paulís Episcopal Church, Piney Parish, Waldorf, MD. The Reverend Dr. Joy Rose, TSFF will officiate. Interment will be at the Church Cemetery.

Memorial contributions may be made to EVMS Foundation Mary Moulton Memorial Fund, P. O. Box 5, Norfolk, VA 23501 or to Oral Cancer Foundation in Memory of Mary Moulton, 3419 Via Lido, #205, Newport Beach, CA 92663.

Arrangements provided by Raymond Funeral Service.