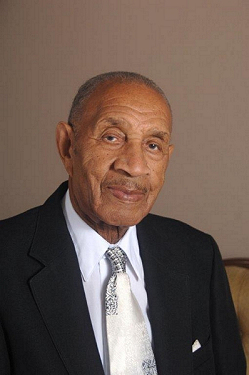 In the early morning of Wednesday, June 5, 2013, God called from labor to reward our beloved Mazerine Wingate, 102 of Lexington Park, Maryland. Mazerine was born on September 20, 1910 in Lamar, South Carolina to the late Marshall and Rosa Wingate. He was the great-grandson of slaves and his father was a sharecropper. He was affectionately called "Buddy" by his parents and his eight siblings; and "Daddy", "Grandfather" and "Uncle" by his family.

After completing the sixth grade, Mazerine left school to work on his father's farm. At the age of 18, he made a personal pledge to no longer work in the fields, but remain committed to a strong work ethic.Over the years, he had various jobs including building roads during the Great Depression and working in maintenance for Duke University. Relocating to Maryland, he worked for various businesses before joining the Lexington Park Post Office where he worked for more than 40 years, up until the age of 101.

Family has always been the centerpiece of Mazerine's life. He was married to the late Anna Dixon in 1932. From this union two children were born; a son, the late Willie Marshall and a daughter, Beatrice.

Mazerine joined the First Baptist Church (now the First Missionary Baptist Church) over 60 years ago, under the leadership of the late Rev. Alfred Chambers. He served faithfully under the administration of the late Rev. Alfred Bannister and continued with Rev. Roderick McClanahan, as a Deacon of the Church. Mazerine loved God and often said his love of God took him everywhere he wanted to go. Mazerine has seen it all. He lived to see both the effects of segregation and the election of President Barack Obama, along with the election of 17 other presidents and two World Wars.

Mazerine was our precious gift and God's unique offering to be shared as the template for being an ideal human being. Humble in his approach, but rich in words and deeds, Mazerine was a pillar of a person. We are so grateful for answered prayers.

When asked what was his secret to a successful life…"Eating and being nice to people everyday…yes, everyday."

Mazerine was preceded in death by his wife of 72 years, Anna; his son, Willie Marshall; two grandchildren, Willie Marshall, Jr. and Deborah; one great-grandchild, Jarmal; and eight siblings.

He leaves to cherish fond memories his daughter, Beatrice Wingate Ellis of Lexington Park, MD; daughter-in-law, Jerail Wingate of Durham, NC; nine granddaughters, Marcia Lynn Wingate, Cynthia Jackson, Mavis Wilson (Hal), Mary Anna Wingate, SharonEllis-Jones (Louis), Joyce Steele (Sidney), Angela Ellis, Chandra Ewell (Roi) and Adrienne Ellis; great-grandchildren, Chifonda Wingate, Shay Wingate, Renee Townsend, Michael Blair, Christian Ellis, Aleia Wilson and Joshua Wilson; great-great grandchildren Christopher Sweet, Telah Wingate, Noah Lytle, Taia Lytle, Corin Wingate, Masiah Wardlow, Jarmil Wingate and Kaiden Ellis; and a host of nieces and nephews.

Family will unite with friends on Thursday, June 13, 2013 for visitation at 10:00 am until time of service at 11:30 am at First Missionary Baptist Church, 46370 Pegg Lane, Lexington Park, MD. Interment will be at First Missionary Baptist Church cemetery located at 21075 Hermanville Road, Lexington Park, MD.

Arrangements by Briscoe-Tonic Funeral Home, Mechanicsville, MD.