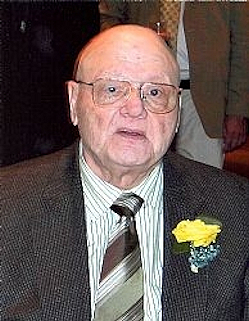 Salvatore Nicolo Chiriaco of La Plata, MD died on Wednesday, November 28, 2012 at his residence w/Hospice. He was 79 years old.

Mr. Chiriaco was born in Franklin, NJ and resided in Charles County, MD for the last 40 years. He was raised Catholic and attended Grace Lutheran Church in La Plata, MD and was a member of the American Legion, Knights of Columbus, and Veterans of Foreign Wars. He enlisted in the Navy in 1951, was married on October 4, 1958, and worked at Picatinny Arsenal and then transferred to Explosive Ordnance Division at Stumpneck in Indian Head, MD in 1973.

He also worked at many part-time positions over the years including security, tree removal, and two years as the District Court Commissioner in Charles County. A few other favorites included Jollys Pizza, MSI, and True Value. He enjoyed landscaping, decorating for the holidays, coached for the La Plata Blue Knights football, and was an avid football fan.

Son of the late Amerigo F. Chiriaco and the late Mary Nicoletti Chiriaco. Predeceased by his parents; one late brother, Amerigo Chiriaco; and one late sister, Lucy Milazzo.

Survived by his wife of 54 years, Beverly Howell Chiriaco; two daughters, Linda Goodman of La Plata, MD and Tracey Dennison of La Plata, MD; two sons, James (Christina) Chiriaco of Arlington, VA and Paul (Michelle) Chiriaco of La Plata, MD; 10 grandchildren, Tara (Nicholas) Larkin, Nicholas (Greta) Goodman, Maggie (John) Murgia, Samantha Chiriaco, James Chiriaco II, Stephen Chiriaco, Thomas Dennison, Patrick Dennison, Douglas Dennison, and Anna Canter; one great- granddaughter, Aurora Larkin; one brother, Francis (Rosemary) Chiriaco of Bloomingdale, NJ; and two sisters, Marietta and Yolanda. Also survived by seven nieces and nephews.

Memorial Service: Sunday, December 2, 2012 at 4PM at Grace Lutheran Church (1200 Charles Street, La Plata, MD 20646). Clergy: Rev. Charles Long. Interment: Friday, December 7, 2012 at 11AM at MD Veterans Cemetery in Cheltenham, MD.

Memorial contributions may be made to Charles County Rescue Squad Company 51 (2 Calvert Street, La Plata, MD 20646) OR Grace Lutheran Church Food/Fish Pantry (1200 Charles Street, La Plata, MD 20646).

Arrangements provided by Raymond Funeral Service.