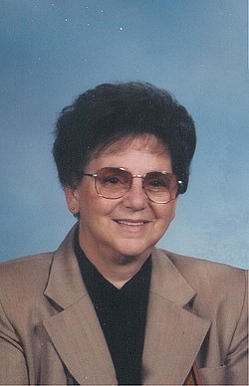 Joan E. Jaje was born Joan E. Ganzert April 2, 1937 in Washington, D.C. She took her leave of us peacefully at home in the presence of her family late in the evening of September 29, 2013.

She resided in St. Inigoes, Maryland for some 28 years after previously living in Kennewick, Washington and Bowie, Maryland. She grew up in the La Plata and Waldorf areas where she attended high school.

On February 8, 1975 Joan married Thaddeus (Ted) Jaje at St. Mary Catholic Church in Landover Hills, Maryland.

Besides being a wonderful, loving, self-sacrificing mom and wife who took care of her family and home, she had a productive career in bookkeeping and office management, fulfilling her love of working with numbers and figures, and people. She held numerous positions in the workplace, which included employment at Sperry-Univac in Washington DC, Sperry NASCOM Goddard Space Flight Center support in Landover Hills, Social Services in Leonardtown, St. Mary's College in St. Mary's City, and at Breton Bay Financial Services.

Early in her life Joan volunteered as a Girl Scout leader. As a member of St. Cecilia's Parish, she was part of the choir, chair of the Hospitality Committee, and helped in the upkeep of the church.

Joan had a love for animals, flowers and gardening, and seeing the sunrise and sunset. At times she had done a bit of painting and drawing. She enjoyed cooking, 50s music, listening to and watching mystery stories. Unpretentious, being kind, helpful, open, honest and sincere were traits for which she was admired and respected. Strong in her faith Joan has faced the critical moments in her life with an undaunted resolve to make the best of everything and not give up. Her sense of humor and loving heart endeared her to those who met her. She left a lasting impression.

Her mom was Geraldine Frances Gregory, her dad Joseph Anthony Ganzert, both deceased.

Keeping her close to their heart are her husband Ted and their children: Darby Lee McNeill (wife Elaine) of Gambrills, MD, Deborah (Debi) Joan Clark (husband Joseph) of Bowie, MD, Dorrine (Dody) Francis McNeill (deceased), Donna Jean Burriss (husband Thomas) of Glenburnie, MD, Matthew (Matt) John Jaje (wife Jennifer) of Wilmington, DE, as well as seven grandchildren and nine great grandchildren, sisters Penny Marselle (husband John, deceased) of Albuquerque, NM and June Lowery (husband Lon) of Chapin, SC, nephew Sonny, niece Sherri (deceased), sister-in-law Mary Jaje (husband Stan, deceased) of Fruitland Park, FL, nephews John and Mike, nieces Chrissie and Terri (husband Mark McClendon, children Jessica, JB, and Hunter).

Fr. Scott Woods will celebrate Mass for Joan at 10:00 AM on Saturday October 5, 2013 at St. Cecilia Parish Church. Prior to Mass from 9:00 - 10:00 AM friends, neighbors, acquaintances may arrive to bid her farewell. Following Mass Joan will make her final earthly journey to Immaculate Heart of Mary Church Cemetery in Lexington Park, MD.

If anyone so wishes, in lieu of flowers, you may make a donation directly to Hospice of St. Mary's, P.O. Box 625, Leonardtown, Maryland 20650, or Ridge Volunteer Rescue Squad, 16515 Three Notch Rd, P.O. Box 456, Ridge, MD 20680, or St. Cecilia Parish, 47950 Mattapany Rd., St. Mary's City, MD 20686 (301-862-4600). Please make known to them the thoughtful reason for your gift.

Arrangements provided by Mattingley-Gardiner Funeral Home.