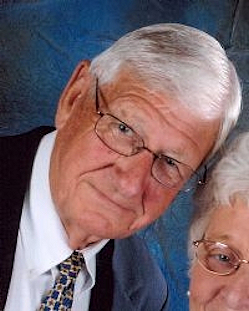 Claude Preston Williams of Waldorf, MD died on Monday, October 15, 2012 at his residence w/Hospice. he was 78 years old.

Mr. Williams was a Retired Master Sgt. with the United States Air Force where he received the Bronze Star, two Meritorious Service Medals, the Air Force Presidential Unit Citation, the Republic of Vietnam Campaign medal, two Vietnamese Service medals, and two National Defense medals. He was stationed in Thailand during the Vietnam War along with numerous duty stations around the world.

He was also a member and Deacon of Trinity Baptist Church in Waldorf, MD. He also worked at the Government Printing Office (GPO) in Washington, DC for 19 years. He loved the Washington Nationals baseball team, the Washington Redskins football team, and loved to travel, but loved nothing more than being at home surrounded by his family.

Son of the late Charlie Preston Williams and the late Marie Wacaser Williams.

Predeceased by his parents; his mother-in-law, Susan L. Jones; and a sister-in-law, Frances Jones Edwards.

Survived by his wife of 54 years, Billie Jean Williams; one son, Michael Preston (Mary) Williams of Salisbury, MD; two daughters, Janelle Susanne Williams of Waldorf, MD and Pamela Marie Flores of Waldorf, MD; two sisters, Laverne Belk of Danielsville, GA and Shirley Eubanks of Douglasville, GA. Also survived by six grandchildren, Gregory Sean (Lauren) Maxwell, Rebecca Jean Williams, Lizette Flores, Matthew Preston Williams, Ryan Christopher Heroux, and Alexa Jean Flores and seven great-grandchildren, Paige Maxwell, Mykenzie Maxwell, Nina Williams, Owen Maxwell, Hadleigh Maxwell, Amiyah Ocasio, and Grady Maxwell.

Visitation: Sunday, October 21, 2012 from 5-8PM at Raymond Funeral Chapel (5635 Washington Avenue, La Plata, MD 20646) and also Monday, October 22, 2012 from 11AM-12PM at Trinity Baptist Church (2671 Mattawoman-Beantown Road, Waldorf, MD 20601). Funeral Service: Monday, October 22, 2012 at 12PM at Trinity Baptist Church. Clergy: Rev. John Ferris. Pallbearers: Sean Maxwell, Matthew Williams, Ryan Heroux, Mark Belk, Mark Edwards, and Biff Bramblett. Interment: At a later date at Arlington National Cemetery.

Memorial contributions may be made to Hospice of Charles County (2505 Davis Road, Waldorf, MD 20603).

Arrangements provided by Raymond Funeral Service.