Fawley, Dorman Walton, Jr.
Birth: 1927-02-25 in Broadway, Virginia
Residence: Lusby, Maryland
Death: Thursday, January 12, 2012
Condolences: Click to View or Post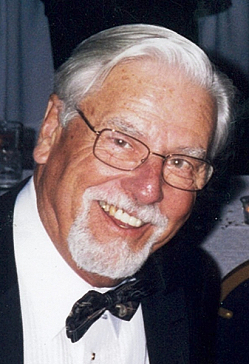 Dr. Dorman Walton (DW) Fawley, Jr., 84, of Lusby, Maryland died on Saturday, January 12, 2012 from complications of a stroke. Dr. Fawley was born February 25, 1927 in Broadway, Virginia. He was the son of the late Dorman W. Fawley and Edna Cale Fawley.

He was preceded in death by his brothers, John and Thomas Fawley and sisters, Dorothy Dellinger and Romona Curtis.

He is survived by one sister, Jean Davies of Washington, DC, his beloved wife of 34 years, Marilyn Greer Fawley, three children from a previous marriage, Dorman Walton Fawley, III of Cincinnati, OH, Tana Fawley Leasure of Vienna, VA, and Ellen Fawley Tolbert of Lewes, DE and two step-daughters, Susan Greer O'Connell of Virginia Beach, VA, and Janet Greer Schroeder of New York City and 7 grandchildren.

After graduating from Broadway High School, Dr. Fawley joined the military and attended Naval Flight School in Pensacola, FL and Corpus Christi, TX. After the War, he returned to Virginia where he attended Madison College for his undergraduate degree. In 1953 he earned his doctorate in Dentistry from the Medical College of Virginia in Richmond. He practiced in Arlington, VA for 36 years, where he was active in the Kiwanis Club, Northern Virginia Dental Society and Ducks Unlimited.

His love of the Chesapeake Bay brought him to Lusby, MD, where he later retired and lived for over 25 years. Dr. Fawley was an avid outdoors man, who enjoyed fishing, duck hunting, snow skiing and golf. He could often be seen captaining his beloved boat "The Maridee" around the bay. He will be greatly missed by his family and friends.

A memorial service will be held at 1:00 PM on Friday, January 20, 2012 at the Solomons United Methodist Church at 14454 Solomons Island Road South, Solomons, MD 20688. In lieu of flowers memorial donations may be made to the St. Leonard Volunteer Fire Department & Rescue Squad, www.slvfd.org, 200 Calvert Beach Road, St. Leonard, MD 20685.

Arrangements provided by Rausch Funeral Home, P.A., Lusby, MD.