Demko, June Marie
Birth: 1936-08-11 in Washington, DC
Death: Friday, February 18, 2011
Laid to Rest: Tuesday, February 22, 2011 in the National Slovak Cemetery
Condolences: Click to View or Post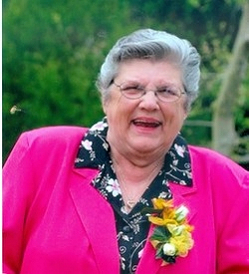 June Marie Demko, passed away on February 18, 2011 at her residence. Born August 11, 1936 in Washington, DC, she was the daughter of the late Mary Louise Zidek (Sharrow) Newton and Harvey Theodore Sharrow. In 1942, she and her family relocated to St. Mary's County, Maryland where she attended St. Michael's School.

In 1952, June married John Demko, and they lived together in Dameron, MD celebrating over 58 happy years of marriage.

She was a homemaker who enjoyed spending time with family and friends, cooking, camping, and listening to country music. In healthier times, June cherished card nights with friends, lunches with "the girls," and quilting. She was sincere in her faith and comforted by her belief in God.

June was predeceased by her son, John Robert "Bobby" Demko (Barbara), her parents, and her siblings: Theodore Sharrow (Susie) formerly of Boston, MS; Shirley Covey (JJ) formerly of Bells, TX; Catherine Schmucker (Jim) formerly of Lexington Park, MD; and William "Billy" Sharrow formerly of Lexington Park, MD.

She is survived by her loving husband, daughter Debra Drury (Joe), son Jimmy Demko (Rosalie), daughter Diane Burr (Scott), daughter Dawn Demko, brother John Sharrow (Susan) of Chevy Chase, MD, and sister Mary Frances Schmalgemeyer (Sherman) of Hollywood, MD. Additionally, she is survived by grandchildren Jeff Drury (Davena), Wesley Demko, Thomas Burr, and Sara Burr and great granddaughter Ciearra Drury.

Pallbearers will be Joseph Drury, Scott Burr, Jeff Drury, Wes Demko, Charles "Chuck" Schmalgemeyer, and Buddy Schuh.

Family will receive friends on Monday, February 21, 2011 from 5 p.m. to 8 p.m. with prayers recited at 7 p.m. in St. Cecilia's Catholic Church. A Mass of Christian burial will be celebrated on Tuesday, February 22, 2011 at 10 a.m. with Father Scott Woods officiating. Interment will follow in National Slovak Cemetery.

In lieu of flowers, memorial contributions may be made to Hospice of St. Mary's, Inc., P.O. Box 625, Leonardtown, MD and/or Ridge Volunteer Rescue Squad, P.O. Box 456, Ridge, MD 20680 or Ridge Volunteer Fire Department, P.O. Box 520, ridge, MD 20680.

Arrangements provided by the Brinsfield Funeral Home, P.A., Leonardtown, MD.