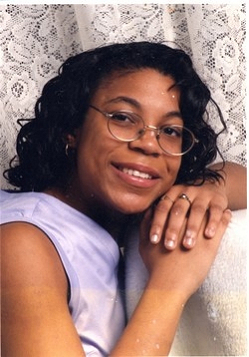 Moneta Jo Strickland, 32 of Mechanicsville, MD died August 9, 2013 in Mechanicsville, MD.

Born December 21, 1980 in Washington, D.C., she is the daughter of Thelma J. Strickland of Mechanicsville, MD and the late Reubin Strickland.

Moneta began travelling with her parents at the age of three, beginning with the Philippines and then to California. In 1992, she returned to St. Mary's County attending Leonardtown Middle School, Leonardtown High School and Dr. James Forrest Technical Center. She is a 1998 graduate of Leonardtown High School.

Moneta graduated from Shenandoah University with a Degree in Biological Science in 2006. In 2008, she earned her Master's Degree in Public Heath from Walden University. In 2011, she graduated from Montgomery College School of Nursing as a Registered Nurse. She was currently employed by MedStar St. Mary's Hospital as a Registered Nurse in the Telemetry Unity. She was loved by all her co-workers and patients.

She was also a consultant for Tastefully Simple. Moneta was a member of the St. Joseph's Ladies of Sodality. Moneta was an avid runner, beginning when she was in elementary school. She has run several races, including in Baltimore and most recently a 10K in Washington, D.C., "The Biggest Loser." She also enjoyed hiking and biking. She was a wine connoisseur. She and her fiancé enjoyed travelling to many vineyards, including New York, Georgia and Missouri. Her favorite vineyards were in Virginia.

Moneta is survived by her mother and siblings, James Todd Holt of Hollywood, MD; Camisha Strickland of Bushwood, MD and Joseph Strickland of Magnolia, MS; her aunts and uncles, Joan Jordan, Rose Water, Lawrence Jordan (Darlene ); James Gregory (Jacqualyn) Jordan, Michael (Christine) Jordan; her fiancé, Henson Rara of California, MD; and a host of cousins, family and friends.

She is preceded in death by her father.

Family will receive friends for Moneta's Life Celebration on Thursday, August15, 2013 from 5 to 8 p.m., with prayers recited by Deacon Somerville at 7 p.m., at the Brinsfield Funeral Home, 22955 Hollywood Road, Leonardtown, MD 20650. A Mass of Christian Burial will be celebrated by Reverend Keith Woods and Monsignor Mike Wilson on Friday, August 16, 2013 at 10:00 a.m. at St. Joseph's Catholic Church in Morganza, MD. Interment will follow at Queen of Peace Cemetery in Helen, MD.

Serving as pallbearers will be Josh Trossbach, Phillip Barnes, Joseph Barnes, Jr., Preston Tyer Jr., Mark Fleming, Michael Jordan, Jr., Lawrence Jordan Jr., and Kendall Holt.

Memorial contributions may be made to Hospice House of St. Mary's, P.O. Box 625, Leonardtown, MD 20650.

Arrangements by the Brinsfield Funeral Home, P.A., Leonardtown, MD.