Smith, Helen Louise
Birth: 1914-04-20 in Cheverly, Maryland
Residence: St. Mary's County, Maryland
Death: Friday, July 09, 2010
Laid to Rest: Monday, July 12, 2010 in the Fort Lincoln Cemetery, Brentwood, Maryland
Condolences: Click to View or Post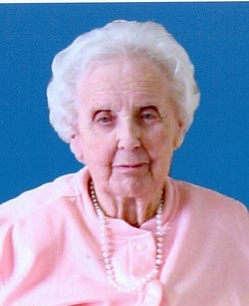 She was born April 20, 1914 to the late John H. and Sarah J. Frohlich.

She was predeceased by her husband Samuel W. Smith in 1962.

Helen was the oldest and last surviving child of the union of John and Sarah, she was predeceased by her brothers John and Roy Frohlich and her sisters Mary Gasch and Ruth Alsop and step brother Joseph Farr and step sisters Edna and Clara. They were all born and raised on the family farm in Cheverly, Maryland, now the home of the Pepsi Cola Plant off the BWI Parkway in Prince Georges County, Maryland.

She married Samuel Smith in August of 1931 and had two sons, John Charles and Samuel W. Smith, Jr. She stayed home and raised the boys and took care of her father John, who was very ill and helped her sisters and their families when needed. Once the boys were grown and married, she lost the love of her life to a sudden heart attack. Sam passed away suddenly in October of 1962.

Helen was not one to be kept down. Eventually, she gathered her strength and carried on. She moved to a small house in Bladensburg, went to work for the Board of Education of Prince Georges County doing something she absolutely loved, cooking, in the school cafeterias. Helen worked in various schools throughout her career, Margaret Brent Elementary and Greenbelt Elementary were just two that come to mind. She loved all of the children. While working in the cafeteria system, she met many wonderful friends, one of which was Mary Hartley. Mary and Helen became the best of friends, both were widowed. They joined a Duck Pin Bowling League and enjoyed that sport and each other's friendship for many long years.
Helen joined the Bladensburg Volunteer Fire Department Ladies Auxiliary at the request of her youngest sister, Mary. She volunteered numerous hours to that organization, in the kitchen upstairs, including bingo nights and wedding receptions. Helen was a lifetime member.

She was also a member of the Decauter Heights Community Club for many years.
The "Frohlich" girls were always close. Many happy holidays and special occasions were spent with Helen, Mary and Ruth and their sons' and their families. All of the girls loved to cook and host parties for their families.

Helen was a faithful servant to her Lord, and attended church regularly. The First Baptist Church of Bladensburg, with the Reverend Woodring was where she attended the longest.

During the most recent years, she was a resident of St. Mary's Nursing Center, 4th Floor. She spent many hours playing BINGO, enjoying many of the other activities and carrying on with the staff and her friends, she also attended Sunday church service regularly.

She is survived by her two loving sons, John C. Smith of Huntingtown, Samuel W. Smith, Jr. of Mechanicsville, grandchildren, Terri Cusic (Gary) , Samuel W. Smith, III (Teresa) of Mechanicsville, Troy Smith of Huntingtown, one great grandson Nicholas Smith and one great granddaughter, Sarah Cusic of Mechanicsville; three step great granddaughters, Lindsey Bush, Natalie and Lauren Diggs; three step great great grandchildren, Nevaeh and Marcus Bush and Ashlyn Austin; three nephews, Thomas Gasch, James Gasch and Glenn Alsop and a host of other relatives and friends.

Arrangements provided by Brinsfield Funeral Home.