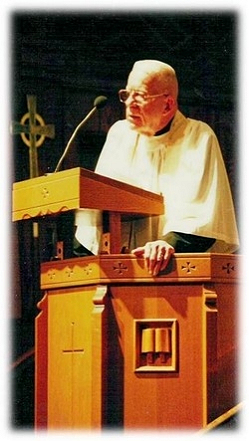 On June 15, 1952, Charles Daugherty, was ordained an Episcopal priest in Washington National Cathedral. The following day—a Sunday—he arrived in St Mary's County and began his ministry to the members of the Parish of St. Andrews. "I just simply never dreamed that I would spend the rest of my life here—but I did," he said. Sixty years later, on "All Souls' Day," November 2, 2012, the Reverend "Chuck" Daugherty, 92 of Leonardtown, MD died peacefully in his sleep at Hospice House of St. Mary's County.

On October 5th, 1920, Chuck was born in Rapid City, South Dakota, to the late Laura and Charles Daugherty. When Chuck's father died in 1930 he moved with his mother and brother John to Washington DC. As a child Chuck sang in a boys' choir—until Easter 1935, when his voice broke in the middle of Handel's Halleluiah Chorus. His singing career was only temporarily halted—Chuck joined the Glee Clubs at Powell Junior High, Central High and George Washington University. In 1947, he joined the Washington D.C. Chapter of Barbershop Quartet Society and became a life-long barbershopper.

He spent ten long years of night school getting two degrees from GW, but never regretted a minute. He followed in his brother's footsteps and was both editor of the GW paper (The Hatchet) and president of the Student Council. He was most famous for his news column which he called "Before I Forget." He joined many organizations, including Phi Sigma Kappa and Delta Phi Epsilon. In his words, "I simply had a great time." His first degree was an AB in Foreign Commerce, which he got in 1944 after five and a half years. "My second was in 1949, also in Foreign Commerce. I went to school only intermittently for the second one, because I was primarily interested in establishing my export business. That is why it took so long."

One day, a disturbing thought struck him: "Daugherty, if you dropped dead tomorrow, only a few people would give a hoot. There has to be more to life than that." He applied to the Episcopal Theological School in Cambridge, Massachusetts, in September of 1949. He continued his education after he was ordained. In 1962, he was one of five American priests to be invited to spend a year studying at St. Augustine's Abbey in Canterbury, England, with 35 priests from all over the world. In 1967, he earned a Masters in Sacred Theology from Sewanee, the University of the South. In fact, it is most true to say that he devoted his entire lifetime to learning. He found everything and everyone interesting.

When Chuck arrived in St Mary's County, the Parish of St Andrews contained one church and two chapels—old St Andrews (open just six weeks a year), the Chapel of St Peters and the recently organized Chapel of the Ascension in Lexington Park (in a trailer at the time). The Leonardtown congregation was tiny but growing. The Lexington Park congregation had to be built from scratch. "On the first Sunday I was there, there were 10 people," he said. "And I made such an impression on them that the following Sunday there were six. And that was the lowest we ever got."

Navy families assigned to Patuxent River Naval Air Station started coming to Ascension in search of Sunday School and youth groups for their children, as well as sense of community. "When I got there, I was 31 years old and I was older than most of the people in my congregation," Chuck said. "There were children all over the place." People started pouring into Ascension not only because of the Sunday school, but also because they enjoyed Chuck's sermons, which he never wrote down. "Well, it took too long," he laughed. "It would have taken me all week!" A natural story teller, this method served him well—most of the time. "You can get into trouble doing that," he said. "Because on one or two very memorable occasions, I forgot how the sermon ended."

Ascension grew so large that it became impossible for Chuck to minister to both the members of Ascension and St. Peters Chapel. In 1964, the diocese sent another minister to Leonardtown and Chuck turned his attention solely to Ascension, with one exception. In 1972, Chuck exchanged pulpits with an English Vicar and spent a memorable year in Burscough, England, ministering to the people of St. John's Parish. He retired from Ascension in 1986 having served there for 34 years and continued to teach well-attended bible study classes until just recently.

In 1957 Chuck married a local girl—Jessie Turner Wise of Mechanicsville. Together, they raised three children—Mike, Anne and Ray (Charles Raymond Cotton Daugherty III). Chuck spent a life-time enjoying people and places. From the Holy Land and the pyramids of Egypt, to Paris, Rome and London, the wilds of Kenya, Costa Rica, and Mexico, to name just a few; he wanted to see it all. He loved playing the tour guide and was often accompanied by family and friends. One of his great regrets was not traveling even more when he had the chance.

A holy man, he was known by one and all for his intellect; wisdom; appreciation for alternate points of view; sense of humor; kind heart; humility; love of a good story, singing, the Redskins, baseball, bad puns and ice cream; happy disposition; optimism; endearing helplessness; and above all, his great ability to make every person he talked to feel special, interesting and hilarious. Over his life-time, he was honored on many occasions by organizations such as the Lions and the Rotarians for his many hours of service to his community. He will be greatly missed by his wife, two surviving children, six grandchildren, four great-grandchildren, eight nieces and nephews, and scores of others whose lives he touched (and often transformed) in his 92 years.

A Life Celebration Memorial Service will be held on Monday, November 12, 2012 at the Church of the Ascension, 21641 Great Mills Road, Lexington Park, MD 20653 at 10:00 a.m. Interment will follow in St. Andew's Episcopal Church Cemetery, 44078 St. Andrew's Church Road, California, MD 20619.

Memorial contributions may be made to Friends of Cedar Lane, 22680 Cedar Lane Court, Leonardtown, MD 20650, St. Andrew's Episcopal Church, P.O. Box 600, California, MD 20619 or Church of the Ascension, 21641 Great Mills Road, Lexington Park, MD 20653.

Arrangements by the Brinsfield Funeral Home, P.A., Leonardtown, MD.