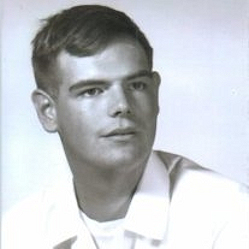 James Lewis "Doc" Barbour, Jr., 67, died November 9, 2013 at the Mount Vernon Hospital. Mr. Barbour was born August 9, 1946 in Washington, DC and was raised in Port Tobacco, MD. He was one of two children of James Lewis Barbour, Sr. and Elizabeth Claire Jackson Barbour of Port Tobacco.

He graduated from La Plata High School in 1964. Following graduation, he attended Charles County Community College and later George Mason University in Fairfax, VA. He served as Deputy Clerk of the Court for Charles County from 1964-1966 when he enlisted in the U.S. Navy. His military service included basic training at the Great Lakes Naval Station, medical training at La Moore Naval Base, California, and Camp Pendleton Field Medical School. Beginning in 1967 he had duty at Danang, Hue, Quang Tri, and Hill 881.

He was the recipient of three Purple Hearts for wounds in action and a Bronze Star Medal. Of special significance, his Division received a Presidential Citation for extraordinary heroism and outstanding performance of duty in action from March 29, 1966-September 15, 1967 in the Northern Provinces of Vietnam. Following his discharge from the Navy in 1970, he served as trainer for the San Francisco Giants baseball farm team in Amarillo, Texas.

His career with the federal government began in 1973 in Washington, DC on the staff of the Drug Enforcement Administration. Later he served in the State Department's Cultural Affairs Office followed by promotion to the staff of the Secretary of State's Public Relations Office. He retired from the State Department in 1944. Following retirement from the federal government, he was employed by the Mount Vernon Estate as a security officer and dispatcher until his time of death.

In addition to his parents, he is survived by his wife, Diane Butler of Alexandria, VA and his sister, Anita Barbour Gordon and her husband Mark David Gordon of Oro Valley, Arizona. He is also survived by a niece, two nephews, and six great grand nephews.

A memorial gathering was held at the Jefferson Funeral Chapel in Alexandria, VA on November 13, 2013. Memorial graveside services was held on Tuesday, November 19, 2013 at 11AM at St. Ignatius Chapel Point Catholic Church Cemetery (where Mr. Barbour served as an Altar Boy during his youth), 8855 Chapel Point Road, Port Tobacco, MD 20677. Arrangements by Raymond Funeral Service, La Plata, MD.

In lieu of flowers, donations may be sent to the Wounded Warrior Project, PO Box 758517, Topeka, KS 66675.