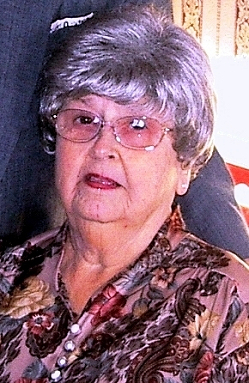 Norma Jean Dove, "Nana" 85, of Lusby, MD formerly from Broomes Island, MD passed away at Calvert Memorial Hospital, Prince Frederick, MD on Thursday, May 22, 2014. She was born on January 25, 1929 in Buffalo, NY to the late Edward Francis Dekdebrun and Cecilia Margaret Cleary Dekdebrun.

Norma grew up in and around Buffalo. She attended Bennett High School where she graduated in 1947. She worked for the A&P Grocery chain for several years both in Buffalo and Niagara Falls, NY.

She married George Harvey (Jack) Dove on November 1, 1957, and she along with her daughter from a previous marriage, moved to Jack's home in Broome's Island, MD. She became a homemaker but she also worked in the river alongside her husband, oystering, gill net fishing, and crabbing. For a city girl, she took to her new life style as though she were born into it. She loved packing a big picnic lunch to take on the boat on weekends with the family. She enjoyed fishing and spending the day on the water.

She went to work as a Star Route mail carrier for the U.S. Postal Service from 1971 until she retired in 1987. She worked out of the Prince Frederick Post Office and served the postal customers in the Dares Beach area, including Bayside Forrest.

After retirement she spent her time with her family and her 3 beloved poodles. She took care of her father until his death in 1990. She became an active member of the Broome's Island Wesleyan Methodist Church until health issues prevented her from doing so. In 1992, she and her husband moved to her daughter's home in Port Republic. In 1995, the entire Burkman-Dove family moved into their new home in Lusby where she lived until her passing.

She is survived by her husband, George (Jack) Dove, her daughter Jeanine Burkman, her grandchildren, Patrick Burkman and his wife Joanna, her granddaughter Lisa Burkman Solier and her husband James; and last but not least her first great grandchild, Jay William Solier, who turned 4 months old the day after Nana went to be with the angels. She is also survived by her brother, Edward (Bill) Dekdebrun.

Everyone who knew Norma loved her for her quick mind, her wit and keen sense of humor as well we her generosity towards others.

Funeral arrangements are being made by the Rausch Funeral Home, P. A., 20 American Lane, Lusby, MD. The first viewing will be on Tuesday, May 27, from 2-4. The family will receive guests at their home at 10375 H.G. Trueman Rd., Lusby, MD, from 4:00-5:30. A second viewing will take place from 6:00-7:00 with the funeral service starting at 7:00 PM with Pastor Rick Schaffner officiating. Interment will be at the Southern Memorial Gardens, Dunkirk, MD, on Thursday, May 29, at 11:00 am. Anyone wishing to attend the graveside service with the family is welcome.

Should friends desire contributions may be made in her memory to Broomes Island Wesleyan Church, 8520 Church Rd., Broomes Island, MD 20615 or to the charity of ones choice.