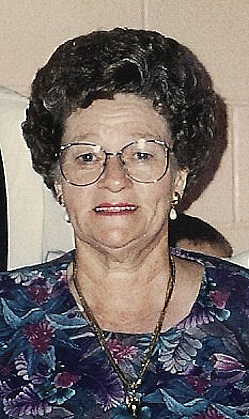 Agnes Cecelia "Cele" Wheeler, 76, of Chaptico, MD passed away surrounded by her loving family on June 5, 2012 in Chaptico, MD. Born on December 3, 1935 in Hurry, MD, she was the daughter of the late James Harry Knott, Sr. and Alice Elizabeth "Pet" Thompson Knott.

Cele was the loving wife of the late James Leonard "Boots" Wheeler whom she was married to for 57 years, and whom preceded her in death on November 11, 2009.

Cele is survived by her children: Debbie Hall (Mike), Betty Riffle (Pat), and James Wheeler, Jr., all of Chaptico, MD. Theresa McKinney (Ricky) of Clements, MD., Joseph Wheeler (Ann) of St. Inigoes, MD., and Mary Wheeler (Significant other, George Kennett) of Avenue, MD, and son in law Roland McKay of St. George's Island, MD. As well as 19 grandchildren: Beverly McKay, Jason McKay, Candance McKay, Bobby Hall, Deana Click, Tony Hewitt, James "Tater: Hewitt, Fr. Patrick Riffle, John Riffle, Steven Riffle, Hannah Riffle, Becky Riffle, Tiffany Lawerance, Laura McKinney, Robert "Bobby" McKinney, Ryan Wheeler, Katie Ramos, Daniel Hazell, and Joseph Hazell. 17 Great grandchildren: Tyler, Trevor, Joshua, Holly, Erin, Shelby, Amanda, Jason, Paul, Josie, Joshua, Ashlyn, Johnny, Bella, Hunter, Adian, and Blake and 1 great great grandchild Jayden. Cele is also survived by her in laws; Shirley Knott of Clements, MD., Ann Patton of Valley Lee, MD., Agnes Cecelia Lang of Great Mills, MD., Margaret Wheeler of Clements, MD., Delores Wheeler of Hollywood, MD., Elaine Wheeler of Great Mills, MD, and James Patton of Valley Lee, MD.

Mrs. Wheeler is preceded in death by her daughter Barbara Gale McKay, son in law Paul A. Hewitt. siblings; James Harry Knott, Jr., Joseph Elmer Knott, Leonard Edward "Ned" Knott, Helen Elizabeth Nelson, Ruth Ann Schuhart, and Mary Louise Wheeler.

Cele attended Margaret Brent School and was a homemaker. She was a lifelong resident of St. Mar's County, MD. Cele could be found planting and tending to her numerous Flower Gardens, which her entries in the St. Mary's County Fair won her many ribbons. One of her enjoyments was a game of Bingo with friends and showing off her winning cards. She loved the little things in life, like the baby goslings that followed her around the yard picking at her white tennis shoes till she gained the name of "Mother Goose". She loved picking fresh vegetables, berries, and fruit on the farm to serve fresh or made into some of her homemade desserts. She was a very competitive crochet player and managed to win no matter how hard others tried to beat her, and she could make the most delicious stuffed hams. She was the life of any family get together, and always made you laugh, even at yourself.

The family will receive friends on Friday, June 8, 2012 from 5:00 PM – 8:00 PM with prayers recited at 7:00 PM in the Mattingley-Gardiner Funeral Home, Leonardtown, MD. A Mass of Christian Burial will be celebrated on Saturday, June 9, 2012 in Our Lady of the Wayside Catholic Church at 10:00 AM with Father Patrick Riffle officiating. Interment will follow in Sacred Heart Catholic Cemetery, Bushwood, MD. Pallbearers will be her grandchildren; Katie Ramos Bobby Hall, Tony Hewitt, James 'Tater" Hewitt, Jason McKay, Robert "Bobby" McKinney, and Ryan Wheeler.

Contributions may be made to an act of kindness or charity of your choice.

Arrangements provided by Mattingley-Gardiner Funeral Home.