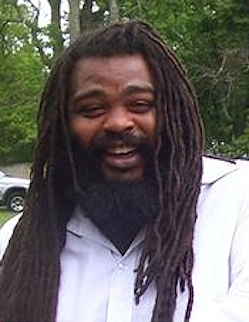 Thomas, Obatieya Hashim (Age 35) of Bryans Road, Maryland.

Obatieya Hashim Thomas was born on October 22, 1977 at Walter Reed Army Medical Center in Washington, DC. He was called home to rest on September 3, 2013.

Obatieya attended the public schools of Prince George's County. He was an avid reader and had a thirst for knowledge. He loved to see how things worked and was very mechanically astute. He obtained his class "A" CDL in 2000. He was extremely ambitious and was constantly searching for new roads to success.

Tie, "Fats or King" as he was affectionately known had a wonderful sense of humor. He loved to play practical jokes and enjoyed a good laugh. He was enormously generous, fun loving, big hearted and gave the absolute best bear hugs! He enjoyed cooking and watching movies. Tie loved comedies, karate flicks, action and adventure and documentaries. He liked traveling and sharing his experiences.

Tie also treasured spending time with his family, particularly his nieces and nephews. He was exceptionally good with children. He exercised great patience and enjoyed teaching them how to work on cars and trucks, which was one of his many hobbies. He reveled in good conversation and loved providing advice and sharing his knowledge. Tie had an infectious personality and was loved by all he came in contact with.

He was preceded in death by his grandparents, Inez (Myers) and Milton Hale and William and Virgie (Swann) Thomas.

Tie leaves to cherish his memory his wife, Tyrica Mathis-Thomas, his parents, David and Dorothy (Hale) Thomas, his brothers Koran and LeBaron Thomas, and Rico Myers, seven aunts—Deborah Shackleford, Joan Posey-Fletcher, Lenora Lee, Sheila Bland, Brenda King, Dolores Thomas and Kim Thomas, five uncles Larry Hale, Lamont Hale, Leonard Thomas, Lionel Thomas, and Salim Hasan, a host of nieces, nephews, cousins other relatives and friends.

Visitation, 10am until time of Service, 11am, Tuesday, September 10, 2013 in the Chapel of Thornton Funeral Home, P.A., 3439 Livingston Road, Indian Head, Maryland.

Arrangements provided by Thornton Funeral Home.