Posey, Bertram Theodore
Birth: 1931-07-06 in Charles County, Maryland
Residence: Indian Head, Maryland
Death: Tuesday, September 25, 2012
Laid to Rest: Wednesday, October 03, 2012 in the Maryland Veterans Cemetery, Cheltenham, Maryland
Condolences: Click to View or Post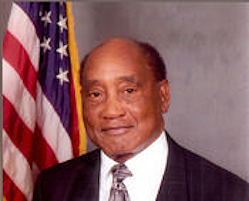 Posey, Bertram Theodore (Age 81) of Indian Head, Maryland.

Bertram Theodore (Teddy, Bert) Posey departed this life and entered into eternal life with his heavenly Father on Tuesday, September 25, 2012. Bertram was born July 6, 1931 in Charles County, Maryland. He was the son of the late Oscar and Nellie Posey.

Bertram was educated in the Charles County School system where he graduated from Pomonkey High School. He enlisted in the Army and served in Korea during the Korean War. He re-enlisted in the Air Force where he participated in the Berlin Airlift and received an honorable discharge.

He attended Bowie State University where he graduated with a BA degree in Education. He furthered his studies at the University of Maryland, Towson University, and American University.

Bertram was an educator in the Charles County School system where he taught social studies, science and driver's education. After retiring from the school system, he became a courier for National Health Laboratories.

Bertram was an outgoing person who loved his family. He was an avid Redskins fan and loved and played music. He played with several bands over the years with the last being the Clefs of Sound. Bertram was known for his jovial spirit. He was known as a philosopher, a weatherman, but most known for his sincerity and compassion for others. He loved to travel and visited many parts of the world.

In addition to his parents, he was preceded in death by his sisters: Goldie, Elaine, and Marva; brothers: Samuel, Hollis, Roland, Mervin, Donald, Clifford and William Isaac.

He is survived by his beloved wife, Margie; children, Alonzo (Cynthia "Cyndi"), Colette (William "Billy"), Carlezsa (Joseph "Joe"), and Avery, Sr. (Hope). Grandchildren: Avery Jr., Kristen, Elise, Simone, Devin, Jalisa, Nicholas, and Nevaeh. Great-grandchildren: Landon and Shaune.

The visitation will be held on Wednesday, October 3, 2012 from 9:00 a.m. to 11:00 a.m., with services starting at 11:00 a.m. at Thornton Funeral Home, P.A. 3439 Livingston Road, Indian Head (Pomonkey), Maryland 20640. Interment will be at Maryland Veterans Cemetery in Cheltenham. Maryland.

Arrangements provided by Thornton Funeral Home.