Cutchember, Audrey Cecelia
Birth: 1944-12-27 in Bel Alton, Maryland
Death: Monday, August 22, 2011
Laid to Rest: Monday, August 29, 2011 in the Trinity Memorial Gardens, Waldorf, Maryland
Condolences: Click to View or Post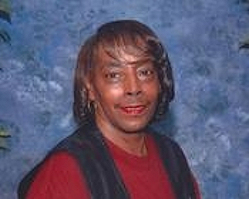 Audrey Cecelia Cutchember was born on December 27, 1944 to the late Mary Elsie Butler and the late Joseph Earl Butler in Bel Alton, Maryland.

She was educated in the public school system of Charles County, Maryland having attended Bel Alton High School, Bel Alton, MD.

Audrey was a hard worker and faithful employee who was employed by the Federal Government for 43 years. Most of her employment was with the Naval Research Laboratory, Washington, D.C where, in 2010, she retired as a Payroll Supervisor.

Audrey was a very quiet woman who was also loving, caring and giving but who could be stern when necessary. She always did whatever she could to make her family happy often imparting words of wisdom for her children and grandchildren to live by. Family enjoyed spending their time with Audrey on Friday evenings playing cards, "talking trash" and cooking food, they also spent holidays with her knowing they could look forward to a great meal.

In addition to spending much time with her children, grandchildren, and great grandchildren, Audrey also had an extended family with the Independent Cee-Cee Riders, a motorcycle club where she was a member. When not riding, she could also be found playing games on the computer or watching the Washington Redskins.

In addition, to her parents, she is preceded in death by her sisters, Mary Edelen and Julia Ford, brothers, Ralph and Harold Butler.

Left to cherish many memories are her devoted children, Charlene Proctor, Marie Cutchember, Joan Cutchember, Sharon Cutchember and Donald Cutchember; grandchildren, Tyneka, Anthony, Marcus, Shatawna, Dominique and Melvin Cutchember, Jr., Kendull and Kenneth Proctor, Jr.; great grandchildren, Nyara, Zyon and Jorday Cutchember; son-in-law, Bernard Proctor, Sr.; daughter-in-law, Marva Cutchember; sisters, Margaret Butler and Debora Price; brothers, James, Dewitt, Thomas and Dale Butler; sisters-in-law, Chynthia and Mary Butler, and a host of aunts, uncles, nieces, special nephew, James Butler, other nephews, relatives and friends.

Her viewing will be held on Monday, August 29th, 10am until Mass of Christian Burial 11am at St. Ignatius Catholic Church, 8855 Chapel Point Road, Port Tobacco, MD 20677. The interment will be held in Trinity Memorial Gardens Cemetery, Waldorf, MD.

Arrangements entrusted to Thornton Funeral Home, PA, 3439 Livingston Road, Indian Head, MD 20640.