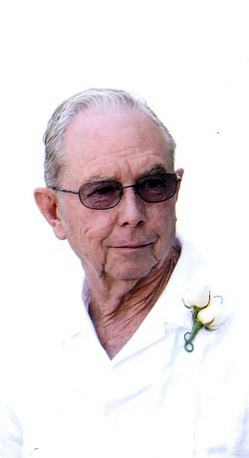 Glen Dale Dennison, 78, of White Plains, MD, formerly of Mechanicsville, MD, died May 19, 2012 at the Waldorf Center, Genesis Healthcare, Waldorf, MD. Born March 18, 1934 in Capitol Heights, MD, he was the son of Raymond Baker Dennison and Daisy Lou Wamsley Dennison.

Mr. Dennison was a well-known self-employed painting contractor for many years. He owned Pep Motors Used Cars in Mechanicsville, MD during the 1970's and '80's. He was a member of the Mechanicsville Moose Lodge #495 and White Plains Moose Lodge #1709. He loved to race pigeons and belonged to the Hillside Racing Pigeon Club. Glen had many interests, among them playing baseball, watching NASCAR driver Mark Martin, antique cars, dancing to country music and listening to Hank Williams Sr. and Marty Robbins. He also enjoyed going to Bingo with his wife, Mary Ann, and watching her play.

Glen was predeceased by his parents; brothers, Joe Dennison and Marvin Dennison (wife, Merle, also deceased) and grandson, Jeffrey Milan.

He is survived by his wife, Mary Ann Dennison; sons, Dale Dennison (Karen), James Stonestreet (Kathy), Eddie Stonestreet, Joe Stonestreet and Bill Stonestreet; daughters Marylyn Dennison and Susan O'Rear; brothers, Wilford Dennison (Janet) and Wayne Dennison (Peggy): sister-in-law, Carol Dennison; grandchildren, Dale Dennison, Kate Moore (Matt), Shelly and Jamie Hug, Jonathan Milan, Kyle O'Rear, Krissy Langley (Jason), Zachary Stonestreet and Josh Carroll; great-grandchildren, Brayden Finley, Molly Moore, Rylan, Brayden and Kendal Langley and Josh Carroll, Jr.

The family will receive friends for a Memorial Life Celebration on Friday, May 25, 2012 from 5:00 - 7:00P.M. at the Brinsfield-Echols Funeral Home, P.A., 30195 Three Notch Rd., Charlotte Hall, MD followed by a service at 7:00p.m. The Rev. Robert Howard will officiate.

In lieu of flowers, memorial donations may be made to Waldorf Center - Genesis, 4140 Old Washington Rd., Waldorf, MD 20602, Civista Medical Center, 5 Garrett Ave., LaPlata, MD, Waldorf Volunteer Fire Department, 3245 Old Washington Rd., Waldorf, MD 20601 or the Alzheimer's Association, Maryland Chapter, 1850 York Rd., Suite D, Timonium, MD 21093.

Arrangements provided by Brinsfield-Echols Funeral Home.