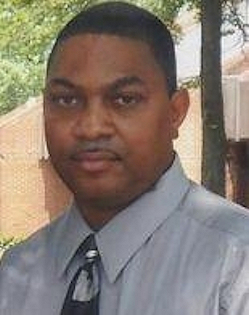 Peacefully on Monday, November 3, 2014, Thomas Daryl Woodland, 49, of Great Mills, Maryland departed this life. He was the son of Mary Helen Woodland of California, Maryland and the late Thomas Andrew Woodland, born on November 5, 1964. He was united in holy matrimony to his high school sweetheart, Paula C. Jordan on May 16, 1987. He was the devoted father of Tonia Woodland of Alexandria, Virginia.

He graduated from Leonardtown High School in 1983 and attended Southern Maryland Community College. He served in the U.S. Navy from 1986 to 2002. He was employed with American Electronics, Inc. (Amelex). In his leisure time, Daryl enjoyed watching the Baltimore Orioles, the Washington Wizards and the Dallas Cowboys. Daryl's true passion was playing basketball and keeping a clean house. He was known as the jokester of the family; making everyone around him laugh. Daryl and his brothers shared a special bond and their visits and telephone calls to each other were a daily ritual. His favorite food was baked chicken that he ate almost every single day. Not to mention the special meal requests to his mother which she took pride in and enjoyed preparing for him. Daryl loved the time that he spent with his mom.

Daryl will be truly missed by Paula, Tonia and Mia (grand dog). There was nothing that Daryl would not do for his Princess Tonia; his most precious gem. Not to mention the late night snack runs, sometimes even for just a Dove Chocolate Candy Bar. Daryl and Paula were high school sweethearts. He knew then that they would share a lifetime together. Daryl was a kind hearted man that made many sacrifices for his family including taking Mia out for her potty breaks sometimes interrupting his "Young & Restless" lunchtime break. Paula and Tonia were the love of his life and will forever treasure his memory, along with all those lives that he touched. He was preceded in death by his brother, Larry Woodland; grandmother, Florence Kelly; mother-in- law, Agnes Jordan; father-in-law, Aloysius Jordan and brother-in-law, Gary Jordan.

He leaves to mourn his devoted wife, Paula; his loving daughter, Tonia; sisters, Ruth Yates and Cheryl Woodland; brothers, Andrew Woodland (Angelita), Eric Woodland (Toni), Victor Woodland (Iris) and Brian Woodland (Bevalyn); Aunt Della Brown, Uncle John Hawkins, sisters-in-law, Patricia Meredith, Linda McFarland, Angela Jordan and Paulette Estep; brothers-in-law, Dale Jordan and Alvin Jordan and a host of aunts, uncles, nieces, nephews and other relatives and friends.

Family will unite with friends on Sunday, November 9, 2014 for visitation from 5:00 p.m. until 7:00 p.m. at Briscoe-Tonic Funeral Home, 38576 Brett Way, Mechanicsville, MD. On Monday, November 10, 2014, visitation at 10:00 am until Mass of Christian Burial at 11:00 am at Immaculate Heart of Mary Catholic Church, 22375 Three Notch Road, Lexington Park, MD 20653. Interment to follow in the church cemetery.

Pallbearers: Kenneth King, Wendell Carter, George T. Briscoe, Carl Bowman Sr., Garfield Butler, and Frances Reed. Honorary Pallbearers: Christopher Wilson, Roger Awkward, Stephon Thomas, Steve Maddox.

Arrangements provided by Briscoe-Tonic Funeral Home.