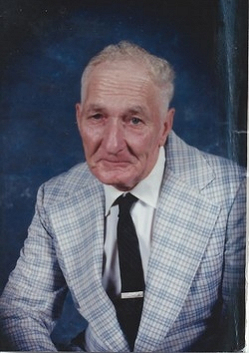 James Alfred Suite, 79, of Mechanicsville, MD passed away on November 3, 2013 at University of Maryland Medical Center in Baltimore, MD. James was born on April 7, 1934 in Mechanicsville, MD to the late Alfred Suite and the late Lucy Violet (Goldsborough) Suite.

He was a lifelong Farmer and Waterman. He also was a charter member of the Knights of Columbus, Immaculate Conception Parish. He was a member of The Mechanicsville Moose Lodge #495.

He enjoyed spending time with the love of his life, Mae and his Children, Grandchildren, and Great-Grandchildren. He loved to plant a variety of Flowers and Vegetables in his gardens. Favorite hobbies were repairing small engines and woodworking. He enjoyed playing cards and spending time with his special friends, Rosina and Slim Hall. He enjoyed listening to live Country Music with his friends.

In addition to his parents, James was predeceased by one of his children, James Wayne Suite; two of his brothers, Joseph Elmer Suite and Leonard Martin Suite; and four of his sisters, Ella Marie Robey, Mary Elizabeth Hancock, Margaret Cecelia Watermolen, and Betty Ann Lyons.

James is survived by his wife of 58 years, Martha Mae (Moran) Suite; children, William Alfred Suite and wife Virginia, Martha Marie Baker and husband Tom, Catherine Ann Coburn and husband Robert, and Mary Theresa Ross and husband Gary; daughter-in-law, Kathy Lee Suite; brother, Philip Carroll Suite; Sisters, Lucy Pearl Scott, Nellie May Harrison; 9 grandchildren, Sandy Juergens, Becky Bowen, J.D. Coburn, Matt Suite, Renee Coburn, Daniel Ross, Robin Best, Lacey Suite, and Brian Baker; and 5 great grandchildren, Essence Sandy, Hanna Suite, Madison Bowen, Isaac Juergens, and Abbie Coburn.

Family and friends will be received for James' Life Celebration on Thursday, November 7, 2013 from 2:00 PM to 4:00 PM and from 6:00 PM to 8:00 PM at Brinsfield-Echols Funeral Home, P.A., 30195 Three Notch Road, Charlotte Hall, MD 20622. A Funeral Service will be held on Friday, November 8, 2013 at 11:00 AM, here at the funeral home. Deacon William "Bill" Kyte will officiate. Interment will follow to Charles Memorial Gardens, 26325 Point Lookout Road, Leonardtown, MD 20650. Pallbearers will be: Matt Suite, Daniel Ross, Kevin Best, Jimmy Suite, Wayne Suite, and Robby Raley. Honorary Pallbearers will be: Glenn Lacey, Bobby Herbert, Charles Conrad, and Pete Conrad.

Memorial contributions in his memory may be made to: Mechanicsville Volunteer Rescue Squad, P.O. Box 15, Mechanicsville, MD 20659. Arrangements provided by Brinsfield-Echols Funeral Home.