Eisenman, Mary Elizabeth
Birth: 1928-03-25 in Baltimore, Maryland
Residence: Dunkirk, Maryland
Death: Wednesday, December 15, 2010
Laid to Rest: Sunday, December 19, 2010 in the St. James' Parish Cemetery, Lothian, Maryland
Condolences: Click to View or Post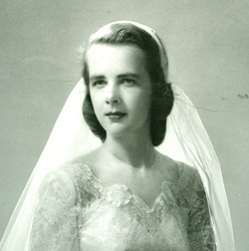 Mary Elizabeth (Kitchin) Eisenman, 82, of Dunkirk, MD passed away December 15, 2010 at Anne Arundel Medical Center in Annapolis, MD. Known as "Kitch", she was born March 25, 1928 in Baltimore, MD to William Y. "Doc" and Virginia (Talbott) Kitchin.

She was raised in Annapolis, MD where her father owned and operated Kitchin Drug Store. She was an alumnus of Stuart Hall, Hollins College, the University of Maryland and the Wharton School of Management.

She married Dr. Richard Leo "Dick" Eisenman in 1952 and they resided in numerous locations throughout the U.S. during Mr. Eisenman's military career.

They settled on the family farm in Dunkirk in 1969 and Kitch was an active member of the Calvert County community. She served with the League of Women Voters, Calvert Garden Club, Calvert House and Garden Club, N.O.W., Colonial Dames, Dodge Brothers, Veteran's Administration Orchestra and Chorus, Kennedy Center Volunteers, Daughters of the American Revolution, Chesapeake Railway Museum, Delta Gamma Sorority, Asbury Retirement Community, Calvert Heritage Committee, DACCA, Calvert Historical Society, Democratic Club, Calvert History Fair, and St. James Parish. Professionally she was variously a director of Calvert Bank & Trust, a farm manager, entrepreneur, Judge of the Calvert County Orphan's Court, a science teacher, land developer and federal employee. She was an avid sportswoman, a competitive swimmer, golfer and Terrapin Club member. Go Terps! She played bridge with passion, wit, and charm, and achieved Silver Life Master status with the A.C.B.L. She celebrated life 'her way', and will be missed.

Kitch is survived by three children: Denise M. Fulham of Lakewood, CO, Richard L. Eisenman, Jr. and his wife Joanna of Milford, NJ, and Steven J. Eisenman, Sr. and his wife Cindy of Dunkirk, MD; four grandchildren: Tiffany M., James T., Steven J., Jr. and Richard L. Eisenman III.

Friends and family will be received at Rausch Funeral Home, P.A., 8325 Mt. Harmony Lane, Owings, MD on Sunday December 19 from 2-4 & 6-8 PM. Funeral Services and a celebration of Kitch's life will be held at 11:00 AM on Monday December 20 at St. James' Parish in Lothian, MD. Interment will be in the Parish cemetery, followed by a luncheon in the Parish fellowship hall.

Kitch's family requests that in lieu of flowers, contributions in her name be made the St. James Parish, 5757 Solomons Island Road, Lothian, MD 20711.

Arrangements provided by Rausch Funeral Home.