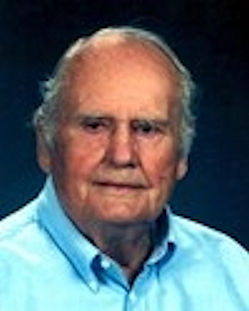 Ernest Roy Welch, Jr. ("Roy"), age 96, passed away Monday, Dec. 2, 2013, at his home in Waldorf, Maryland.

Dear husband of 68 years to Doris Martin Welch; father of Patrick Welch, Walter Welch, Kathleen McElrath, Marylin Robinson and Suzanne Rhodes; grandfather of William Welch, Christine Welch, Jason Welch, Ryan Welch, Paul Rhodes, Matthew Rhodes, Sean Tereba, Lindsay Tereba, Chelsea Simonian and Jevon Robinson; and great-grandfather to Sayde Welch, Lacey Welch and Lilly Tereba. Roy is survived by sisters Mary Alice Kline and Florence Bradford.

He was the son of the late Ernest Roy Welch, Sr. and Linda Williams Welch. He was also preceded in death by his sister, Jacklyn Shockley.

Roy was born May 11, 1917 in Macon, Georgia and lived in Juliette, Georgia. The family relocated from Georgia to Florida. He graduated from High School in Orlando, Florida, where he lettered in boxing. He attended the University of Florida on a boxing scholarship. He served in the CCC (Civilian Conservation Corp) and the Florida National Guard.

He joined the Navy in 1940 and served as yeoman on several light cruisers in places including Guam, Africa and Cuba. He produced the ship's newspaper and was the one who broke the news to the crew about the attack on Pearl Harbor. His closest brush with danger was while serving on the USS Quincy. The ship was attacked and sunk by Japanese planes shortly after he was transferred to a new assignment.

After the Navy, Roy and his new bride moved to the Washington area so he could attend George Washington University. Eventually he joined his father in the building business and they built numerous homes in the Washington area. He spent many years managing the building, repairs and maintenance of the family's various rental properties while scheduling his work and volunteering around the care and activities of his 5 children.

Roy enjoyed many things in life: writing poetry, playing guitar and piano, gardening and home projects, taking care of his horses and his other farm pets, traveling the country in his motor home and dabbling in electronics. Roy was a founding member of Lifestream Nazarene Church. What he cherished most was time spent with his family, and he served as a great example of love, kindness and devotion to all of the family.

A viewing will be held on Friday, December 6th from 5 to 8 PM at Huntt Funeral Home, 3035 Old Washington Road, Waldorf, Maryland, and the funeral service will be held on Saturday December 7th at 11:00 AM at Lifestream Church of the Nazarene, 5105 Leonardtown Road, Waldorf, Maryland.

In lieu of flowers, contributions may be made to Lifestream Church of the Nazarene - Compassionate Ministries Program, 5105 Leonardtown Road, Waldorf, MD 20601. Arrangementss provided by Huntt Funeral Home.