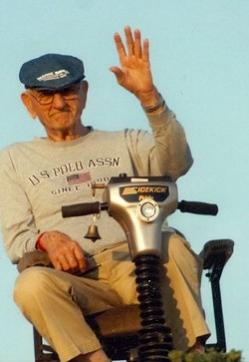 Ernest Joseph Hunsberger, 93 of Winter Haven, FL and Bryantown, MD died at Charlotte Hall (MD) Veterans Home on January 5, 2014.

Prior to serving in the Army, he worked as: a machinist and electrical helper; curb waiter and grill work for Hot Shoppes (later to become Marriott); Messenger for the Railroad Retirement Board; Mimeograph Operator for the Office of Production Management; Attendant at St. Elizabeth's Hospital; and, Electrician's Helper at St. Elizabeth's Hospital. During World War II he was awarded a Bronze Star, having served in the 10th Mountain Infantry in Italy (planting flowers around his foxhole for Easter). He worked for 25 years in the DC Fire Department (Engine 25, Truck 8 as a tillerman on a hook and ladder), retiring in 1967.

He worked as a painter, and for J.C. Penney before and after retirement. His avocations and hobbies included woodworking, whittling, hunting, and antiquing—including owner of Second Time Around Shop in Camp Springs, MD. He was a President of the Fireman's Credit Union of Washington, DC; an American Legion member for over 60 years; and a member of the National Rifle Association.

Ernie (affectionately known as Pop-Pop to his grandchildren) and his late wife Hazel (nee Strickler) were married for 59 years. They participated in five work-and-witness mission trips with the Church of the Nazarene—two in Costa Rica, two in Venezuela and one in Portugal, in addition to visiting Europe, Africa, and Israel. He visited all 50 states. He served in many positions with his local Church of the Nazarene, including usher and church board member.

Born February 7, 1920 in Lansdale, PA, he was son of Wilhelmina Hunsberger and Leidy Hunsberger. In addition to his parents and wife, he was preceded in death by siblings Kathryn Cody, Grace Hunsberger, Alvin Hunsberger, Martin Hunsberger, Vida Hunsberger, Ira Hunsberger, and his daughter Karen Jean Kern.

He is survived by daughters Marilyn Sue Asam (Ed) of Rose Valley, PA; Elaine Marie Williamson (Denny) of Ft. Wayne, IN, and Shirley Anne Schindel (Larry) of Bryantown, MD; grandchildren Todd (Kim) and Kevin Kern, Brent and Stephen Hopkins, Justin and Brittany Williamson, Daniel and Joseph Schindel, Charlene Tilson (Mark); five great grand-daughters and eight great-grandsons; and numerous nieces, nephews, relatives and friends.

Family will receive friends for visitation on Friday, January 10, 2014 from 4:00 pm to 8:00 pm at LifeStream Church of the Nazarene, 5105 Leonardtown Road, Waldorf, MD 20601. Celebration of Life Service will be Saturday, January 11, 2014 at Noon at LifeStream Church.

In lieu of flowers, memorial contributions may be made to LifeStream Church of the Nazarene, note "missions." Interment will be January 14, 2014 at 10:00 am at Maryland Veterans Cemetery, 11301 Crain Highway, Cheltenham, MD 20623.

Arrangements entrusted to Brinsfield-Echols Funeral Home, P.A., 30195 Three Notch Road, Charlotte Hall, MD 20622.