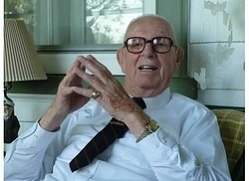 Captain Harry Melville Rogers, "Mel," died at ten minutes after five, on the morning of May 18th, 2013. A devoted husband, beloved father, dedicated Naval officer, farmer, volunteer in his church and respected member of his community, Mel left this world a better place.

Born on April 24th, 1922 in Pittsburg, Pennsylvania to Harry and Matilda Rogers, Mel spent most of his adolescent years growing up in Indianapolis, Indiana. As a young man in high school he was inventive and inquisitive, building gas powered go carts to drive around the streets of his neighborhood with his high school buddies. That academic inquisitiveness led him to Purdue University where after two years he transferred to the US Naval Academy, graduating with the Class of 1946. Always searching for knowledge, Mel continued his academic career at GW University earning a Master's Degree in Administration and Systems Management in 1970.

On Christmas Day in 1950, Mel married his lovely wife, Edith Celley, going on to have 62 years together. Edith and Mel raised four children: Mandy, who married Gordon, had two sons and lives in England; Barbara, who lives in Waldorf, Maryland; Harry, Jr. (Skip) who married Lucia who have a daughter and live in California; and Martha, who married Dave and raised four girls in Northern Virginia. Mel and Edith have seven grandchildren and one great grandchild.

Mel's Naval career spanned 30 years including serving a board and commanding many naval vessels all over the world. After retirement from the Navy in 1973, Mel and Edith moved to their Maryland farm, Maycroft, where Mel began a second career as a farmer, raising sheep and cattle with enthusiasm and willingness to take on new challenges, such as planting a tree farm. Mel became an important part of the fabric of St Mary's County quickly, becoming a good neighbor and friend to many.

Mel enjoyed life to the fullest. He loved traveling, going to parties, caring for his family pets, and sitting on the porch with Edith enjoying the view. He will be greatly missed by all.

Family will receive friends for Captain "Mel" Rogers Life Celebration on Wednesday, May 22nd from 5:00 to 7:00 pm at the Brinsfield Funeral Home, 22955 Hollywood Road, Leonardtown, MD with prayers at 7:00 p.m.. Memorial service will held on Thursday, May 23, 2013 at the All Saints Episcopal Church, Oakley Road, Avenue, MD with the Reverend Doctor Kathleen Vermillion Price Rector of the church officiating. Inurnment will be held at a later date at the US Naval Academy Columbarium, Annapolis, MD.

The family request memorial contribution to All Saints Episcopal Church, P.O. Box 037, Avenue, MD 20609 or Hospice of St. Mary's, P.O. Box 625, Leonardtown, MD 20650.

Arrangements by the Brinsfield Funeral Home, P.A., Leonardtown, MD.