Witten, James Anthony
Birth: 1922-07-28 in Evanston, Illinois
Residence: Huntingtown, Maryland
Death: Monday, November 14, 2011
Condolences: Click to View or Post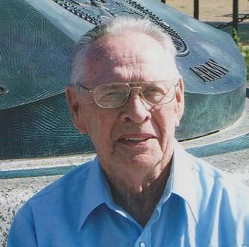 James Anthony Witten of Huntingtown, MD, born July 28, 1922 in Evanston, IL to William and Frances Witten passed away on November 14, 2011 at the age of 89.

Mr. Witten was preceded in death by his parents; a sister, Grace Brown, Brother Jack Witten and daughter Dianne "CoCo" Larsen.

Mr. Witten is survived by his wife, Madeleine; 12 children, James Witten, Jr. of Casper, WY, William Witten of Missoula, MT, Linda Evans of Wauconda, IL, Janet Pate of Willis, TX, Sharon Flores of Antioch, IL, Anthony Boynton of Danville, CA, Michal Boynton of Sabastopol, CA, Shawn Brennan of Sabastopol, CA, Philip Soroka of Port Republic, MD, Michael Witten of Lexington, VA, Linda Thompson of St Leonard, MD, Lisa Peepers of Norman, OK, 30 grandchildren, 32 great grandchildren and 4 great-great grandchildren.

Mr. Witten was raised in Highland Park, IL during a very difficult time in our nation, enlisting at the age of 18 into the United States Navy, faithfully serving in the South Pacific during WWII from June 1940 to September 1945 obtaining the rank of Aviation Chief Machinist Mate. After the war he returned to Illinois to raise his family, later moving to Wyoming; the state he affectionately referred to as "Home". While in Wyoming he started several business ventures; a Dude Ranch in which Roy Rogers and Dale Evans were patrons, a paint/body shop for race cars and a car wash/convenience store. In the 1970's he moved to Maryland to be closer to his brother where he met and married Madeleine in 1974. Although his own children were grown, he lovingly welcomed the opportunity to be a father to Madeleine's four children.

Mr. and Mrs. Witten opened up their home providing educational and loving child care services to Calvert County children for over 25 years. Mr. Witten could always be found in his garage fixing "things" and finding a way to make "things" better. He dearly loved his family and cherished the time spent with them, was a loving husband; a devoted father, a treasured grandfather, great grandfather and great-great grandfather; a beloved brother; and was a caring neighbor and friend. His family and friends celebrate his life and accomplishments, and will forever hold dear the memories he created for all. He will be greatly missed and will live on in our hearts forever.

The family will receive friends on Thursday November 17, 2011 from 10-11 AM at the Rausch Funeral Home in Port Republic, MD with memorial services being held at 11 AM. Interment will be held in Arlington National Cemetery at a later date.

In lieu of flowers, memorial donations may be made to Calvert Hospice, P.O. Box 838, Prince Frederick, MD 20678.

Arrangements provided by Rausch Funeral Home.