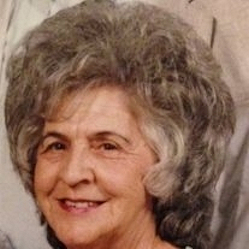 Hazel Lorraine Boswell, 79, of Waldorf, peacefully passed away surrounded by her family, Friday, October 11, 2013. Mrs. Boswell was the daughter of the late Guy J. and Margaret J. (Bryan) Hamilton. Hazel was born on May 25, 1934 in Washington, D.C. and raised in Southern Maryland. She married the love of her life on July 18, 1953 in Marbury, MD.

She is survived by her loving husband and best friend of 60 years, Clarence Lansdale Boswell Sr., and her children: Clarence L. Boswell Jr. and his wife, Emma of Mechanicsville, Larry D. Boswell and his fiancé, Sherry Bowling Rahm of Mechanicsville, Carolyn L. Hurst and her husband Gary of Waldorf; her grandchildren: Michael L. Boswell and his wife Christina, Ashley Boswell, and Shelby Hurst; great-grandchildren: Lacey Boswell, Kally Eusantos, and Michael Boswell Jr.

Her sisters, Shirley Wathen, Jean Costello, and Blanche Simmons, and numerous nieces and nephews also survive her. Her sisters, Helen Wright, Louise Gardner, Nellie Wedding, and brothers, James Earl Hamilton, Jerry Hamilton, and Bobby Hamilton precede her in death.

Family and friends were Hazel's delight and passion. She loved being a homemaker, and took pride in her home, raising her children, watching her grandchildren, and supporting her husband with the family business. She worked in the home-based office of C.L. Boswell Septic Services for 30 years.

It was the simple things around her that she never took for granted. Hazel was a very caring and compassionate person and a great listener. She loved to have fun and laugh, and was a very enthusiastic and great storyteller. She was always ready to go play bingo with family and friends, to go on family outings with her children, their spouses, and her grandchildren, and to go shopping at her favorite store, the Dollar Store, where she could stretch hard-earned money. She took joy in cooking, in canning produce grown by her husband, dancing up a storm to country music, and having sleepovers with her sisters all the way up to this current year. Hazel looked forward to watching her favorite T.V. show, Wheel of Fortune, each night with her husband.

She believed in the power and strength of the Lord and the beauty and peace that would await her after her passing. Showing this and her sense of humor, Hazel wished her final outfit to be her pajamas so that she was ready to peacefully rest in the Lord.

Visitation will be on Tuesday, 10/15/13, from 2-4 p.m. and 6-8 p.m. at Raymond Funeral Home, 5635 Washington Ave. La Plata, MD where Services will be held on Wednesday, 10/16/2013 beginning at 10AM. Burial immediately following at Trinity Memorial Gardens, 3165 Mattawoman Beantown Rd., Waldorf, MD.

Pallbearers will be Freddie Bowles III, Joe Bowles, David Murphy, Michael Boswell, Gary Hurst, and Eddie Cowan. Honorary pallbearers are Kenny Presgrave, and Freddie Bowles, Jr.

Memorial contributions may be made to "Fighting for Kayla", P. O. Box 645 Charlotte Hall, MD 20622.

Arrangements provided by Raymond Funeral Service.