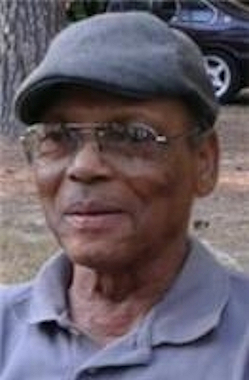 John Edward Butler, Sr., better known as "Sam" to his family and friends, departed this life to be with the Lord on Tuesday, December 2nd, 2014. He was born on December 12th, 1945 to and raised by the late Charles Sylvester Butler and Martha Ellen Countess in Maddox, MD. He was married in 1972 to the love of his life, Juanita Butler.

He graduated from Banneker High School in Loveville, MD in 1964. After graduation, Sam was drafted into the United States Army and served until 1967 receiving an honorable discharge.

Sam accepted the Lord in his life at Gospel Tabernacle of Prayer (G.T.O.P.) in 2013. He loved attending church and participating in the praise and worship service. He also enjoyed the sermons preached by Bishop LeRoy McDuffie and the other ministers. He could remember the messages preached from Sunday to Sunday.

Sam was a master carpenter, a builder and truly a "Jack of all Trades". He could build anything and did it with perfection and pride. Those who enter G.T.O.P. can witness the labor he performed with love.

He enjoyed fishing with his brother, Charlie; his sister, Mary Agnes; buddies, Mike Jordan, Glen Thomas, Michael Thompson and others, his grandchildren and especially his wife, who could out fish him. He enjoyed working on puzzles (with his wife or anyone who joined him), gardening, playing his guitar and watching his Washington Redskins losing most of the time. You could also find Sam enjoying some laughs in King Kennedy with his "Over the Hill Gang" and conversing with his sister, Mary Agnes.

He was preceded in death by his parents, Charles and Martha Butler.

Sam is survived by his devoted wife of 42 years, Juanita; his sons. Bernard (Juliet), Tyrone, John (Eddie), Jr, and Trevis (Teya); his grandchildren, Tyrone, Trevon, Tyreke, Tylita, Tyonte, JaQuan, DaJaun, Berna', Ryonna, Tanae, Jeremiah, Ethan and one great grandson, Te'Aun; siblings, Charlie (Gail), Theresa (Richard) and Mary Agnes (Sonny) and a host of other relatives and friends.

Family will unite with friends on Thursday, December 11, 2014 for visitation at 9:00 am until time of service at 11:00 am at Gospel Tabernacle of Prayer Church, 24516 Budds Creek Road, Clements, MD. On Friday, December 12, 2014 interment will be at Cheltenham Veterans Cemetery, Cheltenham, MD at 10:45 am.

Arrangements provided by Briscoe-Tonic Funeral Home.