Gough, Mary Margie
Birth: 1925-05-01 in Hermanville, Maryland
Residence: Pomfret, Maryland
Death: Thursday, May 19, 2011
Laid to Rest: Thursday, May 26, 2011 in the Charles Memorial Gardens, Leonardtown, Maryland
Condolences: Click to View or Post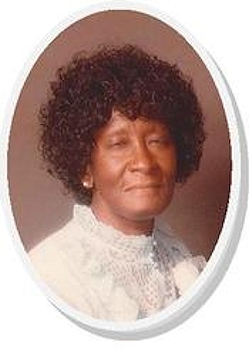 Gough, Mary Margie Whalen Johnson (Age 86) of Pomfret, Maryland.

Mary Margie Whalen was born on May 1, 1925 to the late Edward Whalen and the late Mary Wendy Bennett Whalen in Hermanville, St. Mary's County, Maryland.

Margie, as she was more affectionately called, grew up and attended school in St. Mary's County and graduated from Jarborville High School in Lexington Park, Maryland. Margie held several positions before the entrepreneur in her manifested. She was the founder of her own Ceramic Shop and she operated it for over 40 years. She was employed at the Patuxent Air Force Base in Lexington Park, Maryland during World War II in the Laundry Department, worked at a Reupholster Shop in Bel Alton, Maryland, owned and operated a restaurant and pool hall in La Plata, Maryland and operated a Bar-B-Q Pit in Calvert County, Maryland.

Margie had a funny, caring, giving and patient spirit. She loved the Lord and always tried to be honest in life. She helped the needy and was not ashamed to share with others what God had done for her. Margie was a member of an outreach ministry in her community. She was a delightful woman who would listen to everyone's problems. She always "kept a light on, the door open and food on the stove."

Simple pleasures such as her duck collection, the Christmas Holidays, watching wresting and jeopardy on television, going to church, and gospel events, cookouts, family gatherings, going on vacation, shopping and stopping at yard sales, and in her younger days, riding on the back of the truck to go fishing, picking berries and graduations of family members gave her much joy.

She was the kind of woman who was proud of the accomplishments of others, happy to see them excel.

However, the greatest enjoyment for Margie came from spending time with her children, especially Doris, if you saw one, you saw the other, her grandchildren and great grandchildren, brothers and sisters.

Peacefully on Thursday, May 19, 2011 at St. Mary's Hospital in Leonardtown, Maryland. Margie transitioned from this earthly life to life eternal.

In addition to her parents she was preceded in death by her husband, William Thomas Gough, one son, James L. Johnson, sister, Frances C. Dorsey, brother, James H. Whalen, brother-in-law, George C. Dorsey, aunts and uncles.

Left to cherish many memories are three sons, John C. Johnson, Paul R. Johnson and Joseph B. Johnson, two daughters, Doris E. Johnson and Juanita A. Gough, two daughters-in-law, Marva P. Johnson and Mary Ann Johnson, 22 grandchildren, 23 great grandchildren, brother, Robert S. Bennett, sister-in-law, Viola Whalen and a host of nieces, nephews and other relatives.

Her Viewing and Home Going Service will be held on Thursday, May 26, 2011 in the Chapel of Thornton Funeral Home, P.A., 3439 Livingston Road, Indian Head, Maryland from 9:00am until time of Service, 11:00am. Interment will be in Charles Memorial Gardens in Leonardtown, Maryland.

Arrangements provided by Thornton Funeral Home, P.A.