Russell, Richard Ignatius, Sr.
Birth: 1924-11-18 in Morganza, Maryland
Residence: Leonardtown, Maryland
Death: Tuesday, August 31, 2010
Laid to Rest: Friday, September 03, 2010 in the St. Francis Xavier Catholic Church Cemetery, Compton, Maryland
Condolences: Click to View or Post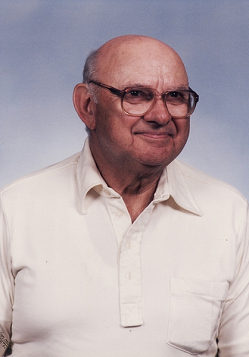 Richard Ignatius "Dick" Russell, Sr., 85 of Leonardtown, MD died on August 31, 2010 at his residence of 63 years. Born November 18, 1924 in Morganza, MD, he was the son of the late William Lee and Kathleen Ann Abell Russell. He was born the fifth child out of eight. He attended both St. Joseph's and Margaret Brent Schools. Dick graduated from Margaret Brent High School in 1943.

He met the love of his life, the late Agnes Cecilia Russell in the late spring of 1944 and they were married at St. Aloysius Catholic Church in Leonardtown, MD on November 22, 1945. Their best man was Irving Russell and their maid of honor was Virginia Hurry. Agnes preceded Dick in death on July 14, 1985. He held a memorial Mass dedicated to her at St. Francis Xavier Catholic Church every year since her death as well as for his son David who was killed in Combat in March of 1969.

Dick is survived by his children; Dickie (Karen), Bobby (Carole), Donald (Debbie), Linda Farrell (Jim), Agnes Monteith, Charles (Christine), Francis (Gisela) and Carolyn Weiler (Donnie) and Grandchildren; Georgia, Pam, David, Cynthia, Sandra, Nicole, Stephen, Kristie, Ryan, Paula, Ricky, Lewis, Sarah Jean, Brian, Keri, Tommy, Brandie, Crystal, Patrick, Kara, Karla, Charlotte, Sarah Jane and Michael as well as his 25 Great-Grandchildren. He is also survived by his siblings Dorothy Shavatt of Waldorf, MD, Mary Rosalyn "Rose" Hurry of Morganza, MD and James "Jim" Lambert Russell of Hughesville, MD.

He is preceded in death by his children; David Allen Russell and Baby Benjamin Russell, his granddaughter Kelly Farrell, and siblings; William "Austin" Russell, Walter "Fidalis" Russell, Anne "Helene" Hoffman and Louis "Lee" Russell.

He was known and loved by all as a family man, a faithful Catholic, a devoted community servant, and a dear friend. He has been an active member of the St. Francis Xavier Parish since he moved to his last residence in St. Clements Shores in 1947. He joined the Knights of Columbus in the same year. He has been in the Lions Club since 1973 serving as King Lion on three separate occasions. He remained active in all three until his death. He became the first baseball Manager at St. Clements Shores in 1956, first Rocking Chair Softball Manager of the local team in 1963 retiring from the team in 1970 and is a member of the Rocking Chair Hall of fame. He served as President of the Babe Ruth League while managing one of the other divisions in the 1960's. He also managed the Compton Raiders Young Men's Softball team one year in the 70's. He was the first President of the Chopticon Athletic Boosters in 1966. He was also the first President of the St. Clements Shore Comments Club.

Dick received many awards and has been recognized for his community work on several occasions. One of the most significant was Maryland's Most Beautiful People Volunteer award he received in October of 2004. He was nominated by the St. Mary's County Commissioners and received his award in Annapolis, MD.

Dick was born and raised on his family farm in Morganza, MD. He continued to farm in the Morganza area until he went to work as a Civil Servant from 1946 until 1979 at the Patuxent Naval Air Station, retiring as the Budget Officer. He continued to work as a government defense contractor for several years as a Financial Consultant and also worked part time for several years in real estate with B&B Realty. He always helped out on the Russell farms whether it was with tobacco, grain, flowers or just driving the tractor. He was still going to the farm and helping in any way he could until his illness with pulmonary fibrosis no longer allowed. He still consulted after that with his nephews on a regular basis right up to the time of his death.

Dick loved to travel and was able to see the world. He loved his family and loved to go up on the farm, the "Home Place" where he was born. Dick enjoyed spending time and working with his family, his fellow parishioners, his fellow club members, his hunting and fishing buddies. He loved to hunt and fish whenever he could. He never forgot a birthday and that included his brothers, sisters, parents, children, grandchildren and even most of the great-grandchildren as well as most of his nieces and nephews. He was an avid sports fan especially the Orioles and the Redskins and later the Ravens and the Nationals. When he found the time and if he wasn't coaching or working as a community servant, he enjoyed watching family members play ball, especially his Grandson David. Dick died peacefully in his home after two years battle with pulmonary fibrosis.

The family will receive friends on Thursday, September 2, 2010 from 5:00 – 8:00 PM in the St. Francis Xavier Catholic Church, Compton, MD where prayers will be said at 7:00 PM and the Knights of Columbus will say the Rosary. A Mass of Christian Burial will be celebrated on Friday, September 3, 2010 at 10:00 AM in St. Francis Xavier Catholic Church, Compton, MD with Fr. John Mattingly officiating. Interment will follow in the church cemetery. Pallbearers will be his surviving eight children. Honorary pall bearers are the members of the Leonardtown Lions Club.

Contributions in memory of Dick can be made to the St. Francis Xavier Catholic Church, 21370 Newtowne Neck Road, Compton, MD 20627 and/or the Leonardtown Lions Club, P.O. Box 363, Leonardtown, 20650.

Arrangements provided by the Mattingley-Gardiner Funeral Home, P.A.