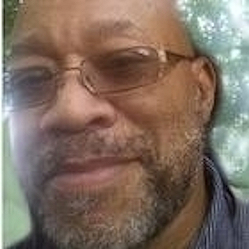 Perry Leroy Pennington was born on Monday, April 8, 1957 at Saint Mary's Hospital in Brooklyn, New York. He is the son of Marcia Cora Pennington-Henderson and the second grandchild of Perre and Beulah Pennington. His uncle Vincent gave him the nickname, "Duck". Vincent said that when he picked Perry up for the first time, he started crying with his mouth poked out. Vincent told the family that he looked like a Duck and since then, that has been his name. His mother added her slant and would call him "Duckieboy".

Perry attended Public School 28, Intermediate School 55 followed by John Dewey High School. All which were located in Brooklyn. While attending I.S. 55, he developed his love affair with music. He began by playing the tenor sax in High School. Just before attending College, he switched to the electric bass, which he has played ever since.

At age of 13, he began playing at various functions with a band called the "Nu Life". It was probably during this time he decided that he wanted to be a professional musician. He attended the contemporary music school "Five Towns College" in Long Island, NY where he studied Jazz, arranging, improvisation and electronic music.

He received an A.A.S. degree in contemporary music from there in 1979. To date, he has completed 7 instrumental CDs, onwhich he wrote, arranged and played. They are: "You Gotta Right" (2000), "Bet You Thought That I Forgot" (2001), "New Studies Show" (2006), "I Think About Us" (2006), "Outside the Matrix" (2007), "Tapestry" (2010) and "Full Investigation" (2012).

After struggling to stay employed as a Bass Player for a few years, Perry switched career paths and began his pursuit of a degree in Computer Science at Florida Atlantic University in Boca Raton, FL. He completed this degree at York College in Jamaica, New York in 1985.

On December 28, 1992, he met his future wife, Zanthia on an airplane in Atlanta bound for Washington, DC. They went on their first date on Martin Luther King weekend in 1993 and commenced to see one another almost every week thereafter. He proposed at her parent's home in Augusta, GA December 22, 1993.

Prior to their engagement, Perry told Zanthia about the property he owned and asked her if she ever thought about living in a country setting. She replied that she was not crazy about the idea, but would consider it as long as there was a mall within an hour's drive. Fortunately, the only full sized mall in the county, "St. Charles Mall" was less than an hour away.

After proposing, He went forward with getting our house plans approved by the county and securing a Construction Loan. With him acting as the General Contractor, they broke ground before their wedding on May 13, 1994. They were married later that year on October 22, 1994.

Perry wanted to learn more about his family which lead him to go on and pursue another great interest, genealogy. It was perfect past-time for him.6.

On February 22, 2000 Perry decided to try working as an independent Computer Consultant. The outcome of that decision was the formation of his company "Bowden Pinn, LLC". the name represents the surnames of the two families that he was able to trace back the furthest in his family tree. Pinn back to 1710 and Bowden back to 1729. The Bowden surname appears first because of Mary Bowden's relentless pursuit to be Free and Independent. She was a three-peat Runaway and the Churchwardens Norththumberland County (i.e., Courts) nor the beatings that she most likely received where able to persuade her otherwise.

Perry Pennington of Southern, MD passed away on July 5, 2015. Perry is survived by his loving wife, Zanthia, sister, Helen G. Henderson of Sterling, VA., brother-in-law, Terence Daniels (Sharon) of Newport News, VA, niece, Carrie D. Daniels of Newport News, VA, cousins, Lloyd (Audrey) Pennington of Hanover, PA, Victoria Welborn (Coty) of Virginia Beach, VA, Candrea Burwell (Samuel) of Covington, GA, Charles Pennington, Jr. of Plainfield, NJ, Kim Pennington of Plainfield, NJ, Khadijah M. Pennington of Laurelton, NY and a host of family of friends.

Viewing, 10:00am until time of Service, 11:00am, Wednesday July 15, 2015 in the Chapel of Thornton Funeral Home, P.A., 3439 Livingston Road, Indian Head, Maryland. Interment, Heritage Memorial Cemetery, Waldorf, Maryland. Arrangements provided by Thornton Funeral Home.