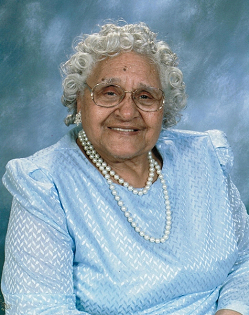 Parthenia Willa Smith, 88 of Scotland, MD, was called home by our Lord and Savior on October 30, 2013. She was born July 30, 1925 on Fresh Pond Neck Road in Scotland, MD to Luke Matthew Barnes and Martha Wood Greene Barnes, both of whom predeceased her.

Parthenia was one of six children. Her mother, Martha, was a school teacher and taught in the Scotland school house on Fresh Pond Neck Road and her father, Luke, was a farmer and fisherman.

Parthenia married Guffrie Smith on November 23, 1942 and they were married for sixty-seven (67) years. From their union, they had seventeen children (17), twelve (12) girls and five (5) boys. Parthenia was a very supportive wife and Guffrie always made the statement that he would not have been as successful without her.

Parthenia, along with her husband Guffrie, were two of St. Mary's County's first black entrepreneurs, owning a trailer park, laundromat and barbershop, as well as becoming bus contractors for the St. Mary's County Public Schools. Once Parthenia's last child was born, she decided to get her chauffer's license to assist her husband with their family business and drove the school bus for twenty (20) years.

Parthenia loved traveling and her first trip on an airplane was to Germany. After that, the rest was history!

She was a lifetime member of the St. Mary's County NAACP Chapter, the American Heart Association and the Babysitting Program. She was one of the first black women in the area to be a part of these programs.

Parthenia was a Christian who believed God's word and held on to God's unchanging hand until the very end. She could be found reading her Bible and praying at any time of the day. Parthenia knew how to call on the Lord for herself and for her family. She encouraged all of her family to attend church and to get to know God for themselves. Parthenia's nurturing extended beyond her seventeen (17) children and into her community as she fed, clothed, transported and encouraged many individuals.

Parthenia had a special place in her heart for St. Luke's United Methodist Church where she was a lifetime member. St. Luke's became a very important part of her life. She could be found in her favorite seat, wearing a beautiful suit and hat worshipping and praising God! Parthenia enjoyed the fellowship found at church. A hymn that was close to her heart was "What A Friend We Have In Jesus."

Parthenia was a witness for God by teaching, preaching, leading and demonstrating Christianity throughout her church and community—giving back what she received and treating people the way she wanted people to treat her. If she promised to do something for you, she would do it! Parthenia devoted her life to the Lord and to the building of God's kingdom.

She leaves to cherish her memory her children, Guffrie "Smitty" Smith, Jr. (Casey) of St. Leonard, Maryland, Marva Johnson of Upper Marlboro, Maryland, Zerita Shade of St. Inigoes, Maryland, Alberta Smith of Forestville, Maryland, Orlando "Tubby" Smith (Donna) of Lubbock, Texas, Beulah "Benita" Barnes of Lexington Park, Maryland, Eugene "Odell" Smith (Joyce) of Triangle, Virginia, Desiree Berry (Paul) and Ramona Smith, both of Scotland, Maryland, Holly Powell (Larry) of Lanham, Maryland, Aaron "Odea" Smith (Gloria) of Scotland, Maryland, Wendy Morton (Terry) of California, Maryland, Vivian Smith of St. Inigoes, Maryland, Shayne Smith of Scotland, Maryland, William Smith (Jeanne) of Cleveland, Ohio and Cindy Smith of Scotland, Maryland; brother, Sylvester Barnes and son-in-law, Robert Bennett, both of Scotland, Maryland; a special niece, Angela Barnes (who she raised as her own) of Lexington Park, Maryland; thirty-four (34) grandchildren, forty-one (41) great-grandchildren and a host of nieces, nephews, cousins and friends.

In addition to her parents and husband, Parthenia was predeceased by her daughter, Mae Helen Bennett; grandsons, Paul "June" Johnson and William "Will" Lucas Smith, Jr., brothers, Taliferro Barnes, Major Barnes and Billy Rogers; sister, Lilly Mae Hewlett and sons-in-law, William Shade, Jr. and Reno Johnson.

In lieu of flowers, donations may be made to the American Heart Association in Memory of Parthenia W. Smith, mailed to the American Heart Association, P.O. Box 5216, Glen Allen, VA 23058-5216.

Family will unite with friends for visitation at 12 noon until time of service at 1:00 pm on Saturday, November 2, 2013 at St. Luke's United Methodist Church, 12880 Point Lookout Road, Scotland, MD 20687. Interment will follow at Evergreen Memorial Gardens, 22020 Chancellors Run Road, Great Mills, MD 20634.

Arrangements by Briscoe-Tonic Funeral Home, Mechanicsville, MD.