Adams, Catherine Eloise
Birth: 1922-06-22 in Compton, Maryland
Residence: Hollywood, Maryland
Death: Friday, June 22, 2012
Laid to Rest: Tuesday, June 26, 2012 in the St. Johnís Catholic Church Cemetery, Hollywood, Maryland
Condolences: Click to View or Post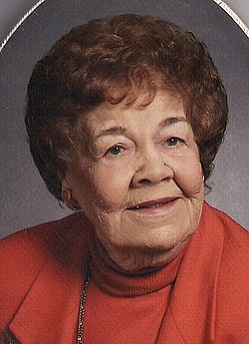 Catherine Eloise Adams, 90, of Hollywood, MD, passed away surrounded by her loving family on June 22, 2012 in Hollywood, MD. Born on June 22, 1922 in Compton, MD she was the daughter of the late Joseph Benjamin and Ida Pillsbury Morgan.

Eloise was the loving wife of Earl Thomas Adams, whom she married in St. Francis Xavier Church in Washington, DC on July 26, 1941 and who preceded her in death on October 23, 1975.

Mrs. Adams is survived by her daughters; Elaine Wood (Son) and Patricia Burney (Gary) both of Hollywood, MD, and Linda Dean of Valley Lee, MD, 8 grandchildren, 17 great grandchildren and siblings; Marie Combs of Leonardtown, and Dolores Lynch of Compton, MD.

Eloise is preceded in death by her son in law Bobby Dean, siblings; Helen Fenhagen, Bernard Morgan, Mabel Meyer, Aloysius (Dish) Morgan, Victoria Schaller, and Theda Nelson. Starting in 1946 she helped in her husbandís business, Adams Auto Service, and was a teacher at St. Johnís Catholic School for 20 years retiring in 1976. Following her retirement from teaching, she was a secretary for Dean Construction Company. Her greatest love was her family and faith.

The family will receive friends on Monday, June 25, 2012 from 5:00 PM Ė 8:00 PM in the Mattingley-Gardiner Funeral Home, Leonardtown, MD. A Mass of Christian Burial will be celebrated on Tuesday, June 26, 2012 in St. Johnís Catholic Church with Fr. Keith Woods celebrating and, Fr. Raymond Schmidt, Msgr. Martin P. Harris, and Msgr. Karl Chimiak concelebrating. Interment will follow in the church cemetery. Pallbearers will be; Bob Dean, Bobby Thompson, Bernie Dombrosky, Chuck Pappaconstantinou, Kevin Hills, and Adam Hills.

Contributions may be made to St. Johnís School, 43950 St. Johnís Road Hollywood, MD 20636, and/or Hospice of St. Maryís P.O. Box 625 Leonardtown, MD 20650.

Arrangements provided by Mattingley-Gardiner Funeral Home, Leonardtown, MD.