Forrest, Harriett Ann
Birth: 1915-06-20 in Leonardtown, Maryland
Residence: St. Mary's County, Maryland
Death: Thursday, December 27, 2012
Laid to Rest: Saturday, January 05, 2013 in the St. Peter Claver Catholic Church Cemetery, St. Inigoes Maryland
Condolences: Click to View or Post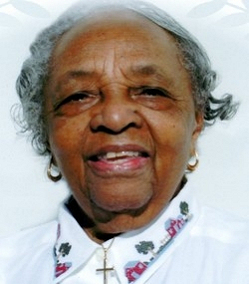 Harriett Ann Swales Forrest, daughter of the late Frank and Jane Frances McWilliams Swales was born on June 20, 1915 in Leonardtown, Maryland. She entered into eternal life on December 27, 2012.

Harriett was educated in the public school system in St. Mary's County, Maryland. In 1935, she married James A. Forrest, Sr., at St. Aloysius Gonzaga Church. She and her husband had five children and were married for 73 years.

Harriett and her husband had a passion for education and were very involved in the St. Mary's County Schools. She instilled the importance of education in her children, grandchildren and great-grandchildren. Many of whom achieved Bachelors, Masters, Theological and Doctorate Degrees. She opened her home to school teachers new to the county needing a place to stay. One of her first jobs was to start the fire for the school children in the morning at her school. She would constantly quote her favorite school teacher, Ms. Cora King, who told her about the importance of education and saving money.

She was a member of the Gray Ladies under the auspices of the Red Cross, a member of the Red Hat Ladies, a volunteer with Helping Hands, and contributed to the St. Vincent DePaul Society. She and her husband played a leading role in the youth programs in St. Mary's County, especially the 4H Club and the Department of Parks and Recreation with many of the youth activities held in their backyard.

She was a faithful servant of the Lord. She passed with her rosary and scapula in her hands. She was rarely without her rosary. When she became homebound she watched Mass for the Shut-ins every day on the Eternal World Television Network (EWTN).

She was preceded in death by her beloved and faithful husband, Dr. James A. Forrest, Sr.; her son, James A. Forrest, Jr.; her parents, Frank and Jane Frances McWilliams Swales; and her 18 brothers and sisters.

She leaves to cherish her memory, four children, George (Chiquita); Lewis I (Eudora); Barbara (Nace); and Francis/Bert (Margaret); nine grandchildren, twelve great grandchildren, a host of nieces, nephews, two sisters-in-law, extended family members and very close friends.

Family will receive friends for Harriet's Life Celebration on Saturday, January 5, 2013 from 9:00 to 10:30 a.m. at St. Peter Claver Church, 16922 Saint Peters Clavers Road, Saint Inigoes, MD 20684. A Mass of Christian Burial will be celebrated by Reverend Scott Woods, Reverend Damian Shadwell, and Reverend John Dakes at 10:30 a.m. Interment will follow in the St. Peter Claver Church Cemetery.

In Lieu of flowers, memorial contributions in Harriett Forrest's name may be made to Hospice of St. Mary's, P.O. Box 625, Leonardtown, MD 20650.

Arrangements by the Brinsfield Funeral Home, P.A., Leonardtown, MD.