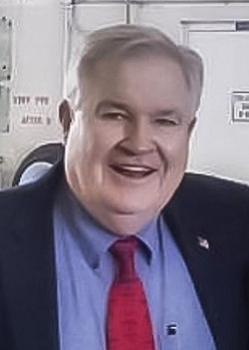 Robert Flemming "Bob" Woody, 76, of Lexington Park, MD died January 18, 2014, at MedStar St. Mary's Hospital in Leonardtown, MD. He was born on July 12, 1937 in Moundsville, WV to the late Donald W. Woody and Mary Delores White.

Bob proudly served in the United States Navy from 1955 to his retirement in 1981 as a Master Chief Petty Officer. Upon retirement from the Navy, he began his second career as a Vice President with Veridian/Wyle. After 22 years of dedicated service, he retired in May 2004.

On May 13, 1960, he married Regina Lenora Peckford at St. Martin's Anglican Church in Newfoundland, Canada. Together they celebrated 53 wonderful years together.

Bob was an active member of the Church of the Ascension, serving as a Lay Minister and Senior Warden of the church. He is a long time member of the Lexington Park Lions Club, serving as past president from 1996 - 1997 and receiving Lion of the Year award from 1997 - 1998. He was named the 2004 Business Person of the Year by St. Mary's Chamber of Commerce. He has previously served on the St. Mary's County Social Services Board and as a volunteer for Hospice of St. Mary's and Office on Aging.

In addition to his beloved wife, Bob is survived by his daughters, Linda Reed (Gary) of Lexington Park, MD, Sherry Whittles (Vince) of Dameron, MD, and Deborah Woody of Lusby, MD; his grandchildren, Heather Reed, Kelly Reed, Chad Day, Dustin Whittles, Dylan Whittles, Dominic Whittles, and Elaina Woody; his great granddaughter, Hadley Day; and his sisters, Elizabeth Kay Fox of Virginia Beach, VA, and Nancy Whitesell of Bear, DE. In addition, he is survived by many special sisters- and brothers-in-law and nieces and nephews.

He is preceded in death by his parents.

Family will receive friends on Wednesday, January 22, 2014, from 2:00 to 4:00 p.m. and 6:00 to 8:00 p.m. at Brinsfield Funeral Home, 22955 Hollywood Road, Leonardtown, MD 20650. A Funeral Service will be held on Thursday, January 23, 2014, at 11:00 a.m. at Church of the Ascension, 21641 Great Mills Road, Lexington Park, MD 20653. Internment will follow at Trinity Episcopal Cemetery, 47477 Trinity Church Road, St. Mary's City, MD.

Flowers will be gratefully accepted or donations can be made to St. Mary's Nursing Center Foundation, 21585 Peabody Street, Leonardtown, MD 20650 or the Lexington Park Lions, 23293 By the Mill Road, California, MD 20619.

Arrangements by Brinsfield Funeral Home, P.A., Leonardtown, MD.