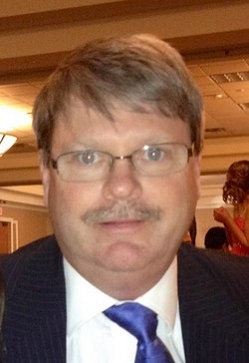 Frank Kohler, 50, of Tall Timbers, MD, passed away suddenly on Monday, September 16, 2013 at the Navy Yard in Washington, D.C. Born September 22, 1962, he is the son of Raymond Kohler and Patricia "Jean" Eyles Kohler of Zelienople, PA.

Frank earned his Bachelor of Science degree in Computer Science from Slippery Rock University and an Associates of Science from Penn State University. He worked as a Subject Matter Expert for the Navy Marine Corps Intranet Project and ensured that the enterprise had the necessary computing resources. A government support specialist for over 27 years, he assisted the command in planning future desktop computing requirements.

On September 19, 1987, he was wed to his beloved wife, Michelle and together they lived life to the fullest.

Frank was a world traveler who particularly enjoyed trips to Ireland, Scotland, Greece and the Mediterranean. An avid hunter, he also made annual trips to the Orbisonia Deer Club in Pennsylvania. He was a strong believer in supporting the community, and was an active member of the Lexington Park Rotary Club for 16 years. He was a past president of the club and held prestige as its oyster king. Above all, Frank was a dedicated husband, father, son, Christian, and overall family man.

In addition to his parents and wife, Frank is survived by his children, Meghan Kohler of Lynchburg, VA, Alexandra Kohler of Lynchburg, VA, and Se Weon Chun of Seattle, WA; his siblings, Harvey Kohler (Peggy) of Zelienople, PA; Patricia Grubbs (Dave) of Evans City, PA; Carolyn Huttinger (Mike) of Zelienople, PA; Rhoda Kohler of Greencastle, PA; and numerous aunts, uncles, nieces, nephews, cousins and a large network of extended family.

A celebration of Frank's life will be held at his home in Tall Timbers, MD on Saturday, September 21, 2013 from noon to 4 p.m. (casual dress)

A memorial service will be celebrated on Tuesday, September 24, 2013 at 6 p.m. at English Lutheran Church, 200 East Grandview Avenue, Zelienople, PA 16063. Interment will be private.

Memorial contributions may be made to Michelle Kohler, P.O Box 246, Tall Timbers, MD 20690 in support of a college fund for Frank's daughters established at USAA or to Lexington Park Rotary Club, P.O. Box 202, Lexington Park, MD 20653.

Arrangements by the Brinsfield Funeral Home, P.A., Leonardtown, MD.