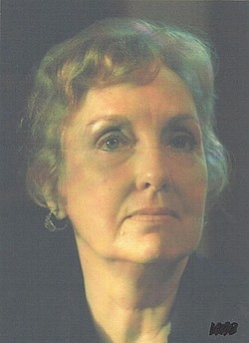 Lena Mace Lamb, 90, of Leonardtown, Maryland, passed away June 28th, 2013, at Georgetown University Hospital. Born in Pine Level, Florida, May 10, 1923, she was the daughter of the late Wayne and Lutha (Cannon) Mace.

She was raised in Fort Myers, Florida, graduated from Fort Myers High School, and attended Gwynn Park Business College. She worked at Buckingham Air Station at the outbreak of World War II. She married her high school sweetheart, Howard Lamb, with whom she began an odyssey as a Navy wife in 1942. They traveled throughout the Eastern United States from Maine to Florida, and enjoyed a tour of duty in Port Leyote, Morocco.

As a Navy wife, when her husband was stationed someplace the family couldn't go, Lena thought nothing of packing up the two boys, hooking up their camping trailer to the car and driving from their Maine duty station to their family hometown in Florida for six month periods. According to the boys, when they reached the Florida state line, Lena would say, "We're halfway there!"

The Navy family arrived in Lexington Park, Maryland, in the summer or 1958, making St. Mary's County their home. Lena and Howard founded The Tackle Box in 1960, starting in a tiny corner of Mr. Aud's building on Rt 235 in Lexington Park. Both they and their sons worked tirelessly to build the business to the successful enterprise it is today.

Lena became active in community projects, the Navy Wives Club, Lexington Park Baptist Church, Hollywood Fire Dept Ladies Auxiliary, as well as supporting her son's activities at Great Mills High School. Lena was an accomplished artist and painted throughout her life. She also acted and performed in numerous Navy Wives Club plays, as well as performing with two of her granddaughters in Lord Baltimore's World at St. Mary's City.

Lena and Howard fished side-by-side in rivers, creeks, and lakes from Maine to Florida. They traveled all over the world as members of the Shillelagh Travel Club. Lena created photo books before scrapbooking was popular. Her life, her travels, her friendships, her family gatherings/celebrations, and her fishing trips are all recorded in over 100 family albums she completed over the years.

When her sons returned to Lexington Park to join the family business in 1973, Lena became "Grandmother extraordinaire"! The grandchildren will tell everyone that she made the "most wonderful spam pancakes" in the world. Occasionally she would include a cup of highly milked coffee with the pancakes!! Heaven on earth!! She taught the children to fish, to water ski, to know the value of reading books & newspapers, and to value the importance of God in their lives. She taught them to accomplish all things with care and dedication, because everything mattered. She also taught them to learn their own voice and to share it – in truth, with dignity, with love, and with respect for the place it comes from. She danced and laughed and celebrated their graduations, weddings, and births of her great-grandchildren. She was always there for them.

In recent years, her family activities continued with as much active involvement in the lives of her great-grandchildren. Lena was also an avid letter writer and was never too busy to reach out to people. She valued life and seemed to love and feel things to her bones. She was an inspiration and made each day of her life count, even to the end when she lead a Bible Study group at Cedar Lane Apartments where she lived.

In addition to her parents, she was preceded in death by her husband, Howard, and three sisters: Ara Shaffer and LaVerna Thomas of Fort Myers, Florida, and Buena Neal of Fort McCoy, Florida.

She is survived by her two sons, Howard Lamb Jr. (Sandi) of St. Inigoes and Kenneth Lamb (Linda) of Lexington Park; five grandchildren, and thirteen great-grandchildren.

The family will receive friends Tuesday, July 9th from 5:00 P.M. to 8:00 P.M. at Mattingley-Gardiner Funeral Home in Leonardtown, where a memorial service will take place at 7:00 P.M. Internment will be private.

Memorial contributions may be made to Hospice of St. Mary's, P. O. Box 625, Leonardtown, MD 20650; or to Friends of Cedar Lane, 22680 Cedar Lane Court, Leonardtown, MD 20650.

Arrangements provided by Mattingley-Gardiner Funeral Home, Leonardtown, MD.