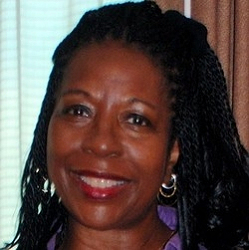 Mother, poet, educator and God's beautiful angel, Verna Mae Taylor of Adelphi, Maryland went peacefully to be with the Lord at 11pm on March 5, 2012, at the Hospice House of St. Mary's County, MD. She was surrounded by her loving daughters. Born October 27, 1945 in Buffalo, New York, she is the daughter of Essie Mae Conley (Buffalo, NY) and the late Warner Taylor.

Verna received her B.A. and M.A. in Linguistics in 1972 and 1974 respectively, from the State University of New York at Buffalo. She also completed coursework at McGill University in Montreal, Quebec, where she lived with her three daughters from 1976-1982.

Verna had an adventurous spirit and love of diverse cultures. She utilized her teaching skills to work as a lecturer in Linguistics and English Languages in Seoul, Korea, Riyadh, Saudi Arabia and Kuala Lumpur, Malaysia, where Verna worked as an assistant professor of English Languages and Literature. Verna lived in Malaysia from 1986-1997. Upon her return to the U.S., Verna was an instructor at the Maryland English Institute at the University of Maryland. She was employed by Prince George's County Schools as a teacher of English, to speakers of other languages at Springhill Elementary School, Greenbelt, MD. Verna made lifelong relationships with many teachers and students here and overseas.

Published writer and award-winning poet, Verna's poem "Langston's Voice", was published in the Langston Hughes Tribute Issue of the Beltway Poetry Quarterly. In the fall of 2010, Verna, along with artist Monna Kauppinen, were featured in a collaborative pairing art with poetry exhibit, at the Workhouse Arts Center Poetic Art Exhibition in Lorton, VA.

Verna enjoyed international films, plants and flowers, the ocean at sunset, peace, poetry and music-all that life had to offer. Her gold jewelry, red lipstick and perfectly done nails were the accents to her simple elegance and poise. Her soft, spoken sweet voice, matched her spirit. Verna's love, beauty, humor and kindness touched all who knew her.

Verna Mae Taylor is survived by her daughter Jada Hamilton, her son-in-law Frank Richardson, their children, Matthew, Andrew, Maya and Alex Richardson all of California, MD; daughter Courtney Hamilton of Lumberton, NC; daughter Heather Hamilton of Los Angeles, CA; as well as her mother Essie Conley; her brothers Walter, Jerome and Van Taylor, Robin Conley; sisters Elaine Redd, Vinnie Hatton and Valerie Taylor. She is also survived by many nieces, nephews, cousins and other relatives.

Vera's daughters will receive family and friends on Saturday, March 24, 2012, at the Brinsfield Funeral Home, 22955 Hollywood Road, Leonardtown, MD. 20650 from 2-3 PM for Vera's Life Celebration. A memorial service will follow at 3PM with Pastor Patricia Saunders officiating.

Arrangements by the Brinsfield Funeral Home, P.A., Leonardtown, MD.