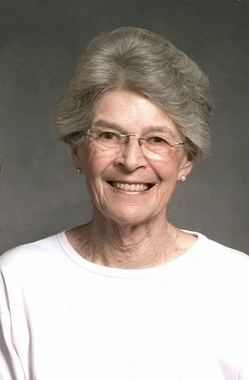 Judith Coville Conrad, 81, of Leonardtown, died peacefully at her home on March 6, 2014. She was born in Washington D.C., the daughter of the late Perkins and Emily Coville, and spent her youth in Arlington, Virginia.

In 1953 she graduated from the Parsons School of Design in New York City, and in March 1954 married Ensign Peter C. Conrad, U.S. Navy. For the next 32 years she accompanied him in his Navy career and raised their three children: Emilie Griffin (Frank) of Carpinteria, California, Paul Conrad (Teresa) of Los Alamitos, California, and Kate Spooner (Tom) of South Deerfield, Massachusetts.

In 1982 Judy purchased property in St. Mary's County for their retirement home so that they could be reasonably close to the family farm in Charlotte Hall and to have room for her Newfoundland dogs to swim in the Potomac.

Judy was an accomplished artist and gardener, and a member emeritus of the North End Gallery in Leonardtown, where she held various positions. She specialized in oils and pastel paintings of still life, landscapes, seascapes, and flowers. She also spent many hours on her floor loom weaving fabric for a variety of uses including the making of clothing which she designed, and she was an avid knitter, always employing with dexterity and skill the use of her hands.

She took on the deer and other Saint Mary's wildlife to achieve some success in growing a vegetable garden, which she loved. She was a dedicated reader who would regularly take out half a dozen books from the wonderful Leonardtown Library, read them, and got them back on time.

Judy is survived by her husband of 60 years, her three children, her granddaughters, Victoria Conrad (Carl Bauer), Christina Conrad (Francis Czerner), Casey Griffin, Alexandria Conrad, Erin Griffin, and Phoebe Conrad, sister-in-law, Bobbye Jean Coville, brothers-in-law, Charles F. Conrad and Bernard Byrne and members of their respective families.

A memorial service will be held on March 22, 2014 at 11:00 a.m. at Our Lady's Catholic Church, Leonardtown, MD.

In lieu of flowers it is requested that memorial contributions may be made to Hospice of St. Mary's, P.O. Box 625, Leonardtown, MD, the Catholic Relief Society, P.O. Box 17090, Baltimore, MD 21297-0303, or the U.S. Naval Academy Foundation, 295 Wood Road, Beach Hall, Annapolis, MD 21402-5001.

Arrangements by the Brinsfield Funeral Home, P.A., Leonardtown, MD.