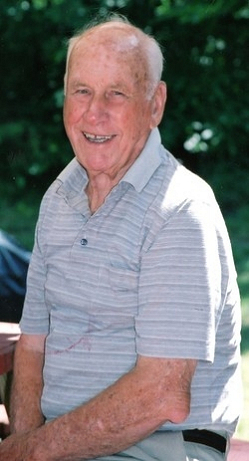 Charles Phillip (Hez) Howard, 92, of Tall Timbers, MD, died October 25, 2012, at Hospice House of St. Mary's in Callaway, MD. Charlie was born May 26, 1920, in Washington, DC, to the late William George Howard and Agnes Doyle Howard. He, along with his brother Bobby and sister Laura Mae grew up in Southeast Washington, DC, in the Anacostia and Lincoln Park areas of the City. He was baptized and attended Mass and elementary school at St. Theresa of Avila Roman Catholic Church, Anacostia.

He joined the United States Navy on October 2, 1943, enlisting as a Shipfitter. He was sent to Exeter, England and was attached to the 114th U.S. Naval Construction Brigade, after the invasion of Normandy, he served in the European Theater of Operations shuttling supplies between Omaha Beach and various small towns in France. Typical of the Greatest Generation, he considered his service during the war as just doing his part. He always said that the real heroes were the servicemen who lay buried in the Normandy American Cemetery in France.

During his service, he earned the European Theater Ribbon, the American Theater Ribbon and the Victory Medal. He was honorably discharged on March 17, 1946. Upon his discharge from the U.S. Navy, he returned to Anacostia and continued working in the plumbing industry where he was employed by the Atchison and Keller Plumbing and Heating Company.

He met and married Myrtle Ellis of Justice, WV, in 1946, and they raised two sons, Mike and Jimmy. He and a childhood friend, Frank Eno, formed their own mechanical contracting company, Eno and Howard Plumbing and Heating Co., Inc. He worked as a mechanical contractor for many years until his retirement in 1975.

He was a past member of the VFW (Scott-Collins-Johnson) in Morningside, MD. He had many hobbies, including a love of vegetable gardening, watching baseball and football, feeding ducks, geese and sharing his time and his homegrown wisdom with all he met.

Charlie was a long time resident of St. Mary's County, having purchased waterfront property on Herring Creek in 1959. He had the lot timbered, had the timber milled and built his own home there during the early 1960's using the timber from the land. He loved spending time on the water, especially going fishing and crabbing. He was a commercial crabber and had a unique style of 'backwards' crabbing. Charlie never met a stranger and he loved being with and talking to people.

Charlie was a devout member of St. George Roman Catholic Church and had a special devotion to the Blessed Mother. He, along with his wife Myrtle, served the community through the Meals on Wheels program. He loved his children, his grandchildren, and great-grandchildren, and enjoyed telling them stories, pointing out the life and beauty of the natural surroundings on the creek.

Charlie is survived by his two sons, Mike Howard (Mary Ellen) of Issue, MD, and Jimmy Howard (Khriss) of Hughesville, MD; his sister, Laura Mae Hunter of Arlington, VA; seven grandchildren, Kevin Howard (Jessica) of Altoona, PA, Patrick Howard (Ginger) of Clinton, MD, Kathleen Railing (Tim) of Chesapeake Beach, MD, Robert Burnett of Hanover, MD, Rebecca Howard of Issue, MD, Jessica Maletto (Jason) of La Plata, MD, and Anna Howard of Hughesville, MD; and six great-grandchildren, Alyssa Howard, Kayla Clerkin, Joseph Clerkin, Emily Clerkin, Hanna Howard and Olivia Mae Maletto. His extended Tall Timbers 'family' included special friends Marshall (Andy) and Linda Anderson, Butch and Joyce Mori, Donnie and Doris Bateman, Susan and Merl Evans, Tommy Tennyson, and Shelly Russell.

In addition to his parents, he was preceded in death by his wife, Myrtle Howard and his brother, Bobby Howard.

Family will receive friends for Charlie's Life Celebration on Thursday, November 1, 2012, from 5 PM to 8 PM with prayers recited at 7 PM at the Brinsfield Funeral Home, 22955 Hollywood Road, Leonardtown, MD 20650. A Mass of Christian Burial will be celebrated on Friday, November 2, 2012, at 12:00 Noon at St. George Roman Catholic Church, 19199 St. George's Church Road, Valley Lee, MD 20692. The celebrant will be the Rev. Msgr. Karl Chimiak. Interment will follow in the church cemetery.

Serving as pallbearers will be Kevin Howard, Pat Howard, Robert Burnett, Jason Maletto, Robbie Howard, Ronnie Howard, and Marshall Anderson.

Memorial Contributions may be made to Hospice House of St. Mary's, 44724 Hospice Lane, Callaway, MD 20620, or Second District Volunteer Rescue Squad, P.O. Box 1, Valley Lee, MD 20692.

Arrangements by the Brinsfield Funeral Home, P.A., Leonardtown, MD.