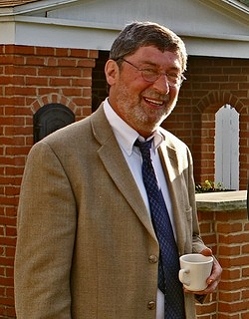 Andrew F. Kozak, 63, of California, MD, beloved professor of Economics at St. Mary's College of Maryland, died on October 16, 2014 at MedStar St. Mary's Hospital. Born on November 11, 1950 in Philadelphia, PA he was the son of John J. Kozak, Sr. and Emma H. Kozak.

Andy Kozak received his PhD in economics from the University of Notre Dame in 1983. He joined the faculty at St Mary's College of Maryland in 1984 and quickly established himself as one of the best teachers on the campus. He was awarded the Homer L. Dodge Excellence in Teaching Award in 1988 and was promoted to Associate Professor in 1991. Andy was the Director of the Honors Program/Paul Nitze Scholars Program from 1998-2003. He served as Chair of the Department of Economics from 2004-2009 and 2011-2012. He represented the College on the Board of Maryland Collegiate Honors Council from 1994-1997 and was President from 1996-97.

In addition to being an excellent teacher, Andy was a scholar who wrote numerous conference papers and gave many presentations. Most recently, he co-authored Markets, Planning and the Moral Economy, a book about business cycles in the New Deal. He was actively involved with student activities, supported sports teams and the economics club, and was always ready to listen to any student who stopped by his office. The students recognized Andy for his support by awarding him the Student Government Faculty Service Award in 1987 and again in 1997.

Beyond the college, Andy volunteered his expertise in urban economies and fiscal planning to the local community. He was a Board member of the St Mary's County Community Development Corporation from 1985-1992 and was a Commissioner of the St Mary's County Housing Authority from 2003-2012.

Andy was predeceased by his parents and two brothers, John J. Kozak, Jr. and Frank A. Kozak. He is survived by his wife, Rebecca K. Kozak, and his stepson, Aaron Boyles; his sisters, Barbara M. Coady, of Warminster, PA, and Ginger Bohar (John), of Maple Shade, NJ; his sisters-in-law, Juliana Kozak (Frank), and Paula Kozak Retzlaff; and four nephews, three nieces, six grandnephews, and two grandnieces.

Funeral services will be held on October 25, 2014, at St. Agnes/St. John Church in Philadelphia, PA. A memorial celebration of his life will be held on December 16, 2014, at 5:00 p.m. at the Daugherty-Palmer Commons, St. Mary's College of Maryland.

In lieu of flowers, contributions may be made to a scholarship in honor of Andy Kozak. Donations in his name should be sent to the St. Mary's College of Maryland Foundation, 18952 E. Fisher Road, St. Mary's College of Maryland, St. Mary's City, MD 20686. Arrangements by the Brinsfield Funeral Home, P.A., 22955 Hollywood Road, Leonardtown, MD 20650.