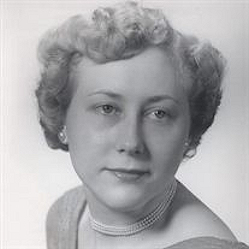 Audrey Meredith Knott, beloved wife of Francis X. Knott, Jr., passed away on Friday, February 6, 2015, at MedStar Georgetown University Hospital as a result of complications from cancer. Born May 29, 1930 in Easton, Maryland and raised in Caroline County on Maryland's Eastern Shore, she was the daughter of the late Nettie Viola (Sullivan) Meredith and the late Lacy Elmer Meredith and the granddaughter of the late Alphonsa and Anne W. (Horsey) Meredith. In addition, she was the great granddaughter of the late Dr. William H. and Mrs. Sara S. (Smith) Meredith.

Also preceding her in death were her sisters and their spouses, Clara and Earl Wolverton, Ruth and Alton Cannon, and Dorothy and Melvin Mackert, and her brothers and their spouses, Jerome and Lettie Meredith, Elmer and Elizabeth Meredith, and Wright and Mary Meredith. A brother, John Meredith, died in infancy. Two nieces and one nephew also predeceased her.

In addition to her husband, Mrs. Knott leaves behind her daughter Ann-Meredith (Knott) Chadwick and her husband William Kent Chadwick, and her son, Steven Morgan Knott and his wife Melody (Stine) Knott, all of La Plata, Maryland. Additional survivors include five nieces, six nephews, five great nieces, nine great nephews, eight great-great nieces and nine great-great nephews throughout Maryland, Delaware and Virginia, as well as Nevada and Japan. She also leaves extended family members, Louise Chadwick and her son Brandon and his family of Wallace, North Carolina, and Daniel and Catherine Sottlemyer and their family of Port Tobacco, Maryland.

Mrs. Knott was a graduate of Wesley College in Dover, Delaware, as well as Western Maryland College (now McDaniel College) in Westminister, Maryland. She was a music teacher in both the Fairfax County, Virginia, and Charles County, Maryland school systems. After her teaching career, she became a homemaker, devoting her love, time and full attention to her family and husband. She came to Charles County in 1951 to teach school; she married her husband of over 60 years in 1954 and remained a resident of Indian Head until her death.

She was previously active in her church, Indian Head United Methodist, where she was a member for 64 years. Mrs. Knott sang in the choir and was the former assistant director and eventually the director of the choir; she was also the church pianist and percussionist. In addition, she was active in the Southern Maryland Chapter of the Western Maryland Alumni Association.

Visitation will be on Wednesday, February 11, 2015, from 2 to 4 PM and 6 to 8 PM with prayers at 7 PM, Raymond Funeral Service, 5635 Washington Avenue, La Plata, Maryland. Her funeral will be held on Thursday, February 12, 2015, at 11:30 AM, at Indian Head United Methodist Church, 19 Mattingly Avenue, Indian Head, Maryland with the Interment at St. Charles Cemetery in Glymont, Maryland.

In lieu of flowers, donations in remembrance of Audrey Knott may be sent to the G. I. Cancer Research, Georgetown Lombardi Office of Development, 3300 Whitehaven Street, NW, #4000, Washington, DC 20007, (please indicate in the memo line Audrey Knott/G.I. Research) OR the Indian Head United Methodist Church, 19 Mattingly Avenue, Indian Head, Maryland 20640 (please indicate in the memo line Audrey Knott). Arrangements provided by Raymond Funeral Service.