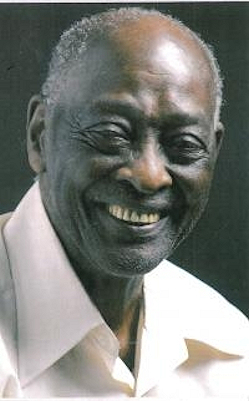 Joseph Emmanuel Greenaway was the ninth of 11 children born to Anthony and Anne Victoria Greenaway in Dyers, Montserrat, British West Indies, on June 28, 1924. Joseph was the youngest son. He adored his parents, younger sisters, Eleanor and Margaret, and especially his grandmother. Joseph was educated in Saint Georges School system under the careful tutelage of Mr. Freddy Peters. After completing his course of study at 15, like his biblical namesake, he was apprenticed to become a carpenter.

Joseph learned his trade well but as he would say so many times, he was a born traveler. As soon as he was old enough, he volunteered to serve in the British Army. His war stories were not of battles won or lost, but happy memories of a young man on a great adventure: crossing the ocean and seeing the glory of the pyramids of Egypt, learning to ride a motorcycle in the middle of the desert. Joseph concluded his service with the rank of corporal.

On his return to civilian life, he continued his travelling ways spending time with his brothers, Will and Ned and sister, Liz in Aruba, Antigua and Barbados, respectively. Ambitious for new experiences, he spent a year in America as a farm worker, visiting the South, Midwest, and New Jersey. Finally, returning to Montserrat, Joseph set his sights yet again on another adventure. He, like thousands of West Indians, answered the call to help rebuild England after the devastation of the War. There he met the love of his life: Brucel May Lynch, or "Duckie". "Duckie" was a midwife from Jamaica in nursing school. It was a perfect match. They were married soon after. The Lord blessed them with the birth of Joseph Jr, followed not long after by Rosemary.

But the urge to travel and provide the very best for his growing family encouraged Joseph to make the biggest risk: Coming to America. They made the trip by boat in late 1959. His first home in America was a sixth floor apartment in Harlem (yes, no elevator). Joseph and Brucel were blessed with another daughter, Sonia. Eventually, the family moved to a new home in the Bronx and Joseph finally settled down.

In 1979, Joseph and the children lost a vital part of the family when the Lord called Brucel to her eternal rest. In his grief, Joseph clung to Jesus, the rock of his salvation, continuing to teach in word and by example the lessons of faith and hope that Brucel lived and taught. Upon retirement, he took on another role—grandfather—travelling from New York to New Jersey weekly to look after Joseph III (Joey) and later, Samantha.

In 2005, after 39 years in the Bronx, Joseph went to live with his daughter Rosemary. Sonia presented Joseph with more grandfather opportunities with the arrival of her sons, Miles and Cameron. Through these years, he suffered health challenges: heart disease, kidney dialysis, coronary bypass. But to the surprise of his doctors, he just kept on "ticking". Later, as Alzheimer's took hold memories faded and confusion came on. But his faith and love for family never wavered. Bedridden in his last months, he was so happy to participate in conference call church services. His last wish was to attend Sunday services in person.

Joseph made his last journey home to our Lord's House on Friday, April 24, 2015. He passed quietly in his sleep at home in his own bed.

Joseph is survived by his son, Joseph Jr. and daughters, Rosemary and Sonia Greenaway Mickle, son-in-law Rodney, 4 grandchildren: Joseph III, Samantha, Miles and Cameron, his beloved sister Eleanor and numerous nieces, nephews, cousins and friends.

His Lord said unto him: Well done thou good and faithful servant. Thou hast been faithful over a few things. I will make thee ruler over many things. Enter thou into the joy of the Lord.

Arrangements provided by Lee Funeral Home.