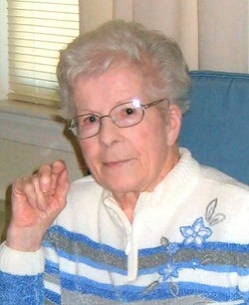 Helen Marie Cronin, 93, of Lexington Park, MD died April 15, 2014 at The Hermitage St. John's Creek in Solomons, MD. Born July 1, 1920 in Providence, RI, she was the daughter of the late Thomas P. Doherty and Catherine Keough Doherty.

In 1942, Helen graduated from St. Joseph's Hospital, School of Nursing as a Registered Nurse. She worked until her retirement in July 1979 as a registered nurse at Jane Brown Memorial Hospital in Providence, RI and St. Joseph's Hospital.

On May 18, 1946, she married her late husband, Thomas Henry Cronin, at St. Matthews Church in Cranston, RI. Together they spent 53 wonderful years of marriage together, until his passing in 1999. Her hobbies included knitting, crafting, baking and shopping.

She was dedicated to helping others, and donated many hours to her church and helping her neighbors and friends. She also travelled extensively, including many weekend road trips to New Hampshire, a cruise to Aruba and touring Ireland. She was a member of St. Matthew Leisure Club, St. Matthews Catholic Church and St. Aloysius Catholic Church.

Helen is survived by her daughter, Kathleen E. Blanchette (Paul) of Lexington Park, MD; her sisters, Florence L. Murray of Cumberland, RI and Rita M. Quinn of Cranston, RI; and many nieces, nephews, and extended family.

In addition to her and husband she is also preceded in death by her siblings, Thomas P. Doherty, Jr. and Catherine R. Weston.

Family will receive friends on Monday, April 21, 2014 from 8:30 a.m. to 10:30 a.m. at Urquhart-Murphy Funeral Home, 800 Greenwich Avenue, Warwick, RI 02886. A Mass of Christian Burial will be celebrated at 11:00 a.m. at St. Mark's Catholic Church in Cranston, RI. Interment will follow at St. Francis Cemetery, Pawtucket, RI.

Memorial contributions may be made to Hospice of Calvert County, P.O. Box 838, Prince Frederick, MD 20678 and St. Mary's College of Maryland Foundation, Inc., c/o Paul Blanchette Chemistry Scholarship, 18952 East Fisher Road, St. Mary's City, MD 20686-9988.

Arrangements by the Brinsfield Funeral Home, P.A., Leonardtown, MD.