Bowles, Catherine Genevieve
Birth: 1940-08-25 in Hollywood, Maryland
Residence: Clements, Maryland
Death: Sunday, September 02, 2012
Laid to Rest: Friday, September 07, 2012 in the St. John Francis Regis Catholic Church Cemetery, Hollywood, Maryland
Condolences: Click to View or Post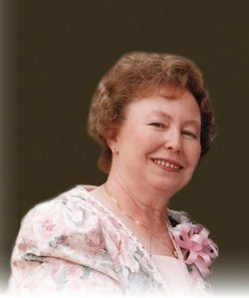 Catherine Genevieve "Jenny" Bowles, 72 of Clements, MD died peacefully on Sunday, September 2, 2012 at home in the company of her husband, Clarence and her daughters, Linda and Sandy, after a long and courageous struggle with Multiple Sclerosis (MS). Jenny was born in Hollywood, MD the youngest daughter of the late Francis Oswald Bowles and Ann Noema Abell Bowles.

Surviving Jenny, her husband of 23 years, Clarence, whom she married on December 30, 1989 at St. John Francis Regis Catholic Church, Hollywood; her daughters, Linda Marie Norris (Alan), Sandra Kay Currie (Kevin); her grandchildren, David J. Yost (Arlene), Williams Charles (Billy) Yost, Lisa Marie Norris and April Danielle Guy; her sister, Ann Theresa Jones (Hoover) of Hollywood, her brother, Francis Robert (Bobby) Bowles (Carol) of Laurel, Maryland; very special nephew, James (Jimmy) Bowles (Debbie); many nieces and nephews; and her mother-in-law, Celeste L. Bowles.

Jenny was predeceased by her first husband, James O. Currie, May 26, 1985, and her sister-in-law, Peggy Ann Bowles, April 24, 2011.

Following her graduation from Leonardtown High School, June, 1958, Jenny worked at the Ben Franklin Store in Leonardtown for 15 years; then became a bank teller at Mercantile Bank (previously First National Bank of St. Mary's) Leonardtown, retiring in 2002 with 15½ years' service.

Jenny was very particular about her appearance (always neat and accessorized), her home and her family. As a devoted grandmother, she was so proud of her grandchildren. Baking was her specialty - especially cookies, fudge, and her famous, delicious pound cakes! She loved Christmas and had a devout and special love of the Blessed Mother. Though somewhat reserved, Jenny is remembered for her kind, friendly, caring, and patient manner.

Family will receive friends for Jenny's Life Celebration on Thursday, September 6, 2012, from 5:00 p.m. until 8:00 p.m. at the Brinsfield Funeral Home, 22955 Hollywood Road, Leonardtown, MD 20650. Prayers will be recited at 7:00 p.m. A Mass of Christian Burial will be celebrated by Reverend Keith Woods on Friday, September 7, 2012 at 10:00 a.m. at St. Joseph's Catholic Church, 29119 Point Lookout Road, Morganza, MD. Interment will follow at St. John Francis Regis Catholic Cemetery, 43927 St. John's Road, Hollywood, MD.

Memorial contributions may be made to Hospice of St. Mary's, P.O. Box 625, Leonardtown, MD 20650 and Seventh District Volunteer Rescue Squad, P.O. Box 7, Avenue, MD 20609.

Arrangements by the Brinsfield Funeral Home, P.A., Leonardtown, MD.