Brown, Walter Anthony
Birth: 1937-09-11 in Providence, Rhode Island
Residence: La Plata, Maryland
Death: Saturday, January 05, 2013
Laid to Rest: Friday, January 11, 2013 in the Sacred Heart Catholic Church Cemetery, La Plata, Maryland
Condolences: Click to View or Post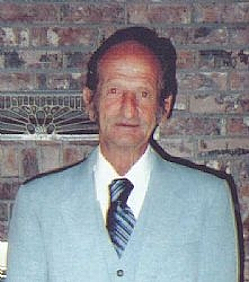 Walter Anthony Brown of La Plata, MD died on Saturday, January 5, 2013 at Med Star Southern MD Hospital in Clinton, MD. He was 75 years old.

Mr. Brown was the owner/operator (with his wife) of KWW Brown Corporation where he was a home builder for 40 plus years. He was a veteran of the United States Army and National Guard and a member of Sacred Heart Catholic Church in La Plata, MD. He also worked for the Government Printing Office for 12 years and was the owner of J&W Market in Dentsville, MD.

He was a member of the Knights of Columbus 4th Degree Member of the Forestville Chapter, the Elks Lodge in Waldorf, MD, and the Lions Club in Waldorf, MD. He was a talented builder of custom built homes and was able to draw up his own plans for customers if they were looking for something special or unique. He was a Redskin fan – he loved watching his football games and western movies.

Son of the late Harry F. Brown and the late Anna Emma Bucci Brown.

Predeceased by his parents and his wife Mary Louise Cranford.

Survived by one son: Walter A. Brown, Jr. of La Plata, MD; two daughters: Kim (John) Purdy of La Plata, MD and Wendy (Jack) Bland of La Plata, MD; four brothers: Harry Brown of CA, Thomas Brown of CA, Richard Brown of RI, and Bobby Brown of CA; two sisters: Anna Rinaldi of RI and Louise Volpe of CA; eight grandchildren: Amber Nelson, Brittnee Brown, Rhiannon Brown, Shelbie Harrison, John Brown III, Jenna Purdy, Walter Brown III, and Austin Brown; and two great grandchildren: Camden Nelson and Brynn Nelson.

Visitation: Thursday, January 10, 2013 from 2-4PM and 6-8PM with Wake Service at 7PM at Raymond Funeral Chapel (5635 Washington Avenue, La Plata, MD 20646) . Mass of Christian Burial: Friday, January 11, 2013 at 10:30AM at Sacred Heart Catholic Church (201 St. Mary's Avenue, La Plata, MD 20646). Clergy: Fr. Robert Buchmeier. Pallbearers: By family. Interment: Friday, January 11, 2013 at 11:30AM at Sacred Heart Catholic Church Cemetery.

Memorial contributions may be made to the American Lung Association (Executive Plaza I, Suite 600, 11350 McCormick Road, Hunt Valley, MD 21031) OR Hospice of the Chesapeake (445 Defense Highway, Annapolis, MD 21401).

Arrangements provided by Raymond Funeral Service.