Harrod, Leatha Mae
Birth: 1947-12-13 in Calvert County, Maryland
Residence: Huntingtown, Maryland
Death: Sunday, April 01, 2012
Laid to Rest: Saturday, April 07, 2012 in the Chesapeake Highlands Memorial Gardens, Port Republic, Maryland
Condolences: Click to View or Post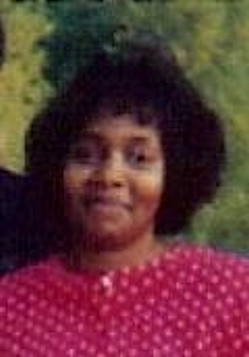 Leatha Mae Harrod, 64, of Huntingtown, MD passed away on April 1, 2012 at Anne Arundel Medical Center, Annapolis, MD. Leatha Mae was born in Calvert County, Maryland, on December 13, 1947, to Mary Ellen Jones and the late Arthur Sylvester Jones. She graduated from William Sampson Brooks High School in 1965. While in high school she participated in many school activities.

Leatha Mae accepted Christ and was baptized at Bethel Way of the Cross Church under the leadership of the late Bishop Jacob A. Green. She loved God and loved the Bible. She also enjoyed talking about the Lord with her family and friends for hours.

She was united in marriage to the late Almous Leroy Elliott Harrod on August 27, 1969. They were blessed with seven children: Todd, Glenda, Alva, Almous Jr., Monique (Tootie), Marsha, and Troy. She loved her family and enjoyed spending time with her grandchildren.

Having love and taking pride in her work, Leatha was employed as a Domestic Engineer for many years. She also was an aide at the Calvert House Nursing Home in Prince Frederick. She was a very dedicated employee, and her employers loved her as family.

She was preceded in death by her husband Almous (Pudney), sister Catherine, brother Samuel, and her father, Arthur.

Leatha Mae leaves to cherish and be blessed by her love and devotion seven children: Todd, Glenda, Alva, Almous Jr., Monique, Marsha, and Troy; nine grandchildren: Bertram (BB), Jamar, Delonta, Dalya, Todd Jr. (TJ), Mya, Jalon, and Bryce; one great grandchild, McKenzie; one godson, Page Fletcher Jr.; her mother Mary; one daughter-in-law, Vanessa; five brothers: Arthur (Curley), Russell (Sally), Daniel (Elsie Mae), John and Grafton; nine sisters: Lillie, Sadie (Maryon), Alberta, Gladys, Mattie, Evangeline, Virginia, Leila, and Bertina (Herbert); father-in-law, George Harrod; three brothers-in-law, Harry (Goldie); seven sisters-in-law: Arlene (Alphonso) Brooks, Gladys Harrod, Marion (Glenwood) Brooks, Darlene and Carlene Harrod, and June Holland. She also leaves a host of nieces, nephews, family members, and friends.

Arrangements provided by Sewell Funeral Home.