Tennyson, James Rodman
Birth: 1925-02-12 in Charlotte Hall, Maryland
Residence: Great Mills, Maryland
Death: Tuesday, July 31, 2012
Laid to Rest: Thursday, August 02, 2012 in the Evergreen Memorial Gardens, Lexington Park, Maryland
Condolences: Click to View or Post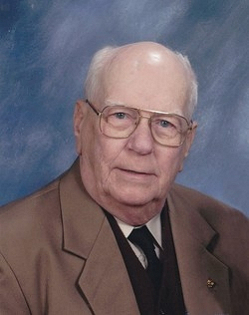 James Rodman Tennyson, 87 of Great Mills, MD died on July 31, 2012 at St. Mary's Hospital. Born February 12, 1925 in Charlotte Hall, MD, he was the son of the late Roderick T. and Bertha (Brookbank) Tennyson.

James graduated from Great Mills High School, Class of 1943. He served in the Army during WWII from 1943 to 1946. Mr. Tennyson worked at the Naval Air Station at Patuxent River, MD from 1950 until his retirement in June of 1982. In 1970 he served as Commander of the VFW Post 2632 in California, MD. On July 29, 1946 he married Janis A. Combs and they raised a family on Chancellors Run Road, Great Mills, MD.

He is survived by his wife of 66 years and his six children; Barbara T. Ostrander, J. Melvin (Judy) Tennyson, Jane R. Tennyson, Thomas B. (Becky) Tennyson, David M. Tennyson, and J. Donald (Barbara) Tennyson. He is also survived by six grandchildren, Mike, Krystle, Mark, Nellie, Scott, Jenny and five great grandchildren, Ethan, Connor, Jake, Kevin and Emma.

In addition to his parents, Mr. Tennyson was predeceased by his brothers, Sterling, Robert Earl, Leland; one sister, Edith T. Price and one grandson, Kevin Tennyson.

Family will receive friends on Thursday, August 2, 2012 from 10 a.m. to 11 a.m. at the Brinsfield Funeral Home, 22955 Hollywood Road, Leonardtown, MD 20650. A funeral service will be conducted by Monsignor Karl Chimiak at 11 a.m. in the Brinsfield Funeral Home Chapel. Interment will follow in Evergreen Memorial Cemetery, 22020 Chancellors Run Road, Lexington Park, MD 20653.

Memorial contributions may be made to Hospice of St. Mary's, P.O. Box 625, Leonardtown, MD 20650.

Arrangements by the Brinsfield Funeral Home, P.A., Leonardtown, MD.