Bishop, Pauline Beatrice
Birth: 1947-03-08 in Calvert County, Maryland
Residence: Lusby, Maryland
Death: Saturday, April 14, 2012
Laid to Rest: Saturday, April 21, 2012 in the St. John United Methodist Church Cemetery, Lusby, Maryland
Condolences: Click to View or Post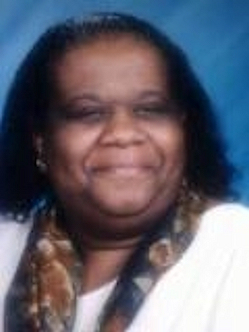 Pauline Beatrice Bishop, 65, of Lusby, MD passed away on April 14, 2012 at Calvert Memorial Hospital, Prince Frederick, MD. Pauline was born on March 8, 1947, in Calvert County, Maryland to Minnie Weems and the late John Graham.

She was a graduate of Brooks High School, Class of 1965. She was a longtime member of St. John United Methodist Church in Lusby, Maryland. She taught Blue Birds Girl Scout Troop. She enjoyed doing crossword puzzles, playing cards (solitaire), watching the Baltimore Orioles, and playing scratch offs. Her favorite foods were fried chicken breast, soft crabs, and a nice cold Pepsi. Pauline could be in the hospital one day and out the next and still manage to go to church. She was truly a child of God. She could be sick and having a bad day but she would still call and check on others, no matter how bad she felt. Her favorite past time was spending time with family and friends, especially her great grandchildren.

Pauline was employed by the Board of Education for 25 years at Appeal Elementary School as an Instructional Aide, Adult Ed, and before and after school child care.

On June 16, 1967 she was united in holy matrimony to the late James Edward Bishop. They have four wonderful children, Rasheena Ball, Tawanna Bishop, Chanita Young, and Vashon Bishop.

She was preceded in death by her husband James Bishop, her father John Graham, and her sister Connie Graham.

She leaves behind her mother Minnie Weems, Stepmother Elizabeth Graham, her children Rasheena, Tawanna (Will), Chanita(Conrad), Vashon(Karen), Adopted children Angel, James and Dexter. Her brothers, Wendell (Debbie), Wardell (Liz), Chris (Karen), Gary(Pamela) and Gregory(patsy). Her sisters Debra Anne (Quentin), Cindy, Tina, and Marcy. Two sisters-in-law, Edith Taylor(Matthew) and Audrey. Twenty-one grandchildren, Chele (Trae), Taron, Shontia, Rashad, Chrystal, Treanna(Quincy), Andre Jr, Jerkia, Ra' Joun(Shelby), Tyshon, Tavon, Indigo, Zion, Trinity, Chalyn, Garrett, Conrad Jr, Sharnika, Shambre, Melissa, and Holly. Fifteen great grandchildren, Ian, Demarco, Shaamik, Sonjiah, Cynia, Mikalia, Azahri, Lai'Lani, Camden, Traevon, Journeigh, Kameryn, Rayden, Aiden, and Emir. Three god children, Archie Johnson, James Graham Jr, and Janay Garner.

Arrangements provided by Sewell Funeral Home.