Nash, Carroll Anne
Birth: 1917-05-24 in Columbus, Ohio
Residence: Solomons, Maryland
Death: Friday, January 13, 2012
Laid to Rest: Thursday, January 19, 2012 in the Immaculate Heart of Mary Catholic Church Cemetery, Lexington Park, Maryland
Condolences: Click to View or Post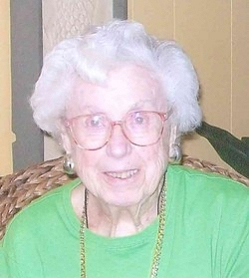 Carroll Underwood Nash, 94, of Solomons, Maryland died January 13, 2012 at the Asbury Solomons Health Care Center. Born May 24, 1917 in Columbus, Ohio, she was the daughter of the late Anne Carroll Underwood and Arthur W. Underwood.

She graduated from St. Mary of the Springs Academy and earned a Bachelor of Arts in Education from the Ohio Dominican University in Columbus, Ohio, graduating Summa Cum Laude. She was selected to "Who's Who" in American Colleges.

On November 16, 1950 in Richmond, Indiana, Carroll married Robert A. Nash. Her career paralleled her husband's naval career as she was employed by the United States Navy in Columbus, Ohio and Millington, Tennessee in the Disbursing and Payroll Office. After many years of dedicated service, she retired in the early 1970's from the U.S. Census Bureau in Suitland, Maryland, having served as a Budget Analyst and Administrative Officer.

Carroll was a longtime member of the Immaculate Heart of Mary Church, in Lexington Park, MD, and the St. Vincent de Paul Society. She served on the Board of the local American Cancer Society and volunteered for Meals On Wheels. She enjoyed playing bridge, working crossword puzzles, and vacationing in Ocean City, Maryland with her husband. She was known within her family and among her friends for always being ready and willing to help when someone needed her. She had a lifelong interest in following her family's history and its Irish heritage. She loved having fun and cherished life's humorous moments.

She was preceded in death by her loving husband, Robert A. Nash, and their son, Thomas Arthur Nash, as well as one sister, Mary M. Watson, and two brothers, Charles F. Underwood and Robert R. Underwood.

She is survived by twelve nieces and nephews.

Carroll's family expresses their sincere appreciation to her special friends who gave so generously of their time to visit and help her in so many ways. They added immeasurable comfort and happiness to her life. The family also thanks the caregivers at Asbury Solomons who were especially kind to her.

The family will receive friends Wednesday, January 18, from 2 to 5 p.m., with a prayer service at 4p.m. in the Brinsfield Funeral Home Chapel in Leonardtown, MD. A Mass of Christian Burial will be celebrated January 19 at 11 a.m., at the Immaculate Heart of Mary Church, Lexington Park, MD. Interment will follow in the church cemetery.

In lieu of flowers, and in Carroll's memory, the family suggests contributions be given to The Immaculate Heart of Mary Church, 22375 Three Notch Road, Lexington Park, MD 20653, The American Cancer Society, P.O. Box 1032, Lexington Park, MD 20653, or the Hospice of one's choice.

Arrangements by the Brinsfield Funeral Home, P.A., Leonardtown, MD.