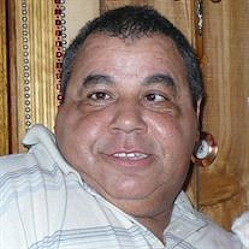 Louis Comillius "Corky" Swann, Jr., 57, departed this life Sunday, October 26, 2014 at Arlington Medical Center at 5:44 AM. He was born March 10, 1957 at Freedmen's Hospital, in Washington, DC to Margaret Hester (Thompson) Swann and Louis Comillius Swann, Sr. and was a member of Sacred Heart Catholic Church.

Louis was a lifelong resident of Charles County. He attended La Plata High School and graduated in 1975. He was recently employed with Alpha Security based out of Fort Washington, MD. Among his peers, he was a well-respected and dependable friend. He was very friendly and always willing to lend a helping hand. Corky enjoyed drag racing, playing cards, playing the lottery, watching the Redskins, listening to the Parliament Funkadelics, and cooking on the grill for family gatherings.

Corky is survived by his mother, Margaret Hester Swann and father, Louis Camillus Swann, Sr. of La Plata, MD; his sisters Carolyn Diane Rock (Thomas), Sonya Roxane Henry (Reginald), Adrienne Lena Swann-Watson (Wayne); his brothers Dale Patrick Swann, Derek Timothy "Timmy" Swann, Darryl Rodney Swann, Sr. (Marjorie), Scott Alexander Swann; nieces and nephews, Stephanie Swann, Darryl "DJ" Swann, Jr., Candace Montgomery (Jamal),Brittany Swann, Marcus Henry (Eshon), Antonio " AJ" Swann-Watson; great nieces, Destenee Brown, Tamia Montgomery, Aaliyah Montgomery; aunts, Gertrude Savoy, Georgiana Penney, Peggy Watson, Regina Pittman, Paige Coates, and uncles Lawrence Swann, Purcell Swann and John Swann. In addition, he was survived by a multitude of cousins and loving friends.

Friends received on Friday, October 31, 2014 from 9AM until the Mass of Christian Burial beginning at 10AM at the Sacred Heart Catholic Church, 201 St. Mary's Avenue, La Plata, MD 20646 with Interment to follow at the church cemetery. Arrangements by Raymond Funeral Service in La Plata, MD.