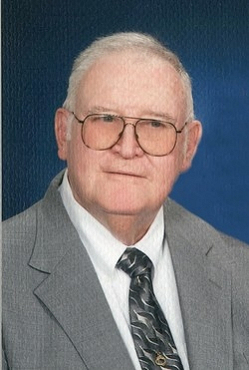 Edward Windsor Healy, 77, of California, MD passed away September 2, 2014 at Hospice House of St. Mary's in Callaway, MD, surrounded by his loving family. Born April 3, 1937, atop the old Hurry General Store in Clements, MD he was the son of the late John Edward Healy and Agnes Emily Hurry Healy.

Ed "Windsor" was a man of service. He loved his family, country and community. Ed left St. Mary's County on October 1, 1954 to join the United States Air Force as the Korean Conflict was winding down. He served his country proudly as a Staff Sergeant, which included two tours in Vietnam. Following his honorable discharge from the Air Force, he joined the U. S. Army National Guard and also served as a member of the U.S. Naval Reserve. When asked, "What happened to the Marines and Coast Guard, "he would respond, haven't had time yet."

Returning home in the late sixties, he became a member of the Leonardtown Police Force. In 1970 he joined the St. Mary's County Sherriff's Department, where he became one of the first K-9 handlers of the department. Ed and Blackie, his K-9 dog presented an imposing figure. In 1978 he joined the Department of Defense Federal Police Force stationed at NAS Patuxent River and served as Captain and Lieutenant until approximately 1985. After hanging up the badge he worked for two DOD contractor companies, one of which he was back wearing a badge. "Once a police officer always a police officer," it was in his blood until the day he died.

Ed raised eight children and loved each and every one dearly. He was a tough Dad. He wanted his children to be better than he and to succeed in life. His closest friend was his sister, Aggie. He was all Irish through and through. There was no thought of leaving the house on St. Patrick's Day without proudly wearing green. In fact, he just didn't understand why everyone wouldn't wear green on St. Patty's Day.

In his after years, one of his fondest and satisfying adventures was that of serving the elderly and disabled through the St. Mary's County Office on Aging, Meals on Wheels program. He cared deeply for his clients, and they for him. Their pets were happy to see him as he always had treats. He was our dreamer. This country is what it is because of dreamers. Ed was a charter member of the FOP, a life member of the VFW, and a member of American Legion Post 221. He was a man of service to his country and community.

In addition to his beloved wife, Audrey Yvonne Farmer Healy; Ed is also survived by his children, Mary G. Peterson (Robert) of Leonardtown, MD, John E. Healy, II of California, MD; Michael P. Healy of Golden Beach, MD; Walter B. Johnson (Cindy) of Panama City, FL; Emory M. Johnson (Debbie) of Bushwood, MD; Martha A. Lamb of Golden Beach, MD; Robert "Andrew" Johnson (Flora) of Golden Beach, MD; Kenneth R. Russell (Stacey) of Chesapeake, VA; and Kyle P. Russell of Leonardtown, MD; his sister, Mary Agnes Owens (Robert Lee) of St. Inigoes, MD; 21 grandchildren, and 12 great grandchildren.

In addition to his parents, he is also preceded in death by his daughter, Mildred C. Carter.

Family will receive friends for Ed's Life Celebration on Monday, September 8, 2014 from 5:00 to 8:00 p.m., with prayers recited at 7:00 p.m., at Brinsfield Funeral Home, P.A., 22955 Hollywood Road, Leonardtown, MD 20650. A Mass of Christian Burial will be celebrated by Rev. Keith Woods on Tuesday, September 9, 2014 at 10:00 a.m. at Immaculate Heart of Mary Church, 22375 Three Notch Road, Lexington Park, MD 20653. Interment will follow at Evergreen Memorial Gardens in Great Mills, MD.

Servings as pallbearers will be John Healy, Michael Healy, Andrew Johnson, Emory Johnson, Walter Johnson, and Kenny Russell. Honorary pallbearers will be the brotherhood of police, whom he proudly dedicated many years of service with.

Memorial Contributions may be made to Hospice House of St. Mary's, P.O. Box 625, Leonardtown, MD 20650.

Arrangements by the Brinsfield Funeral Home, P.A., Leonardtown, MD.