Ayres, Doris Mae
Birth: 1932-09-11 in Talbot County, Maryland
Residence: Mechanicsville, Maryland
Death: Friday, March 23, 2012
Laid to Rest: Monday, April 02, 2012 in the Maryland Veterans Cemetery, Cheltenham, Maryland
Condolences: Click to View or Post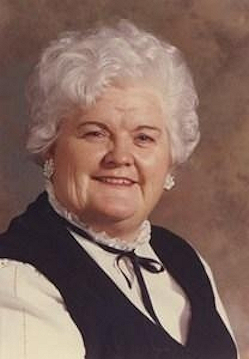 Doris Mae Ayres died March 23, 2012 at her home in Mechanicsville, Maryland at the age of 79. Mrs. Ayres was born September 11, 1932 in Talbot County, Maryland.

Doris was a very strong minded, independent woman. She grew up in Centerville, Maryland and after graduating high school she left for Secretary College, continuing her education to work as a Stenographer.

She soon met the love of her life, Howard Gordon Ayres, and they married on September 1, 1951. Howard was a Heavy Equipment operator, so they traveled with his work. They had their first child, Howard "Sonny" Thomas, and settled down. Seven years later, Shari Lynn arrived.

When her youngest entered first grade, Doris started work in the cafeteria of Crestview Elementary, Clinton, Maryland, where she later advanced to Head Secretary. She retired her long and fulfilling career at the Multi Service Center in LaPlata, Maryland. We remember her infamous greeting as "Multi Service Center, Mrs. Ayres"! She was well liked and respected throughout her career and continued long lasting relationships with her many friends, well after retirement, in fact, even to this day. She acquired the name "Nanny" when her grandchildren arrived, but to this day, so many friends know her as their Nanny, too!

Mrs. Ayres was the daughter of James Alvin Holland and Dorothy Mae Coppage.

Preceded in death by her husband, Howard Gordon Ayres and her Aunt Kathryn Posey.

Survivors include: sister, kay Starkey, Denton, Maryland, son, Howard, "Sonny" Thomas Ayres, Hughesville, Maryland, daughter, Shari Lynn Thompson, Mechanicsville, Maryland, granddaughter, Nicole Marie Thompson, Mechanicsville, Maryland, grandson, Clint Thomas Ayres, Hughesville, Maryland, granddaughter, Ashley Michelle Thompson, granddaughter Peggy Sue Ayres, Hughesville, Maryland, Great-grandson, John Howard Short, Mechanicsville, Maryland, son-in-law, James norman Thompson, Mechanicsville, Maryland and daughter-in-law, Shelia Rae Ayres, Hughesville, Maryland.

Family will receive friends on April 2 at The Huntt Funeral Home, 3035 Old Washington Road, Waldorf, Maryland, from 12:00 noon until time of service at 2:00 pm. Burial will take place at Maryland Veterans' Cemetery, Cheltenham, Maryland.

Memorial contributions may be made in Mrs. Ayres' name to the Finance Department, 30 East 33rd. Street, New York, New York, 10016, Fax: 212-889-2310 on line at www.kidney.org/DonateNow.

Arrangements provided by Huntt Funeral Home.