Campbell, James Vernon
Birth: 1934-04-03 in Pearson, Maryland
Residence: Lexington Park, Maryland
Death: Monday, April 01, 2013
Laid to Rest: Friday, April 12, 2013 in the Immaculate Heart of Mary Catholic Church Cemetery, Lexington Park, Maryland
Condolences: Click to View or Post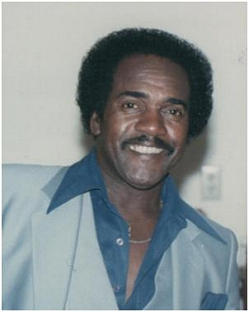 James Vernon Campbell, 78 of Lexington Park, MD., affectionately known as T.I., passed away peacefully on April 1, 2013 in St. Mary's Nursing Center in Leonardtown MD. T.I. was born in Pearson, now known as the Pax River Naval Air Station, on April 3, 1934 to the late Agnes Bernardine Chase and James Wallis Campbell. He attended schools in St. Mary's County.

T.I. loved to party, sing and play horseshoes. He especially loved to entertain with his family and friends. He loved his big Lincoln and Cadillac cars. He always reminisced about his days of playing in the band and "cutting a rug" on the dance floor. T.I. was known for being a sharp dresser; wearing suits and hats. He was always clean from the top to the bottom. T.I. was an exceptionally dedicated father who loved spending time with his family.

T.I. was pre-deceased by his wife, Marie Cecelia Berry Campbell.

He leaves to cherish one brother, Thomas Lee Campbell and one sister, Elsie Mae Campbell Dickerson. T. I. also leaves five sons, Chris, Michael, Bobby, David and Peter and two daughters, Pat and Julia all of whom live in Southern MD. T.I. also enjoyed the company of his fifteen grandchildren, eight great-grandchildren and three daughters-in-law, Gilberta Campbell, Jolanda Campbell and Patrice Campbell.

Family will unite with friends on Friday, April 12, 2013 at 10:00 am until Mass of Christian Burial at 11:00 am at Immaculate Heart of Mary Catholic Church, 22375 Three Notch Road, Lexington Park, MD. Interment immediately following in Immaculate Heart of Mary Church Cemetery. Repast will be held in the church hall.

Arrangements by Briscoe-Tonic Funeral Home, Mechanicsville, MD.