Grant, Flora Emma
Birth: 1935-11-18 in New Kingston, Pennsylvania
Residence: Mechanicsville, Maryland
Death: Sunday, November 04, 2012
Condolences: Click to View or Post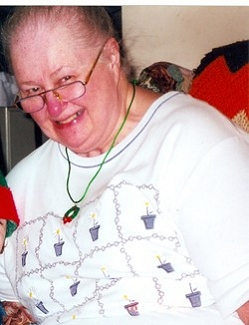 Flora "Flo" Emma Grant, 76, of Mechanicsville, MD passed away on November 4, 2012 at St. Mary's Hospital in Leonardtown, MD. Born November 18, 1935 in New Kingston, PA. to the late Francis Paul and the late Anna Waltman Paul.

Flora was employed as an Accountant at the Washington National Zoo. She enjoyed her family, volunteering at AAFB Hospital, crocheting blankets for the returning Hero's at Walter Reed Medical Center, reading and crossword puzzles.

Flo was predeceased by her parents, Francis and Anna Waltman Paul; brother: Harry John Paul.

Flo is survived by her loving husband, Larramont Howard Grant; her sons: Francis Grant (Anita); Harry Grant (Tammi); daughters: Elizabeth "Beth" Curtis (David); Cathleen "Cathie" Grant; grandchildren: Jason Grant, Nicholle Grant, Patricia Grant, David Grant, Jacqueline Curtis, Ryan Curtis, Joshua Curtis, Ashlie Lanier, Hannah Grant, and Chloe Grant ; great-grandchildren: C.J., Aiden, Keiondre, Kentrell, Adriyanna, Lanaiya as well as Flo's Sister-in-Law Marie Paul.

The family will receive friends for Flo's Memorial Gathering on Thursday, November 15, 2012 from 6:00 p.m. to 7:30 p.m. at Brinsfield-Echols Funeral Home, P.A., 30195 Three Notch Rd., Charlotte Hall, MD. Pastor Paul Goodwin will be officiating the Memorial Service at 7:30 p.m. following the Gathering at Brinsfield-Echols Funeral Home.

Memorial Contributions may be made to: Andrews Fisher House for "Wounded Warrior" program. Sent to: Andrews Fisher House at 1076 West Perimeter Road Andrews Air Force Base, MD 20762.

Arrangements provided by Brinsfield-Echols Funeral Home.