Carrington, Charles Edward
Birth: 1951-07-22 in Clarksville Virginia
Residence: Pomfret, Maryland
Death: Tuesday, September 20, 2011
Laid to Rest: Tuesday, September 27, 2011 in the St. Charles Cemetery, Glymont, Maryland
Condolences: Click to View or Post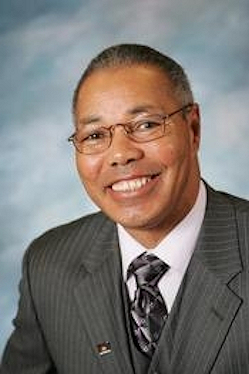 Charles Edward Carrington, of Pomfret, MD, departed this life at his home on Tuesday, September 20, 2011. He was born in Clarksville Virginia on July 22, 1951, to the late Edmond R. and Mary O. Carrington. He was the youngest of five children.

For nearly thirty years, Charles proudly served the Charles County community as a coach, educator, mentor, volunteer, and elected official. He is known for his coaching tenure with the Western Charles Skyhawks Youth Organization and McDonough High School football and wrestling teams. His community involvement included membership in the Knights of Columbus; president of McDonough High School's Athletic Boosters; seminar leader for Empowering African-American Males to Succeed. He was a member of the Civista Health Foundation and Branch, Banking, and Trust Advisory Board. Most recently, he served as a member of the Charles County Board of Education from 2006 to 2010.

As a child of God, husband, father, grandfather, brother, uncle, and friend, Charles embodied ideals of compassion, humility, and integrity. Few knew the man who were not profoundly impacted by his kindness and sincerity. He is remembered for his quick smile, sparkling eyes, and famous catch-phrase: Mercy!

Charles is survived by his wife of thirty-four years, Deborah; three sons, Christopher Purnell, Charles II, and Nicholas Carrington; five grandchildren, Damien, Chandrea, Joshua, Marcus and Taliya; three sisters, Alice Stewart (James), M. Frances Graham (Thomas), and Queen Esther Myers (Robert); and brother, Edmond II.

He was predeceased by daughter, Tiffani.

In lieu of flowers, donations may be made to the Civista Health Foundation.

Viewing, Monday, September 26, 2011 from 5 to 8pm, Prayers 7pm at Sacred Heart Catholic Church, 201 St. Mary's Avenue, La Plata, Maryland and on Tuesday, September 27, 2011 from 9am until Mass of Christian Burial, 10am. Interment, St. Charles Cemetery, Glymont, Maryland.

Arrangements, Thornton Funeral Home, P.A., Indian Head, Maryland.