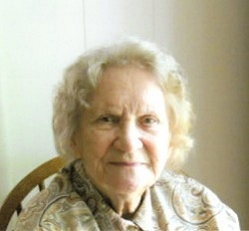 Mildred Violet Ervin, 96, of Hollywood, MD passed away on July 2, 2014 at her residence. Born on January 25, 1918, in Beverly, WV she was the daughter of the late Henry Harper Daniels and Vie Ellen Isner Daniels.

Mildred grew up on a farm in Beverly, WV purchased in 1795 by her great-great grandfather, William D. Daniels. She attended a one-room school on the property and later went to live and work in nearby Elkins, WV as a waitress, where she met and married her late husband, Sterling F. Ervin.

They moved to Maryland in 1943, living in a house below the State House in St. Mary's City, while her husband worked as a carpenter at the Patuxent Naval Base. Their next move was to the "Flat Tops" in Lexington Park, MD and then to Great Mills, MD, where they rented a house from Mr. Cecil for several years. Their last move was when they bought a small farm in Hollywood, MD in 1948.

Mildred was first and foremost a homemaker and enjoyed her vegetable garden, her flowers, sewing, crocheting and especially the Redskins. She worked for several years at the A & P in Lexington Park, MD, and later the "Munitions" plant in Mechanicsville, MD, on the assembly line. Her last job was working as a seamstress for Lexington Park Dry Cleaners for over 30 years.

Mildred is survived by her children, Edward Sterling Ervin (Ellen) of Brogue, PA, Donald Lee Ervin (Patsy) of Hollywood, MD, Helen Irene Thompson (Tim) of Mechanicsville, MD, Nancy Louise Harris of Hollywood, MD and Kenneth George Ervin of Hollywood, MD; her brother, Warren Thomas "Tom" Daniels (Mary) of Elkins, WV; 11 grandchildren and 16 great grandchildren.

In addition to her parents, she is also preceded in death by her husband of 22 years, Sterling Furman Ervin, siblings, Opal Mae Ash, Ralph Arnold Daniels, Anna Marie Kittle, Iva Irene Vanscoy, Gertrude Elizabeth Kile, Charles Henry Daniels, Dale Harper Daniels, John Lowell Daniels, and Willagene Ellen Hamricks; and her grandson, Edward Sterling Ervin, Jr.

All services will be private.

Memorial Contributions may be made to Hollywood Volunteer Rescue Squad, P.O. Box 79, Hollywood, MD 20636.

Arrangements by the Brinsfield Funeral Home, P.A., Leonardtown, MD.