Moore, Judith Mary
Birth: 1946-09-10 in Baltimore, Maryland
Residence: Waldorf, Maryland
Death: Tuesday, February 28, 2012
Laid to Rest: Saturday, March 03, 2012 in the Kriders Church Cemetery, Westminster, Maryland
Condolences: Click to View or Post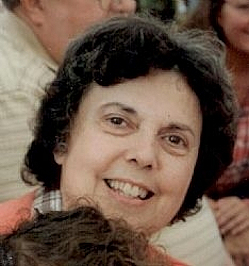 Judith Mary "Judy" Moore, of Waldorf, MD, died on Tuesday, February 28, 2012 at Georgetown University Hospital in Washington, DC. She was 65 years old.

Mrs. Moore was an Elementary School Teacher for 24 years for Charles County Public Schools, was a member of the First Baptist Church of St. Charles, and was a former member of Bible Baptist Church in Upper Marlboro, MD for more than 30 years.

Judy grew up on a dairy farm in Westminster, MD and graduated from Westminster High School in 1964. She graduated from Bob Jones University in 1968 with a degree in Elementary Education. She taught first grade at Pensacola Christian School until 1976 and wrote numerous Christian textbooks on various subjects for A Beka Book Publications. Judy taught all three of her children to read and write before they started kindergarten and also worked as a volunteer to help young children learn how to read. She worked as a substitute teacher for Charles County Public Schools for 17 years and worked as an Instructional Assistant at Eva Turner Elementary School in 2011 and 2012.

Daughter of the late Charles H. Hull and the late Alverta Straw Hull.

Predeceased by her parents and one brother, Michael Hull.

Survived by her husband of 35 years, Harry E. Moore; three sons, Randy A. Moore of Chevy Chase, MD, Jeremy D. Moore of Woodbridge, VA, and Joseph M. Moore of Neptune, NJ; one brother, John Hull of Chambersburg, PA; and one sister, Sharlene Graf of Abingdon, MD. Also survived by two grandchildren, Madison and Isabelle Moore.

Visitation: Friday, March 2, 2012 from 2-4PM and 6-8PM at Raymond Funeral Chapel, 5635 Washington Avenue, La Plata, MD 20646. Funeral Service: Saturday, March 3, 2012 at 10AM at First Baptist Church of St. Charles, 136 Stoddert Avenue, Waldorf, MD, 20602. Clergy: Pastor Fredrick G. Caudle. Pallbearers: Randy A. Moore, Jeremy D. Moore, Joseph M. Moore, Peter Graf, Patrick Graf, and Paul Rambo. Interment: Saturday, March 3, 2012 at 1:30PM at St. Benjamin Krider's United Church of Christ Cemetery, 208 Krider's Church Road, Westminster, MD 21158.

Memorial contributions may be made to the American Cancer Society (801 Roeder Road, Suite 800, Silver Spring, MD 20910) OR Bob Jones University (Class of 1968, 1700 Wade Hampton Blvd., Greenville, SC 29614) OR The 700 Club (the Christian Broadcasting Network, 977 Centerville Turnpike, Virginia Beach, VA 23463 www.CBN.com) OR First Baptist Church of St. Charles (136 Stoddert Avenue, Waldorf, MD 20602-2011).

Arrangements provided by Raymond Funeral Service.