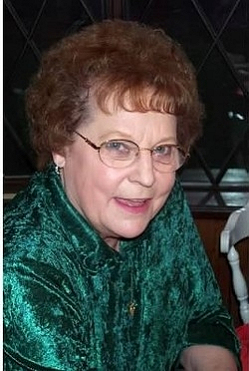 Elizabeth Lee "Bunky" Bowling 83 of La Plata, Md. died on August 26, 2013 at her home surrounded by her husband and family. She was born on August 10, 1930 in Washington, DC to the late Roger Mason Myers and Maryland Myers.

She graduated from Bladensburg High School in 1948 and then graduated from Washington School for Secretaries.

She married Gilbert "Buddy" Bowling, Sr. on June 12, 1955. As a young wife and mother, Bunky was a member of the La Plata United Methodist Church where she taught Sunday School. She was a Cub Scout leader, an active member of the Homemakers Club and volunteered at Saint Mary's Bryantown, St. Mary's Academy and Ryken.

In 1988, she and Bud owned and operated tobacco auctions at the Hughesville Tobacco Warehouse, the oldest warehouse in Southern Maryland. They proudly turned the warehouse into an antique flea market known as the Hughesville Bargin Barn, which is still open today. She was also very active in the Charles County Fair where she established the cutest baby contest. In her free time she enjoyed traveling with her husband, reading and spending time with her family. With her beautiful smile, kind hearted soul and tell it as it is personality Bunky will truly be missed!

She is survived by her loving husband of 58 years Gilbert "Buddy" Obie Bowling, Sr., her son Gilbert O. "Buddy" Bowling, Jr. and his wife Cathy of Charlotte Hall, MD, daughters Darlene Lee Damba and her husband John of La Plata, MD, and Laurie Marie Bowling of La Plata, MD, sister Teddy Humphries of Texas, grandchildren Chris and B.J Bowling, Jennifer Neumann, Heather Friedrich, Tyler and Brandon Milbrook. She is also survived by 9 great grandchildren.

The family will receive friends on Monday September 2, 2013 from 2 to 4 and 6 to 8 PM with prayers at 7:45 PM at the Brinsfield-Echols Funeral Home in Charlotte Hall, MD. Funeral services will be held on Tuesday September 3, 2013 10 AM at the La Plata United Methodist Church La Plata, MD. Interment to follow at Trinity Memorial Gardens in Waldorf, MD.

Pallbearers will be B.J. Bowling, Chris Bowling, Tyler Milbrook, Brandon Milbrook, Brian Bowling, Mitchell Curtis, Jr. and Gilbert O. "Buddy" Bowling, Jr. Honorary Pallbearers will be William "Billy" Roberts, Lloyd Bowling, Ken Parsons, Joseph Stone and John Foster.

Memorial contributions may be made to Hospice of Charles County 2505 Davis Rd. Waldorf, MD 20603 or the La Plata United Methodist Church P.O. Box 2824 La Plata, MD 20646.

Arrangements provided by Brinsfield-Echols Funeral Home.