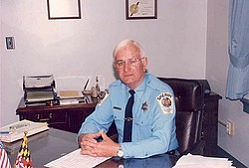 Former Maryland State Police Waldorf Barrack Commander and St. Mary's County Sheriff Wayne L. Pettit passed away peacefully at his home surrounded by his family on the Wicomico River in Maddox, MD on Friday, November 21, 2014 after a valiant two year battle with Leukemia.

Sheriff Pettit was born May 31, 1930 in Vance, Mississippi. He was the fourth of seven children of the late William E. Pettit, Sr., and Willie Mae Haley Pettit and grew up on a cotton farm in Tallahatchie County, Mississippi, during the Depression. He was preceded in death by his older brother, Kenneth, his younger brother, Graham, and younger sister, Mary Ann Ellett.

Pettit came to Maryland in 1950 to work for his Uncle Harvey in his Silver Diner in Silver Spring. It was there he met his first wife, the late Patricia Marie White, whom he married in 1952. In 1951 he was drafted into the Army, serving in the Korean War with the 179th Infantry Regiment. Upon his return from Korea, he transferred to the Army Reserve and achieved the rank of Master Sergeant prior to his Honorable Discharge in 1957. During his Army service, he earned the Combat Infantry Badge, Korean Service Medal with Bronze Star, and the United Nations Service Medal.

Following his Korean service, Pettit returned to Maryland and completed his high school education, graduating from Montgomery Blair High School. He then joined the US Postal Service as a mail carrier in the Silver Spring area. After two years with the postal service, he entered the Maryland State Police Academy, graduating as a Trooper in 1957. Service with the State Police led to posts in various locations, eventually being assigned to St. Mary's County in 1960 where he would establish his longtime home.

After the loss of his first wife, he married Virginia Lyon Wolfe of Maddox. In 1969, they established their home on the Wicomico River, including Glen Echo Farm, where he lived until his passing.

Pettit's life was dedicated to law enforcement and public service. He was chosen as Post Commander for the Leonardtown MSP post and after achieving the rank of First Lieutenant, was promoted to Commander of the Waldorf Barrack, where he served until his retirement in 1981. In 1982, he was elected to his first term as Sheriff of his beloved St. Mary's County. He served three terms, during which he led the transformation of the Sheriff's Office and Corrections Department into professional law enforcement organizations on par with their national counterparts.

He enjoyed working on the farm and helping his neighbors and brother-in-law with their farm work. He always enjoyed his garden, which he took great pride in each year and spent countless hours preparing and tending. He enjoyed incubating and hatching ducks and other game birds, and was frequently seen leading a string of ducklings around the yard. Sheriff Pettit enjoyed spending time with his friends playing golf at Wicomico Shores Golf Club and traveling on annual golf excursions.

After retirement, he enjoyed traveling with his wife, Genny, on numerous trips throughout North America. He also enjoyed returning to Mississippi to visit family and friends. He was a member of the Maryland Troopers Association, Maryland State Police Alumni Association, Maryland Sheriff's Association, National Sheriff's Association, American Legion, Veterans of Foreign Wars, 7th District Optimist Club, and the Maryland Farm Bureau.

Sheriff Pettit is survived by his loving wife, Virginia; his sons, Doug of Lake Helen, FL, Mark (Kelly), and Todd (Corey), both of Maddox; his daughter, Beth (Jack) of Peoria, AZ; and four grandchildren, Kevin Mooney, Aidin Pettit, Keiran Pettit, and Jordyn Pettit. He is also survived by his brother, William E. Pettit, Jr. (Betty Jo) of Jackson, MS; sisters, Martha Kyle of Tillatoba, MS, and Carolyn Little (Markes) of Cleveland, MS; and sister-in-law, Berniece Pettit of Scobey, MS.

The family will receive friends on Tuesday, November 25, 2014 from 4:30 PM – 8:00 PM with prayers recited at 7:00 PM in the Mattingley-Gardiner Funeral Home, Leonardtown, MD. A Funeral Service will be held at 10:00 AM on Wednesday, November 26, 2014 in First Saints Community Church St. Paul's Leonardtown Campus, Leonardtown, MD. Interment will follow in the church Cemetery. Pallbearers will be a mixed Honor Guard from the Maryland State Police and St. Mary's County Sheriff's Office.

In lieu of flowers, contributions may be made in memory of Sheriff Pettit to: A Community That Shares (ACTS), P.O. Box 54, Bushwood, MD, 20618, or (301) 769-4199 and/or the 7th District Volunteer Rescue Squad, Inc., 21530 Coltons Point Road, Avenue, MD, 20609, or (301) 769-2287. Arrangements provided by Mattingley-Gardiner Funeral Home.