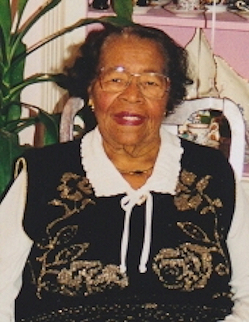 Ruth Louise Jones Holland was born on January 12, 1914 in Washington D.C. to Bessie and Ernest Jones, They later moved to Calvert County. Momma Ruth, as she was affectionately called by her children, grandchildren and great grandchildren, attended the public school in Huntington, MD.

Ruth married Thomas Henry Curtis at an early age and they were blessed with their only child, Phyllis. Ruth lost her first husband in a tragic car accident. She later married Robert Holland (deceased), that union produced six children; James, Vivian, Mabel, Morris (deceased), Bessie and Stanley. Momma Ruth adored her children and devoted herself to their upbringing. She took an active interest in their education and spiritual foundation. Her motto was "to stay out of trouble and make something of yourself!"

Momma Ruth lived most of her life in the towns of Huntington, Prince Frederick and Owings, all in Calvert County. She and her devoted husband, Robert, enjoyed many happy days fishing on the Pier at Chesapeake Beach. Robert earned a living as a tobacco farmer and county school bus driver.

To help support her large family, Ruth worked many years as a domestic, and developed a well known reputation as an excellent chef at several of the fine restaurants in Calvert County. She also baked an incredibly delicious assortment of cookies, which delighted her many grandchildren who were excited to receive their cookie tins each holiday season!

In her later years, she worked as a baby sitter and a Senior Companion to the elderly. Her home was always open to many of the school teachers who were employed in the local schools and needed a place to live. She had an entrepreneurial spirit, maintaining a steady business selling vegetables from her garden door-to-door to the residences of several beachfront towns along her beloved Chesapeake Beach. As a result, Ruth was able to achieve her lifelong goal to drive and own her own car.

Momma Ruth was a faithful and devoted Christian who loved the Lord and committed her lifelong service to Plum Point United Methodist Church and Patuxent United Methodist Church. She assisted in fundraising and providing comfort and food for the families of both churches.

Just last month, Momma Ruth enjoyed her l00th birthday celebration with dozens of family and friends in attendance at Villa Rosa Nursing Home.

Mama Ruth is survived by six of her children and their spouses: Phyllis Tapscott (Edmond), James Holland (Theresa), Vivian Johnson, Mabel Hill, Bessie Silver, Stanley Holland (Dorothy): her sisters Mattie Coates and Doretta Taylor (Edward), and her brother Noble Jones: seventeen grandchildren, great grandchildren, two great-great grandchildren, many nieces and nephews, her beloved and caring church members, her dedicated caregivers at Villa Rosa Nursing Home, and a host of relatives and friends.

Arrangements provided by Sewell Funeral Home.