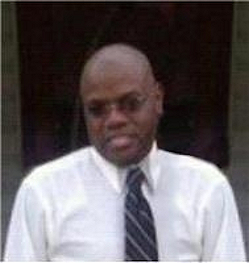 Roy Anthony Ashton, Sr., 57 of Great Mills, MD departed this life on May 14, 2014. Roy Ashton, a native of St. Mary's County was born in Leonardtown MD on July 13, 1956 to the late Mary Catherine Chase-Ashton and Thomas W. Ashton, Sr. Roy attended Chopticon High School and University Of Maryland where he studied photography. Roy also served our country honorably as a Marine… Also known as a "JAR HEAD".

While serving our country, he met the beautiful Wanda Holton (Stoogie to most). After 2 years of dating, they decided to go to the St. Mary's Court House where they married on May 14, 1981. These two were truly the real Bonnie and Clyde of their time. Not perfect in the eyes of many, but perfect for each other in so many ways. Roy was truly loved by his four children - Roy, Jr., of Fort Hood, Texas, Shamekcia (Deigo), of Lexington Park, MD, Ashley, of Lexington Park, MD and Rochell of Miami, Florida. He was blessed to have six grandchildren who adored him.

Roy was an all-around man with many different hobbies from fishing, racing cars and definitely entertaining others. He was a very well-known and loving man with a heart of platinum. He knew everyone or at least it seemed like it. Although you may have only spent one hour with him, he was sure to leave an impression on you. If you knew him you were aware that he was a fighter; he fought cancer for years. Roy was truly the life of the party and would have it no other way. And Lord when that man got on the dance floor, there was no getting him off. Roy was sure to keep a smile on your face from the rude insults to the tough love that he had no problem giving out (but that was only if he liked you). Although, you never knew what he would say, you were sure to hear a few of his favorite sayings "hold the phone", "you don't hear me tho" , "give me some baby love " and the most favorite " you got a new shirt and you don't know how to act". Roy was a very giving person whether it was his last or not; it was available to you for the price of a small insult. He faithfully enjoyed going to the farmer's market early Saturday mornings with the girls. You could always expect a random pop up; just to speak throughout the Oakville community.

Roy was truly a family man to all of his family and friends near and far. He loved to hear that it was something going on out of town; he was definitely going to attend. A great listener and teacher; he was to many. From cooking lessons to akeeya, to the burning rubber in the street in his M.I.B race car. Roy had an influence on many lives. He always had friends and family at his house; whether it was because Stoogie was babysitting or just because you knew that it would be something good for dinner .
Rest easy daddy; not a day will go by that you will not be thought of. You may be gone but I promise, you will never be forgotten. Wipe your tears and celebrate with good music, food and people; that is the way that Roy would have wanted things to be on his day.

Roy was preceded in death by his parents, Mary Catherine Chase-Ashton and Thomas W. Ashton, Sr. and brother, Thomas W. Ashton, Jr. He leaves to cherish his memory his four children, Roy, Jr., Shamekcia, Ashley and Rochell; six siblings, Bernard (Irene), of Houston, Texas, Delores (James), of Mechanicsville MD., Rodney (Agnes), of Waldorf, MD, Jerome (Vandana), of Rockville, MD, Clarissa (Cornelius), of California, MD and Angela (Stanley), of Mechanicsville, MD.

Family will unite with relatives and friends on Wednesday, May 21, 2014 for visitation at 9 am until Mass of Christian Burial at 10 am at St. Joseph's Catholic Church, 29119 Point Lookout Road, Morganza, MD. Interment to follow at Cheltenham Veterans Cemetery, 11301 Crain Highway, Cheltenham, MD.

Arrangements by Briscoe-Tonic Funeral Home, Mechanicsville, MD.