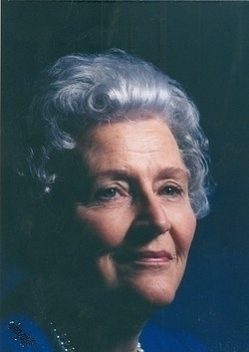 Virginia Norma Windmoeller, 94, of Mechanicsville, MD passed away peacefully in her sleep March 8, 2015 at Hospice House of St. Mary's in Callaway, Maryland. Born June 13, 1920 in Hastings, NY she was the daughter of the late Charles P. Burghart and the late Cora LaRobardiere Burghart.

Her early childhood was spent in Syracuse, NY while her father managed a Buick dealership. After the stock market crash in 1929, her family moved back to the family farm. She graduated from a one room schoolhouse and continued on to graduate from high school. She studied nursing for a year and then went on to business school.

She met her future husband, Henry F. Windmoeller, in Syracuse, NY. They were married at St. Lucy's Catholic Church on March 11, 1941 in Syracuse the day before Henry had to report to basic training after being drafted into the U.S. Army. For a while she worked at the Glen L. Martin bomb factory as a receptionist/secretary.

Virginia was in the first group of five military wives to join their husbands in Heidelberg, Germany at the end of World War II in 1946. She attended some of the Nurnberg trials. Learning the German language, customs, and history was a serious endeavor for her, and she made sure her daughters learned them also. During the 20 years her husband was in the army and they traveled back and forth from Maryland to live in Germany or Austria, she enjoyed traveling to countries all over Europe. For her it was an exciting adventure. She often marveled how a farm girl could have lived such a wonderful life.

After Virginia's husband retired from the army he worked at the American Embassy in Bonn, Germany for 11 years. The couple came back to the U. S. to live in Mechanicsville, MD when Henry retired in 1976. There she enjoyed her family and her home.

Throughout her life Virginia spent time learning to cook many even foreign dishes (delicious), playing bridge, listening to opera, and enjoying the historical beauty of Germany and art. When she was 48 she decided to start college. She graduated many years later with a BS in political science.

Virginia is survived by her two loving daughters, Karen Ann Adams (Dennis) and Heidi Margaret Boecher (Hans) both of Mechanicsville, 11 grandchildren, and 16 great grandchildren.

In addition to her parents, Virginia was predeceased by her husband, Henry, brothers, Ward Burghart and Fay Burghart, sister Marion Burghart, grandchildren, Hans Peter Boecher and Kristen Anne Boecher.

The pallbearers will be the Grandsons: David Adams, Joseph Adams, Michael Adams, James Adams, Matthew Adams, Nicholas Adams, Patrick Boecher and Richard Boecher.

The family will receive friends on Sunday, March 15, from 2:00-5:00p.m. at Brinsfield-Echols Funeral Home, P.A., 30195 Three Notch Rd., Charlotte Hall, MD. A Mass of Christian Burial will be held on Monday, March 16, 2015 at 11:00 a.m. at Immaculate Conception Church, Old Village Road, Mechanicsville, MD 20659. Interment will be at Arlington National Cemetery at a later date.

Memorial Contributions may be made to: Wounded Warriors or Hospice of St. Mary's. Arrangements provided by Brinsfield-Echols Funeral Home.