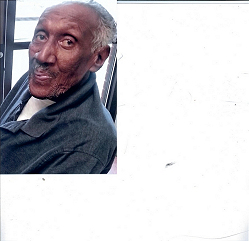 Lawrence McClain Young, Sr., 85, of Lexington Park, MD, peacefully transitioned home to glory on Monday, March 10, 2014. Lawrence was born on January 12, 1929 in Oakville, MD, to the late Edna Lee Chase Young and the late John Francis Young.

Lawrence met and married the love of his life, the late Margaret Louise Barber. They shared 43 years together at the time of Margaret's death. From this union, they were blessed with twelve children; six girls and six boys.

Lawrence was a faithful and loyal member of St. Peter Claver Church. Even when his health declined, he would still attend church whenever possible.

Lawrence worked for the State Highway Commission for 30 years, as well as working part-time for the St. Mary's County Public School System. He enjoyed transporting others to wherever they needed to go and was known for always greeting others with a wave and a smile.

Lawrence loved spending time with his grandchildren; they gave him delight. He could also "cut a step" on the dance floor and loved to sing. He would always say, "You may not understand what I am singing, don't worry about it." Lawrence was an avid Redskin fan and enjoyed watching westerns on TV.

Lawrence was preceded in death by two sons, Lawrence McClain Young, Jr. and Thomas Young; his wife, Margaret Louise Young, parents, Edna and John Young, three granddaughters, Darlene Dowsey, Tasha Buck and Michelle Buck; two grandsons, Daniel Buck and Michael Buck; brother, Joseph Young; four sisters, Mary Frances Thomas, Rosalee Wigginton, Agnes Bernice Yates and Sarah Elizabeth Somerville and mother-in-law, Delia Barberhis.

He leaves to cherish his precious memories his children, Catherine Buck (Roosevelt) of Lusby, MD, Theresa Young, Alma Young, Shirley Young, all of Great Mills, MD, Mary Brown (Matthew), Alice Williams (Joseph) of Lexington Park, MD, Joseph Young (Grace) of Kileen, Texas, David Young of Baltimore, MD, James Young of Lexington Park, MD and John Young (Alise) of Lusby, MD.; brother, Randolph Young; sister, Edna Mae Miles; granddaughters, LaWanda Ford, Johnisha Young, Chantel Buck, Tamara Dyson, LaShonda Dyson, Deidra Carroll and Shariel Dove; grandsons, Sharaun Young, Damon Young, Tramaine Young, Tyrone Fenwick (Denise), Marcus, Kit, Darvais, David, Jr., Anthony Buck, Shaun Dyson, Joseph Williams, Jr.

Lawrence also leaves a very special friend, Ms. Brenda Chase, who was always checking on Lawrence's well-being, making sure he had anything he needed and just being there to keep his company and Ms. Carolyn, who traveled many roads together with him and someone who he thought a lot of, as well as a host of nieces, nephews, cousins and friends.

Family and friends will unite on Tuesday, March 18, 2014 for visitation at 10:00 am until Mass of Christian Burial at 11:00 am at St. Peter Claver Catholic Church, 16922 St. Peter Claver Church Road, St. Inigoes, MD. Interment to follow at the church cemetery.

Arrangements by Briscoe-Tonic Funeral Home, Mechanicsville, MD.