Eichenmuller, John Junior
Birth: 1922-10-16 in Morgantown, West Virginia
Residence: Charlotte Hall, Maryland
Death: Saturday, June 08, 2013
Condolences: Click to View or Post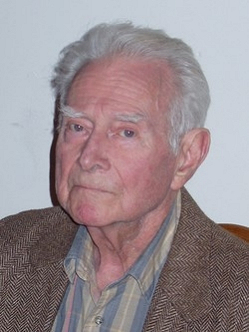 Dr. John J. Eichenmuller, 90, of Charlotte Hall, MD died June 8, 2013 at Charlotte Hall Veteran's Home in Charlotte Hall, MD.

Born October 16, 1922, in Morgantown, WV he was the son of the late John Wolfgang Eichenmuller and Blanche Hess Eichenmuller.

Dr. Eichenmuller graduated from Morgantown High School and briefly attended West Virginia University before being drafted into the United States Navy. He served as a pharmacists mate in Guam during World War II. After the war, he returned to West Virginia University and graduated with a Bachelor of Science degree in Biology.

After graduation, he was employed by the U.S. Department of Agriculture in Washington, D.C. as a specialist on orchids. He returned to West Virginia University and earned his Doctoral degree in Plant Pathology. He worked for West Virginia University as an instructor on nematology and fruit diseases for several years.

On October 13, 1958, he married his wife, Elna Swea Lindquist, whom he made his home with and raised his family in Valley Lee, MD. He became a professor in the science department at St. Mary's College of Maryland where he taught for over 25 years until his retirement.

He is survived by his wife, Elna Eichenmuller of Solomons, MD; his children, Eric Eichenmuller (Ann) of Farnham, VA, Kurt Eichenmuller (Jennifer) of Carlsbad,CA, and Karl Eichenmuller (Chris) of Edgewater, MD; grandchildren, Jon Eichenmuller of Bethesda, MD, Colin Eichenmuller (Theresa) of Plantation, FL, Liesl Eichenmuller of Beckley, WV, Alex Eichenmuller of Edgewater, MD, Madeline Eichenmuller of Carlsbad,CA, and Max Eichenmuller of Carlsbad,CA; and a great grandson, Thomas Eric Eichenmuller of Plantation, FL.

He is preceded in death by his parents.

All services are private.

Arrangements by the Brinsfield Funeral Home, P.A., Leonardtown, MD.