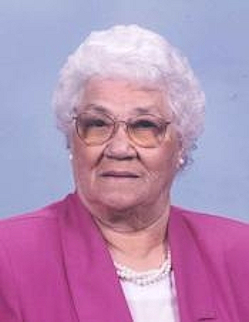 Butler, Ida Irene (Age 89) of Pomfret, Maryland.

Ida Irene Butler would probably begin this with, "Have you heard the one about…" But, we'll save that for later. Known for her jokes, her knowing glances, and most of all, her loving personality, Ida received a call home on January 12, 2014 at the age of 89.

A twin, Ida was the daughter of the late Charles Hubert and Cecelia Ann Proctor, and was born on October 29, 1924. She was enrolled in the Prince George's County Public School System, and began her secondary education at Frederick Douglass High School in Upper Marlboro. Before her senior year, she left school to get married and start a family.

Soon after, though, the outbreak of World War II spurred her to secure a job outside the home with the U.S. Census Bureau; her way of contributing to the war effort on the national front. In the years following the war, Ida went from stay-at-home mom to working girl to single mother, at which point she briefly took a job as a domestic. Afterward, in the early 1960s, she began working for the same school system in which she was raised until she retired in 1985. For the next ten years, she worked as a substitute teacher at McDonough High School in Charles County, Maryland.

A testament to her strength and her belief in the importance of education, Ida picked up where she left off in her schooling, ultimately earning her GED in 1982 at the age of 58. When Ida wasn't working, she was playing—hard.

From her travels to Japan, China, Rome, Alaska, the Caribbean, New England, Canada, and The Holy Land—the one in Israel and the amusement park, scratch that,the "living, biblical museum" in Orlando—Ida knew how to have a good time. Also an active member of St. Joseph's Church in Pomfret, her other hobbies included quilting, reading, ceramics, knitting, playing cards, taking bus trips to casinos, and slipping her grands a little somethin' somethin' on the sly. And don't forget her annual cookouts, all of which rivaled that of any Tyler Perry movie.

Ida was preceded in death by her sons, Wayne C. Butler and Patrick R. Butler, and she leaves nine children, Gloria V. Walls, Samuel G. Butler, Dale C. Butler (Alberta), Aaron X. Butler (Vicky), Joan G. Pinkney, Keith F. Butler (Gale), Dwight M. Butler (Ann), Iris I. Butler, and Lori B. Butler; 20 grandchildren; 38 great-grandchildren; 8 great-great-grandchildren; 2 god-daughters;and many nieces, nephews, and friends to cherish her memory.

Viewing, Sunday, January 19, 2014 from 6 p.m. to 9 p.m. in the Thornton Funeral Home Chapel. A second viewing will take place Monday, January 20, 2014, 10 a.m. with mass following at 11 a.m., St. Joseph's Catholic Church, Pomfret, Maryland.

In lieu of flowers contributions can be made to St. Joseph Catholic Church, 4590 St. Joseph Way, Pomfret, Maryland 20675 in memory of Ida Irene Butler.

Arrangements provided by Thornton Funeral Home.