Wood, Mary Ann
Birth: 1934-04-10 in Appleton, Wisconsin
Residence: Tall Timbers, Maryland
Death: Friday, March 22, 2013
Condolences: Click to View or Post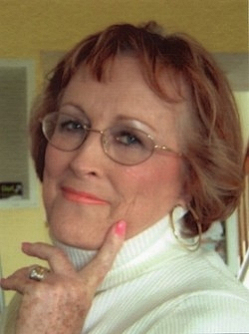 Mary Ann Wood, 78 of Tall Timbers, MD passed away on March 22, 2013 at St. Mary's hospital in Leonardtown, MD. Born on April 10, 1934 in Appleton, WI, she was the youngest daughter of the late Ewald Richard Rasmussen and Vernett Ehrgott Rasmussen.

Mary grew up in Milwaukee, WI, graduating from Washington High School. Mary and Noel Temple "Tim" Wood married in 1954 and set sail as they traveled the world with the U.S. Navy. They were the loves of each other's lives for nearly 60 years.

Mary was an active member of Navy Officers wives clubs and a faithful member of the Cornerstone Presbyterian Church. She loved to travel and was an amazing cook and entertainer. Her She-Crab soup will be missed by all.

Mary is survived by her husband Tim of Tall Timbers, MD; her children, Michael Davis Wood (Ruth) of Berlin, WI, Pastor Peter Christian Wood (Michelle) of Lanham, MD, and Karen Elisabeth Hoffman (Tim Southerly) of Penn Laird, VA; her sister, Shirlee Schmidt (Tom) of Minneapolis, MN, and brother Richard Rasmussen (Lavern) of Valrico, FL; 7 grandchildren, Michael G. Wood, Jermoni K. Dowd, Brian V. Wood, James C. Wood (Nicola), Harold A. "Buster" Hoffman III (Kate McKeown), Joshua T. Hoffman, and Zachary M. Hoffman; 4 great grandchildren, Matthew S. Behling, Anthony J. Wood, Peyton N. Dowd, Carter S. Hoffman; and nieces, nephews, cousins and friends.

"Mother Superior", Grandmother, "Tu Tu", Great Grandmother and Wife, adding style and grace to all things. Mary was the core and heart of the family and her elegance will be deeply missed.

A memorial service will be held at the Cornerstone Presbyterian Church, 23101 Town Creek Drive, Lexington Park, MD 20653 at 11:00 a.m. on Wednesday, April 10, 2013 followed by a repast at the church.

In lieu of flowers, memorial contributions may be made to Cornerstone Presbyterian Church, P.O. Box 783, California, MD 20619.

Arrangements by the Brinsfield Funeral Home, P.A., Leonardtown, MD.