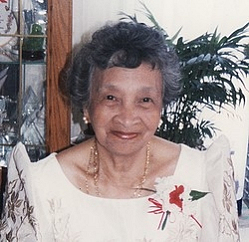 Carolina "Carol" Manangan Wong Corpuz, 88, of Lexington Park died peacefully December 22, 2013 at St. Mary's Hospital in Leonardtown, MD of heart failure with her family by her side.

Born August 8, 1925 in Barrio Balaybay, Castillejos, Zambales, Philippines, she was the daughter of Felix Corpuz, Sr. and Isabel (Manangan) Corpuz.

At age 18, Carol married Chuk Wong and together they operated the "American Restaurant" located in Olongapo City for several years. At an early age Carol learned to sew and sewing became a lifelong hobby and pleasure for her. There wasn't anything she couldn't do with a sewing machine or needle and thread.

In her earlier years, she worked at the Naval Station Subic Bay Tailor Shop. She continued her hobby of sewing and attended the Lorrraine Vocational School for tailoring became a very accomplished seamstress. Carol's hobby of sewing spanned over seven decades. Over the years she also crocheted thousands of baby blankets and rugs, which she donated to others in the area.

Carolina also enjoyed gardening in her yard where flowers and vegetables flourished each year. One of her great pleasures was holding family gatherings on birthdays and holidays. She truly enjoyed having all the family together for these events and was delighted to have her great grandchildren with her. She was an extremely capable woman; operating a restaurant and raising her children concurrently with apparent ease.

She was a member of the Admiral Arthur F. Spring Post Ladies Auxiliary of the American Legion in Olongapo City. Carol also held several various voluntary positions with the Barangay. As a teenager Carol experienced the Japanese occupation of the Philippines during World War II.

Carol moved to San Francisco, CA in 1983, Long Island, NY in 1984, and settled permanently in St. Mary's County, MD in 1987.

Carol is survived by her sons Dornin Wong (Helen, Christopher Corpuz (Monaliza) and daughters Anna Girard (Alfred), Nenita Hanson (Richard) and Marie-Juen Gupta (Rahul). She is also survived by her grandchildren; Robert Wong, Irene Lawal (Toks), Dornin Wong, Jr., Bernadette Tolentino, Anthony Girard and Marie Girard (Brian); great grandchildren, Julian, Lawrence, Emmanuel, Jasmine, and Isabella. She is also survived by her close confidant, Adelia Ocasio who was like a daughter to her.

Carol was preceded in death by her husband Chuk in 1970 and sister; Cerefina, Adelina, and Aurora. In addition, to her mom and dad she was preceded in death by her step-mother Macaria L. Corpuz.

She is survived by her brothers Maximo, Artemio, and Felix along with several nephews and nieces in the Philippines and throughout the U.S.

The family will receive friend on Thursday, December 26, 2013 from 10:00 AM – 11:00 AM in Immaculate Heart of Mary Lexington Park, MD. A Mass of Christian burial will follow at 11:00 AM with Father Marco Schad officiating. Interment will follow in the church cemetery. Pallbearers; Christopher Corpuz, Anthony Girard, Rahul Gupta, Robert Wong, Brian Ballard, and Dornin Wong, Jr.

Memorial contributions may be made to Catholic Charities, P.O. Box 17066 Baltimore, MD 21229-1066 for Typhoon Haiyan relief efforts in the Philippines.

Arrangements provided by Mattingley-Gardiner Funeral Home.