Raley, Harry Calvin
Birth: 1924-03-16 in Callaway, Maryland
Residence: Leonardtown, Maryland
Death: Monday, June 18, 2012
Laid to Rest: Friday, June 22, 2012 in the Holy Face Catholic Church Cemetery, Great Mills, Maryland
Condolences: Click to View or Post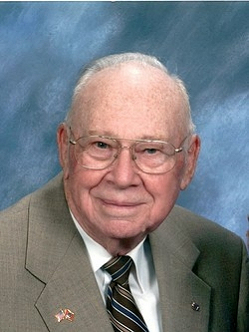 Harry Calvin Raley, 88 died surrounded by his loving family at his residence in Leonardtown on Monday, June 18, 2012. He was born to the late Harry Hamilton Raley and Rose Maria Price, March 16, 1924 in Callaway, MD.

He was married to Thelma Hill on June 9, 1946.

Harry, also known as Buddy & Doc, worked for the Public Works Department at Patuxent River from 1946-1972 and after his retirement, was a self-employed home improvement contractor.

Harry was a lifelong member of Holy Face Church, as well as a lifetime member of the Knights of Columbus and an Arimathean. He was an early member of the Lexington Park Volunteer Rescue Squad and a 4-H Leader. He enjoyed gardening, riding his lawn mower, watching baseball games and playing card games. He also enjoyed traveling across the United States and Europe, especially revisiting some of the countries he served in during World War II including, England, Belgium, France, Germany and the Netherlands.

He proudly served his country in the U.S. Army during World War II belonging to the 474 Automatic Weapons Battalion AAA US First Army VII Corp. He landed on Utah Beach on D-Day and fought in the Battle of the Bulge, receiving the Good Conduct Medal, American Theater Service Ribbon, as well as the European, African, and Middle Eastern Service Ribbons and the World War II Victory Ribbon.

Harry is survived by his wife of 66 years, Thelma; four children: David Raley (Marcia) of Ridge, Diane Milgrim of Callaway, Elaine Raley of St. Augustine, Florida, and John Raley (Jessica) of Leonardtown; ten grandchildren, Denise, David, Julie, Angela, Justin, Meagan, Shannon, Savannah, Madison and Killian; four great-grandchildren, Amanda, Alexis, Chase and Isabella; a sister, Marjorie Causey of Prince Frederick; a brother, Benedict Raley of Park Hall.

In addition to his parents, Harry was preceded in death by his son Mark in 1972; and his siblings: Maude Twiss, Joseph Raley, Genevieve Payne, Ralph Raley, Woodrow Raley and Virginia Lewis.

The family will receive friends for Harry's Life Celebration on Thursday, June 21, 2012 at Holy Face Church, 20476 Point Lookout Road, Great Mills, MD 20634 from 5:00 to 8:00 p.m. Prayers will be recited at 7:00 p.m. A Mass of Christian Burial will be celebrated by Reverend Joseph A. Calis on Friday, June 22, 2012 at 10:00 a.m. at Holy Face Church. Interment will follow in the church cemetery.

Serving as pallbearers will be Danny Jennings, Jeff Mayor, Garry Raley, Steve Raley, David Sanders, and Dave Springer. Serving as honorary pallbearers will be grandchildren and great grandchildren.

Memorial contributions can be made to Holy Face Church, 20476 Point Lookout Road, Great Mills, MD 20634 or Hospice of St. Mary's, P.O. Box 625, Leonardtown, MD 20650.

Arrangements by the Brinsfield Funeral Home, P.A., Leonardtown, MD.