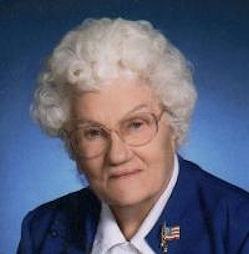 Annita was born in 1920 in Newport News, Virginia to the late Edward and Jannie Davis. Her family moved to Washington, DC where Annita grew up.

The year 1939 was a very busy year for Annita, she graduated from high school and met and married the love of her life, Oswald Grant Graybeal. Oswald began his military career in the Army and later enlisted with the Air Force, which allowed them the privilege to travel the world with their ever expanding family. Annita was immensely proud of her husband's service with the military and often bragged about how he served under George Patton's Second Armored Division.

In 1956 Obie, as he was known, was transferred to Andrews Air Force Base where the family lived until relocating to Upper Marlboro. Obie and Annita raised their five children; Edward, Ernest, Nina, Sharon, David and later adopted Heather, Kimberly and Matthew. Over the years Annita took various part-time jobs which included retail sales, bus driver and being the local "Avon Lady."

In 1979, Annita and Oswald moved to Huntingtown,MD. Annita enjoyed gardening and was an avid photographer. Once Oswald passed away Annita loved to spend her time volunteering with Meals on Wheels. Annita loved to ride the county bus to Calvert Pines Senior Center and whilst her day away with the residents enjoying her time and the lunches, being known by her favorite quote, "Forgetting is the best thing I do." She belonged to First Baptist Church of Calvert County.

Annita is survived by her children; Edward (Karen) Graybeal of Millville, DE, Ernest (Dana) Graybeal of Seaford, DE, Nina (Dennis) Regan of Dunkirk, MD, Sharon Teufel of Lynchburg, VA, David Graybeal of Huntingtown, MD, Heather Ritchie of Chilhowie, VA, Kimberly Graybeal of Marion, VA and Matthew Graybeal of Fort Bragg, NC. Grandchildren; Frank, Denise, Melissa, Stacey, Katie, Sheri, Oliver, Amber, Jamie, Jannie, Christine, Elizabeth, Faith, Joshua, Jason, Hannah, Hailey, Zachary, Erich and Ryan and numerous great grandchildren and several great-great grandchildren.

Family invite friends to call at the First Baptist Church of Calvert County, 1522 German Chapel Road, Prince Frederick, Maryland on Thursday, January 24, 2013 from 9:00 am until times of services at 11 am. Interment at Arlington National Cemetery will be at a later date.

Memorial Contributions in Annita's name may be made to the First Baptist Church of Calvert County,P.O. Box778, Prince Frederick, MD 20678 or the Calvert County Office on Aging, 450 W. Dares Beach Road, Prince Frederick, MD 20678.

Arrangements provided by Lee Funeral Home.