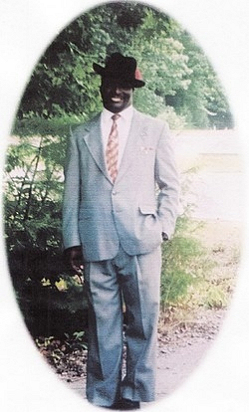 On the morning of July 4, 2014 at the Hospice House of St. Mary's County, George "Gary" Theodore Travers was called to his heavenly home from "Labor to Reward".

"And God shall wipe away all tears from their eyes; and there shall be no more death, neither sorrow, nor crying neither shall there be any more pain; for the former things are passed away". Revelation 21:4.

Gary, as he was affectionately called by his family and friends, was born on January 4, 1951 in Draydon, MD, to the late Reverend Frances Leona Morgan and George Lloyd Travers. Gary was educated in St. Mary's County Public School System. His employment was in the seafood industries of Shielble's Seafood of Drayden, MD and Lumpkin's Seafood of Piney Point, MD.

Gary was a lifetime member of St. Mark UAME Church and a member of the Union Brotherhood Association for the 1st and 4th Episcopal Districts. As a young adult, he became a member of the young men's group called the Southern Gates Gospel Quartet. Gary loved the Lord and the Lord's work; he would give his testimony in his walk with God.

Gary's hobbies included: upholstery, water and oil paintings, drawing, planting of flowers, pitching horseshoes, joy riding with his road buddy, Johnnie Brooks, Sr., singing and listening to some good old gospel music. Gary always had a smile on his face whenever he would meet you, he never met a stranger he didn't like, and he was a true friend to a friend. He was always willing to lend a helping hand when called upon. Gary was also a very neat and clean individual, he always "dressed to impress" the brother was sharp! Sharp hat, sharp suites and sharp shoes.

Gary was preceded in death by his mother, father, stepfather, Reverend Thomas C. Morgan, three sisters: Mary A., Mavis M Travers and Marion R. Travers-House, three brothers; Calvin, Leundus and Stevenson Morgan.

He leaves to cherish his memories, three sisters; Frances E. Morgan, Julia L. Morgan-Wood and Mary A. Morgan of Lexington Park, MD, two brother, James C. Morgan of Lexington Park, MD, and Eric M. Morgan of Washington, DC, two uncles; Frank Travers of Great Mills, MD James H. Whalen of Columbia, MD, two aunts; Ruth A. Lee of Great Mills, MD and Bessie A. Sheffield of Baltimore, MD, one brother-in-law, two sisters-in-laws, his special friend and brother in Christ Johnnie Brook, Sr., and a host of nieces, nephews, cousins, other relatives and friends.

The family will receive friends on Friday, July 11, 2014 from 10:00 Am – 11:00 AM in St. Marks UMAE Church Valley Lee, MD. A Funeral Service will follow at 11:00 AM in St. Marks UMAE Church with Rev. Andrew Fulton, Sr. officiating. Interment will follow in the church cemetery. Pallbearers will be: Bro. Louis Baker, Bro. Johnnie Brooks, Sr., Bro. John Butler, Bro. Eric Morgan, Bro. Laverne Roach, and Bro. Lorne Whalen. Honorary Pallbearers will be: Bro. John Harris, Bro. James Morgan, Bro. Allen Miles, Bro. Frank Travers, Bro. Stanley Travers, and Bro. Michael Wood.

Arrangements provided by Mattingley-Gardiner Funeral Home.