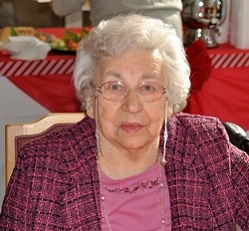 Mary "Evelyn" Episcopo, 89, of Waldorf, MD passed away on October 17, 2015 at St. Mary's Nursing Center in Leonardtown, MD, surrounded by her loving family. She was born on February 17, 1926 in Turtle Creek, PA to the late Claude Davidson and Pearl Watkins Mason.

She was employed by the Census Bureau as a dedicated administrative assistant until her retirement. She enjoyed photography, gardening and genealogy. She also loved spending time with her seven great grandchildren.

Evelyn is survived by her children, Edward Episcopo of Fredericksburg, VA, Ellen Episcopo of Waldorf, MD and Susan Flanders of Waldorf, MD; son in-law, Bill Flanders; daughter in-law, Jeannette Episcopo; grandchildren, Ryan Flanders of Locus Grove, VA and Kevin Flanders of Oahu, HI; great grandchildren: Brenn, Jaden, Tyler, Natalie, Summer, RJ and Drew; sister, Jean Medlin; and brother, Bernard Mason. In addition to her parents she was also preceded in death by her husband, Augustine (Gus) Episcopo, Jr.; her sister, Mildred Stuart; and her brothers, Norman, Ray and Wilbur Mason.

A Memorial Service will be held by Pastor Ryan Flanders at 10:00 am on Wednesday, October 28, 2015, Flat Run Baptist Church, 2533 Flat Run Road, Locust Grove, VA 22508. Immediately following the service there will be a reception in the fellowship hall at the church. At 12:00 the immediate family will leave for a private graveside service at Cedar Hill Cemetery in Suitland, Md.

Memorial contributions may be made to Flat Run Baptist Church, 2533 Flat Run Road, Locust Grove, VA 22508. Arrangements by the Brinsfield Funeral Home, P.A., Leonardtown, MD.