Emory, Harold , Jr.
Birth: 1950-11-07 in Patuxent River, Maryland
Death: Wednesday, August 22, 2012
Laid to Rest: Tuesday, August 28, 2012 in the St. Johnís Catholic Church Cemetery, Hollywood, Maryland
Condolences: Click to View or Post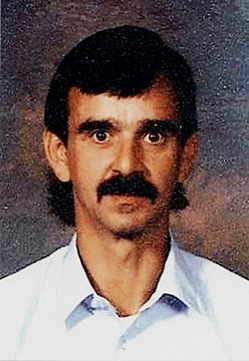 Harold Haynes (Butch) Emory, Jr., 61, passed away peacefully at Veterans Medical Hospital, Washington, DC on August 22, 2012. Butch was born on November 7, 1950 at Patuxent Naval Hospital, Patuxent River, MD.

He was the son of Virginia Marie Wilkinson of Hollywood, MD., the late Harold Haynes Emory, Sr., of Coalfield, Tenn., step son of the late Benjamin Russell Wilkinson of Hollywood, MD.

Butch was preceded in death by his wife, Rose Marie Emory who passed away on October 1, 1992, and whom he married in Hollywood, MD in April, 1986.

Butch is survived by his son Eric Emory of Austin, Texas, siblings: Mary Fones (Kirk), Mickey Emory (Bobby), Cherrie Fearns (Joe, Chris Clark all of Hollywood, MD., Parran Wilkinson of Mechanicsville, MD., and 2 grandchildren Jackson & Jamie Emory.

Butch graduated from Great Mills High School in 1969 and joined the United States Army from February, 1970 to September, 1971, serving in Fort Dixon, NJ and Vietnam. While serving in the United States Army, he earned the National Defense Service Medal, Vietnam Service Medal w/60 Device, and Vietnam Campaign Medal w/ 2 Stars. After serving in the United Stated Army he worked as a Heavy Equipment Operator for the Public Works, at Patuxent Naval Air Station, Patuxent River, MD, retiring in 1984.

He was a lifelong resident of St. Maryís County, and belonged to the Hollywood Moose Lodge in Hollywood, MD., and VFW in California, MD. Butch loved playing cards, working on his car, being with his pets, crabbing, and hanging out with his friends.

The family will receive friends on Tuesday, August 28, 2012 from 9:30 AM Ė 10:30 AM in the Mattingley-Gardiner Funeral Home, Leonardtown, MD with Father Raymond Schmidt officiating, and a Funeral Service will follow at 10:30 AM. Interment will follow in St. Johnís Catholic Cemetery, Hollywood, MD. Pallbearers will be; Ben Emory, Mike Emory, Grant Wallace, Cliff Wallace, C.W. Shaffer, and Joe Fearns.

In Lieu of flowers contributions may be made to the Veterans Medical Hospital 50 Irving Street, Northwest. Washington, DC 20010.

Arrangements provided by Mattingley-Gardiner Funeral Home.