Morris, Lois Ruth
Birth: 1923-08-07 in Abell, Maryland
Residence: Avenue, Maryland
Death: Thursday, November 08, 2012
Laid to Rest: Tuesday, November 13, 2012 in the Sacred Heart Catholic Church Cemetery, Bushwood, Maryland
Condolences: Click to View or Post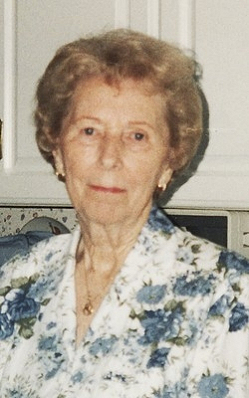 Lois Owens Morris of Avenue, MD, passed away in Leonardtown, MD on November 8, 2012. Born August 7, 1923 in Abell, MD., she was the daughter of the late William Lee Owens and Catherine Dove Russell Owens.

She was the loving wife of the late Wesley (Sam) Morris whom she married on July 19, 1946 in St. Martins Catholic Church in Washington, DC. She was also the loving wife of the late Arthur E. Grogan whom she married on April 7, 1991 in Sacred Heart Catholic Church, Bushwood, MD.

She is survived by her devoted nieces: Catherine Sylvia Ryce of Hollywood, MD, Cheryl Walker Jackson, and Linda M. Morris both of Abell, MD; Nephews: James M. Owens and friend Susan Spencer of Chaptico, MD. William A. Owens Jr., and wife Cathy of Lewisburg, TN, James L. Owens and wife Mary of Aspen, CO, James A. Russell of Watsonville, CA, James P. Walker, Jr. and Joseph Lee Russell both of Abell, MD. As well as 8 great nieces and nephew, 8 great-great nieces and nephews, and 6 great-great-great nieces and nephews. She was the sister in-law and friend to Virginia Owens Reynolds, Mary Ann Gibson and Evelyn Welty Owens.

Lois is preceded in death by her siblings: Mary Irma Hodges, William A. Owens, Sr., Annie Rebecca Russell, and James Ignatius Owens.

Lois attended Holy Angels Catholic School in Avenue, MD for 8 years and graduated from Margaret Brent High School in Helen, MD class of 1941. She worked for the International Brotherhood of Electrical Workers from 1941 till 1948 returning to Avenue, MD in 1948, she worked for the Naval Air Station at Patuxent River, MD as a Purchasing Agent Supervisor retiring in 1973. She was a member of Sacred Heart Catholic Church, Bushwood, MD. American Legion Auxiliary Post 221 Avenue, MD, and a member of the Margaret Brent High School Alumni.

The family will receive friends on Monday, November 12, 2012 from 2:00 PM – 4:00 PM with prayer recited at 3:00 PM by Deacon Bill Nickerson. A Mass of Christian Burial will be celebrated on Tuesday, November 13, 2012 at 10:00 AM in Sacred Heart Catholic Church, Bushwood, MD. Interment will follow in the church cemetery. Pallbearers will be: Johnny Thompson, Mike Lacey, Bill Owens, Joseph Lee Russell, Kenneth Ryce and Clarence Bowles.

Contributions may be made to the Seventh District Volunteer Rescue Squad, P.O. Box 7, Avenue, MD 20609.

Arrangements provided by Mattingley-Gardiner Funeral Home, Leonardtown, MD.