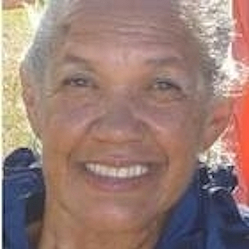 Rose Harley Sesker (Patsy) 73 years-old, passed away on Wednesday, May 27, 2015, at Woodbine Nursing Home in Alexandria, Virginia. Her final days were spent surrounded by her loved ones. Patsy was born April 23, 1942 in Pomfret, Maryland to James Melvin and Mary Alveta Harley. She graduated from Pomonkey High School, in 1960.

She married Kenneth W. Sesker in June 1979 and their marriage ended with his untimely death in October 1984.

Patsy had strong work ethic and was employed with the District of Columbia Government, Saint Elizabeth Hospital where she served dutifully for over 37 years before retiring on December 31, 2000.

In her younger years, Patsy loved listening to Fats Domino, dancing, and reading. She spent her later years traveling and her two most talked about trips included Jamaica and visiting Fats Domino's home in New Orleans, Louisiana with her good girlfriend, Agnes Proctor. She enjoyed watching Serena Williams play tennis and old western shows, eating good seafood, socializing with friends, and spending time with her children and grandchildren. She had a wonderful smile that could light up a room.

If asked, Patsy would say having her children was her biggest accomplishment. The role of a mother and grandmother was the most important thing to her. This is where she drew her strength and left her legacy. Being with her family is what Patsy enjoyed most of all.

In 2009, Patsy had a valiant fight with Breast Cancer. After successfully completing her treatment, she became a champion for research efforts related to Breast Cancer. Later in 2009, she was diagnosed with Parkinson's Disease. Patsy's strong will to live, unwavering faith, and the love and prayers of family and friends carried her through 6 more years.

Patsy's perseverance through adversity was a powerful lesson for her children. She instilled her strongest belief in life to her children, which is to love and care for family and not to let adversities or any distractions of the world keep you from the most important aspect of life.

She is preceded in death by her husband, Kenneth W. Sesker; parents, Mary Alveta Dade and James Melvin Harley; step-father Clayton Dade; and grandparents Walter and Ollie Swann. Patsy was a loving mother to her children: Darrell Harley (Orletta); Karen Chesley; Daphne Session (Johnnie); and Sherrie Watford (Terrance). Cherished grandmother to: Delante Harley; Tahia Marable (Kraig); Tyanna Atkins; and Tavian Atkins. She is also survived by her sister, Shirley Anne Dade; brothers: Lawrence Harley (Gloria); James Pickeral (Jeanne); and Clayton Dade (Diane); a host of family and friends.

Viewing, Thursday, June 4, 2015 at 10:00 am, St. Peter's Catholic Church, 3320 St. Peter's Drive, Waldorf, Maryland 20601, Mass at 11:00; Interment, church cemetery. Arrangements entrusted to Thornton Funeral Home, P.A., 3439 Livingston Road, Indian Head, MD.