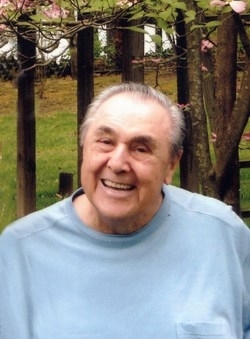 Dr. Julius A. Levay, 91, entered into life eternal on Friday, January 8, 2016 at his home in St. Mary's City, MD. He was born in Perth Amboy, New Jersey on December 24, 1924 to Elizabeth Mitruska and Alex Levay.

"Hank" as he was known in Maryland, and "Jus" as he was known in New Jersey, lived in Perth Amboy, NJ until December of his senior year in high school when he enlisted in the U.S. Navy, following the attack on Pearl Harbor. He served as a machinist mate stationed aboard the USS Maryland from 1942-1946. He was involved in eleven combat engagements and received the Victory Medal, American Theater Medal, Asiatic Pacific Medal – 7 Stars and the Philippine Liberation Ribbon – 2 Stars, before being honorably discharged.

Hank studied at Keystone Junior College, Rutgers, Seton Hall and East Stroudsburg State College graduating with a Bachelor of Science degree in Health and Physical Education. In 1961, he earned a Master of Arts degree in School Administration and Supervision followed by a Doctorate degree in Secondary Administration and Supervision from George Washington University in June 1966.

During his 31 years in education, Hank taught physical education, mathematics, chemistry, physics, and biology. He taught middle school, high school, and for the US Government. Upon leaving the classroom, he became the first assistant principal in the St. Mary's County Public School System (SMCPS), and did so at Great Mills High School. There he caught the eye of the attractive Home Economics teacher, Nell Quirk. As the story goes, Nell would make breakfast before school then have her students deliver it to Hank. That set the stage for their 62 year long marriage.

In 1962 Hank opened Esperanza Junior HS and served for four years as the school's first principal. In 1965, he became the first principal of Chopticon HS, managing the first attempt at integrating a school student body, faculty and staff. He also returned to Great Mills HS as principal before becoming the Director of Secondary Schools and Coordinator of Special Projects for SMCPS.

Hank was active in sports and in his younger days in New Jersey, he was a semipro baseball player. He enjoyed coaching high school sports and was varsity basketball coach at St. Mary's Junior College from 1958 – 61. Throughout his life he'd been active as a member, committee member, chairman, vice-president, and president in two dozen professional and community organizations such as the B.P.O. Elks, MD State Teachers' Association, MD Association of Secondary School Principals, George Washington University Alumni Association and the St. Mary's County Teachers' Association.

He was an avid Redskin fan for more than 60 years. He loved St. Mary's County and enjoyed woodworking, home improvements, gardening, cooking out, entertaining, and anything dealing with living on the water.

He is preceded in death by his wife, Nell Wells Quirk Levay. He is survived by his daughter Ann Chaconas (Lou) of Louisville, Kentucky and son, John Levay of Park Hall, Maryland; as well as grandchildren Alex, Adam, and Allegra Chaconas, Michael Levay, and his sister Evelyn Morris of Morristown, New Jersey.

Visitation is on Friday, January 15, 2016 from 5:00pm to 8:00pm with prayers beginning at 7:00pm at Brinsfield Funeral Home, 22955 Hollywood Road, Leonardtown, MD 20650. Funeral service and burial will begin at 11:00am on Saturday, January 16, 2016 at Trinity Episcopal Church, 47477 Trinity Church Rd., St. Mary's City, MD 20686.

Because the family is impacted by Fragile-X Syndrome, they are kindly requesting in lieu of flowers, that a small donation be made in Hank's memory to the National Fragile X Foundation located at 2100 M Street NW, Ste. 170, Box 302, Washington, DC 20037-1233. Arrangements by the Brinsfield Funeral Home, P.A., Leonardtown, MD.