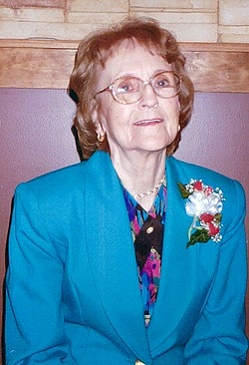 Mary Audrey Cusic, 84, of Mechanicsville, MD earned her angel wings on December 29, 2013 at the Hospice House of St. Mary's in Callaway, Maryland, after a brave and hard-fought battle with cancer.

Born September 9, 1929, in Compton, MD she was the daughter of Elizabeth Catherine Burch Higgs and Joseph Herbert Higgs. She attended Margaret Brent High School in Helen, MD.

She lived her entire life in St. Mary's County, Maryland, raising a family with her late husband, John Philip Cusic, to whom she was marred on June 21, 1946 at St. Aloysius Catholic Church in Leonardtown, MD.

She was a past member of the DAV, where she once held position Office of Treasurer. Being of Catholic Faith, enjoyed attending Immaculate Conception Church in her younger years and St. Joseph Church in later years, when health allowed.

She is survived by her beloved children: Sandra (Bob) Neave of Waldorf, MD, Brenda Kuhlmann of Callaway, MD, and George (Dreama) Cusic of Mechanicsville, MD, her sisters, Dorothy Lampkins, and Betty Unkle, and her brother, Francis Higgs, 13 grandchildren, 28 great-grandchildren, 2 great-great-grandchildren, many nieces and nephews, and her beloved poodle, Prince.

She was predeceased by her parents, Herbert and Bessy Higgs, her husband of 56 years, John Philip Cusic, her son, Timothy Cusic, her great-grandson, Brandon Weber, and her siblings, Gladys Knott and Herbert Higgs, Jr.

She was recently blessed to celebrate her 84th birthday party with her children and spouses, grand and great-grandchildren, and her siblings. She filled her life as a homemaker, a caretaker, a devoted wife, loving mother, grand and great-grandmother. She was a kind and wonderful spirit, full of grace and gratitude, with the faith of an angel and patience of a saint. She took joy in sharing with, caring for, and serving those around her. Those lucky to be in her presence were constantly reminded of her concern for their welfare and comfort, even in her last days. She made it no secret that her "loved Ones" were unconditionally loved.

She was known for her gardening, her pink and purple petunias and pansies, her love for her "poodle doodle" and kindness to animals. She also enjoyed yard sales and thrift shops, road trips with family, playing the organ, listening to Christian and county music and was also known for her one of a kind Southern Maryland stuffed ham, and her ability to fill a belly upon crossing the threshold to her home.

The family will receive friends from 12:00 PM – 1:00 PM in the Mattingley-Gardiner Funeral Home Leonardtown, MD. A Funeral Service will follow at 1:00 PM in the Funeral Home Chapel with Deacon Joseph Lloyd officiating. Interment will follow at Charles Memorial Gardens Leonardtown, MD. Pallbearers will be her grandsons; P.J. Joy, Mark Cusic, and John Cusic, Jr. and her great-grandson, David Clements, Chris Reulet, and Michael Reulet.

Memorial contributions in Audrey's name may be made to those who took wonderful care of her and honored her dignity in her last weeks, Hospice of St. Mary's, P.O. Box 625, Leonardtown, MD 20650.

Arrangements provided by Mattingley-Gardiner Funeral Home Leonardtown, MD.