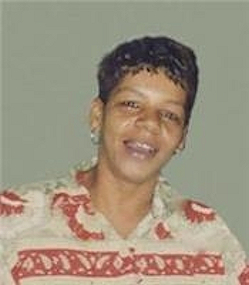 Janice Darlene Somerville, 56, of Abell, Maryland passed away peacefully, surrounded by her loving family on March 19, 2014. Janice was born May 21, 1957 to Ada Armstrong and John Aloysius Carter. She was raised and adored by John F. (Tit) Carter and Dorothy (Armstrong) Carter in Avenue, Maryland.

She attended and graduated from the Saint Mary's County School System. Upon graduating from Chopticon High School in 1975, Janice worked for the U.S. federal government and was employed by the General Services Administration for 16 years. She suffered from a brief illness and began working closer to home as an in-home caregiver.

Janice married the love of her life, Leonidas Somerville on November 24th, 1979 and out of their union three children were born: Damion (Lexington Park, MD), Brandalin (Jacksonville, FL), and Lea (Loveville, MD). She celebrated 13 years of marriage before her husband's untimely death.

Janice was a loving and devoted wife, mother, grandmother, aunt, daughter, sister, cousin, and friend. She loved music of all kinds and took pleasure in going to concerts. She enjoyed cooking for her family, dancing, playing cards, laughing, joking around and talking after people. She had a sharp tongue and could never be caught off guard because she always had a snappy remark ready.

She was an avid reader of romantic novels and could read through a 300+ page book in as few as two days. She would exchange brown paper bags full of books with her sister-in-law, Ugertha Somerville Whatley and her daughter, Brandalin and they would discuss the books in detail; agreeing and disagreeing with the outcome.

Janice experienced health issues throughout her later life and fought valiantly to maintain her independence.

She was preceded in death by her beloved husband, Leonidas Somerville; parents, Dorothy Armstrong Carter and John F. (Tit) Carter; birth-mother, Ada "Ginny-gal" Armstrong and sister, Pamela Armstrong.

To cherish memories of Janice, she leaves her three children, three grandchildren, Davien, Jaylen, and Jami; a brother, Jonathan Armstrong; a sister, Lisa Armstrong; one niece, Tiffanie Armstrong; five nephews, Jason Armstrong, Damont Barnes, Timothy Bush, Darius Armstrong, and Darien Bush. She also leaves a faithful companion, Albert Woodland and a whole host of family members and friends.

Family will unite with friends on Thursday, March 27, 2014 for visitation at 10 am until Mass of Christian Burial at 11 am at Holy Angels Catholic Church, 21340 Colton Point Rd, Avenue, MD. Interment to follow at Queen of Peace Cemetery, Helen, MD.

The family would like to turn to you for monetary support in helping with finances to bury their beloved mother. Donations may be sent to Lea Somerville, P.O. Box 281, Loveville, Maryland 20656. Thank you in advance for your help.

Arrangements by Briscoe-Tonic Funeral Home, Mechanicsville, MD.