Gateau, Winifred Mae
Birth: 1922-08-01 in Altoona, Pennsylvania
Residence: Hollywood, Maryland
Death: Saturday, May 12, 2012
Laid to Rest: Wednesday, May 16, 2012 in the St. John's Catholic Church Cemetery, Hollywood, Maryland
Condolences: Click to View or Post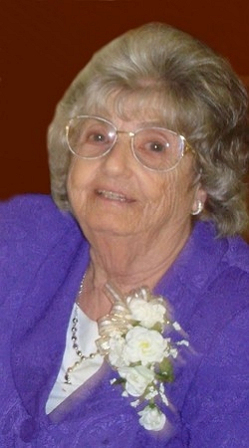 Winifred Mae "Wink" Gateau, 89 of Hollywood, Maryland died peacefully, May 12, 2012, surrounded by her family. Born August 1, 1922, in Altoona, PA; she was the daughter of the late Michael and Bertie V. Hill.

Wink married the love of her life, the late John A. Gateau, Sr. on September 14, 1938. John and Wink celebrated their 72nd wedding anniversary in 2011. They lived in Washington, DC during their earlier life together, then moved to Clinton, MD and finally retired to their home in Hollywood, MD where they resided for over 48 years. Wink was a homemaker and devoted most of her life to her husband and family.

In her earlier years, she assisted her husband John with their home-based furniture business. It was evident that she was an extraordinary, one-of-a-kind person as she was loved by everyone who was fortunate enough to know her. Her endless love and devotion to her husband, family, friends and faith was obvious and created a profound family bond and a lifetime filled with family traditions. She was an inspiration to those she touched and there will always be a special place in her family's hearts for the goodness and kindness that she brought to others; to be forever treasured.

She was a long time dedicated member of St. John's Regis Catholic Church in Hollywood, MD, where she practiced her strong faith. In addition to the love she had for her family, she also loved her pet poodle, Tammy.

Wink is survived by her six loving children, John Jr. (Linda) of Ocean Pines, MD, George Gateau (Laura Lake) of Edgewater, MD, Angel Judd (Craig) of Hollywood, MD, Robert Gateau (Beth) of Hughesville, MD; Patricia Muchow (Dan) of Leonardtown, MD, and Sandra Wathen (Robert Reece) of Mechanicsville, MD; her sister, Evelyn Hayes of Leonardtown, MD; 15 grandchildren, 21 great grandchildren, 13 great-great grandchildren, and 7 step grandchildren.

In addition to her parents and husband, she is preceded in death by three brothers, Claude Hill, Vernon Hill and Robert Hill; one sister, Lorraine Robertson; and two grandsons, John A. Gateau and Frederick Simeon III.

Family will receive friends for Wink's life celebration on Tuesday, May 15, 2012 from 5:00 to 8:00 p.m., with prayers recited at 7:00 p.m. at the Brinsfield Funeral Home, 22945 Hollywood Road, Leonardtown, MD. A mass of Christian Burial will be celebrated by Reverend Dignan and Reverend Raymond Schmidt on Wednesday, May 16, 2012 at St. John Francis Regis Catholic Church in Hollywood, MD at 10:00 a.m. Interment will immediately follow at St. John's Church Cemetery.

Pallbearers will be Robert Gateau, George Gateau Sr., George Gateau Jr., George Gateau, III, John Wathen Jr., and Joel Wathen. Honorary Pallbearers will be Winifred (Angel) Judd, Patricia Muchow, Sandra Wathen, and Beth Gateau.

Memorial contributions may be made to the Hospice House of St. Mary's, P.O Box 625, Leonardtown, MD 20650; the Hollywood Volunteer Fire Department, 24801 Three Notch Road, Hollywood, MD 20635; or Hollywood Volunteer Rescue Squad 23469 Rescue Lane, Hollywood, MD 20636.

Arrangements made by the Brinsfield Funeral Home, P.A., Leonardtown, MD.