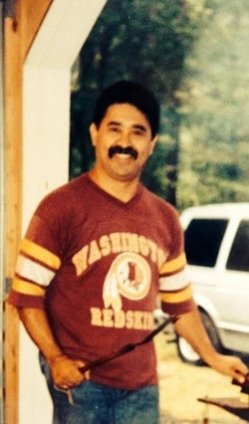 Victor "Vic" Gonzalez, 72, of Hughesville, MD passed away on October 4, 2014 at his residence. He was born on September 18, 1942 in Utuado, Puerto Rico to the late Felipe Gonzalez and the late Dehlia (O'Rama) Gonzalez.

Vic had his own custom drapery business and enjoyed spending time with his family. He loved to bowl, watch golf and tennis, and was a fiend for the beach and warm weather. Vic also enjoyed working in the yard with his wife, Marykatherine.

In addition to his parents, Vic is predeceased by his brother, Felipe L. Gonzalez; sister, Zoraida Pena; and grandson, Dominick L. Gonzalez.

Vic is survived by his loving wife, Marykatherine Fitzpatrick Gonzalez of Hughesville, MD; his sons, Victor Dominick Gonzalez of Mt. Airy, MD, Christopher Reist Price of Philadelphia, PA, and Jordan Paul-Walker Gonzalez of Hughesville, MD; daughter, Sharon Ilene Gonzalez of Miami, FL; brothers, Gaspar Gonzalez of New York and Jorge Gonzalez of Shadyside, MD; sister, Carmen D. Dordal of New York; grandchildren, David Huston, Michael Gonzalez, Katelyn Gonzalez, Jovi Kurtz, and Charlie Price; great nephew, Hans Ernst Hunziker; and many brother-in-laws, sister-in-laws, nephews, nieces, great nephews; great nieces, and friends.

Family and friends will be received for Vic's Life Celebration on Sunday, October 12, 2014 from 2:00 p.m. to 4:00 p.m. and from 6:00 p.m. to 8:00 p.m. at Brinsfield-Echols Funeral Home, P.A., 30195 Three Notch Road, Charlotte Hall, MD 20622. A Mass will be held on Monday, October 13th at 10:00 a.m. at St. Francis de Sales Catholic Church, 7185 Benedict Avenue, Benedict, MD 20612.

Inurnment will be held at a later date at Arlington National Cemetery. Arrangements provided by Brinsfield-Echols Funeral Home.