Wilson, Pearl Ruth
Birth: 1930-07-19 in Leominster, Massachusetts
Residence: Lexington Park, Maryland
Death: Wednesday, August 08, 2012
Laid to Rest: Thursday, August 16, 2012 in the Immaculate Heart of Mary Catholic Church Cemetery, Lexington Park, Maryland
Condolences: Click to View or Post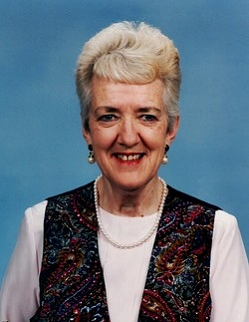 Pearl Ruth Wilson, 82 of Lexington Park, MD died August 8, 2012 at George Washington University Hospital. Born July 19, 1930 in Leominster, MA she was the daughter of the late Harold Muir and Florence (Kennedy) Muir. She was the youngest of six children. Pearl attended school in Leominster and after graduation moved to Washington, DC with her sister Evelyn to start her career.

She met her future husband Guy and married on May 3, 1952. They then moved to St. Mary's County and started their family. Between 1953 and 1967, Pearl and Guy had four sons, Wayne, John, Brian, and Scott and a daughter, Jayne. During these years she was also employed at the Naval Air Test Center Weapons Systems Test Division at Patuxent River as the Central Office Manager.

After a long career with the Navy, Pearl received a promotion and commuted to Washington, DC working at the Department of Housing and Urban Development where she retired from federal service. Ever energetic, Pearl went back to work as an Executive Assistant at Bendix/Allied Signal for several years.

For the past 20 years, Pearl and Guy enjoyed their retirement years living in New Hampshire and St. Mary's County. Pearl never knew a stranger and had many friends in both locations. She loved walking, shopping, traveling, yard work and spending time with Guy, their children and spouses, grandchildren and great grandchildren. She made sure that all of her children were brought up with great religious and family values and encouraged and supported them to strive for success in their chosen paths.

Until the end, Pearl stayed connected to all her siblings and her many nieces and nephews. Some of the family's fondest memories are camping vacations and long, long, drives to Massachusetts where many summers were spent in Pearl's childhood home. She always made holidays and birthdays and anniversaries a special time for everyone. Pearl was famous for having her husband, Guy, wait in the car while she ran into the store to get " just a few things" and then would come out an hour later with only a few things but she had talked to everyone!

Pearl - sister, wife, mother, aunt, god mother, grandmother, great grandmother and friend will be missed by all. Our lives have been forever enriched by her.

Pearl is survived by her husband, Guy Wilson; children, Wayne A. Wilson (Cindy) of St. Mary's City, MD, Jayne L. LaForge (Ray) of Ellicott City, MD, John M. Wilson (Ellen) of Leonardtown, MD, Brian J. Wilson (Cher) of Hollywood, MD, and Scott A. Wilson (Amy) of Ellicott City, MD; nine grandchildren, Chris LaForge, Bryan LaForge, and Ryan LaForge, Paul Wilson, Dylan Wilson, Camryn Wilson, Ryan Caruso-Wilson, John Wilson, Jr. and Lauryn King; great grandchildren, Gavin LaForge, Aubree Wilson, Olivia Wilson, and Emilia Wilson; siblings, Gladys Roache of Billerica, MA, Alfred Muir of Los Angeles, CA, and Herbert Muir of Leominster, MA.

In addition to her parents, Pearl was preceded in death by her siblings, Evelyn Suprenard and John Muir.

Family will receive friends for Pearl's Life Celebration on Wednesday, August 15, 2012 from 5:00 p.m. until 8:00 p.m. at the Brinsfield Funeral Home, 22955 Hollywood Road, Leonardtown, MD 20650. Prayers will be recited by Deacon Ammon Ripple at 7:00 p.m. A Mass of Christian Burial will be celebrated by Reverend Andrew Morkunas on Thursday, August 16, 2012 at 10:00 a.m. at Immaculate Heart of Mary Church, 22375 Three Notch Road, Lexington Park, MD 20653. Interment will follow in Immaculate Heart of Mary Cemetery.

Contributions may be made to the American Cancer Society, 1041 Route 3 N, Bldg A, Gambrills, MD 21054.

Arrangements by the Brinsfield Funeral Home, P.A., Leonardtown, MD.