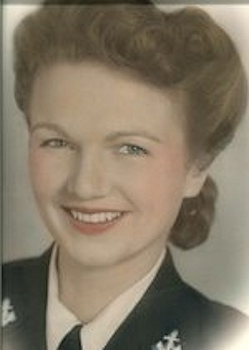 Claire Mae (Booye) Anderson, 92, of Margate, New Jersey and formerly of Waldorf, MD died November 7, 2015. Born on June 2, 1923 in Atlantic City, NJ she was the daughter of the late Clarence and Mae E. Booye.

Claire graduated from Atlantic City High School in 1940 and, like many of her greatest generation; she joined the Navy and proudly served as a WAVE during World War II. She was also privileged to be a member of the WAVE honor escort at the funeral of President Franklin Delano Roosevelt.

After the war, Claire attended Art School working in textile design and had an opportunity to work at McCall's Magazine as an illustrator. She enjoyed being a homemaker and loved gardening, art, sewing and crafting, a gift that she shared with her children throughout life. In her later years, she enjoyed crocheting and making Christmas stockings and blankets for fellow Veterans. She also enjoyed working with a knitters club and making projects for the local nursing home.

Claire also shared her love of sports with her children, particularly baseball, football and NASCAR races. Claire took great pleasure in working with young people and her time as a Secretary at John Hanson Middle School and J P Ryan Elementary School in Waldorf, Maryland.

Claire was a devoted mother and daughter; a strong woman who loved and cared for everyone and gave so much of herself to those around her. She leaves countless memories of her wonderful and light-hearted spirit. A loving example to her children, grandchildren, great-grandchildren, and their friends she provided encouragement and a safe and welcome home and heart in both good times and bad.

Claire Anderson was preceded in death by her husband, Robert P. Anderson; son, Gary P. Anderson; and grandson, Christopher P. Anderson.

Claire is survived by her loving family: brother, Richard K. Booye and niece, Gail Booye of Ventnor, NJ and children: Kenneth R. Anderson (Monica), St. Mary's, MD; Joanna L. Huntsberger, Imperial Beach, CA; Cheryl Anderson (Michael), San Diego, CA; Barry K. Anderson, Tampa, FL; Janice S. Thomas (Jed) of Midlothian, VA; Kathy E. Settle; of Wrightsville Beach, NC; and Steven A. Anderson of Margate, NJ. She is also survived by 14 grandchildren: Anna Marie Green (Bryan), Richard Anderson, Monica Anderson Pate (Michael), Kimberly Huang (Mark), Ronald D. Huntsberger, Andrea Anderson, Jennifer Lischak (Mark), Aaron Anderson, Michael Thomas, Benjamin Thomas, Savannah Thomas, Heather Ullman, John Ullman, and Claire Ullman and 7 great grandchildren: Alexis Marie Green, Noelani Delulio, Christian Pate, Jaden Huang, Kate Schmitt, Eva Lischak, and Mila Lischak.

The family will receive friends on Wednesday, November 11, 2015 from 1:00pm to 2:30pm at the George M. Wimberg Funeral Home, 7300 Ventnor Avenue, in Ventnor City, NJ. Private services and interment will take place on Friday, November 13, 2015 at Estelle Manor Veterans Cemetery, Mays Landing, NJ.