Hall, Theodore Emery, Jr.
Birth: 1930-09-24 in South Charleston, West Virginia
Residence: Mechanicsville, Maryland
Death: Wednesday, August 13, 2014
Condolences: Click to View or Post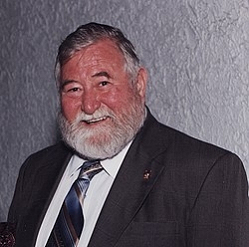 Theodore Emery Hall, Jr., 83 of Mechanicsville, MD., passed away peacefully at home on August 13, 2014. Ted was born September 24, 1930 in South Charleston, West Virginia. He was the son of the late Flossie Marie Watkins and Theodore Emery Hall, Sr.

Ted was the loving husband of the late Donna Joan (Keller) Hall, whom he married in Charleston, West Virginia on December 29, 1950.

Ted is survived by his children: Michael (Debbie) Hall of Chaptico, MD, Christy (Donald) Morgan of Mechanicsville, MD and Tammy Daye of Hollywood. Ted also leaves behind five grandchildren and their spouses: Bobby (Missie) Hall of Hollywood, MD, Chasity (Anthony) Goddard of Valley Lee, MD, Deana (Steve) Click of Avenue, MD, Jessica (Jeff) Cardello of Mechanicsville, MD and Tony (Beverly) Buckler of Leonardtown, MD, along with 12 great-grandchildren; Shelby Hall, Lexi Buckler, Seth and Rylee Goddard, Holly and Erin Click, Trent Dean, Mya, Ally and Donnie Cardello, Dylan Hobbs and Camryn Buckler.

Ted is survived by one sister, Barbara (Clyde) Mikeal of Callaway, MD and one niece, April who was his Tater, her husband Rusty and their son Travis Tarleton of California, MD.

Ted retired from the United States Navy in March, 1972 after serving 20 years to his Country. His duty stations were Cecil Field, FL and Patuxent River, MD. Honors served during his navy career were: Air Medal, Meritorious Unit Commendation Ribbon, Good Conduct Award, National Defense Service Medal, Vietnam Service Medal with Bronze Star and Republic of Vietnam Campaign Medal. After retiring from the Navy, Ted then went to work as a contractor supporting the Power and Propulsion Division for DOD and retiring from Eagle Systems of California, MD in 1996.

Ted was a Life Member of the VFW Post 2672, Benefactor Member of the National Rifle Association, Life Member of the Maryland State Rifle and Pistol Association, Fleet Reserve and North American Hunting Club. Ted's hobbies were; gun collecting, hunting, fishing and coin collecting but most of all he always looked forward to gatherings with family and friends. Ted spent two weeks in the fall camping and hunting with his family and extended family and for years he spent time in the cabin with his cousin Nick Harris and his sons.

The family will receive friends on Sunday, August 17, 2014 from 2:00 PM – 5:00 PM with American Legion prayers recited at 2:45 PM, followed by prayers at 3:00 PM in the Mattingley-Gardiner Funeral Home Leonardtown, MD with Deacon Bill Nickerson officiating. A Funeral Service will be held at a later date. Interment will be held at a later date in Arlington National Cemetery Arlington, VA. Pallbearers; United States Navy Casket Team. Honorary Pallbearers are Michael Hall, Bobby Hall, Tony Buckler, Donald Morgan, Ben Anderson, Rusty Tarleton and Andrew Patton.

In lieu of flowers, contributions can be made to Hospice of St. Mary's County, P.O. Box 625, Leonardtown, MD 20650., and VFW Post 2672, 23282 Three Notch Road, California, MD 20619.

Arrangements provided by Mattingley-Gardiner Funeral Home, Leonardtown, MD.