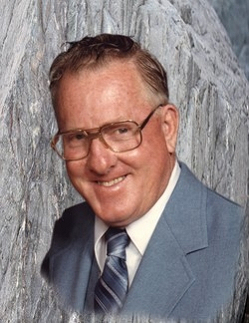 Frederick "Leonard" Harding, Jr., 84, passed away on October 12, 2014 at Hospice House of Saint Mary's in Callaway, MD.
He was born on March 27, 1930 in Sandgates, MD and lived his entire life in Saint Mary's County. He was preceded in death by his parents, Frederick Leonard Harding, Sr. and Lille Mae Harding (nee Downs), and his sister Louise LeBlanc.

Leonard graduated from Margaret Brent High School on June 17, 1948. He started his electrical career in 1951 and earned his Master Electrician License in November 1965. He founded his company, Leonard Harding, Jr. Electrical Contractor, in January 1966 and operated the company for 24 years, providing electrical contracting services throughout Southern Maryland and providing employment and benefits to many employees during these years. Leonard always had the reputation as being a hard worker, an honest business man, and a caring employer, providing vacation time, health insurance, and retirement benefits while many similar employers did not.

Leonard was a loving husband, friend, daddy, granddad, and great-granddad. All of his "kids" loved spending time with "Pop". He had a great love of the water, enjoying fishing, crabbing, and taking his children water skiing. He passed this love on to his wife and the succeeding generations, teaching them the skills needed to enjoy these activities. His lifelong dream was to live on the water, which he did for the last 24 years in Ridge, MD, happily and freely sharing his home with his family. He loved entertaining his family in "Ridge". He also enjoyed playing cards, bowling, and pin shuffle.

He was member of American Legion Post 255 in Ridge for 24 years and earned the title of Life Member. He spent many hours raising funds from individuals and businesses for American Legion Baseball in support of youth.

Leonard is survived by his loving wife of 60+ years Margaret Ann Harding (nee Guy), daughters, Margaret (Peggy) Haskin (Donald), Barbara White (Billy), Rebecca (Becky) Spitzgo (Bill), and son, Frederick L. Harding, III (Debbie). He is also survived by his grandchildren: Matthew Haskin (Kathryn), Andrew Beal (Gaby), Daniel Beal (Fiancé Nahir), Michael Haskin (Stacey), Kimberly Gravely (Jason), Frederick L. Harding, IV, and Marissa Emeigh; step-grandchildren: Will Spitzgo, Emily Stevens (Brandon), Bryan Wells, and Jessica Hare, as well eight great-grandchildren with 2 more expected. He is also survived by sisters Betty Drury, Mary Jane Brookbank (Marcus), Katherine Buss, and his brother, Earl Harding (Ann).

Family will receive friends for Leonard's Life Celebration on Tuesday, October 14, 2014 from 5 to 8 p.m., with prayers recited at 7 p.m. followed by prayers by the American Legion Post 255, at Brinsfield Funeral Home, P.A., 22955 Hollywood Road, Leonardtown, MD 20650. A Funeral Service will be celebrated by Pastor Doug and Lori Hays on Wednesday, October 15, 2014 at 11:00 a.m. at Lexington Park United Methodist Church, 21760 Great Mills Road, Lexington Park, MD 20653. Interment will be private.

Serving as pallbearers will be his grandchildren: Matthew Haskin, Andrew Beal, Daniel Beal, Kimberly Gravely, Michael Haskin, and Frederick L. Harding, IV.

In lieu of flowers, memorial contributions may be made to Ridge Volunteer Rescue Squad, P.O. Box 456 Ridge, MD 20680; Hospice House of St. Mary's, P.O. Box 625, Leonardtown, MD 20650; and the American Legion Post 255, P.O. Box 237, Ridge, MD 20680.

Arrangements by the Brinsfield Funeral Home, P.A., Leonardtown, MD.