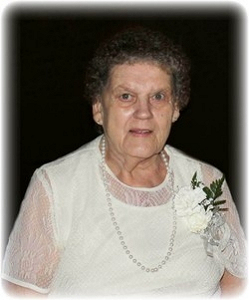 Catherine Ada Ridgell, 74, of Ridge, MD passed away peacefully on December 5, 2014 after a short battle with cancer. Born May 1, 1940, in Great Mills, MD, she was the daughter of the late Leo Cullison and Madeline Ridgell Cullison. She attended school at St. Michael's School in Ridge, Maryland.

In 1956, Catherine married Carl E. Ridgell. Together they shared 25 years of marriage prior to his death in 1981. Catherine was a cafeteria worker for many years with the St. Mary's County Public Schools prior to her retirement in 2009.

Catherine enjoyed creating seasonal crafts for her family and for her daughters to sell at local craft fairs. During the cold winter months, she was often found sitting at the table with a jigsaw puzzle and enjoyed the challenge of finding that "tricky" piece. Her favorite time of the year was Christmas and she looked forward to her Christmas Movies on Hallmark, UP and Lifetime Television.

Her greatest joy was the time she spent with her children and grandchildren. She enjoyed their company and pitching in to help whether it be working in the butcher shop grinding meat and making sausage, picking crabs and making crab cakes, cooking family meals during the holidays, or just sitting at the kitchen table and talking.

Catherine was predeceased by her husband, Carl, granddaughter Paula Ridgell, and sister Helen Cullison Angle.

She is survived by her daughter Carla M. Lonkert, son Carl A. "Tony" Ridgell (Cheryl), son Joseph M. "Mike" Ridgell (Karen), daughter Vernitta D. "Vern" Welch (Gary), son David E. Ridgell, daughter Lori A. Major (Kelly), and son Clyde W. Ridgell (Michelle). Additionally, she is survived by 12 grandchildren, 10 great-grandchildren and 1 great-great grandchild. Catherine is also survived by her siblings Mary Ellen Norris, Robert "Butch" Cullison (Linda), and Leona Beyer.

Family will receive friends for Catherine's Life Celebration on Wednesday, December 10, 2014 from 5 p.m. to 8 p.m. at St. Michael's Catholic Church, Ridge, MD, with prayers being recited at 7 p.m. Viewing will be held on Thursday, December 11, 2014 from 10:00am to 11:00am at St. Michael's Catholic Church with a funeral mass being held at 11:00 a.m. Interment will follow in the church cemetery. Pallbearers will be her grandsons John Lonkert, Brian Lonkert, Jason Welch, David Major, Patrick Ridgell and Josh Ridgell. Honorary pallbearers will be her remaining grandchildren.

In lieu of flowers, memorial contributions may be made to Ridge Volunteer Fire Department, P.O. Box 520, Ridge, MD 20680 and/or Ridge Volunteer Rescue Squad, P.O. Box 456, Ridge, MD 20680. Arrangements provided by the Brinsfield Funeral Home, P.A., Leonardtown, MD.