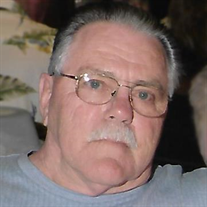 Edward Eugene Fitzgerald, 75, of Huntingtown, MD passed away on Tuesday, January 26, 2016. He was born in Washington, DC February 5, 1940 to the late Edward and Mildred Fitzgerald. Gene was a US Marine from August 4, 1965 until June 26, 1969 and served in the Vietnam War.

Gene is survived by his 2 sisters; Peggy Neidenbach and Sherry Busch and brother; Theodore "Ted" Fitzgerald. In addition to his brother and sisters, he is survived by his wife, Katherine Fitzgerald, son; Michael Sean Fitzgerald, daughter; Sherrie Arcuri, granddaughter; Monica Simonds, grandson; Brandon Simonds and his wife Tayler, granddaughter; Kaylynn Fitzgerald, grandson: James Strickland and great grandson Marcus Arcuri.

Gene is preceded in death by his son, Edward T. Fitzgerald, brothers; Warren McCormick and George McCormick and sister; Shirley Johnosn.

Arrangements provided by Lee Funeral Home.