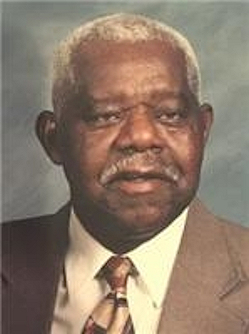 Wallace Briscoe Berry, 88 of Valley Lee, MD was called to eternal rest on Friday, October 9, 2015 at MedStar St. Mary's Hospital. Wallace was born on December 13, 1926 in Oakville, MD to the late Milton and Annie (Gray) Berry. He was the tenth of eleven children and received his education in St. Mary's County Public Schools.

In 1952, he met his loving wife Genevieve Berry. From this union seven children were born and he also raised three of his brother's children. Wallace was a loving and dedicated member of Hollywood Methodist Church of Hollywood, MD.

He was a farmer and worked at the Naval Air Station at Patuxent River, MD until his retirement in 1989 as a Pest Control Exterminator. Wallace loved his family, dancing, farming, listening to gospel music and most of all, he loved people. Anyone who came in contact with him instantly called him "Uncle Wallace". One of his favorite pastimes was being in his garden from sunrise to sunset. Everybody who knew him wanted to sample his garden. Leading up to his death, he enjoyed daily conversations with a special granddaughter, Shonda Berry, who took care of him endlessly.

Wallace was preceded in death by his daughter, Joyce Herbert; his sons, Joseph Berry and David Berry; grandson, Ronald Berry, Jr. and siblings, Augusta Berry, Louise Barnes, Annie Young, Henrietta Berry, Carrie Miles, Turner Berry, Saint Berry, Benjamin Berry, Thomas Berry and John Berry.

He leaves to cherish in memory his loving wife of 63 years, Genevieve Berry; his children, Mary Lou Cutchember (Melvin) of Valley Lee MD, Jacqueline Berry (John) of Hollywood MD, Yvonne Thompson of Baltimore MD, Wallace Berry (Paulette) of Temple Hills MD, Charles Berry of Lexington Park, MD, Ronald Berry Sr. (Ester) of Valley Lee MD, Michael Berry (Debra) of Lexington Park, MD and Martin Young of Baltimore, MD; fourteen grandchildren, sixteen great grandchildren and three great-great grandchildren; one godchild, Keisha Berry of Washington, DC and two special sons-in-law, Tyvie Herbert, Sr. and Melvin Cutchember; one special daughter-in-law, Debra Berry; five sisters-in law, Annie Mae Berry of Compton, MD, Julia Berry of Lexington Park, MD, Marion Perry of Baltimore, MD, Catherine Dunn of Hyattsville, MD and Patricia McFadden of Baltimore, MD; two brothers-in-law, Charles Cutchember of Baltimore, MD and Jeremiah Cutchember of Drayden, MD and a host of nieces, nephews, cousins, relatives and friends.

Family and friends will unite on Friday, October 16, 2015 for visitation at 9:30 am until time of service at 11:00 am at First Missionary Baptist Church, 46370 Pegg Lane, Lexington Park, MD 20653. Interment to follow at Charles Memorial Gardens, Leonardtown, MD 20650. Arrangements provided by Briscoe-Tonic Funeral Home.