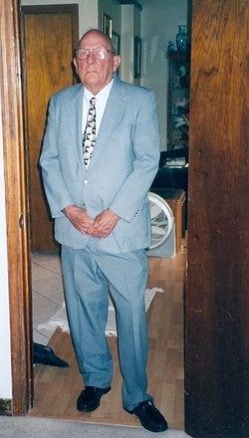 Wayne Arthur Spruce, 85, of Lexington Park, MD, passed away on Wednesday, January 7, 2015 at his residence in Lexington Park, MD. He was born on October 3, 1929 in Cook County, Texas to the late Edward Spruce and late Lovis Mullens Ryckman Spruce.

Wayne served his country proudly in the United States Navy. He would often talk about being in places such as Guantanamo Bay, Japan and Newfoundland. He was awarded The China Service Medal, Korean Medal, United Nations Service Medal and the Navy Occupational Medal. He retired Honorably after 20 years of dedicated service. He worked at Giant Food as a Meat Cutter for 20 years. Wayne enjoyed fishing, hunting, woodworking and reading the Bible.

Wayne was predeceased by his parents; his wife, Marguerite Mary Spruce; his son, Lewis Wheeler II; his daughter, Constance Ruth Merendino; and his brother, Junior.

Wayne is survived by his sons, John Wayne Wheeler (Alice), Harry James Wheeler (Martha), James Michael Wheeler; daughters, Janice Lynn Stewart (Steven); grandchildren, Amber Sandberg, Tiffany Wheeler, Aryana Treweek, Louis Wheeler, III, Lauren Wheeler, Brian Wheeler, Theresa Weicht, Michael Wheeler, James Wheeler, Christopher Wheeler, Anthony Merendino, Lisa Merendino, Dawn Burroughs, Tina Wright and Lori Jean; great-grandchildren, Angel Aquino, Abigail Treweek, Aryana Wheeler, Queshaun James, Jr., John Anthony James, Jacob Wheeler, Lindsey Wheeler, Dekota, Sarah, Abigail Wheeler, Kenney Aicher, Erica Aicher, Nicole Aicher, Ashley, Lexi and Ava Wright, Michael Gregory, Haley and Chase Burroughs, Peyton, Bella; and his sister, Evelyn Newsom.

Family will receive friends for a Wayne's Visitation on Tuesday, January 13, 2015, from 9:00 a.m. to 11:00 a.m. at Brinsfield-Echols Funeral Home, P.A., 30195 Three Notch Road, Charlotte Hall, MD 20622. Funeral Service will start at 11:00 a.m. at the Funeral Home with Pastor Wrink Shelton. Interment will follow at Trinity Memorial Gardens, 3221 Mattawoman Beantown Road, Waldorf, MD 20601. Arrangements provided by Brinsfield-Echols Funeral Home.