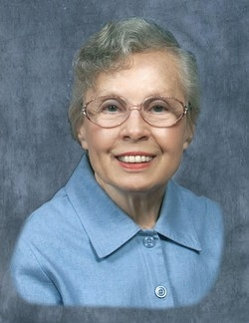 Julia Owens Bodine, 83, of Lexington Park, former long term St. Mary's County elementary school teacher, died September 18, 2014. Born September 13, 1931, in Leonardtown, she was the daughter of the late William Freeman Owens and Mary Lillian Owens.

She graduated from Margaret Brent High School as valedictorian in 1949. She earned a bachelor's degree in Elementary Education from Towson State Teacher's College in 1953 and returned to St. Mary's county as a first grade teacher at Leonardtown Elementary School.

On November 19, 1955, she married Francis Rackett Bodine and later left teaching to raise her family after the birth of her first son, Kevin, in 1958. She returned to teaching in 1976 and retired from the profession in 1985. Throughout her career, she taught the first grade at Leonardtown Elementary School, Frank Knox School and Greenview Knolls School.

A lifelong resident of St Mary's County, Mrs. Bodine was active in many charitable organizations. She was a member and past president of the Saint Vincent DePaul Society at Immaculate Heart of Mary Catholic Church. She helped found and then managed the Clothing Center and Food Pantry at Immaculate Heart of Mary Catholic Church, which provided for countless St. Mary's County residents, for several years. In the past, she had routinely provided meals for the residents of the Three Oaks Homeless Shelter. Mrs. Bodine was an active member of the St. Mary's County Historical Society for approximately 60 years.

She was a parishioner of Immaculate Heart of Mary Church for 60 years and served as a Eucharistic minister. Mrs. Bodine taught CCD classes for many years and acted as a Eucharistic minister for the residents of the Bayside Nursing Home.

Mrs. Bodine enjoyed landscape gardening, sewing, reading, antique collecting, interior design and travel; but her greatness joy was derived from her family and helping those less fortunate in the community.

She is survived by her three sons, Francis Kevin Bodine and his wife, Kelly, of Avon, Ohio, Dr. Christopher Ken Bodine and his wife, Kelley, of Champagne, Illinois, David Kurt Bodine and his wife, Beth, of Port Republic; seven grandchildren, Ryan Kurt Bodine, Kristina Marie Cole, Kimberly Meagan Terry, Christopher Bryce Bodine, Owen Francis Bodine, Aileen Riley Bodine and Leah Michelle Bodine; seven great grandchildren; and her brother William F. (Freddy) Owens of Clinton.

She was preceded in death by her parents and her husband, Francis Rackett Bodine. In addition, she was preceded in death by brothers and sisters, Charlie Owens, Margarite Owens Dorn, Madeline Owens Sickle, John Melton Owens, Rosalie Owens Russell, Evelyn Owens Chopin, Myrtle Owens Russell, Joseph Owens, Anna Owens Cramer, Janice Dunbar Cooper, James Dunbar, Franklin Dunbar and Julius Owens.

Family will receive friends for Mrs. Bodine's Life Celebration on Wednesday, September 24, 2014 from 2 to 4PM and 6 to 8PM in the Brinsfield Funeral Home, P.A; Leonardtown, MD where prayers will be recited at 7PM. A Mass of Christian burial will be celebrated on Thursday September 25, 2014 at 10AM in Immaculate Heart of Mary Catholic Church, Lexington Park, MD with Father David Beaubien officiating. Interment will follow in the church cemetery.

Memorial Contributions may be made to St. Vincent DePaul Society of IHM, 22375 Three Notch Road, Lexington Park MD, 20653.

Arrangements by the Brinsfield Funeral Home, P.A., Leonardtown, MD.