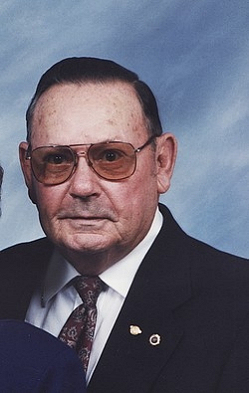 Joseph Elmer St. Clair, 88, of Avenue, MD passed away surrounded by his loving family on June 22, 2014 in Callaway, MD. Born on November 20, 1925 he was the loving son of the late Harry Thomas St. Clair and Myrtle St. Clair.

Joseph was the loving husband of Margaret Genevieve St. Clair, whom he married on July 14, 1947 in Holy Angels Catholic Church Avenue, MD.

Joseph is survived by his children: Linda Patricia Cross, Joseph Anthony St. Clair (Sherri) all of Avenue, MD, Mary Bernadette Cheseldine (Lenny) of Hollywood, MD, 8 grand children, 6 great grandchildren, and one great grandchild on the way. He is preceded in death by his siblings: Thomas Emmanual St. Clair, Daniel Webster (Pete) St. Clair, and Joan Marie Ferguson.

Joe was a life member of the American Legion Post 221, faithful member of the Holy Angels Catholic Church. He was a farm equipment mechanic, waterman and farmer. He retired from Guy Brothers Implement in 1990.

He loved his family, working in the garden and sharing his vegetables with friends, and neighbors. He loved making crafts and restoring furniture. He was so proud of the things he made for his children, grandchildren, and great grandchildren.

He was past Vice Commander and historian for the American Legion Post 221, and he helped build the American Legion. He served in WWII in the South Pacific, the Philippines and New Guinea, with his dear friend Roy L. Smith (Smitty). They served together and remained lifelong friends. Smitty preceded him in death on April 25, 2003. They are now together again.

The family will received friends on Thursday, June 26, 2014 from 5:00 PM – 8:00 PM with prayers recited at 7:00 PM followed by American Legion and Optimist prayers in the Mattingley-Gardiner Funeral Home, Leonardtown, MD. A Mass of Christian Burial will be celebrated on Friday, June 27, 2014 at 10:00 AM in Holy Angels Catholic Church Avenue, MD with Father Charles A. Cortinovis officiating. Interment will follow in Charles Memorial Gardens, Leonardtown, MD. Pallbearers will be: Jessica St. Clair, Robert Cheseldine James H. Hall, Jr., Jeff Guy, Frankie Vallandingham, and Francis Gibson. Honorary Pallbearers will be: William (Billy) Hall, James (Jackson) Hall, John (Puddin) Hall, McGuire (Satch) Hall, Paul Thompson, Donald Thompson, Joseph A. (Buddy) Thompson, Jr., and American Legion Post 221.

Contributions may be made to the American Legion Post 221, 21690 Colton's Point Road, P.O. Box 98, Avenue, MD 20609 and/or MedStar St. Mary's Hospital Cancer Care and Infusion Services, 25500 Point Lookout Road, Leonardtown, MD 20650.

Arrangements provided by Mattingley-Gardiner Funeral Home Leonardtown, MD.