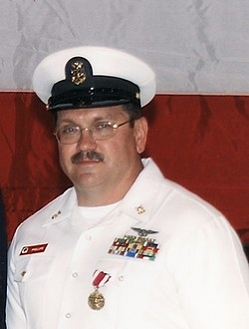 Bradley Jay Phillips, 59, of Hollywood, MD formerly from Chapmanville, PA passed away in Hollywood, MD. Born on July 2, 1954 in Oil City, PA he was the loving son of the late Carol Phillips and William Phillips.

Bradley was the loving husband of Belinda Phillips whom he married in St. Mary's County, MD on October 19, 1991.

Bradley is survived by his children: Kane Phillips of Wilmington, DE. Renee Ledebur of Titusville, PA., Isaac Phillips of Chapel Hill, NC., and 4 grandchildren. Siblings: Rex Phillips of Chapmanville, PA, and Jodi Mihailoff of Townville, PA.

Bradley graduated from Tawnville High School in 1972, Serving in the United States Navy from August 1974 to August 31, 2004 his duty stations included: Great Lake, IL, Memphis, TN, Naval Air Station Oceana, Virginia Beach, VA, NAMO Patuxent River, MD. Wars he served in were: Grenada, Lebanon, and Bosnia-Herzegovina, retiring after 30 years of service.

He moved from Virginia Beach, VA to St. Mary's County, MD in 1985. Bradley worked as a Logistics Specialist for the Department of Defense. Bradley belonged to the NRA, VFW, and he enjoyed power lifting, hunting, NASCAR, and was a Pittsburg Steelers Fan.

The family will receive friends on Sunday, June 1, 2014 from 2:00 PM – 5:00 PM in the Mattingley-Gardiner Funeral Home, Leonardtown, MD. A Funeral Service will be held on Monday, June 2, 2014 at 10:00 AM in the Funeral Home Chapel with Pastor Larry Crabtree officiating. Interment will be private.

Arrangements provided by the Mattingley-Gardiner Funeral Home Leonardtown, MD.