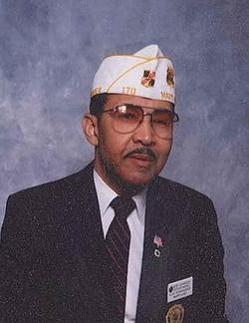 Johnson, Robert "Bob" Marshall, age 77, of La Plata, Maryland.

Robert Marshall Johnson was born to the late McAllister and Lucille Johnson on March 7, 1936. He departed this life on February 14, 2014.

He was baptized at Sacred Heart Catholic Church in La Plata, Maryland. He married his childhood sweetheart, Dorothy "Dot" Johnson on July 4, 1959. From this union, two children were born: Kyle Anthony and Kyrese Angela.

Robert, also known to many as "Bob" was educated in the Charles County Public School System. He studied Business Administration at the American University. He served in the U.S. Army and was later employed at the National Institutes of Health.

In 1969, Robert moved his family to Hillcrest Heights, Maryland. As a devoted Catholic of Holy Family Parish, he was a lector, Eucharist Minister, in the Adult Choir and an active member of the Parish Council and Catholic Youth Organization. In his spare time, he was a baseball coach for the Silver Hill Boys' and Girls' Club, and basketball and softball coach for Holy Family Catholic School.

In 1987, he retired from the General Services Administration and returned to his hometown of La Plata, Maryland. He continued to serve as a lector and Eucharistic Minister at Sacred Heart Church in La Plata, until his health began to fail.

He was also a very active member of the American Legion where his home post was Randolph Furey Post #170. He served many positions on the county, state and national levels as well as Chairman for the Charlotte Hall Veterans Commission.

Robert will be cherished by many. He is survived by his devoted, loving wife of 54 years, Dorothy Johnson, son, Kyle Johnson, daughter, Dr. Kyrese Johnson Scott; grandchildren, Kazel Robert Mutombo, Marcus Anthony Johnson, and Alyssa Nicole Johnson; a caring sister, Laverne Yates; daughter-in-law, Rita Johnson, son-in-law, Jeffrey Scott; sisters-in-law, Lydia Johnson, Helen Johnson, Ethel Makle, Ellen Prout (Thomas); brother-in-law, Thomas Jones; and a host of many relatives, friends, and his American Legion family.

He was preceded in death by sisters, Wahseeola Neale, Mary Ann Mason, Margaret Hill, and brothers, Roscoe and Charles Johnson and Goldsboro Jackson.

His viewing will be held from 6pm to 9pm on Thursday, February 20, 2014, Prayers, 7pm and from 9am until Mass of Christian Burial 10am on Friday, February 21, 2014 at Sacred Heart Catholic Church, 201 St. Mary's Avenue, La Plata, Maryland 20646. Interment, Maryland Veterans Cemetery, Cheltenham, Maryland, 10:00am, Friday, March 7, 2014.

Arrangements provided by Thornton Funeral Service.