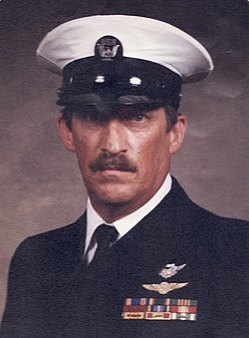 Richard Clyde "Dick" Shoemaker, 74, of Leonardtown, MD passed away surrounded by his loving family on June 2, 2014 at his residence. Born on January 1, 1940, in Lancaster, PA he was the loving son of the late Lillian Hazel Shank and Clyde Frank Shoemaker.

Dick was the loving husband of Grace Marie Shoemaker.

He was preceded in death by his first wife Ellen J. Abell Shoemaker.

Dick is survived by his children: Frank Richard Shoemaker, (Kim) of Magnolia, TX., Erin Kathleen Shoemaker and Cary Colleen Shoemaker both of Leonardtown, MD, Kimberly Jo Guy (Brian) of Clements, MD., 9 grandchildren: Cameron, Frank JR, James, Johnna Shoemaker, Nick, Preston and Grant Gass, Ashley Jo and Austin Guy.

Dick enlisted in the United State Navy on January 16, 1959, during his service to our county he served for 3 and ½ tours in Vietnam from March 1969 to June 1972. He also served aboard the U.S.S. Nimitz for one tour for Fleet Air Reserve Unit VQ1 for VAW116; and he earned an enormous amount of awards while in service for his heroism, and dedication to the United States Navy. To name a few: Air Medal for meritorious achievement while participating in aerial flight or for a single act of heroism against an armed enemy, and Presidential Unit Citation for service in a unit cited in the name of President for outstanding performance in action, he retired in June 29, 1977.

Dick was a member of the Leonardtown Volunteer Fire Department from 1980 to 1990, and was awarded Fireman of the Year fin 1981, and remained in the top 10 of fire calls from 1980 to 1986. Dick worked as an Airplane Technician for DynCorp, retiring on March 30, 2005.

He was loved and respected by countless friends, and family.

The family will receive friends on Monday, June 9, 2014 from 5:00 pm – 8:00 pm with prayers recited at 7:00 pm in the Mattingley-Gardiner Funeral Home, Leonardtown, MD. A Mass of Christian Burial will be celebrated on Tuesday, June 10, 2014 at 11:00 am in St. John's Catholic Church, Hollywood, MD with Father Ray Schmidt officiating.

Interment will follow in Charles Memorial Gardens, Leonardtown, MD. Pallbearers will be: Clem Johnson, Nick Gass, Preston Gass, Brian Guy, Kenny Scully, and Kevin Abell.

Contributions may be made to Hospice of St. Mary's, P.O. Box 625, Leonardtown, MD 20650, and/or the Leonardtown Vol. Fire Department, P.O. Box 50, Leonardtown, MD 20650.

Arrangements provided by Mattingley-Gardiner Funeral Home.