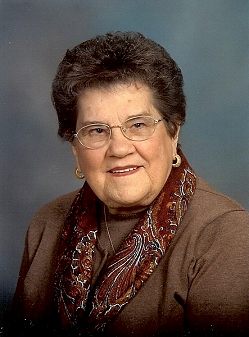 Theresa Elder Dyer, 87, of Faulkner, Maryland died on July 13, 2015 in Charles Co. Hospice House, Waldorf, MD. Born in Bel Alton, MD on March 31, 1928 she was the loving daughter of the late Albert Leo Elder Sr. and Agnes Genevieve Hayden Elder.

She is the beloved wife of Julian Gardiner Dyer whom she married in St. Ignatius Catholic Church in Chapel Point, MD on April 12, 1947 and he preceded her in death on December 16, 1996.

Theresa is survived by her children, Eleanor Beatrice Adams of Valrico, FL, Brenda Marie Dodson (David) of LaPlata, MD, Richard Julian Dyer (Mary Jo) of La Plata, MD, Mary Cecelia Raba of Waldorf, MD, Susan Theresa Gardiner of North Hutchinson Island, FL, Michael George Dyer (Kim) of New York, NY, Brian Patrick Dyer of Montross, VA, and Nancy Janine Thompson (Hoover) of Bel Alton, MD; siblings, Agnes Nash, Dutton Elder, Patsy Tyler, Robert Elder, Alan Elder, Sister Nancy Elder (IHM), Diane Bowling, and Amy Doutt; grandchildren, Kathy Dodson Hancher, Brady Dodson, Lori Dodson Belfield, Theresa Gardiner Knight, M. Kevin Gardiner, Jr., Ryan Raba, Scott Raba, Brandy Raba Vitielliss, Jake Dyer, Lacy Dyer Dement, Jennifer Adams Hall, Matthew Thompson, Nicholas Thompson, Nikki Dyer, Rachel Dyer, Pete Dyer, Josh Dyer, and Megan Dyer Barncord; and 25 great grandchildren.

She was preceded in death by her parents, husband, son in-law, Oscar Raba, and siblings, Cordelia Wentzell, Albert Elder Jr. and Alma Louise Maddox.

Theresa was the Accountant for Mitchell Supply in La Plata, MD retiring after 21 years of service. She went on to work part time for Mattingley-Gardiner Funeral Home in Leonardtown, MD as the Bookkeeper for over 8 years. She was a devoted member of St. Ignatius Catholic Church and enjoyed reading, lunch outings, and being around her family.

The family will receive friends on Wednesday, July 15, 2015 at St. Ignatius Catholic Church, Chapel Point, MD from 2-4 and 6-8 PM with a prayer service being offered at 7PM. A Mass of Christian Burial will be offered on Thursday, July 16, 2015 at 11:30 AM in the church with Fr. Tom Clifford, S.J. officiating. Interment will follow in the church cemetery.

Pallbearers will be her grandsons, M. Kevin Gardiner, Jr., Brady Dodson, Scott Raba, Jake Dyer, Matthew Thompson, Pete Dyer, Nicholas Thompson, and Josh Dyer. Memorial Contributions may be made to the St. Ignatius Catholic Church, 8855 Chapel Point Road, Port Tobacco, MD 20677. Arrangements provided by Mattingley-Gardiner Funeral Home.