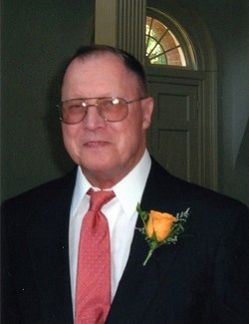 Jack LeRoy Bottorf, of Hollywood, MD died on Thursday, January 8, 2015. He was born on December 11, 1932 in Weirton, WV to Clarence Cecil and Lucille Emily Bottorf.

Beloved husband of Nancy J. Bottorf; father of Mark Y. Bottorf (Teri McCleaf) and Anne Elizabeth Vallandingham (Timmy), both of Hollywood, MD; and brother to Ronald C. Bottorf (Barbara) of Follansbee, WV and brother-in-law to Elizabeth Herceg of Parkersburg, WV and Mary Solomon of Weirton, WV. He is survived by grandchildren Samantha Campbell (Paris), Ashley Kastronis (Chris), Tanya Bottorf, Shane Bottorf, Caitlin Brown, Jack Brown, Hannah Vallandingham, and Blayre Vallandingham; great children Tristan and Liam Kastronis and Luna Bottorf, and numerous nieces, nephews, and greats.

He was a graduate of Weir High School, Weirton, West Virginia. He furthered his education by attending West Virginia Tech, Montgomery, WV on a journalism scholarship provided by the Wheeling Intelligencer. While attending West Virginia Tech, he was confirmed at Calvary Memorial Church in Montgomery, WV as an Episcopalian.

He then enlisted in the United States Army during the Korean Conflict and was stationed at Fort Myer, VA as a military police officer. Often he was called upon to assist with numerous military funerals conducted at Arlington National Cemetery, during his tenure at Fort Myer. On September 7, 1955 he was honorably discharged from the United States Army and remained an active member of the United States Army Reserve until 1961.

He married his best friend, Nancy Jean Solomon, on September 10, 1955. Together they attended West Virginia University and graduated in May of 1957.

Jack accepted a position at the Ashtabula Star Beacon in Ohio, as the business and financial editor. Leaving the Star Beacon, he accepted a position with the Weirton Steel Company, as their editor of the Employees' Bulletin. In 1961, he accepted a position with the Montgomery and Ward Company, as their design and advertising director in Baltimore, MD. After experiencing the advertising world, he decided to change careers and entered in to the world of education.

In 1962, he accepted a position at Suitland Senior High School, in Suitland, MD, as the journalism and philosophy teacher. While at Suitland, he was recognized for his award winning yearbooks. Jack accepted a position at Parkdale Senior High School, in Parkdale, MD, in the mid-1960s as the English Department Chairperson and taught there until 1970. In 1971, he relocated to St. Mary's County where he taught English at Chopticon High School and began the lengthy task of restoring his historic home. In addition, to being the English Department chair for numerous years at Chopticon High School, he also coached the boys' soccer and tennis teams. He was recognized for his outstanding and extraordinary teaching techniques on numerous occasions. He retired from teaching in 1997, after having taught at Chopticon for 26 years.

He was a world traveler, an avid Anglophile, and man of his word and a man of deep faith. He served on the Vestry and was a verger at St. Andrews Episcopal Church for many years. He was a loving father, devoted husband, great friend, devoted lover of "his dogs", pianist, great dancer, lover of music, and fabulous gardener.

Pallbearers will be Mark Bottorf, Shane Bottorf, Chris Kastronis, Mark Meredith, Glenn Richards, and Timmy Vallandingham. Honorary Pallbearers will be Jennifer Aicher, Helen Becker, Ronald Bottorf, Sr., Ronald Bottorf, Jr., James Galligan, George Kirby, Karl Pence, Bob Rotzinger, Scott Russell, Arthur Standing, Thomas Vallandingham, and James Younkins.

Family will receive on Thursday, January 15, 2015 from 10-11 AM, with a Funeral Service celebrated by Rev. Beverly K. Weatherly at 11 AM., at St. Andrews Episcopal Church, 44078 Saint Andrews Church Road, California, MD. Interment will follow in the church cemetery.

Memorial contributions may be made to St. Andrews Episcopal Church, 44078 Saint Andrews Church Road, California, MD 20619. Arrangements by the Brinsfield Funeral Home, P.A.