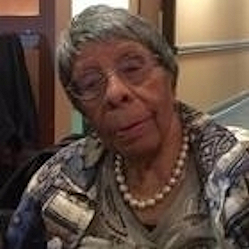 Mason, Charmaine Lorraine (Morton) Age 87 of La Plata, Maryland.

Charmaine Lorraine Mason, of Washington, D.C., affectionately known as "GG", was born on March 1, 1928 to Lloyd Bitzer Morton and Octavia Lorraine Morton. Her parents passed when she was a young girl and Charmaine was raised by her Aunt Jenny and Uncle Harry West. On Thursday, May 7, 2015 Charmaine departed this life at Southern Maryland Hospital in Clinton, Maryland. She was preceded in her death by her husband William L. Mason. Through their union they had four children: Charmaine (Dusty) Wesley, Bradley Mason, Reginald Mason (deceased), and Teri Hines.

Charmaine's memory will be cherished by her eight grandchildren: Schniene Sutton, Shannon Key (Chris Key), Reginald Mason, Bradley Mason Jr. (deceased), Charmaine Mason (deceased), Christopher Mason, Malik Mason and Najia Mason. And her four great grandchildren: Dominique Sutton, Shelby Key, Tyler Key and Destiny Flournoy.

Charmaine had four sisters, Doris Brooks, Vivian Grimes, Gladys Harris, Elaine Hamilton and one brother Elmer Murray; one sister-in-law Jermaine Crawford (Frank Crawford - deceased), son-in-law Larry Wesley and one daughter-in-law. She also leaves many nieces, nephews, and other loving relatives and friends.

Charmaine was educated in the Washington D.C. public school system and worked in the cafeteria in the D.C. public school system for several years. She left the school system and worked at Lord & Taylor's Department Store for nearly 15 years. While working at Lord & Taylor's Charmaine received many outstanding awards for her exemplary service. One of her customers took notice of her work ethic and offered her a job at the D.C Board of Elections and Ethics as a receptionist. She was the first person you saw when you entered that office and everyone loved, respected and affectionately called her "Mrs. Mason". While working there Charmaine learned sign language and became the sign language interpreter for the office and the Notary Public. Charmaine had the opportunity to meet many dignitaries including Nelson and Winnie Mandela. When the WHUR radio station had an Employee of the Month contest, the entire staff at the Board of Elections and Ethics nominated Charmaine and she won an "all-expense paid trip for two to Luxembourg. She retired from the board of Elections on June 17, 1993.

Charmaine was a long standing and well known member of Saint Benedict the Moor Church in Northeast Washington D.C. and served as an active member in many of their ministries.

Charmaine was a strong willed woman and her faith was strong. She became ill with lung cancer 23 years ago and was given three months to live and well we know that did not happen. The doctors gave up on her several more time and she always made a complete recovery. She fought a good fight but her body was just tired.

When Charmaine became ill she went to live with her daughter Teri for 11 years. Charmaine attended The Healing Place Church regularly on Sundays; she often went to eat at her favorite place the Golden Corral. Charmaine enjoyed seeing plays and going to the shopping Mall. During the day she loved attending the Fenwick Senior Center where she took part in their day trips and Bingo games.

Our time is really not our own, no matter who we are, because the time we live on earth is just a passing star. The golden sun has disappeared, the sky is dull and gray, and we are lonely in our hearts because our Charmaine has gone away. However, long of famously we pause upon this sod, our time is really not our own because it belongs to God. And we only wait and pray, until the time when we may look upon each other in that vast eternity.

"There is peace in midst of turmoil,
There is joy when eyes are dim,
There is perfect understanding
When we leave it all to Him."

"True peace is not the absence of war; it is the presence of God."

Viewing, 10:00 a.m. until time of Service, 11:00 a.m., Saturday, May 16, 2015 at the Healing Place Church, 2106 Crain Highway, Waldorf, Maryland 20601. Interment, 1:00 p.m., Monday, May 18, 2015, Maryland Veterans Cemetery, Cheltenham, Maryland. Arrangements provided by Thornton Funeral Home.