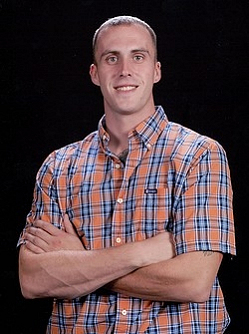 Edward John Deasy, III (Ted) "guardian", was born January 31, 1986, and returned to God, on March 15, 2014.

Ted was extremely generous with a never ending love for his family. Family reunions were something he looked forward to each year, especially time spent together with his cousins. He loved adventure - be it on land or on water. His shared his love for motorcycles and boating with his father, his very best friend. He was an avid sports fan, especially showing his pride in the Baltimore Orioles whenever possible.

He had found his calling as an electrician and loved what he did every day. He looked forward to each new challenge and climbing to the top of those open buildings under construction just to say he could do it!

Cruising with his family was a favorite vacation pastime. It was on his most recent cruise that he met the love of his life, Ashleigh. On March 14, Ted said, "last day of vaca…been a good three weeks, and the two weeks with Ashleigh Koochin were the best of my life!!" Ted lived life to the fullest, despite any obstacles he faced. He was always smiling, had an outstanding sense of humor and found something amusing in every situation – you could always tell by the twinkle in his eye!

Ted graduated from Leesville High School and attended Wake Technical Community College. He earned his electrical journeyman license and worked at Jim Corridon Electric. He was currently pursuing his Master Electrician license.

Ted is survived by his parents Ed and Bev Deasy, Avenue, Maryland; his fiancé Ashleigh Koochin of Castlegar, British Columbia; his paternal grandmother Mel Deasy of Brooksville, Florida, his Aunts and Uncles: Debbie Shade of Scottsdale, Virginia, Eileen Jimenez, Maureen and Mike Reidy, Christine and Christopher Christoff of Tampa, Florida, and Kathy and Huey Dyer of St. Petersburg, Florida. Cousins Michael and Melissa Reidy, Tara Jimenez, Katie Conkowycz, Christopher and Camryn Christoff of Florida.

Ted is proceeded in death by his brother Matthew Deasy, his paternal grandfather Ed Deasy, his maternal grandparents Al and Rose Shade, his Uncle Bert Jimenez and his Aunt Patty Fusaro.

Roman Catholic Mass will celebrated by family friend Father James Patrick McCabe, C.Ss.R, and Rev. Charles A. Cortinovis on Saturday, March 22, 2014, at 10:00 AM at Sacred Heart Catholic Church at 23080 Maddox Rd., Bushwood, MD, 20618. Friends and Family will be welcome after the service at 21045 Oakland Hall Road, Avenue, MD to celebrate his life.

In lieu of flowers please make a contribution to Habitat for Humanity International, 121 Habitat Street, Americus, GA 31709-3498.

Arrangements provided by Mattingley-Gardiner Funeral Home.