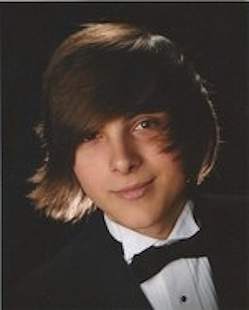 Raymond Keith Barber, 19, was taken from this world on the 16th day of September, 2015. Raymond was the loving son to Elizabeth Ann Morgan Barber and Theodore Ervin Barber. Born on the 8th of November 1995 at Calvert Memorial Hospital in Prince Frederick, MD.

He lived his entire life in California, MD attending school at Bay Montessori, Hollywood Elementary, Esperanza Middle School, and culminating with his graduation in 2013 from Leonardtown High School. Following graduation, Raymond began his working career first at Dunkin Donuts, California, MD as the night donut maker while also working the morning shift at the DQ store in Charlotte Hall. In January 2015, he began work at the Family Care Pharmacy Lexington Park as a Pharmacy Tech until his untimely death.

Everyone that met him ended up liking him. Raymond was always there with an ear and a shoulder for those who were going through troubling times, but when it came to his life, he kept it very private and deeply hidden away inside. He was such a perfectionist and there was never any task he could not take on and complete. Everything had to be painstakingly done and aligned just right when it belonged to someone else, but when it came to his own things, he never followed that same process. He had commented to his friends numerous times that he would like to one day work on cars like his namesake grandfather. He also had a vision to one day own his dream car, a WRX.

In addition to his parents, Raymond is survived by his Grandparents George and Regina Morgan of Leonardtown, his brother SSGT Steven Barber USMC (Kellie) of Hawaii, his sister Christina Rowan (Alex) Mechanicsville, nieces Alyssa and Amelia (Mechanicsville), nephew Steven (Hawaii), uncles George Morgan (Michelle) Inwood, WV, James Morgan (Laura) Leonardtown, aunt Amy Harrell (Richard) and many, many cousins, great aunts, great uncles, and friends from St. Mary's County and central Pennsylvania. He was predeceased by a sister (Anna Marie) and his paternal Grandparents Raymond and Neva Barber of Williamsport, PA.

The family will receive family and friends for a Celebration of Raymond's Life on September 24th from 5 – 8 PM at the Mattingly-Gardiner Funeral Home, Leonardtown, MD. A Mass of Christian Service will be celebrated at 11 AM on Friday, September 25th at the St. Francis Xavier Catholic Church in Compton, MD. Honorary Pallbearers will be Steven Barber, George Morgan, James Morgan, Cody Parsons, John Morgan, Donovan Harrell, and David Harrell. Arrangements provided by Mattingley-Gardiner Funeral Home.