Ebeling, Margaret Laura
Birth: 1923-05-06 in Charleston, West Virginia
Residence: Sandgates, Maryland
Death: Thursday, July 19, 2012
Laid to Rest: Monday, July 23, 2012 in the Springfield Cemetery, Sykesville, Maryland
Condolences: Click to View or Post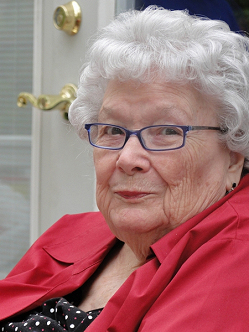 Ebeling, Margaret Laura, 89, of Sandgates (St. Mary's County), MD, formerly of Carroll County, MD, died Thursday, July 19th at home with her loving family by her side. She was born on May 6, 1923 in Charleston, WV, the daughter of the late Carrie (Gandee) and James Holt.

In addition to her parents, she was preceded in death by her husband Delbert, a daughter, Joyce Cox and her husband Laudie Cox, three brothers Paul, Gene, and Leon Holt, brother-in-law, Herman Ebeling, and a nephew David Ebeling.

Surviving is her two daughters, JoAnn Bryant of Mechanicsville and Jean Ebeling at home, and a son, James (Norma) of Tonapah, NV.; a brother, Art (Nan) of Abilene, Texas; a sister-in-law, Mary Holt of State College, PA; 13 grandchildren; Dennis (Ann) Bryant of Smyrna, Tennessee, James (Donna) Bryant of Clarksville, Tennessee, Stephen (Julie) Bryant of Mechanicsville, MD, Toni (Rob) Vargo of Mechanicsville, MD, Jake Kitzmiller of Longview, Tx, Dusty (Lorene) Kitzmiller of Stafford, VA, James (Erikka) of Lansdale, PA, Kelly (Brian) LaHair of Randallstown, MD, Kim Ross of Jacksonville, FL, Andrew Cox of Christiansburg, VA, Daniel Ebeling of Fallon, NV, Barry (Corrie) Ebeling of Tonapah, NV, and James (Christine) Ebeling of Fallon, NV; and 21 great-grandchildren, and five great, great grandchild.

In addition to being a dedicated wife and loving mother, she worked as a Soda Jerk in Washington DC, at Maryland Cup in Owings Mills, MD, and at the Springfield State Hospital in Sykesville, MD.

Friends will be received to pay tribute to Margaret and to celebrate her life at the Haight Funeral Home, Sykesville, MD on Saturday 4-7 pm, Sunday 2-5 pm and Monday at 1 pm. Burial will follow in the Springfield Cemetery, Spout Hill Road, Sykesville, MD.

Memorial Donations can be made to the Hospice of St. Mary's, 22699 Washington Street, P.O. Box 625, Leonardtown, Maryland 20650.