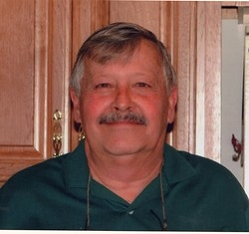 Harry Oswald Dixon JR, 70, of Mechanicsville, MD passed away September 3, 2014 at Medstar Georgetown University Hospital in Washington, D.C., surrounded by his loving family. Born March 20, 1944, he was the son of the late Harry Oswald Dixon, Sr. and Edna Augusta Sauer Dixon.

In 1962, Harry graduated from Margaret Brent High School. On July 13, 1963, he married his high school sweetheart, Lucy Vallandingham at St. Joseph's Catholic Church in Morganza, MD. Together they celebrated 51 wonderful years of marriage.

He proudly served in the United States Army from February 1966 until his honorable discharge in January 1968. He served during the Vietnam War, earning the Good Conduct Medal, Sharpshooter (Rifle) Medal, and National Defense Service Medal. He was employed by Bell Atlantic Telephone Company (Verizon). He retired as an Engineer with over 28 years of dedicated service in December 1991.

Harry loved to be on the water. He enjoyed boating, fishing, and crabbing. He enjoyed camping, especially in Virginia and Pennsylvania, with his favorite destination being in Colonial Beach, where he liked to spend time with the family over the summer. Harry's favorite vacation was on a cruise off the Southern Caribbean at Megan's Beach. He had a green thumb and grew several large, beautiful vegetable gardens every year. He was also very skilled in many things, and could fix just about anything; which he taught his son-in-law (Fred) and grandson (Freddy).

In most recent years he enjoyed spending the month of January with his wife and lifelong friends vacationing in Florida. However, his greatest love was for his family, in which he especially enjoyed spending time with his grandchildren.

In addition to his beloved wife, Harry is also survived by his daughters, Michelle (Shelly) Dixon Evans (Frederick, Jr.) of California, MD and Kelly Anne Dixon Hammett of Hollywood, MD; and five grandchildren, Frederick (Freddy) William Evans III of California, MD, Kevin Allen Hammett of Hollywood, MD, Bradley Dixon Evans of California, MD, Megan Marie Hammett of Hollywood, MD, Alexander Cole Evans of California, MD; and many nieces, nephews and friends. He is preceded in death by his parents. He is also survived by sisters, Diana Hendersan and Chloe Crime.

Family will receive friends for Harry's Life Celebration on Tuesday, September 9, 2014 from 5:00 to 8:00 p.m. at Brinsfield Funeral Home, P.A., 22955 Hollywood Road, Leonardtown, MD 20650. A Funeral Service will be celebrated by Rev. Ann Strickland on Wednesday, September 10, 2014 at 10:00 a.m. at Mount Zion United Methodist Church, 27108 Mount Zion Church Road, Mechanicsville, MD 20659. Interment will follow at Vallandingham Family Cemetery in Clements, MD.

Servings as pallbearers will be Lynn Hudson, Phil Clarke, Tommy Ford, Bosie Farrell, Bob Chicwak, Irving Vallandingham. Honorary pallbearers will be his grandchildren and his brother-in-law, Jim Vallandingham.

Memorial Contributions may be made to the American Cancer Society, 1041 Route 3 N, Building A, Gambrills, MD 21054.

Arrangements by the Brinsfield Funeral Home, P.A., Leonardtown, MD.