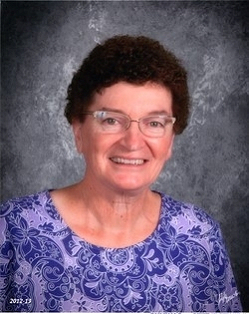 Mary Loretta Saunders, 62, of Leonardtown, MD passed away Monday, April 6, 2015 at her residence on Big Chestnut Road. Born on June 23, 1952 in Leonardtown, MD she was the daughter of the late Joseph Preston Goldsborough and Anne Loretta Abell Goldsborough. Mary is a 1970 graduate of Chopticon High School.

On September 27, 1975, she married her beloved husband, Joseph "Al" Saunders at St. John's Church in Hollywood, MD. Together, they celebrated 39 wonderful years of marriage.

She was employed as a teacher's aide at Father Andrew White School for twenty years. She began at Father Andrew White School as a volunteer when her children were very young. She was a devoted and caring mother, wife, sister, grandmother and friend.

She was a good cook and an excellent baker; known among friends for her famous chocolate cake and chocolate chip cookies. She enjoyed being outside, especially taking hikes, bike riding and sitting on her outdoor swing. Her favorite vacation spots were the beaches, particularly Virginia Beach and Ocean City, MD. She enjoyed seafood, especially picking Maryland blue crabs. She loved many dogs throughout her life, especially Smokey, her current pet. She was an active member of St. Aloysius Catholic Church.

In addition to her beloved husband, Mary is survived by her children, Anne E. Saunders of Frederick, MD, Teresa M. Stevenson (Scott) of Lothian, MD, and Joseph Preston Saunders (Lisa) of Leonardtown, MD; her brothers, Jerome M. Goldsborough of Hollywood, MD, Paul C. Goldsborough (Betty) of Loveville, MD and Wayne Goldsborough of Loveville, MD; and her grandson, Sawyer James Saunders. She is preceded in death by her parents, and by her brothers James "Jimmy" Goldsborough and William "Bill" Goldsborough.

Family will receive friends for Mary's Life Celebration on Friday, April 10, 2015 from 9:00 to 11:00 a.m. at Brinsfield Funeral Home, P.A., 22955 Hollywood Road, Leonardtown, MD 20650. A Mass of Christian Burial will be celebrated by Reverend David Beaubien at 11:30 a.m. at St. Aloysius Catholic Church, 22800 Washington Street, Leonardtown, MD, 20650. Interment will follow in the church cemetery. Pallbearers will be Mike Goldsborough, Kenny Goldsborough, Lenny Guy, James Norris, Ray Guy, and Bill Combs.

The family would like to thank everyone for their prayers and condolences during their time of bereavement. They would especially like to thank Mary's cousin and guardian angel Rose Miller for her devoted service over the past year. They would also like to thank the Hospice of St. Mary's team for their assistance during the past few months.

Memorial contributions may be made to Hospice of St. Mary's, P.O. Box 625, Leonardtown, MD 20650. Arrangements by the Brinsfield Funeral Home, P.A.