Bond, Mary Cecelia
Birth: 1921-05-19 in Mechanicsville, Maryland
Residence: Lexington Park, Maryland
Death: Sunday, June 02, 2013
Laid to Rest: Friday, June 07, 2013 in the Immaculate Heart of Mary Catholic Church Cemetery, Lexington Park, Maryland
Condolences: Click to View or Post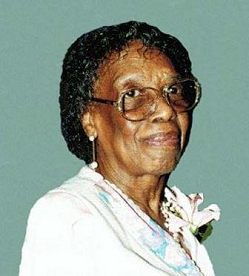 Mary Cecelia Bond, 92 of Lexington Park, Maryland passed away on June 2, 2013 at St. Mary's Hospital, Leonardtown, Maryland. Mary was born May 19, 1921 in Mechanicsville, Maryland and was the youngest child of the late James Spears and Florene Holt.

Mary attended schools in St. Mary's County. Mary was a homemaker and loved taking care of her family and friends, alike. She loved to cook, especially on holidays, and loved to play pitch.

She was preceded in death by her husband, John Henry Bond; her life-long companion, Raymond Joseph Somerville; her children, John Bond, Agnes Jackson, James Bond, Berneice Bond and Francis Thomas.

Mary leaves to cherish her memories four daughters, Ann Chase Jenkins, of Lexington Park, Maryland, Catherine Briscoe, of Lexington Park, Maryland, Jackie Rhone, of Portsmouth, Virginia and Linda Wooden, of Lexington Park, Maryland; five sons, Joseph Thomas, of Charles County, Maryland, Arthur Thomas (Bill), of Lexington Park, Maryland, Kenny Thomas, of North Carolina, Raymond Thomas Jr., of New Jersey and Rodney Thomas, of Lexington Park, Maryland; fourteen grandchildren, forty-two great grandchildren, and three great-great grandchildren; two sons-in-law, James Rhone and John Jenkins; two daughters-in-law, Jackie Thomas and Juletia Thomas and a host of nieces, nephews and cousins.

Mary was dearly loved and cherished.

Family will unite with friends on Friday, June 7, 2013 for visitation at 11:00 am until Mass of Christian Burial at 12 noon at Immaculate Heart of Mary Church, 22375 Three Notch Road, Lexington Park, MD. Interment will follow at the church cemetery.

Arrangements by Briscoe-Tonic Funeral Home, Mechanicsville, MD.