Margolis, Anne Marie
Birth: 1924-05-22 in Baltimore, Maryland
Residence: Solomons, Maryland
Death: Thursday, January 31, 2013
Condolences: Click to View or Post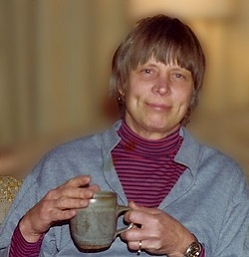 Anne Marie McCabe Margolis, 88, of Solomons, MD died January 31, 2013 in Leonardtown, MD. A native of Maryland, Anne was born in Baltimore, on May 22, 1924, the daughter of the late John Michael McCabe and Eva Barbara Dement McCabe.

Anne graduated from Seton High School in Baltimore. She earned a Bachelor of Science degree in Bacteriology at Notre Dame College (Baltimore) and a Master's in Liberal Arts Studies from Dartmouth College (Hanover, NH).

Anne married her beloved George Margolis in 1950. Together they raised four children while living in NC, VA, VT, and NH. Anne moved to St. Mary's County, MD after living in CT and NY.

Anne loved, inspired, and celebrated the lives of those that were fortunate enough to be within her circle of family and friends. An accomplished artist, she spent much of her life working as a weaver, potter and sculptor. When she was not in the studio, she wrote poetry and studied contemporary art.

Anne was actively involved with Annmarie Sculpture Garden and Arts Center in Solomons, MD and the HOPE food pantry in Lexington Park, MD. She also served as a docent for the Hirshhorn Museum and Sculpture Gardens in Washington DC. Prior to moving to St Mary's County she was a docent at the Aldrich Contemporary Art Museum in Ridgefield, CT and a member of the NH League of Arts and Crafts. She was also a bacteriologist at Duke Hospital in Durham, NC, served on the Board of Education in the Dresden School District, and as a volunteer ski instructor in NH.

Anne is survived by her children, Susan Margolis (Scott DeYoung) of Ridgefield, CT; Mac Margolis (Janice do Nascimento Cortez) of Rio de Janeiro, Brazil; Josh Margolis (Kathy) of Greenbrae, CA; and Dan Margolis (Lynne) of Salt Lake City, UT; and her grandchildren, Anne Margolis, Jay DeYoung, Kate Margolis, Ryan Margolis, Lia Margolis, Brian Margolis, Brynne Margolis and Nina Margolis.

In addition to her parents, she was also preceded in death by her husband, George Margolis and her brother, Jerry McCabe.

All Services will be private.

In lieu of flowers please consider a donation to Annmarie Sculpture Garden and Arts Center, P.O. Box 99, Dowell, MD 20629 or Hospice of St. Mary's, P.O.Box 625, Leonardtown, MD 20650.

Arrangements by the Brinsfield Funeral Home, P.A., Leonardtown, MD.