Tippett, James Anthony, Jr.
Birth: 1987-11-19 in Leonardtown, Maryland
Residence: Hollywood, Maryland
Death: Wednesday, July 10, 2013
Laid to Rest: Tuesday, July 16, 2013 in the St. John's Catholic Church Cemetery, Hollywood, Maryland
Condolences: Click to View or Post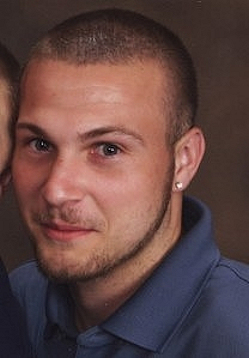 James Anthony "Tony" Tippett, Jr., 25, of Hollywood, MD., went to heaven on July 10, 20113. He was born in Leonardtown, MD on November 19, 1987, and was the son of Melissa Tippett Mattingly and the late James Anthony Tippett, Sr.

Tony attended Leonardtown High School, and worked as a carpenter for Tippetts Construction.

He enjoyed numerous activities including; playing cards, going to boat races with Pop Richard, drinking coffee, watching movies with his mom, and many other adventures with his friends. David Dillow was his partner in crime, his true best friend, and soon became a part of the family. Tony never failed to mention how much he loved his family, and doing anything for those who were close. He always held a special place in his heart for his beautiful Aunt Tina, and looked up to his Uncle Joey. No matter how old he got he always was a "momma's boy".

Tony is survived by his son, Ayden Tippett of Chesapeake, VA; siblings; Chelsea Mattingly, and Devin Mattingly both of Hollywood, MD, grandmother; Sue Woodburn; grandparents; Richard and Mary Tippett all of Hollywood, MD and a very large extended family who loved him dearly.

The family will receive friends on Monday, July 15, 2013 from 5:00 PM – 8:00 Pm with prayers being recited at 7:00 PM in the Mattingley-Gardiner Funeral Home, Leonardtown, MD. A Mass of Christian Burial will be celebrated on Tuesday, July 16, 2013 at 10:00 AM in St. John's Catholic Church, Hollywood, MD. With Father Raymond Schmidt officiating. Interment will follow in the church cemetery. Pallbearers are; Joey Tippett, Buddy Tippett, Randy Abell, Jim Woodburn, David Dillow and Michael Eagan. Honorary Pallbearers are; Devin Mattingly, Ricky Tippett, Shane Clarke, and Jamie Clarke.

The family requests that memorial contributions be made to the Ayden Tippett Fund through BB&T Bank.

Arrangements provided by Mattingley-Gardiner Funeral Home, Leonardtown, MD.