Curtis, Gertrude Marie
Birth: 1924-06-23 in Leonardtown, Maryland
Residence: Leonardtown, Maryland
Death: Saturday, April 13, 2013
Laid to Rest: Wednesday, April 24, 2013 in the Charles Memorial Gardens, Leonardtown, Maryland
Condolences: Click to View or Post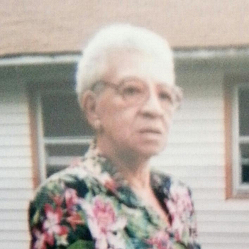 Gertrude Marie Curtis, 88 of Leonardtown, MD departed this life peacefully on April 13, 2013 at St. Mary's Nursing Center, Leonardtown, MD. Gertrude was born on June 23, 1924 to the late John and Dorothy Hayden in Leonardtown, MD. Gertrude received her education in the St. Mary's County Public School System.

She married the love of her life, Joseph Mitchell Curtis, Sr. and from this union were three children.

Gertrude was a strong Christian woman who loved and trusted God. She is a member of St. Aloysius Catholic Church, Leonardtown, MD. The guiding force in her life was her faith in God.
She worked as a domestic engineer for many families. Gertrude loved the children of these families as though they were her own. She would talk about them often, wondering where they were now and what they were doing with their lives. She was a wonderful person with a big heart, a beautiful smile and a dynamic personality.

Gertrude made sure that all of her children were brought up with great religious and family values and encouraged and supported them to strive for success in their chosen paths. Gertrude never knew a stranger and had many friends. She loved being with her family and friends.

Her passion was cooking. She would bring the family together for any occasion; not just holidays. Her meals were scrumptious. Gertrude loved her grandchildren and would play with them, to no end. She also loved dancing. The cha-cha and hand-dancing were her favorites. Gertrude's favorite shows on TV were "Law and Order" and "Mash".

Gertrude was preceded in death by her husband, Joseph Mitchell Curtis, Sr.; her parents, John Hayden and Dorothy Hayden; one sister, Wilhelmina Hayden; one uncle, Francis Jones and one aunt, Edith Carey.

Gertrude is survived by two sons, Joseph Mitchell Curtis, Jr. and James Calvin Curtis (Helen); one daughter, Doris Chase; two special daughters, Shirley Briscoe and Selma Curtis; fourteen grandchildren, thirty-eight great-grandchildren; one sister-in-law, Catherine Young, whom she loved dearly; her Godchildren and a host of nieces, nephews, cousins and friends.

Family will unite with friends on April 24, 2013 for visitation at 10:00 am until Mass of Christian Burial at 11:00 am at St. Aloysius Catholic Church, 22800 Washington St., Leonardtown, MD. Interment will follow at Charles Memorial Gardens, Leonardtown, MD.

Arrangements by Briscoe-Tonic Funeral Home, Mechanicsville, MD.