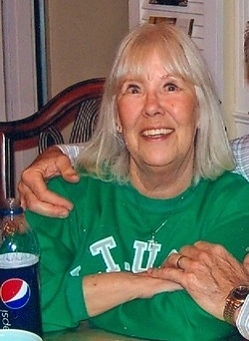 Janice Marie (Graves) Seaborn, 68, of Mechanicsville, MD passed on October 9, 2015. Born September 6, 1947 in La Plata, MD she was the daughter of the late Richard M. Graves and Kathleen (Unkle) Graves of Leonardtown, MD.

On November 14, 1969 she married her husband of 45 years, Chester M. Seaborn, Jr. in Upper Marlboro, MD.

She is survived by Chester, her brother, Richard (Junior) Graves, of Valley lee and sisters Barbara Quade of Hollywood and Gloria (Jean) Knott of Lexington Park.

Upon Graduating from Central High School in Capitol Heights, MD she later resided in Cheltenham, Prince Frederick and Brandywine with her remaining years spent in Mechanicsville, MD.

Janice was a retired Inventory Management Specialist with the US Air Force. She was responsible for ensuring equipment availability and serviceability for which to attain and maintain combat readiness status of units of the Air National Guard. Her first position out of high school was that of administrative secretary with St. Elizabeth's Hospital in Washington, D.C. and from there she moved on to Detachment One (201st ALS) of District of Columbia Air National Guard at Andrews, AFB where she served in Aircraft Maintenance Control. She retired from the Air National Guard Readiness Center in 2004 in senior General Service status after a long and distinguished career with the federal government and Department of the Air Force.

For entertainment, her pastime was playing bingo in support of the Hollywood Fire and Rescue Squad and Father Andrew White Catholic Church School in Leonardtown. Her biggest enjoyment, however, was spending quality time relaxing over fun card games with her siblings and playing with the little ones. That is, when she wasn't enjoying life with Chester and their numerous pets, along with her best buds Veronica Wyatt and Anita Maggio.

Janice attended church services at 1st Baptist Church of Prince Frederick where she made a number of friends and grew in her Christian faith under Pastor Ralph Nevin. She loved Southern Gospel music along with all the old time hymns, her favorite of which was In the Garden. She came to know the Lord Jesus Christ as her own personal Savior in the early 1980's under the preaching of the late Pastor William Carnes of Landmark Baptist Temple and was subsequently baptized. Two other soul saving, life transforming ministries Janice held dear are Rev. Franklin Graham's Samaritan's Purse, and Evangelist Jimmy Swaggart's Sonlife Broadcasting.

Janice will be terribly missed and endlessly grieved by her husband and best friend, Chester. That is, till they reunite one day in the presence of the Lord on Heaven's golden shore.

In lieu of flowers, memorial donations should be directed to the missions work of first Baptist Church of Prince Frederick, MD or the Gideons. As an alternative gifts can be directed to Samaritan's Purse or Sonlife Broadcasting.

Family will receive friends for on Sunday, October 18, 2015 from 2:00-4:00 PM and 6:00-8:00 PM, and a service will be held on Monday, October 19, 2015 at 11:30 AM, at Brinsfield-Echols Funeral Home, P.A., 30195 Three Notch Rd, Charlotte Hall, MD 20622. A Christian burial will be held at 1:45 PM on Monday, October 19, 2015 Cheltenham Veteran's Cemetery, 11301 Crain Hwy, Cheltenham, MD 20623. Arrangements provided by Brinsfield-Echols Funeral Home.