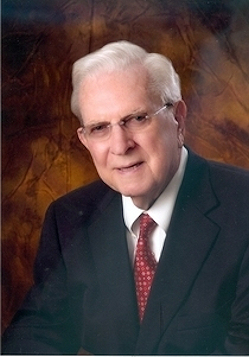 James Anthony Mudd, Sr., 93 of La Plata, MD died on August 9, 2015 at Sagepoint Rehabilitation and Nursing Home in LaPlata, MD. James was born on February 22, 1922 in Bel Alton, MD to the late Walter H. Mudd and Jennie Lee Mudd.

James graduated from Sacred Heart School (now Archbishop Neale School) and while waiting to be deployed into the service worked many odd jobs for several months all over the LaPlata area. One of the most memorable jobs early in his life was at Chapel Point Park where he would talk about working on the Harry W. Nice Memorial Bridge as it was being built bit by bit across the Potomac River. He would back up SMO Oil trucks driving up a ramp to the top of the bridge to unload his materials. Black top had "not at that time" been poured yet and luckily, being young, he had nerves of steel and never worried about falling into the water.

During WWII he was a Navy Pilot flying a single engine airplane called the "Hellcat" off aircraft carriers, USS Wasp, USS Hornet and USS Hancock all stationed in the Pacific Ocean flying missions to the Philippines. Most of the flights would always end up returning back at night to the carrier making it difficult to land without, at the time, any lit landing areas. Often times he would say many prayers because it was pitch black and he was running very low and almost always out of fuel. After completion of his service he returned to LaPlata; married his wife, the late Anne Bowling Mudd, and had three children.

He chose to spend the rest of the 93 years of his life in the Town of La Plata and worked as a store manager for his father-in-law. When the store began in 1911 it was a very small millinery shop located on Charles Street and it expanded to three different and larger buildings, known over the years as P.S. Bowling & Co. Within the block-long building itself was a Ben Franklin 5&10 store, which was the 2nd oldest Ben Franklin in the U.S., and a full menswear, ladies wear and ladies, men's' and children's' shoe department. James traveled all over the U.S. enjoying every minute while buying merchandise to fill the store for people to wear which was unique and different to the La Plata area. He also owned a gift shop known as "The Added Touch" and a plus size women's store known as "The Little Bit Bigger Shop". A family owned and operated business, he and his children managed the stores until they closed in 1998.

Upon retiring, James enjoyed traveling with his "golfing buddies" all over the U.S. playing at various golf courses. He was a past president of the La Plata Lions Club, one of the founders of Hawthorne Country Club and Golf Course and founding investor and director for County First Bank. An avid Washington Redskins fan, James enjoyed his season tickets which he had even before the D.C. Stadium was built. Another sport he was very in tuned to was the Washington Nationals Baseball team which he watched until a couple of days before his death. A deeply religious man, he would say and read his prayers every morning from his prayer book which he kept by his bedside since 1940.

He is survived by his daughters, Anne Suzette (Sue) Mudd and Jennie Lee Mudd Lewis, both of La Plata, MD; son, James A. Mudd, Jr. and his wife, Kay, also of La Plata, MD; two grandsons, James A. Mudd, III (Jay) and his wife, Lauren of Port Tobacco, MD and Evan Christopher Lewis and his wife, Rosie of Golden Beach, MD; two great-grandsons, Seth and Cole Lewis; and great-granddaughter Elise Ann Mudd.

Visitation will be held on Wednesday, August 12, 2015 at St. Ignatius Catholic Church, 8855 Chapel Point Rd., Port Tobacco, MD from 3:00 to 7:00 PM with prayers beginning at 7:00 PM. A Funeral Service will be held on Thursday, August 13, 2015 at St. Ignatius Church at 11:00 AM; Interment immediately following in the church cemetery. In lieu of flowers, contributions may be sent to St. Ignatius Church, 8855 Chapel Point Rd., Port Tobacco, MD 20677. Arrangements provided by Arehart-Echols Funeral Home.