Willett, Samuel Patrick
Birth: 1939-05-07 in Washington, DC
Residence: White Plains, Maryland
Death: Tuesday, January 15, 2013
Laid to Rest: Friday, January 25, 2013 in the Trinity Memorial Gardens, Waldorf, Maryland
Condolences: Click to View or Post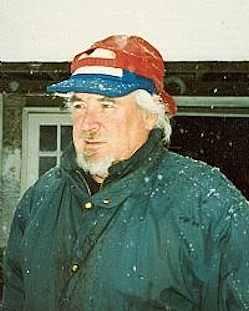 Samuel Patrick "Pat" Willett of White Plains, Maryland, died on January 15, 2013 at St. Mary's Hospital in Leonardtown, MD. He was 73 years old.

Mr. Willett was a carpenter by trade, first working for his father, W. A. Willett and Sons, then James R. Willett, Builder, and later he was self-employed.

Pat was a talented man who loved nature. He was an avid hunter and fisherman. He was known for the knives he crafted, the air boat and ultra-light plane he built. He was never without his camera. A man of strong beliefs, he lived his life to the fullest, HIS WAY.

Son of the late Walter A. Willett and the late Opal M. Henderson Willett.

Predeceased by his parents; his brothers: Anthony L. Willett, Claude T. Willett, Milton F. Willett, John Walter Willett, and Wayne E. Willett; and his sister-in-law: Linda L. Willett.

Survived by one son: Christopher K. (Penny) Willett of Port Tobacco, MD; one daughter: Stephanie (Thomas) Potter of Faulkner, MD; two brothers: James Raphael (Kathy) Willett of White Plains, MD and David R. Willett of White Plains, MD; two sisters: DaOnne (Joe) Lucas of La Plata, MD and Susan C. (Mike) Legagneux of White Plains, MD; three sisters-in-law: Alice Willett of White Plains, MD, Catherine Willett of White Plains, MD, and Effie Willett of Dowell, MD; and four grandchildren: Brittany Potter, Courtney Potter, Nick Potter, and Marc Potter. Also survived by many nieces and nephews.

Visitation: Thursday, January 24, 2013 from 2-4PM and 6-8PM with Prayers at 7PM at Raymond Funeral Chapel (5635 Washington Avenue, La Plata, MD 20646). Mass of Christian Burial: Friday, January 25, 2013 at 11AM at St. Joseph's Catholic Church (4590 St. Joseph Way, Pomfret, MD 20675). Clergy: Fr. Robert Kosty. Interment: Trinity Memorial Gardens in Waldorf, MD at 12:30PM.

Memorial contributions may be made to St. Mary's Nursing Center (21580 Peabody Street, Leonardtown, MD 20650).

Arrangements by Raymond Funeral Service, P.A.