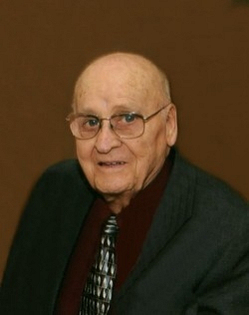 Clarence Frederick "Fred" Miller, 83, of Lusby, MD passed away on Thursday, January 22, 2015, at Hospice House of St. Mary's in Callaway, MD. He was born on February 19, 1931 in Cerro Gordo, IA. He was the son of the late George Harry Miller and Martha Timmer Miller.

Fred proudly served in the United States Navy from 1947 to his retirement and honorable discharge in 1967. On May 2, 1953, he married his beloved wife, Elizabeth Ann Miller at Our Lady's Catholic Church in Leonardtown, MD. Together they celebrated 61 wonderful years of marriage together.

He was an ambitious man and humbly served his community with a positive and caring outlook touching many lives along the way. He was a very generous man who if he knew you needed something he was either there to help or graciously gave you what you needed. He was employed by the Chesapeake Ranch Estates security force until 2013.

He enjoyed boating, fishing, camping throughout the United States, and teaching his children how to waterski. He loved to spend time with his family. Fred was known by all as a man with quick wit, a great sense of humor and knew how to get you to laugh. All of his jokes will live on through all +50 of his children, grandchildren, great grandchildren, great-great grandchild and other new family members soon to come. He was a former member of the Elks Lodge, Fleet Reserve Post #93, and a member of the American Legion, Seventh District.

In addition to his beloved wife, Fred is also survived by his children, Judith A. Sterling (Robert) of Leonardtown, MD, Sandra L. Brown of Charlotte Hall, MD, David A. Miller (Rosie) of Hollywood, MD, Cheryl D. Braun of Solomons, MD, Eugene B. Miller (Lena Shree) of Upper Marlboro, MD, and Patricia L. Wose (Richard) of Lusby, MD; 14 grandchildren, 16 great grandchildren, and 1 great-great grandchild.

In addition to his parents, he is preceded in also preceded in death by his siblings, Wilbur Miller, Archie Jethro Miller, Harold Miller, Kenneth Leroy Miller, Hulda Dulaney, and Gracie Miller; and his great grandson, Kayden Leighton.

Family will receive friends on Monday, January 26, 2015 from 5:00 to 8:00 p.m., with prayers at 7:00 p.m., at the Brinsfield Funeral Home, 22955 Hollywood Road, Leonardtown, MD. A Mass of Christian Burial will be celebrated by Reverend John T. Nguyen on Tuesday, January 27, 2015 at Our Lady's Catholic Church, 41348 Medley's Neck Road, Leonardtown, MD 20650. Interment will be follow in the church cemetery.

Memorial contributions may be made to Hospice House of St. Mary's, P.O. Box 625, Leonardtown, MD 20650 and Solomons Volunteer Rescue Squad, P.O. Box 189, Solomons, MD 20688.

Serving as pallbearers will be his grandsons, Garrett Sterling, Ben Sterling, David Brown, Jr., Nick Miller, Adam Wose, Kenneth Scott Carter and Justin Carter. Serving as honorary pallbearers will be his granddaughters, Christy Hollander, Shawn Carter, Angela Herman, Melissa Leighton, Chelsea Rose Miller, Breann Kohlieber, Colleen Nagel, Kaitlyn Wose, and Emily Wose.

Arrangements by the Brinsfield Funeral Home, P.A.