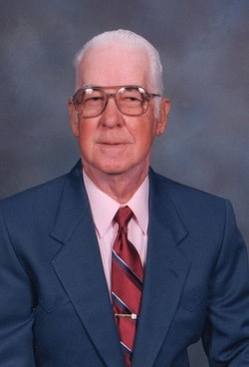 Elbert Ignatius "Tart" Hayden, age 95 of Leonardtown, MD died on December 7, 2014 at MedStar St. Mary's Hospital. Born in Leonardtown, MD on May 28, 1919, he was the son of the late Spencer Ignatius Hayden and Ann Lee Williams Hayden. He was the loving husband of Agnes Marie Hayden.

Hayden attended Leonard Hall and St. Mary's Academies. In 1936, he entered the Civilian Conservation Corps. In 1939, he volunteered for service in the United States Coast Guard. Hayden reported for active duty on September 29, 1939, he served the next six years on several ships and many locations. Five years of his duty was at sea. Hayden received his basic training at Curtis Bay, MD. After his training he went aboard a Coast Guard Cutter and did patrol duty in the North Atlantic, home port Staten Island, New York.

After six months Hayden was transferred to another ship and continued patrol duty in the North Atlantic, home port New London, Connecticut. This lasted until the end of 1940. Hayden then went to another ship and did convoy duty in the North Atlantic, home port being Argentia, Newfoundland. This was for a two year period.

In 1943, he was transferred to another ship and sent to San Juan, Puerto Rico for patrol duty. In 1943, Hayden was promoted to Chief Boatswain's Mate and put in command of a boat and crew. In 1944, he was transferred to Miami, Florida, and put in command of another vessel. At this time he was doing patrol duty between Miami and Key West, Florida. He finished his career in this area and was honorably discharged on October 19, 1945.

Among his awards are the World War II Victory Medal, the American Campaign Medal, the Armed Forces Expeditionary Medal, the National Defense Medal and the Good Conduct Medal for the period of six years. He was proud of the six years he spent in the U.S. Coast Guard serving his country.

After his discharge from the service Mr. Hayden entered into the dry cleaning business and in 1951 he leased the Ideal Cleaners that was located on Lawrence Avenue in Leonardtown. In 1958 he founded the Town Cleaners that is located on Fenwick Street.

In 1968, he moved to Virginia and entered into the thoroughbred racing business. In 1976, Hayden returned to St. Mary's County and semi-retired. In 1985, Hayden entered into the sealcoating business known as Hayden's Sealcoating. He worked at this until he retired in 2005.

Mr. Hayden was a lifetime member of the V.F.W Post 2632 and a member of the Plantation Driving Club. He enjoyed hunting, driving, showing his horse, Gypsy Jingles, and playing poker.

Mr. Hayden is survived by his loving wife of forty years, Agnes Marie, step-son, James Michael Lacey, and his children by a former marriage namely- Spencer S. Hayden II, of Louisiana, Marilyn Hayden, of Chicago, Thomas L. Hayden, of Lancaster, PA, Owens F. Hayden, of Mechanicsville, MD, Charlotte Frankel, of Brandywine, MD, Sharon Fuller, of Loveville, MD, and many grandchildren, great grandchildren, and great- great grandchildren. He was preceded in death by his children, Ruth Ann Kline, Paul Hayden, Wayne E. Hayden, and Gary M. Hayden.

Family will receive friends for Elbert's Life Celebration on Friday, December 12, 2014 from 5:00 to 8:00 p.m. with prayers recited at 7:00 p.m. at the Brinsfield Funeral Home, 22955 Hollywood Road, Leonardtown, MD 20650. A Mass of Christian Burial will be celebrated on Saturday, December 13, 2014 at 10:00 a.m. at St. Aloysius Catholic Church, 22800 Washington Street, Leonardtown, MD. Interment will follow in the church cemetery. Pallbearers will be Alfred Mattingly, Roy Mattingly, Tom McCaughley, Robert Farrell, Bob Faus, and Bob Mattei.

Memorial contributions may be made to the Leonardtown Rescue Squad, P.O. Box 299, Leonardtown, MD 20650 or A.C.T.S., P.O. Box 54, Bushwood, Maryland 20618. Arrangements provided by the Brinsfield Funeral Home, P.A., Leonardtown, MD.