Woods, John Roger
Birth: 1918-10-28 in Woodside, New York
Residence: Waldorf, Maryland
Death: Tuesday, January 15, 2013
Laid to Rest: Thursday, January 31, 2013 in the Maryland Veterans Cemetery, Cheltenham, Maryland
Condolences: Click to View or Post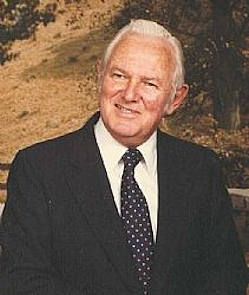 John Roger Woods of Waldorf, MD died on Tuesday, January 15, 2013 at Prince George's General Hospital Center in Cheverly, MD. He was 94 years old.

Mr. Woods was a Deputy Chief Underwriter with the Federal Housing Authority and was a man of great integrity whose lifelong motto was "Honesty is the best policy." He was also a man of great warmth, humor, and wit with a constant twinkle in his eye.

He was born during the Spanish Flu epidemic and grew up in Woodside, Queens, NY. At the age of 19, he became the youngest manager of a Ralston's Grocery Store, a New York City chain. Soon after, he had the opportunity to come to Washington, DC to serve as messenger for Madame Frances Perkins, the first woman Cabinet member, serving Franklin Delano Roosevelt as Secretary of Labor. It was she who sent Mr. Woods back to New York to serve in the Department of Labor until World War II intervened. He was sent to Europe working in military administration for the Army Air Force.

He was later stationed in Germany during the Korean War and was put on alert for the Cuban Missile Crisis. Upon return from Europe, he transferred to the Federal Housing Authority, now HUD, from which he retired as Deputy Chief Underwriter for the New York Metropolitan Office. After retirement, he held positions at several banks as Vice President of Mortgages. He married Dorothy Farmer while on leave during the same weekend as Franklin D. Roosevelt's funeral. The jewelry store owner had to be called to open his store so that the young couple could buy their wedding rings.

He retired to Daytona Beach with Dot where they lived for 25 years. Most of their time was spent serving South Daytona Christian Church as elder, teacher, and committee chairpersons. In 2000, he and Dot came to Maryland to live with their daughter and her family. His highest calling was as a son, husband, father, grandfather, and great-grandfather.

Son of the late Bernard Woods and the late Catherine Brady Woods.

Predeceased by his parents; and his wife, Dorothy Farmer Woods.

Survived by two sons: John (Betty) Woods of Aquebogue, NY and Stephen (Dale) Woods of Sarasota, FL; one daughter: Barbara (Clay) Woods-Miazza of Waldorf, MD; grandchildren: Sean (Amanda) Woods, Stacey Woods, Joshua Woods, Todd Woods, Benjamin (Nikki) Woods, Luke Woods, Sara Woods, Katelyn Woods, Chad Woods, Jonathan Miazza, and Emily (Josh) Miazza-Esparza; and great-grandchildren: Garrett, Cora, Alyssa, Aubrey, Aniya, Jaxon, and Zachary.

Memorial Service: Saturday, January 19, 2013 at 10:30AM at South Potomac Church (4950 Crain Highway, White Plains, MD 20695). Clergy: Rev. Mike Clark. Interment: Thursday, January 31, 2013 at 10AM at MD Veterans Cemetery in Cheltenham, MD. Honorary Pallbearers: United States Army Honor Guard.

Memorial contributions may be made to Johnson University (7900 Johnson Drive, Knoxville, TN 37920).

Arrangements provided by Raymond Funeral Service.