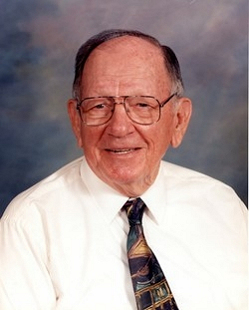 Edward Harding Long, 92, of Leonardtown, Maryland, died peacefully at his home on January 8, 2013 surrounded by his family.

Born in California, Maryland on November 13, 1920, he was the first of nine children born to the late Willard Biscoe Long and Bertie Barefoot Long. He was preceded in death by his beloved wife of 66 years, Agnes Gallagher Long.

Edward graduated from Great Mills High School in 1937, and he then attended college for one year at what is currently St. Mary's College of Maryland. Edward moved to Baltimore in 1939 to join the Glen L. Martin Company where he worked on the manufacture of the Martin B-26 Marauder aircraft. In 1943, he met Agnes Gallagher, who also worked at the Glen L. Martin Company. On February 19, 1944, Edward and Agnes were wed at Corpus Christi Church in Baltimore.

Edward was drafted into the U.S. Army three months later and left for France on December 26, 1944. A Tech Sergeant, he served as a tank gunner in the Third Armored "Spearhead" Division of the First Army during the invasion of Germany, crossed the Rhine and fought in the Battles for Cologne, the Ruhr Pocket, and Dessau. After the War ended, he remained in Germany in the army of occupation where he operated a uniform dying facility until May 1946, when he returned home. He then took over ownership and operation of the Leonardtown Laundry from his father.

Edward and Agnes settled in Leonardtown, where they accepted an invitation to live in a large house in the middle of town with Dr. Charles Vincent Hayden, a long-time family friend. 'Doc' was like a grandfather to the family of six boys and three girls born to Edward and Agnes there. After Doc's death in 1961, they moved to the 'house on the hill' on the edge of Leonardtown just past Moakley Street. Together they established a warm and welcoming Christian household filled with love, children, music, laughter, and friends.

Edward owned and operated the Leonardtown Laundry from 1946 until 1973 which provided laundry and dry cleaning services for St. Mary's Hospital and the Patuxent River Naval Air Test Center, as well as ships in port at the Stewart Petroleum wharf, and area schools, camps, and residences. In 1955, he constructed a new facility near the intersection of Rte 5 and Rte 243 (currently The Maryland Antique Center).

As the County grew in the 1960s, Edward's vision also grew. Seeing a need for accommodations for contractors on the expanding navy base, he built the A & E Motel in Lexington Park, which he owned until about 1978. He also built and owned, until 1984, the Esperanza Bowling Center in partnership with Jack Fletcher. He became a residential property developer and developed Kingston Creek Village and Cal Acres in California, MD.

Edward loved St. Mary's County and Leonardtown, and he was deeply committed to their prosperity. When his father, Willard Long, was St. Mary's County Sheriff from 1946-54, Edward served as Sheriff's Deputy part-time and also served as Leonardtown's Chief of Police. Always civic minded, Edward served as Chairman of the Building Committee for the St. Mary's County Governmental Center which was dedicated in 1978 near the Site of Leonard Hall Junior Naval Academy. Edward was strongly supportive of the decision in the early 1980s to replace the existing Leonardtown Hospital with a modern and well equipped one. He served on the Hospital Board of Directors from 1978-1983, both as Vice-Chairman if the Board and as the Building Committee Fundraising Chairman during the planning phase. He was honored to shovel the first load of dirt at the groundbreaking ceremony for the present St. Mary's Hospital in 1983. He was elected to serve as a Leonardtown Commissioner from 1983 through 1991, and he was President of the Commissioners from 1985-1987. He also served on the St. Mary's County Republican Central Committee.

Edward was a life-long member of St. Paul's United Methodist Church in Leonardtown (now First Saints Community Church) where for many years he sang tenor in the choir.

As the children grew up, Edward and Agnes developed a passion for world travel. They visited Europe, Ireland, Great Britain, Asia, Australia, New Zealand, and Central and South America. They made many new friends abroad on these trips, and soon their travels were opportunities to revisit these friends, who in turn visited Ed and Agnes in Leonardtown. For their 50th wedding anniversary, Edward and Agnes celebrated with a 30-day trip around the world.

When Agnes developed a neuromuscular illness in 1999, their travels were curtailed, and Edward stayed close by Agnes' side for the next eleven years, changing roles to become primary cook, canner, homemaker, and gardener. They enjoyed frequent visits from their devoted family and wide circle of friends from St Mary's County and as far away as Sweden, Germany, Australia, and Hong Kong. After Agnes passed away in September 2010, Edward traveled with some of his children to Germany, Sweden, and Ireland, where they stayed with friends met during prior travels.

Edward and others were honored for their service to St. Mary's Hospital at the hospital's Centennial Celebration Banquet in March 2012. He was inducted into the Great Mills High School Hall of Fame in June 2012. There, he advised the new graduates to "continue your education, work hard, be honest, and take care of your family". Together with his brother, Charles Long, Edward rode in a convertible in the Leonardtown Veteran's Day parade on November 7, 2012.

Edward is survived by eight children Barbara Sharatz (John), of San Diego, CA; Norman Long (Peggy), of Oceanside, CA; Edward Long Jr.(Laura), of Lawrenceville, GA; David Long (Marlene), of St. Mary's City, MD; Patricia Izydore (Julian), of Marietta, GA; Dennis Long (Charlotte), of Mechanicsville, MD; Marsha Long Adamo, of California, MD; and Kenneth Long (Nancy), of Silver Spring, MD.

He was predeceased in 1975 by his son, John Francis Long.

Edward leaves twenty-one grandchildren and fourteen great-grandchildren. He was the oldest of nine children, and is survived by five siblings: Hilda Strickland (Sam) of Jessup, MD; Norma Croston (John), of Winchester, VA; Charles Long (Thelma) of Lexington Park, MD; William Long (Carol) of Yulee, FL; and Peggy Myers (Carl) of Estancia, NM.

He was predeceased by two sisters, Lois and Phyllis, and by a brother, Willard, Jr.

Edward's family and friends will miss his warm smile and fun-loving nature, his optimism, his welcoming hospitality, and the comfort of his companionship and kind words.

Family will receive friends for Edward's Life Celebration on Friday, January 11, 2013 from 2:00 p.m. until 4:00 p.m. and 6:00 p.m. until 7:30 p.m. at First Saints Community Church, 22550 Point Lookout Road, Leonardtown, MD 20650. Prayers will be recited at 7:30 p.m. A Funeral Service will be conducted by Pastor John Wunderlich on Saturday, January 12, 2013 at 11:00 a.m. at First Saints Community Church. Interment will be private.

Arrangements by the Brinsfield Funeral Home, P.A., Leonardtown, MD.