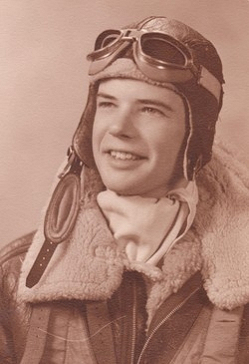 June 30th just before dawn, George Hammond - a true American Patriot, and most recently resident of the Wildwood Village retirement village in California, Maryland - made his final flight. A World War II veteran (US Army Air Force Captain) and survivor of the daring August 1943 "Operation Tidal Wave" low level daytime bombing mission against the Nazi petroleum complex at Ploesti, Romania, George died peacefully with his family at his side after a brief illness.

George was born 27 April, 1920 in Sayre, Pennsylvania to Earl and Nellie Hammond, the youngest of six children, the product of the Depression years, and a perfect example of "the Greatest Generation" in every respect. A devoted family man, lifelong Episcopalian, Mason, life member of the American Legion and Veterans of Foreign Wars, he was known for his honesty, integrity, common sense, and his sense of humor. He made a tremendous difference during his life to the United States, helping ensure the freedoms we enjoy today. After attending Penn State University for two years, he enlisted in the Army Air Force (predecessor to the United States Air Force) after the attack on Pearl Harbor and was selected for bombardier/pilot training in the heavy bomber of the time, the B-24 Liberator. George attended flight training at numerous sites around the US, to include Salt Lake City, Utah where he met Marie Graham, whom he wed after only 6 dates; a marriage that would be rock steady for over 70 years. Their union would produce three children, seven grand children, and ten great grand children.

During his war years from 1942 to 1945, George flew 35 bombing missions over occupied France, Germany, and Romania from sites in north east England and North Africa's Benghazi, Libya. For Operation Tidal Wave at a mere 200 feet over the target, George related years later:

"… I could see the boiler house in the midst of the refinery. From that moment on, I did not remove my eyes from that spot. Consequently, I didn't see any of the stuff they were putting up at us, but the boys said they threw everything but the kitchen sink. We passed over the target, just clearing the highest smokestack which was 240 feet tall. Once past the target we dropped down to the deck and gathered a few corn stalks in the bomb bay doors. Then we were on our way out, burning up a lot of .50 cal ammunition at attacking fighters. After 14 hours and some minutes of flying time, we landed back at our base in Libya. At the end of the runway, the engines stopped. We did not have enough gas to taxi back to our dispersal area." "We had taken off that morning with 178 overloaded B-24s…. We lost 53 Liberators, including eight interned in Turkey. Twenty three reached Allied bases on Cyprus, Sicily, and Malta. Eighty eight returned to Benghazi, including 55 with battle damage. Of the 1620 men who got to the target area, 310 were dead and about 130 wounded including those in Romanian captivity whose condition was not known".

Notable persons who George served with in the Eighth Air Force's 389th Bomber Squadron were "Tennessee" Earnie Ford and then Lieutenant Colonel Jimmy Stewart who George once served as bombardier for Stewart, the plane commander, on a bombing run over Laupheim, Germany in July 1944. George guided and delivered payloads for Stewart on a primary, then secondary target and was described by Stewart as "very quiet and businesslike".

After the war, George settled into the life of raising a family with Marie in the then rural Kansas City, Missouri area. Over the course of a successful sales representative career through his retirement in the mid 1980's, the Hammond family would see homes in Texas and Alabama, eventually returning to Missouri to take up farming. At the urging of his son and daughter-in-law, residents of Mechanicsville, George and Marie left their farm life and moved to Maryland to be near their youngest children.

George leaves behind his wife Marie, his daughters Nell and Georgia, son Andy, son-in-law Wes, daughter-in-law Jo, as well as thriving grand children and great grand children - all of whom adored George. His stories of travels with Marie, hunting and fishing tales, and his wonderful sense of humor will be missed.

A visitation will be held to remember George on Friday, July 5, 2013 from 12:00 to 1:00 p.m. at the Brinsfield Funeral Home, 22955 Hollywood Road, Leonardtown, MD 20650 followed by a funeral service at 1:00 p.m. Final interment will be in Arlington National Cemetery at a date to be determined.

Memorial contributions may be made to St. Mary's Nursing Center, 21585 Peabody Street, Leonardtown, Maryland 20650.

Arrangements by the Brinsfield Funeral Home, P.A., Leonardtown, MD.