Ferguson, George Andrew
Birth: 1933-07-08 in Hollywood, Maryland
Residence: Hollywood, Maryland
Death: Thursday, December 12, 2013
Laid to Rest: Tuesday, December 17, 2013 in the St. Michael's Catholic Cemetery, Ridge, Maryland
Condolences: Click to View or Post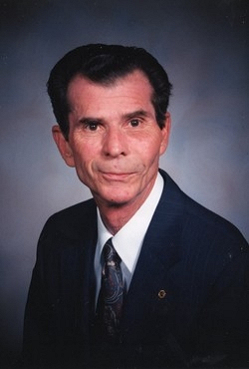 George Andrew Ferguson, 80, of Hollywood, MD passed away December 12, 2013 at MedStar St. Mary's Hospital, Leonardtown, MD. Born July 8, 1933 in Hollywood, MD, he was the son of the late Bernard Xavier Ferguson, Sr. and Essie Marie Payne.

George started working as a teller at First National Bank of St. Mary's and eventually moved to the positions of Branch Manager, Assistant Cashier, Cashier, Vice President, Corporate Secretary, and Senior Vice-President - a span of 50 years. After his retirement in 1999, he continued to serve on the Board of Directors for a number of years.

Throughout his life, George remained active in his Church and Community, holding offices and serving on a number of committees: including the Rotary Club of St. Mary's, Little League, St. Mary's County Historical Society, and the Elks. He was a charter member of the Hollywood Fire Department.

He enjoyed reading the newspaper, especially the financial and stock market sections. George enjoyed golfing, checking his crab pots, a little fishing, taking his boat for a what he called a spin, doing woodworking and carpentry type jobs, and traveling. Most of all he liked being with his family and bragging about his grandchildren.

George was a devoted and loyal husband, father, grandfather, and friend. He is survived by his loving wife, Suzanne, three sons: Ron (Donna) of Hampton, VA, Ricky (Kathy) of Laurel, Delaware, Randy (Beth) of Hollywood, MD, and one daughter, Cindy Mengle (Rocky) of Damascus, Maryland. He was especially proud of the accomplishments of his grandchildren: Casey, Josh, Andrew, Nicholas, Ryan, and Drew, and six great-grandchildren. George is also survived by two sisters, Vickie Dell and Mary Hemming. In addition to his parents, he was predeceased by his two brothers, Bernard Xavier Ferguson, Jr. and Robert Luke Ferguson, Sr.

Visitation will be from 5:00 until 8:00 PM, Monday, December 16, 2013 with prayers at 7:00 PM. at Brinsfield Funeral Home, 22955 Hollywood Road, Leonardtown, MD 20650. A Mass of Christian Burial will be held at 10:00AM on Tuesday, December 17, 2013 at St. John Francis Regis Church, 43927 St. John's Road, Hollywood MD, 20636. Interment to follow at St. Michael's Cemetery, 16555 Three Notch Road, Ridge MD, 20680.

Memorial contributions may be made to Saint John's Church Revitalization Fund, 43950 St. John's Road, Hollywood, MD 20636 or Hospice of St. Mary's, P.O. Box 625, Leonardtown, MD 20650.

Arrangements by the Brinsfield Funeral Home, P.A., Leonardtown, MD.