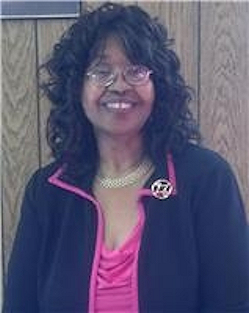 Shirley Ann Jordan, 63, passed into eternal glory on Sunday, September 1st, 2013.
 
Shirley was born on December 3rd, 1949 in Piney Point, MD to the late Emory Jordan and the late Katie Marie Briscoe. At a very young age, Shirley was raised by her grandmother, the late Katie Ann Gross-Briscoe. Upon both her grandmother's passing and request, Shirley was then raised and was affectionately called "daughter" by her loving uncle and aunt, the late James and Mary Travers.
 
Shirley was educated in the St. Mary's County Public School system. Throughout her life, Shirley held several jobs which included United Cerebral Palsy, Pathways, Harry Lundenberg School of Seamanship, Tri-County Headstart, Solomons Recreation Center, St. Mary's Nursing Home and the Patuxent River Naval Air Station.

Shirley's most rewarding job in which she took the greatest pride in was raising her children. Not only did Shirley take motherly pride in raising her children, but when the Lord placed it on her heart to do so, Shirley also unselfishly made herself available to every one of her grandchildren when the need and opportunity presented itself.
 
Shirley was our "Big Mama". Her past times were cooking ALL OF THE TIME, spending time and joking around with family, and watching the Washington Redskins football games with her brothers and sisters. She enjoyed watching Madea, the Young and the Restless, Perry Mason, Murder She Wrote, Matlock, Law & Order, Wrestling and all types of Westerns.

But her most favorite thing to do was giving praise to her Lord and Savior, Jesus Christ. In ministry, one could easily find Shirley assisting in the culinary arts department and any other ministerial duties which her willing hands were called to touch even while standing on hurting legs, knees and swollen feet. But you can be rest assured that when Shirley got home from fulfilling her daily duties for any given day, it was little Jirah who would anoint Grandma Shirley's feet, legs and knees while praying "Lord, please heal my Grandmama in Jesus' name. Amen" followed by a mighty "Hallelujah, Hallelujah, Hallelujah!!!" Grandmama Shirley was not ashamed to testify to anyone of how Jirah's pure, heart-felt prayers would make her feel so much better.
 
As a young girl, Shirley was raised in St. Luke U.A.M.E Church in Piney Point, MD under the spiritual leadership of Reverend Wallace and Dr. Reverend Rudy C. Brooks. Upon leaving St. Luke's, Shirley became a member of St. Matthew's Free Gospel Church of Christ.  She sat under the tutelage of the late Pastor Atwell Strong and First Lady Frances Strong as well as Bishop Daniel and First Lady Elsie Mae Jones.
 
On July 10th, 1966, Shirley married Andrew A. Dyson, Sr. They were the parents of five children, Shirley (Cheryl) Estep of Lexington Park, MD; Deborah Dyson of Piney Point, MD; Andrew (Shane) Dyson, II of Valley Lee, MD; Kevin Dyson of Lexington Park, MD; and Hope Dyson of Lexington Park, MD. Upon ending their marriage, Shirley and Andrew remained friends. On June 17th, 1995, Shirley married Charles Webb, but later divorced. Up until the day of Shirley's passing, both she and Charles remained friends as well. Of this union, no children were born, but all of Shirley's children acknowledged Charles as their step-father.
 
In addition to her children, Shirley leaves cherished memories to five younger sisters: Joann Nunley of Piney Point, MD; Geraldine Travers of Lexington Park, MD; Mary Virginia (Connell) Smith of Lexington Park, MD; Linda (Ray) Frost of Clinton, MD; Georgia-Jean (Larry) Kyler of Forestville, MD; six younger brothers: James (Tonetta) Travers of Fayetteville, NC; George (Diane) Edison of Lexington Park, MD; Vincent (Kathy) Edison of Tacoma, WA; Earl Jordan of Philadelphia, PA; Roosevelt Edison of Jacksonville, FL; and John Edison of Lexington Park, MD; 17 grandchildren: LaToya, LaKea, Michael, Dewon, Dewayne, Candance, Little Andy, Dominique, Jasmine, Tatyana, Jirah, Darius, Desiree, Ebony, Little Kevin, Shantell, Marlo (Drevon), and Tylejah; 8 great-grandchildren:  Malik, Camille, Kieshana, Damein, Camar'Vea, Kaydance, Devin, and Lohgan;one godmother, Mauline Jordan; and one godson, Antonio Banks. In addition, Shirley had a special place in her heart for two special cousins, Theresa "Ann" Miles and Gerald Mosley.  Shirley also had a special place in her heart for Timothy and Thomas Bush whom she loved as her own sons, an "adoptive" granddaughter Michelle Fenwick and her sons Elijah and Tremaine; her best friend, Alice Benefield, and a host of beloved family members and friends.
 
Shirley was preceded in death by two great-grandchildren…Micah and Ariel, and two brothers Joseph and Irving Edison; and one sister Audrey Edison.

Family will unite with friends on Saturday, September 7, 2013 at 9:30 am until service at 10:30 am at First Missionary Baptist Church, 46370 Pegg Lane, Lexington Park, Maryland 20653. Interment to follow at Charles Memorial Gardens, Leonardtown, MD.

Arrangements by Briscoe-Tonic Funeral Home, Mechanicsville, MD.