Sullivan, Dorothy Marie
Birth: 1935-05-31 in Washington, D.C.
Residence: La Plata, Maryland
Death: Sunday, May 12, 2013
Laid to Rest: Wednesday, May 15, 2013 in the Sacred Heart Catholic Church Cemetery, Bushwood, Maryland
Condolences: Click to View or Post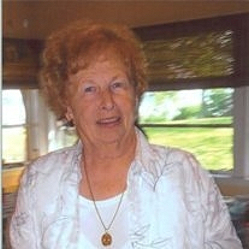 Dorothy Marie (Gardiner) Sullivan, 77, La Plata, MD

Dorothy Marie (Gardiner) Sullivan died on Sunday, May 12, 2013 at home. She was 77 years old. Born on May 31, 1935 in Washington, DC, she was a loving mother, devoted wife, delightful grandmother, and wonderful sister. Dorothy was a fabulous cook, accomplished seamstress and floral designer, and dedicated volunteer. She was a member of Sacred Heart Catholic Church and the Sodality of the Blessed Virgin Mary.

She is preceded in death by her parents, William Ralph and Mary Imogene (Perrie) Gardiner; sister, Mary Imogene Gardiner; and brother, Robert Wayne Gardiner.

She is survived by her husband of 39 years, Marshall R. Sullivan, Jr.; daughter, Sharon Mohler and husband Frank; daughter, Terry Payne and husband Jim; daughter, Sandy Jacobi and husband Michael; son, Jim Lashmit and wife Cheryl; and daughter, Jill Wierzbowski and husband Dan; her brothers, W. Ralph Jr., Harold, Gerald, and Randy Gardiner; and sisters, Mary Jean Wiilliams, Betty Dateno, Linda Walter, Kay Simmons, and Janice Gardiner. She is also survived by 11 grandchildren and 2 great-grandchildren.

Visitation on Wednesday, May 15, 2013 from 1:30PM until time of Mass of Christian Burial at 2:30PM at Sacred Heart Catholic Church, 201 St. Mary's Avenue, La Plata, MD 20646. Pallbearers: Michael Jacobi, Christopher Jacobi, Greg Mohler, Mike Mohler, Jim Payne, and Kevin Wierzbowski. Interment to follow at the church cemetery.

Arrangements made by Raymond Funeral Service, P.A., La Plata, MD.

Memorial contributions may be made to Hospice and/or Alzheimer's Association.