Brickman, Cheryl Ann
Birth: 1957-08-17 in Leonardtown, Maryland
Residence: Leonardtown, Maryland
Death: Wednesday, October 31, 2012
Laid to Rest: Tuesday, November 06, 2012 in the St. Francis Xavier Catholic Church Cemetery, Leonardtown, Maryland
Condolences: Click to View or Post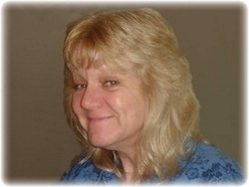 Cheryl Ann Brickman, 55, of Leonardtown, MD, died October 31, 2012, at George Washington Hospital Center in Washington, D.C. Cheryl was born August 17, 1957, in Leonardtown, MD, to the late Francis Aloysius "Dish" Morgan and Katherine Virginia Taylor Morgan.

Cheryl graduated from Chopticon High School in 1975. After graduating, she worked as a guard at Calvert Cliffs Nuclear Power Plant. She eventually moved on and worked at the Comptroller's Office onboard Patuxent River Naval Air Station for fourteen years.

Cheryl had a passion for life and this included one of her favorite hobbies of playing pool for Dukes Bar. She was very proud of helping her pool team win first place for ten years in a row. Throughout the years her sense of humor and spirited good nature brought warmth and laughter to her family and friends. She enjoyed going to softball games where she was known for her energetic cheering and for blowing an air horn to cheer on her sister Lora and her son Charlie.

When Cheryl's father "Dish" Morgan passed away, she vowed to continue his mission of making Rosaries for Catholic missions around the world. She made over 10,000 Rosaries that were sent to parishes throughout the United States and overseas. Cheryl was very compassionate and always placed others first.

Cheryl loved her family, especially her grand-kids, nieces and nephews. She especially enjoyed her daily visits from Toni and Michael. She couldn't stand to hear a child cry, so children left in her care tended to be extra loved and spoiled. While in her care she would speak to them about Jesus and Mary, teaching them to pray and say grace at meal times.

Cheryl's huge heart had plenty of room for animals as well. She never turned her back on a helpless animal, even trying to save wild baby bunnies, squirrels, and baby birds. Her dogs and birds brought her daily comfort and joy. They were like feathered and furry kids to her. She taught her parrot to pray, and another bird even has her laugh, perfectly mimicking Cheryl's laugh.

Cheryl is survived by her husband, Dana; her son, Charles C. Bassford, Jr. of Clements, MD; two grandchildren, Katherine V. Bassford and Chelsea A. Bassford; two step-children, Steven Brickman (Felicia) of Lebanon, VA and Jeremy Brickman (Megan) of Mechanicsville, MD; four-step grandchildren, Haley Brickman, Madison Brickman, Autumn Brickman, and Colton Brickman; and four sisters, Suzi McPherson (Dean) of Great Mills, MD, Faye Graves (Danny) of Leonardtown, MD; Kelly Gonsalves (Wayne) of Leonardtown, MD and Lora Digulimio (Mike) of Compton, MD.

In addition to her parents, she was preceded in death by her first husband, Charles Bassford, Sr.; and two sisters, Martha Ureke and Toni Morgan.

Family will receive friends for Cheryl's Life Celebration on Monday, November 5, 2012, from 5 PM to 8 PM with prayers recited at 7 PM at the Brinsfield Funeral Home, 22955 Hollywood Road, Leonardtown, MD 20650. A Mass of Christian Burial will be celebrated by Reverend Brian Sanderfoot on Tuesday, November 6, 2012, at 10:00 AM at St. Francis Xavier Church, 21370 Newtowne Neck Road, Leonardtown, MD 20650. Interment will follow in the church cemetery.

Serving as pallbearers will be Lee Brickman, Steven Brickman, Al Faunce, Mark McLeod, Carl Herrick, and Mike Digulimio, Sr. Honorary pallbearers will be Michael Digulimio, Jr.

Memorial Contributions may be to the Brinsfield Funeral Home, P.A., 22955 Hollywood Road, Leonardtown, MD 20650, to aid the family in defraying funeral expenses.

Arrangements by the Brinsfield Funeral Home, P.A., Leonardtown, MD.