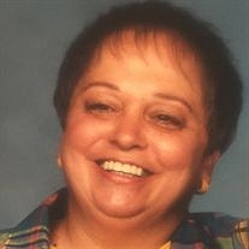 Peggy Jo Doyle, 73, of La Plata, MD entered into the glorious gates of Heaven on October 13, 2015. She was a loving daughter, sister, wife, mother, grandmother and friend. Born on July 17, 1942 in Raleigh, NC, she was the daughter of the late Ricaud McKoy Lloyd and Dolly Grey Phillips. She was raised in Salisbury, MD, where she graduated from Wicomico High School.

Married for 52 years, Peggy is survived by her husband Floyd Doyle. Together they had two sons, Kenneth Floyd Doyle (Janet) of La Plata, MD, Phillip Christopher Doyle (Andrea) of Leesburg, VA and a daughter Dolly Virginia "Jeni" Irwin (Dean) of Charlotte Hall, MD. They were blessed with 11 amazing grandchildren.

In addition, Peggy is survived by her brothers, William Kenneth Lloyd (Jane McGraves) of Portland, ME and Ricaud Lewis Lloyd (Sara) of Henderson, NC, along with many nieces and nephews she held dear to her heart. She was preceded in death by her brothers James MacGeachy Lloyd and Robert Phillip Lloyd.

Peggy was a devoted Christian who, leading by example, taught her children and those around her what it truly meant to follow Jesus. She loved life and the people in her life. She loved to cook and was known for whipping up endless amounts of food at a moment's notice, graciously sharing all she had with anyone that walked through her door. She had a great skill for sewing and made many unique projects for her grandkids. In addition, quilting gave her tremendous joy and she loved to create masterpieces for her family members as they celebrated special occasions in life.

Before retiring, Peggy worked as a medical insurance reimbursement specialist. She also worked at the former Physicians Memorial Hospital as a unit clerk and certified nursing assistant. Her most favorite role, though, was that of "Granny".

Peggy was a member of the First Baptist Church of La Plata where she actively participated before her health began to decline. One of her fondest memories was teaching Sunday School to school-aged children, two of which later became her son-in-law and daughter-in-law. She enjoyed working with the "Jolly Keenagers," helping them enjoy their retirement life with fun-filled activities, trips, picnics and silly antics for which they made many memories.

Services to celebrate her life will be held at 11 a.m. on Saturday, October 17, 2015 at the First Baptist Church of La Plata, 9070 Hawthorne Rd, La Plata, MD with Pastor Wendell Stokes officiating. Visitation will be held from 10-11 a.m. Interment will follow at Trinity Memorial Gardens in Waldorf, MD. Arrangements provided by Raymond Funeral Service.

Pallbearers will be her grandsons: Brendan Kenneth Doyle, Phillip Cameron Doyle, Tyler Matthew Irwin, Justin Drew Irwin, Benjamin Jesse Doyle, Chad Michael Irwin, Patrick Christopher Doyle, Logan Timothy Irwin and Jonathan Grey Doyle. Honorary pallbearers are her granddaughters: Hannah Grace Doyle and Ashleigh Joan Doyle.