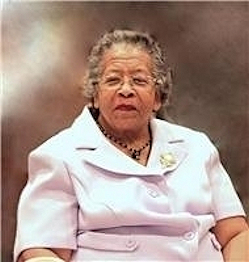 Mary Elnedda George Toon was born February 22, 1930 in Whiteville, NC, daughter to the late Archester Lennon and Carrie Levada George Lennon. She departed this life peacefully on July 25, 2015 at St Mary's Hospital in Leonardtown, MD.

Mary was united in holy matrimony to the late Patrick Henry Toon in April of 1950. To this union were born six children. Born and raised in Whiteville, NC, Mary was educated in North Carolina Public School System.

After relocating to Lexington Park, MD, she began her career as a housekeeper, worked as a laundromat attendant, and a seafood handler. However, her true passion was taking care of others which led her to the "The Arc Of Southern Maryland" working with special needs persons for over 31 years until her retirement in 2011.

Mary accepted Christ at an early age and was baptized at the Mount Olive Baptist Church in Mount Olive, NC. Upon moving to Lexington Park, MD in 1953, she joined First Missionary Baptist Church. During her many years of service to the Lord she was a member of the Willing Workers, Missionary Ministry, Archangel and Unity choirs and the Sisterhood Ministry. She became a Deaconess and was also active in Sunday school, prayer service, and Bible study. Mary enjoyed her church, her beloved Washington Redskins and her two favorite Hollywood stars Tyler Perry and Oprah Winfrey.

She was predeceased by her husband, Patrick Henry Toon; her siblings, William "Buddy" Lennon, Nellie Ruth Winston (Dabney Carr Winston), Shirley Jones (Landy Jones), Geraldine Lennon, Lillian McEachin, and Carrie Lewis; her son, James W. Toon Sr., daughter-in-law, (Edna Pinkney-Toon), and son-in-law, Brice Hall.

She leaves to cherish her sweet memory three daughters, Mary Larnice Hall, ReDahlia Marguerite Curtis, and Bonita Maria Smith (Mike); two sons, Patrick Lionel Toon and Maurice Owen Toon (Mae); one very special nephew whom she helped raise, Willie Eugene Lennon and a special daughter-in-law, Deborah Wilcox; three sisters, Betty Edwards Maxton; Jean Lennon and Sylvia Duncan; five brothers, Herman Lennon (Thomasenia), James Leroy Lennon (Lucille), Shady Lennon, Thomas Lennon (Jennie) and John Lennon (Theresa); one sister-in law, Sallie Lennon; nine granddaughters, Debora Pinkney, Sabrina Holloway, Sonja Lynn Bray Taylor, Marian Deon Toon, Renata Toon, Kendrea Grove, Jocelyn Toon, Lakieta Toon, and Daijah Toon; five grandsons, Thomas Pinkney, James W. Toon, Jr., Lamar M. Curtis, Alonzo Dent and Kyle Toon (Ahjanae), 18 great grandchildren, 21 great-great grandchildren, along with a host of nieces, nephews, cousins, friends and other family members.

Family and friends will unite on Monday, August 3, 2015 for visitation at 10:30 am until time of service at 11:30 am -1:00 pm at First Missionary Baptist Church, 46370 Pegg Lane, Lexington Park, MD 20653. Interment to follow at 2:30 pm at Cheltenham Veterans Cemetery, 11301 Crain Highway, Cheltenham, MD 20623. Arrangements provided by Briscoe-Tonic Funeral Home, P.A.