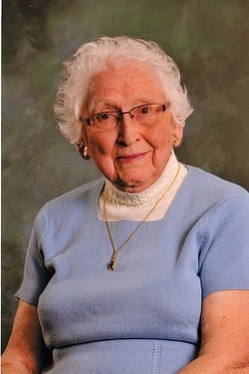 Grace Jackson Morris "Bebe" Gibson, 92, of Leonardtown, MD died Sunday, November 16th at her residence with her family by her side. She was born November 11, 1922 in Avenue, MD to the late Andrew Jackson Morris and Grace Catherine Hill Morris.

She was the fifth daughter and baby of the family. The nickname "Baby" was quickly changed to "Bebe" at birth. She was always a lady and never lost the values she was taught by her wonderful mother.

Bebe started high school at eleven years old. She graduated from Margaret Brent High School in 1938 and received the Good Citizenship Medal at graduation. She was granted two college scholarships; one to Western Maryland and one to St. Mary's Seminary. She started college at 15 years old and attended Western Maryland College in Westminster, MD where she made many lifetime friends.

Her nieces and nephews gave much joy and happiness to her as well as her many cherished relatives. She had an extensive collection of milk glass, was a crossword fanatic and loved to cook dinners, especially for her family. She always had a book in her hands when she wasn't cooking. She was known as the Purple Lady. She loved the color purple and wore it quite frequently as well as decorated her apartment in purple décor. Bebe was a lifetime member of the American Legion Auxiliary Post 221 in Avenue, MD serving one term as Auxiliary President. She took great pride in being the wife of a WWII veteran. During WWII, she was a secretary at the Navy Department, Bureau of Yards and Docks at the original Navy Building in Washington, D.C.

In June 1947, she married Charles Freeman Gibson and they lived for a short time in Washington, D.C. She and Charles moved back to the 7th District and enjoyed 63 years of marriage. Bebe was postmistress in Avenue for a few years and then moved to Colton's Point. When her children were in school, she taught Special Education and First Grade at Dynard Elementary School and later Bethune Elementary School. In 1972, she became a tutor for St. Mary's Board of Education and enjoyed eight years before retiring. Her husband, Charles, died in 2010. Afterwards, she lived with her daughter and family for six months before moving to Cedar Lane Apartments.

She is survived by her children; Nicholas Thaddeus Gibson (Sheryl) and Susan Laurita Horn (Harry), six grandchildren; Theresa Friess (Gary), Nicholas Gibson (Crystal), Dennis Gibson, and Laura Latchford (James), Jessica Horn and Barbara Horn (Matt); 11 great-grandchildren; Dustin Vachalek, Toby Friess, Cheyanne Friess, Wyatt Friess, Rebekah Gibson, Summer Gibson, Candice Gibson, Jordan Gibson, Andrea Gibson, Kira Latchford and James Latchford, III. She is preceded in death by her husband, Charles Freeman Gibson, her sisters, Alma Ellis (Frank), Sadie Ellis (Emory), Hilda Banagan (Marshall) and Polly Gibson (Francis), and great-granddaughter Mikala.

Serving as pallbearers will be Greg Stabler, Andy Ellis, Jr., Chris Ellis, Francis Gibson, III, T.W. Bell, III, and Devin Gibson.

The family will receive friends on Wednesday, November 19th from 5:00pm -8:00 pm, with prayers recited at 7:00 p.m. followed by American Legion Auxillary prayers, at Holy Angels Church, 21340 Colton Point Road, Avenue, MD . A Mass of Christian Burial will be celebrated by Reverend Brian Sanderfoot on Thursday, November 20th at 10:00 am at Holy Angels Church, 21340 Colton Point Road, Avenue, MD 20609. Interment will follow in Sacred Heart Cemetery in Bushwood, MD.

Memorial contributions can be made to Hospice of St. Mary's, P.O. Box 625, Leonardtown, Maryland 20650. Arrangements by the Brinsfield Funeral Home, P.A., Leonardtown, MD.