George, Genevieve Gertrude
Birth: 1934-01-27 in Lily, Pennsylvania
Residence: St. Leonard, Maryland
Death: Saturday, February 16, 2013
Laid to Rest: Tuesday, February 26, 2013 in the St. John Vianney Catholic Chuch Cemetery, Prince Frederick, Maryland
Condolences: Click to View or Post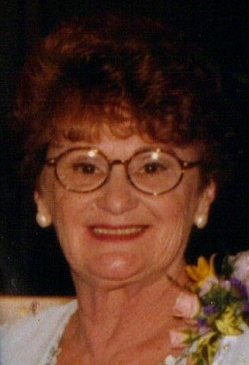 Genevieve "Jenny" G. George (Kawtoski), died Feb. 16, 2013 at Washington Hospital Center. She was born January 27, 1934, in Lily, PA. She was the daughter of the late Frank and Frances Kwaitkowski.

Jenny grew up in Lilly, Pennsylvania, worked in a shirt factory and later married in 1956. In the early years of their marriage, she lived in Pennsylvania and later moved to Clinton, Maryland in 1965.

She worked for the Prince George's County Schools for 10 years. In 2005, her and her husband, Jim moved to St. Leonard to be closer to their children and grandchildren. She was a member of St. John the Evangelist Roman Catholic Church in Clinton, MD and later St. John Vianney Catholic Church in Prince Frederick, MD.

Jenny's hobbies once included bowling and ceramics. She enjoyed reading, cooking, and arts and crafts. She loved to have family members over where she enjoyed preparing all the food. She was a devoted wife, mother and grandmother who dedicated her life to her family, especially her grandchildren.

Jenny was preceded in death by her son, Timothy George, on May 4, 2003; brothers, Walter, Stanley, Frank and Edward; and sisters, Theresa Yingling, Veronica O'Cilka, Stella Barnish and Freda Repko.

She is survived by her husband, James George; children, Michael, St. Leonard, MD; Kevin (Pam), Huntington, MD; Melissa Shrawder, Dunkirk, MD; Jennifer (Tim) Nash, St. Leonard, MD, and Amy (Scott) Wojcik, New Freedom, PA. She is also survived by grandchildren, Derrick and Kristy Joines, Thomas, Brad, Amanda and Eric George, Brian, Ashley, Matthew, Megan and Kyle Shrawder, Kaitlyn, Emma and Madelyn Nash, Logan, Lauryn and Lilly Wojcik. She will be sadly missed.

The family will receive friends on Monday, February 25, 2013 from 5:00 PM - 8:00 PM in the Rausch Funeral Home 4405 Broomes Island Road, Port Republic, MD. A Mass of Christian Burial will be celebrated on Tuesday, February 26, 2013 at 11 AM in St. John Vianney Catholic Church 105 Vianney Lane, Prince Frederick, MD. Interment will follow in the church cemetery. Pallbearers: Michael George, Kevin George, Timothy Nash, Scott Wojcik, Thomas George, Derrick Joines, Brian Shrawder and Brad George.

Arrangements provided by Rausch Funeral Home.