Hasel, Charlotte Louise
Birth: 1917-07-03 in Chaptico, Maryland
Residence: Chaptico, Maryland
Death: Saturday, February 09, 2013
Laid to Rest: Friday, February 15, 2013 in the Sacred Heart Catholic Church Cemetery, Bushwood, Maryland
Condolences: Click to View or Post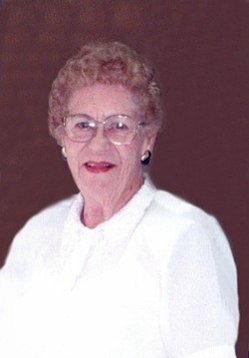 Charlotte Louise "Lottie" Hasel, 95 of Chaptico, MD died February 9, 2013 at her residence. Born July 3, 1917 in Chaptico, MD she was the daughter of the late Harrison Schuhart and Mary Lena (Morgan) Schuhart.

Lottie moved to Baltimore in 1935 to work for Western Electric. In 1948 she moved back to Chaptico. She and her husband Al owned and operated the Hasel Grocery Store in Maddox until 1957. After selling the grocery store, Lottie and Al ran the Gulf Station in Mechanicsville. In 1960, they moved back to the family farm in Chaptico.

Lottie joined the Izaak Walton League with her husband many years ago. The league is known as "defenders of woods, soil, waters and wildlife". Lottie's role, as well as many women at that time, was to support the league and work behind the scenes. Lottie later served as the first woman president of the Southern Maryland Chapter of the Izaak Walton League of America. In this role, she was instrumental in opening an outdoor education center on a 141-acre parcel of land where the Jordan and Zekiah swamps met near Waldorf, MD. She also served on the Board of Directors for the IWLA. Lottie's love for the league and her ties to the land stemmed from her upbringing on the farm that has remained in her family for generations and which she and her husband lived out their lives.

Lottie is survived by her son, Alfred Lawrence Hasel, Jr. (Helen) of Mechanicsville, MD; two grandchildren, Michael L. Hasel (Stefanie) of Chaptico, MD and Ann E. Meidenbauer (Kenneth) of Hollywood, MD; great grandchild, Christopher L. Hasel; sisters, Maude Hipsley of Great Falls, VA and Lillian Maupai of Towson, MD.

In addition to her parents, she was preceded in death by her husband, Alfred Lawrence Hasel and her brother Joseph (Jack) Schuhart.

Family will receive friends on Thursday, February 14, 2013 from 5:00 p.m. until 8:00 p.m. at the Brinsfield Funeral Home, 22955 Hollywood Road, Leonardtown, MD 20650. Prayers will be recited at 7:00 p.m. A Mass of Christian Burial will be celebrated by Father Jaroslaw Gamrot on Friday, February 15, 2013 at 10:00 a.m. at Our Lady of the Wayside Church, 37575 Chaptico Road, Chaptico, MD 20621. Interment will follow in Sacred Heart Church Cemetery, Bushwood, MD.

Serving as pallbearers will be Robert W. Jacobs, Robert Beverage, George E. Hayden, Jr., Francis A. Hayden, Sr., James S. Hayden and John R. Fowler.

Memorial contributions may be made to Our Lady of the Wayside Church, 37575 Chaptico Road, Chaptico, MD 20621.

Arrangements by the Brinsfield Funeral Home, P.A., Leonardtown, MD.