Monteith, Bruce David Grabis
Birth: 1956-12-16 in La Plata, Maryland
Residence: Mechanicsville, Maryland
Death: Sunday, October 06, 2013
Laid to Rest: Tuesday, October 22, 2013 in the Maryland Veterans Cemetery, Cheltenham, Maryland
Condolences: Click to View or Post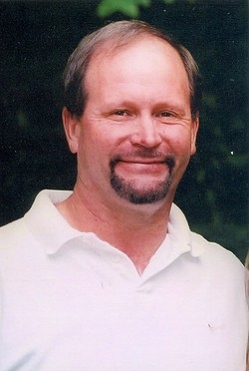 Bruce David Grabis Monteith, 56, of Mechanicsville, Maryland

On October 6, 2013 at approximately 12:45 p.m., Bruce Monteith passed away as a result of injuries sustained as a result of a motorcycle accident on Plum Point Road in Calvert County, Maryland. Bruce was 56 years old and was accompanied by Gloriana "Glo" Beauvais, 45, of Hughesville, Maryland.

Bruce was born in La Plata, Maryland on December 16, 1956. He was the fifth of seven children born to Raymond and Vivian Grabis. Bruce was adopted by Ronald and Ethelyn Monteith in 1974.

Growing up, Bruce worked on the Monteith farm and was instilled with a sense of diligence, humbleness and strong moral character that stayed with him for his entire life. A 1976 graduate of Chopticon High School in Morganza, Maryland, Bruce was voted "Most Athletic" as a senior and received all-conference honors in wrestling, soccer and track and field. He also played football and was State Champion for his weight class in wrestling. Those that knew him well, have remarked that there was nothing Bruce could not excel at.

Following high school, Bruce entered the Marine Corps and served the United States for seven years. The Few The Proud. He was a rifle and pistol sharpshooter and was proficient in all classes of artillery receiving two good conduct medals, one certificate of service, two letters of recognition and three letters of appreciation. Bruce obtained the rank of Sergeant and was honorably discharged in 1982.

Bruce worked at Chalk Point Generating Station in Aquasco, Maryland for over 25 years. Bruce's numerous hours of overtime resulted in Christmas presents for his children and family vacations to Florida, South Carolina and Ocean City. He is remembered as one of the hardest workers and most generous and respected individuals at the plant.

Bruce was a prolific softball player (at Moose Lodge, Capt. Sams, Pennies, Rita Bs, Sneaky Petes and others) often running down fly balls that no one else could get to and being counted on for a clutch hit when the game was on the line. Like all the greats, Bruce had a flair for the dramatic, hitting two homeruns on his wedding day to Agnes. He was inducted into the St. Mary's County Young Men's Softball League Hall of Fame in November 2009.

He passed along his knowledge through coaching and was always a source of inspiration for his son, Tommy, and others on the sidelines and in the dugout. He loved his "princess", Brandie, and could be counted on for the same enthusiasm and attentiveness at a dance recital as he displayed on the ball field.

Bruce enjoyed riding his Harley and was an active congregant at Real Life Wesleyan Church in Mechanicsville. Bruce also enjoyed watching the Orioles and Redskins on television, no matter the score or how desperate the season.

Bruce "the Moose" had a gregarious personality that comforted all around him. Whether at the American Legion, Moose Lodge, Jimmie's Store, on the softball field or in a living room, you could always count on Bruce for a laugh, whether through a sarcastic joke or funny anecdote. Before family, friends or strangers, Bruce appeared well in any company and was loved by all.

Bruce was preceded in death by his biological parents Raymond and Vivian Grabis and his adoptive father Ronald Monteith. He was also preceded in death by his brother Wayne Grabis.

Bruce is survived by his daughter, Brandie Monteith of Mechanicsville, Maryland, his step-son, Tommy Pilkerton of Baltimore, Maryland (and Tommy's wife Jacqui and Bruce's granddaughter, Sophie), and his ex-wife, Agnes Russell Monteith of Mechanicsville, Maryland. His siblings Larry Grabis of Equality, Illinois, Glenn Grabis of Charlotte Hall, Maryland (and Glenn's wife Lilly and children Glenn, Jr. and Christopher), Glenda Guy of Leonardtown, Maryland (and Glenda's husband Walter and children Kimberly and Walter, Jr.), Becky Perkins, of St. Cloud, Florida (and Becky's children Justin, David and Brenton) and Theresa Walden of Richmond, Virginia (and her husband Allen and two children) also survived him. Bruce is also survived by his adopted mother, Ethelyn Monteith and step-siblings Cindi Griffith of Quinta, California (and her husband Jim and son Jason), Kathy Monteith of Sarasota, Florida, Ronalene Monteith of Milton, Wisconsin and Troy Monteith of Concord, California.

Bruce's family has arranged prayers from 2:00 to 4:00 p.m. and memorial services beginning at 4:00 p.m. at Brinsfield-Echols Funeral Home in Charlotte Hall, Maryland on October 13, 2013. Larry Grabis (honorary), Glenn Grabis, Donald Quade, Dale Quade, Jimmy Quade, Glenn Grabis, Jr. and Tommy Pilkerton will serve as pallbearers. Bruce will receive burial services at Cheltenham Veterans Cemetery on October 22, 2013 in a private family ceremony.

In lieu of flowers, memorial donations may be made to the American Legion (Jameson-Harrison Post 238), Mechanicsville Moose Lodge (No. 495) or Real Life Wesleyan Church.

Arrangements provided by Brinsfield-Echols Funeral Home.