Moore, Georgia Anna
Birth: 1922-10-17 in Bowling Green, Virginia
Residence: Lexington Park, Maryland
Death: Tuesday, April 30, 2013
Laid to Rest: Saturday, May 04, 2013 in the Mount Lawn Cemetery, Woodford, Virginia
Condolences: Click to View or Post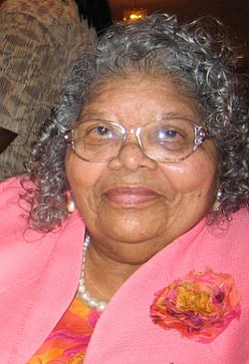 Georgia Anna Moore, lovingly known as Georganna, was born on October 17, 1922 in Bowling Green, Virginia. She was the eldest daughter of the late Richard V. Upshaw and Alice Golden Upshaw. God in loving and tender compassion called her home on April 30, 2013 in Leonardtown, Maryland

Georganna was educated in Bowling Green, VA. The most important lessons were received in the home and garden of her parents. There she gained some amazing talents. In January 1943, she married the love of her life, James Sylvester Moore. Their marriage endured the test of time growing, maturing, and lasting to the day of her passing.

She relocated from Virginia to Lexington Park, Maryland in the mid 1940's. She began working at the Patuxent River Naval Air Station in the Laundry and Seamstress Quarters as a Master Seamstress for more than 35 years until she retired. Her second career was culinary perfectionist. Her most popular dishes were sweet potato pie, rice pudding, collard greens or kale and the infamous 5 flavor cake. One of her proudest accomplishments was joining First Missionary Baptist Church where she proudly became the "Mother" of the church until the day of her passing.

Georganna was a very caring and loving wife, mother, grandmother, sister, aunt and friend. She loved and cared for her children, grandchildren and great-grandson right up until the day of her passing. She took great pride in working for the Lord, First Missionary Baptist was her second home, and you would find her ever so lovingly in its kitchen on many occasions. She really enjoyed phone conversations. She also passed time by crocheting blankets, doilies and table cloths that are still displayed in the homes of those she loved.

In addition to her parents and husband, she was preceded in death by her brothers Tarleton and Richard "Dickey Boy" Upshaw of Bowling Green, VA., a sister Evelyn Upshaw of Manhatten, NY and three special life-long sister-friends, Ana Dyson, Julia James and Ida Taylor.

Georganna leaves to cherish her memory, her loving son and daughter-in-law Robert and Judy Moore Sr., three grandchildren, Sabana "Bana" Moore-Barnes (Colbert "Man"), Robert "BJ" Moore Jr. (LaShawn), and James "Jimmy" Moore, one assumed grandson, Marcus Blackwell, one great-grandson, Diontre "D" Barnes; five sisters, Eloise Frye, Bowling Green, VA, Pearl James, Woodford, VA, Margaret Joyner and Dorthy Nivens, New York City, NY and Alice Jackson, Woodbridge, VA., a special niece Louise "Lou" Fortune, two dear sister-friends Arlonia Thurman and Mary Hansley and a host of nieces, nephews other relatives and friends.

The family will receive friends on Saturday, May 4, 2013 from 9:30 AM – 10:30 AM in the first Missionary Baptist Church Lexington Park, MD. A Funeral Service will follow at 10:30 AM in First Missionary Baptist Church Lexington Park, MD with Rev. Roderick W. McClanahan officiating. Interment will follow in Mount Lawn Cemetery, Woodford, VA .

Arrangements provided by Mattingley-Gardiner Funeral Home.