Bowles, Helen Celeste
Birth: 1911-11-01 in Clements, Maryland
Residence: Clements, Maryland
Death: Friday, February 15, 2013
Laid to Rest: Wednesday, February 20, 2013 in the St. Joseph's Catholic Church Cemetery, Morganza, Maryland
Condolences: Click to View or Post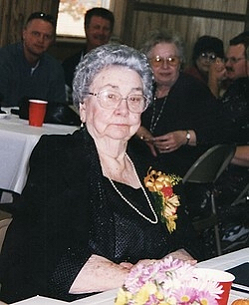 Helen Celeste Latham Bowles, 101, of Clements, MD Died on February 15, 2013 in Hospice House of St. Mary's, Callaway, MD in the company of her family at her side, after a long, and courageous struggle with pancreatic cancer. Celeste was born in Clements, MD the 5th child of the late Andrew Clarence Latham, Sr., and Jane Celeste Mattingly Latham.

Surviving Celeste, her daughter Violet Ann Bailey, son William Clarence Bowles, and her daughter-in-law Estelle Marie Bowles. Also surviving are her; 7 grandchildren, 11 great grandchildren, 11 great great grandchildren, and many nieces and nephews.

Celeste was preceded in death by her husband Joseph Aloysius Bowles, Sr, whom she married on May 26, 1931 in St. Joseph's Catholic Church Morganza, MD., and also two sons; Joseph Aloysius Bowles, Jr., John Anthony Bowles, son-in-law Robert L. Bailey, and her daughter in law Catherine G. "Jenny" Bowles. Also proceeded in death by 6 brothers; William E. Latham (Aleatha), Andrew Clarence Latham, Jr., Harry Mattingly Latham (Marie), Joseph Aloysius Latham (Laura), Leonard Johnson Latham (Mina), Charles Zacheria Latham (Emily), 1 sister Clara May Wills (Doyne). Also preceded in death by her nieces; Doris Latham Griffen, Jean Latham Smith, nephews; Doyne Robert Wills, Jr., Harry Latham Wills, and Charles Zacheria Latham,Jr.

Celeste worked hard all of her life to raise her children and caring for others. Celeste worked at Guy Brothers Store in Clements until the store went out of business and then she worked at St. Mary's Pharmacy until she retired.

Celeste was very particular about her appearance (always neat and accessorized). Celeste was very proud of her grandchildren. She was always known to her grandchildren as "Mar-Mar-Toots", and her nieces and nephews as "Aunt Toots". Mar-Mar or Aunt Toots was a very good cook, and loved having her family, and friends over for a delicious dinner. Celeste had a great devolution to the "Blessed Mother" and the most "Holy Rosary". Mar-Mar Toots loved to play bingo and enjoyed a good pitch game or a game of Thirty-One.

Celeste was life member of St. Joseph's Catholic Church in Morganza, MD. Celeste loved to work at all of the Annual church dinners and in her younger days she would be head of the church dinners.

The family will receive friends on Tuesday, February 19, 2013 from 5:00 PM -8:00 PM with prayers recited at 7:00 PM in the Mattingley-Gardiner Funeral Home, Leonardtown, MD. A Mass of Christian Burial will be celebrated on Wednesday, February 20, 2013 at 10:30 AM in St. Joseph's Catholic Church Morganza, MD. Interment will follow in the church cemetery. Pallbearers will be; Joey Bowles, Frankie Bowles, Lee Bowles, Al Bailey, Robert Bailey, and Billy Yost.

Memorial contributions may be made to Hospice of St. Mary's P.O. Box 625 Leonardtown, MD 20650 and/or Seventh District Volunteer Rescue Squad P.O. Box 7 Avenue, MD.

Arrangements provided by Mattingley-Gardiner Funeral Home.