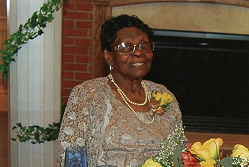 Elizabeth Agnes Holly, 95, of Leonardtown, MD, known to many as Mom, Granny, Puddin', Lizzie, and Aunt Puddine to her family and friends, passed away peacefully in her sleep after a brief illness on Saturday, March 21, 2015. Elizabeth was born on May 25, 1919, in Leonardtown, Maryland. She was born to the late Peter Yates and the late Mary Leitha Swailes. Elizabeth was educated in the Medley's Neck School.

On November 19, 1939, Elizabeth married the love of her life, Joseph "Jackson" Holly. From this union they were blessed with "Nine" children.

Elizabeth began her career working for many years as a Cook at the White Point Restaurant. Later she acquired a job as a Cook at St. Mary's Hospital. After years of cooking at the hospital, an opportunity arises for Elizabeth to become a Nurse's Aide. While being a Nurse's Aide, Elizabeth and several of her best friends, Marguerite Barnes, Mamie Mason and Sarah Collins, all studied and took a test to later become Licensed Practical Nurses at St. Mary's Hospital. Elizabeth was a Licensed Practical Nurse for 24 years. She retired from St. Mary's Hospital in 1984.

Elizabeth was a dedicated and faithful member of Our Lady's Church in Medley's Neck, Maryland. She has been serving the Lord, her entire life at Our Lady's and was baptized and married at this church. She prayed the "Rosary" several times a day and attended daily masses. She even had her favorite pew that she loved to sit in.

On April 17, 2008, Elizabeth and other family members, were invited to participate at the Papal Mass, at the Nationals Stadium in Washington, DC. Elizabeth was "Gift Bearer" and was able to walk and meet Pope Benedict XVI face to face. He said "God Bless You" and presented her with a set of blessed Rosary beads from Rome.

On June 16, 2013, Elizabeth and Jackson Holly and other family members, were participants of the Jubilarian Mass, at the Basilica of the National Shrine of the Immaculate Conception in Washington, SC. They celebrated 74 years of marriage with His Eminence Donald Cardinal Wuerl and were Gift Bearers at the Mass.

Elizabeth's favorite pastime was going to BINGO. She would get to the bingo hall early and would look through piles of bingo cards to find cards that had one of her favorite number "0-75", which had to be on one of the corners. As time went on, they later switched over to bingo paper sheets. Truly her luck was much better with the old bingo cards.

She loved getting up very early to go to the yard sales and she would always say, the early bird, gets the worm. If you wait to late honey, all the good stuff would be gone. She enjoyed cooking in her own kitchen where no one else was allowed. She baked homemade cakes, rum balls, yeast rolls, heavenly bread, sour cream cake, pies, cookies and brownies.

She loved flowers and often would go to the market and buy racks of flowers and roses and plant them. After all that is said and done, she would relax after dinner with a Find-a-Word puzzle book. Whether at family gatherings, parties or whenever the mood strike her, if she was feeling fresh she would show you her favorite dance move called "The Mess Around."

Elizabeth leaves to cherish her memories her husband of 75 years, Jackson Holly, loving sons, Joseph, Charles, William, Sr. (Alice), Richard (Rosalee), John Sr. (Cynthia), daughter-in-law Mary Ola Brooks and one loving daughter Anna (Robert). She has 12 grandchildren, 17 great grandchildren and 9 great, great grandchildren, nieces, nephews and a host of cousins and friends.

Elizabeth was preceded in death by her parents Mary Leitha Swailes and Peter Yates; her brother James Franklin Swailes, her sisters Eleanor, Helen, Margaurite and Evangline, two sons Charles A. Brooks, and Thomas E. Holly, one daughter-in-law Cecilia "Pete" Holly and daughter, Baby Girl Holly.

The family will receive friends on Friday, March 27, 2015 from 10:00 Am – 11:00 AM in Our Lady's Catholic Church, Leonardtown, MD. A Mass of Christian Burial will be celebrated at 11:00 AM in Our Lady's Catholic Church with Father John Nguyen officiating. Interment will follow in the church cemetery. Pallbearers will be; James Edward Young, William Holly, Jr., Kevin Wright, Antwain Washington, John Holly, Jr., and Aaron chase.

Honorary Pallbearers will be; Thomas Moseley, Jennifer Moseley, Janet Wright, Elaine Holly, Gertrude Holly, Glenda Holly, Donna Jean Young, Shannon Holly-Washington, Mercedes Holly, Michelle Holly, Nancy Holly, Arielle Holly, Connie Chase, Renee butler and Andre Awkward. The organist and soloist will be William & Sherri Fenwick.

The family would like to thank everyone for their prayers and condolences during our time of bereavement. Special thanks to Alice Holly, Marguerite Barnes, Mamie Mason, Clarence & Ann Marie Thomas, Agnes Fenwick and Grandkids who all helped during this difficult time. Many thanks to Medstar St. Mary's Hospital and Hospice of St. Mary's.

In lieu of flowers, memorial contributions may be made to Hospice of St. Mary's, P.O. Box 625 Leonardtown, MD 20650, or ACTS (A Community That Shares) P.O. Box 54 Bushwood, MD 20618. Arrangements provided by Mattingley-Gardiner Funeral Home.