Bean, Frances Edith
Birth: 1917-05-27 in Hermanville, Maryland
Residence: St. Mary's City, Maryland
Death: Wednesday, November 07, 2012
Laid to Rest: Tuesday, November 13, 2012 in the St. James Catholic Cemetery, Lexington Park, Maryland
Condolences: Click to View or Post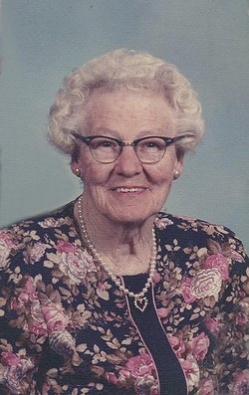 Frances Edith Unkle Bean, 95, of St. Mary's City, passed away peacefully on November 7, 2012 at her daughter's home. She was the wife of the late Stephen Edward Bean who preceded her in death on January 8, 1997. She was an exceptional example of a St. Mary's County farmer's wife.

Edith was born on May 27, 1917 to the late Joseph and Sarah Unkle in Hermanville, MD. She attended Little Flower School and graduated from Great Mills High School in 1936. She and Stephen were married on January 31, 1940 in Holy Face Rectory, Great Mills, MD. They were tenant farmers in Beachville, Jarboesville and Drayden before purchasing their first farm in 1954 in St Mary's City.

Over the years, they raised turkeys, ducks, chickens, pigs and cows. She took pride in caring for her home, cooking 3 full meals a day and sometimes re-enacting the parable of the "loaves and the fishes" as there was always an ample amount of food on hand for all. Tending her vegetable garden and canning and making jams and jellies for her family were just an extension of her farm life tradition. Everything for the family was provided from the farm. She had many friends who were her egg customers when she lived in Drayden and St Mary's City. No one ever went home without taking with them strawberries, tomatoes, string beans or any multitude of other vegetables.

She was a devout Catholic praying her rosary daily. Until recent years, she was an active parishioner of St. James/St Cecilia's Church and enjoyed working at the rummage sales, baking for the bingos and cleaning the church. For several years she worked at the Spring Festivals at St. James Hall. She volunteered at the bake table for the Knights of Columbus monthly dinners.

She delighted in caring for her grandchildren, cooking holiday meals, tending the flower beds that surrounded her home and relaxing on her screened-in porch after a full day on the farm.

Edith is survived by her daughter, Frances Bean Titus, Ridge and son, William Edward (Joyce) Bean, St. Mary's City, grandchildren, Ricky Bean, Linda (Duncan) Lepper, Joan Bean, Jessica (Tim) Snyder and Marsha (Brian) Evans, 2 great-grandchildren, Lydia and Richard Lepper, sister-in-law, Mary Bean Hockman, Olney, MD and special caregivers, Darla Ridgell, Arlene Carter, Salinda Carroll and Jean Cooper-Harmon.

She was predeceased by her daughter-in-law, Joyce (Teany) Bean, son-in-law, Joey Titus, her brothers, Joseph William, Benjamin Osborn, James Wilson, John Roger, Harry Ignatius, Joseph Ralph, and Joseph Frederick Unkle, her sisters Mary, Agnes, and Margaret Unkle. She was the last surviving member of the Joseph Frederick Unkle family.

Family will receive friends for Edith's Life Celebration in St Cecilia's Catholic Church, 47950 Mattapany Road, St. Mary's City, MD on Monday, November 12, 2012 from 5:00 p.m. to 8:00 p.m. with prayers recited at 7:00 p.m. A Mass of Christian Burial will be celebrated on Tuesday, November 13, 2012 at 10:00 a.m. in the Church. Interment will follow in St. James Cemetery.

Serving as pallbearers will be her great-grandson, Richard Lepper and nephews, David Unkle, Brian Unkle, Jimmy Bean, John Bean and Brian Bean.

In lieu of flowers, donations may be made to the Ridge Volunteer Rescue Squad, P.O. Box 456, Ridge, MD 20680, Hospice of St. Mary's, P.O. Box 625, Leonardtown, MD 20650 or St. Cecilia's Food Pantry, P.O. Box 429, St. Mary's City, MD 20686.

Arrangements by the Brinsfield Funeral Home, P.A., Leonardtown, MD.