Dove, Lottie Cecelia
Birth: 1926-11-30 in St. Mary's City, Maryland
Residence: Park Hall, Maryland
Death: Monday, September 30, 2013
Laid to Rest: Monday, October 07, 2013 in the Park Hall True Holiness Church Cemetery, Park Hall, Maryland
Condolences: Click to View or Post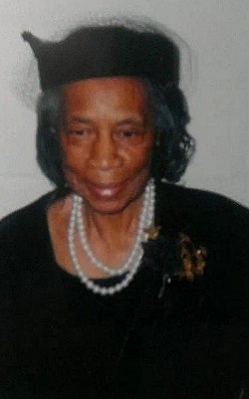 Lottie Cecelia Dove, 86 of Park Hall, MD passed away on September 30, 2013 at her residence. Born November 30, 1926 in St. Mary's City, MD, she was the daughter of the late James Cornelius Courtney and Julia Dorothy Goldring Courtney.

Mrs. Dove was the wife of the late Charles E. Dove whom she was married to for 44 years he preceded her in death on April 3, 1988.

She is survived by her children; Mary Spence, Barbara (William) Ford, James (Glendora) Dove, Sr., Agnes Maddox, Dale Thomas, Joyce (Mark) Harper, Mitchell Dove, and Michelle (Jim) Ellis all of Lexington Park, MD, Hazel (Lloyd) Copes of Virginia Beach, VA, Timothy Dove of Lusby, MD, and Glenn (Julie) Dove of Park Hall, MD, siblings; Annie Fenwick of Lexington Park, MD, Margaret (Joseph) Kelly of Park Hall, MD, and Agnes (Robert) Thomas of Delaware, MD, also survived by 36 grandchildren, 83 great-grandchildren, and 25 great-great-grandchildren, Godchildren; Jeremiah Kelly, Kisha Brooks.

In addition to her husband and parents Mrs. Dove was preceded in death by her siblings; Cornelius, Andrew, Frank, Columbus, and Clyde Courtney, Mary Smith, and Doris Ratchford, Godchildren; James Brown, Jr., and Jean Woods.

Lottie was a lifelong resident of St. Mary's County, she was a homemaker, Lottie was Head of Pastor Aide under 3 pastors, the late Bishop John Clifton, the late Pastor Richard Sawyer, and Pastor Phillip Spence, Sr. She was President of the Senior Choir, Vice President of the Spirit of Youth Choir, she was on the church Kitchen committee for numerous years until her health failed her. Lottie enjoyed singing praises to the Lord, her favorite hymns were; Put Your Time In, Little Wheel Turning, Count your Blessings and God is So Good, she enjoyed cooking fried chicken and rice, spending time with her children and grandchildren (5 generations), she also helped in raising 5 grandchildren, Pastor Phillip Spence, Sr., Patricia Dove, Terrence Thomas, Cheryl Nelson, and Milton Dove.

A special thanks to Hospice, her loving caregivers, Carlene Hail, and Theophia Kentish, and all her many friends and loved ones who visited.

Lottie Dove was a faithful member of Park Hall True Holiness Church in Park Hall, MD.

The family will receive friends on Monday, October 7, 2013 from 10:00AM to 11:00AM in Park Hall True Holiness Church where a Funeral Service will be held at 11:00AM with Pastor Phillip Spence, Sr. officiating. Interment will follow in the church cemetery. Pallbearers will be: Kendol Dove, Travis Butler, Vernon Hughes, Thomas Briscoe, Jr., Randy Brooks, Jr., and William Dove. Honorary pallbearers will be: Phillip Spence, Jr., Glenn Dove, James Dove, Jr., Jim Ellis, Roddie Rogers, Mark Harper, Mitchell Dove, and Timothy Dove, Jr.

Family and friends are welcome to the repass afterwards in the Bay District Vol. Fire Department Social Hall 46900 South Shangri Ln. Drive, Lexington Park, MD 20653.

Arrangements were provided by the Mattingley-Gardiner Funeral Home, P.A., Leonardtown, MD.