Burgess, John Alton
Birth: 1932-01-12 in Washington, DC
Residence: La Plata, Maryland
Death: Monday, July 09, 2012
Laid to Rest: Monday, July 16, 2012 in the Maryland Veterans Cemetery, Cheltenham, Maryland
Condolences: Click to View or Post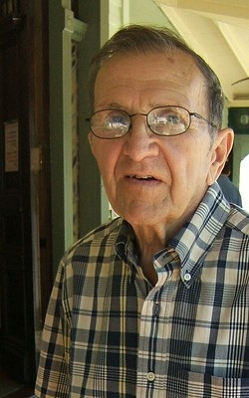 John Alton "Skip" Burgess, 80, of La Plata, MD, passed away at Charlotte Hall Veterans Home on July 9, 2012. Born January 12, 1932 in Washington, DC, he was the son of the late Brainard Recker Burgess and the late Lavinia Annie (Reinburg) Burgess. Skip lived in La Plata for 4 years.

He served in the Navy from 1951-1955 as a Gunner's Mate Second Class. He retired after many years working as a lithographer for Colortone Press. Skip enjoyed hunting, fishing, camping, and woodworking.

In addition to his parents, he was preceded in death by his brothers, William York Burgess, and Brainard Recker Burgess; and his sister, Evelyn Louise Williams.

Skip is survived by his loving wife, Dolores Stokes Burgess of La Plata, MD; his sons, David Alan Burgess (Kathleen) of La Plata, MD, and Kenneth Wayne Burgess (Krystene) of La Plata, MD; his brother, Robert Blair Burgess (Dot) of Berlin, MD; his sister, JoAnn Shepherd (Carl) of Issue, MD; his 4 grandchildren, Bradley (Karen) Burgess and Daniel (Marie) Burgess, Samantha (Joshua) Borzi-Hedges, and Shelby Burgess; his 2 great-grandchildren, Cameron Oakjones Friel and Harvey Burgess; and his 3 sisters-in-law, Audrey Bello of Tall Timbers, MD, Constance Miller of Owings, MD, and Laura Burgess of Ocean City, MD; and Zella Crinigan of St. Leonard, MD.

In Lieu of Flowers, Memorial Contributions may be made to the Alzheimer's Association of Southern Maryland (Alzheimer's Association National Capital Area Chapter, 3701 Pender Drive, Suite 400, Fairfax, VA 22030) or the Charlotte Hall Veterans Home (29449 Charlotte Hall Road, Charlotte Hall, MD 20622).

The Family will receive friends for Skip's gathering on Monday, July 16, 2012 from 10:30am - 12:00pm at Christ Episcopal Church, 112 East Charles Street, La Plata, MD 20646. A Memorial Service will follow at 12:00 Noon at the Church. Inurnment will be at Maryland Veteran's Cemetery in Cheltenham, MD at 2:00 PM.

Arrangements are being handled by Brinsfield-Echols Funeral Home, P.A.