Simpson, William H., Sr.
Birth: 1935-02-27 in Washington, DC
Residence: Mechanicsville, Maryland
Death: Friday, September 28, 2012
Laid to Rest: Friday, October 05, 2012 in the Queen of Peace Cemetery, Helen, Maryland
Condolences: Click to View or Post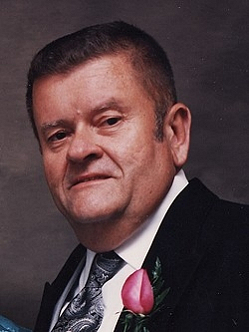 William "Billy" Hill Simpson, 77 of Mechanicsville, MD passed away on September 28, in Washington, DC. Born February 27, 1935 in Washington, DC he was the son of the late Ida Marie Hill Simpson and Lewis Wilson Simpson.

In addition to his parents Billy was preceded in death by his wife Elvie Mae "Teeny" Russell Simpson, whom he married on June 9, 1962 in Immaculate Conception Catholic Church.

Billy is survived by his children: William Hill Simpson, Jr. (Patricia) of Birmingham, AL, Patricia Ellen Simpson of Mechanicsville, MD, and Lori Anne Shupe (Edward) of King George, VA, grandchildren: Cecilia Simpson, Garrett Shupe, and William H. Simpson, III, and his good friend Betty Lou Bozes.

Billy worked for Southern Maryland Oil (SMO) for 38 years, primarily as General Manager of Partco Auto Parts after starting his career as a Fuel Oil Delivery Man. During that time, he also served as President and was on the Board of Directors of the Chesapeake Automotive Wholesalers Association (CAWA).

After retiring from SMO, he worked for the Circuit Court of St. Mary's County from 2003 until the time of his death, serving as Chief Bailiff for the Honorable Michael J. Stamm. Billy was also very active in his community and known as the "Mayor of Mechanicsville." He was a loyal and dedicated member of the Mechanicsville Volunteer Fire Department for 62 years, serving in every officer role possible, but most notably as Chief, President for 13 years, and was currently serving on the Board of Directors, a role he has held since 1984. For his service, Billy was awarded Life Membership, and was also inducted as a member of the Southern Maryland Volunteer Fireman's Association Hall of Fame.

Billy was also a Charter Member of the Mechanicsville Rescue Squad in 1959 and served as Vice President and Treasurer for several years. He was a man of strong faith and was a lifelong member of Immaculate Conception Church, serving for a time as President of the Home School Association for Mother Catherine Spalding School. Billy enjoyed duck hunting and was a loyal Washington Redskins fan. He was a Redskin season ticket holder for over 40 years, attending games with his wife Teeny, and good friends Bobby and Phyllis Burroughs, and Al and Micie Guy.

The family will receive friends on Thursday, October 4, 2012 from 5:00PM to 8:00PM with prayers recited at 7:00PM and Firemen's prayers at 7:15Pm in the Mattingley-Gardiner Funeral Home, Leonardtown, MD. A Mass of Christian burial will be celebrated on Friday, October 5, 2012 at 10:00AM in Immaculate Conception Catholic Church with Father Peter Alliata officiating. Interment will follow in Queen of Peace Cemetery. Pallbearers will be: Bobby Burroughs, Larry Greenwell, Sonny Hill, Andy McWilliams, Al Raley, and Willie Wilkerson. Honorary pallbearers will be: Buddy Adams, Guy Cooksey, George Allen Hayden, Jimmy Burroughs, Dan Raley, and Mike Stamm.

Memorial contributions may be made to the Mechanicsville Volunteer Rescue Squad, P.O. Box 15, Mechanicsville, MD 20659.

Arrangements provided by Mattingley-Gardiner Funeral Home.