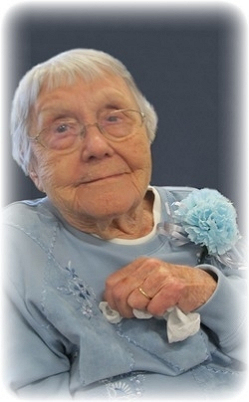 Mildred Pope Lindner, 102, of Leonardtown, MD died on June 10, 2015 at her residence. Born on September 20, 1912, in Collins, MS she was the daughter of the late Elma Polk Pope and Oliver Clifton Pope.

On April 3, 1961, she married the love of her life, Gordon Lindner. They moved to Hollywood where Mildred resided more than half of her life. They enjoyed the water, gardening, friends and stimulating discussions. After Gordon's death in 1981, Mildred maintained their home until 2007 when she moved to Cedar Lane.

Mildred was valedictorian of the class of 1930 at the Collins, MS High School. She attended Georgetown University and graduated from the Mississippi University for Women in 1936.

Mildred taught school in Mississippi and Tennessee before moving to Washington, D.C. in 1940. She worked for Fannie Mae, the General Accounting Office and the Bureau of Ships. She was responsible for budgets, and cost projections on major projects throughout her career.

Mildred was a voracious reader throughout her life. She enjoyed hiking and was a member of the Appalachian Trail Hiking Club from the 1940s. She hiked the Appalachian Trail from Washington to northern Pennsylvania. She traveled extensively, visiting England, Norway, and Sweden. She loved to garden and raised more than 160 varieties of azaleas from slips to maturity. Each spring, her brilliant display of azaleas brought joy to her and many others.

Mildred is survived by many nieces, nephews, great nieces, great nephews and friends. In addition to her parents and husband, she is also preceded in death by her sisters, Ina Lee Jorgensen, Marie Pope and Susan McCrary and her brother, Thomas Frederick Pope.

A Funeral Service will be celebrated by Reverend Sheldon Reese on Monday, June 15, 2015 at 10 a.m. at Joy Chapel Church, Hollywood, MD 20636. Interment will immediately follow. In lieu of flowers, please make donations to the Mississippi University for Women, 11 College Street, Columbus, MS 39701 or Hollywood Volunteer Rescue Squad, Post Office Box 79, Hollywood, MD 20636. Arrangements by the Brinsfield Funeral Home, P.A.