Guyther, Elizabeth Tyrie
Birth: 1921-09-05 in Cockeysville, Maryland
Residence: Mechanicsville, Maryland
Death: Friday, March 29, 2013
Laid to Rest: Wednesday, April 03, 2013 in the Queen of Peace Cemetery, Helen, Maryland
Condolences: Click to View or Post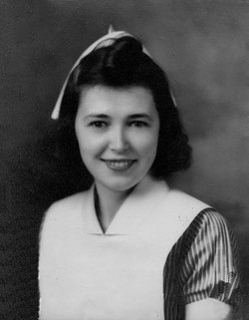 Elizabeth Tyrie "Liddy" Guyther, 91, of Mechanicsville died March 29, 2013, at St. Mary's Nursing Center in Leonardtown. She was born September 5, 1921, in Cockeysville, Maryland. She was the daughter of the late Robert and Bessie Mill Tyrie.

She graduated from Mercy Hospital School of Nursing in 1943. She worked at Mercy Hospital and a private medical practice in Baltimore.

She is survived by and has been married to Dr. Joseph Roy Guyther MD for 69 years. They were married in Baltimore on December 27, 1943. Liddy dedicated her life assisting her husband in his medical practice and raising two children.

She is survived by her daughter, Kathlyn Guyther Logan, of Kennebunk, Maine, and her son Joseph R. Guyther, Jr. (and wife Rose) of Mechanicsville, Md. She is also survived by her grandchildren, Deirdre Logan (and husband Adam Berinsky) of Cambridge, Massachusetts; Scott Logan (and wife Carrie) of Yarmouth, Maine; Dana Guyther (and fiancé Shelley Robinson) of Baltimore; and Blake Guyther (and wife Kathleen) of North Potomac, Md. She is survived by six great-grandchildren - Benjamin Berinsky, Lila Berinsky, Selwyn Logan, Everett Logan, Nicholas Guyther, and Abigail Guyther. She is also survived by eight nieces and nephews.

She was preceded in death by her sisters, Mary Louise Guyther of Baltimore, and Majorie Tyrie of Cockeysville, Md.

She was a devoted wife, mother, and sister. She enjoyed cooking for family and maintaining a warm household for her husband and children. She loved to travel and has been to many states, including Alaska and Hawaii, and other countries such as Bermuda, Norway, Denmark, Sweden, China, Germany, Holland, England, Ireland, France, Switzerland, Austria, Italy, Mexico, and Canada. She was an member of the Ladies of Charity at Immaculate Conception Church in Mechanicsville. She also loved playing bridge with close friends.

The family will receive friends for Liddy's Life Celebration on Tuesday, April 2, 2013 from 5 to 8 p.m. at Brinsfield Funeral Home, 22955 Hollywood Road, Leonardtown, MD with prayers recited at 7 p.m. A Mass of Christian Burial will be celebrated Wednesday, April 3, at 11 a.m. at Immaculate Conception Church in Mechanicsville by Rev. Keith Woods assisted by Rev. Peter Alliata. Interment will follow at St. Mary's Queen of Peace Cemetery in Helen, MD.

The family thanks Saint Mary's Nursing Center and the staff for providing Liddy their devoted attention and care over the last three years.

Memorial contributions may be made to the Foundation of St. Mary's Nursing Center, 21585 Peabody Street, Leonardtown, MD 20650.

Arrangements provided by Brinsfield Funeral Home.