Lyles, Frederick Archie Dell
Birth: 1934-02-22 in Port Tobacco, Maryland
Death: Thursday, December 19, 2013
Laid to Rest: Saturday, December 28, 2013 in the Sacred Heart Catholic Church Cemetery, La Plata, Maryland
Condolences: Click to View or Post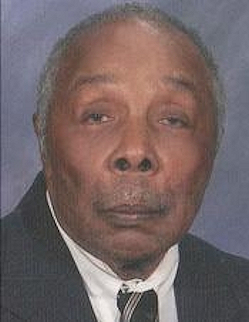 Frederick Archie Dell Lyles (Freddy) was born on February 22, 1934 in Port Tobacco, Maryland to the late Frederick Archie Lyles and Dorothy Eleanor Winters, and was baptized in the Catholic faith. He was a life-long parishioner of Sacred Heart Catholic Church, La Plata, Maryland. Frederick married Mary Eleanore Coates in 1954, and shared 59 joyful years together until his departure on December 19, 2013.

In addition to his parents, he was preceded in death by his daughter Wanda Lyles; siblings Dorothy Wheeler, James Lyles, Mary Eleanor Douglas, Randolph Lyles; son-in-law Randy Perrin; In-laws Mary Lucille Lyles, Francis Wheeler, Mary Helen Lyles, Jeremiah Mason, Francis Spriggs, Annie Hurd, and James Hurd.

In addition to his wife, he is survived by his children - Gertrude 'Trudy', Leroy 'Sonny', Mary 'Tina' Perrin, Sussie Lee, Frederick Archie, and Yola; 10 additional children - John Bean, Michael Bean, Jeffery Williams, Mary Rita Lyles, Inez Wells, Gloria Campbell, Lasata Brown Ball, Butch Chesley, Joy Butler, and Bruce Fitzgerald; his daughter-in-law Cheryl Lyles, his son-in-law Eric Lee Sr, his siblings Leroy, Mamie Mason, Lawrence, Jerome, and Loretta Coombs; his in-laws Frances Lyles, Bill Douglas, Barbara Lyles, Benjamin Coates (Mary Veronica), and Shirley Spriggs; grandchildren Joseph Dorsey, Derrick Perrin, Eric Lee Jr, Jerrold Lee, Andrew Lee, Jonathan Lyles, and Ashley Lyles; 12 great grandchildren; and a host of family and friends.

Freddy was educated in the Charles County Public School System. He started his life as a tobacco farmer, then as a construction worker he helped build the old La Plata Post Office and the current Sacred Heart Church; and finally as a truck driver/laborer for Washington Suburban Sanitary Commission until his retirement in June 1995.

Family was very important to Freddy. He had many kinds of family: his extended family, WSSC family, and the neighborhood family. As a member of these different family, Freddie would check on elderly members and run errands, clearing the snow from driveways during the winter, listen to their problems and sometimes providing housing if needed. He loved gospel music, watching cowboy movies, his Ford truck and John Deere tractor. With his own hands, he built several sheds in the neighborhood and a concrete water trap to control the rain runoff. After his retirement, he spent his time fixing the houses of his children, watching CNN news, reading the local paper, visiting friends, gardening, cooking at the T&J Bar-B-Que Pit with Vincent, and spoiling his grandchildren.

He was also the driving force behind the Lyles Family Reunion which started in 1986, and has faithfully attended every planning meeting and reunion.

His viewing will be held from 9:30am until Mass of Christian Burial 11:00am on Saturday, December 28th at Sacred Heart Catholic Church, 201 St. Mary's Avenue, La Plata, MD. Interment Church Cemetery.

Arrangements entrusted to Thornton Funeral Home, P.A., Indian Head, MD.