Thompson, Mildred Leonora
Birth: 1922-04-03
Residence: Indian Head, Maryland
Death: Sunday, February 24, 2013
Laid to Rest: Tuesday, March 05, 2013 in the Metropolitan United Methodist Church Cemetery, Indian Head, Maryland
Condolences: Click to View or Post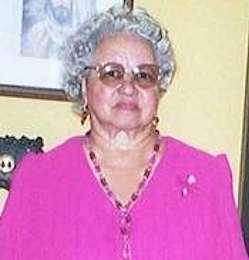 Thompson, Mildred Lenora (Age 90) of Indian Head (Pomonkey), Maryland.

Mildred Lenora Thompson, was born on April 3, 1922, to the late William H. and Thelery A. Thompson. She went to be with the Lord on Sunday, February 24, 2013 at Fort Washington Medical Center in Fort Washington, Maryland.

Mildred was educated in the Charles County School System, where she graduated from Pomonkey High School. Shortly after graduation she moved to Brooklyn, New York, where she started her employment with the telephone company as a 911 operator. While there she met and married James Thompson on April 12, 1965. They were married 31 years before he passed. Mildred moved back to Maryland in 1975, where she continued her employment with the C&P telephone company, until she retired.

Mildred joined the Metropolitan United Methodist Church at an early age and continued to attend until her health failed. Mildred loved to do arts and crafts, bowl, fish and crab at Eagle Harbor, and go to the casino. She also enjoyed going to the Indian Head Senior Center, where she would teach others her arts and crafts.

She will definitely be missed for telling jokes and stories and keeping everyone within ear shot in stitches.

Mildred leaves to cherish her memory one sister, Pearl Furey, adopted daughter, Thelery Mack, son-in-law Melvin Mack, two granddaughters, Kimberly and Adrienne Mack, three great grandchildren, Alantre', Tre'Nique and De-Jahn Mack. Her devoted Godson, who was like a son to her, Vaughn Potter, God daughter, Sheila Swann, niece who was like a daughter and her care giver, Roberta Gladden; two sisters-in-law, Elvira Thompson and Connie Thompson, best friend, Dorothy Huguley and a host of nieces, nephews, other relatives and friends.

Viewing, 10am until time of Service, 11am, Tuesday, March 5, 2013 at Metropolitan United Methodist Church, 3385 Metropolitan Church Road, Indian Head, Maryland. Interment, Church Cemetery.

Arrangements, THORNTON Funeral Home, P.A., Indian Head, Maryland.