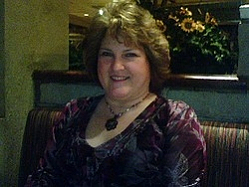 Jennifer "Jenny" Ann Yates, 49, of Clements, MD passed away on June 19, 2013 in Clements, MD. Born on June 6, 1964 in Leonardtown, MD, she was the daughter of the late Joseph Lewis Yates, Jr., and Claudia Abell Guy Yates.

Jenny is survived by her siblings; Robert Francis Merson (Debbie) of Charlotte Hall, MD., John Dale Yates (Brenda) and Lewis Guy Yates (Missy) both of Clements, MD.

Jenny is preceded in death by her sister Claudia Lynn Burroughs, and brother Frederick Eugene Merson.

Jenny graduated from Chopticon High School Morganza, MD in 1982, and worked as a Management Analyst for Eagle Systems.

Jenny loved animals, especially her 4 legged children; Whickers, Clinger, Gray Boy, Kiki, Penelope, Lilly, Rusty, and Sabella. She was very active in the women's pool league and softball for many years. Her passions were scrabble and yahtzee on a cold winter day, a good game of pitch, occasional poker, and always bingo. She loved to bake and was widely known in her family for her fabulous rum cake. She enjoyed watching NASCAR, and the Washington Nationals; but above all else, she loved spending time with her family and friends.

The family will receive friends on Monday, June 24, 2013 from 5:00 PM – 8:00 PM with prayers recited at 7:00 PM in the Mattingley-Gardiner Funeral Home Leonardtown, MD. A Mass of Christian Burial will be celebrated on Tuesday, June 25, 2013 at 10:00 AM in St. Joseph's Catholic Church, Morganza, MD with Father Keith Woods officiating. Interment will be private. Pallbearers will be; David Burroughs, Todd Merson, Derek Merson (God Child), Tyler Yates, Shane Burroughs, and Michael Raley. Honorary Pallbearers will be; Luanne Raley, Michelle Merson, Duane Merson, Missy Merson, Gina Merson, Jessie Shunnarah, Jonathan Yates, Shannon Yates (God Child), Samantha Dodge, Breanna Dodge, Brianna Burroughs, Ally Raley, Anna Merson, Abby Merson, Jameliah Shunnarah, Layla Shunnarah, and Kyra Shannon.

Arrangements provided by Mattingley-Gardiner Funeral Home, Leonardtown, MD.