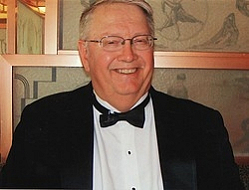 Larry Eugene Taborek, 59, of Clements, MD, went home to the Lord on Friday, August 29, 2014, surrounded by his loved ones at John Hopkins Kimmel Cancer Center, Baltimore, MD after a courageously fought battle with leukemia.

Larry was born on September 21, 1954 in Great Falls, Montana to the late Frank and Frances Taborek. He enjoyed growing up in the "Big Sky Country" and exploring the great outdoors until he joined the Navy at age 19. He later returned to Great Falls, MT and attended a Catholic college where he obtained an Associate's degree in computer science. He later moved to Northern VA, where he pursued work in his career field of computers and information technology.

Larry married his soul mate, Frances (Yates) Taborek on April 25, 1987. They were blessed with 27 years of marriage and were proud parents to their beloved son, Alex. Larry was also a cherished God-father, uncle, brother, mentor and friend to all those who knew and loved him.

Larry is survived by his wife, Frances (Yates) Taborek, son, Alex Taborek, Brothers, Ed Taborek of Springfield, VA, Joe Taborek of Huntersville, North Carolina, Steve (Vicki) Taborek of Chanhassen, Minnesota, and sisters, Peggy Scroggins (Mike) of Cataula, Georgia, Barbara (Dan) Majerus of Columbus, Montana and MaryLou Shelton of DeQueen, Arkansas, and numerous God children, nephews, nieces and treasured friends. Larry was predeceased by his parents and sister Karen Taborek and sister-in-law, Myra Taborek.

Larry was employed by Sabre Systems, Inc. for 16 years providing computer systems administration for the Atlantic Test Range at the Naval Air Station, Patuxent River, MD and prior to that worked four years at DTC supporting the Test and Evaluation Community Network (TECNET) for the Department of Defense as well as other contractors in the Northern VA area. Larry also honorably served in the United States Navy from 1974 through 1978 as a gunfire control technician towards the end of the Vietnam War.

Larry loved spending time with family and friends. His personal interests included reading, camping, and sailing. He likewise enjoyed traveling and vacationing with family, especially beach vacations. Larry's expertise in "all things computers" led to him being called upon often by family and friends to help troubleshoot. He was always eager to help. He and son, Alex shared a common interest in learning to play guitar. Larry also looked forward to the time spent being Alex's Scout troop leader. Astronomy was yet another of Larry's favorite pastimes and he was an active member of the Southern Maryland Astronomical Society.

Larry was an active member of St. Joseph's Catholic Church, Morganza, MD and enjoyed singing in the church choir and participating in bible studies. Larry loved sharing his Catholic faith and in doing so he touched many lives. He enjoyed blogging on the Internet as a forum for sharing his faith and sometimes spent hours researching information to share on these blogs, helping people gain a deeper understanding of their own Catholic beliefs. Larry had incredible faith and was an amazing man of God.

The family will receive friends on Tuesday, September 2, 2014 from 5:00 PM – 8:00 PM with prayers recited at 7:00 PM in the Mattingly-Gardiner Funeral Home, Leonardtown, MD. A Mass of Christian Burial will be celebrated at St. Joseph's Catholic Church, Morganza, MD, on Wednesday, September 3, 2014 at 10:00 AM with Father Keith Woods officiating. Interment will follow at Charles Memorial Gardens, Leonardtown, MD. Pallbearers are nephews Ken Taborek, Phil Taborek, Lucas Taborek, Tom Taborek, Joe Taborek and Dillon Yates.

The family asks that memorial contributions be made to American Cancer Society in Memory of Larry Taborek. Mail to 7500 Greenway Center Drive, Suite 300, Greenbelt, MD 20770 (or) Hospice of St. Mary's, P.O. Box 625, Leonardtown, MD 20650.

Arrangements provided by Mattingley-Gardiner Funeral Home, Leonardtown, MD.