Wycoff, Stephen Robert
Birth: 1973-11-15 in Phoenix, Arizona
Residence: California, Maryland
Death: Saturday, September 29, 2012
Laid to Rest: Friday, October 05, 2012 in the Maryland Veterans Cemetery, Cheltenham, Maryland
Condolences: Click to View or Post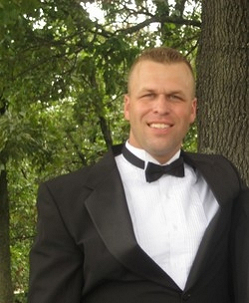 Stephen Robert Wycoff, 38, of California, MD, passed away September 29, 2012. He was born November 15, 1973 in Phoenix, AZ to Albert Bradley Wycoff of California, MD and the late Kathleen Louella Grosse.

Stephen grew up in a Christian home in Colorado, and after graduating high school proudly joined the Army on September 11, 1992 and was honorably discharged on July 12, 1995. Stephen's primary duty was serving the families of our nation's fallen heroes at Arlington National Cemetery while part of the 1st Battalion, 3rd Infantry Regiment (the Old Guard). He served with distinction and earned several medals, including the Army Commendation Medal, Army Achievement Medal (4th Award), Army Superior Unit Award, Good Conduct Medal, and the National Defense Service Medal. He also earned the Army Service Ribbon, Expert Infantryman Badge, Parachutist Badge, and Air Assault Badge.

After his army service, Stephen graduated from Chipola College in Marianna, FL where he earned an Associate of Arts Degree. He was currently employed with Wal-Mart in California, MD as an Inventory Associate. Stephen was a Christian who was active in church and he loved memorizing Bible verses as well as singing and playing hymns on the piano. Stephen also had many hobbies and was an avid outdoorsman. He especially loved hiking, star gazing, working out, and studying martial arts.

In addition to his father, Stephen is survived by his siblings, Bert Wycoff (Lisa) of Larkspur, CO, Marissa Laird (Chad) of California, MD, Tim Wycoff (Elizabeth) of Concord, CA, and Katey Laird (Bret) of Santa Clarita, CA; and many nieces and nephews.

In addition to his mother, Stephen was preceded in death by his grandparents, Robert and Mary Emma Grosse, and Ab and Lily Jo Wycoff.

The family will receive friends on Thursday, October 4, 2012, from 5:00 PM to 7:00 PM at the Brinsfield Funeral Home, 22955 Hollywood Road, Leonardtown, MD 20650. Our beloved Steve will be buried on Friday, October 5, 2012 at 11:00 AM at the Maryland Veterans Cemetery, 11301 Crain Highway, Cheltenham, MD 20623. A Memorial Service will be held on Saturday, October 6, 2012 at 10:00 AM at Leonardtown Baptist Church, 23520 Hollywood Road, Leonardtown, MD 20650.

"Listen, I tell you a mystery: We will not all sleep, but we will all be changed- in a flash, in the twinkling of an eye, at the last trumpet. For the trumpet will sound, the dead will be raised imperishable, and we will be changed." - 1 Corinthians 15:51-52

Memorial contributions may be made to Truth Bible Church, 23725 Three Notch Road, Suite 201, Hollywood, MD 20636; www.truthbiblechurch.com

Arrangements by the Brinsfield Funeral Home, P.A., Leonardtown, MD.