Schmitz, Gerald Donald
Birth: 1956-05-18 in Springfield, Massachusetts
Residence: Owings, Maryland
Death: Friday, November 22, 2013
Condolences: Click to View or Post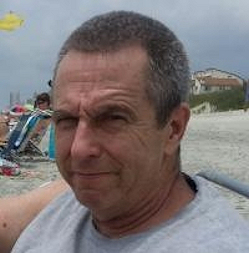 Gerard D. Schmitz, age 57, of Owings, Maryland and Roanoke, Texas, suddenly passed away Friday, November 22, 2013 while on business in Queretaro, Mexico. He was born on May 18, 1956 to the late Donald and Ellen Schmitz.

Gerard was born in Springfield, Massachusetts, one of seven children. Gerard graduated from Frederick Douglass High School, Upper Marlboro, Maryland in 1974. He retired from IBM after 29 years of service and began working with Citibank.

Gerard loved his family, his children, Christopher and Allison, his granddaughters, Ava and Reese, and his brothers and sisters. He loved being with his family, especially at the many family summer cookouts, chili cook-offs, camping trips, playing basketball and watching the Baltimore Ravens.

He is survived by his wife, Joanna of Owings, Maryland; children, Christopher and Allison Schmitz; stepdaughters Jessica Buckwalter, her daughter Ava, Amy Whittington, her daughter, Reese, and Sarah Buckwalter; brothers James Schmitz (Concetta) of Huntingtown, Maryland, and Peter Schmitz (Dawn) of Trumbull, Connecticut; Sisters Donna Diggs (Paul) of Frederick, Maryland, Ellen Munro of Odenton, Maryland, Ann Garner (Jeffery) of West River, Maryland, and Carolyn Symalla (Thomas) of Belair, Maryland and many nieces and nephews.

Memorial contributions may be made to the American Heart Assoc/American Stroke Assoc., 4217 Park Place Court, Glen Allen, VA 23060-9979. Arrangements provided by Lee Funeral Home.