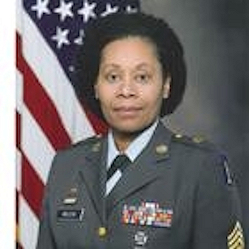 Sergeant Major Debra J. Wilcox was born in Jacksonville, Florida. She volunteered for the U.S. Army and took the oath of enlistment on 19 August 1979 and subsequently completed Basic Training and Advanced Individual Training at Fort Jackson, South Carolina. She completed 35 years, 9 months, 19 days of service.

Her past assignments include Information Management Specialist, Joint Staff, DOM; Administrative Sergeant, Defense Intelligence Agency; Command Sergeant Major, 436th Transportation Command; Command Sergeant Major, 3/318th MP OSUT; student at the U.S. Army Sergeants Major Academy, Ft Bliss, Texas; Administrative NCO, J-5; Training Chief Instructor, HQ/6/80th DIV; NCOIC DCSPER, 5115th Garrison Support Unit; Force Management NCO, 97th ARCOM; PAB NCOIC, 318th Reception Battalion; Test Administrator, MEPS Los Angeles; Mail Clerk, Fort Rucker, AL; Administrative Specialist, 43rd USA Artillery Detachment, Germany.

Sergeant Major Wilcox's military and civilian education includes Primary Leadership Development Course, Basic and Advance Noncommissioned Officer Course, Personnel, Administrative, and Training Management Courses, a graduate of the Sergeants Major Academy. SGM completed a double Masters in Interdisciplinary Studies and an MBA Degree followed with a number of Graduate Certificates.

Her awards and decorations include the Defense Meritorious Service Medal (1st OLC), Army Commendation Medal, Joint Service Achievement Medal (3rd OLC) , Army Achievement Medal (4th OLC), Army Good Conduct Medal, National Defense Service Medal (w/Bronze Star), Global War on Terrorism Service Medal, Armed Forces Reserve Medal (w/M, Silver H), NCO Professional Development Ribbon (w/ Numeral 4), and the Overseas Service Ribbon. As twice the Citizen Debra's civilian work includes working at The Aerospace Corporation, Defense Finance and Accounting Service, and the Department of the Army Inspector General Agency.

Sergeant Major Wilcox is survived by her mother Jean Walker, two sisters Cheryl Adams, Deandrous Wilcox; four brothers George Wilcox, Anthony Wilcox, Vaughn Wilcox, Joe Walker; Aunties; many cousins Angela, Joy, nieces and nephews, great nieces and nephews, and friend John Jackson.

Visitation and Service will be held in the Chapel of Thornton Funeral Home, P.A., 3439 Livingston Road, Indian Head, Maryland 20640. Interment, Arlington National Cemetery, Arlington, Virginia 22211. Arrangements provided by Thornton Funeral Home.