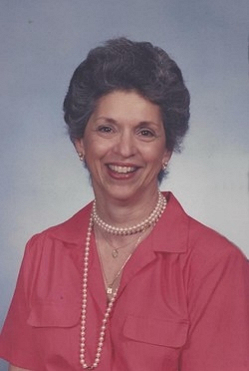 Arlene Candela Cullins, 79, of Clements, MD died January 29, 2014 at her residence surrounded by her loving family. Born November 27, 1934 in Brooklyn, NY she was the daughter of the late Dr. Pompeo Benjamin Candela and Gwendolen "Cormack" Candela.

Arlene was voted St. Mary's County Fair Queen of Tolerance in 1951 and graduated from St. Mary's Academy in 1952. On October 24, 1953, she married her husband of 60 years, William Russell "Russ" Cullins, Jr.

Arlene spent her life volunteering and helping others. She was always happy to help anyone in their time of need. She was a volunteer at Birthright/CareNet of Southern Maryland and the St. Mary's County Right to Life for thirty years. She was a 4-H All Star Leader for forty five years and participated as a judge at the St. Mary's County Fair. She was a member of the St. Mary's County Literacy Council and tutored at the local jail and in the community. Arlene also volunteered at St. Mary's Hospital for several years.

Arlene had a very strong faith and devoted her life to her family and the Catholic Church. She enjoyed attending daily Mass and participating in church prayer groups. For twenty five years Arlene was a participant in the annual March for Life in Washington, DC. She was very active in all aspects of Sacred Heart Church. She served as lector, cleaned the church, worked in the gift store and always helped at the church dinners. When her children attended Holy Angels Sacred Heart School, Arlene volunteered her time whenever it was needed.

Arlene is survived by her husband, Russ Cullins; children, Cathy Zuza (Jack) of Pittsburgh, PA, Bill Cullins (Sharon) of Clements, MD, David Cullins (Anne Mary) of Clements, MD, Betsey Roy of Bar Mills, ME, Maureen LaMoria (Jerry) of Portland, ME, Tim Cullins (Sally) of Clements, MD, Anne Davis (Wayne) of Leonardtown, MD, Chris Cullins (Lynn) of Mechanicsville, MD; twenty two grandchildren; ten great grandchildren; and siblings, Marianne Stone of Hogansville, GA and Jack Candela (Mary Ada) of Leonardtown, MD. She was preceded in death by her grandson, Patrick Zuza.

Family will receive friends for Arlene's Life Celebration on Sunday, February 2, 2014 from 2:00 p.m. until 6:00 p.m. at the Brinsfield Funeral Home, 22955 Hollywood Road, Leonardtown, MD 20650. Prayers will be recited at 5:00 p.m. followed by Optimist prayers. A Mass of Christian Burial will be celebrated by Reverend Charles Cortinovis on Monday, February 3, 2014 at 11:00 a.m. at Sacred Heart Church, 23080 Maddox Road, Bushwood, MD 20618. Interment will follow in the church cemetery.

Serving as pallbearers will be her grandchildren, Jeremy Burns, Josh McLeod, Sean Zuza, Brian LaMoria, David Cullins, Jr., Brandon Cullins, Paul Roy, Gregory LaMoria, Christopher Cullins and Mark Cullins. Serving as honorary pallbearers will be the Seventh District Optimist Club.

Memorial contributions may be made to Birthright/CareNet of Southern Maryland, P.O. Box 633, Governmental Center, Leonardtown, MD 20650 or Hospice of St. Mary's, P.O. Box 625, Leonardtown, MD 20650.

Arrangements by the Brinsfield Funeral Home, P.A., Leonardtown, MD.