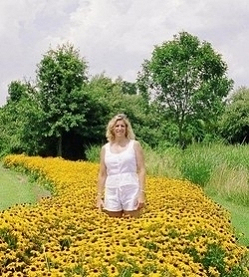 Kimberley Ann "Kim" Rubala Cullins, 55, of Mechanicsville, MD has left behind a widely-known legacy of joy, love and laughter. She passed away on Friday, February 20, 2015, surrounded by family, her favorite jazz tunes, and the warm thoughts of her many friends.

Born on February 27, 1959 in Denver, CO to the late Mike and Phyllis (Lomicka) Rubala, she was adopted by her loving aunt Marjorie and [late] uncle Frank Rubala and raised in Mechanicsville, MD.

In her professional life, Kim was a dedicated employee and advocate of St. Mary's County, serving as marketing specialist for the Museum Division of its Department of Recreation and Parks for the past 14 years. Her most treasured accomplishment was the creation of the Potomac Jazz & Seafood Festival, hosted annually at the St. Clements Island Museum and drawing thousands of supporters and world-class jazz acts since 2001. Many will also recall her planning and first-hand involvement in various museum fundraisers, including her celebrated recurring role as "Daphne DiMarco" in the annual Interactive Murder Mystery Dinner.

In 2013, Kim was named St. Mary's County Administrative Employee of the Year. She was also an active member of the St. Mary's County Chamber of Commerce, the Southern Maryland Heritage Area Consortium, and Board Member and Secretary of the Chamber's Tourism and Hospitality Advisory Council. Over the past two years, Kim also shared her talents, and passion for "love" by officiating weddings around the tri-county area.

Kim was a graduate of Chopticon High School and St. Mary's College of Maryland. Kim's boundless energy allowed her to pursue her many passions which centered on spending time with her countless friends, loving 'Prince,' and three beautiful daughters. From high school buddies to long-distance jazz 'cats', sassy 'girlfriends' to strangers on the street, Kim's laughter and light was shared by all, and embodied by her trademark line, "It's all about the love."

In addition to her mother, "Margie" Rubala, Kim is survived by her fiancé and 'Prince Charming,' Mark A. Markovich; her source of pride and joy, daughters: Robin Cullins (Southern Pines, NC), Leah Cullins (Washington, D.C.) and Cassie Cullins (Los Angeles, CA); and her brother, Mike Rubala and his wife Penny, of Colorado.

Family will receive friends for Kim's Life Celebration and Soul Jam on Tuesday, February 24, 2015 from 5:00 p.m. to 7:00 p.m., with a Service of Love and Remembrance at 7:00 p.m., at Brinsfield Funeral Home, 22955 Hollywood Road, Leonardtown, MD. Please dress for a celebration.

In lieu of flowers, contributions on behalf of Kim's memory may be made to Friends of St. Clements Island and Piney Point Museums, 38370 Point Breeze Road, Colton's Point, MD 20626 or Hospice of St. Mary's, P.O. Box 625, Leonardtown, MD 20650. Arrangements by the Brinsfield Funeral Home, P.A.