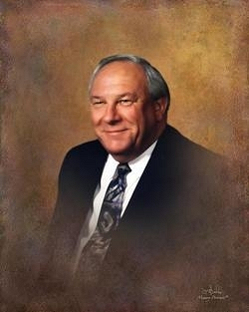 William Douglas McCarthy, Sr., 75, of Avenue, MD died April 28, 2015 at MedStar St. Mary's Hospital in Leonardtown, MD. He was born on January 14, 1940 in Malden-on-the Hudson, NY to the late Vera Liberty McCarthy.

Doug was employed by Word Publishing as a Regional Sales Manager with over 36 years of dedicated service until his retirement in 2003. He was also employed by Word Records, a Christian music company.

On June 12, 2004, Doug married his beloved wife, Donna McCarthy at Leonardtown Baptist Church in Leonardtown, MD. Together they celebrated over 10 wonderful years of marriage together.

He was a history enthusiast and enjoyed studying the presidents. His other hobbies included working in his rose garden, boating, crabbing, listening to music, and socializing with his many friends. His most memorable trip was to Greece and England. However, his greatest love was spending time with his family, especially his grandchildren. He was a member of Leonardtown Baptist Church and served as past treasurer for over 6 years and on the Men's Ministry. He was also a member of All Saints Episcopal Church in Avenue, MD. He was a member of Gideon's. He also served as a past Deacon and Elder for the Fourth Presbyterian Church.

In addition to his wife, Doug is survived by his children, William Douglas "Bill" McCarthy, Jr. (Cheryl), of New Bern, NC; Timothy Chad McCarthy (Aundria) of Fairfax, VA; his step-children Deborah Macy (Bill Bennett) of Ellicott City, MD; and Jennifer Tsapatsaris (Dino) of Wyckoff, NJ; his brother, John McCarthy (Penny) of Saugerties, NY; 15 grandchildren, Caela McCarthy, Isabella McCarthy, Daniel McCarthy, Gracie McCarthy, Liliana McCarthy, Ryan McCarthy, Hannah McCarthy, Reid McCarthy, Seth Macy, Bryce Bennett, Caleb Bennett, Lee Tsapatsaris, Evan Tsapatsaris, Melina Tsapatsaris and Alex Tsapatsaris; his niece, Lisa McCarthy, and two nephews, Christopher McCarthy and Patrick McCarthy. He is preceded in death by his mother.

Family will receive friends on Friday, May 8, 2015 from 10 a.m. to 12 p.m., with a Funeral Service celebrated by Pastor Allen Acker at Leonardtown Baptist Church, 23520 Hollywood Road, Leonardtown, MD 20650. Pastor Acker will be assisted by the Rev. Dr. Kathy Price and the Rev. Harry T. Harper of All Saints Episcopal Church in Oakley, MD. On Saturday, May 9, 2015, family will receive friends from 10-11 a.m., with a Funeral Service celebrated at 11:00 a.m.by Dr. Robert M. Norris, Pastor, at Fourth Presbyterian Church, 5500 River Road, Bethesda, MD 20816. On Monday, May 11, 2015, interment will be held at Kastbaan Cemetery in Saugerties, NY.

Serving as pallbearers will be his grandchildren. Honorary pallbearers will be Paul McLendon, Lou Sierra, Charlie Reynolds, Glen Taylor, Chip Burton, Scott Colvin and Don King. Memorial contributions may be made to All Saints Episcopal Church, 21569 Oakley Road, P.O. Box 307, Avenue, MD 20609. Arrangements by the Brinsfield Funeral Home, P.A.