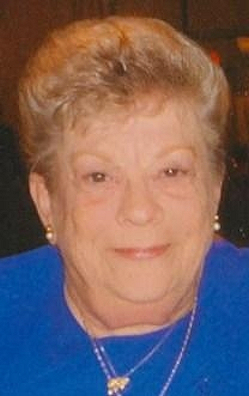 Evelyn B. Hazelton a resident of Waldorf, Maryland died February 22, 2013 at the Charles County Hospice House at the age of 78.

Evelyn graduated from St. Cecelia Academy, Washington, DC in 1952. She went on to become an administrative professional in the federal government for 30 years. Her career included positions supporting the Library of Congress, Army and Air Force Exchange Service, and the Air Force Office of Special Investigations.

She retired from the Defense Intelligence Agency in 1991. Evelyn was very well known for her dedication and commitment to the United States Air Force as a spouse, mother and active member of the Air Force community. She supported her husband and three daughters in several moves, both in the United States and overseas. She provided a home to her family in Washington, DC, Hawaii, Maryland, Michigan, Texas, and Guam. Her accomplishments earned her the honor of Military Spouse of the Year, among many other prestigious awards and recognitions.

As a dedicated wife, Mrs. Hazelton solely provided home care to her husband for more than 10 years following his sudden illness and before his passing in November 2001.

In more recent years, Evelyn was President of the Resident Council at Morningside House of Waldorf, She enjoyed acting as liaison with other residents, staff, and various visitors to the facility. Her hobbies included reading and calling bingo. Her favorite pastime of all was spending time with family members.

Mrs. Hazelton was born December 7, 1934 in Washington, DC. She was the daughter of the late William Thomas Bailey and Helen McGuire Bailey.

Preceded in death by husband William E. Hazelton, CMSgt USAF (Ret.), son John William Hazelton, and brother John Thomas Bailey.

Survived by daughters, Margaret "Peggy" (Greg) Peters, Joan (Jeff) Huffman, and Mary Fairbanks. Grandchildren, Jennifer (Matthew) Zinn, Jon (Liza) Peters, Taryn Alvey, Lyssa Alvey, and Shanon Betancourt. Great-Grandchildren, Ailyn Zinn, Tyson Alvey, Avenlee Zinn, Riley Alvey and Brielle Peters. Sister and brother-in-law, Catherine (Kitty) and James Cleaveland. Nieces, Janie Beam, Sharon (Lee) Johnsen; nephew, James (Marlene) Cleaveland. Numerous aunts, uncles and cousins.

Family will receive friends on Friday, March 1, 2013 from 2:00 to 4:00 pm. and 6:00 to 8:00 pm. at the Huntt Funeral Home, 3035 Old Washington Road, Waldorf, Maryland where funeral service will be held on Saturday, March 2, 2013 at 2:00 pm. Burial will take place at Arlington National Cemetery at a later date. Pallbearers will be Greg Peters, Jeff Huffman, Jon Peters, Matthew Zinn, Chris Slaybaugh, and Lee Johnsen.

Memorial contributions may be made in Evelyn's name to the Charles County Hospice House, 2505 Davis Road, Waldorf, Maryland 20603.

Arrangements provided by Huntt Funeral Home.