Shingleton, Paul Roger, Sr.
Birth: 1931-06-30 in Romney, West Virginia
Residence: Mechanicsville, Maryland
Death: Tuesday, April 02, 2013
Laid to Rest: Monday, April 15, 2013 in the Maryland Veterans Cemetery, Cheltenham, Maryland
Condolences: Click to View or Post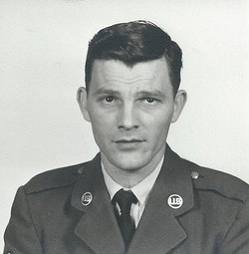 Paul Roger Shingleton, Sr., 81, of Mechanicsville, MD, passed away at Charlotte Hall Veterans Home, Charlotte Hall, MD on April 2, 2013. He was born on June 30, 1931 in Romney, WV, son of the late Lola (Ganoe) and Archibald Ashby Shingleton.

Mr. Shingleton spent 20 years in the Air Force and retired as a Tech Sergeant. Later, he worked for Ford Motor Company and retired after 30 years.

He enjoyed outdoors, walking, reading, old western movies, collecting golf balls, fishing, and singing karaoke. He was a family man and very generous to others.

In addition to his parents, Paul was predeceased by his beloved wife, Mary K. Shingleton; one of his brothers, Ronnie Shingleton; and two of his sisters, Theo and Gladys Shingleton.

Paul is survived by his children, Bruce Chase, Sandy Friedman, Nancy Neff (Alan), Paula Bailey (John), Paul Shingleton, Jr. (Christine), and Lorna Shingleton; his brothers, Ferman, Robert, and Cletus Shingleton; his sister, Shirley Corbin; 9 grandchildren; and 9 great grandchildren.

Family and friends will be received for Paul's Life Celebration on Sunday, April 7, 2013 from 2:00 PM to 4:00 PM and from 6:00 PM to 8:00 PM at Brinsfield-Echols Funeral Home, P.A., 30195 Three Notch Road, Charlotte Hall, MD 20622. The Service will begin at 7:00 PM, here at the funeral home. Interment will be on Monday, April 15, 2013 at 2:00 PM at Maryland Veterans Cemetery, 11301 Crain Highway, Cheltenham, MD 20623.

Memorial Contributions may be made to: Charlotte Hall Veterans Home, 29449 Charlotte Hall Road, Charlotte Hall, MD 20622 (or) Alzheimer's Association, 1850 York Road, Suite D, Timonium, MD 21093.

Arrangements provided by Brinsfield-Echols Funeral Home.