Unkle, Charles David
Birth: 1947-05-18 in Leonardtown, Maryland
Residence: Callaway, Maryland
Death: Wednesday, December 05, 2012
Laid to Rest: Tuesday, December 11, 2012 in the Holy Face Catholic Church Cemetery, Great Mills, Maryland
Condolences: Click to View or Post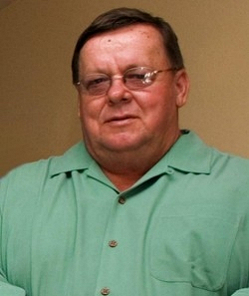 Charles David Unkle, 65 of Callaway, MD died December 5, 2012 at St. Mary's Hospital. Born May 18, 1947 in Leonardtown, MD, he was the son of the late James Unkle and Thelma Regina (Thompson) Unkle.

David retired from Chaney Enterprises in January of 2012 where he was employed for 41 years. He served in the United States Army from 1966 to 1970. David enjoyed the game of pool, loved eating oysters, and especially valued spending time at family gatherings.

David is survived by his wife, Elizabeth Melinda (Higgs) Unkle; his daughter, Rita Sue Dobry, of Great Mills, MD; his siblings, Ellen Flood, of Lexington Park, MD; James Unkle, of Valley Lee, MD; his brother-in-law, Francis Higgs, of Callaway, MD; three grandchildren, Pete Peters, Melinda Brown, and Shauna Kelly; six great grandchildren; and two great-great grandchildren.

In addition to his parents, he was preceded in death by his siblings, Peggy Norris, Mary Ann Insley, and Robert Unkle.

Family will receive friends for David's Life Celebration on Monday, December 10, 2012 from 5:00 p.m. to 8:00 p.m. at the Brinsfield Funeral Home, 22955 Hollywood Road, Leonardtown, MD 20650, with prayers recited at 7:00 p.m. A Mass of Christian Burial will be celebrated by Reverend Joseph A. Calis on Tuesday, December 11, 2012 at 12:00 p.m. at Holy Face Catholic Church, 20408 Point Lookout Road, Great Mills, MD 20634. Interment will follow in Holy Face Church Cemetery.

In lieu of flowers, memorial contributions may be made to the Holy Face Catholic Church, 20476 Point Lookout Road, Great Mills, MD 20634, or the Lexington Park Rescue Squad, P.O. Box 339, Lexington Park, MD 20653.

Arrangements by the Brinsfield Funeral Home, P.A., Leonardtown, MD.