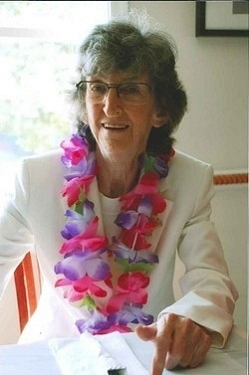 Mary Virginia Severt Yearick, of Great Mills, Maryland died peacefully surrounded by her loving family on Tuesday Feb 3, 2015 after an extended illness at Chesapeake Shores Nursing Center in Lexington Park. Maryland. Mary was born on March 5, 1928 in Ashe County, North Carolina to the late Vennie Miller Severt and James Sherman Severt.

In 1958 Mary married James Yearick who was also from Ashe County but had moved to St. Mary's County years before in search of employment at what was then "the new "Patuxent River Naval Air Station. Together, they were married twenty seven years until James died in 1985.

In Ashe County, Mary helped her family develop their cattle farm and worked at the Farmers' Cooperative Exchange (FCX) store. When she came to Maryland she was employed briefly at the Supply Department on the Naval Base. Mary's major career was at St. Mary's College of Maryland where she worked in the accounting department until her retirement in 1992.

Mary was a wonderful gardener and grew vegetables for her family and friends. She loved cooking southern style dinners and always made more than everyone could eat. Mary believed in education and started a scholarship fund to send children from Ashe County to Appalachian State University, as well as sending many of her family members to college. Mary and her brother Thomas donated mountain property to The Ebenezer Baptist Church Foster Children's Home so that new homes could be built and the children would have a very nice place to live. Mary also was involved in the building of the "Hospice House "in Callaway, Maryland. In the fall of 2014 Mary was inducted into the Signature Nursing Home Corporations "Hall of Fame" for her accomplishments in life and her charity work.

Mary attended the Lexington Park Baptist Church and enjoyed bible study. Mary's greatest love was for her family and her friends. She enjoyed family events and visits with friends. Recently, Mary was a resident of the Chesapeake Shores Nursing Home and loved visits from both family members and friends. Mary and the family appreciate the wonderful care that the staff at Chesapeake Shores gave her.

Mary is survived by her son John Yearick and his wife Dr. Gail Yearick of Drayden, Maryland. She is also survived by her grandchildren, Christen Gail Yearick, of Drayden, John Kyle Yearick, of Baltimore, and her adopted grandson, Christian Allen Burton, of California, Maryland. Additionally, Mary is survived by many wonderful and loved in-laws, relatives, and friends in Maryland, Delaware and North Carolina. Mary was predeceased by her parents and by her husband, James Yearick, her brothers, Joe Severt and Thomas Severt, and an infant brother who died at birth.

Family will receive friends for Mary's Life Celebration on Saturday, February 7, 2015 from 2:00 to 5:00 p.m. with a Funeral Service at 4:00 p.m. at the Brinsfield Funeral Home, 22955 Hollywood Road, Leonardtown, MD 20650. Interment will be held on Wednesday, February 11, 2015 at Ashelawn Memorial Cemetery, North Carolina. Arrangements by the Brinsfield Funeral Home, P.A.