Carter, Melba Tabitha
Birth: 1921-06-22 in Coeburn, Virginia
Residence: Valley Lee, Maryland
Death: Tuesday, September 10, 2013
Laid to Rest: Monday, September 16, 2013 in the Hollywood Church of the Nazarene Cemetery
Condolences: Click to View or Post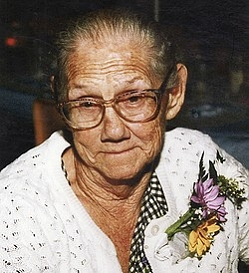 Melba Tabitha Carter, 92, of Valley Lee, MD passed away at her residence. Born on June 22, 1921 in Coeburn, VA she was the daughter of the late Samuel Patton and Nancy Myrtle Sluss Sexton.

Melba was the loving wife of the late William Henry Carter, who passed away in 1974.

Melba is survived by her children; Doylus Carter of Richwood, WV, Ray Carter, Roy Carter, Nelson Carter, Ronnie Carter, Donnie Carter, Lucy Hammett, Harvey Carter, of Valley Lee, MD, Bobby Carter of Hollywood, MD, Gene Stiffler of California, MD, and David Carter of Callaway, MD. Melba is also survived by her siblings; Doyle Sexton, Dolph Sexton, Oma Sexton, Roxie Gibson, Annie Sexton, Edith Finch, Lula Finch, Gene Knott, and Goldie Knott all of Coeburn, VA.

Mrs. Carter was preceded in death by her children; Janice Freeman, Nancy Norris and Inez Williams.

Melba was a lifelong resident of St. Mary's county, MD and worked as a homemaker.

The family will receive friends on Sunday, September 15, 2013 from 2:00 PM to 5:00 PM with prayers recited at 3:00 PM in the Mattingley-Gardiner Funeral Home, P.A. A Funeral Service will be held on Monday, September 16, 2013 at 10:00AM in the Mattingley-Gardiner Funeral Home, P.A., Leonardtown, MD with Father Greg Syler officiating. Interment will follow in the Hollywood Church of the Nazarene Cemetery.

Contributions may be made to Hospice House of St. Mary's, P.O. Box 625, Leonardtown, MD 20650 and/or St. Georges Episcopal Church P.O. Box 30 Valley Lee, MD 20692.

Arrangements provided by Mattingley-Gardiner Funeral Home, P.A.