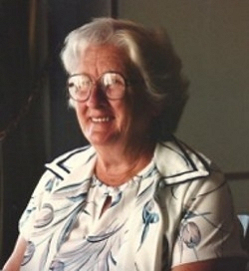 Margaret Elizabeth (Snyder) Stevens, 98, of California, MD passed away on September 28, 2015 at Charlotte Hall Veterans Home in Charlotte Hall, MD. She was born on February 21, 1917 in Eddyville, NE to the late Margaret Elizabeth McMahon and Allen Bernard Snyder.

Margaret grew up on the family farm during the Great Depression near Eddyville, NE. The family attended St. Patrick's Church. She attended school in Sumner, NE and graduated in 1935 from the Nebraska State Teacher's College at Kearney. She taught in a rural one-room schoolhouse in Buffalo County, NE teaching grades one to eight until 1944.

Margaret enlisted in the Women's Auxiliary Volunteer Emergency Service (WAVES) on July 6, 1944. She trained at Hunter College in NYC and was assigned to a communications unit supporting the U. S. Navy in Washington, DC. Specialist Snyder was billeted to WAVE "D" Bldg. 11, Nebraska and Massachusetts Avenue where she served two years. On August 1, 1946, she was honorably discharged at the rank of Specialist First Class, having received the Victory Medal, The American campaign Ribbon and Navy Unit Commendation.

After World War II, Margaret moved to Portland, OR and worked as a clerk for the Veteran's Administration. Within a year, she returned to Washington, DC to marry Francis R. Stevens whom she had met at the Spanish Ballroom, Glen Echo Park and who had served in the Pacific Theater with the U. S. Army. They were married on June 28, 1947.

They brought property and built a home in California, MD, where they raised seven children. As a family they enjoyed living in the country, boating and camping vacations along the east coast. Margaret worked as a Mathematician Aide at Patuxent Naval Air Station from 1961 until her retirement in 1975, but her favorite job was being an extraordinary mother. Her life revolved around her family.

After retirement she traveled around the country, including Mexico and Alaska with her husband until his death in 1989. After her husband' death, she dedicated most of her time to her grandchildren, whom she enjoyed caring for after school. She was loved by all who met her because of her sincerity, kindness and hospitality, especially to children, whom she always welcomed in her home with baked goods, common sense lessons and unconditional love. Margaret moved to Charlotte Hall Veteran's Home in April 2013 where she continued to enjoy visits from her family and friends.

Margaret is survived by her children, Gregory Stevens (Gail) of California, MD, Stephanie Stevens (Claude Martin) of California, MD, Valerie Stevens of California, MD, Lee Marin Stevens (Anita) of California, MD, Marisa Stevens Davis of Kalama, WA, and Kevin Stevens (Mary) of Lexington Park, MD; her step-son, William C. Stevens of Lexington Park, MD, her sister-in-law, Helen Payne of Huntsville, AL, 10 grandchildren; and many nieces, nephews, and extended family. In addition to her parents, she is also preceded in death by her husband, Francis R. Stevens, her six siblings, and son-in-law, Gerald Davis.

A Mass of Christian Burial will be celebrated by Rev. Michal Sajnog on Monday, October 5, 2015 at 11:00 a.m., at Immaculate Heart of Mary Catholic Church, 22375 Three Notch Road, Lexington Park, MD 20653. Internment will be private. Memorial contributions may be made to Southern Maryland Vacation for Veterans, 22673 Pops Way, California, MD 20619 or COSMIC Symphony, P.O. Box 1323, California, MD 20619. Arrangements by the Brinsfield Funeral Home, P.A., Leonardtown, MD.