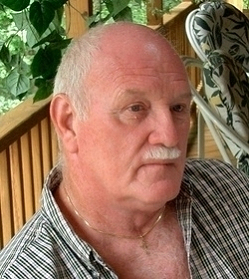 Francis Garland Boylston, Jr., of La Plata, MD passed away on April 27, 2015 in Prince Frederick, MD. He was born on September 24, 1941 in Washington, DC to Anna Mae (Suddath) Boylston and the late Francis Garland Boylston, Sr. In addition to his father, Francis was predeceased by his brother, Paul Boylston.

Francis was a master plumber who retired from DC General Hospital 34 years ago. Later he worked for M&M Welding with his son Travis before permanently retiring 13 years ago.

Francis enjoyed hunting, fishing, drag racing, football and baseball and was a fan of the Washington Redskins and Washington Nationals. While he most often hunted locally or on the Eastern shore where many of his friends reside, his passion for hunting also took him to Canada, Colorado, New Zealand and Africa among other places - in search of the "hunt." While a hunter, he also had a deep appreciation for animals and natures living by the standard to only take what you can use.

Whether on a boat on the sea, or on a bank by a stream, creek or river, Francis also loved throwing in a line or net catching fish. His fishing prowess earned him the affectionate title of, "the Mayor of Mason Springs". Over the years he had numerous pets, raised exotic birds and as a young man showed horses and had many fur and feathered friends awaiting his arrival.

Pawpaw, Pop, Pappy, whichever name at the time - he was always there with a big hug and smile for all of his Grandchildren and Great Grandchildren and is adored by them all.

Francis is survived by his mother, Anna Mae Boylston; his loving wife of 35 years, Linda V. Boylston; three children, Esther G. Karl, Travis G. Boylston, and Michael A. Routt; eight grandchildren; six great grandchildren; two sisters, Esther Avery and Anna Mae Chaiet; and many other relatives and friends.

Friends and family will be received for Francis' Life Celebration on Sunday, May 3, 2015 from 1:00 p.m. to 3:00 p.m. at Brinsfield-Echols Funeral Home, P.A., 30195 Three Notch Road, Charlotte Hall, MD 20622. A Service will begin at 3:00 p.m. on Sunday at the funeral home.

If desired, memorial contributions may be made in Francis' memory to: American Heart Association, 217 E. Redwood Street, 23rd Floor, Baltimore, MD 21202 (or) NRA, In memoriam of Francis Boylston Jr., 11250 Waples Mill Rd, Fairfax, VA, 22030. Arrangements provided by Brinsfield-Echols Funeral Home.