Badovinac, George , Jr.
Birth: 1935-10-17
Residence: Waldorf, Maryland
Death: Monday, September 15, 2014
Laid to Rest: Saturday, September 20, 2014 in the St. Peterís Catholic Church Cemetery, Waldorf, Maryland
Condolences: Click to View or Post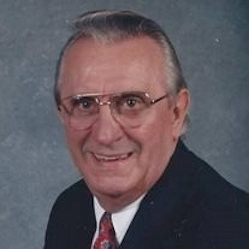 George Badovinac, Jr., 78, of Waldorf, MD died September 15, 2014 at Johns Hopkins Hospital, Baltimore, MD.

Mr. Badovinac, Jr. was a Retired D. C. Metropolitian Police Officer for 20 years, a member of the Faternal Order of Police, and NRA. He was an accomplished trombone player for the US Army Band, Metropolitian Police Band and Charles County Band. During Georgeís tenure as a D. C. Metropolitian Police Officer he held positions as a beat officer, security officer for diplomats, homicide detective and several other positions. He was interviewed by Parade Magazine as one of the lead detectives in the investigation into the Watergate break-in, a highlight of his career in Law Enforcement.

After retirement he owned and operated the Quality Carry Out in Waldorf and Madelineís Catering of Waldorf. Always the craftsman, he could build just about anything from wood, single-handedly building a deck onto his house, a storage shed, numerous chairs, and gifts for his grandchildren in later years.

George loved cooking and was always eager to share his old-world recipes with family and friends. He had many collections, including coins, flashlights, knives, and guns, and he always enjoyed the latest gadgets. In his final years he enjoyed the company of his dog, Gizmo, and watching the History Channel. His ability to teach and advise will be missed.

Preceded in death by his beloved wife Madeline Badovinac.

He is survived by sons, Brian Badovinac of Mechanicsville, MD and Allan Badovinac of Washington D.C.; daughter, Georgiana Badovinac Vernon of Leonardtown, MD; sister, Barbara Pegritz of Lamberton, PA; grandchildren, David N. Badovinac of Norseman, Western Austrailia, Sara C. Badovinac of Buenos Aries, Argentina, Michael C. Vernon Jr. of Leonardtown, MD and Lily M. Schirmacher of Leonardtown, MD.

Friends received on Saturday, September 20, 2014 from 9:30AM until time of funeral service at 11AM at Raymond Funeral Chapel, 5635 Washington Ave., La Plata, MD 20646. Interment will follow at St. Peterís Church Cemetery in Waldorf, MD.

Memorial contributions to National Multiple Sclerosis Society (P. O. Box 4527, New York, NY 10163). Arrangements provided by Raymond Funeral Service.