Fenwick, Ernestine
Birth: 1941-04-30 in Wilmington, North Carolina
Residence: Valley Lee, Maryland
Death: Monday, December 02, 2013
Laid to Rest: Friday, December 06, 2013 in the St. Peter Claver Catholic Church Cemetery, St. Inigoes, Maryland
Condolences: Click to View or Post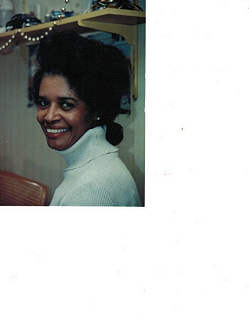 Ernestine "Tina" Fenwick, 72 of Valley Lee, MD, passed away peacefully in her sleep on December 2, 2013, after a long fought battle with multiple sclerosis (MS). Her loving husband, Joseph Fenwick, was her caregiver.

Tina was born on April 30, 1941 in Wilmington, North Carolina to the parents of William TC Bass and Esabelle McAllister. She moved to Washington as a young teen to be with her father.

Tina worked various jobs while raising her three children and taking care of her mother. In 1966, she was hired by a start-up electronic company as an assembler. Tina grew with the company and a senior Electronic Inspector, where she met the love of her life, Joseph Francis Fenwick, who talked her out of buying a Mustang and promised that she could use his car or he would give her a ride to work. It worked. They were married in September 1968. They left Washington, DC and moved to a new city, Columbia, Maryland, in Howard County, where they lived for 38 years.
Due to Tina's illness, she had to quit work in 1988.

Joe continued to work until 2008. Joe moved back home to St. Mary's in 2008 to a one-story home that was wheel chair accessible for Tina's safety. She loved to sit on the waterfront and watch the sunset. MS continued to degrade her and eventually she became bedridden in 2010. Being the tough woman that she was, Tina fought her disease until the end.

She leaves behind her husband, Joseph Francis, of Valley Lee, MD; daughter, Carolyn Hammonds and son-in-law, Eric , of Evans, GA; daughter, Robin M. Taylor, of Columbia, MD; her sons, Pierre L. Taylor, of Baltimore, MD and Joseph Michael Fenwick and daughter-in-law, Jennifer, of Easton, MD; 14 grandchildren, 5 great-grandchildren, two sisters, Cassandra Smith of Rocky Point, NC and Regina Bass, of Wallace, North Carolina; four brothers,Nathan C. Bass, of Upper Marlboro, MD, Roy A. Smith, Robert Cherry, Jr., and Roscoe Cherry, of Rocky Mountain, North Carolina.

Family will unite with friends on Friday, December 6, 2013 at 12 noon until time of service at 1:00 p.m. at Briscoe-Tonic Funeral Home, 38576 Brett Way, Mechanicsville, MD. Interment will follow immediately at St. Peter Claver Catholic Church Cemetery, St. Inigoes, MD.

Arrangements provided by Briscoe-Tonic Funeral Home.