Russell, James Ethelbert
Birth: 1916-07-20 in Helen, Maryland
Residence: Leonardtown, Maryland
Death: Friday, July 26, 2013
Laid to Rest: Thursday, August 01, 2013 in the Sacred Heart Catholic Church Cemetery, Bushwood, Maryland
Condolences: Click to View or Post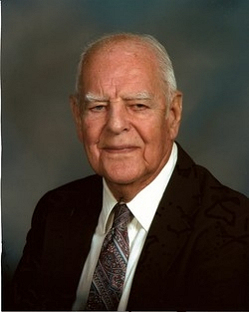 James Ethelbert "Bert" Russell, Sr., 97, of Leonardtown, MD, died on July 26, 2013, at the St. Mary's Hospice House in Callaway, MD.

Born July 20, 1916, in Helen, MD, he was the son of the late Julia Raley Russell and Paul Ignatius Russell. Bert graduated from St. Mary's Academy in 1935, and worked with his father and brothers on several farms. He told tender stories of the Hathaway Farm, his favorite place during his childhood years.

Bert married the love of his life, Louise Cullins, in 1944, and in 1950, they moved to Silver Spring, MD where he was employed by Bray and Scarff and GASCO warehousing companies for 37 years and became president of the company.
Bert and his wife, Louise were devoted parishioners of St. John the Evangelist Catholic Church in Silver Spring, MD, and both worked as volunteers in the parish's community outreach program during their retirement years. After 45 years in Silver Spring, Bert, Louise, and their daughter, Betti moved back to the 7th District.

He was devoted to his family and was a loving, faithful husband, father, grandfather, and great-grandfather. In his younger years, Bert enjoyed being with his family and friends, tinkering in his tool shed and remodeling the family home. He filled his later years with writing cards and notes to almost everyone he knew and loved, including little gifts or treats. For his 89th birthday, his daughter accompanied him on a trip to Tokyo, Japan, to visit his oldest grandson and his family. Additionally, the same year he visited the Grand Canyon with Beverly's family.

Surviving Mr. Russell are his children, Brenda Russell Dunn of Lufkin, TX; Beverly Russell Hester (David) of Thornton, CO; Elizabeth "Betti" Louise Russell of Leonardtown, MD; and James Ethelbert "Bud" Russell, Jr. (Lori) of Clements, MD; grandfather of Michael Thomas Dunn, Allyson Marie Dunn, Ryan Patrick Dunn, Kristen Leigh Duncan, Courtney Hester Baros, Heather Russell Farr, Christy Russell Koeniger, Brett Christopher Russell, Breanne Nicole Russell, Kyle Matthew Russell and Austin Blake Russell. Additionally, Bert has 10 great grandchildren and numerous nieces, nephews, other relatives and friends.

He was pre-deceased by his wife, Louise, and daughter, Bonnie; and his siblings, Julia Russell Roussin, Kitty Russell, Rose Mary Russell, Paul Russell, Jr., and Ralph Russell.

Family will receive friends for Bert's Life Celebration on Wednesday, July 31, 2013, from 5:00 p.m. until 8:00 p.m. in the Brinsfield Funeral Home 22955 Hollywood Road, Leonardtown, MD 20650. Prayers will be recited at 7:00 p.m. A Mass of Christian Burial will be celebrated on Thursday, August 1, 2013, at 10:00 A.M. at Sacred Heart Church, Bushwood, MD. Interment will follow in the church cemetery.

Serving as pallbearers will be Michael Dunn, Ryan Dunn, Brett Russell, Kyle Russell, Austin Russell, Bill Russell, Bob Russell, and Rich Roussin.

Those desiring may direct memorial contributions to St. Mary's Hospice House, P.O. Box 625, Leonardtown, MD 20650 or The Center for Life Enrichment, 25089 Three Notch Rd., Hollywood MD 20636.

Condolences to the family may be made at www.brinsfieldfuneral.com.

Arrangements by the Brinsfield Funeral Home, P.A., Leonardtown, MD.