Somerville, Sarah Ann
Birth: 1931-12-17 in Bushwood, Maryland
Residence: Bushwood, Maryland
Death: Friday, October 18, 2013
Laid to Rest: Wednesday, October 23, 2013 in the Sacred Heart Catholic Church Cemetery, Bushwood, Maryland
Condolences: Click to View or Post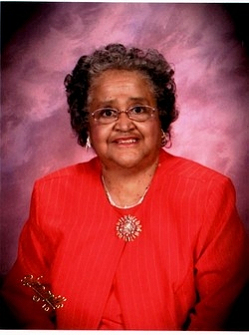 Sarah Ann "Loretta" Somerville, 81 of Bushwood, MD died October 18, 2013 at Hospice House of St. Mary's. Born December 17, 1931 in Bushwood, MD she was the daughter of the late John Clement Dyson and Mary Pearl (Butler) Dyson.

Loretta grew up in Bushwood, MD and graduated from Banneker High School. She later met James Foley Somerville whom she married on June 26, 1954, in Sacred Heart Catholic Church, Bushwood. They were blessed with 10 children and celebrated 44 years of marriage prior to his death in 1998.

Loretta was a member of Sacred Heart Catholic Church, where she was a member of the Ladies Auxiliary #305 and served as treasurer since 1993. Loretta was a homemaker, a great cook, an excellent care-giver and a big sweetheart.

As care-giver, she loved spending time with her children and grandchildren and was all about family. Loretta loved family so much she opened her home and heart to care for eight of her grandchildren on a daily basis. But her caring didn't stop there as she also cared for her father, older brother and mother-in-law during their later years. In addition, several nieces and nephews spent their summer breaks with her.

Loretta was such a great cook that family members authored a cook book in her honor titled, "What's Cooking in Loretta's Kitchen" which included recipes for desserts, main course meals, side dishes, especially her signature macaroni salad. And there's no ice tea, sweeter than "Grandmas' Ice Tea."

Loretta enjoyed vacations and traveled to Florida many years to spend time with her son Marvin, and had the opportunity to visit Disney World. She also traveled to New York, toured Lurray Caverns and even rode across country to California in her younger years. When asked why she didn't fly over, Loretta commented, "if The Lord wanted me to fly, He would have given me wings." Even though Loretta did not have fins she often enjoyed the Spirit of Washington cruises with loved ones.

In her spare time you would find Loretta working on word finds, catalog shopping, watching soap operas and her special TV shows, Wheel of Fortune and Judge Judy.

She is survived by her children, James Foley Somerville, Jr. (Debra) of Bushwood, MD, Michael Anthony Somerville Sr. (Susan) of Lexington Park, MD, Larry Gerard Somerville, Sr. (Quanda) of Baltimore, MD, Darlene Celeste Dorsey (Jim) of Bushwood, MD, Marvin Aloysius Somerville (Dalphine) of Bushwood, MD and Wanda Annette Davis (Albert) of Hollywood, MD; brother, Richard C. Dyson Sr. (Erma) of Frederick, MD; brother-in-law Warren Beatty of Chaptico, MD; sister-in-law Gertrude Dyson of Waldorf, MD; 17 grandchildren and 17 great grandchildren. She is also survived by "appointed" sisters, Teresa Dyson of Maddox, MD and Pearl Neverson of Suitland, MD, God-children Lawrence Tyer and Thomasine Young, and a host of nieces, nephews and friends.

In addition to her husband, the late James Foley Somerville, Sr., she was predeceased by her children the late Linda Clementine Somerville, Phyllis Diane Somerville, Francis Xavier Somerville and Maxine Bernadette Somerville; siblings the late Alfred Dyson, Thomas Dyson, Isaac Dyson, Lillian Burton, Elizabeth Dyson, Josephine Dyson, Gertrude Tyer, Madeline Beatty, and twin, Louise Dyson; two grandchildren, the late Sean Foley Somerville and Larry Gerard Somerville, Jr.; and mother-in-law, the late Mary Susie Somerville.

Family will receive friends for Loretta's Life Celebration on Wednesday, October 23, 2013 from 8:30 a.m. until 10:00 a.m. at the Brinsfield Funeral Home, 22955 Hollywood Road, Leonardtown, MD 20650. A Mass of Christian Burial will be celebrated by Rev. Charles Cortinovis, 11:00 a.m. in Sacred Heart Catholic Church, Bushwood, MD. Interment following in the church cemetery.

Arrangements by the Brinsfield Funeral Home, P.A., Leonardtown, MD.