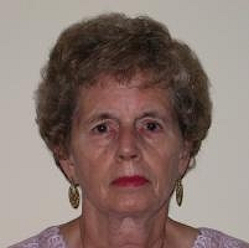 Janice Nimmer left this world on May 3, 2013, and left a legacy of great happiness to those who knew her and to her wonderful family.

She was born in McKeesport, Pennsylvania on November 12, 1940, the second of two children born to the late Irma Gregory Decker and John Ellsworth Decker. She grew up in Warren, Pennsylvania and Owensboro, Kentucky and graduated from the University of Kentucky in 1962.

Following her graduation from the University of Kentucky, she married Donald Hite, now deceased, who worked for McDonnell-Douglas Aircraft. She lived several years each in southern California, Las Vegas, Nevada, and for some 20 years in St. Louis, Missouri.

Janice moved to Maryland and married her current husband, David Nimmer, who worked for the Federal Government. She went to work there also and both she and David retired in 2004, she with some 17 years of service and he with 43 years of service, including service in the U. S. Army, from which he resigned his commission as Captain in the Field Artillery.

Janice and David both enjoyed boating their entire adult lives and spent many happy years on the Chesapeake Bay together in their diesel motor yacht, Paradise II. Both were active members of First Lutheran Church in Calvert County, Huntingtown, Maryland. Janice was a member of the Order of the Eastern Star and her college sorority.

She is survived by her husband of 25 years, David C. Nimmer, her two children from a prior marriage, Pamela Lynn Gendell of Annapolis, Maryland and her husband Greg; Steven Lane Hite of Park Hall, Maryland and his wife Theresa; and two step-children, Kristen Lee Titus of Alexandria, Virginia and her husband Andy; and Susan Carol Insisiengmay of Stafford, Virginia and her husband Thirasit.

Janice is also survived by eight grandchildren; Ben and Katie Gendell – ages 5 and 3; Elizabeth and Georgie Freeman – ages 12 and 11; Mason and twins, Carter and Chloe Insisiengmay – ages 9 and 4; and Tegan Titus – age 2.

Janice made friends wherever she went and she and David became "snow birds" after their retirement, spending winters in southern Florida, where they made many new and exceptional friends. She was a truly loving wife and mother and will remain deep within the hearts of her family and friends.

Visitation and services will be held at First Lutheran Church of Calvert County, 6300 Southern Maryland Boulevard, Huntingtown, MD 20639, on Thursday, May 9, 2013 at 1:00 pm until start of services at 2:00 pm. Flowers may be directed to Lee Funeral Home Calvert, 8200 Jennifer Lane, Owings, MD 20736. Interment services for the family will follow at Quantico National Cemetery at a later date.

Arrangements provided by Lee Funeral Home.