Goodwin, George Leroy
Birth: 1934-07-01 in Oxon Hill, Maryland
Residence: California, Maryland
Death: Saturday, April 27, 2013
Laid to Rest: Wednesday, May 01, 2013 in the St. John Francis Regis Church Cemetery, Hollywood, Maryland
Condolences: Click to View or Post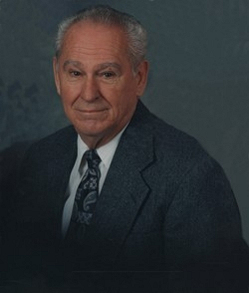 George L. Goodwin, 78, of California, Maryland died April 27, 2013 at Hospice House of St. Mary's. Born in Oxon Hill, Maryland on July 1, 1934 he was the son of the late William Henry and Eva Tennyson Goodwin.

He graduated from Great Mills High School and was honorably discharged from the U. S. Army. He worked for the Lexington Park Dry Cleaners and Sealtest Dairy. He worked for over 30 years at Steuart's Petroleum in Piney Point, Maryland where he was hired as a laborer and advanced to the position of Personnel Manager of the Transportation Branch of Steuarts. After his retirement from Steuarts he worked for the St, Mary's County Health Department (Transportation) where he enjoyed transporting patients to and from their appointments at various medical facilities.

His favorite activities included his annual flight to Kathleen, Georgia to spend time with his son Michael and his wife Gemma. After a scrumptious breakfast served by Gemma they would head out to sightsee or just hang out at home with Doberman, Deuce. He seldom missed his Sunday cookout with his son-in-law Tom and stepdaughter Donna and the grandchildren. They barbecued George's favorite foods while cheering on the Redskins or Baltimore Orioles. He loved dining out with his wife especially when they were joined by their best friends. Knowing a competitive game of pitch would follow he always predicted the men would win that night. He liked traveling to Lakeland with his wife to visit sister-in-law Dot (Pat) and Terry and Mark, especially the free breakfasts and dinners at Marks "Fat Jack's Restaurant". His bichon frise was always at his side whether it was walking through the neighborhood with friends, cleaning his vehicles or watching Monday night wrestling.

He is survived by his wife, Mary Jean Adams Goodwin, sisters Helen Elizabeth Goodwin and Hilda Mae Goodwin Russell of St. Petersburg, Fl. He is also survived by his son, Michael Todd (Gemma) Goodwin and stepchildren Brian Johnson, Donna (Tom) Johnson, Pam (Donnie) Johnson and Joey (Rick) Johnson. He is survived as well by his grandchildren, Aline Casaverde, Michael Goodwin Jr., Patrick Caldwell, Larry Holsinger (Brandy), Katherine Paras (Jimmy) and Thomas Owens Jr. and a great-granddaughter, Georgia.

In addition to his parents, George was preceded in death by his wife, Gladys L. Goodwin and his daughter, Lisa Renee Casaverde; brothers, William Francis Goodwin, Norman Joseph Goodwin, Melvin Edward Goodwin; sisters, Mary Virginia Goodwin Spear and Shirley Jean (Boogie) Goodwin Lozen.

Family will receive friends for George's Life Celebration on Tuesday, April 30, 2013 from 5:00 to 8:00 p.m. with prayers recited at 7:00 p.m. at the Brinsfield Funeral Home, 22955 Hollywood Road, Leonardtown, MD 20650. A Mass of Christian Burial will be celebrated by Father Raymond Schmidt on Wednesday, May 1, 2013 at 11:00 a.m. at St. John Francis Regis Church, 43950 St. John's Road, Hollywood, MD 20636. Interment will follow in the church cemetery.

Pallbearers will be Raymond Dion, Tim O'Connor, John Simpson, Tommy Abell, Jamal Hebb and Tommy Owens. Honorary pallbearers will be Ray Adams, Johnny Adams, Lenny Guy and Alan Scott.

Memorial contributions may be made to St. John Francis Regis Church, 43950 St. John's Road, Hollywood, Maryland 20636.

Arrangements by the Brinsfield Funeral Home, P.A., Leonardtown, MD.