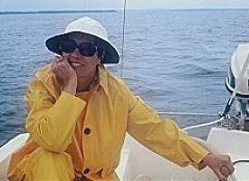 Mary Alice Alfonte, age 89, passed away October 10, 2013. She was born January 13, 1924, in Seattle, Washington and adopted by William and Florence Serruys of Klamath Falls, Oregon. Her childhood was carefree and adventurous. On her father's ranch she rode horses, participated in local rodeos, worked with prize-wining livestock, and famously insisted that her parents call a taxi for her every Sunday morning so she could go to church.

Her favorite hobby was designing paper dolls. At the height of the Depression, when Mary was 13, her well-to-do parents took her on an around-the-world cruise (on the Scharnhorst, later sunk by the Allies during WW II). For the rest of her life she never forgot seeing China, Japan, India, Europe, and especially Germany in November 1936, on the eve of WWII. She graduated high school at St. Helen's Hall (now Oregon Episcopal School) in Portland where Mary's energetic and good-humored nature led to friendships she faithfully maintained until the last years of her life.

After a brief marriage to Lawrence Ray, which produced two sons, William and Thomas, Mary moved to Hollywood, CA to work as a color coordinator for Dutch Boy paints. She re-married to Hal Kornell in 1949. They had two children together, James and Lorelei.

Mary decided in 1960 to pursue her dream of designing and building houses. Over the next 22 years she designed and built three houses in Thousand Oaks, CA, providing her family with beautiful places to grow up and thrive.

In 1972, Mary met Bill Alfonte and found her true love. After divorcing their respective spouses Mary and Bill relocated to Washington D.C. and married in 1973. They purchased a home in Old Town Alexandria, Virginia, and Mary obtained her Virginia Real Estate License. She was proud of the Jaguar sedan she purchased with her very first real estate commission check. Mary and Bill devoted every spare hour to bicycling, hiking, and traveling. In 1974, they bicycled across Denmark, Holland, and Belgium. They also took trips over the next few years to Nova Scotia, England, Germany, France, Bahamas, Greece, Canada, Japan, and many trips around the U.S.

In 1976, Bill suggested they take up sailing; after training at a sailing school in Annapolis, MD, they bought the first of their eight boats, a Cal 22 they named "Sunshine". They took up the boating life and for the next 35 years sailed everywhere, circumnavigating the United States, sailing the Mediterranean around the Greek Isles, making an annual trip to the Bahamas, and making treasured friendships everywhere they went. Around 1986, they got a Maltese puppy and named her "Chessie". From then on the trio were inseparable. In 1987, Mary and Bill designed and built their dream home on the Chesapeake Bay in Solomon's Island, Maryland. Mary and Bill spent many happy years there, enjoyed their friends and having cocktails overlooking the Bay every evening.

Mary joined the Coast Guard Auxiliary and enjoyed the job, especially an assignment as lighthouse keeper. Mary volunteered as a reader at Solomon's Nursing Home and was a faithful supporter of the Calvert Animal Welfare League, Audubon Society, Nature Conservancy, and animal welfare causes in general.

In 1997, Mary and Bill bought a condo overlooking the Bay in Solomon's Island. They lived there devoted to one another until Bill passed away in 2011. Mary spoke and thought of Bill every day, and believed at the moment of her death that Bill and Chessie were coming for her on their boat and they would all sail away and be happy forever.

Mary is survived by her four children and by nine grandchildren and seven great-grandchildren.

If you would like to honor Mary's memory, a donation to the Alzheimer's Association would be a fine tribute. Arrangements provided by Lee Funeral Home.