Hanbury, Horatio Bushall
Birth: 1927-05-02 in Fentress, Virginia
Residence: Lexington Park, Maryland
Death: Saturday, May 03, 2014
Condolences: Click to View or Post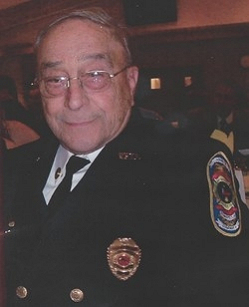 Horatio "Ray" Bushall Hanbury, 86, of Lexington Park, MD passed away on May 3, 2014 at his residence.

He was born on May 5, 1927 in Fentress, VA to the late Lewis Franklin Hanbury and the late Audrey (Griffin) Hanbury.

"Poppa Ray" was a WWII veteran and of course a member of the "Greatest Generation" to serve the United States of America at a time of this nation's greatest peril. Ray attended the University of Maryland before being drafted into the Army and was a boxer for the University of Maryland.

Ray married his wife Joyce of 68 years on January 31, 1947.

Horatio "Ray" Hanbury began his career in the fire service at the young age of 14 when he joined the Oxon Hill VFD in Prince George's County MD. After a tragic fire in the Allentown Road area Ray and other citizens found the need for a new fire department. Ray was instrumental in organizing the new fire department (PGFD Station 32) and was a Charter Member and the First Fire Chief of Allentown Road VFD in Prince Georges County, MD.

Ray worked for the District of Columbia Fire Department from 1950 until he retired in 1975 and relocated to Southern Maryland. Ray served the citizens of the District of Columbia for 25 years and retired at the rank of Lieutenant at 25 Engine & 8 Truck.

Ray and Joyce moved to St. Mary's County in 1986, Ray and his son Gary continued their service to the community and joined the Bay District Volunteer Fire Department in 1987 where he served on the Board of Directors and was Vice President of the department for many years until his decline in health would no longer allow him to actively serve in that position. Ray Hanbury achieved the status of Life Member of Bay District VFD in 2006.

Ray has served on numerous committees including serving as the Chairman of the Station 9 building committee where Ray could be seen every day overseeing the contractors of the station. Ray was instrumental in having President of the Maryland Senate, Honorable Thomas V. Mike Miller Jr., participate in the dedication of the California Station in December 1993.

In September 2004, Ray was inducted into the Prince Georges County Volunteer Fire & Rescue Association's Hall of Fame, and in May 2007, Ray was also inducted in the Southern Maryland Volunteer Fireman's Association Hall of Fame.

In addition to his parents, Horatio was predeceased by his son, Floyd Thomas "Tommy" Hanbury; brothers, Lewis Hanbury, Jr., James A. (Jimmy) Hanbury, Menalcus (Mack) Hanbury; and sister, Audrey L. Goosby.

Horatio is survived by his wife, Joyce E. Hanbury; children, April Sepulveda, fiancé (Marion Vallandingham) Carl Hanbury (Mary Ellen), and Gary Hanbury (Tammy); Daughter-in-law, Barbara Hanbury; five grandchildren, Clifford Hanbury, Tommy Hanbury, Amanda Marxer, Jennifer Anthony, and Christopher Anthony; two great grandchildren; and his brothers, William T. (Billy) Hanbury and John M. (Marty) Hanbury.

Family will receive friends to celebrate Horatio's life on Thursday, May 8, 2014 from 11:00 AM to 1:00 PM Brinsfield-Echols Funeral Home, P.A., 30195 Three Notch Road, Charlotte Hall, MD 20622. A Fireman's Prayer Service will begin at 1:00 PM on Thursday, here at the funeral home. Inurnment will be private, at a later date.

In lieu of flowers, contributions in his memory may be made to: Bay District Volunteer Fire Department, P.O. Box 1440, Lexington Park, MD 20653 (or) Lexington Park Rescue Squad, P.O. Box 339, Lexington Park, MD 20653.

Arrangements provided by Brinsfield-Echols Funeral Home.