Burch, Louis Daniel, Sr.
Birth: 1936-08-25 in Helen, Maryland
Residence: Helen, Maryland
Death: Thursday, August 29, 2013
Condolences: Click to View or Post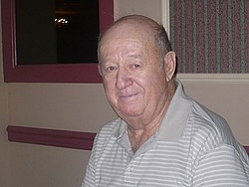 L. Daniel Burch, 77, of Helen, MD died August 29, 2013 at the Hospice House, Callaway, MD. Born August 25, 1936 in Helen, MD he was the son of the late Lewis Franklin and Mary Leona Morgan Burch.

Daniel was married to Rose Regina Morris Burch on December 28, 1957 at Holy Angels Church in Avenue. She preceded him in death on December 31, 1997.

He is survived by his children: Janet Deniston (Vance) of Mechanicsville, Danny Jr (Barbara) of Prince Frederick, Patty Beall (Brian) of Mechanicsville, Steven (Cathy) of Avenue and Karen Quade of Colonial Beach VA. He has 13 grandchildren: John and Michael Montgomery, Kevin, Shelly, Paul, Scott, Josh, Jennifer Burch, Kristen Holt, Joey Quade, Lindsey and Catlin Burch and Jessica Quade. He has 14 great grand children. He is also survived by his siblings: Brother, Norman Burch of Mechanicsville, Sisters: Mary Kay White of Mechanicsville and Louise Quade of Chaptico, Sister In law Patsy Insley of Hollywood.

In addition to his parents he was preceded in death by his infant daughter Rose Marie Burch, Infant Twin Grandsons, and his Brothers Joseph Franklin and Robert Eugene Burch.

Daniel, was a lifelong resident of St Mary's County. He attended St. Joseph's School and Margret Brent High School. He was a member of The Maryland National Guard, MD Watermens Association and Mechanicsville Moose 495. He was a farmer and a waterman. He enjoyed Nascar and Rusty Wallace was his favorite driver. He also enjoyed baseball and football and enjoyed watching his grandchildren play.

His favorite thing to do in his later years was to go dancing and singing at The Moose Lodge and St. Mary's Landing. He became known as "Dancing Danny". He loved telling stories with his good buddies, Tink Farrell, Eddie Faunce, and Sonny Guy. His grandchildren would listen and fall on the ground laughing at the tales.

He loved to go hunting with his grandsons and his nephews, then they would come back and tell big stories about their hunting experiences and laugh at the tales. He loved to dance with his wife, then he taught each daughter and granddaughter how to waltz. No one will ever twirl us around the floor the way our Daddy did. You felt like the whole world was watching as you danced.

A Memorial Gathering celebrating Daniel's life will be held on Sunday November 3, 2013 from 1:00 PM until 5:00 PM in the Mechanicsville Moose Lodge, Mechanicsville, MD.

In Lieu of flowers please make memorial contributions to The Hospice House of St. Mary's, P.O Box 625, Leonardtown, MD 20650.

Arrangements provided by Mattingley-Gardiner Funeral Home.