Abell, Theresa Ann
Birth: 1918-12-16 in Waldorf, Maryland
Residence: Compton, Maryland
Death: Monday, April 21, 2014
Laid to Rest: Thursday, April 24, 2014 in the Charles Memorial Gardens, Leonardtown, Maryland
Condolences: Click to View or Post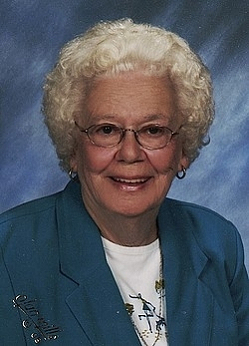 Theresa A. Grabis Abell, 95, of St. Clements Shores, Compton, MD passed away peacefully on April 21, 2014 at Hospice House of St. Mary's in Callaway, MD. She was born December 16, 1918 in Waldorf, MD and was the daughter of the late John P. and Barbara Therres Grabis.

Theresa was married June 22, 1940 at St. Mary's Church in Bryantown, MD to the late Frank T. Abell who preceded her in death on November 18, 2004.

She was the devoted mother of David F. Abell (Ruth "Dolly) of Leonardtown, MD and Patricia A. Greenwell (Jimmy) of Compton, MD. She was the grandmother of Pamela L. Abell of Hollywood, MD, Todd Greenwell (Jackie) of Hollywood, MD, Brian Abell (Lisa) of Harwood, MD, Scott Greenwell (Betty) of Compton, MD and Bruce Abell (Kristen) of Stephens City, VA; the great grandmother of Amelia Abell, Tyler Brooks, Dylan Abell, Connor Greenwell and Carley Greenwell; the foster great grandmother of Tommy King and Michelle King of Compton, MD and foster great great grandmother of Lexie Roach.

Theresa is survived by her sisters Catherine Burch of White Plains, MD, Mary Alice Bradley of Fayetteville, PA, Mary Jo Cusick of Waldorf, MD and a brother Ralph Grabis of Mechanicsville, MD.

She was predeceased by her sisters Martha Hadoba, Louise Eckloff, Hilda Baker, Helena Kragh, Rose Raley, Ellen Anderson and brothers Raymond Grabis, Jerome Grabis, and Charles "Buddy" Grabis.

Theresa attended St. Mary's Catholic School in Bryantown, MD and was a graduate of Hughesville High School in Hughesville, MD. Theresa was employed at Arthur's Restaurant in Leonardtown, MD from 1950 to 1959 and worked at the Navy Exchange on NAS, Patuxent River, MD from 1959 until her retirement in 1976.

She loved being with her family and through the years enjoyed gambling, especially, the trips to Las Vegas, NV with her sister Hilda, crocheting for her family, working in her flower garden, working on various types of puzzles and following the Orioles baseball team and NASCAR auto racing. Theresa was a parishioner at St. Francis Xavier Catholic Church in Newtowne Neck, Compton, MD. She was a beautiful person who loved her family dearly and will be truly missed.

Pallbearers will be her grandsons, Todd Greenwell, Brian Abell, Scott Greenwell, and her nephews Rick Raley, Charles Grabis, Danny Anderson, and honorary pallbearers, grandson Bruce Abell and foster great-grandson Tommy King.

Arrangements provided by Mattingley-Gardiner Funeral Home.