Hollis, Rose Mary
Birth: 1921-10-09 in Medina, New York
Residence: Callaway, Maryland
Death: Saturday, October 26, 2013
Laid to Rest: Monday, November 04, 2013 in the Immaculate Heart of Mary Catholic Church Cemetery, Lexington Park, Maryland
Condolences: Click to View or Post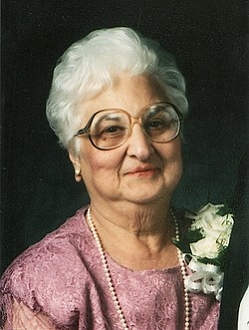 Rose Mary Hollis, 92, of Callaway, MD passed away in the early morning hours on October 26, 2013, at her home in Callaway, MD. Born October 9th, 1921 in Medina, NY she was the loving middle child of the late Gaetano (Thomas) Ognibene and Cosimina (Minnie) Conti Ognibene.

Rose was married to Harvey Herold Hollis of St. Louis MO on February 14, 1946 in Washington DC. He preceded her death on February 1980.

She is survived by her son Richard Harvey Hollis of Callaway, MD and daughter Beverly Ann Trapnell of Gaithersburg, MD; her grandsons Eric and Mark Trapnell; and her younger sister Josephine Nielsen of Rochester, NY. Rose is also survived by many nieces, nephews and their offspring.

She was preceded in death by her older brother Frank Ognibene, younger brother Samuel Ognibene and her dear sister, Sarah Ognibene Ricotta.

Rose migrated from New York to Washington D.C. in 1941 and started her vocation as an executive secretary at the Department of Health, Education and Welfare (later Health and Human Services) from which she retired after a 38 year career.

She and her husband built their own home in Accokeek, MD in 1950 where they raised their children and where she lived for 44 years. In 1994, Rose relocated to St. Mary's County, MD and lived in an adjacent apartment with her son Richard and his wife Susan. Having been raised around her parent's produce business, Rose loved nothing more than browsing the many Amish and other farmers markets of St. Mary's. An avid sports fan, Rose enjoyed rooting for the Washington Redskins, watching golf and surprised many with her love of Roller Derby action. Her zest for life, almost up to the very end of her 92 years, was an inspiration to all that knew her.

The family will receive friends on Sunday, November 3, 2013 from 2:00 PM – 5:00PM with prayers recited at 3:00PM in the Mattingly-Gardiner Funeral Home, Leonardtown, MD. A Mass of Christian Burial will be celebrated on Monday, November 4, 2013 at 11:00AM at Immaculate Heart of Mary Church in Lexington Park, MD with internment to follow in the church's adjacent cemetery.

Contributions may be made to Second District Volunteer Fire Department, and Rescue Squad, P.O. Box 1, Valley Lee, MD 20692 or Immaculate Heart of Mary Church, 22375 Three Notch Road, Lexington Park, MD 20653.

Arrangements provided by Mattingly-Gardiner Funeral Home.