Smith, James William, Sr.
Birth: 1940-02-24 in St. Mary's County, Maryland
Residence: Dameron, Maryland
Death: Saturday, November 23, 2013
Laid to Rest: Saturday, November 30, 2013 in the Mt. Zion United Methodist Church Cemetery, St. Inigoes, Maryland
Condolences: Click to View or Post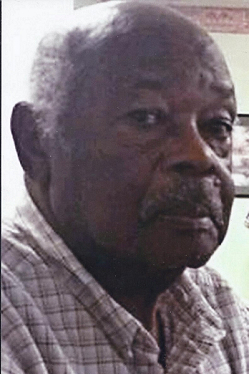 James William Smith, Sr., 73 of Dameron, MD was called Home by God, his beloved son, on Saturday, November 23, 2013. James made his peaceful exit to be with his King. James, the son of the late Joseph and Mary Smith was born in St. Mary's County Maryland on February 24, 1940.

He was raised in a Christian home and was a lifetime faithful member of Mt. Zion United Methodist Church, where he served as a Trustee member for 13 years. If you needed to locate him in the church, you knew exactly where to find him; on the left, in the middle, third pew from the back.

James attended St. Mary's County Public Schools. After school, he started working as a bricklayer and an oysterman. James accomplished a 30-year career at St. Mary's College; retiring in 2004.

James married Mary Cecilia Clinton on January 27, 1962 and from this union were four children which he cherished dearly. He loved his family and enjoyed the time they spent together, especially when the grandchildren came around. He loved to make them laugh by teasing them to no end and only he could get away with that "because he was their "Pop PoP" and they knew how much he loved them.

James also enjoyed working outdoors. You could find him mowing the lawn, trimming hedges and just being an all around handyman. He also enjoyed providing transportation for his friends and family. You could always rely on him for a ride. Some of his favorite TV shows were Jerry Springer, Young and the Restless and The Price is Right. He was a great lover of comedy and many court shows.

James leaves to cherish his memory to his devoted loving wife of 51 years, Mary Cecilia; one daughter, Nancy Thompson, Waldorf, MD; two sons, James Smith, Jr. (Jimmy) of Beachville, MD and Dan Smith of Hollywood, MD; one brother, Joseph Smith (Helen) of Lexington Park, MD; two sisters, Alice Smith (John) of Baltimore, MD and Juliet Young of Baltimore, MD; one uncle, Leonard Shubrooks; four aunts, Catherine Chisley, Margaret Kelly, Christine Fenwick and Agnes Thomas; two brothers-in-law, Joseph Clinton (Helen) and Charles Green; five sisters-in-law, Hilda and Linda Green, Delores Greene (William), Nettie Ball and Betty White (Louie); 15 grandchildren, 7 great-grandchildren, and a host of nieces, nephews, relatives and loving friends.

James was preceded in death by his parents; one daughter, Patricia Smith; one brother, Robert Smith and one sister, Estelle Covington.

James was a loving husband, father, grandfather and friend. He will be truly missed but not forgotten.

Family will unite with friends on Saturday, November 30, 2013 for visitation at 10 am until service at 11 am at Mt. Zion United Methodist Church, 17412 Mt. Zion Church Road, St. Inigoes,
MD. Interment to follow at the church cemetery.

Arrangements by Briscoe-Tonic Funeral Home, Mechanicsville, MD.