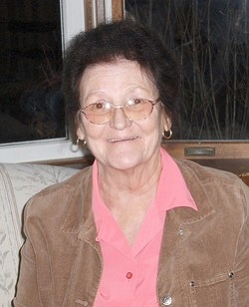 Audrey Irene Simmons, 78, of Hollywood, MD died September 28, 2013, at her home. Born October 9, 1934 in Pearson, MD she was the eleventh child born to the late Albert L. Woodburn and Bertha A. Stone Woodburn.

Audrey attended Little Flower School and Frank Knox School. She is a 1952 graduate of Great Mills High School. She won many awards for her athletic ability and was known as "Horse" to many of her school friends. She excelled in most sports including, basketball, softball, soccer, gymnastics, track, high Jump and archery.

In her teenage years she was employed as a bartender for the "Dock" (formerly located in Lexington Park), as a cashier in the Plaza Theater (formerly located in Lexington Park), as a cashier at the theater (formerly located in St. Inigoes) and as a cashier at the A & P Grocery Store (formerly located in Lexington Park). She was employed by the Federal Government as a Budget Analyst for Public Works at Patuxent River Naval Air Station until her retirement.

In 1953, she won the title of Miss Public Works, having over 700,000 votes. She was proudly crowned by Rear Admiral A. M. Pride, Commander, NATC. In 1954, she was again crowned Miss Public Works and was later crowned Maid of Honor of Patuxent River, NAS. Everyone attending danced the night away to the infamous Tommy Dorsey Swing Band with a special guest appearance by Tommy's brother Jimmy. All proceeds were donated to charity.

On May 6, 1958, she married the late Captain Paul J. Simmons, CEC, USN, Public works officer and OINCC, NATC, at Holy Face Catholic Church in Great Mills, MD. Four months after their marriage he was assigned as Commander in Chief Naval Force Eastern Atlantic and Mediterranean in London, England. It was during this four year tour of duty that they were blessed with their two sons, Michael and Matthew.

After her retirement from Public Works, in 1984, she went back to school at the College of Southern Maryland (formerly Charles County Community College) and earned her certification as a Medicine Technician. She enjoyed working with all the residents and staff for 20 yrs. at St. Mary's Nursing Center as a Med Tech. up until her retirement.

Audrey's hobbies included, dancing, hiking, sketching, and playing pitch. However, her greatest love was spending time with her family, especially her grandchildren.

She is survived by her son, Mike Simmons (Mary) of Hollywood, MD; her siblings, Raymond Woodburn (Mary Agnes) of Hollywood, MD, Tommy Woodburn (BeBe) of Leonardtown, MD, Mary Hughes (Roy) of Kenosha, WI, and Edwin Woodburn (Bobbie) of Smith Mountain Lake, VA; six grandchildren, Michael Simmons, Emily Simmons, Abby Simmons, Jesse Simmons, Julie Simmons and Jessie Simmons Miller; two great grandchildren, Audrey Palma and Kyle Lyons; and her sister-in-law, Ann Woodburn of Dameron, MD.

In addition to her parents and husband; she is also preceded in death by her son, Matthew Leo Simmons; step-sons, Patrick Simmons and Paul Joseph Simmons; siblings, Edna Bell, Elaine Ryan, Mildred Babcock, Amy Tibuzi, Albert R. Woodburn, Kenneth A. Woodburn, Peter Ralph Woodburn, and Creighton Woodburn.

Family will receive friends on Friday, October 4, 2013 from 5 to 8 p.m., with prayers recited at 7 p.m. by Deacon Andy Geisz, at Brinsfield Funeral Home, P.A., 22955 Hollywood Road, Leonardtown, MD. A Mass of Christian Burial will be celebrated by Reverend David Beaubien on Saturday, October 5, 2013 at 10:00 a.m. at St. Aloysius Catholic Church, 22800 Washington Street, Leonardtown, MD. Interment will follow in Charles Memorial Gardens.

Serving as pallbearers will be Mike Simmons, Michael Simmons, Chris Hall, Kenny Yekstat, Brad Hall, David Woodburn, Danny Woodburn, and Laura Ann Woodburn Superior. Honorary pallbearers will be Timmy and Patti Ann Babcock, Janet and Harry Ryan, Mary Edna Bell, Ray and Marie Tiburzi, Ricky and Vera Lynn Woodburn, Doris Woodburn, Brenda and Rose Marie Woodburn.

Memorial contributions may be made to Meals on Wheels, C/O St. Mary's County Dept. of Aging, P.O. Box 655, Leonardtown, MD 20650. Arrangements provided by Brinsfield Funeral Home.