Sharp, Avis Geraldine
Birth: 1933-01-16 in Rhoadesville, Virginia
Residence: Mechanicsville, Maryland
Death: Thursday, December 18, 2014
Laid to Rest: Saturday, December 27, 2014 in the St. Peter's Catholic Church Cemetery, Waldorf, Maryland
Condolences: Click to View or Post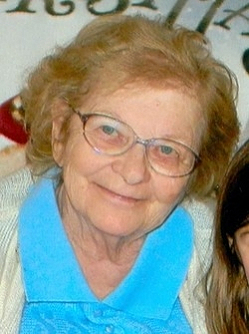 Avis Geraldine "Jerry" Sharp, 81, of Mechanicsville, MD and formerly of Hughesville, MD passed away on December 18, 2014. She was born on January 16, 1933 in Rhoadesville, VA to the late Clifton A. Ball and the late Margaret E. Ball.

Jerry enjoyed knitting, crocheting, sewing, playing bingo and going to Redskins parties at Peggy's.

In addition to her parents, Jerry was predeceased by her son, John Clifton Sharp; grandson, Daniel H. Kappers, Jr.; and her very dear childhood friend, Peggy.

Jerry is survived by her husband of 62 years, John Joseph Sharp, III; her sisters she raised as daughters, Bonnie Bradford (Richard) and Fran Cargill; granddaughter, Angie Higgs (William); great grandchildren, Tyler Dunaway, Corbin Brosneck, Hailey Higgs and Matthew Higgs; many other relatives and friends; and her faithful dog, Noel.

Family and friends will be received for Jerry's life celebration on Friday, December 26, 2014 from 2:00 p.m. to 4:00 p.m. and from 6:00 p.m. to 8:00 p.m., with prayers beginning at 7:30 p.m. at Brinsfield-Echols Funeral Home, P.A. 30195 Three Notch Road, Charlotte Hall, MD 20622. A Mass will be held on Saturday, December 27th at 11:00 a.m. at St. Peter's Catholic Church, 3320 St. Peter's Drive, Waldorf, MD 20601. Interment will follow at St. Peter's Church Cemetery in Waldorf, MD.

Memorial contributions in Jerry's memory may be made to: Alzheimer's Association of So. MD, Alzheimer's Association National Capital Area Chapter, 3701 Pender Drive, Suite #400, Fairfax, VA 22030 (or) Alzheimer's Association, P.O. Box 96011, Washington, DC 20090-6011. Arrangements provided by Brinsfield-Echols Funeral Home.