Bowles, Anna Marie
Birth: 1922-02-09 in Loveville, Maryland
Residence: Avenue, Maryland
Death: Thursday, April 16, 2015
Laid to Rest: Monday, April 20, 2015 in the Sacred Heart Catholic Church Cemetery, Bushwood, Maryland
Condolences: Click to View or Post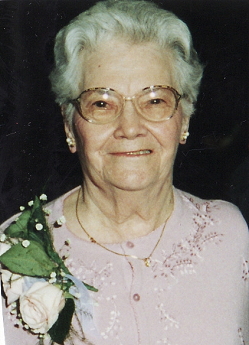 Anna Marie Bowles, 93, of Avenue, Md. Passed away on April 16, 2015 at St. Mary's Nursing Center in Leonardtown, Md. Born February 9, 1922 in Loveville, MD. Marie was the daughter of the late James Thomas Hill and Annie Grace Harris Hill.

Marie married her beloved husband, the late John Ralph Bowles on May 19, 1940 at Holy Angels Church. Marie and John celebrated 53 years of marriage before his passing in July 1993.

As a young girl, Marie attended River Springs School. Marie was devoted to her family and spent much of her life caring for family members and friends. She enjoyed bingo, sewing, gardening and family gatherings. Marie was a lifetime member of Holy Angels Church in Avenue, Md.

Marie is survived by her children, Patsy Beavan (Michael) of Chaptico, MD, Debbie Bailey (Tony) of Bushwood, Md., Joseph B. Bowles (Margaret) of Hollywood, Md., Joseph W. Bowles (Iris) of Avenue, Md. She is also survived by her brother, Joseph Hill (Doris) of Tennessee and daughter-in-law Joan Farrell Bowles, 10 grandchildren, 18 Great Grandchildren and 5 Great Great grandchildren.

Marie was preceded in death by her children, Mary Elizabeth Bowles and John Thomas Bowles. Siblings, Otto Hill, Ella Mae Quick, Blanche Quade, Virginia Ellis, Howard Hill, Louis "Bootie" Hill, and Mary Helen "Poogie" Dickerson, Grandchildren John Raymond Bowles, James Richard Bowles, Patrick Raymond Bowles, Nikia Bowles and Great Granddaughter Carolyn Edwards.

Family will receive friends for Marie's Life Celebration on Monday, April 20, 2015 from 10:00 AM – 11:00 AM in Holy Angels Catholic Church, Avenue, MD 20609. A Mass of Christian Burial follow at 11:00 AM in Holy Angels Catholic Church Avenue, MD with Father Anthony Lickteig officiating. Interment will follow in Sacred Heart Catholic Cemetery, Bushwood, MD.

Pallbearers for Mrs. Bowles will be Grandson's Mike Bowles, Tony Bailey, James Russell, Christopher Russell, Scott Bailey, and Joseph Bowles. Honorary Pallbearers will be Granddaughters, Kim Wildoner, Michelle Bowles, Michelle Boothe, Joanne Brooks, God Child Jean Nelson and lifetime family friend Bill Nelson.

In lieu of flowers, the family requests that donations be made to the St. Mary's Nursing Center Foundation, 21585 Peabody Street, Leonardtown, MD 20650. Arrangements provided by Mattingley-Gardiner Funeral Home.