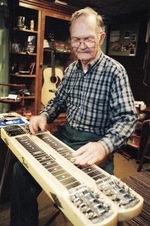 Mr. John Stephen Lynch Jr., returned to his Loving Savior on December 4, 2018. Mr. Lynch was born on August 4, 1926 to John Stephen Lynch, Sr. and Helena Rose Aud Lynch in Valley Lee, MD. Mr. Lynch was predeceased in death by his father, mother and sister, Olive Bell Lynch.

He is survived by his devoted wife, Dolores Anne Lynch and by his siblings; Mary Ann Hammett (Orem); Virginia Royston (Joe); Margaret Bridgwater; Robert Lynch (Janice). He is also survived by his six children: Gary Lynch (Marie); Donna Lynch Russow (Terence); Cynthia Bishoff; Victoria Spalding (Sam Spalding, Jr. deceased); John Joseph Lynch (Judy); and, Dayna Bischoff (Tim). Mr. Lynch was married to his loving wife, Dolores Anne Lynch, for 69 years. They resided in Rosebank (Compton) MD. And were long time members of St. Francis Xavier Catholic Church.

Mr. Lynch was a Master Electrician and owned Lynch Electric for over 50 years. He was well known throughout the county as an honest, hardworking man. Mr. Lynch served in WWII in the United States Coast Guard and was assigned to the troop transport ship, Admiral C.F. Hughes, which carried troops around the world. He served in both the Atlantic and the Pacific war zones. Mr. Lynch was proud of his military service and the country he served.

Mr. Lynch as an accomplished musician playing several instruments including guitar, Dobro and pedal steel guitar. He owned a CF Martin franchise for many years and mentored young men and women in playing in playing the guitar. He especially enjoyed classic country and Hawaiian music. He played in a local band for many years which performed for charitable causes at local church halls and firehouses. He also passed on his love of music to his children and grandchildren.

He was blessed with seven grandchildren and 10 great-grandchildren who lovingly called him "Pop". He loved them dearly and enjoyed teaching them how to fish, build airplanes, play checkers, and guitar. He was a humble man who loved his family, community and God. His faith and courage sustained him throughout life.

A Mass of Christian Burial will be celebrated on Friday, December 7, 2018 at 10:00 AM in St. Francis Xavier Catholic Church Leonardtown, MD with Father Rob Marco officiating. Interment will follow in the church cemetery. In lieu of flowers, donations can be made to St. Francis Xavier Church 21370 Newtowne Neck Road Leonardtown, MD 20650 or Leonardtown Vol. Rescue Squad P.O. Box P.O. Box 299 Leonardtown, MD 20650. Arrangements by Mattingley-Gardiner Funeral Home.