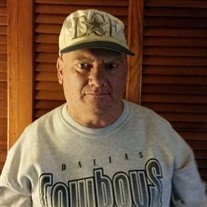 Ernest Floyd Coombs, 59, of Loveville, Maryland died on December 1, 2018 at Georgetown University Hospital in Washington, DC. Fondly known as Ernie and Ernest T., he was born on August 5, 1959 in La Plata, Maryland to the late Mayme Elizabeth Collier Coombs and James Walter Coombs Sr. Ernie worked in the construction industry with Area Wide Builders. He enjoyed working on anything that needed repair, fishing, shooting pool, rooting for his favorite football team, the Dallas Cowboys and spending time with family, friends and his favorite cat, Boots.

In addition to his parents, Ernie is preceded in death by his brother-in-law, Dickie Walters.
He is survived by his wife of 17 years, Brenda Lynn Addison Coombs; siblings Elizabeth Ann Bowie and her husband James Mac Bowie, James Walter Coombs Jr., Barbara Ellen Walters, Loretta Lynn Coombs; numerous nieces, nephews, in-laws, other relatives and friends.

A visitation will be held on Tuesday, December 11, 2018 from 2PM to 4PM and from 6PM to 8PM with services at 7PM at Raymond Funeral Service, P.A., 5635 Washington Avenue La Plata, Maryland 20646. Interment will be private. In lieu of flowers, memorial contributions may be made to National Kidney Foundation, 30 East 33rd Street, New York, NY 10016.