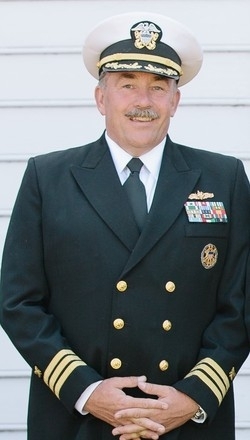 Commander John F. Lynn, SC, USN, 57, of Hollywood, MD passed away on November 30, 2018 at Walter Reed National Military Medical Center in Bethesda, MD with his wife and daughters by his side. John was born on March 31, 1961 in Montrose, PA to the late John Francis Lynn, Jr. and Romaine Connor Lynn.

John attended the University of Scranton, PA, graduating in 1983 with a degree in Business Management. He was commissioned in the U.S. Navy as a Supply Corp Officer in 1984 where he went on to get his Master's degree from the Naval Postgraduate School in Monterey, CA in 1994. John served 21 years in the U.S. Navy and retired as a Commander. He completed several tours at sea, including his first on the USS Ponce and had the privilege to work for the Chairman of Joint Chiefs of Staff under Admiral William Crowe and General Colin Powell. Upon returning from a tour at Yokosuka, Japan in 2000 he completed his naval career at NAVAIR. Upon retirement in 2004, he joined Booz-Allen-Hamilton and recently retired this year.

John married the love of his life Monica Alesky Lynn on November 24, 1984 in Gibson, PA. Together they spent 34 wonderful years of marriage. He was the anchor that held his family in place and the sails, which took them on a beautiful journey. He had an incredible personality and sense of humor, never met a stranger he didn't like and was always the life of the party. John was known both in his professional and personal life as a great mentor to his daughters, sailors, and colleagues alike.

In addition to his wife, is survived by daughters, Marissa Lynn Schmid (Capt. Joseph Schmid) of Ewa Beach, HI and Rachel Morgan Lynn of Washington, DC; sisters, Karen Lynn (Joseph Odom) of Fairfax, CA and Susan Renfro (Nick) of Colorado Springs, CO., nephew Matthew Renfro and many cousins. In addition to his parents, he was preceded in death by his brother, Mark E. Lynn, M.D.

Family will receive friends for a Celebration of Life on Sunday, December 9, 2018 from 2:00 to 5:00 p.m. at Old Breton Inn, 21890 Society Hill Road, Leonardtown, MD 20650. Interment later will be at Arlington National Cemetery. In lieu of flowers, memorial contributions may be made to the Fisher House Foundation, 111 Rockville Pike, Ste. 420, Rockville, MD 20850, the Marine Toys for Tots Foundation, St. Mary's County, Attn: Vice President Marketing and Development, 18251 Quantico Gateway Drive, Triangle, VA 22171, or the Three Oaks Center, P.O. Box 776, Lexington Park, MD 20653. Arrangements by the Brinsfield Funeral Home, P.A.